Your projects are the pillars of your company's success. That's why it is essential to track them all in place, so you can see what everybody does and if they meet the deadline. The project management systems are the concrete that can hold everything together and help you manage your team's work effectively. So, if you think that moving your data to Trello will boost your productivity, then we have good news for you: Trello import is available now with Relokia.
Sounds good, right? Then continue reading to find out how to import your data to Trello in no time.
Getting to Know Trello 
We've mentioned Trello previously on our blog, but it is safe to say that the platform has improved since then. 
Trello is one of the up-to-date project management tools that can help you manage your workflow with instant notifications. The key aspect of Trello is that this platform offers you the possibility to track down all your projects in the Kanban system. You can schedule your work with cards and boards to monitor your progress.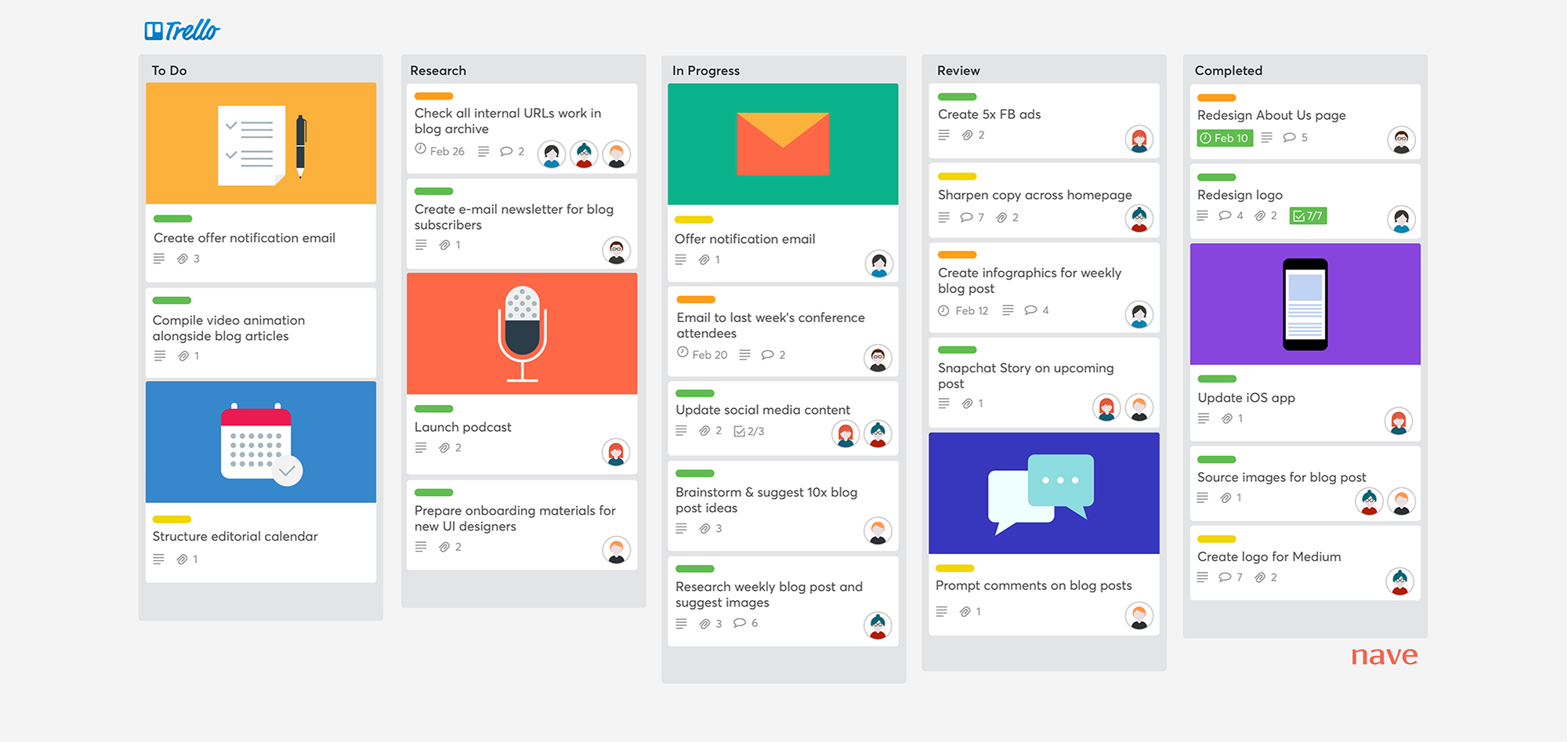 Get Ready to Bring Your Data to Trello
You need to double-check such aspects as before setting up your data import to Trello: 
Access credentials for source and target platforms. Our tool doesn't create a connection between the project management systems without this information;
Make sure you have admin rights on both systems to run the import to Trello.
Data You Can Import to Trello
Your data is the lifeblood of your business, so it is necessary to check whether the data you need can transfer. Migration Wizard can import the following records to Trello: 
Groups for tasks
Tasks (together with Comments, Attachments, Tags and Custom Fields) 
Task Dates (including "Started at" dates and "Due" dates)
Completed (True / False)
Users 
In a nutshell, you preserve your core data after importing your data to Trello. Hence, if the data you would like to transfer isn't available for the automated migration, feel free to contact our support team in advance. In such a way, you'll be able to discuss all details on the customized data import to Trello. 
How to Set Up Your Import to Trello
Although the data migration process is intuitive, take a look at a detailed guide on how to import your data Trello easily:
1. First of all, create an account with our service in case you don't have one. Sign up on our website with your email or a social network account; This step won't take long.
2. Select your source platform. Fill in all the necessary credentials so that our tool gets access to the data in your account. Define the required Board to configure the connection.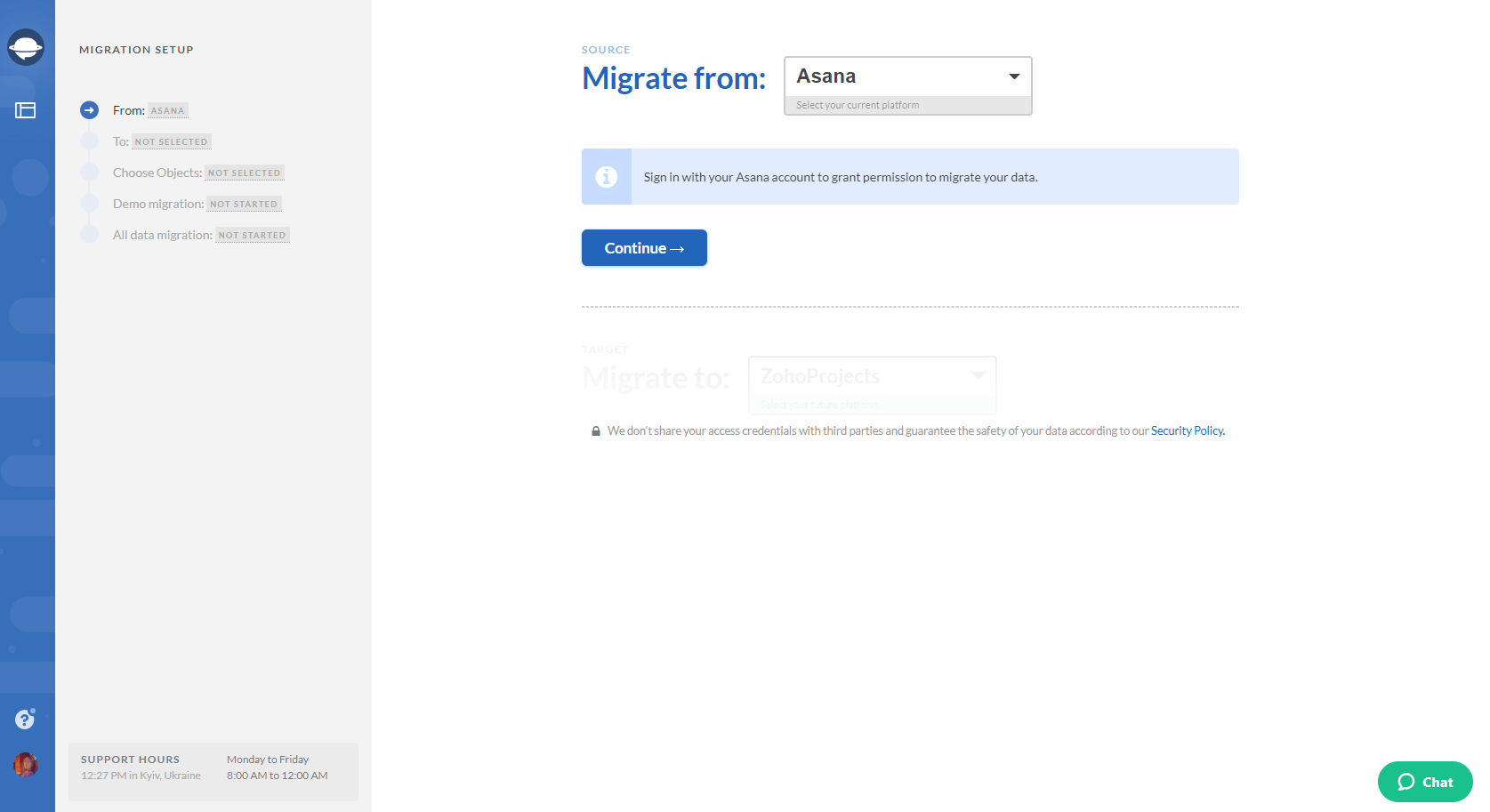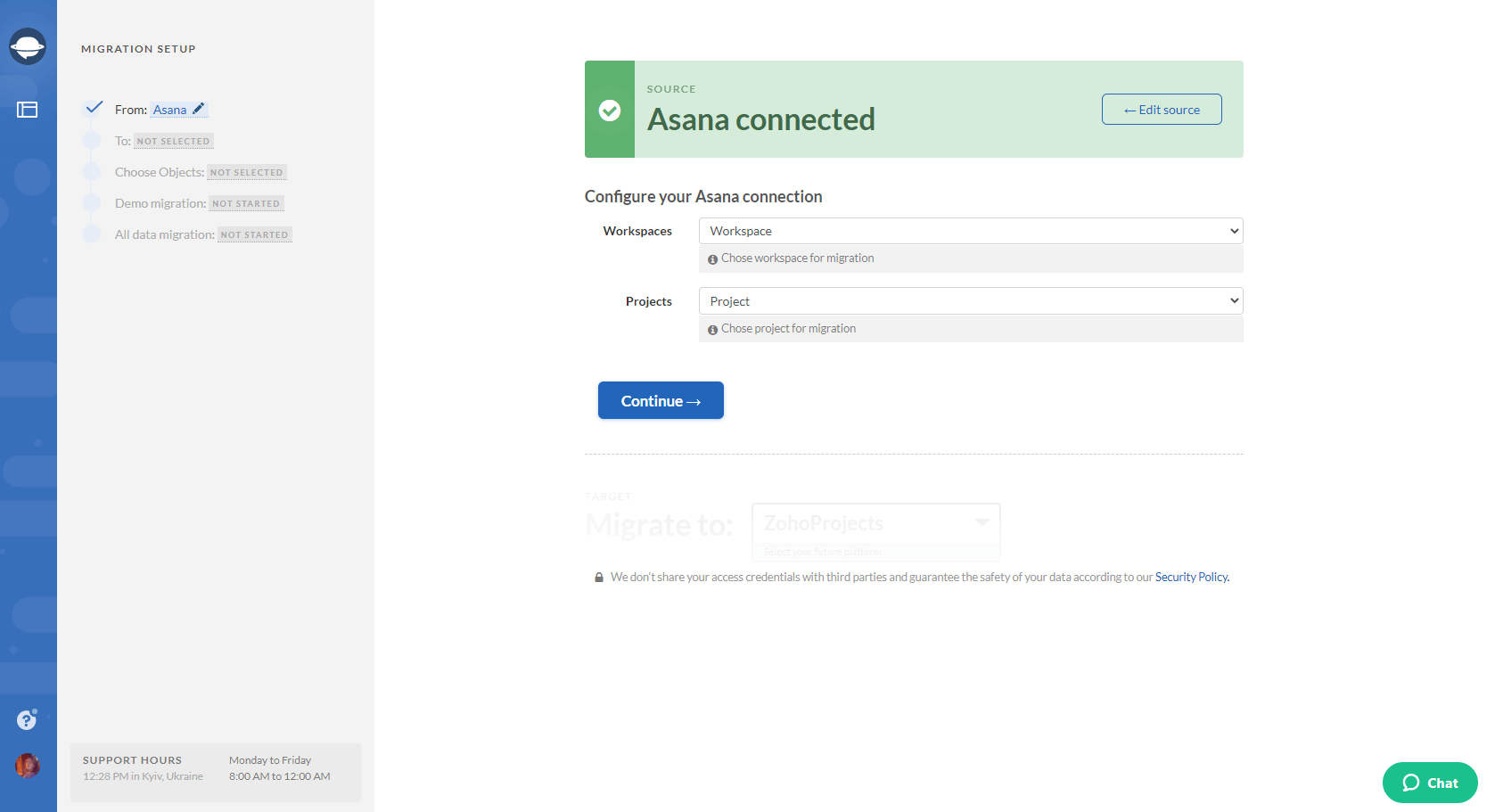 3. Choose Trello as your target platform. Provide the necessary information and configure the connection. In such a way, you enable your data import to Trello.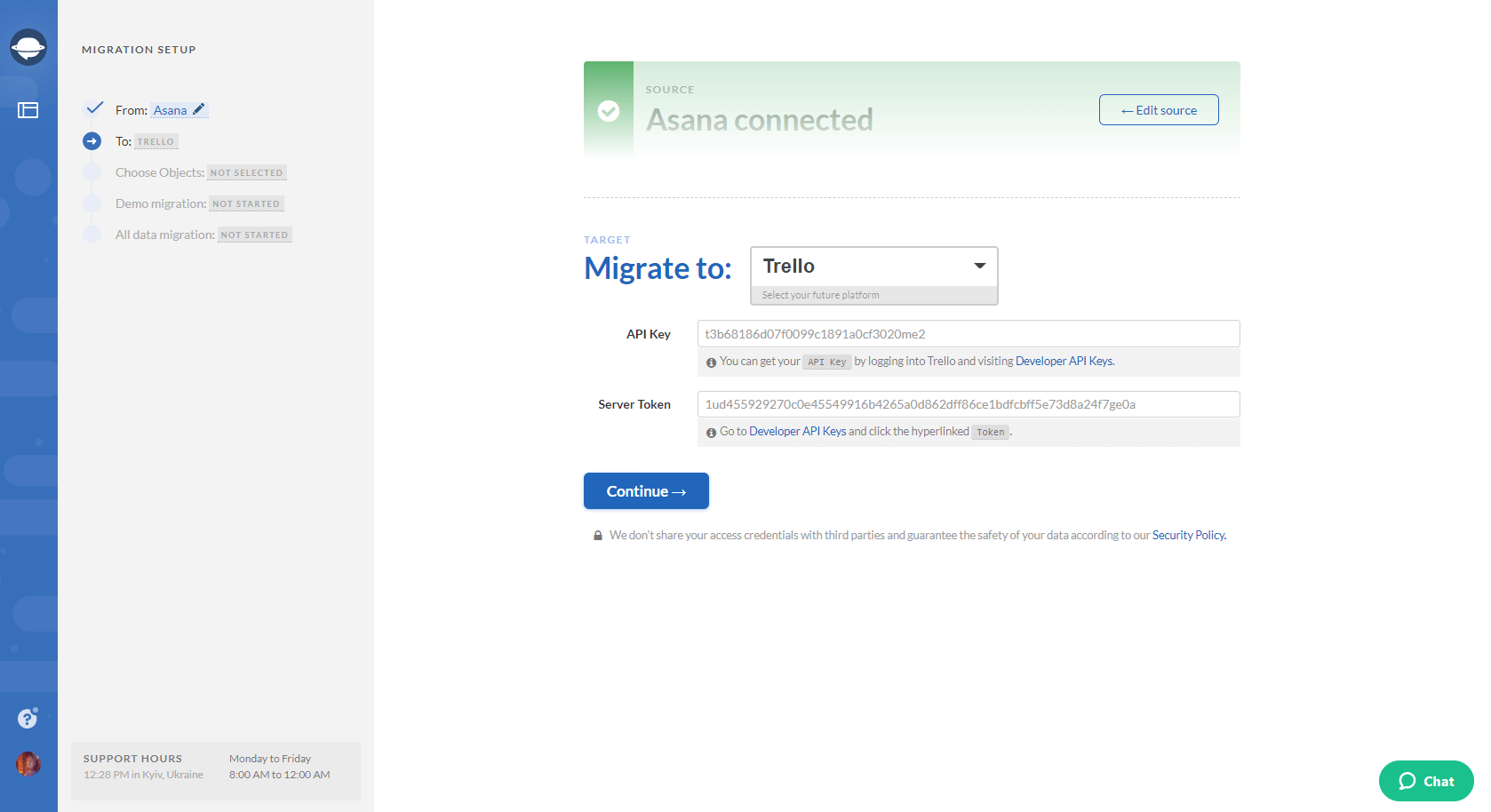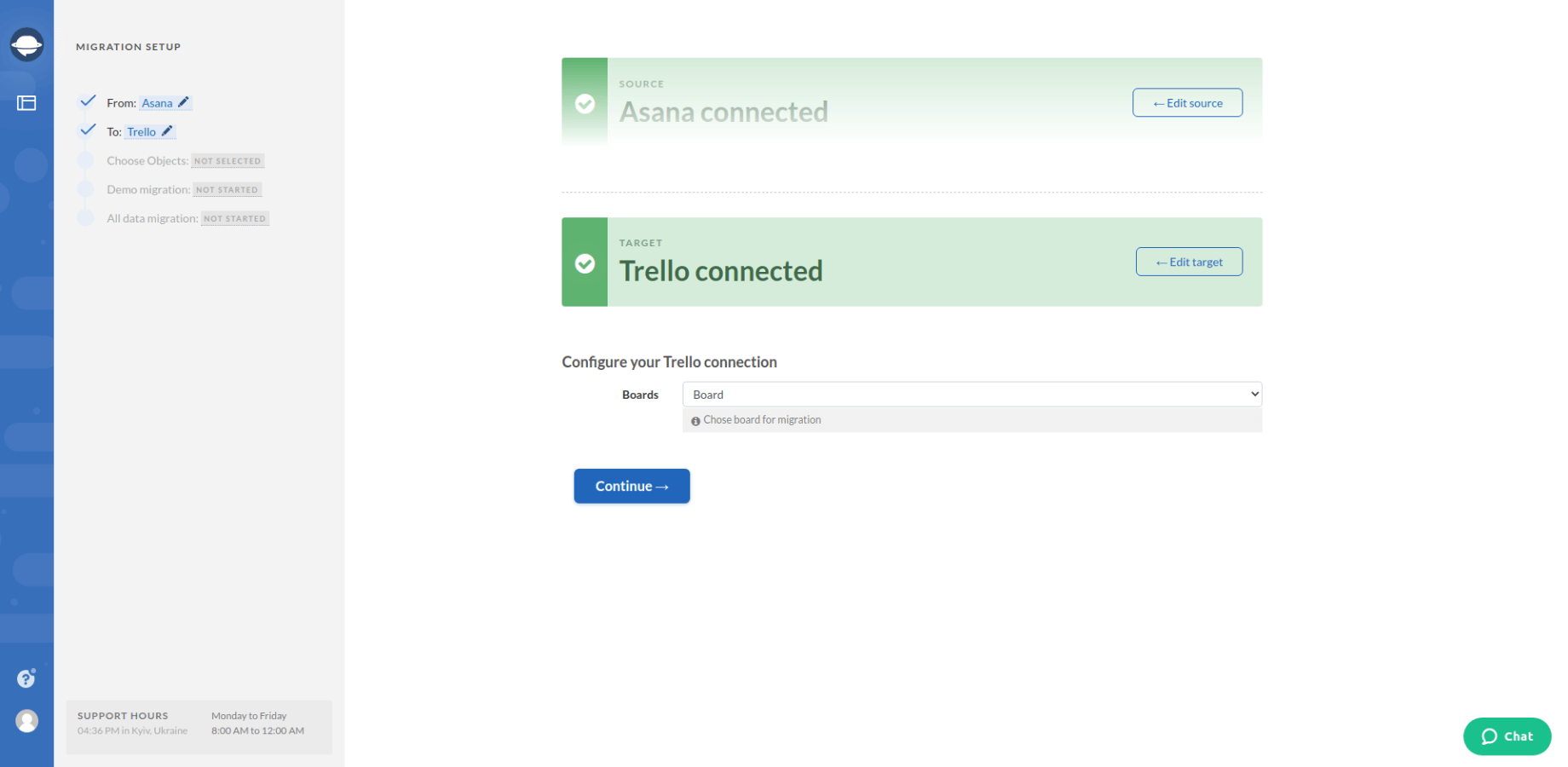 4. The next step is to select the records that you want to export from Asana. Select Tasks and Migration Wizard will open a task mapping form.
Also, take a close look at this page. There you see how objects are named in Trello.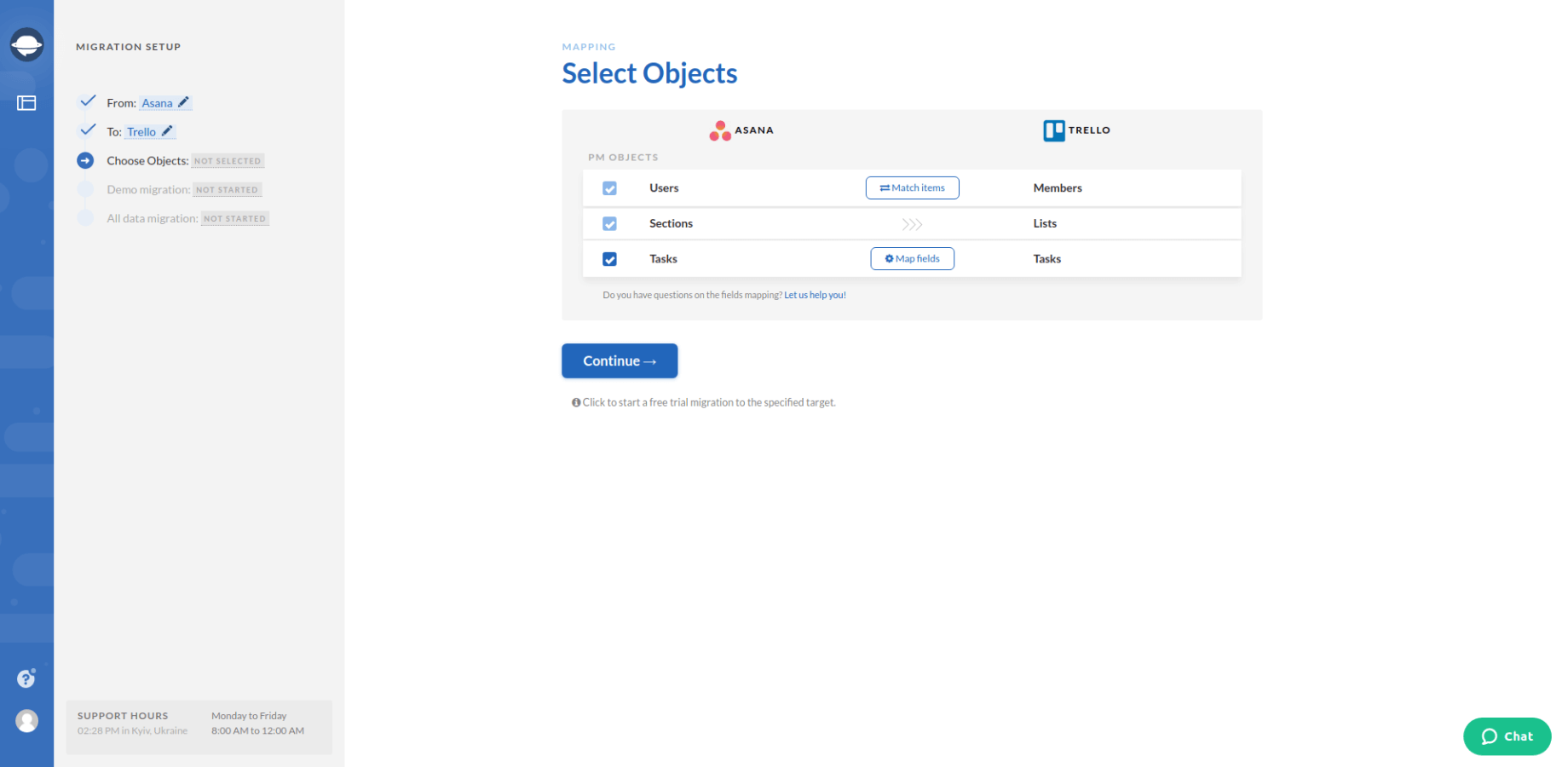 5. Set up the mapping of tasks. Match the corresponding fields attentively. This will help you to find the required data on Trello after the export: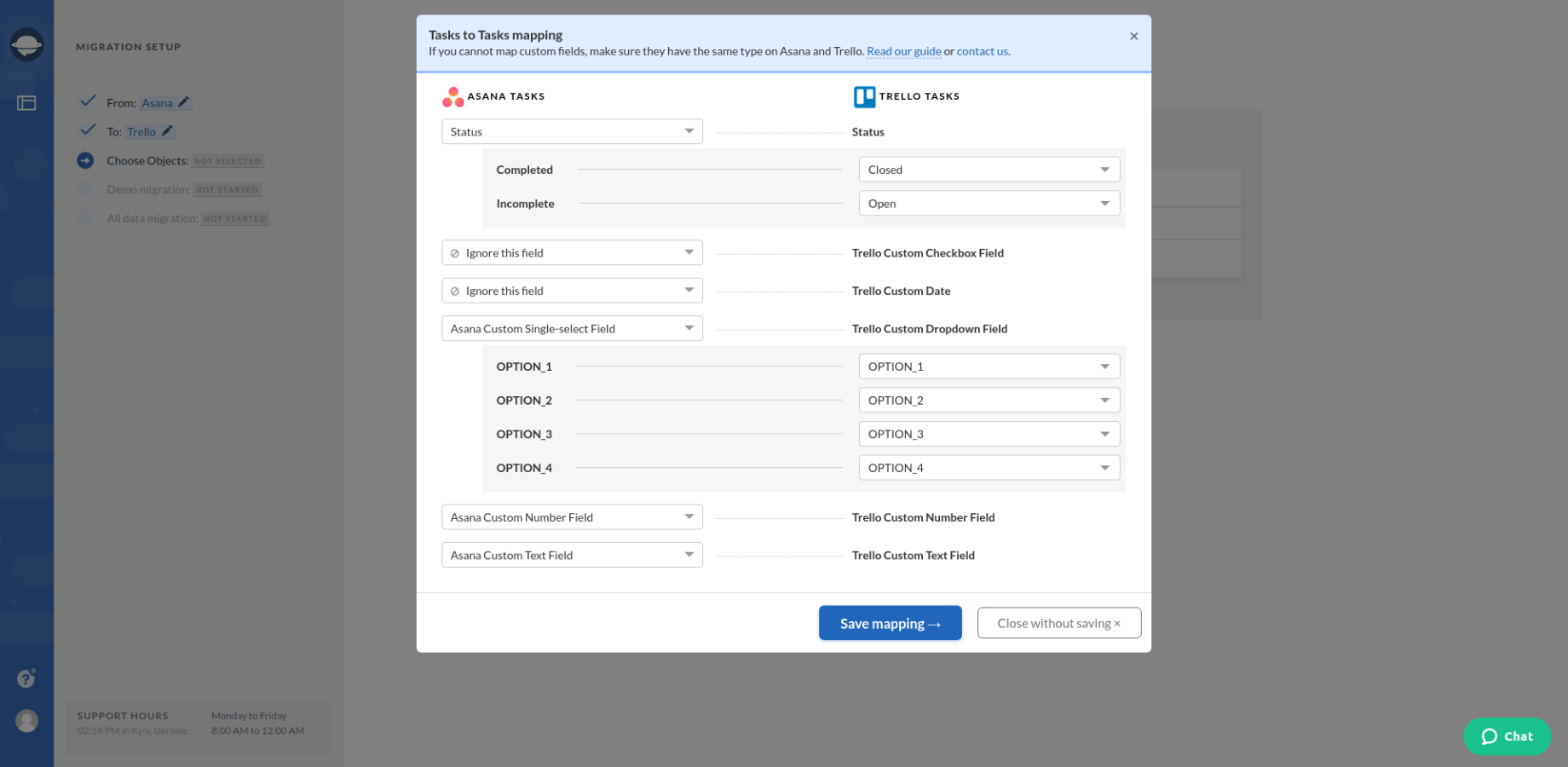 6. When Task mapping is done, move on to user matching. Click the Match items button and match users between the systems.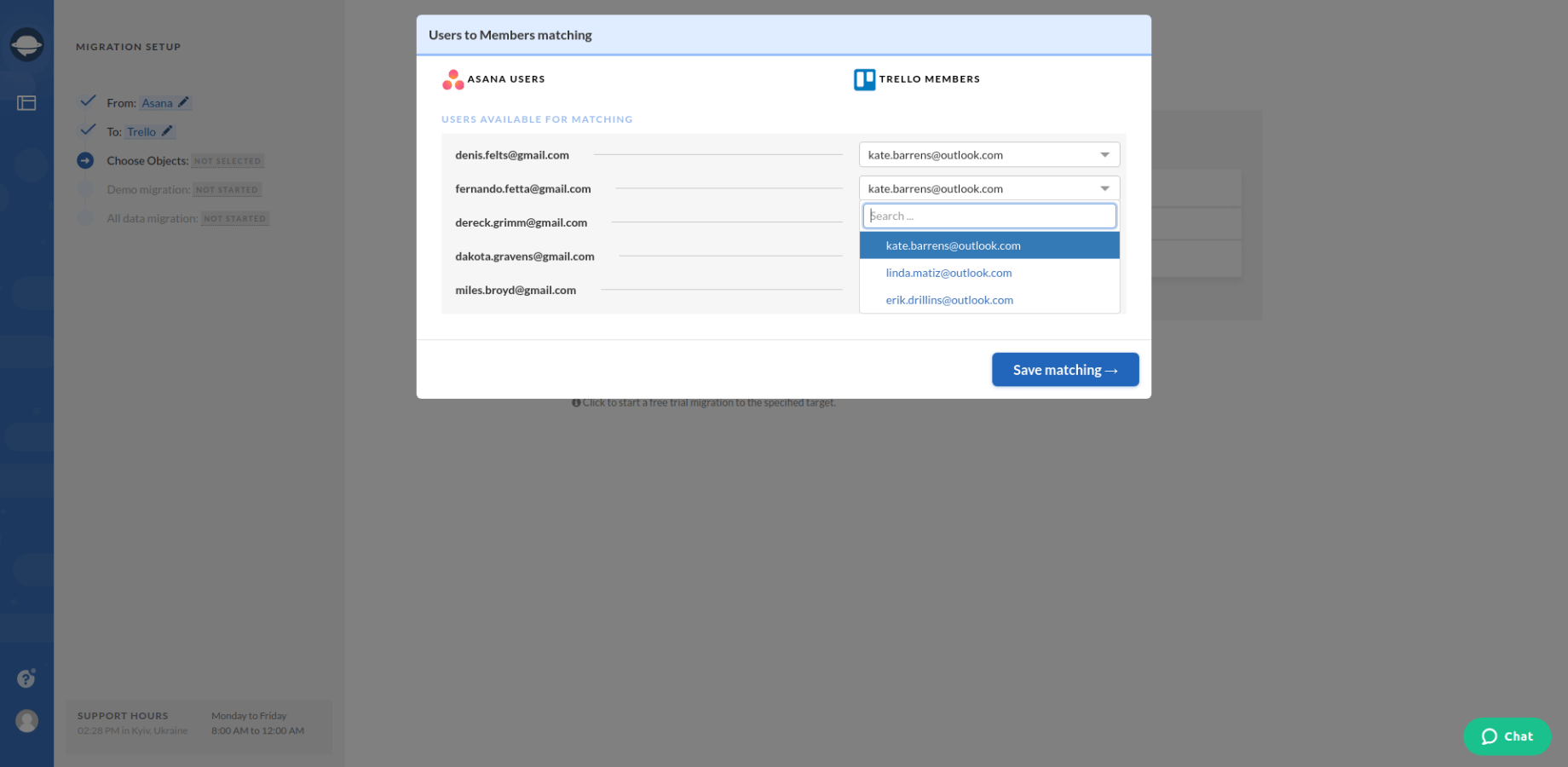 7. Run the demo migration to check the Trello import outcome as well as the performance of our tool. The demo process will last up to 5 minutes. To check the results, click the "Download report" buttons. Ensure that your data is in the right place.
8. The results look good, then set up the Full Data Migration to import all your data to Trello.
Note: You can change the mapping and re-run the demo migration if some of the records haven't migrated properly. Don't hesitate to contact our support team if you have any questions during your import process to Trello. 
Recap
And, that's it. As you can see, there's no point in doubting your decision to import your data to Trello. Our Relokia team is ready to assist you during this process on every step. You are the master of your company's destiny, so it's up to you how your team will prosper. So, why don't you start with a small step - and set up Trello data import?