Project management is such an evolving and up-and-coming sphere that sometimes it's hard to keep up with it. That's why you always need to follow the trends among the project management platforms. So, in case you've been using Asana but now want to migrate to a new project management platform, then we've got a solution for you. 
Our Relokia team tries to stay on track with all changes in the world of project management. So this is the reason why we've made sure the migration from Asana is available for our customers. In collaboration with our service, you can transfer your data flawlessly and swiftly.
We developed our tool, Migration Wizard, with our customers in mind, so it is easy to operate and requires no additional knowledge. In addition, we will migrate only the data that you need on your new platform, leaving unessential records behind. Moreover, our tool preserves all connections between records as you transfer them from one platform to another.  
What Records Can Migrate from Asana
When you decide to migrate from one platform to another, it's essential to check what types of entities can be transferred so that you don't lose some crucial data. As for Asana, Migration Wizard makes it possible to export: 
Custom field values
Tasks (together with Comments and Attachments) 
Subtasks (together with Comments and Attachments) 
Task and Subtask Dates (including "Started at" dates, "Due" dates, and "Completed at" dates)
Users 
Sections
As you can understand, our tool allows you to migrate a long list of your features to maintain all the key data after the export.
Prepare for Migration from Asana
This process won't take a lot of time, though it is essential to take some important steps to ensure the migration runs smoothly. So, check the following before proceeding with the migration process:
1. If you have created an account on your target platform. You need to know where to transfer your data. You can check out the list of supported platforms on our website to see if your preferred software is available;
2. If you have crucial access information for both source and target platforms. Without it, our Wizard Migration tool won't be able to create a connection with the project management software;
3. If you acquire admin rights on both platforms to perform the migration. 
A tip from our team: To make the migration process even more affordable, you can go through your entities before transferring and delete unuseful data so that you don't have to pay for unnecessary information!
How to Set up a Migration from Asana 
The process of data migration is fairly manageable. Nevertheless, we've prepared an in-depth step-by-step guide to assist you:
1. First of all, begin by signing up on our website. You could select the most relevant option for yourself, linking your account to your email or one of the social networks. Don't worry - this step will take just a few seconds;
2. After that, select Asana as your source platform and fill in all the necessary information so that our tool receives access to the data in your account. Afterwards,  arrange the connection by choosing the required Workspace and Project: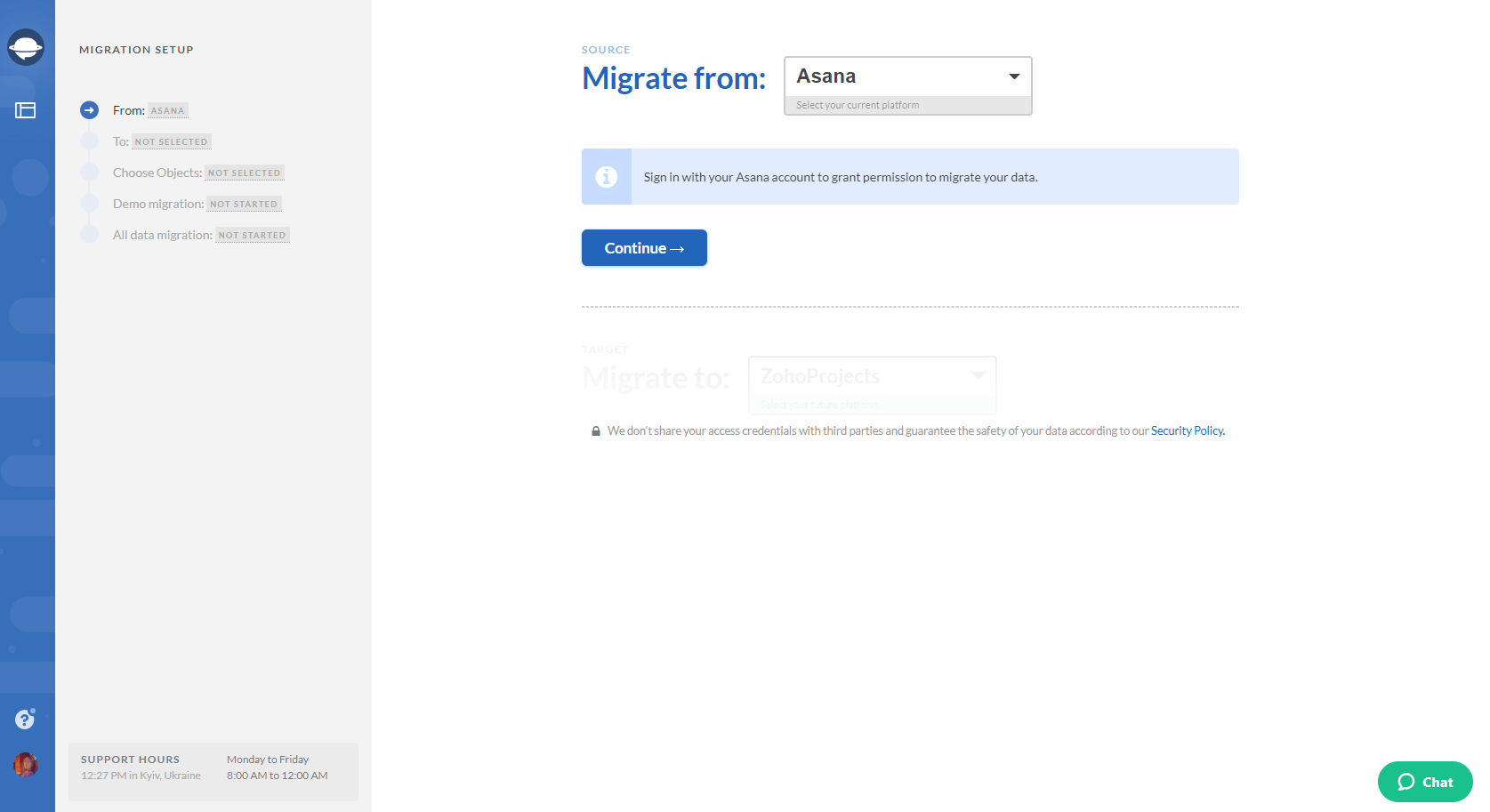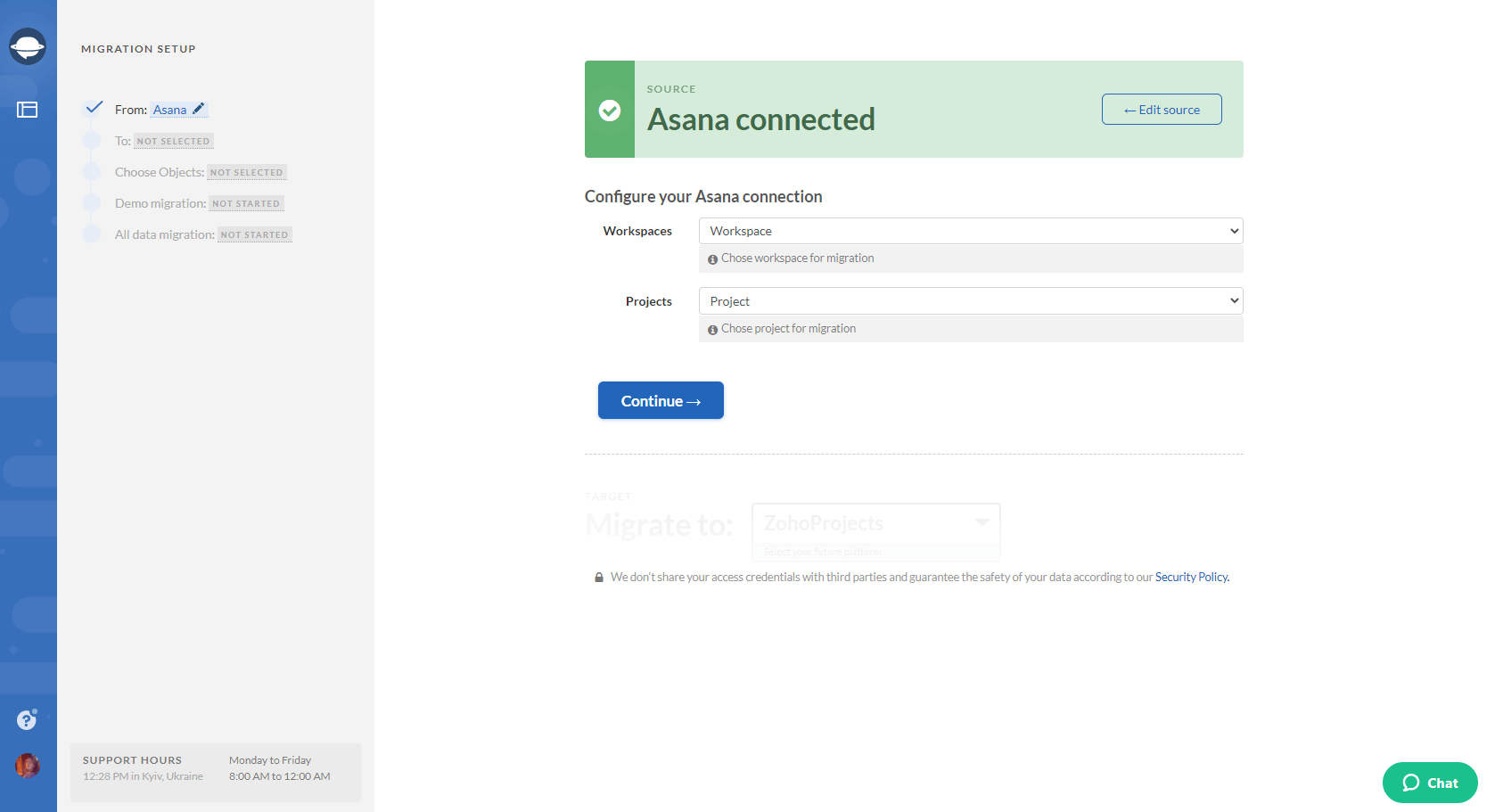 3. After that, repeat the same procedure with your target platform and configure the connection: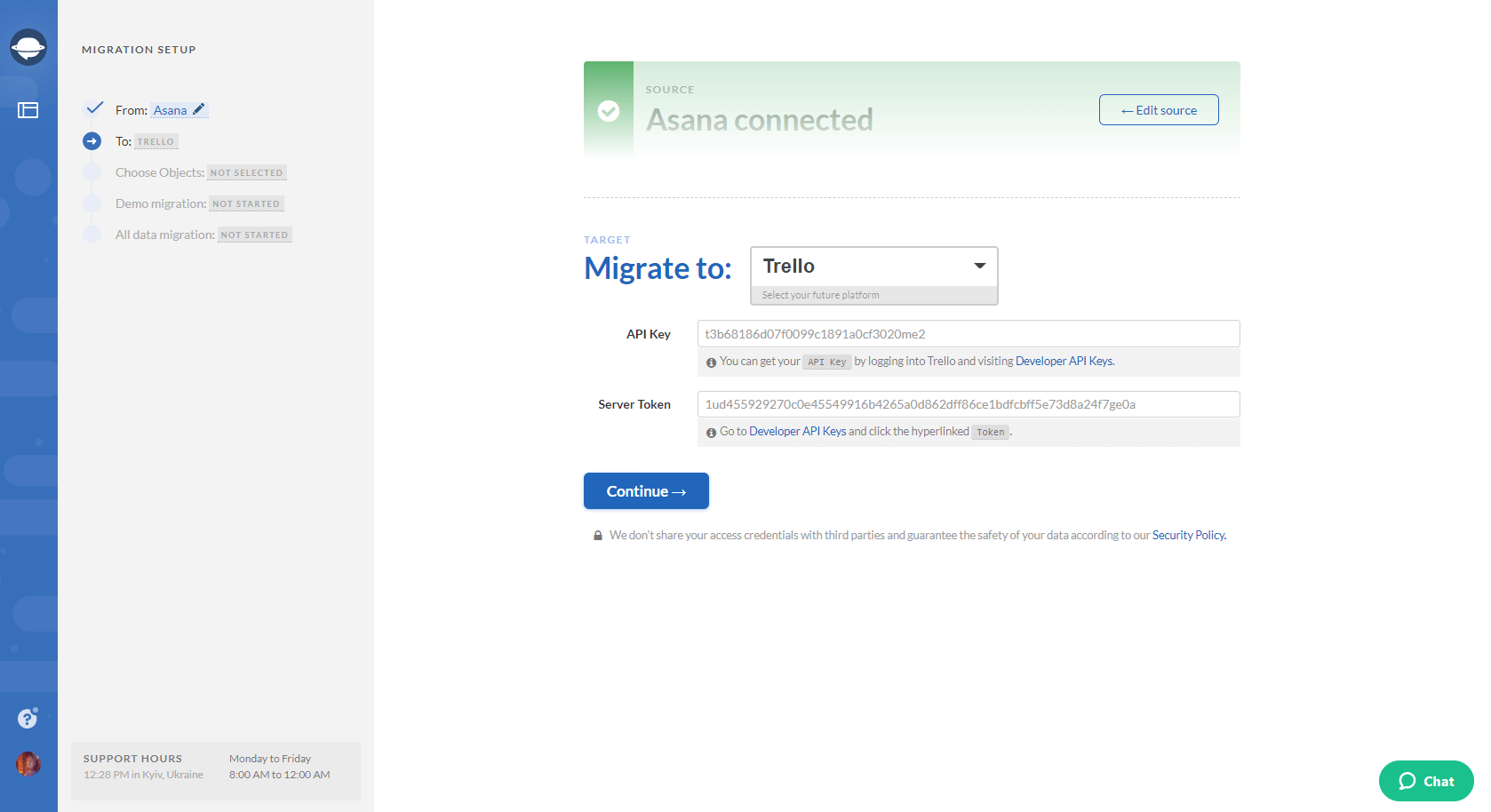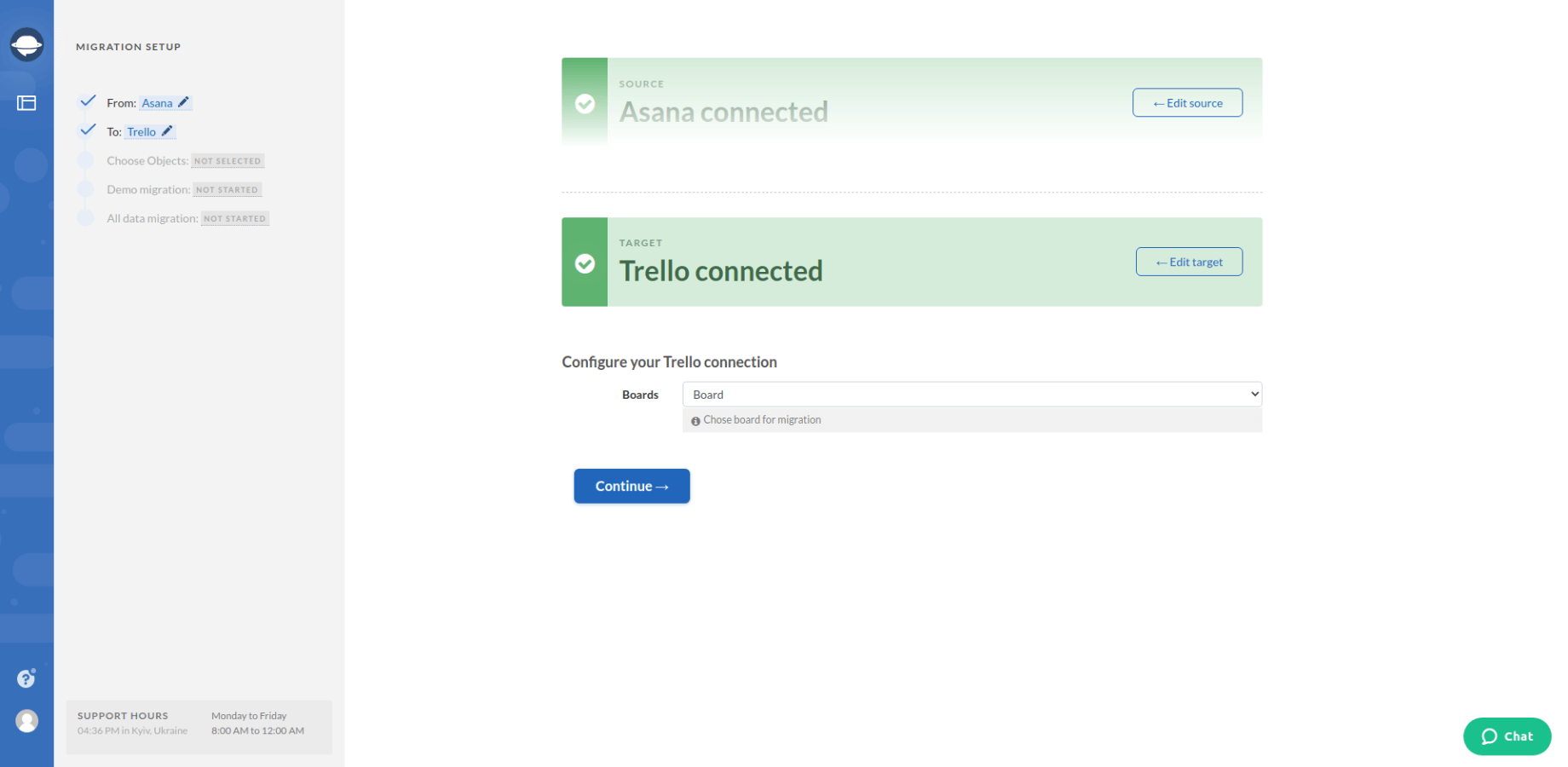 4. Once you are done with the previous steps, you'll have to choose the records that you want to migrate. Select Tasks and the Migration Wizard will automatically select other objects and open a mapping form.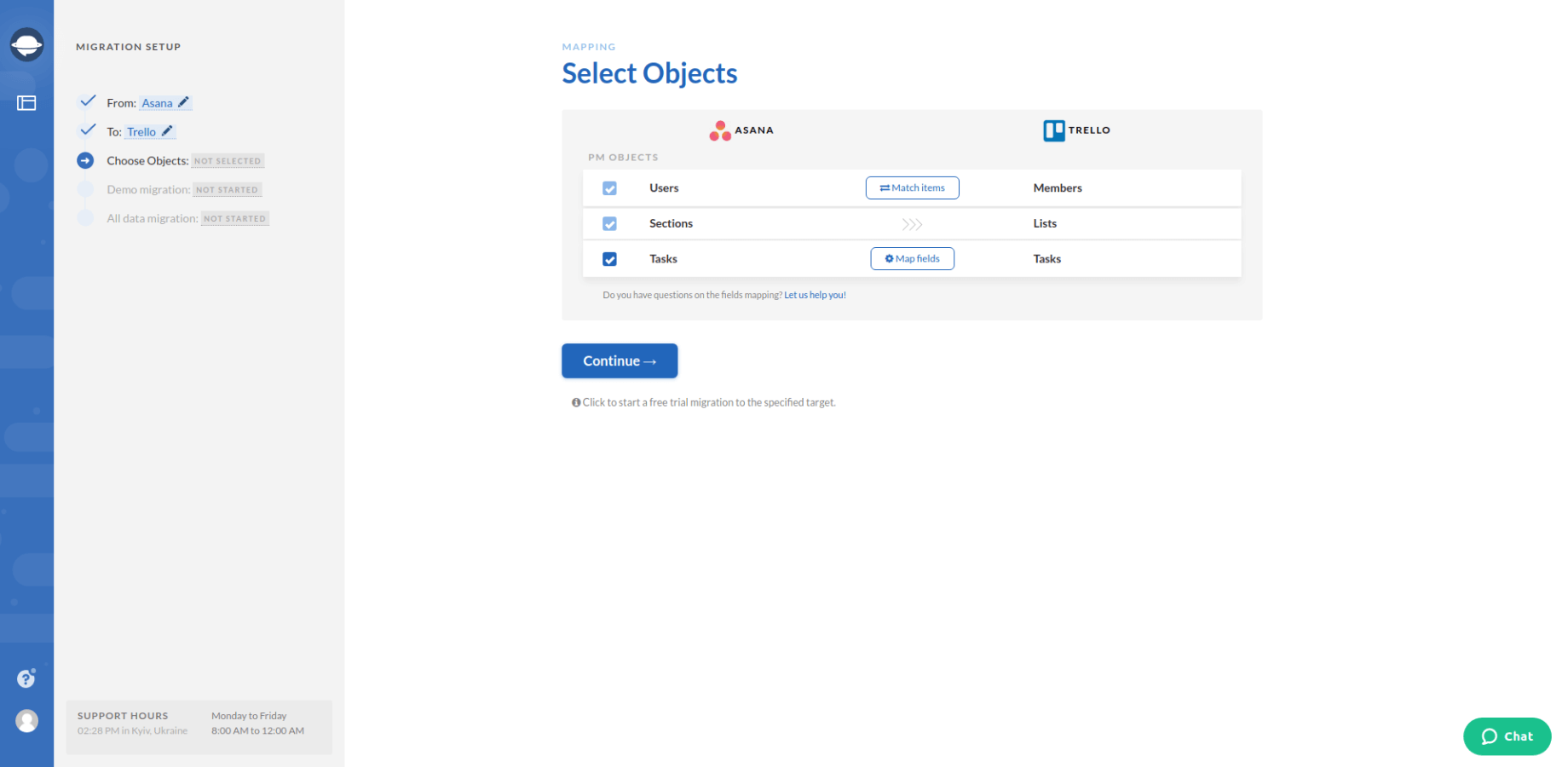 5. Map task fields and save mapping when done.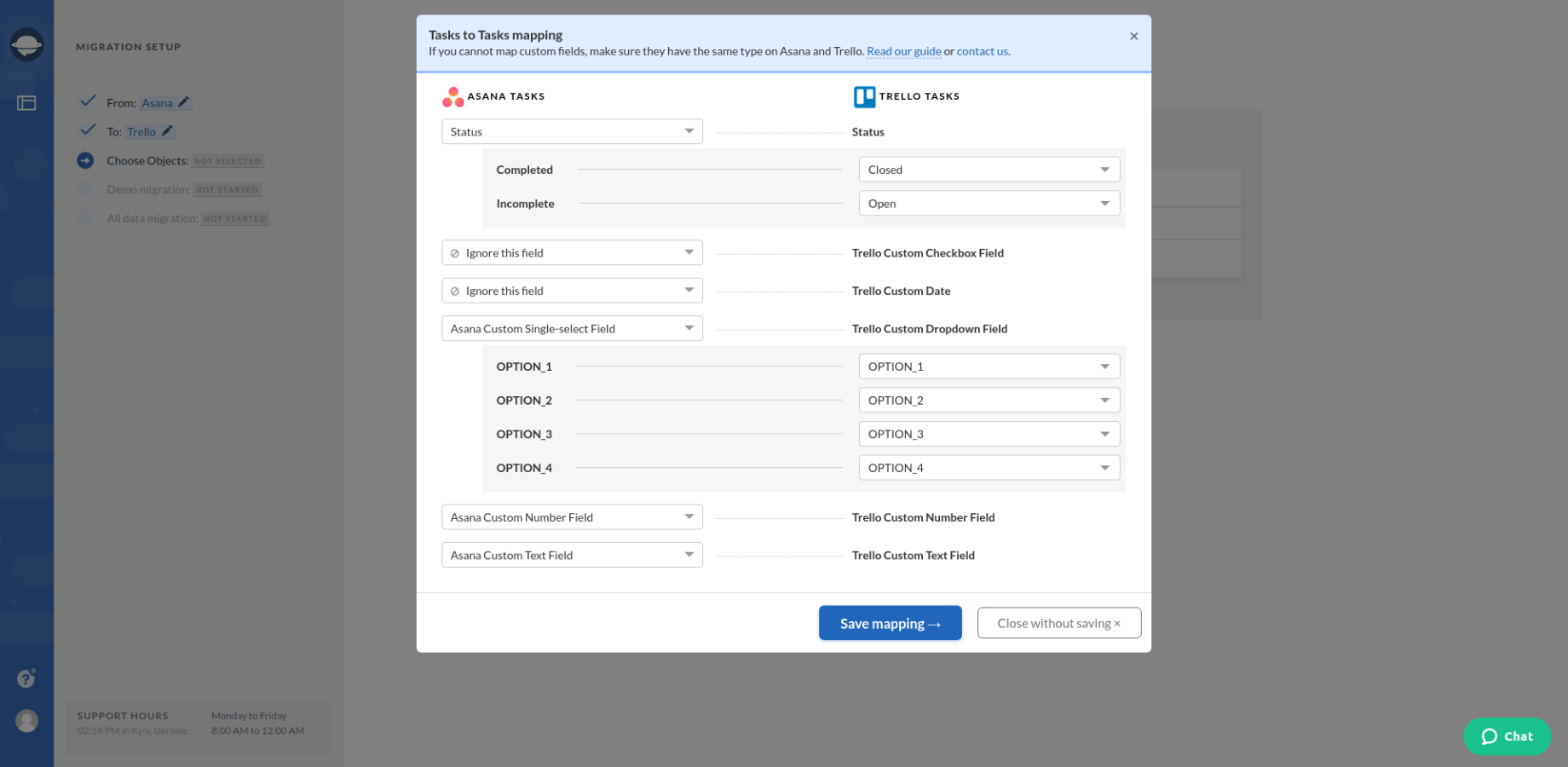 6. When task mapping is done, move on to user matching. Click the Match items button and match users between the systems.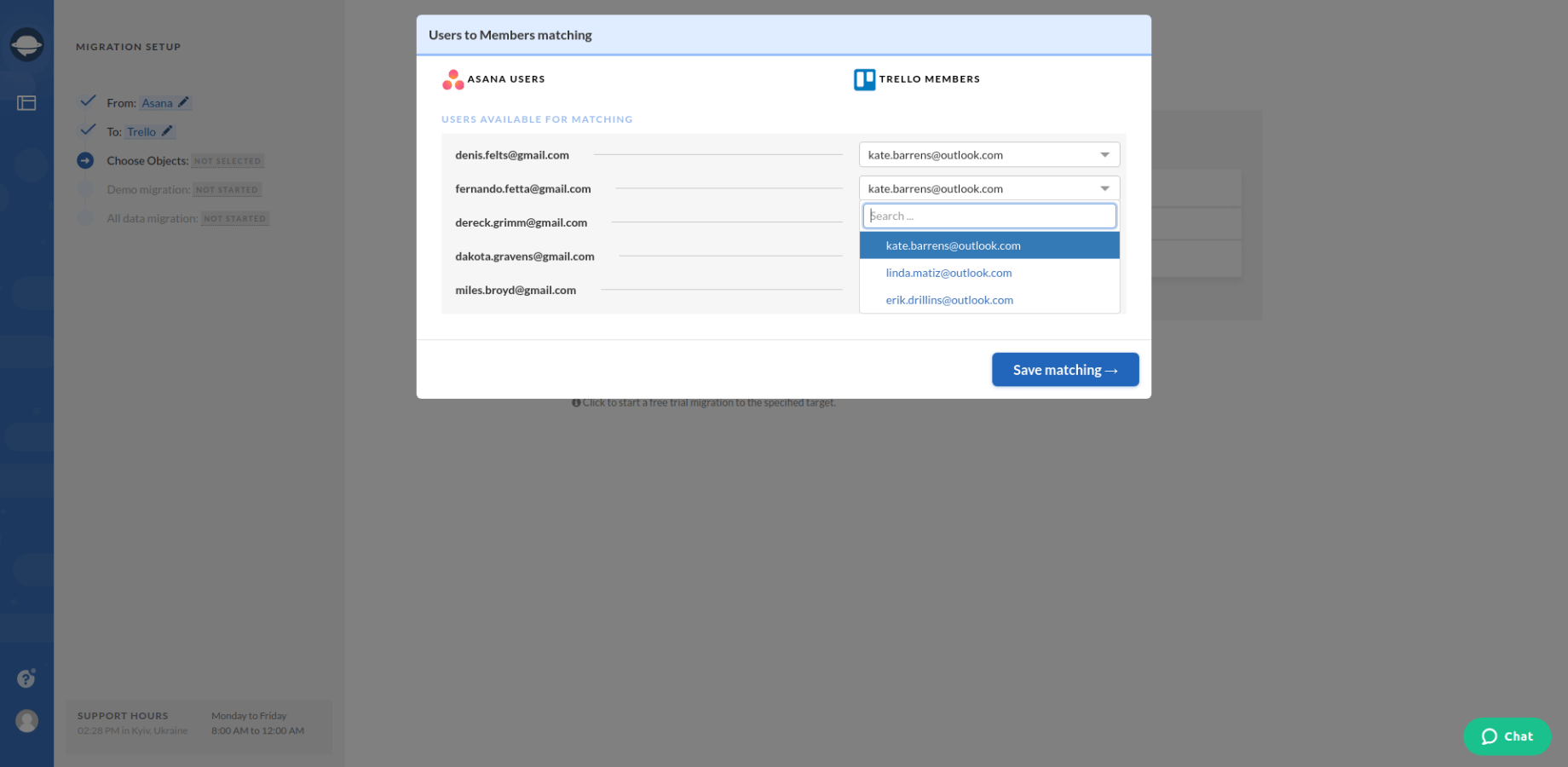 7. After that, you can perform the demo migration. It is necessary to undergo such a process so that you can see the outcome of the migration and how our tool will carry out the process. The demo migration will last only 5 minutes: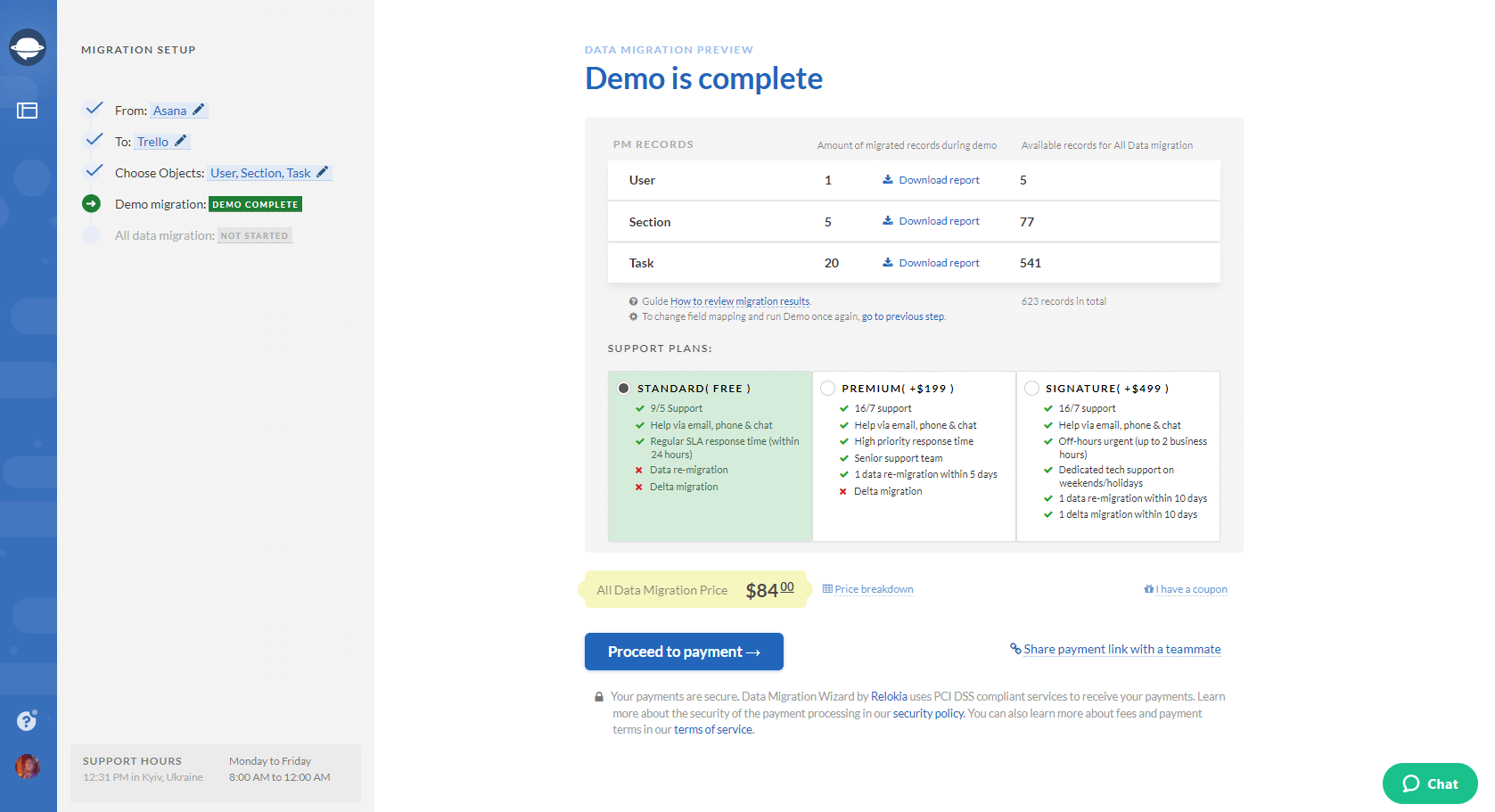 8. Check the result of the demo migration. In case something goes not as planned, contact our support team for further assistance;
9. If you are satisfied with the result of your demo migration, you can perform the Full Data Migration.
Let's migrate together! 
We are hoping that the guide will serve you well and assist you with your migration from Asana. Don't forget that prosperous companies always change for the better, trying to improve their workflow and revenue. Sometimes you just need to do one step - migrate to a different platform. So, why don't you do it right now with the help of Relokia?