With so many customers worldwide, it is no surprise that a new Jira Software review appears. Initially designed for tracking bugs, this software helps to manage multiple projects. Notedly, many companies use Jira but don't work in software development.
What is more, this product management software works for SMBs and large enterprises equally effectively. It sounds like an ideal tool for project management and team collaboration, right? But we don't get bought by praise and dig into what Jira Software is. So you can make a well-acknowledged choice of implementing or migrating your product management operation to this software.
What Is Jira Software?
That's like a match made in the project management heaven: Jira Software has tools to run project management and track bugs during software development. It's counterintuitive, but tech and non-tech companies take advantage of Jira and enjoy the transparency of processes using this Atlassian project management app.
Looking at the tech teams, Jira Software helps improve sprints, workflows, and team collaboration without overcomplicating tasks assigning or prioritizing. As stated by Atlassian, 83% of Fortune 500 companies have already employed one or several Atlassian products for running their operations, including project management too.
How Does Jira Software Work?
The project management software comes in two variants: cloud-based and on-premise. Before committing to one of these options, better to find out more about each of them.
With Jira On-Premise (Server or Data Center), you can
control your data better and build your server ecosystem
prevent data storage in other countries (an excellent option when you need to isolate your data within a particular region)
receive updates regularly as the Jira server gets updates 3-10 months earlier than the cloud version
add an unlimited number of users
enjoy the vast customization options
With Jira Cloud, you can
receive updates automatically, and your issues are solved by Jira's team
focus on processes and not on administration of the software
adjust it to your SMEs requirements
use a freemium pricing plan for up to 10 people in your teams and a total of 5,000 users for paid tires
What Is a Jira Software Hierarchy?
Jira Software delivers a handful of features and tools. So when you start working with Jira, you may get lost a bit. To make things clear, you should get acquainted with the Jira hierarchy.
When you first open Jira Software, you create your website and respond to several questions that are supposed to configure your interface more suitably for your needs. Then you name your project and set up your dashboard.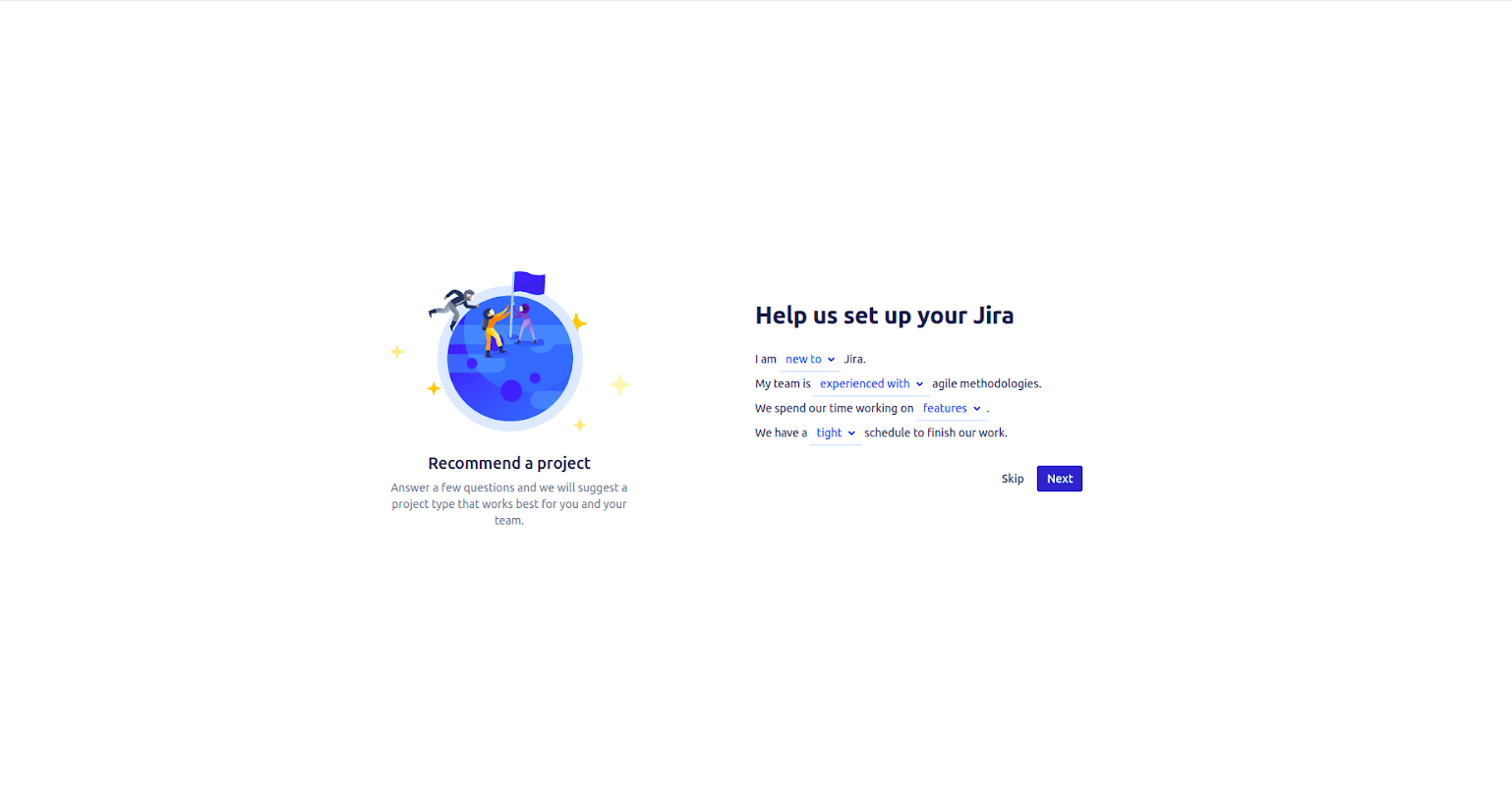 Source: Atlassian
Then, you name your project and add details. Then select a template and type, and invite your teammates.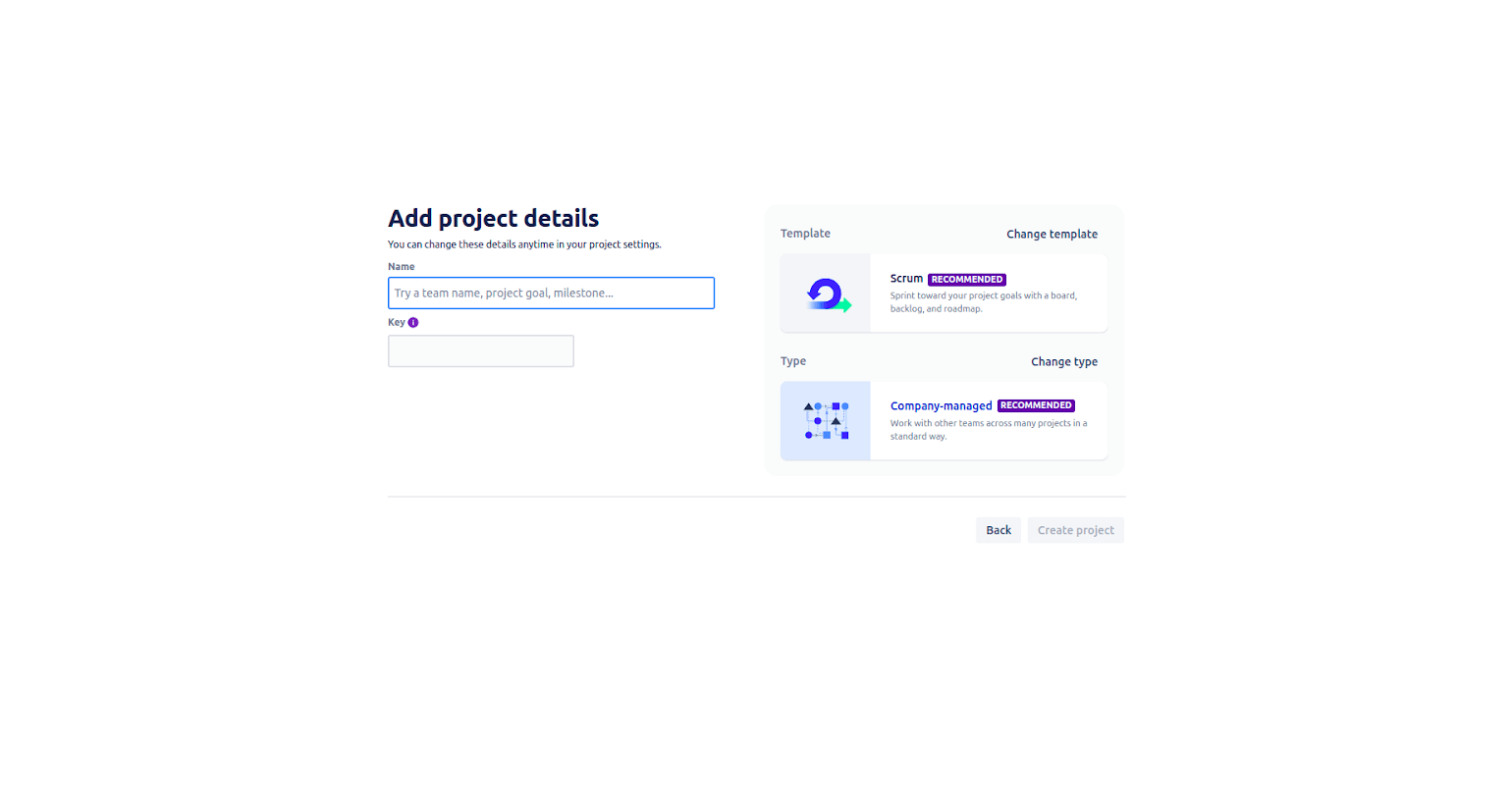 Source: Atlassian
After you go to your project board where you can start working on your tasks. The project is a set of different tasks under one domain.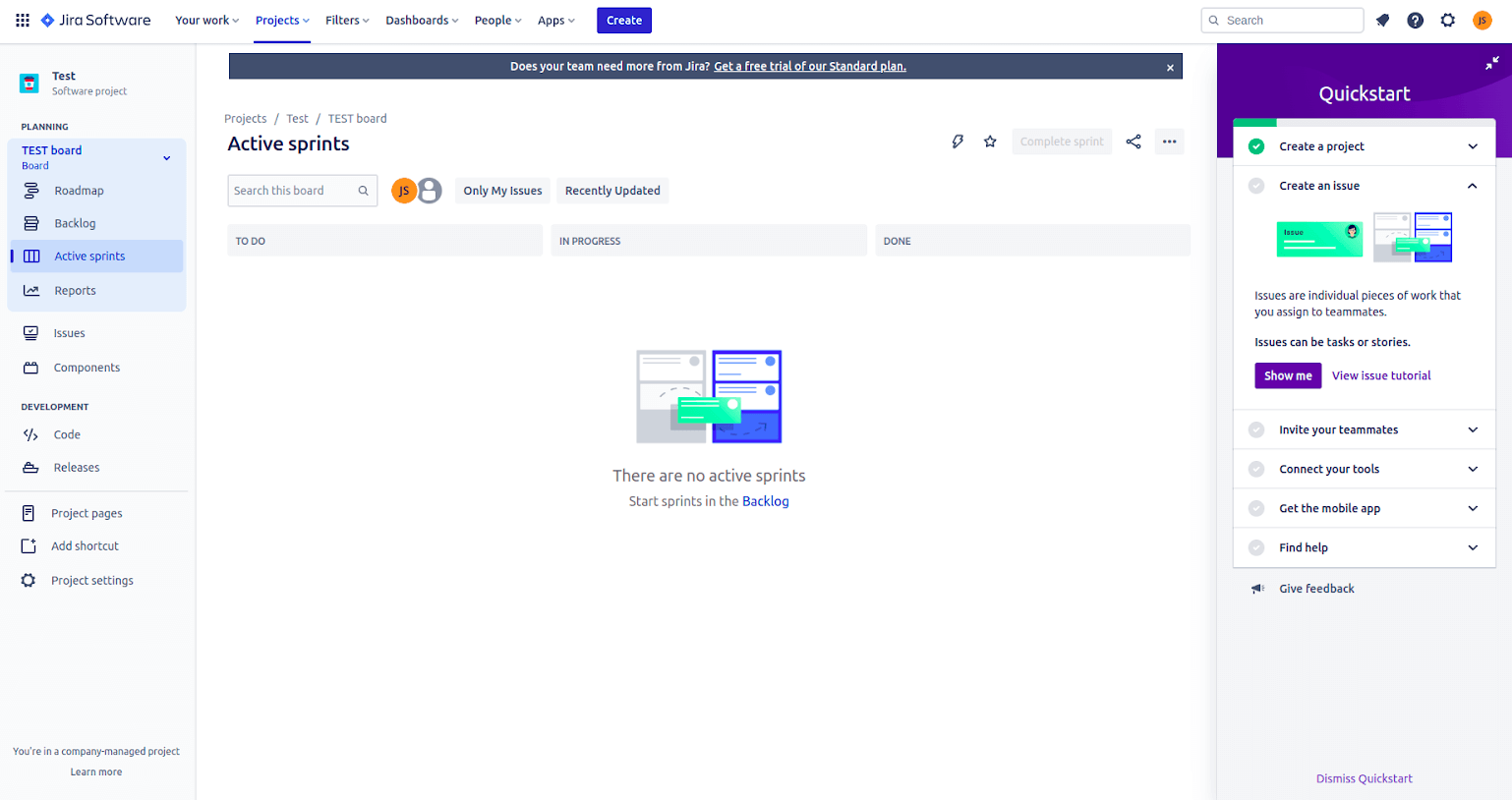 Source: Atlassian
In y Your Work Tab you can see all your projects with Boards that represent all tasks and their position in a workflow.
The issue is a building block of any project — it could be a story, a task, an epic, a bug, and create a sub-task in each issue type.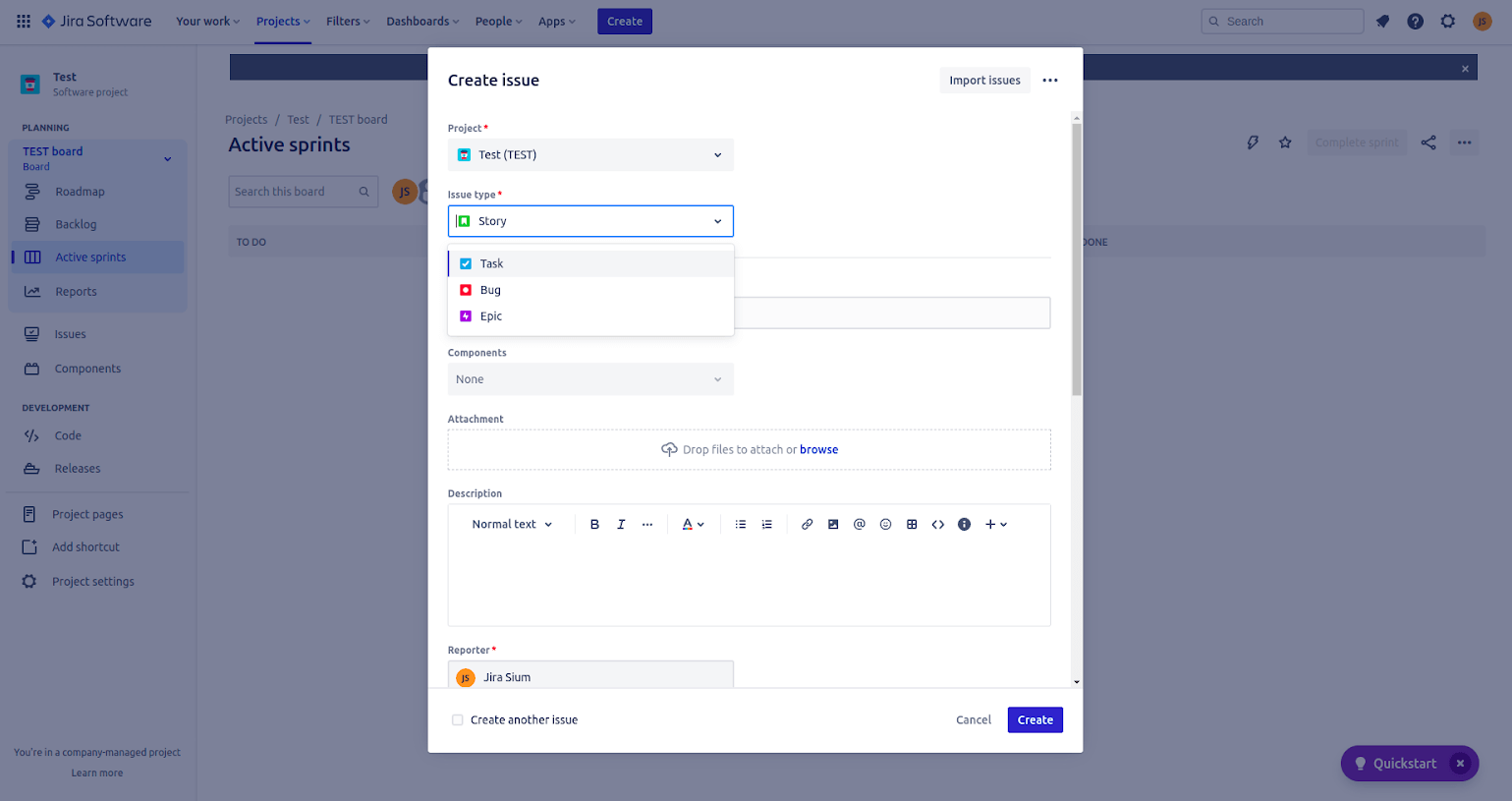 Source: Atlassian
Workflow is the path issues should go through to be done. It consists of different statuses that the issue must pass until it's done.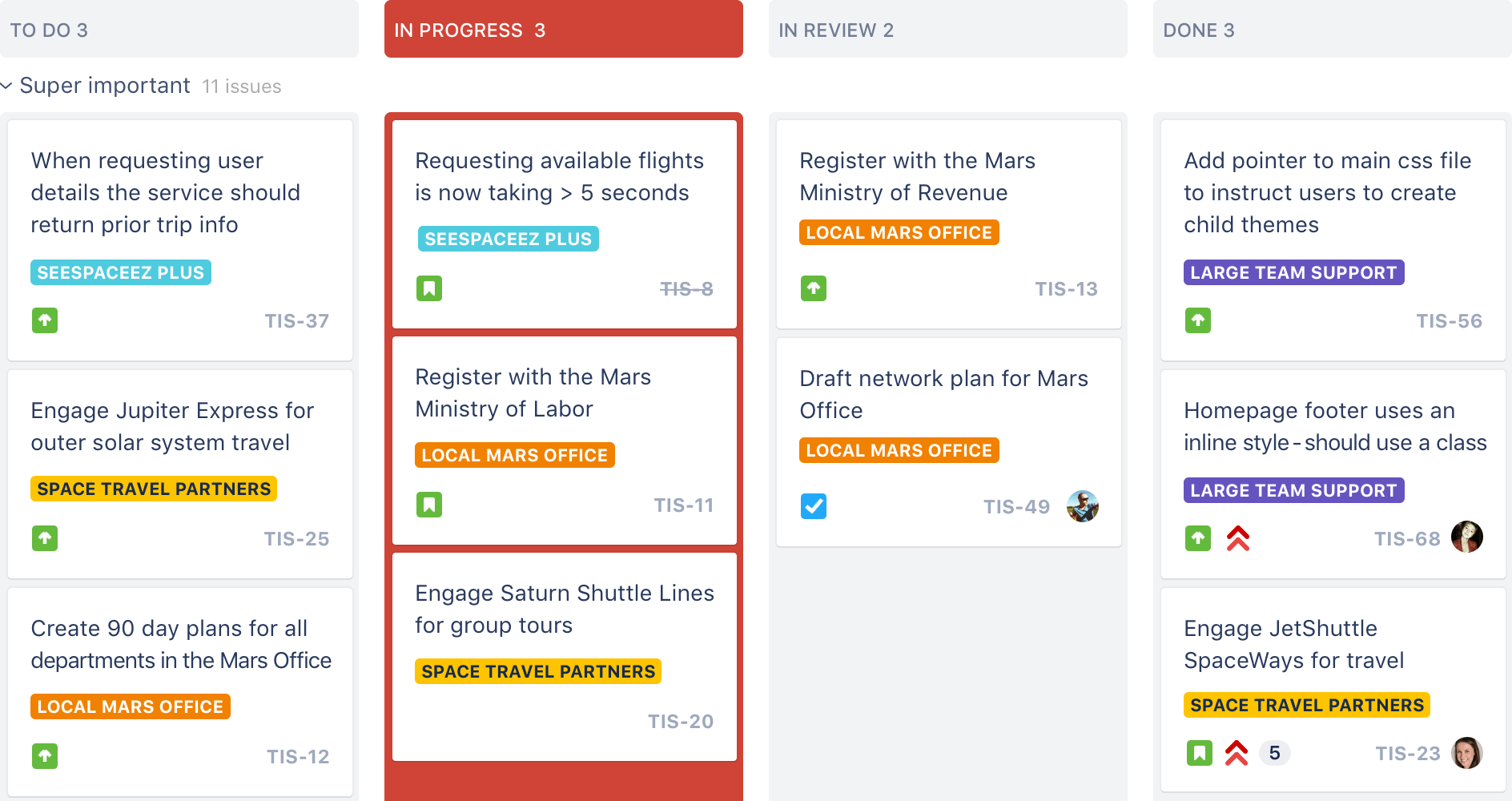 Source: Atlassian
What Features Does Jira Software Support?
Jira Software is famous for its rich functionality. Even if you do not opt for an advanced paid package, it provides many tools and options for efficient project management running.
Within Jira Software, you have primary and additional features: time tracking, collaboration tools, reporting, conditions and validations, priority levels, due dates, labels, attachments, and many more.
Why should you choose Jira Software? Due to this list of project management features:
Scrum board is a highly customizable board that helps agile teams do their work fast and efficiently. It is accessible by any team member and gives a clear picture of what happens and all the blockers you currently have.
Kanban board is a specifically organized board that shows tasks and issues in different statuses, such as 'To Do', 'In Progress', etc. Each of the company's projects is shown in columns with different statuses where the task moves through each of the statuses till its completion.
Bug and issue tracking. The task can be broken into sub-tasks and assigned to different team members to solve various problems. Besides, all the needed information regarding the bug can be added in attachments, even with a brief description or screenshots. You can also prioritize the tasks based on their importance and receive a notification when the task is updated.
Agile reporting helps analyze your workload, backlog, and the progress of your tasks. All Jira's reports are highly customizable and dynamic. Besides, there are some colorful graphs and charts to visualize the received data better. The most frequently used reports are:
Resolved vs Created Issues
Sprint
Resolution Time
User Workload
Pie Chart
Version
Cumulative Flow Diagram
Velocity Chart, and many more
Custom workflows
Workflows consist of a set of different statuses. You can create your workflow from scratch or take advantage of the predefined workflows available in the Atlassian Marketplace. You can create different workflows — from simple to complex ones. But we recommend starting with some simple ones and optimizing them on the go if you do not want your team to waste too much time adopting them.
Roadmaps are basically the optimized Gantt charts that are updated in real-time. It is a great tool to set deadlines for your tasks and forecast their completion based on the team's pace. It helps allocate your resources and get the big picture of the workload. Besides, it helps quickly troubleshoot any problem and reassign the tasks if you see that the team can't manage the task.
Advanced role and permission settings. You can easily restrict permissions fully or to some specific task. You can also limit the visibility of the tasks for specific users or roles, which comes in handy when you need to add some external users, such as freelancers or contractors, and want to protect your internal data.
Project roles and project archiving by default, there are three key project roles:
Admins (those are people who administer projects)
Developers (those are people who work on issues)
Users (those are people who log issues)
Each role within a definite project can be set by Jira or the project administrator. Besides, you can create new roles, edit the existing ones, or even delete roles for your company's needs.
Jira Software allows you to simply archive your old and inactive projects to reduce the clutter in the software. This process doesn't mean you delete it for good, as you can always get a record of your work in case you need it one day.
Audit logs are used to analyze the key activities happening within your organization. You can use those activities to find issues regarding the user details, managed accounts, product access, or company settings. They also help diagnose the activity created by users, which is stored in audit logs.
Jira Software Pricing Review: What Fits Your Budget?
There are several factors on which Jira's pricing depends, naming the type of the software (cloud or on-premise) and the number of users you need. Each pricing plan (except the Enterprise one) has a free trial period — 7 days for the cloud version and 30 days for the on-premise one. You also can pay monthly or annually (the Enterprise plan has only annual payments). Here are the four main pricing plans:
Cloud-based
| | | | | |
| --- | --- | --- | --- | --- |
| | Free | Standard | Premium | Enterprise |
| Cost | $0 | $7.50 per user/month | $14.50 per user/month | Upon request (only annual payment allowed) |
| Total number of users | up to 10 | up to 20,000 | up to 20,000 | unlimited |
| Data storage: | 2GB | 250GB | unlimited | unlimited |
| Features: | Scrum and Kanban boards, reports, backlogs, workflows, integrations, and roadmaps. | Everything from Free version + advanced permissions, anonymous access, audit logs, bug and feature requests. | Everything from Standard version + 24/7 support and 99% uptime guarantee. | Everything from Premium version + data residency control, 99,5% uptime with backed SLA, premium 24/7 support. |
On-premise
The cost of Jira's on-premise pricing plan (also known as the Server or Data Center pricing plan) depends on the number of users. It starts with an annual payment of $42,000 for 500 users and ends with $885,000 for 50,001 users. You can also get a free trial period or discounts when you switch from the Cloud version.
Jira Software Pros and Cons: Is There a Balance?
Jira Software Advantages
Great Agility: Explicitly built for agile and Scrum teams, Jira offers its users powerful Scrum and Kanban boards, agile sprints, and different project views to efficiently visualize all the existing workflows and see all the tasks progress in real-time. It will come in handy to improve project management for small and large teams. In Jira, it is straightforward to find out which tasks are successful and which ones are delayed.
Excellent Bug Tracking: tracking bugs in Jira is a piece of cake as it is one of the software's core features. Developers can effortlessly track and record the bugs and view all the bugs and issues in the backlog. Besides, they can easily prioritize which bugs to troubleshoot first with the help of a single view.
Advanced Reporting: by default, Jira Software offers its users more than 12 advanced reports, helping managers get helpful insights into the team's performance.
High Flexibility: Jira allows its users to customize the workflows however they like. As a result, you get a visual representation of all the processes. But workflows are not the only components that can be customized; you can create your reports and boards. Besides, development teams can even create their filters using Jira Query Language (JQL). If customization is not enough for you, you can integrate Jira with more than 3,000 third-party apps and reach the maximum potential.
Jira Software Drawbacks
Tool Designed for Technical Users: Jira Software doesn't have a user-friendly interface, and its setup is quite tricky that is why non-IT users and average users might feel a bit overwhelmed using it.
Limitation in Collaboration: the team collaboration in Jira is limited to just Scrum and Kanban boards. However, you can integrate the software with other third-party tools like Slack for better collaboration. Plus, Atlassian has tools such as Trello and Confluence, which you can purchase, too. However, this means extra spending.
No Timeline Views Allowed: Jira doesn't have a Gantt chart or timeline view, which is extremely useful for connecting tasks and sub-tasks. Besides, the timeline view comes in handy when you need to adjust schedules when some issues appear that might impact other tasks. To get a Gantt chart, you need to connect an app to Jira yourself.
What Are the Best Use Cases of Jira Software?
Jira Software was created with development teams in mind. With many releases and updates, non-tech teams find this project management system useful, too.
Marketing teams: Jira can be helpful for marketers who need to plan product launches or large-scale events.
HR teams: human resources can use Jira software to organize their hiring and onboarding processes better.
Project managers: Jira has everything for efficient project management — tasks management, logging, customization, workflow estimation, project analytics, etc.
Product managers: Jira Software helps product managers efficiently create road mapping, map dependencies, and share results with other team members.
Software engineers: this tool is beneficial for issues and backlog tracking, planning of releases, integration of CI/CD, and various developer tools.
Quality Assurance teams: Jira offers software testers a variety of project management tools for better work — bugs tracking, setting tasks, issue prioritization, and many more.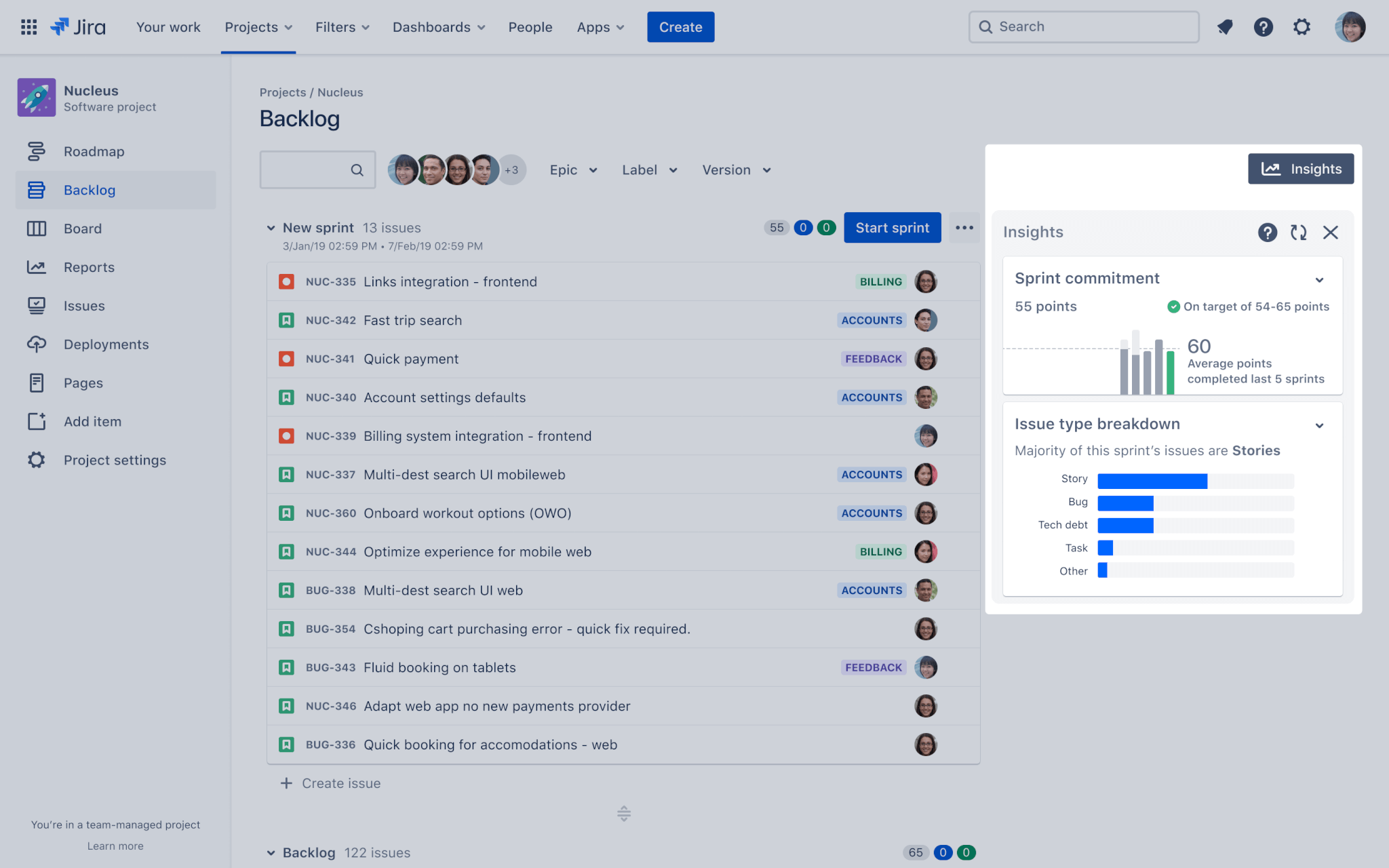 Source: Atlassian
Sneak Peek into Jira Software Add-ons & Integrations
Jira Software supports numerous third-party apps and tools. It has many options for developer integrations, too, as well as various open APIs. Besides, Jira itself is geared with flexible Java APIs and REST, so you can upgrade it yourself and make it meet all your business needs. Atlassian Marketplace offers its users more than 800 different add-ons and plugins. Here are a bunch of the most popular ones:
Portfolio for Jira
Jira Toolkit Plugin
Tempo Timesheets for Jira
Jira Charting Plugin
Atlassian REST API Browser, and many more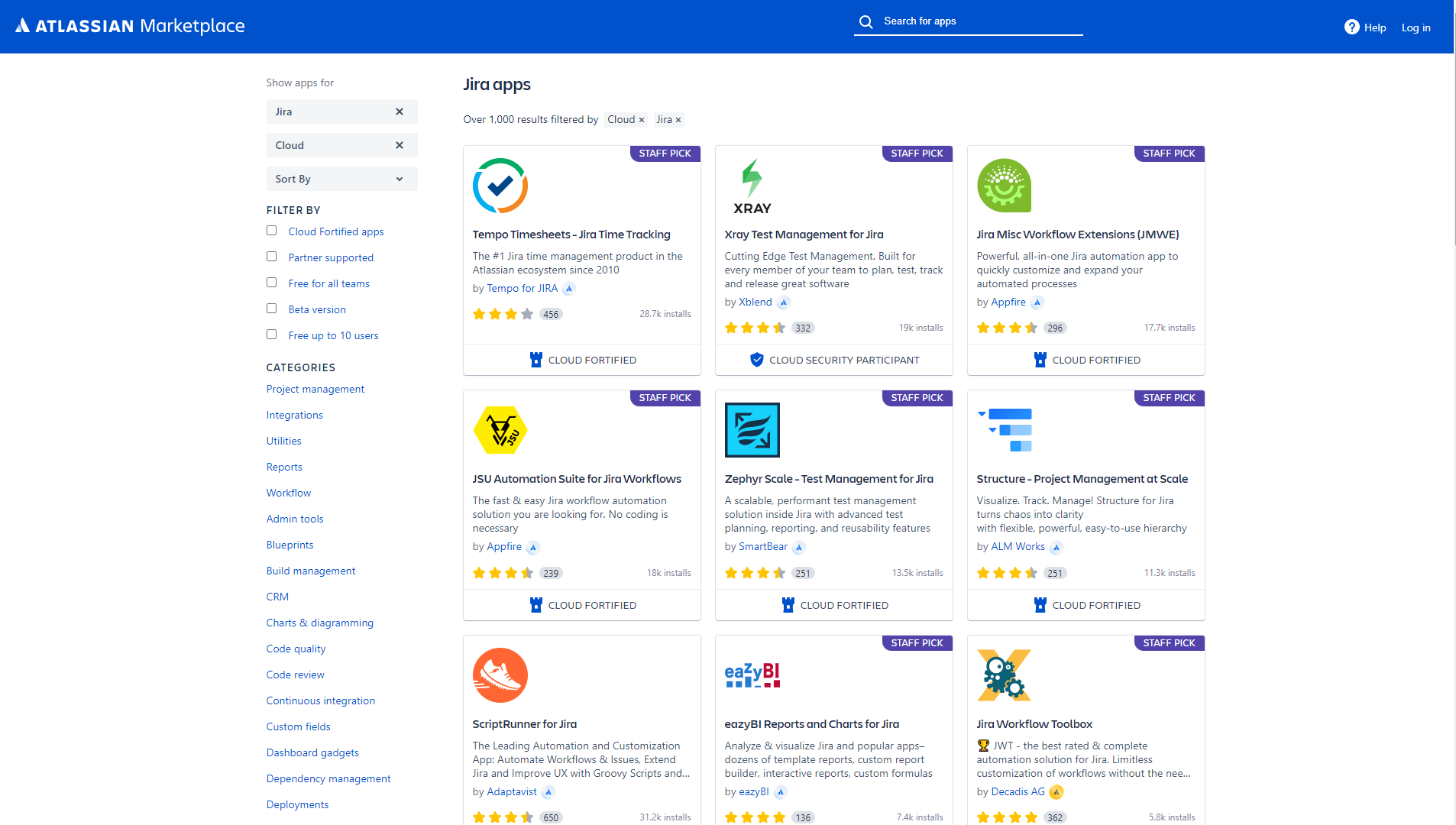 Source: Atlassian Marketplace
Is Jira Software Secure?
Today, security is one of the main cornerstones for choosing software. Here are some of the key elements of Jira's security:
Jira project management software offers its admins the power to create custom roles for all the users of the project and set the level of access and control they get
Compliance with GDPR, ISO/IEC 27018, SOC 2 & 3, and PCI DSS
Data encryption using TLS 1.2+ with full forward secrecy
Servers with user data using industry-standard AES-256 encryption in transit and at rest
IP allow listings secure your working environment so that only people from trusted networks can access it
Does Jira Software Fit Your Project Management Needs?
Jira Software is a powerful project management tool that will come in handy for many teams who work across different industries. Both cloud and on-premise versions of Jira Software are available on the market, and each has its peculiarities and price range.
Overall, this software helps easily monitor the performance of each team member and track bugs and issues. Jira helps agile teams better organize their work and improve collaboration with the help of Scrum and Kanban boards, sprints, and advanced reporting. Besides, Jira is a very scalable solution due to numerous integration options and add-ons.
Do you still hesitate whether Jira is the best project management software to fit your major needs? You can always test it out by getting a free trial period. Or, in case you have already made up your mind, you can easily migrate your data to Jira Software and skyrocket your business operations in no time.
Frequently Asked Questions
Jira Software is widely trusted by many companies worldwide because of its rich features for Agile Project Management.
Jira Software is mainly used for bug and issue tracking and project management. However, it serves other purposes as well.
Jira was created in 2002, and since then, it has been one of the best project management tools that have been employed by more than 65,000 companies worldwide, thanks to its scalability, high integration capability, and numerous benefits of Jira.
Of course, Jira Software is worth learning if you want to improve your business performance. However, because this tool was created for IT specialists mainly, the learning curve is quite high.
Jira Software became so popular because it helps different teams increase their productivity. Besides, it allows you not to switch between different apps and have everything you need for efficient project management in a single app.
Want to migrate to Jira Software?
Let's migrate your data automatedly
Setup a free Demo