If you are looking for a tool to create and manage your projects effectively but your budget is tight, this review of the best free project management software is just for you. Besides the list of tools, we've prepared some tips and tricks to choose the software that meets your individual needs.
Most free tools have basic project management features, but some offer additional flexibility and even premium-level functions for free. There's a big chance that you'll find your favorite software from our list!
Yet, to make this overview consistent, we'll start with the basics.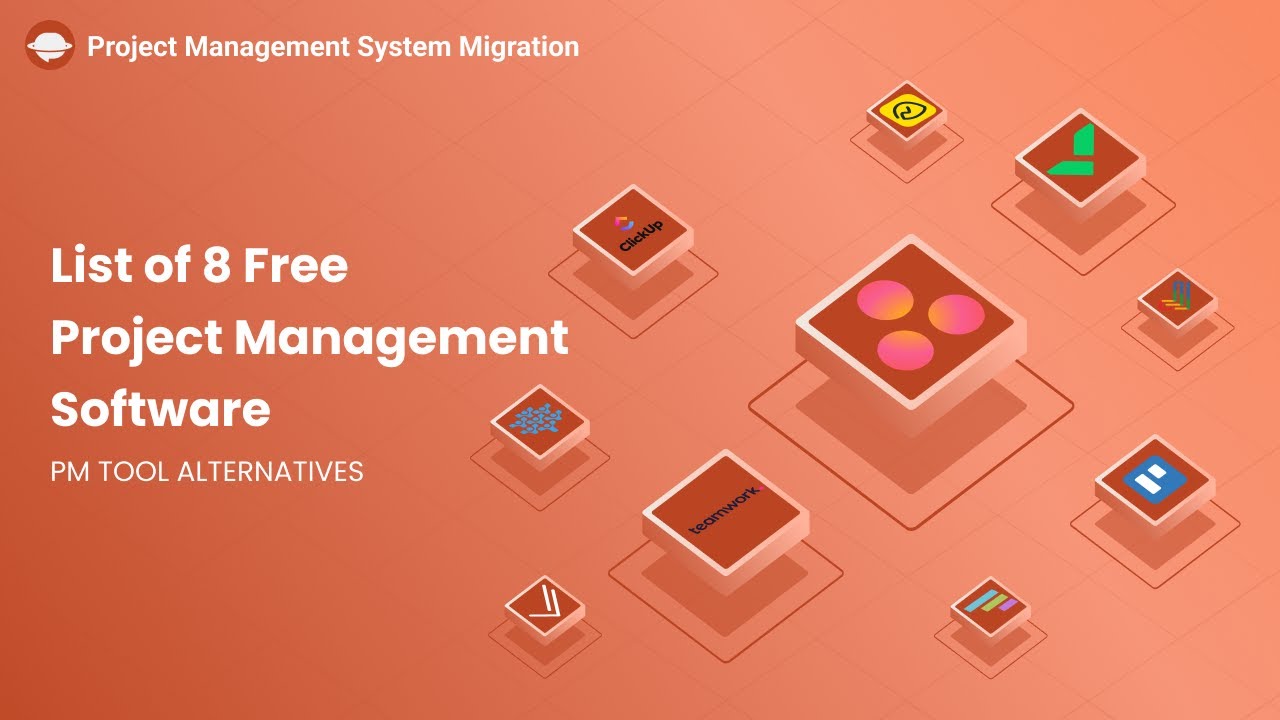 What Is Project Management Software?
Project management software helps plan, schedule, and allocate project-related resources, including the budget, time, information, and the team. What can you use it for?
Task management
Tracking progress
Team collaboration
Project reporting
Setting project goals & milestones
You plan the project, set goals, assign tasks to your team members, and track progress using a range of reports. This is a rough scheme of how it usually works. However, project management tools vary and offer different frameworks, so you need to do previous research before getting one.
It often boils down to the price, so let's figure out the pricing models and the types of "free" and what's included.
What Are the Pricing Models?
Free
This software is forever free and doesn't offer a trial period or upgrades to higher plans. If you're a startup or a solopreneur with a tight budget, it's the thing for you. But since no fee is charged, you may run into a bunch of ads from time to time.
Freemium
The name consists of the combination of "free" and "premium." You get the basic software version for free but can upgrade to the paid plan for the high-end features. Freemium tools are excellent for project management teams who plan to extend their business.
Free trial
Within the free trial period, you can test drive the tool as a paid user. This means, that you can try out the full feature package to get a clear picture of how the software works. Commonly, a free trial lasts from 7 to 30 days.
Paid only
Some tools offer only paid plans typically based on monthly or yearly subscriptions. Their typical users are large companies with extensive project management needs and big budgets.
Free vs Paid: Which to Choose?
Whatever the pricing plans are, you have to choose between free and paid. Of course, much depends on the software's pricing packages. But still, some general pros & cons of free and paid plans may be decisive in choosing among the free project management tools. Let's figure them out.
What Are the Benefits of Free?
No fees. Do we sound like captain Obvious? Well, agree that getting a product for free is a big advantage. You can start using it right away and check whether it fits you. Still, remember that data migration and training may be not included in the free plan.
No responsibility. Free project management software doesn't put any obligation on you. You don't bother about the recurring costs or the restricted features and can replace the tool whenever you want to.
Ideal for small teams and personal use. Usually, free software's functionality is not extensive but it's enough for teams with up to 10 members. Why would they need to pay for a ton of useless features?
How Free Software Is Limited?
Limited functionality. Free and freemium tools offer limited features and this way encourages the growing teams to upgrade to premium plans. The paid plans often include essential features like dedicated support or the ability to add more users.
Time limitations. A free trial lasts for a particular period, so you have to make quick conclusions about the tool. If you want to try it out for a large project, there's a chance that 7 or 14 days might be not enough.
Privacy policy. The security level of some free software may be quite superficial. Thus, you need to read the privacy statement carefully and figure out what information is accessible for the vendor and how safe is your data storage.
What Are the Advantages of Paid Collaboration Tools?
More customizations. Paid software delivers more bespoke features to meet specific project management needs. Typically, they come with multiple customization options including layouts, reports, custom fields, etc.
Enhanced customer support. Keeping customers who pay fees is profitable, so vendors ensure their customer service is excellent. Support options usually include email, live chat, phone, and knowledge base.
Feature requests. Want an exclusive feature exactly for your business? If you're a loyal customer bringing large revenue to the vendor, you're likely to have it. Users' feedback shows the pain points and helps attract more customers.
What Are the Cons of Paid Collaboration Tools?
Recurring expenses. Getting a paid project management app implies paying regular fees. And as your needs grow, you have to spend money on additional features.
How to Choose Free Project Management Software?
The first thing to consider is whether you need a free project management tool. What made you think about getting one? Commonly, the reasons are the following:
Disordered Tasks. Making to-do lists in spreadsheets is helpful until the project is big and the tasks are overwhelming. With project management software, you can sort tasks by projects and delegate them to team members. Board views and Gantt charts give a holistic picture of how the team succeeds.
Lack of Team Organization. Working within a narrow focus and having no idea how different tasks intervene is not productive and discouraging for the team. You can use a collaboration tool to gather all project-related work into one platform, share it, and discuss it with others.
Basic Requirements to the Features. Free project management software is useful when you don't need sophisticated features which are usually available on higher plans.
Limited Budget. When the profit is small, you should watch expenses carefully. With a free tool, you not only save costs but gain benefits that can enrich your revenue.
Once you came to a decision to get free project management software, make sure it's worth your time and efforts. To avoid shooting in the dark, narrow down your choice with the following criteria:
Unlimited projects. If you seek a tool for long usage, consider the options allowing unlimited projects. Otherwise, you'll need to look for another software or upgrade the plan as long as you reach the limit.
Hosted. Self-hosting is rather complicated to set up and handle since you're responsible for maintenance, security checks and the servers. Hosted software takes over this burden, so you can focus solely on your project management.
Collaboration features. To make your team more cooperative and productive, the project management system should include communication tools and user access control.
Integrations. The ability to connect additional third-party tools within the product management platform can streamline your workflows. These include email, document storage boxes, calendars, chats like Slack, and more.
The Best Free Product Management Tools
ClickUp
Compared to other free project management tools, ClickUp delivers the most comprehensive feature package. Unlimited users and tasks provide huge space for collaboration whether your team is small or large. The only shortcoming is that the number of features can complicate the onboarding process.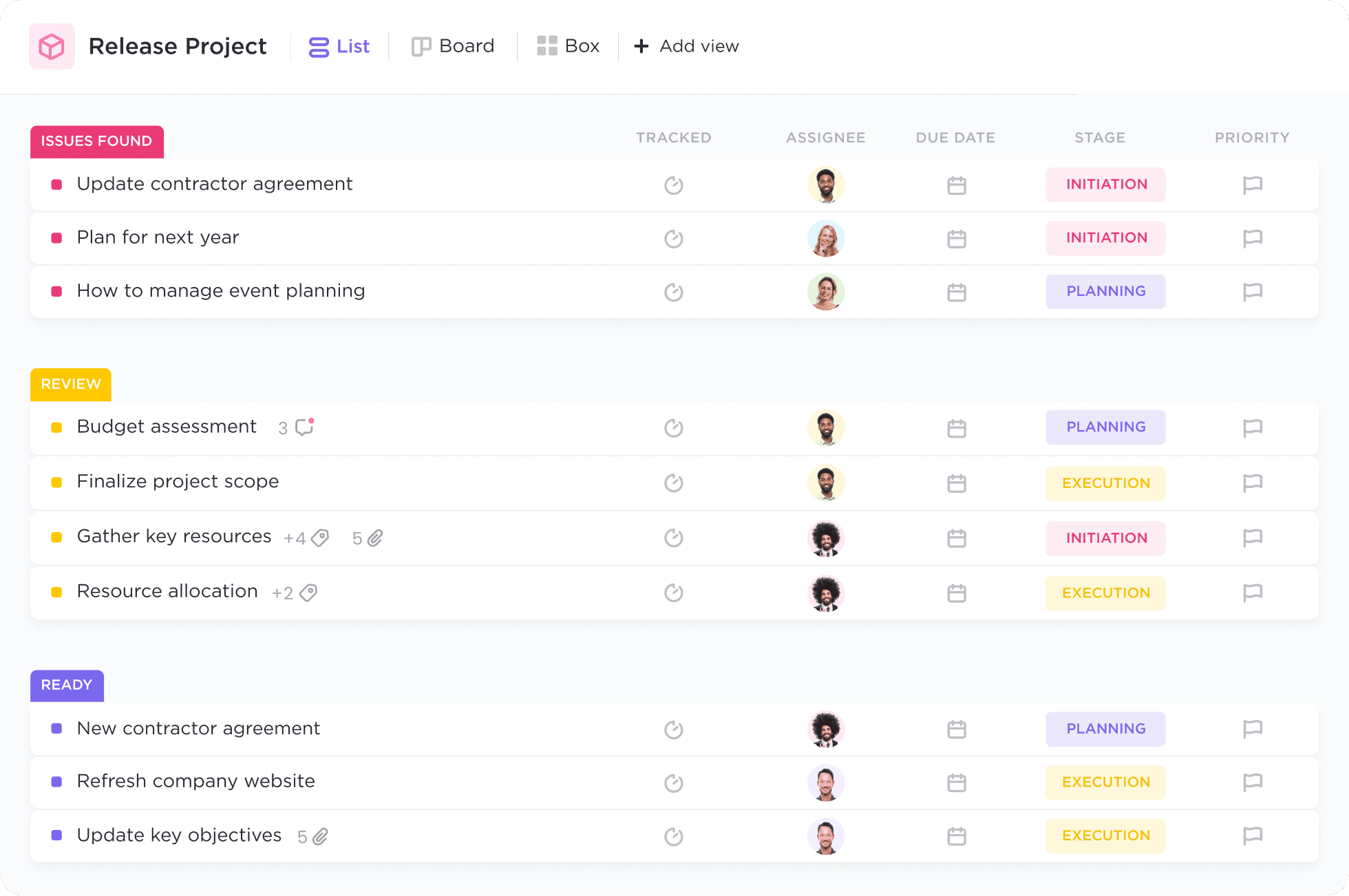 Source: ClickUp
Free Features
Multiple task views, including Kanban, calendar, and Gantt chart
To-do lists
Email, chat, and in-app video recording
Recurring reminders on tasks
Task prioritization
Assigning comments as tasks
Time tracking
Over 50 integrations
24/7 support
Pricing Plans
Let's see what options you have if you want to upgrade:
Unlimited: $5/user/month
Business: $12/user/month
Business Plus: $19/user/month
Enterprise: contact the sales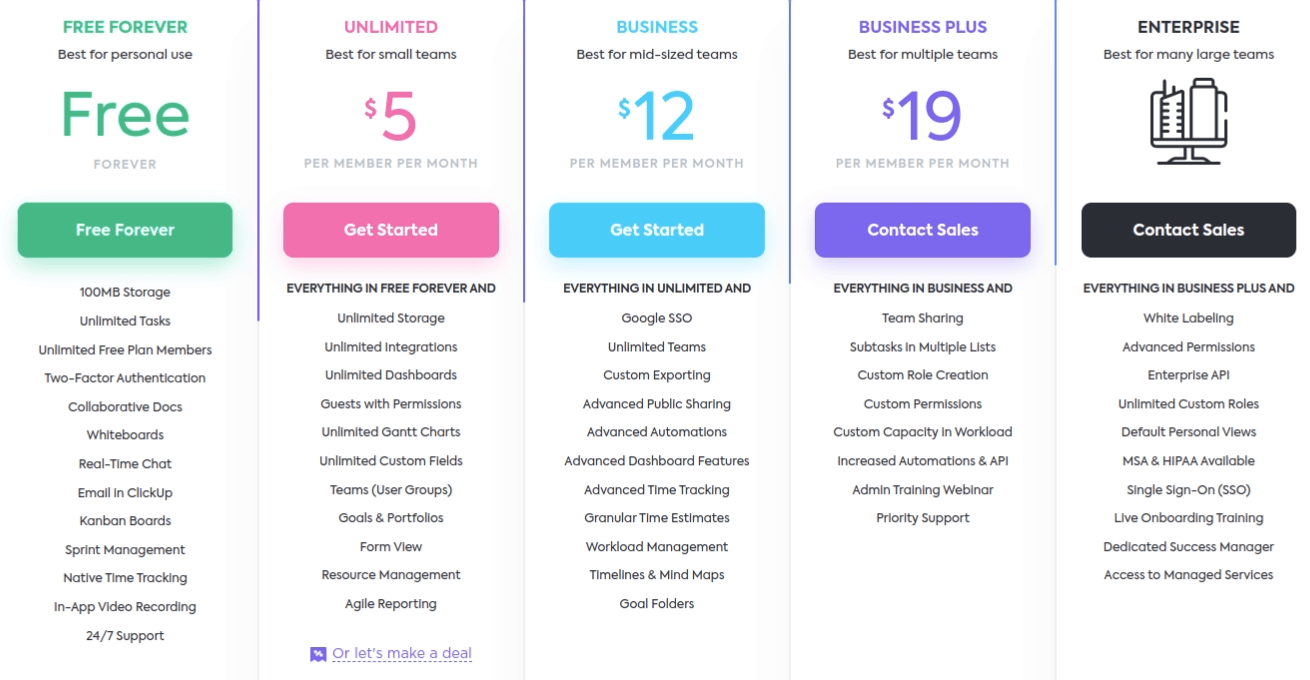 Source: ClickUp
The paid features include resource management, advanced automations & time tracking, Google SSO, custom roles & permissions, and priority support.
Who's It Good for?
ClickUp's unlimited users and features create great opportunities for teams of all sizes. The rich functionality makes this tool easily adjusted to various project management needs. The common users come from such industries as computer software and marketing & advertising.
Teamwork
Teamwork's free version allows only 2 projects and up to 5 users but still brings many features for your project management. For example, you can create project dashboards, track tasks, and collaborate with others. Also, it provides color themes to get a distinct picture of team activities.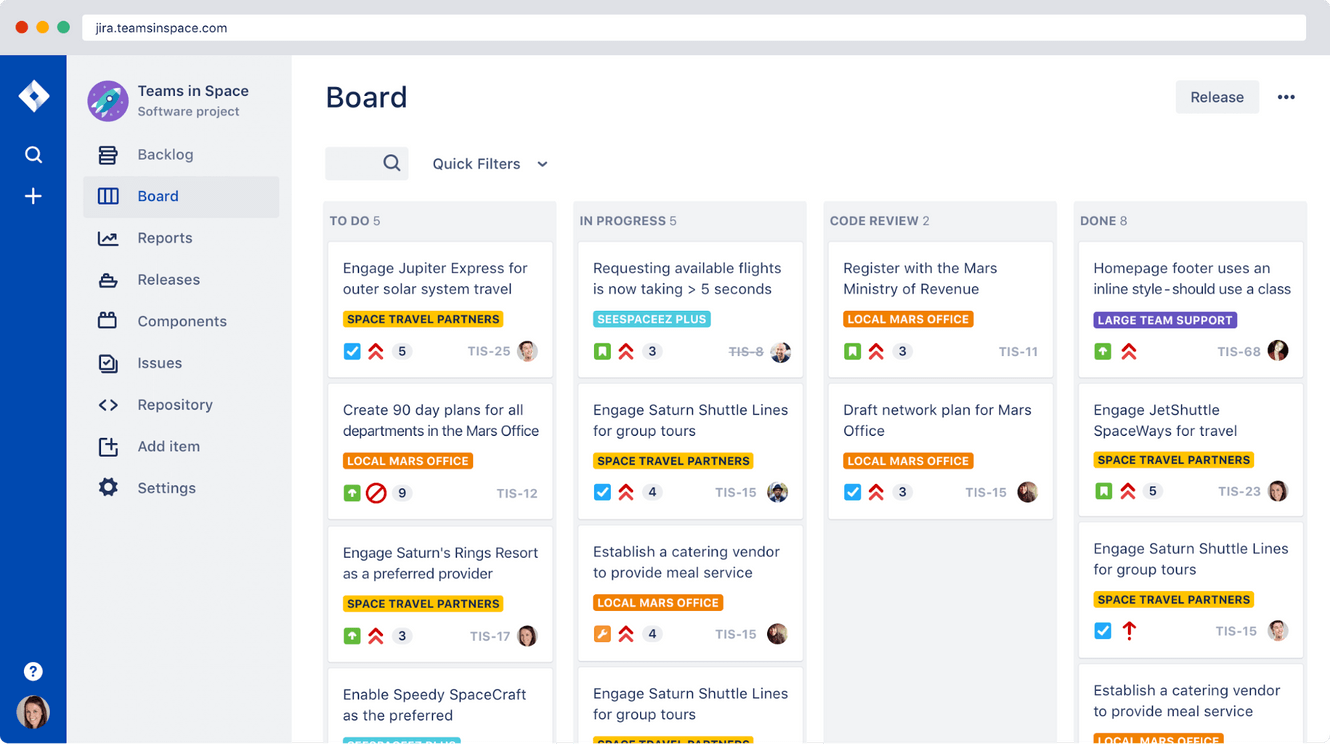 Source: Teamwork
Free Features
Dashboards
Tasks and milestones
Automated updates
Time tracking
Teams and subteams
Task dependencies
Gantt chart, calendar, and Kanban view (limited)
Phone, email, and live chat support
Integration with Zapier
Mobile and desktop apps
Pricing Plans
Besides the free plan, Teamwork offers 3 paid subscriptions:
Deliver: $10
Grow: $18
Scale: contact the sales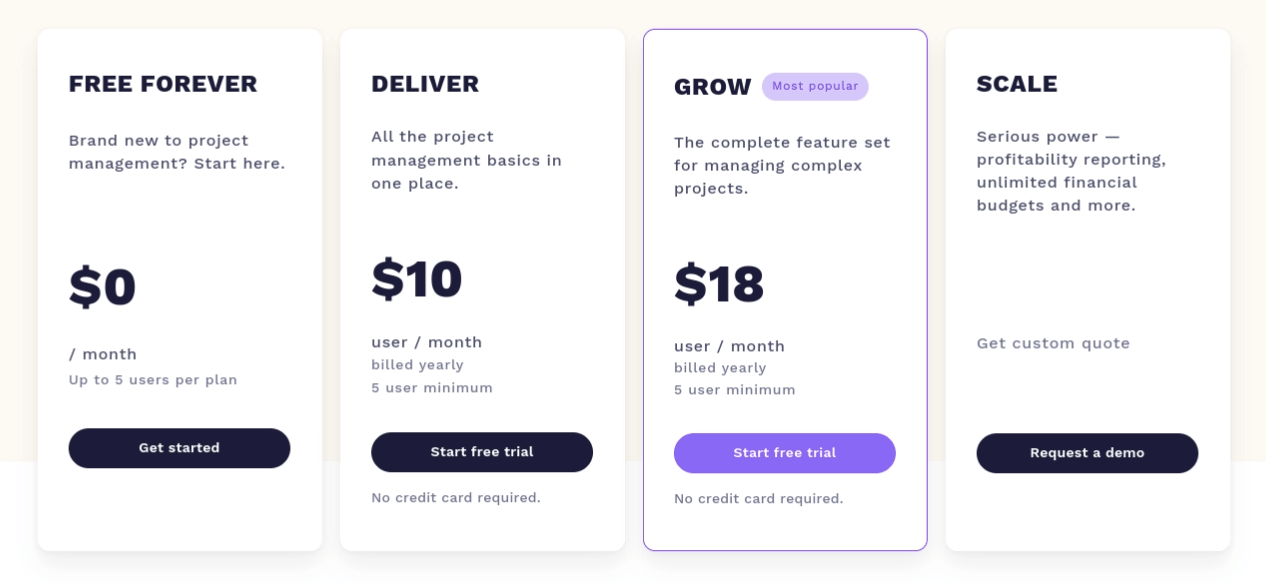 Source: Teamwork
The above plans allow you to run billing & invoicing, set time & financial budgets, generate burndown reports, track change history, and use more integrations.
Who's It Good for?
Teamwork's free plan fits remote teams and small startups who plan to grow. The tool is commonly used in computer software, marketing & advertising, and IT industries.
Asana
Asana provides unlimited tasks, projects, and storage, so you have enough space to handle big volumes of work. You can add up to 15 users, assign tasks and create a separate to-do list for each assignee. Plus, you get numerous integrations to power up Asana's free version.
But bear in mind that Asana is one of the top project management app whose learning curve may be steep for beginners.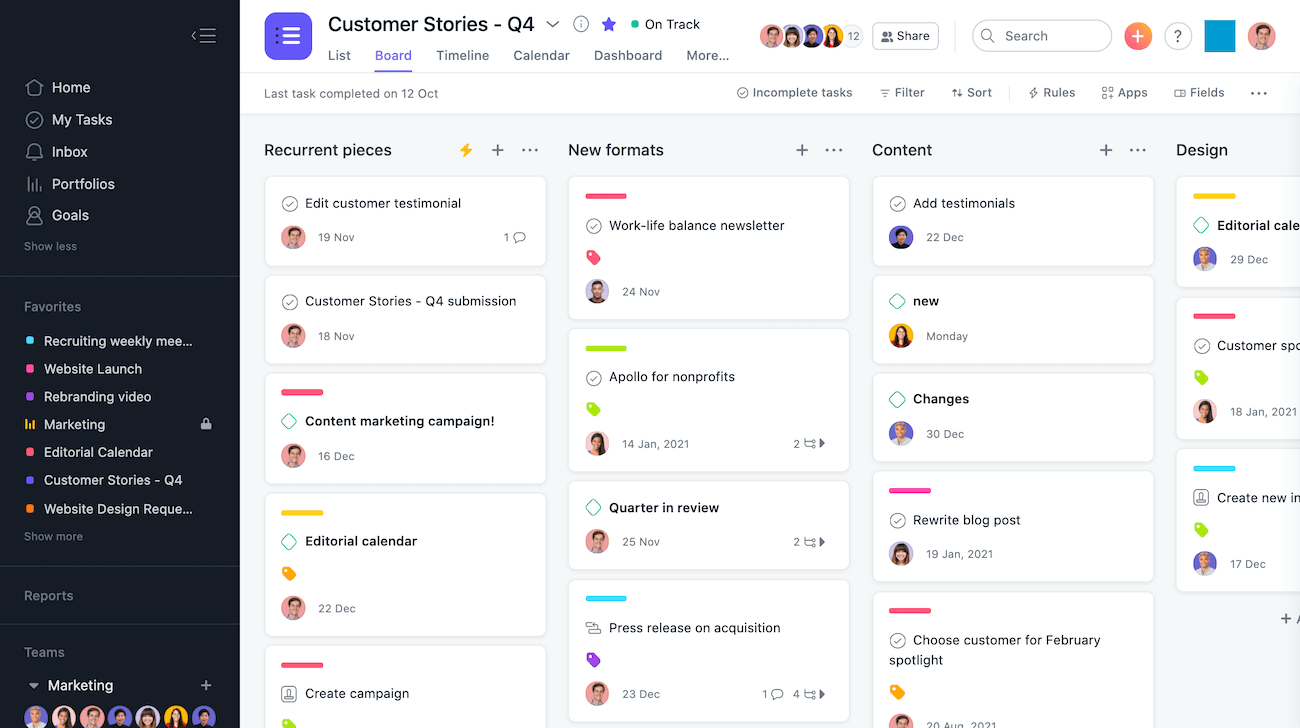 Source: Asana
Free Features
List, board, and calendar views
Assignee and due dates
Project brief and overview
Mobile app for iOS and Android
Time tracking with integrations
Over 100 integrations
Pricing Plans
If you consider paying for this tool, you can choose between these plans:
Premium: $10.99/user/month
Business: $24.99/user/month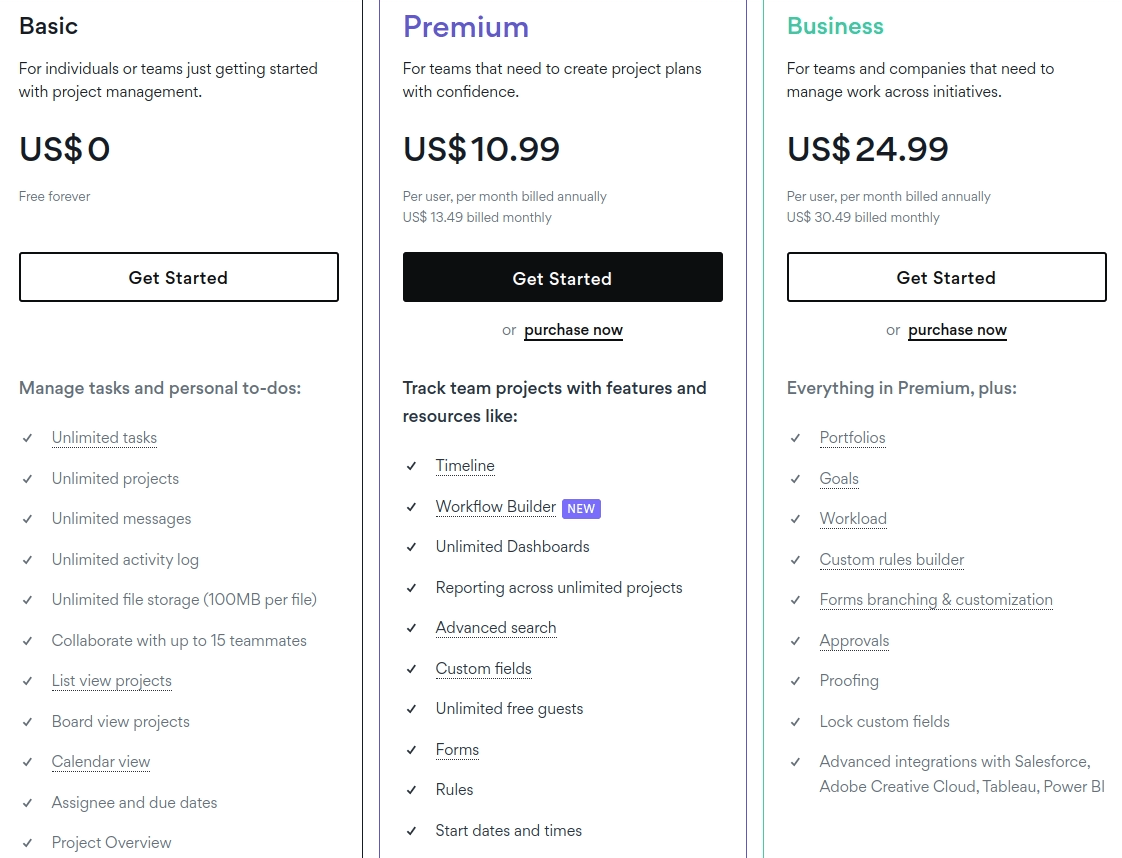 Source: Asana
With these packages, you get Workflow Builder to automate tasks, reporting across unlimited projects, task templates, unlimited dashboards, and more.
Who's It Good for?
Both small and growing teams can feel free to manage their small or big projects with Asana. The companies using this platform are mostly from computer software, marketing & advertising, IT, and retail industries.
Freedcamp
You can use Freedcamp to simplify project planning with tasks and milestones, and monitor performance with a time tracker. It brings unlimited users, projects, tasks, and storage which makes it close to ClickUp.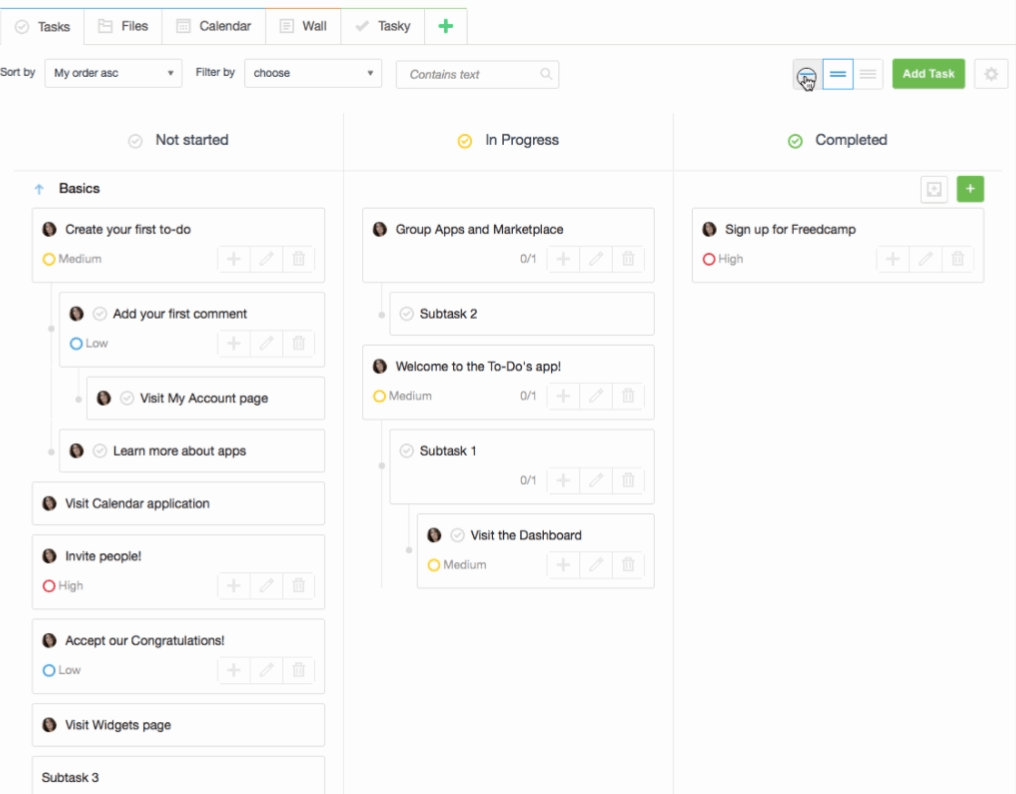 Source: Freedcamp
Free Features
Core apps related to tasks and milestones, discussions, files, and time tracking
API
Zapier integration
Pricing Plans
The pricing of Freedcamp's paid plans grows really slightly. There are three options:
Pro: $1.49/user/month
Business: $7.49/user/month
Enterprise: $16.99/user/month

Source: Freedcamp
The paid packages provide an email to assign tasks, bulk edits, reports, CRM, invoices, more integrations, and advanced security.
Who's It Good for?
Freedcamp can meet the needs of freelancers and small startups who don't look for premium features. If the free version seems too limited, the Pro plan can replenish it for an affordable price fitting in even tight budgets. It fits such industries as computer software, higher education, and IT services.
Basecamp
Basecamp's free version or Basecamp Personal allows adding 20 users, working on 3 projects, and 1 GB of storage. With this tool, you can arrange work into lists, delegate tasks, and communicate with the team.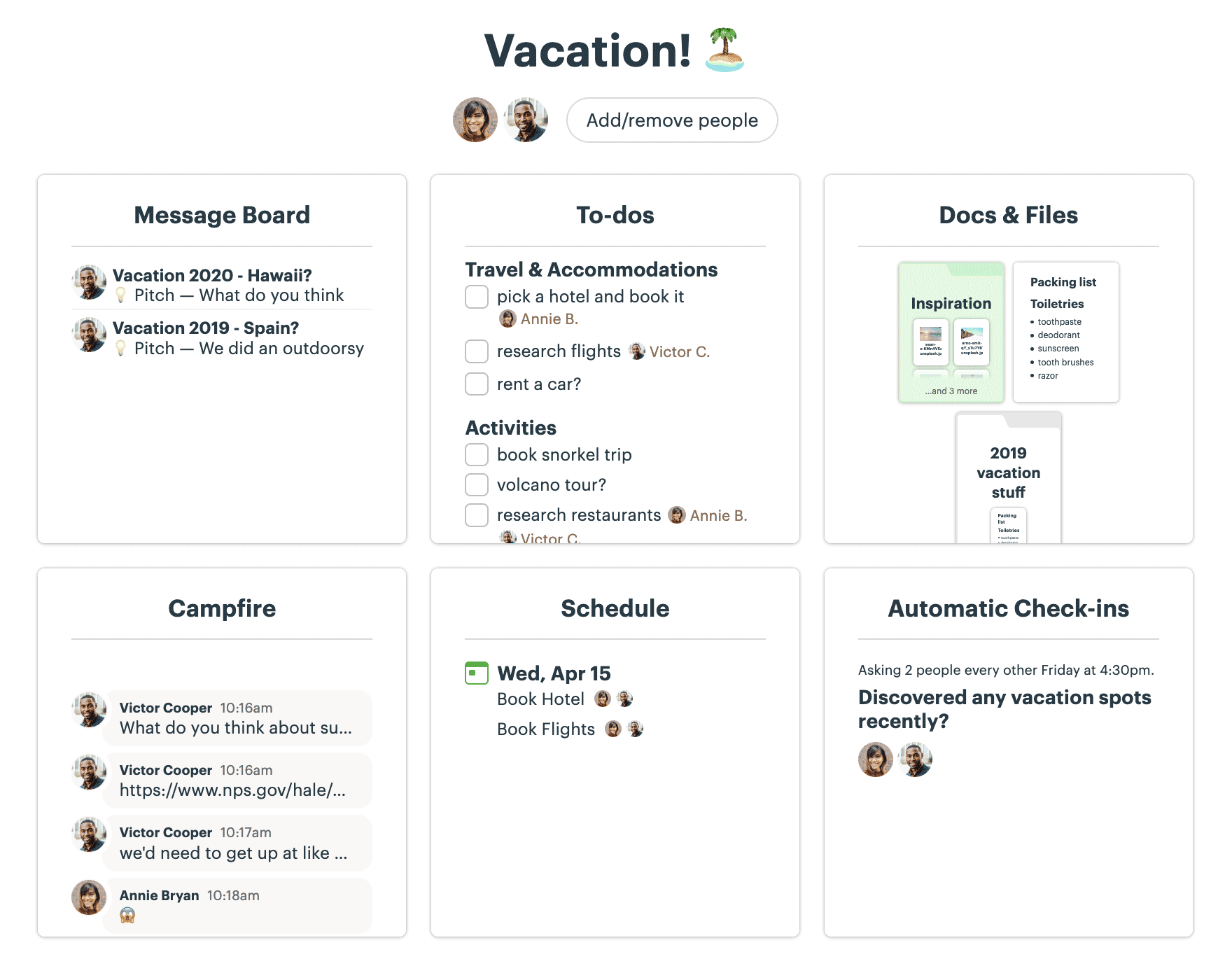 Source: Basecamp
Free Features
Message boards
Task schedules
Documents & Files
Direct messages & group chats
Reports
Notifications on tasks, comments, and messages
Pricing Plans
Basecamp offers only one paid subscription which provides space for much more resources.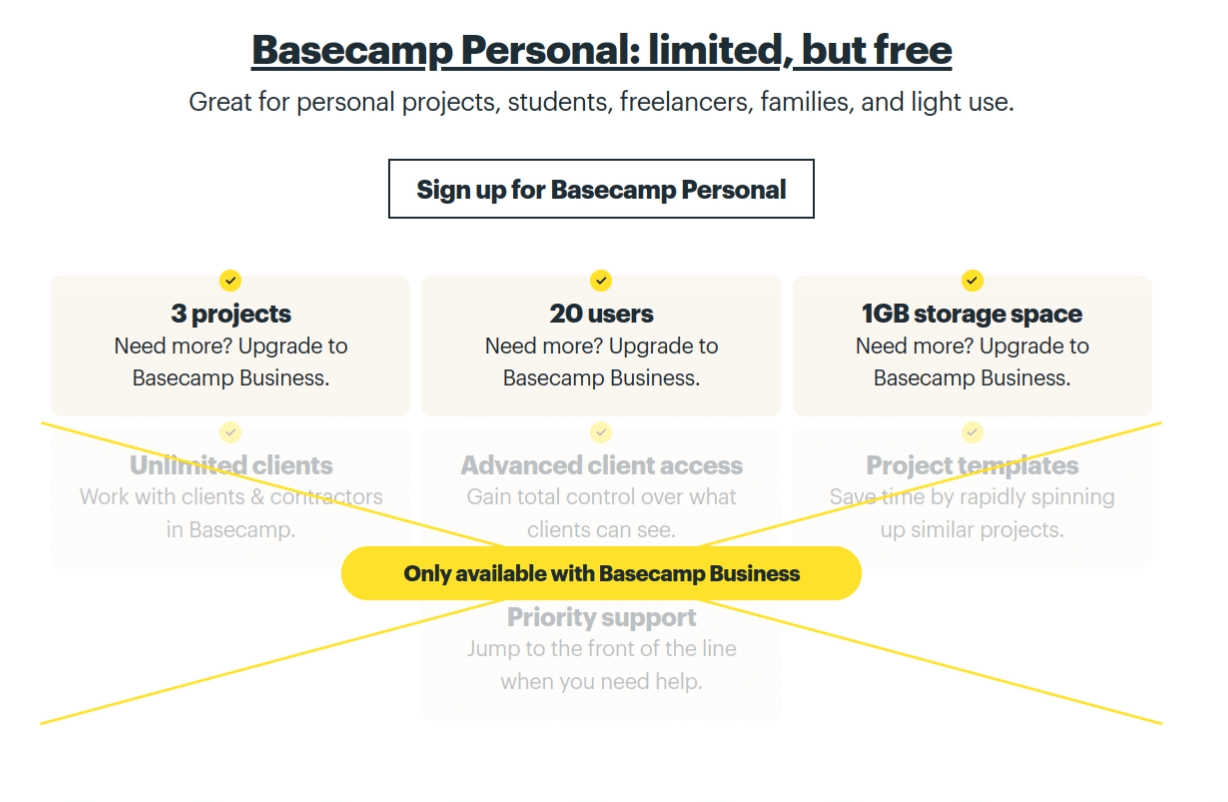 Source: Basecamp
Here you get unlimited users and projects, 500 GB of storage, project templates, unlimited clients, and priority support.
Who's It Good for?
According to Basecamp, their free plan is designed for freelancers, students, and personal projects. Indeed, the tool is simple and brings the essentials for project management. Basecamp is used in such industries as computer software, marketing & advertising, and education.
Trello
Trello comes as a Kanban-based tool that brings unlimited cards to allocate tasks and projects for your whole team. You can create up to 10 boards per Workspace and use unlimited Power-Ups per board. This software is easy to use and has no frills. As for Trello's downsides, the lists can be overwhelming if you deal with large volumes of work.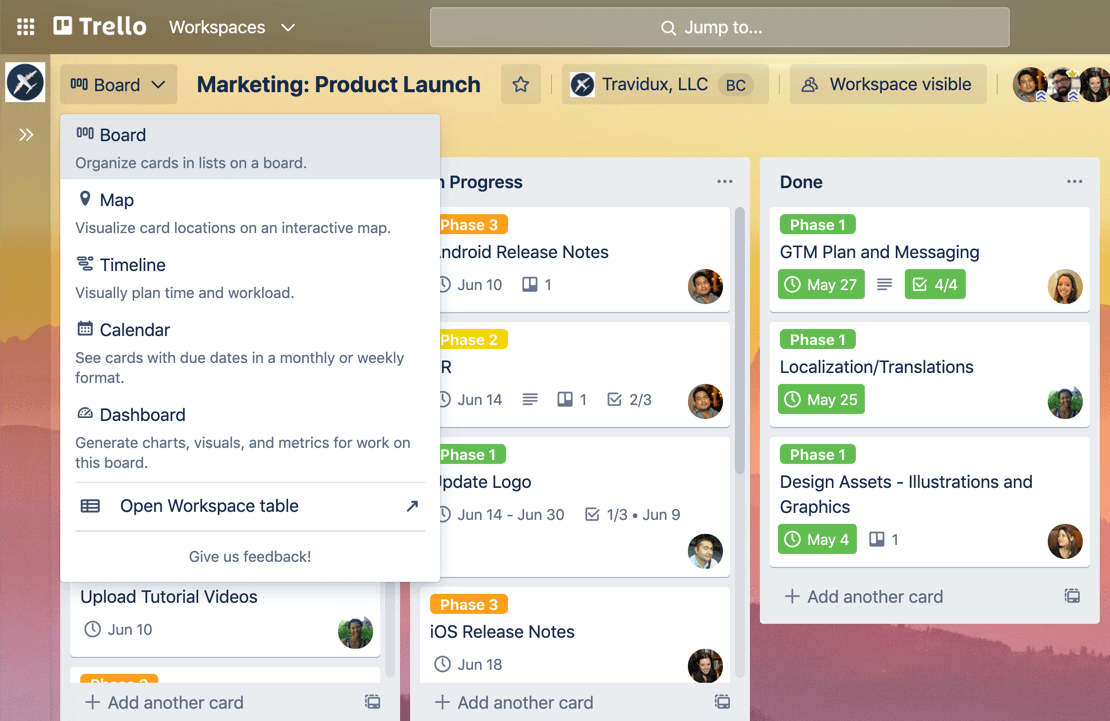 Source: Trello
Free Features
Unlimited users
Unlimited storage (10 MB/file) and activity log
250 Workspace command runs per month
Assignee and due dates
Custom backgrounds & stickers
Mobile apps for iOS and Android
Multi-factor authentication
Pricing Plans
If you decide to upgrade, you have three options to choose from:
Standard: $5/user/month
Premium: $10/user/month
Enterprise: $17.50/user/month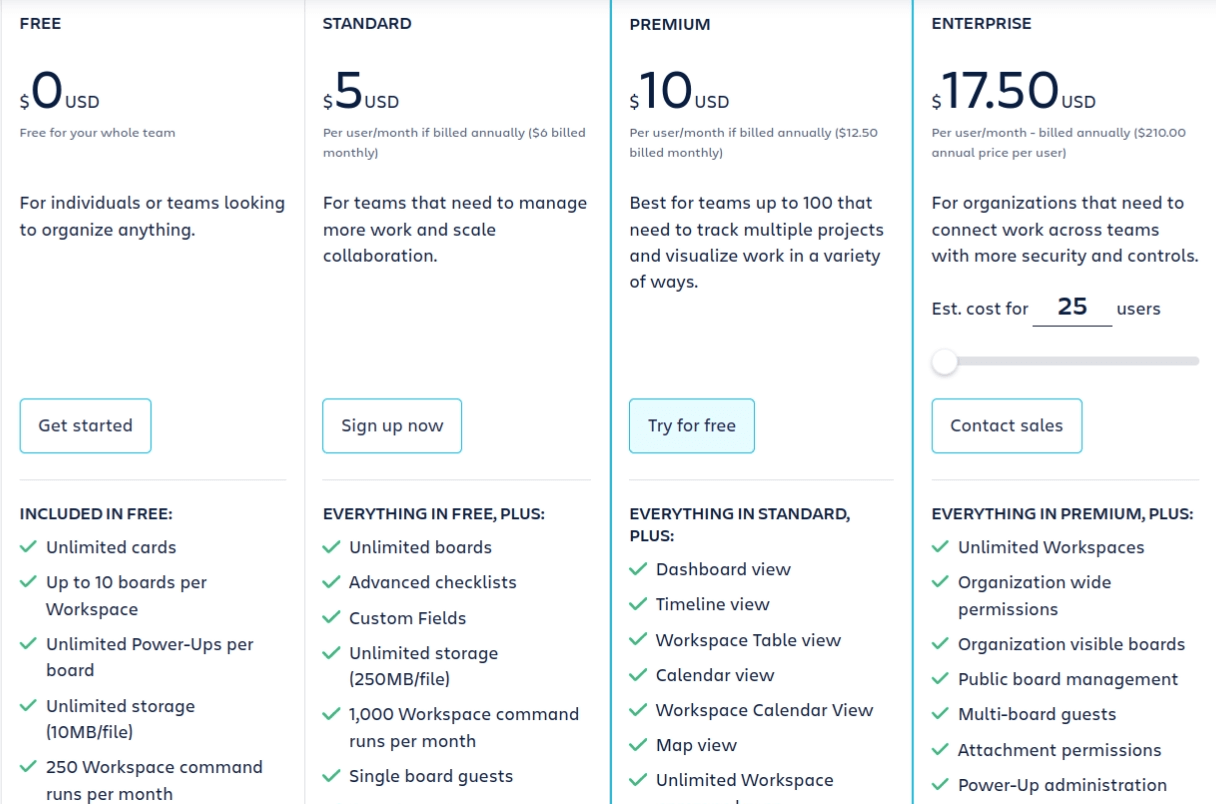 Source: Trello
The paid features include unlimited boards, multiple project views, unlimited workspace command runs, enhanced security, and priority support.
Who's It Good for?
It's a good option for small businesses and freelancers who need a tool with a gentle learning curve. Trello's customers are based in computer software, IT services, and marketing & advertising.
Zoho Projects
With Zoho Projects' free version, you can cooperate with up to 3 users and manage tasks within no more than 2 projects. That's not quite spacious but still, you can chat with team members, structurize work, and check the progress with the Gantt chart.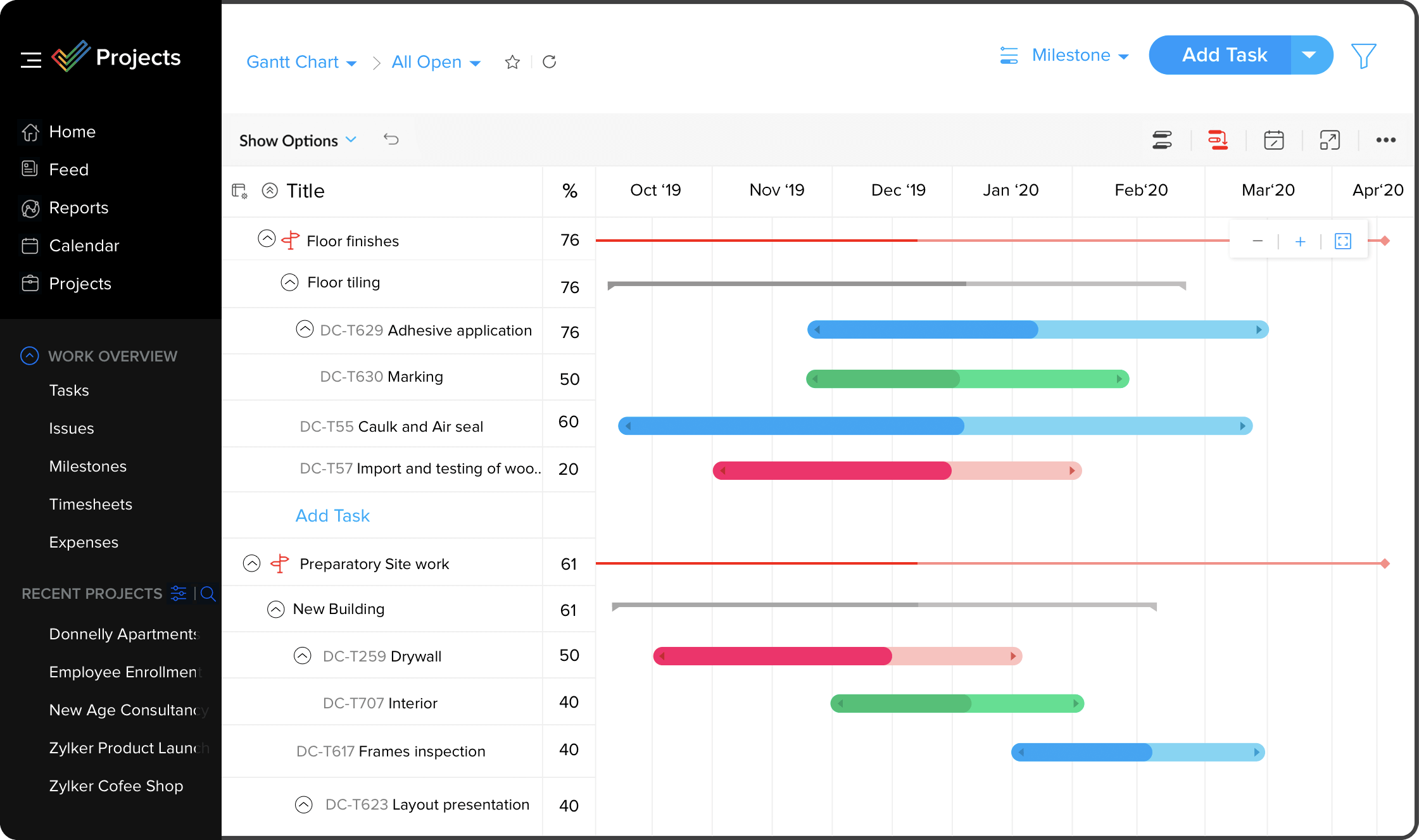 Source: Zoho Projects
Free Features
Custom project status
Project feeds
Forums, documents, and calendar
Basic task and issue reports
Mobile app for iOS, Android, and iPad OS
Pricing Plans
To get more out of Zoho Projects, you can subscribe to the paid plans:
Premium: $5/user/month
Enterprise: $10/user/month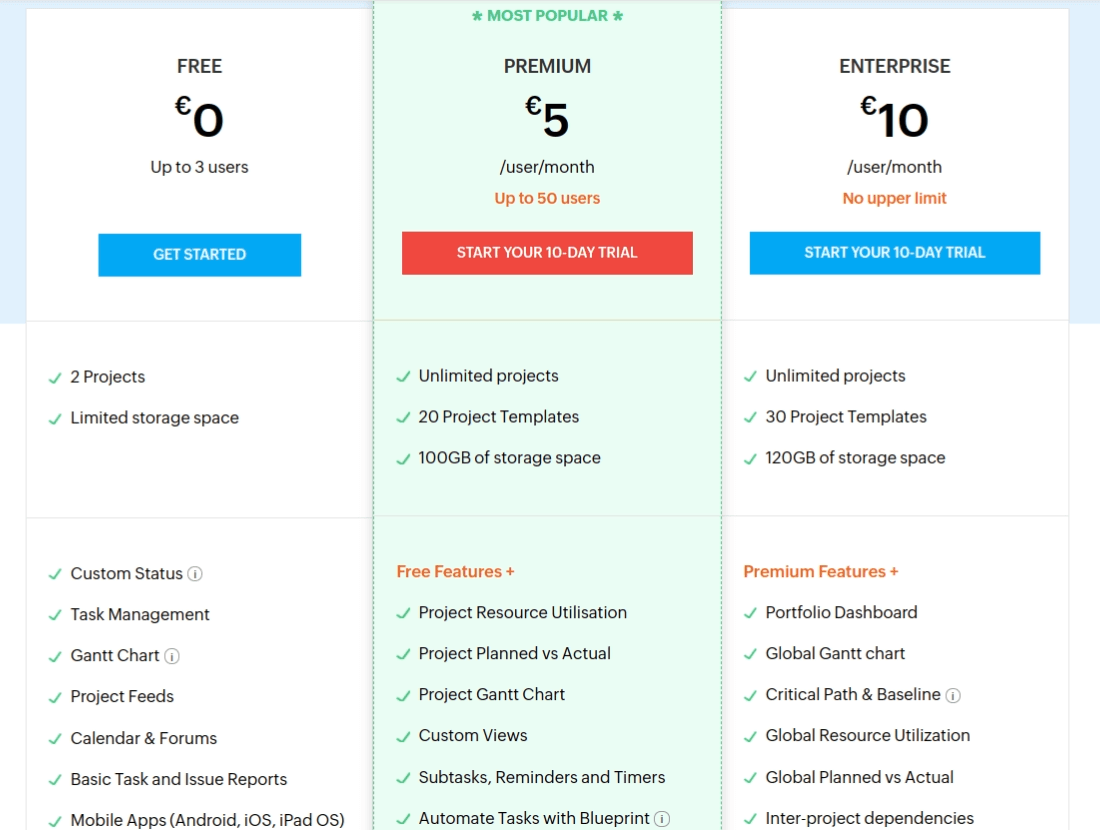 Source: Zoho Projects
With the paid versions, you get unlimited projects, from 100 GB of storage, custom views, task automation, advanced reports, and business rules.
Who's It Good for?
Small teams and freelancers can get along well with the free Zoho Project's toolset. However, the 3-user limit makes the free version unsuitable for large companies. Industries using Zoho Projects include computer software, marketing & advertising, IT services, and healthcare.
Wrike
Wrike is an excellent tool for collaboration in spreadsheets. You can use the interactive board to create custom workflows and check on updates using multiple views. What's more, Wrike's free version includes AI-powered tools to speed up the processes.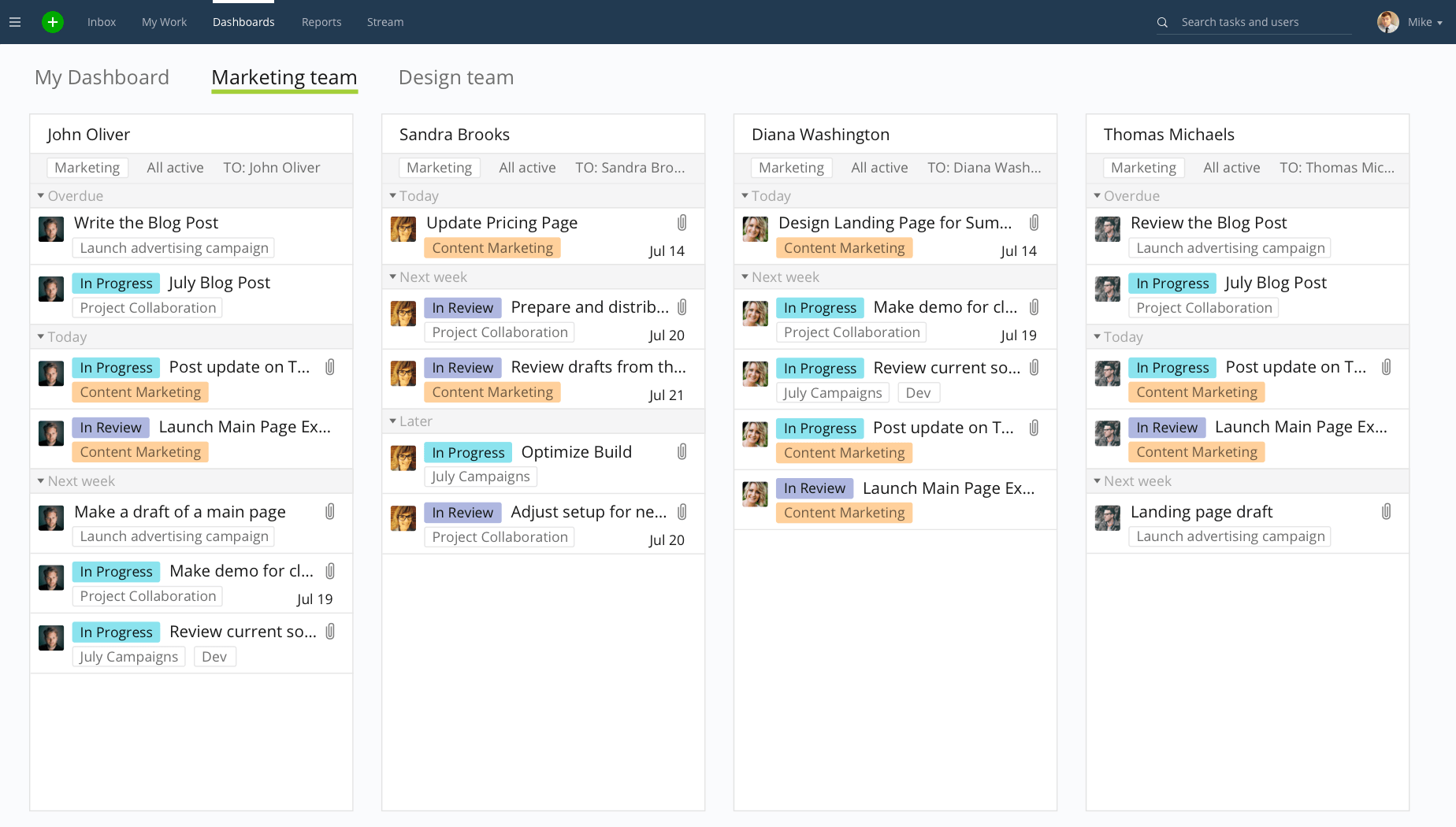 Source: Wrike
Free Features
Unlimited users
2 GB of storage per account
Task & subtask management
Work schedules
AI-recommended tasks, assignee suggestions, and search ranking
External collaborators
Desktop and mobile apps
Pricing Plans
If you decide to upgrade, you can do it with the following plans:
Professional: $9.80/user/month
Business: $24.80/user/month
Enterprise: contact the sales
Pinnacle: contact the sales

Source: Wrike
These packages include sharable dashboards, interactive Gantt charts, automations, request forms & calendars, resource management, extension for Adobe Creative Cloud, and advanced security.
Who's It Good for?
The ability to add unlimited users makes Wrike a good fit for teams of all sizes. The subtasks feature allows larger teams to break work into smaller bits and track progress in a real-time stream. As for industries, it suits computer software, marketing & advertising, IT services, and higher education.
Cover up
As you see, even if you have a big budget, you shouldn't hurry to spend it on paid software. Why not take advantage of the free versions and free trials? Those will help you decide whether the tool fits your requirements with no obligations.
When it comes to choosing the best project management tools free, ClickUp seems the winner here. It offers the most extensive free feature package and is most customizable. Still, you need to rest on your personal business needs and circumstances.
If you want to migrate to or from the enlisted platforms, consider automated data import with Migration Wizard. All you'll have to do is to click through several migration steps and map the fields. The Wizard takes over the complexities of the process and includes a Free Demo Migration.
Have a data migration in mind?
Let's migrate PM data together!
Try for free