Each product manager has a perfect formula for setting and tracking workload, right? And how about the project management tool? Well, Trello vs Asana is a choice for a clear and well-ordered workflow. These collaboration tools have much in common what makes them a frequent dilemma for PMs.
Choosing project management software can become a real headache, especially when you're a newbie. In this overview, we'll compare Asana vs Trello features, pricing plans, benefits, and use cases. Maybe, one of them is the thing for you.
Asana vs Trello: Getting a Quick Description
What Is Trello?
Trello is a visual collaboration tool that helps teams organize projects, track tasks, and automate routine work. The platform was released in 2011 by Trello Enterprise, a subsidiary of Atlassian, and keeps growing its user base.
Trello is perfect for Kanban teams. You can tailor Trello boards to your needs and visualize details with custom fields. However, its interface looks like a board with sticky notes, so lists and cards become your basic instruments.
What Is Asana?
Asana is a cloud-based project collaboration software that delivers features for advanced project management. It was founded in 2008 by one of the Facebook co-founders and now is used by millions of individuals across 190 countries.
Why is Asana so popular? Users appreciate its flexibility, enhanced task tracking, and easy communication. Plus, it offers automation rules and customizations.
Having this background information, let's explore Trello vs Asana features in detail.
Take the Most of Trello Features
What Are the Trello Boards?
Trello boards break projects into task lists sorted by statuses like "To Do", "Doing", and "Done". You can organize the lists in various workflow stages, and there's no limit on their number; you can name them the way you wish. Tasks are represented as cards that can be moved through the workflow by the drag-and-drop option.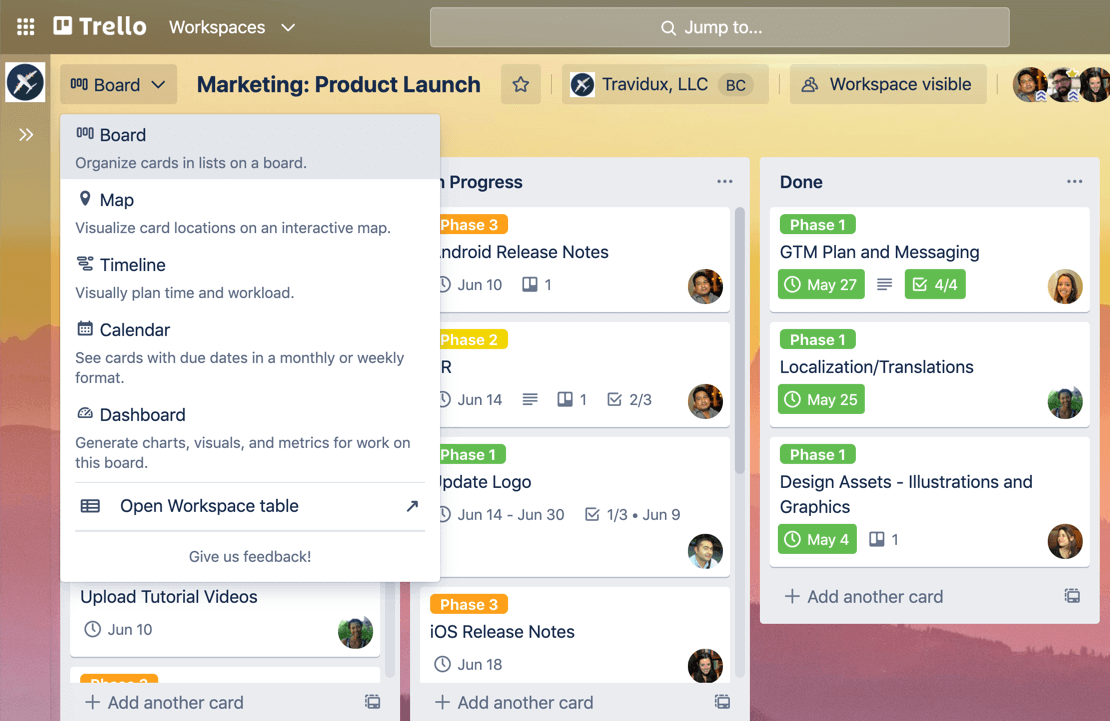 Source: Trello
In the free Trello version, you are free to create up to 10 boards at a time. Plus, you can view your boards as a Timeline, Dashboard, Calendar, Table, and Map views.
Is Trello Good for Task Management?
Once you click on a card, you get a popup with further task details, including its members (assignees), description, and due date. If the task needs a detailed description, you can add a checklist with subtasks, each with its assignee and due date. The app grays it out as soon as you check a subtask off. You can re-use the same checklist for other tasks of similar type or structure.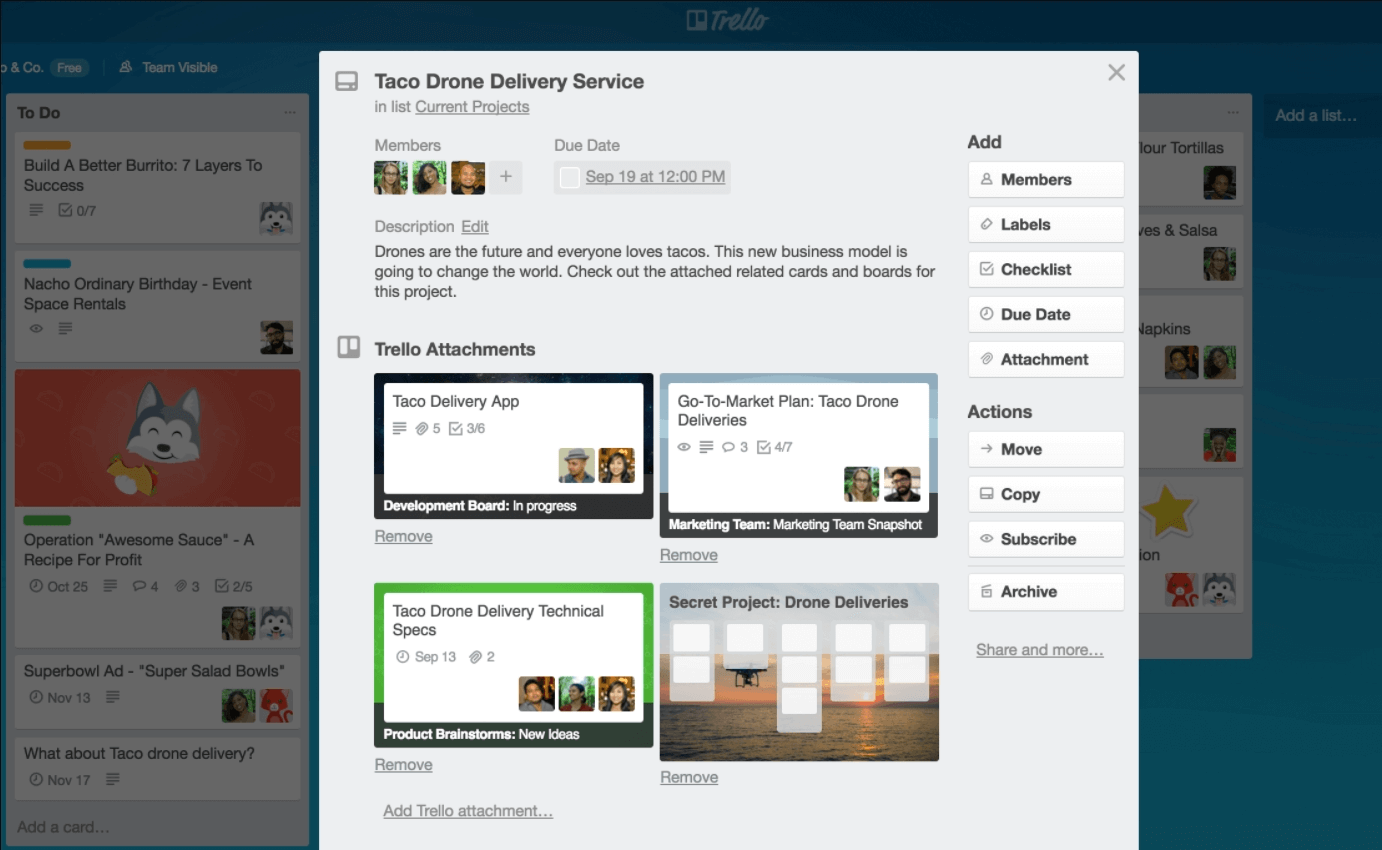 Source: Trello
Can Trello Be Used for Agile Workflows?
Trello comes as a great option for Agile teams. You can use this tool for sprint planning, product backlog, and user stories by simply renaming the columns with lists. Besides custom progress statuses, you can add label colors to specify the task's priority. Also, you can use cards to set project goals and a Calendar view to schedule sprints.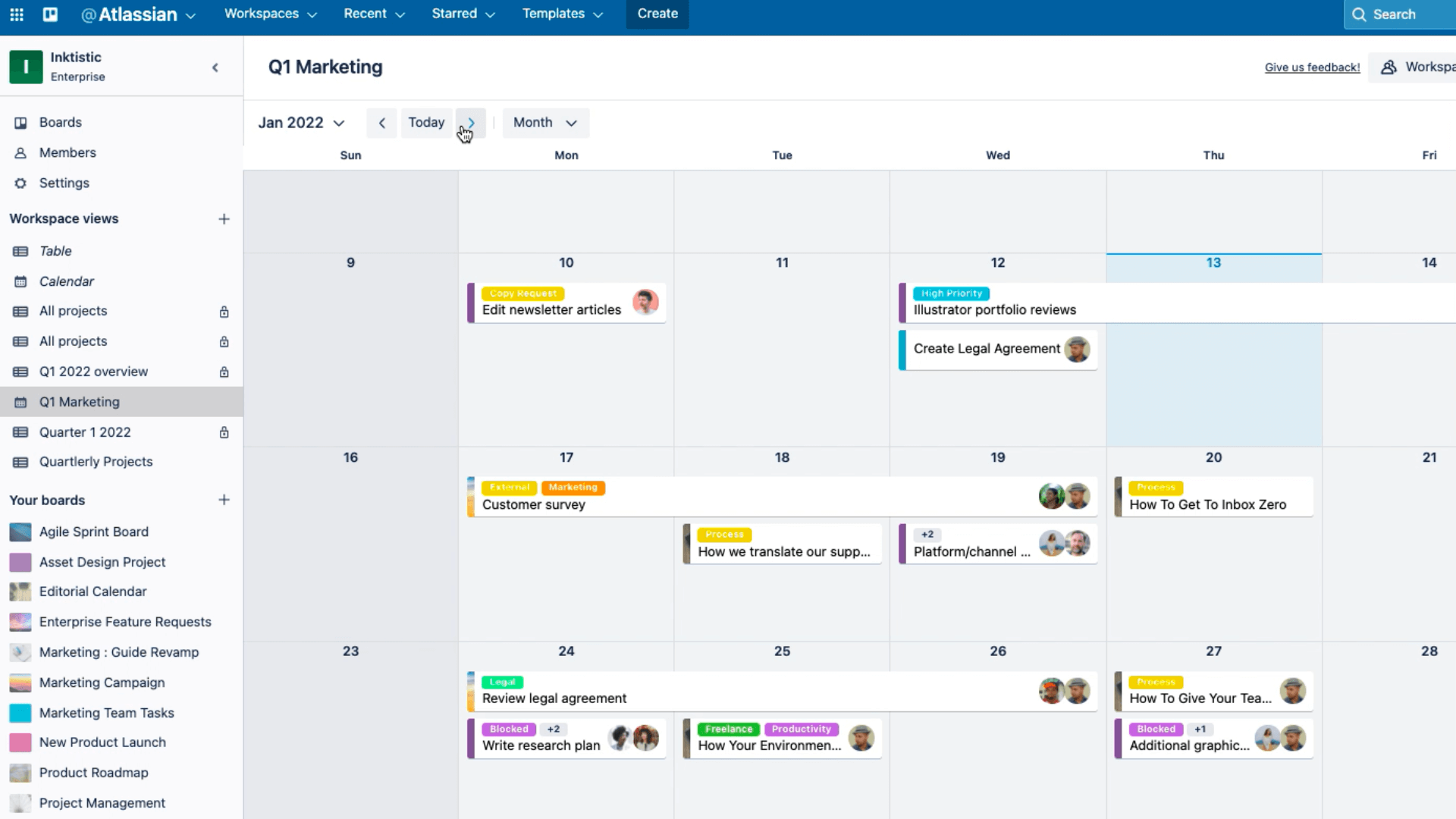 Source: Trello
To power up your Agile workflows, Trello offers multiple extensions and integrations with third-party apps like Github.
How Do You Collaborate in Trello?
Trello enables seamless real-time communication between the team members. You can write comments on cards and add attachments from Dropbox or Google Drive, as well as @mention people for quick feedback. To make a comment clearer, you can embed images and even format text using the Markdown syntax.
For more comprehensive collaboration, you can get Trello's add-ons like Threaded Comments, Board Chat, or Private Notes.
How Do You Automate in Trello?
Trello provides built-in automation to configure hands-off operations in seconds. Besides, you can set up the rules to meet your needs with multiple customization options. In Trello, you can create and edit such automation items as:
Rules to trigger a set of actions once a specific condition is met
Buttons on a card to run an action in one click
Due date commands to use a due date as a trigger for an action
Calendar commands to run repeating actions on a regular basis
How Do You Integrate in Trello?
With Trello's power-ups, you can extend the app's functionality as much as your pricing plan allows you to. Most integrations are focused on improving task management, communication, and automation. You can choose Salesforce, Slack, Gmail, and Microsoft Teams among others. On top of that, you can integrate Trello with your inbox to convert emails into cards and send them directly to your board.
Does Trello Have a Mobile App?
Trello's mobile app has almost as much functionality as the desktop version. You can create boards, add cards and checklists, and share documents, messages, or attachments. If you have no time to type text, open boards or add cards with voice commands. Also, you can quickly view and respond to notifications – reply to a comment, mark a notification as read, or set the due date as complete.
How to Use Asana Features?
Does Asana Have Board View?
Kanban board is one of Asana's project layouts that gives an informative view of tasks. Here you can create projects, add tasks, and perform bulk actions like edit, copy, delete, assign, and more. Creating a project means adding a new section with tasks that can be dragged and dropped between the sections. With the board's toolbar, you can check the incomplete tasks, filter and sort tasks, and add subtasks and custom fields to a project.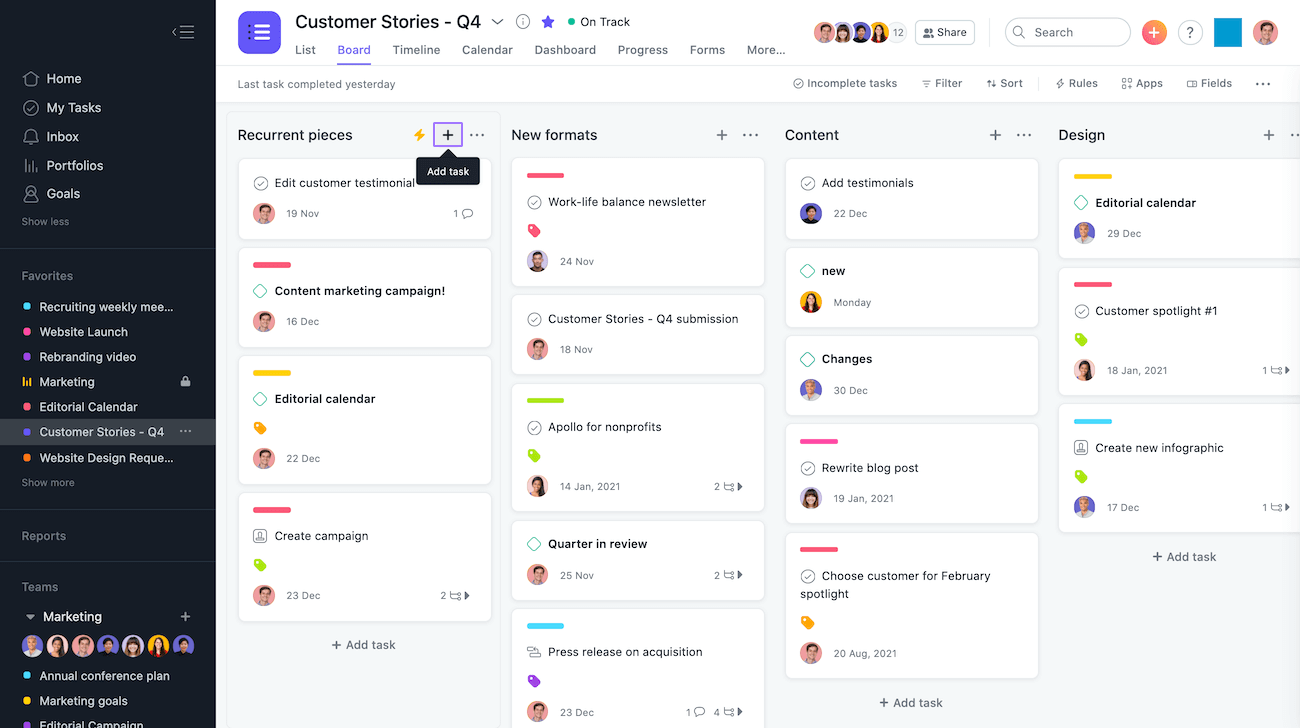 Source: Asana
Is Asana Good for Task Management?
With Asana's multiple views, it's easy to stay on top of workflows and visualize each detail. Switch between the List, Boards, Calendar, and Gantt chart views to know what is worked on and who is working on it. You can arrange tasks by priority into separate to-do lists and track their progress by custom statuses. To make the picture more distinct, you can visualize projects in different colors and add icons or cover images to projects.
What Are Task Dependencies in Asana?
For collaboration teams, it's essential to know how tasks are connected. Asana allows users to create task dependencies, notify assignees of their following tasks, and check the blocking tasks. You can add the dependencies in the List view or simply draw them in the Timeline view. In addition, it is possible to add multiple dependencies to a single task and vice versa.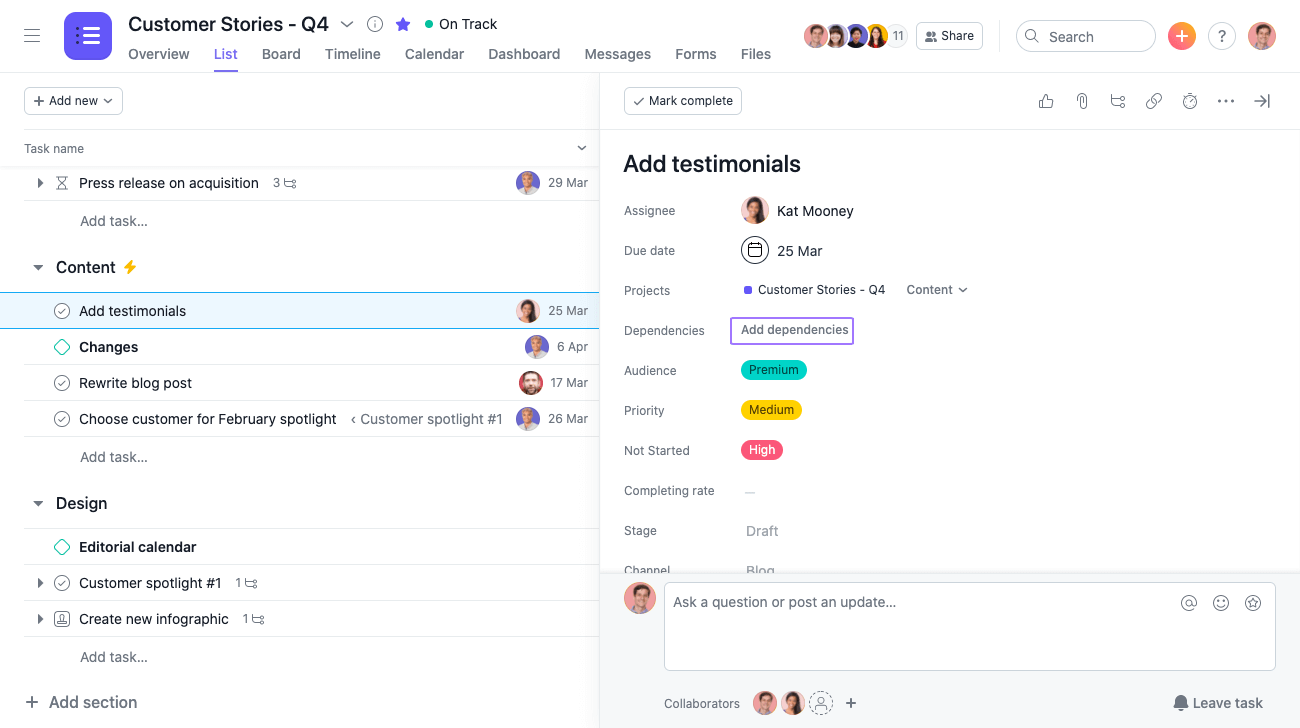 Source: Asana
To deal with task overlaps, you can set up an automatic date shifting for the dependent tasks. Once you turn it on, the date of a precedent task changes the date of the upcoming task if there's an overlap.
Can Asana Be Used for Agile Management?
Asana's features enable you to respond to changes and manage iterative workflows quickly. For example, use Board to plan sprints, Lists to build a sharable roadmap, or create a backlog section to track the upcoming stories. For time estimation, you can add numeric custom fields to tasks, and Asana will calculate the sum. Moreover, using the Progress view, you can check sprint retrospectives and add comments and notes on the remaining tasks.
Can You Automate Asana Tasks?
Asana makes it easy to dedicate time to strategic planning by setting automation to routine tasks. You can swiftly configure custom rules with a builder or use ready-made options from the gallery. Asana's top use cases for Rules include:
Moving a task to a section
Assigning a task
Adding new followers
Changing task priority
Besides, you can save time by converting your projects into custom templates or using ready-to-go templates like Project Plan, New Employee Onboarding, or Work Requests.
What Are the Custom Fields in Asana?
In Asana, you can create custom fields for a project or portfolio and use them across the organization. How do you add one? You can make them directly from the toolbar: name it, choose the type, add a description, and configure additional options. For example, add custom fields to a library for shared use or lock field editing. You can view custom fields within a task or when viewing the whole project.
How Does Advanced Search Work in Asana?
The built-in Advanced Search allows you to quickly find unassigned tasks or tasks with specific tags, projects, or users in a Workspace or Organization. Just type a name or title and check the results. Moreover, you can create a search view like lists of tasks, projects, or messages, filter by assignees, attachments, or due dates. So you save search views for regular use.
What Is Asana Team Communication?
Send messages using Asana's Inbox to individuals or groups and attach relevant tasks or projects. Any updates on tasks, like comments or attachments, show up as notifications in the inbox, and you can take action on the spot.
Is there anything more practical than live in-person conversations? Asana gets it and allows you to record and embed short videos in projects, tasks, and comments. Those, who prefer text messages, can convert videos into searchable transcripts.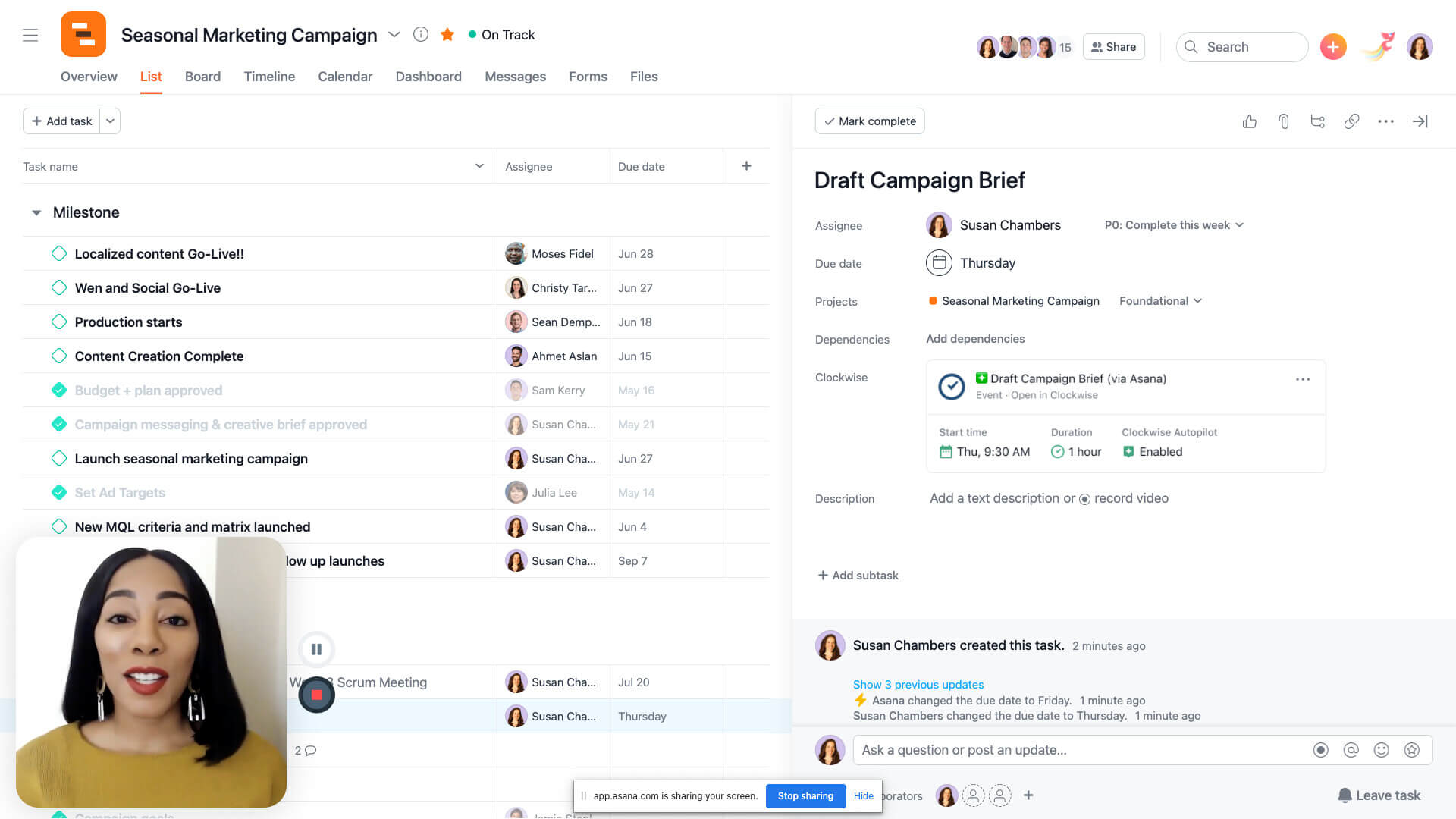 Source: Asana
Trello vs Asana: Pricing Comparison
Both project management tools let you test their basic functionality using the free version. Nonetheless, you need to know what pricing curve to expect, so let's check who is more affordable: Asana vs Trello?
What's Included in Trello Pricing Packages?
Trello offers four pricing tiers with monthly or annual subscription options.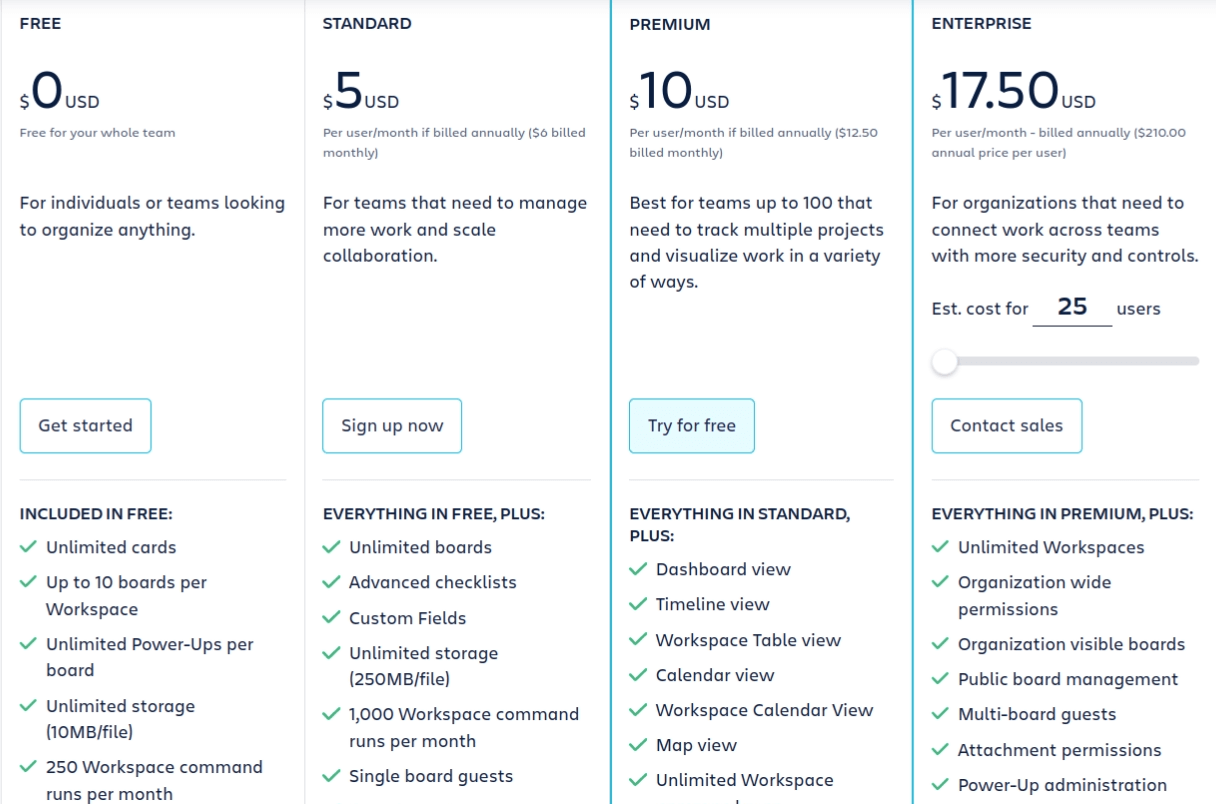 Source: Trello
Trello Free includes unlimited cards, 10 team boards, unlimited Power-Ups per board, unlimited storage with up to 10 MB/file, 250 Workspace command runs/month, unlimited activity log, mobile apps for iOS and Android, and 2-factor authentication.
Trello Standard costs $5/user/month and offers everything in Free, plus unlimited boards, custom fields, advanced checklists, unlimited storage with 250 MB/file, 1000 Workspace command runs/month, saved searches, and single board guests.
Trello Premium costs $10/user/month and includes all Standard features + project views, unlimited Workspace command runs, admin & security features, Workspace-level templates, and simple data export.
You can try the Premium version for free using its 14-day trial.
Trello Enterprise costs $17.50/user/month and, besides Premium features, offers unlimited Workspaces, permissions & visible boards across Organizations, public board management, attachment permissions, Power-Up management, free SSO, and user provisioning with Atlassian Access.
How Much Does Asana Cost?
It's pretty easy to compare Trello vs Asana pricing since both offer four similar tier packages. So what is stuffed in Asana's versions?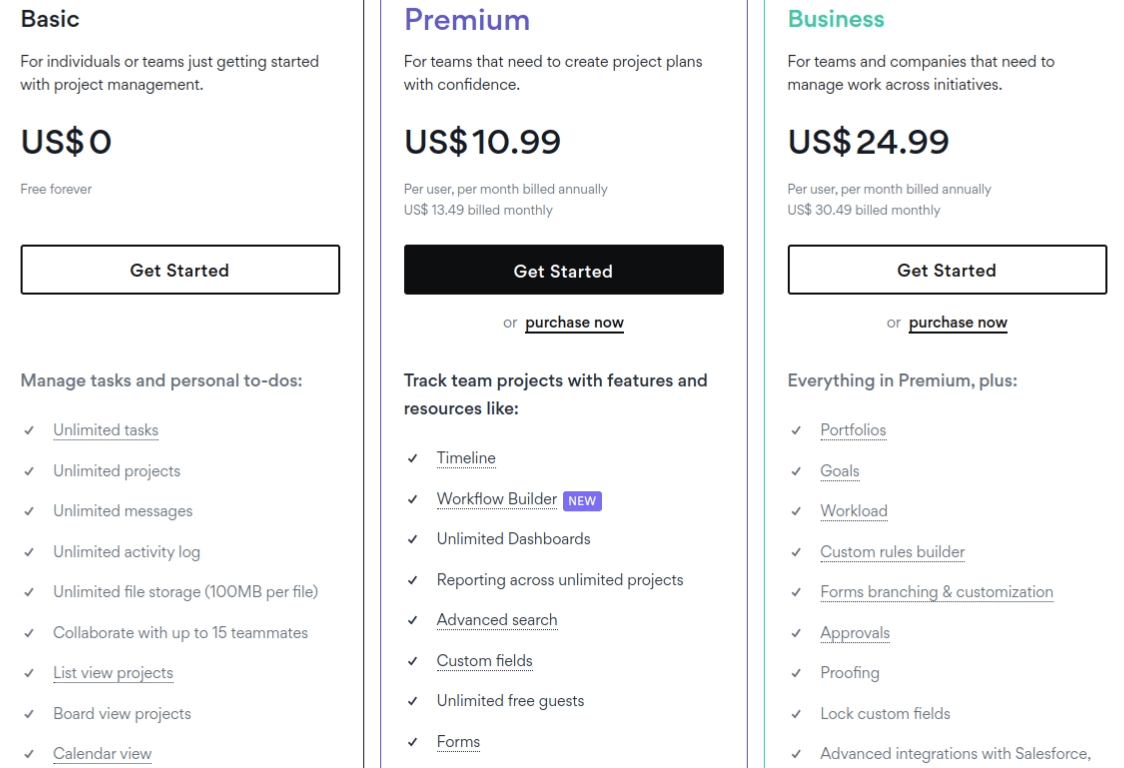 Source: Asana
Basic (free) includes collaboration with up to 15 users and unlimited tasks, projects, and file storage (100 MB/file). Also, you get List, Board, and Calendar project views, Project Overview & Project Brief features, mobile apps for iOS & Android, and over 100 integrations with third-party apps.
Premium costs $10.99/user/month and offers unlimited dashboards, Timeline view, Workflow Builder, custom fields, automation rules, and advanced search. In this version, you can create private teams and projects.
Business costs $24.99 and allows you to create project portfolios, set goals, manage workload, create custom rules, and use advanced integrations with Salesforce, Adobe Creative Cloud, and others.
Enterprise contains everything in Business, plus SAML, custom branding, user provisioning & de-provisioning, data export and deletion, and priority support.
You can thoroughly explore Premium and Business features using a 30-day trial version.
Asana vs Trello: the Good & the Bad
We've confirmed that Trello and Asana are powerful project management tools with numerous benefits. Now let's check who has more to work on and point out the winner.
What Are Trello's Benefits?
Intuitive interface and no learning curve
Unlimited users for all subscriptions
Multiple Power-Ups and third-party customizations
Real-time updates on cards
Unlimited automation rules
Prime-level security: Trello is SOC2 Type 2 and ISO/IEC 27001 certified and complies with GDRP. Trello services are hosted on Amazon Web Services' EC2 platform. Besides, it provides 128-bit AES encryption, login & network security measures, and runs regular backups.
Checking Trello's Drawbacks
Lack of features for large projects
No built-in calendar app
No Gantt chart
The file upload is slow due to limited storage per file
Why Is Asana Good?
Fully powered Kanban system
Over 1000 integrations
Built-in Gantt chart and visualized task dependencies
Advanced search with multiple filters
Excellent security: Asana boasts a long list of certifications and compliances, including ISO/IEC 27701:2019, SOC 3, GDPR, and HIPPA. It uses AWS for server and database hosting. The app provides is 128-bit encryption and supports TSL 1.2. and above.
What Are Cons of Asana?
Limited triggered actions per project (you can't set more than 20 rules per project)
The significant number of features causes challenging onboarding for non-technical users
Only one assignee per task
No built-in time tracking
What Companies Use Trello?
Trello is a popular collaboration tool for computer software, IT, and marketing teams. Among Trello customers, you can find Udemy, CRED, StackShare, and Accenture, Medium.com.
Trello is recognized as an ideal project management solution for freelancers, one-person companies, or small teams with up to 50 members. However, regardless of its multiple valuable features, it might still be weak to handle big projects.
Who Are the Users of Asana?
Most of Asana's customers come from computer software, marketing & advertising, IT, retail, and eCommerce industries and include such companies as Uber, Airbnb, and Pinterest.
Asana's interior is more complex and richer, so it can meet the needs of large businesses. In addition, its well-arranged pricing enables usage for individuals and enterprise-level organizations. Thus, 15% of Asana's users are large companies (more than 1000 members).
How to Migrate Product Management Data to Trello or Asana?
You need some data to work with if you're looking for an alternative to your current project management system or implementing your first collaboration tool. Here's where importing product management records make sense and becomes a task on the to-do list. Thus, records transfer entails some challenges, so an automated migration is the best way to carry it out.
You can manually import your records to Trello by copying and pasting data to CSV, Excel and Google Sheets, using a third-party Power-Up or our automated Project Management System migration service.
Asana has a built-in CSV importer that requires you to export data to Excel, and convert the file into CSV format. That's quite handy unless you have a huge volume of data. Formating CSV files to fit Asana requirements without creating a mess might be a tricky task to handle.
Don't want to deal with Excel and CSV files? Give a Project Management System Migration test drive. The Migration Wizard takes the migration part, and you only need to connect your current and desired project management systems, map data, and run a Free Demo. That gives a clear picture of how your records will be transferred and look on a new collaboration tool.
Final Word: Which Collaboration Software to Choose?
The time to choose Trello vs Asana has come. Actually, selecting product management software includes enlisting and considering business and project requirements and needs, as well as records importing and team onboarding.
If you are hesitant between Asana vs Trello for personal use, both project management tools are well-performing. If your project is scaling higher, consider running a trial or free version of Asana and Trello to test them on your tasks. The few days spent on testing will help you to make a better decision and save time, effort, and budget in the future.
Frequently Asked Questions
Trello is easier to use, while Asana has more features and offers a more polished Kanban system.
Asana is flexible in use and delivers advanced task management and reporting.
Want to migrate to Trello or Asana?
Let's migrate your data automatedly
Setup a free Demo