Many companies spend a lot of time looking for a suitable project management system. Trello is a great PM platform, however, its features may not be enough for some teams to manage their workflow efficiently. So, if you are looking for a way to export your projects from Trello to a new cutting edge platform, we've prepared a solution for you: our Relokia team's made it possible to migrate your data from Trello in no time. 
Forget about the manual data transfer, Migration Wizard helps you export your records from Trello automatically. What's more, you can choose which type of data you want on your new platform. But most importantly, our tool preserves all connections between data while you transfer it from one platform to another. Let's find out how Trello export process works.
Trello Alternatives
Even the best projects management systems can't be the right match for everybody. To save up your time on the search, we've prepared a short list with Trello alternatives that can meet your needs.
ClickUp offers you such a great feature as Progress Percentage to keep an eye on the progress of your projects. What's more, is that you can prioritize the most important tasks easily and omit missed deadlines.
Wrike is yet another alternative to Trello, which allows you to plan your projects and streamline your workflow easily. Users adore this project management system for its user-friendly interface, multiple views, Gantt charts, and advanced reports. Most importantly, Wrike is rather flexible and adjustable, so you won't look for another PM software anytime soon.
Monday.com is the right choice for those who want to create their ideal workplace. This project management system allows it and even more. Monday.com stores all your data (conversations, lists, files, and others) in one place, so you can access it quickly. In addition, this PM software offers you more than 50 integrations, different boards, and views to boost your projects.
By the way, we've got some exciting news coming up soon connected to these platforms. So, don't forget to check out our blog to be the first one who reads them.
What data you can export from Trello
Losing your data can push your projects by weeks or even months. So it is necessary to check what records you can export before the process itself. Our tool can export the following data from Trello: 
Groups for tasks
Tasks (together with Comments, Attachments, Tags and Custom Fields) 
Task Dates (including "Started at" dates and "Due" dates)
Completed (True / False)
Dates (including "Created" dates and "Updated" dates)
Users 
To cut the long story short, you move all your key data after Trello export. Sometimes the desirable platform doesn't support the automated migration of some records. But it doesn't mean you can't migrate them: our support agents will spare no effort to help you out with the customization.
Important Steps Before Your Trello Export
It is important to check the following aspects before setting up your data migration to Trello. These steps help you to perform your export process swiftly and effectively: 
Check if you have access credentials for Trello. Our tool can't access your data without this information;
Make sure you've created a target platform. You need a place where to export your Trello data. Take a look at the list of supported platforms on our website to see if your preferred software is available;
Ensure that you have the admin rights on both systems to run the migration.
Note: To make the export process quicker, look through your Trello data and assess their importance. Delete the unnecessary records.
Step-by-step Guide on Trello export
We've already looked through the migration peculiarities and know which records you can export from Trello. Right now, let's look at the process itself:
1. At first, log in to Migration Wizard. Hence you don't have an account with our service, sign up on our website with your email address or a social network account;
2. Select Trello as your source platform. Fill in all the necessary credentials so that our tool gets access to the data in your account. Define the required Board to configure the connection: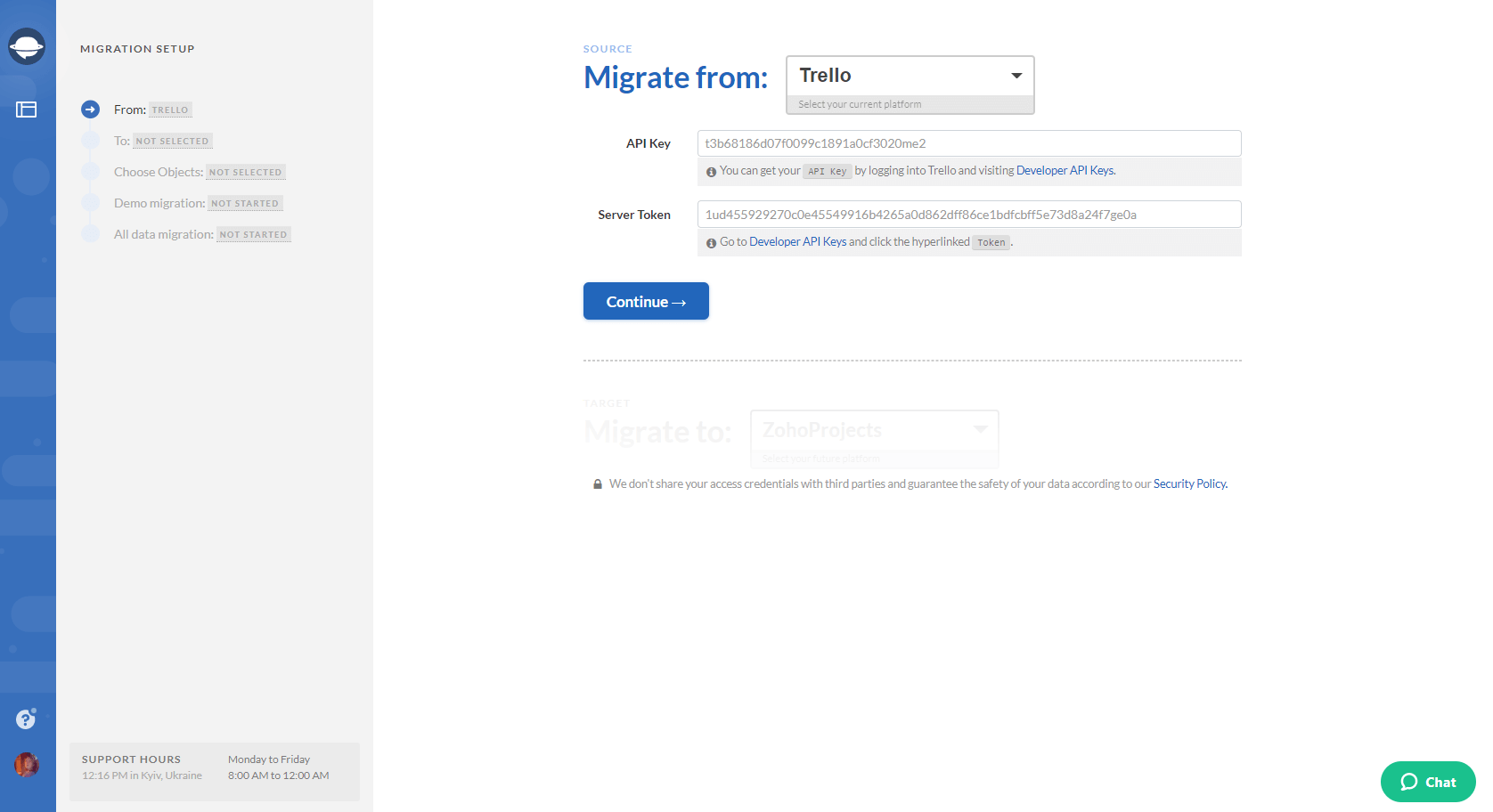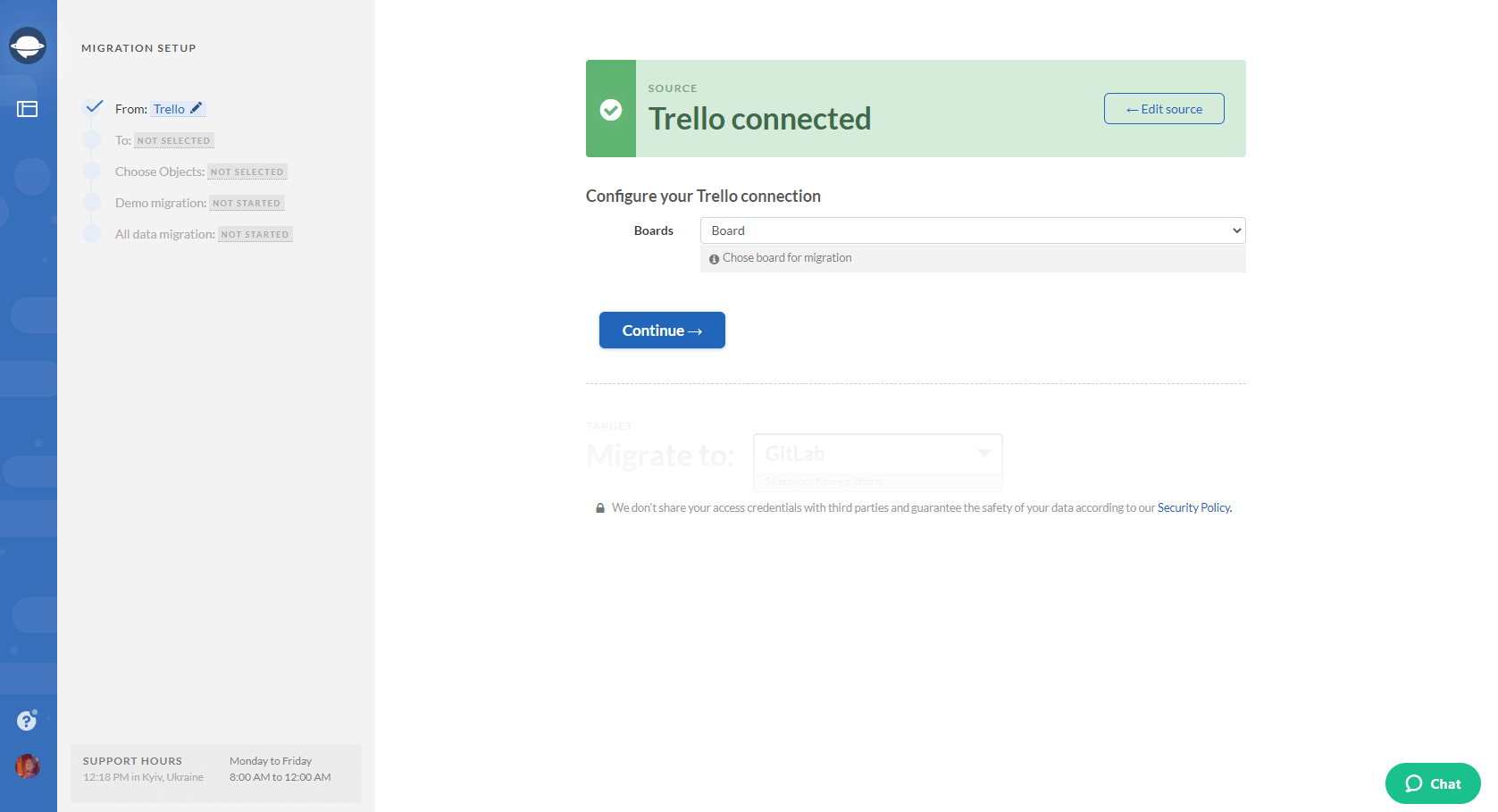 3. Choose the target platform. Provide the necessary information and configure the connection: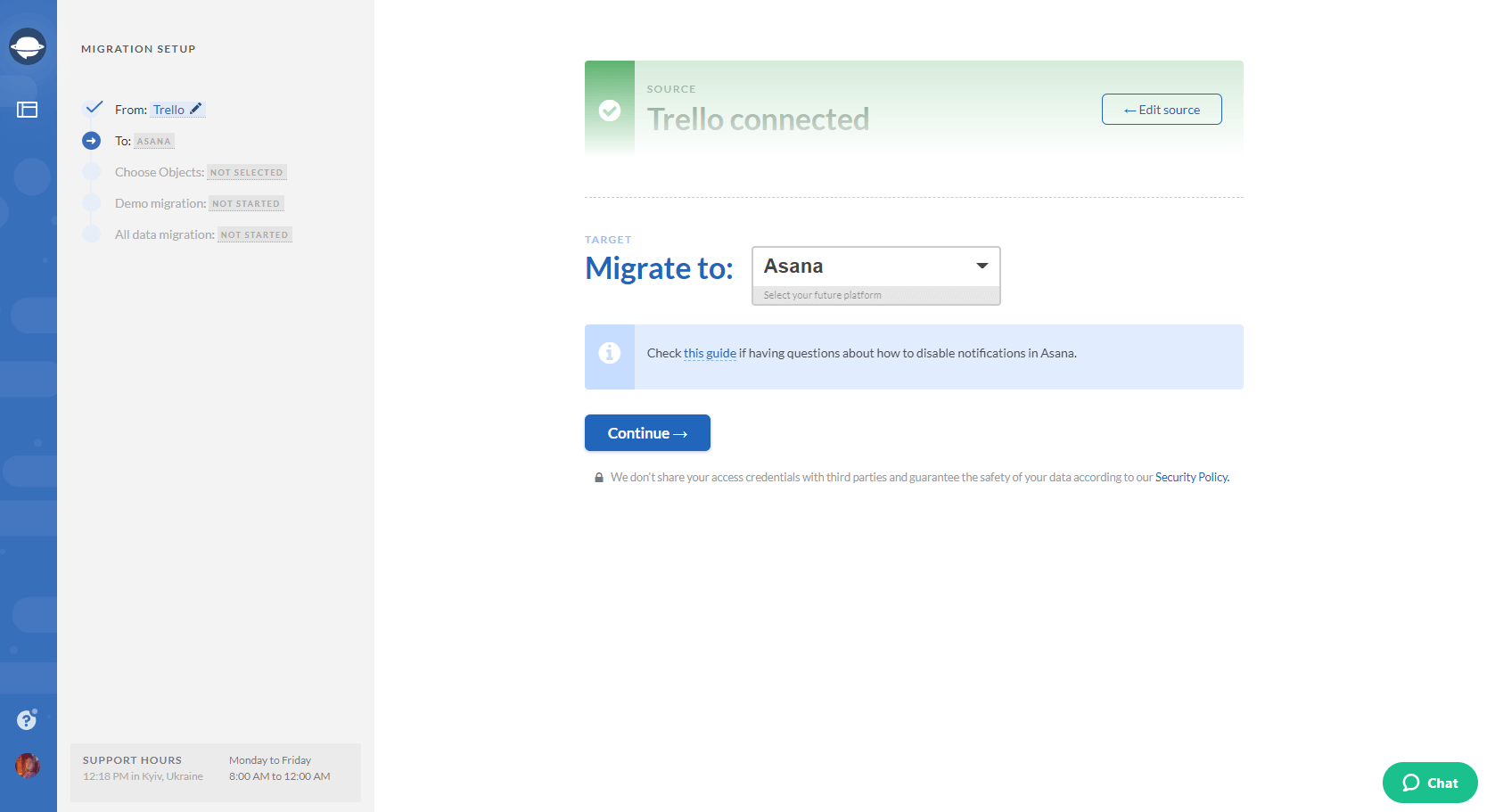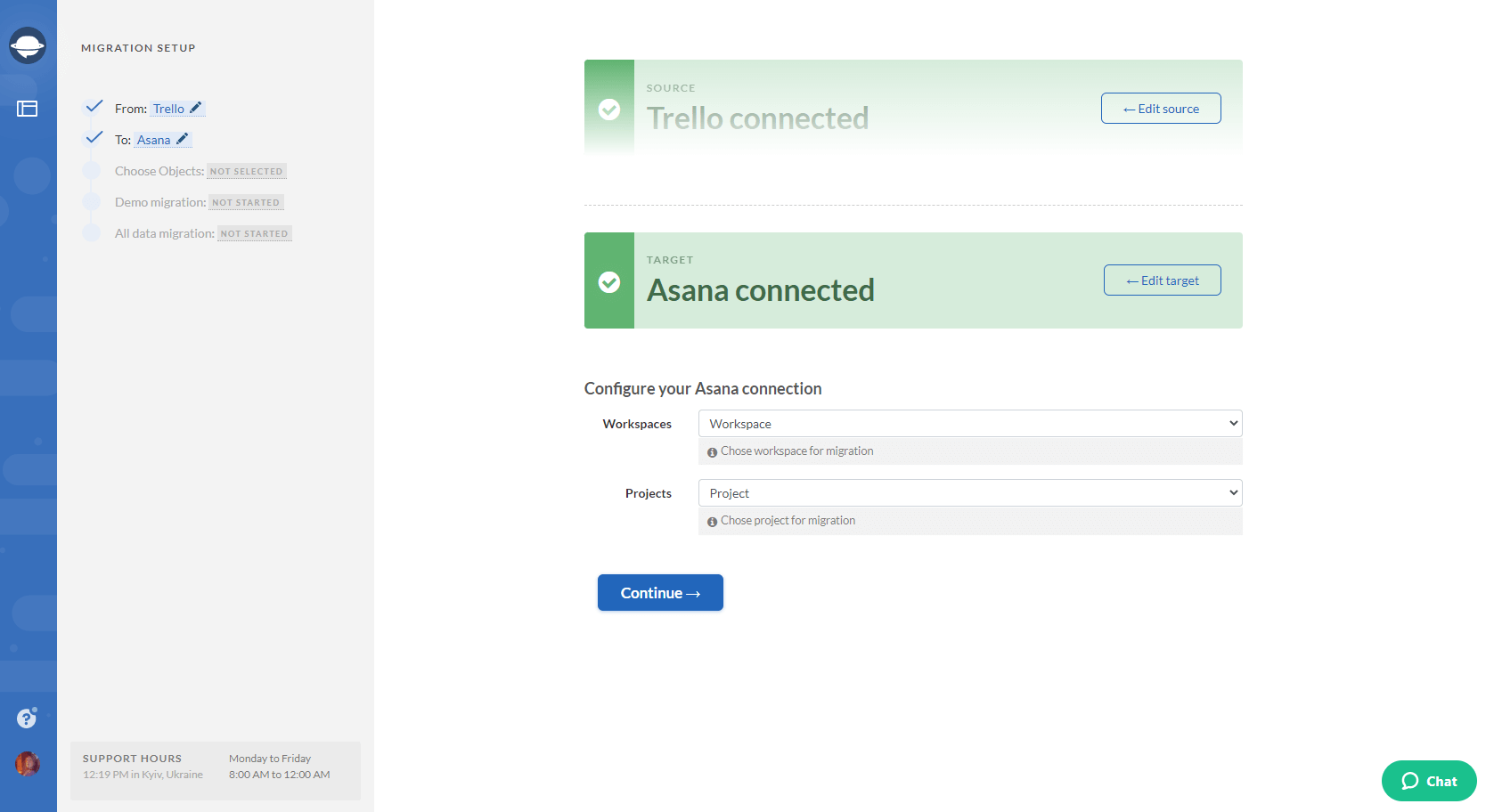 4. The next step is to select the records that you want to export from Trello. Select Tasks and Migration Wizard will open a task mapping form.
Also, take a close look at this page. There you see the modification names of certain records will undergo as soon as you exported them from Trello: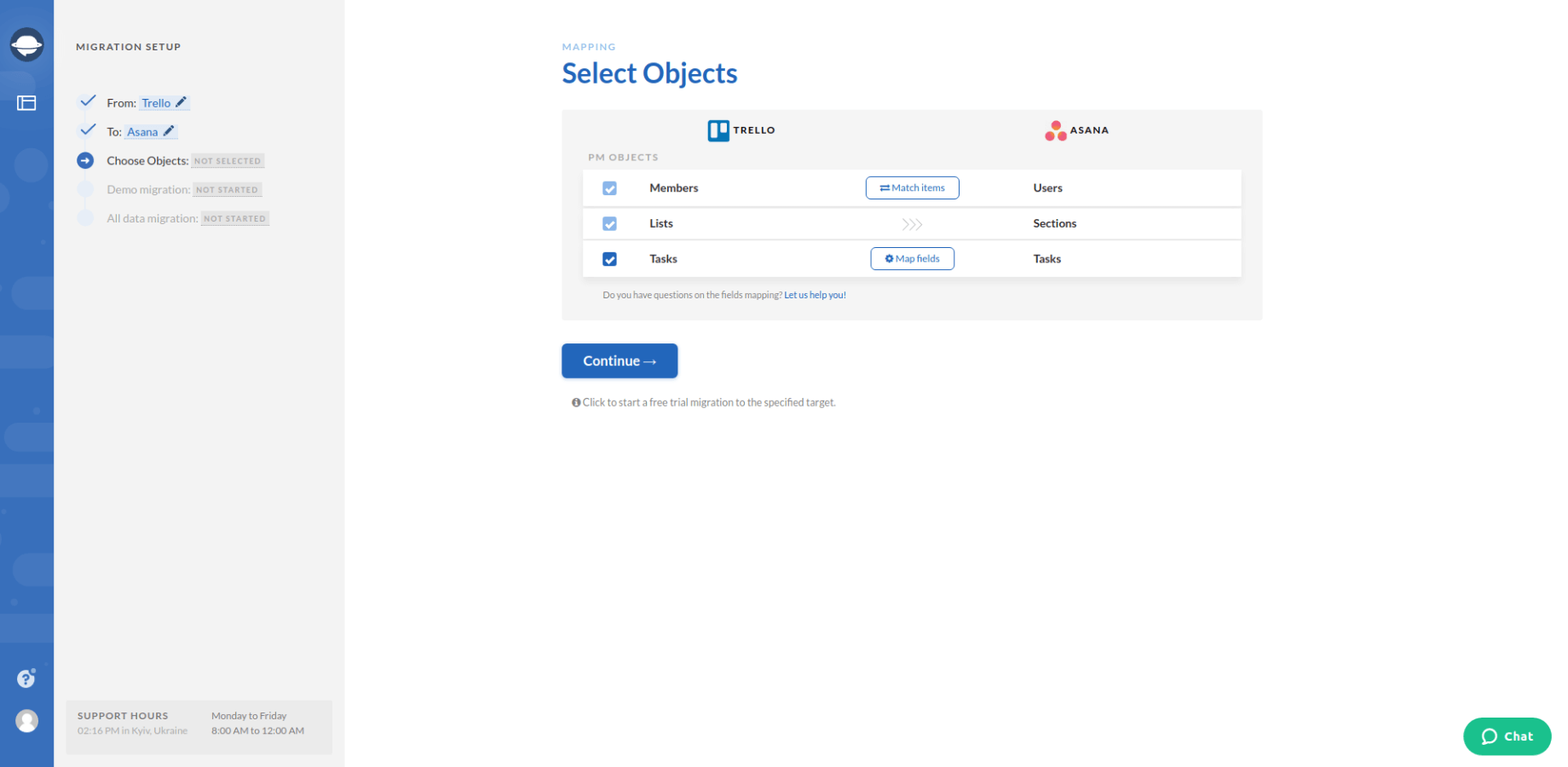 5. Set up the mapping of tasks. Match the corresponding fields attentively. This will help you to find the required Trello data on the target platform after the export: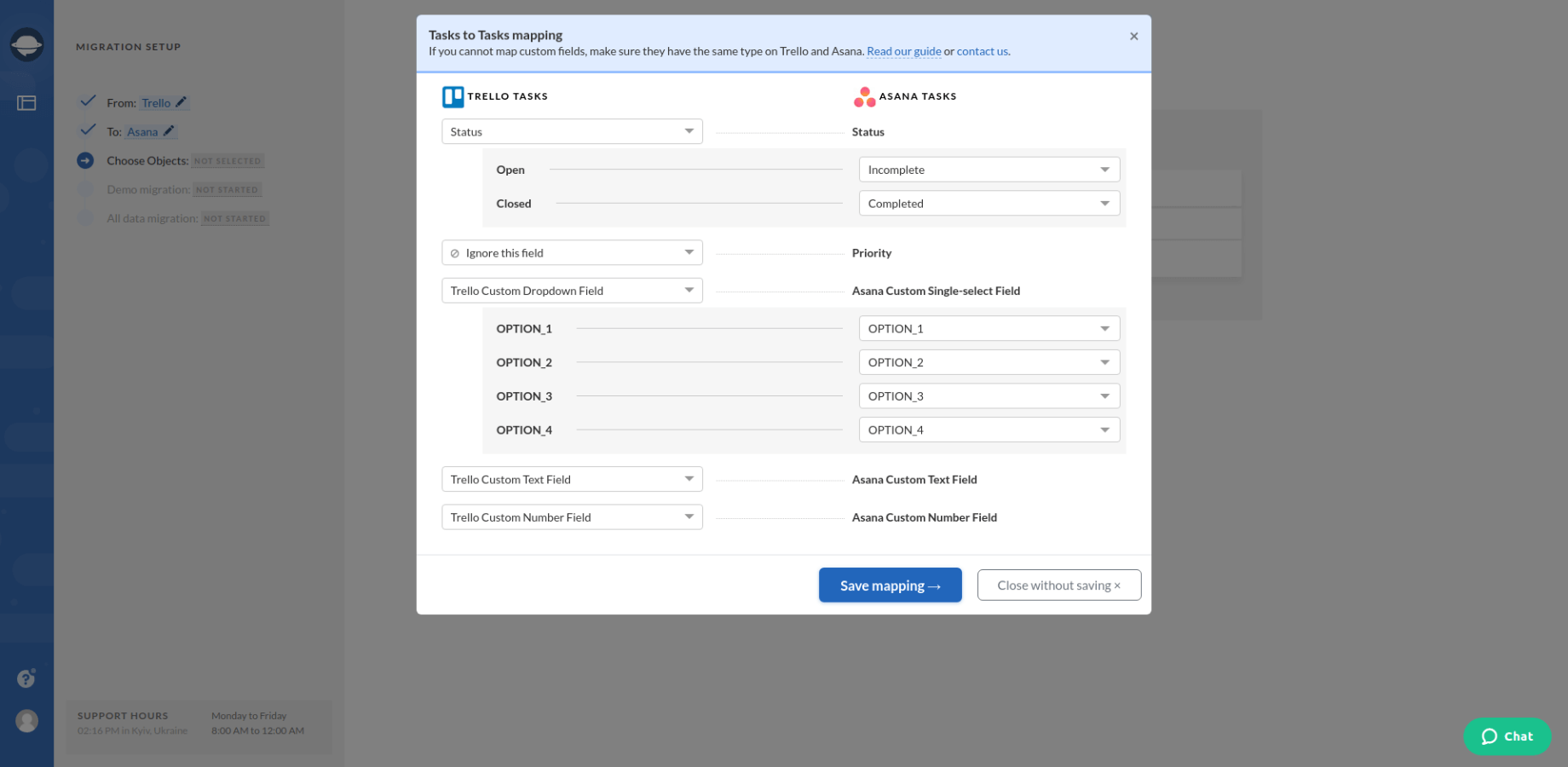 6. When Task mapping is done, move on to user matching. Click the Match items button and match users between the systems.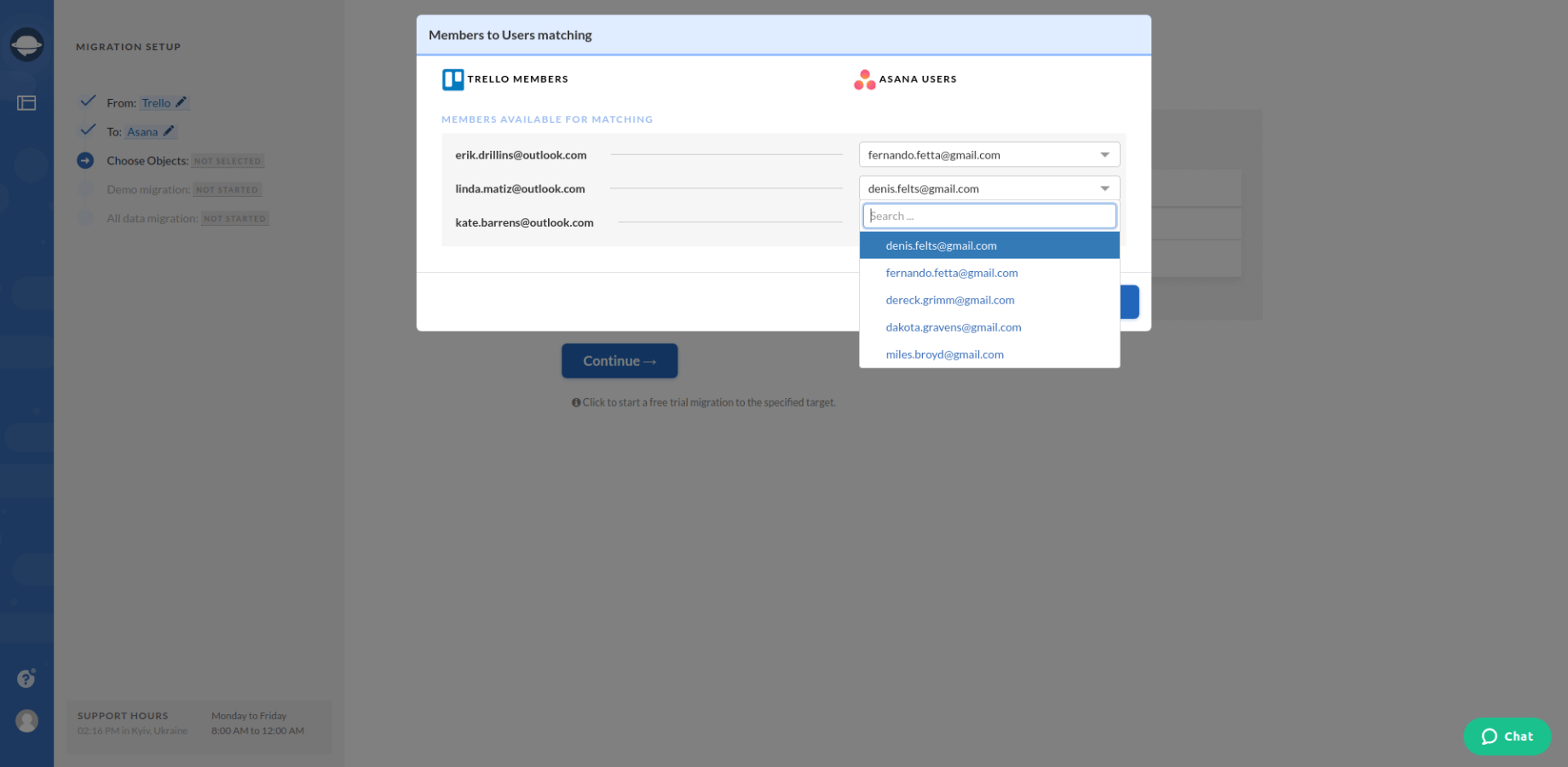 7. Perform the demo migration to check the export outcome as well as the performance of our tool. The demo process will last up to 5 minutes. As soon as the export has finished, click the "Download report" buttons to check the results. Make sure that your Trello data is in the right place:
8. If you are satisfied with the demo outcome, run the Full Data Migration to export your Trello data effectively. 
Note: Don't hesitate to contact our support team if you have any questions during your export from Trello.
Recap
We hope that this guide will assist you in your future data migration from Trello, making it smooth and swift. So, what are you waiting for? Make your Trello data export the fuel that will power up your projects and increase your teams' results!