So, you are looking for a way to export your projects from Teamwork? No wonder, many companies tend to switch off to more powerful project management software to ensure that their teams work more efficiently. Here rises another challenge: how to transfer your data. You've come to the right place to find out how to export your data from Teamwork.
With the Relokia team, you can migrate from Teamwork easily and fast. You don't need to be a data migration expert to transfer your data from one platform to another while using Migration Wizard. What's more, is that our tool preserves all connections between records when you move them from the source software to the target one. Let's take a look at the export peculiarities and the process itself.  
Teamwork Alternatives
Many leading-edge project management systems can catch your attention, but the question stands: which one to choose? We've decided to help you out and offer some Teamwork alternatives, which can surprise you with their advanced features.
Trello is one of the top project management that you can use to organize all projects and tasks in one unified system. The software provides you with cards to manage your workflow effectively. The cards contain all project details, due dates, and file attachments so that your team can keep track of the progress.
Another good alternative to Teamwork is Asana, which divides your work into tasks with boards, timelines, calendars, and lists. What's even better is that its "Files View" option allows you to study all your project attachments in one place. This structure enables you to add improvements to the project's progress.
On the contrary, there is ClickUp. This project management system can help you easily boost your productivity because of its multi-purpose nature. You can use ClickUp not only for controlling your tasks but also for organizing events. What is more is that this PM system offers you multiple customized views, bulk rescheduling, agile boards, and filtering.
Right now, it's up to you which project management system to choose for your Teamwork export. What we know for sure is that we will help you during the process.
What records you can export from Teamwork
Your data is crucial for the success of your team. That's why ensure which records you can migrate to the target source automatically. Our Migration Wizard can export the following Teamwork records:  
Project lists (task lists)
Groups for tasks
Tasks (together with Comments, Attachments, Tags and Custom Fields) 
Task Dates (including "Started at" dates, "Due" dates, and "Completed at" dates)
Dates (together with "Created" date and "Updated" date)
Users 
Subtasks (in the task)
To cut the long story short: you export all core Teamwork data and move it to the target platform. Sometimes the desirable platform doesn't support the automated migration of some records. We feel your pain and our support agents are looking forward to assisting you with the customized Teamwork export.
Prepare for the Teamwork export
Before you proceed with the migration, pay attention to a few important things: 
Create an account on your target platform. You need a place where you would export your Teamwork projects. Look through the list of supported platforms on our website to choose the preferred software. You can also read some reviews on different project management systems to make up your mind;
Check whether you have access credentials for source and target platforms. Our tool won't connect to the project management software if you don't provide such information;
Ensure you have the admin rights on both systems to run the migration;
Note: To make the export process quicker, look through your Teamwork data and assess their importance. Delete the unnecessary records.  
How to set up your export from Teamwork
Despite the fact that the data migration process is intuitive, a step-by-step guide will do no harm:  
1. First of all, you have to sign up on our website. You can register in any suitable way: via email or a social network account. The registration won't take long;
2. Your next step is to choose Teamwork as your source platform. Fill in the access credentials so that Migration Wizard receives access to your data. Select the required Project to configure the connection: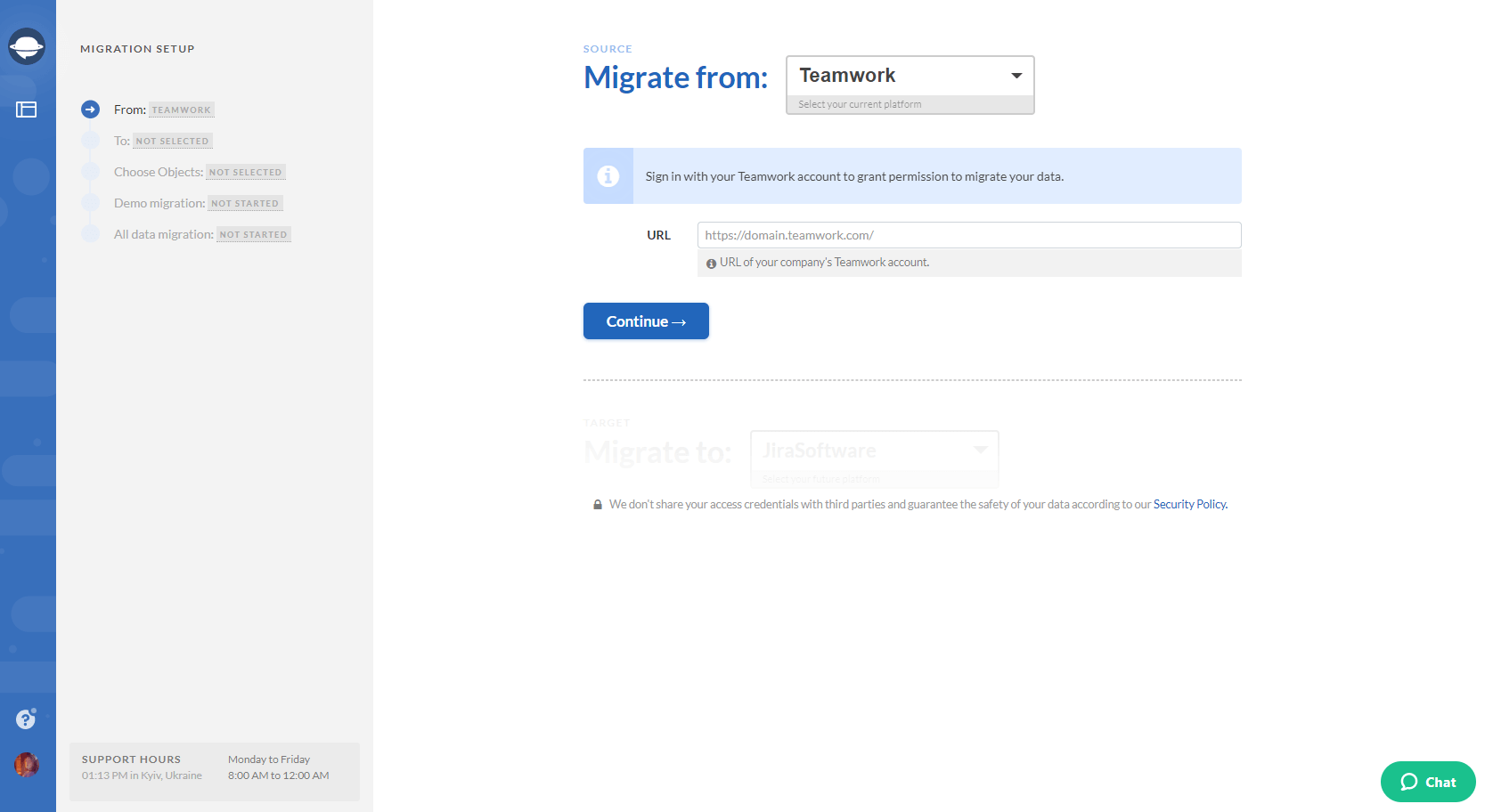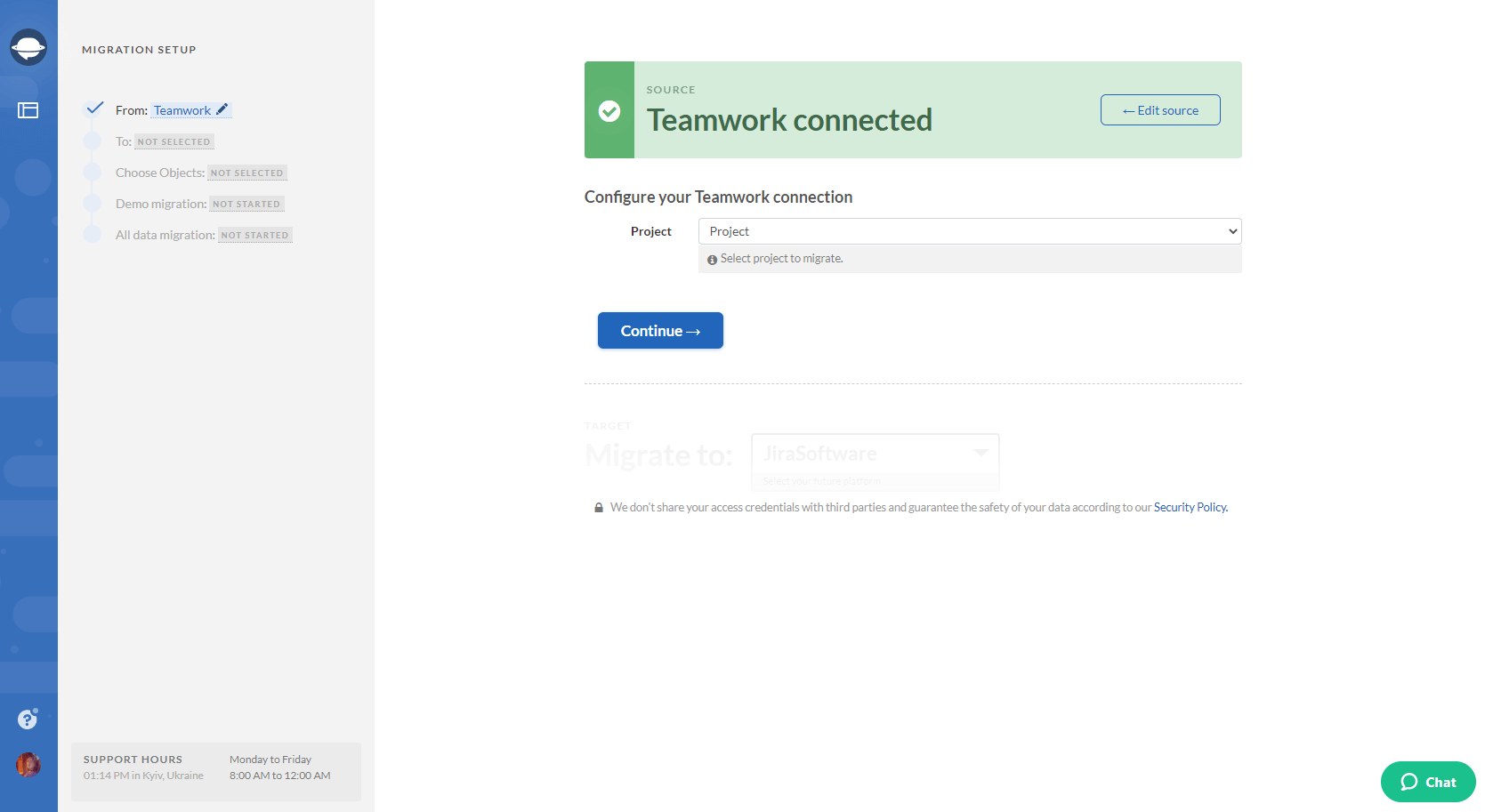 3. Select the target platform. Provide the necessary information and configure the connection: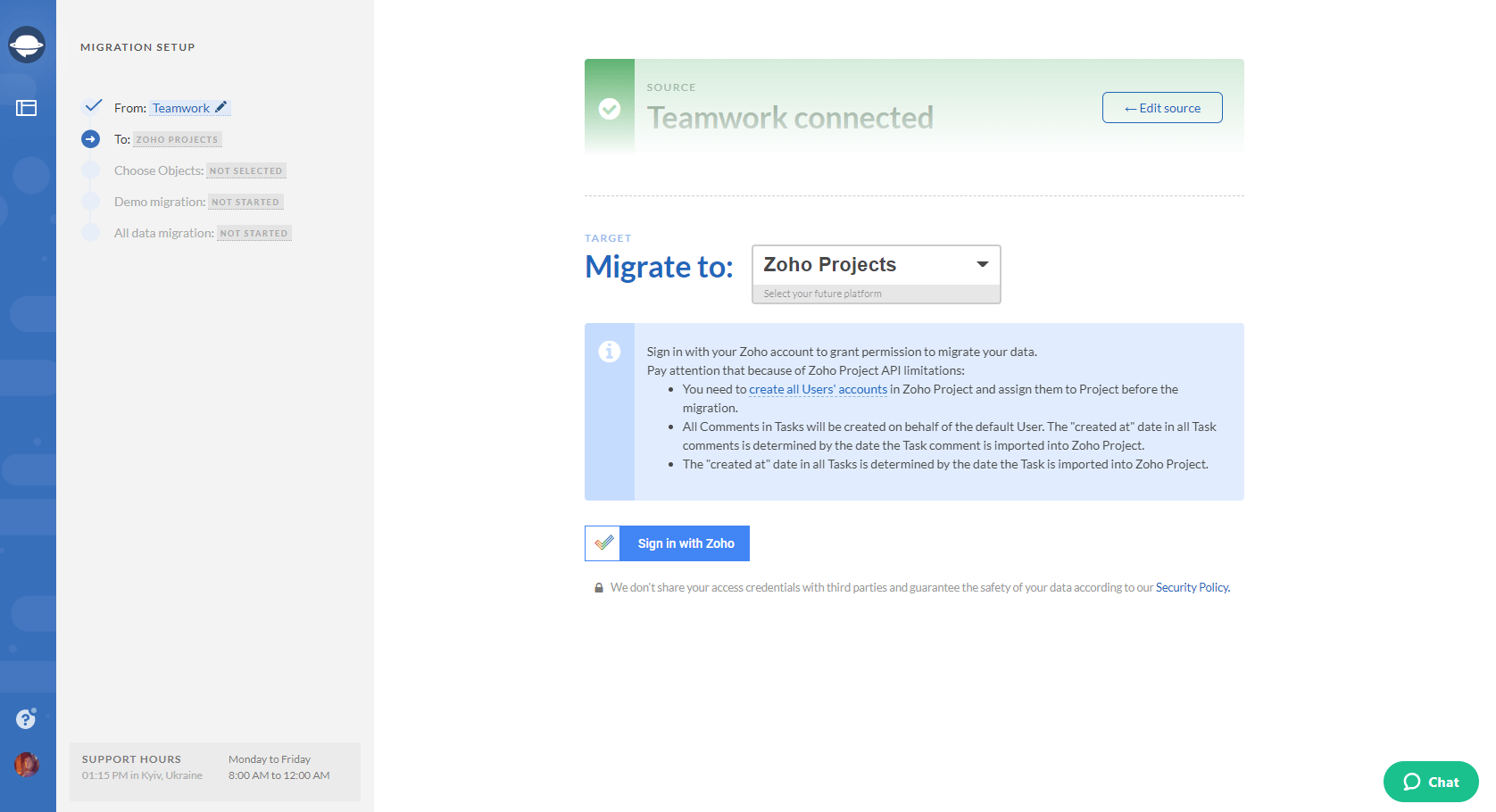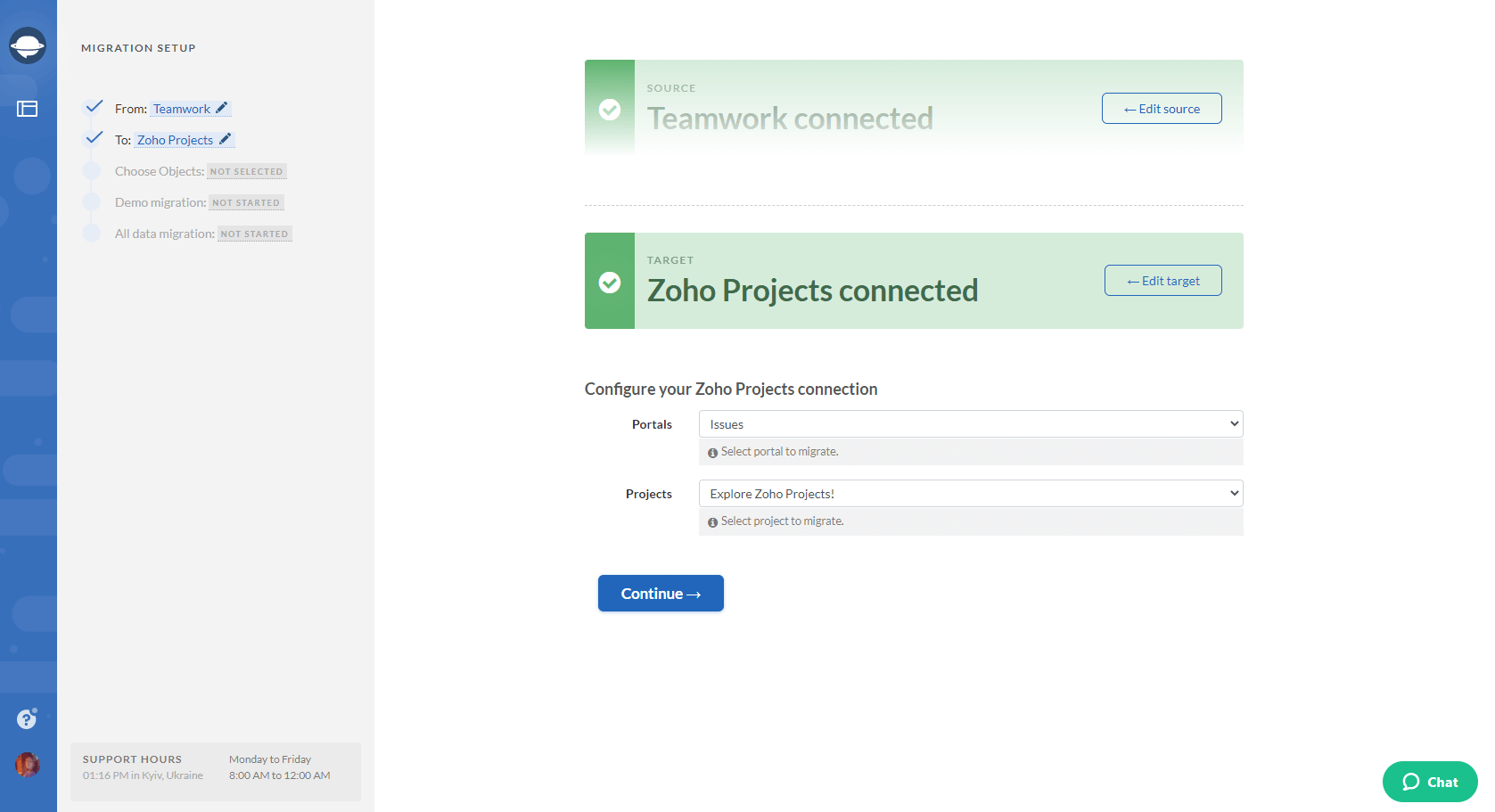 4. Next, select the records that you want to export from Teamwork. Select Tasks and Migration Wizard will open a task mapping form.
Note: You will see subtasks on the select objects page only if the target platform supports the migration of these records.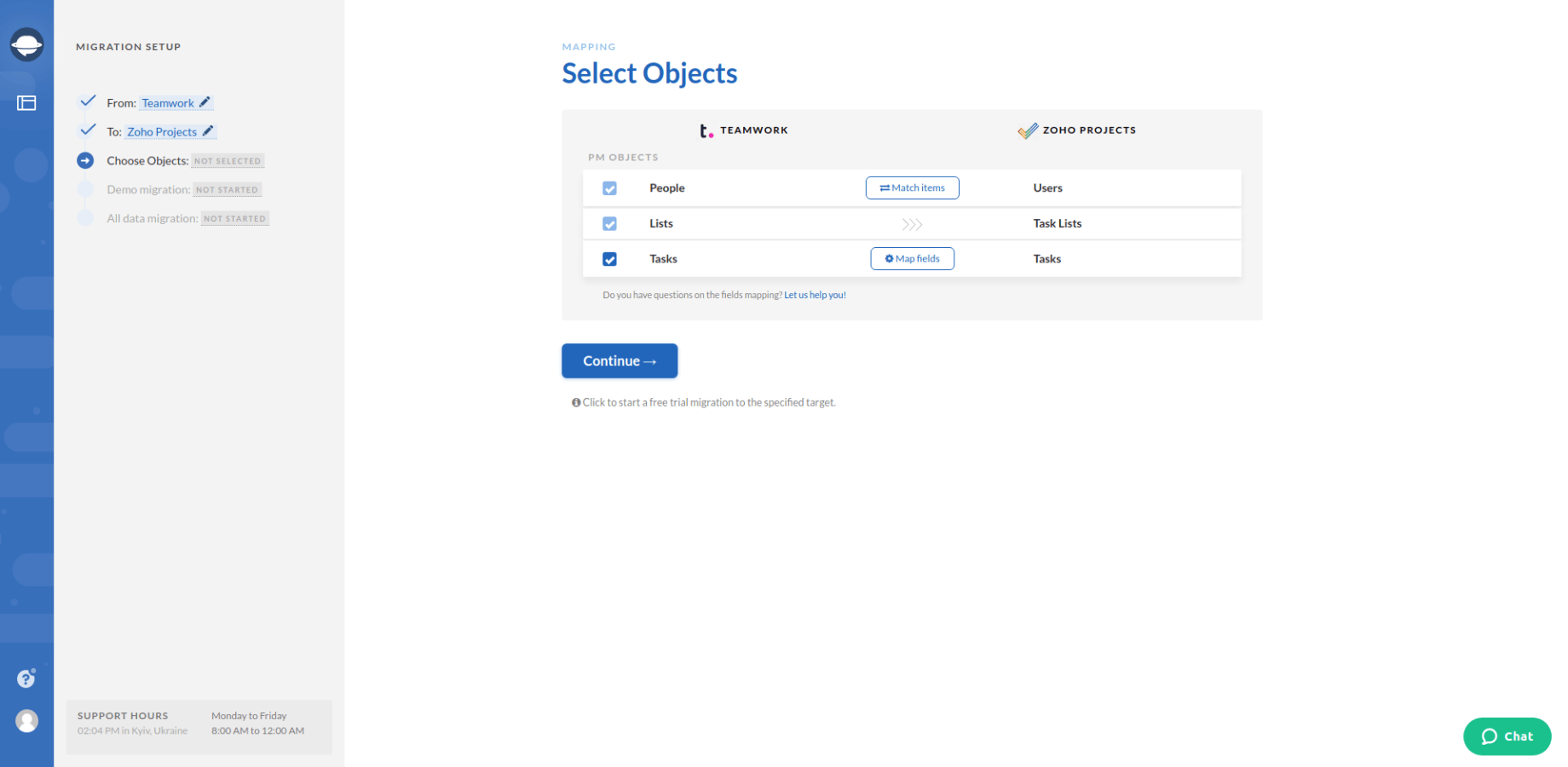 5.  Set up the mapping of tasks. Match the corresponding fields attentively. This will help you to find the required data on the target system after the export.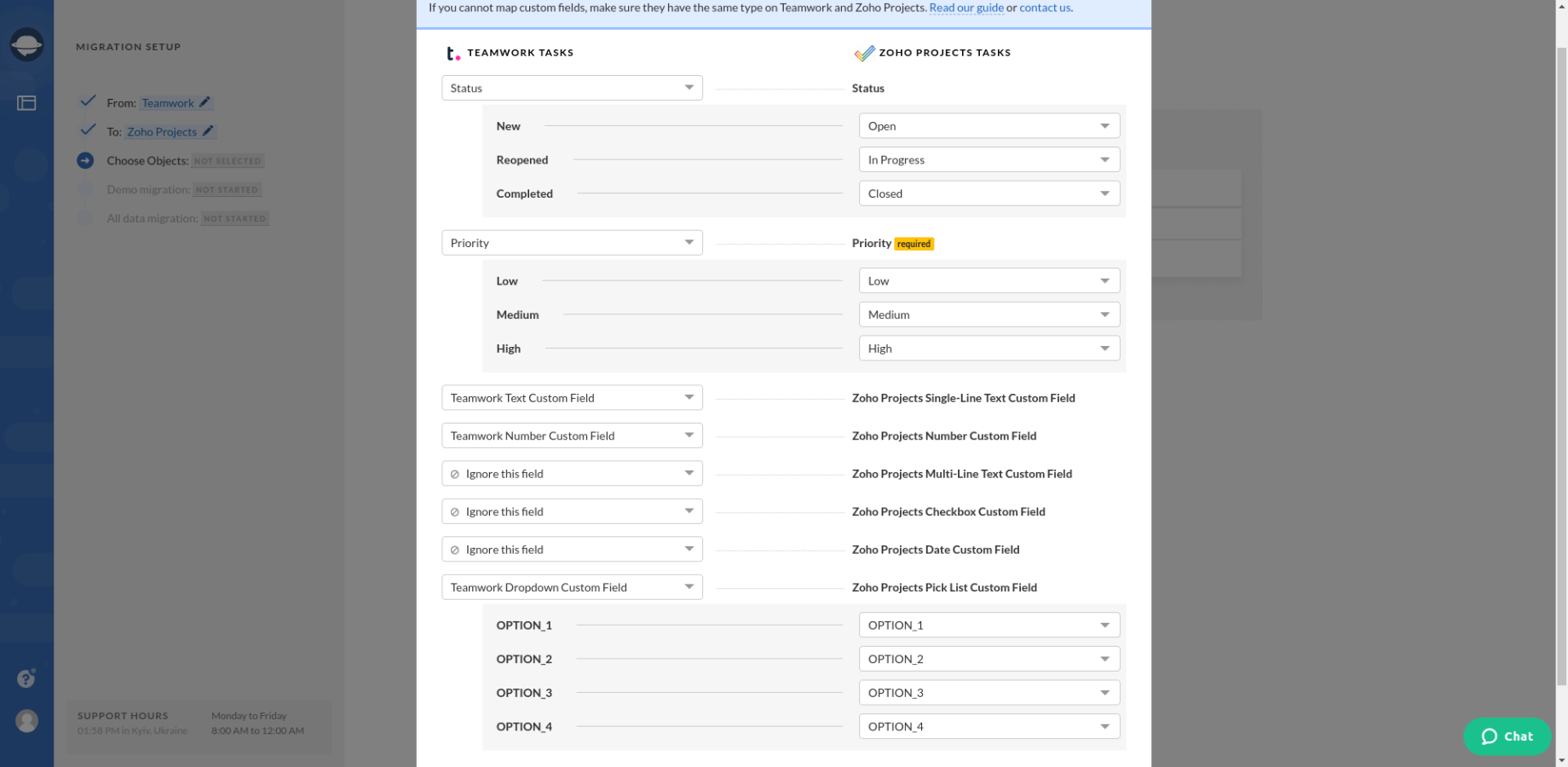 6. When Task mapping is done, move on to user matching. Click the Match items button and match users between the systems.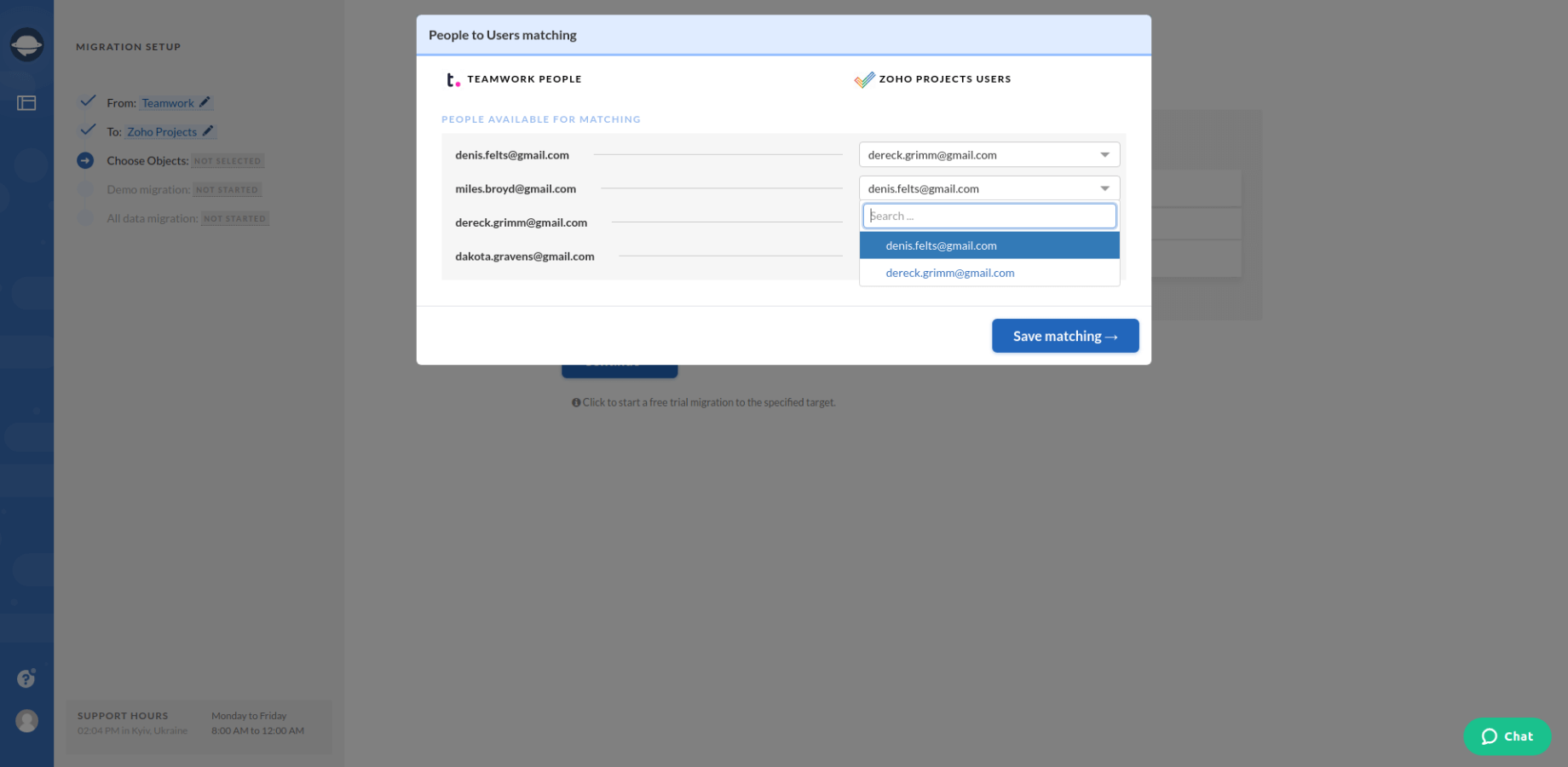 7. Run the demo migration to check the export outcome as well as the performance of our tool. The demo process will last up to 5 minutes. To check the results of the demo migration, click the "download report" buttons next to each record. Study the reports carefully;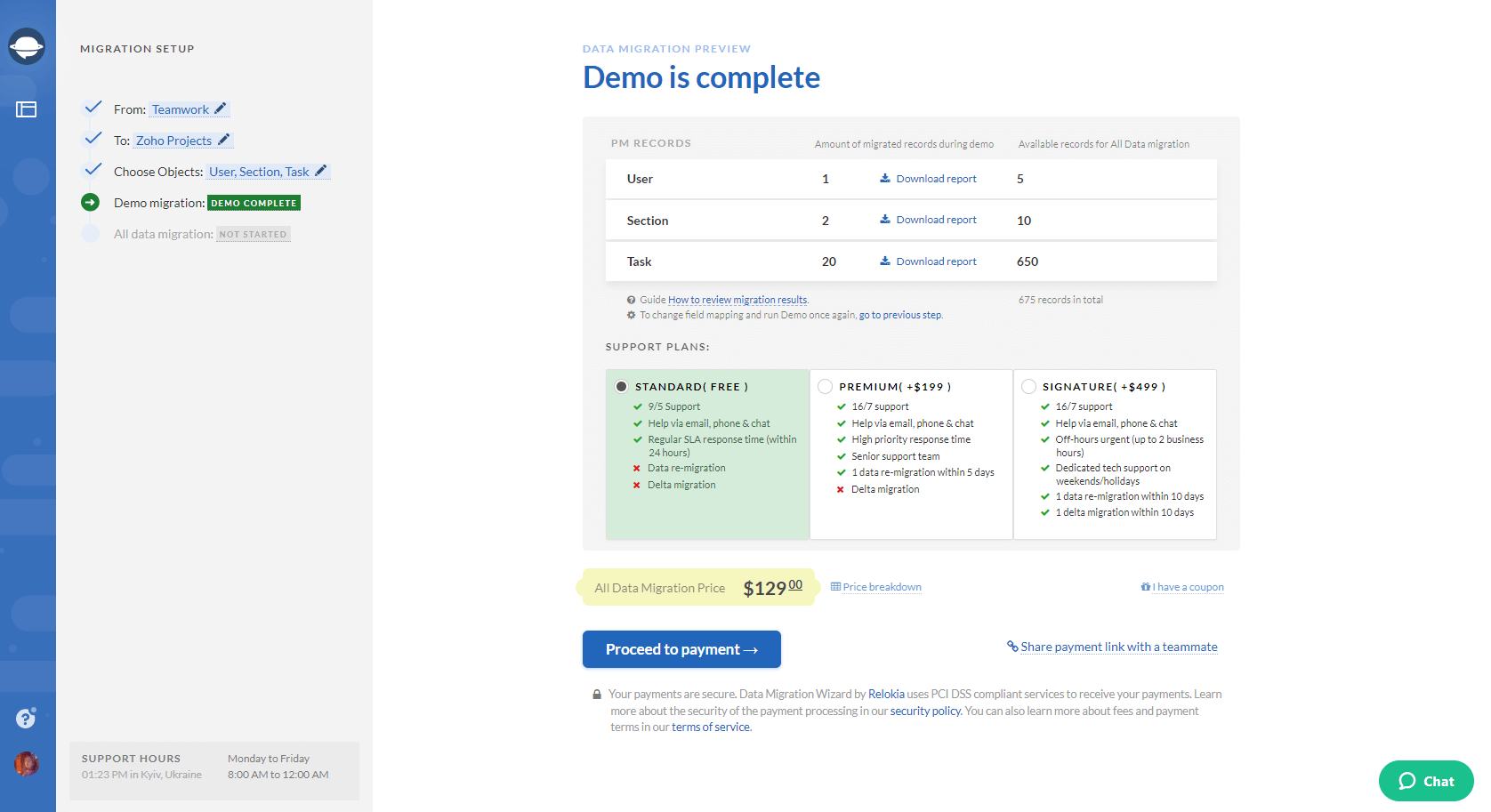 8. If you are satisfied with the demo results, you can start the Full Data Migration right away and export your Teamwork data easily.
Note: If any questions appear during the export process from Teamwork, feel free to contact us and we will be glad to assist.  
Wrapping Up
The project management sphere is upgrading constantly, so it's your choice whether to stay behind or move forward. The data export from Teamwork is your key to powering up your team. So, why don't you sign up for the migration right now? Make Teamwork data export your next step in improving your business processes!