Big volumes of repetitive work pave the way for project delays and burning out. That's why project managers need automation tools to offload low-value tasks from their schedules. And how can Asana automation improve your workflows? Among other project management software, Asana stands out with its robust automations and workflow builders.
In this article, we'll shed some light on Asana's possibilities but let's start with the basics.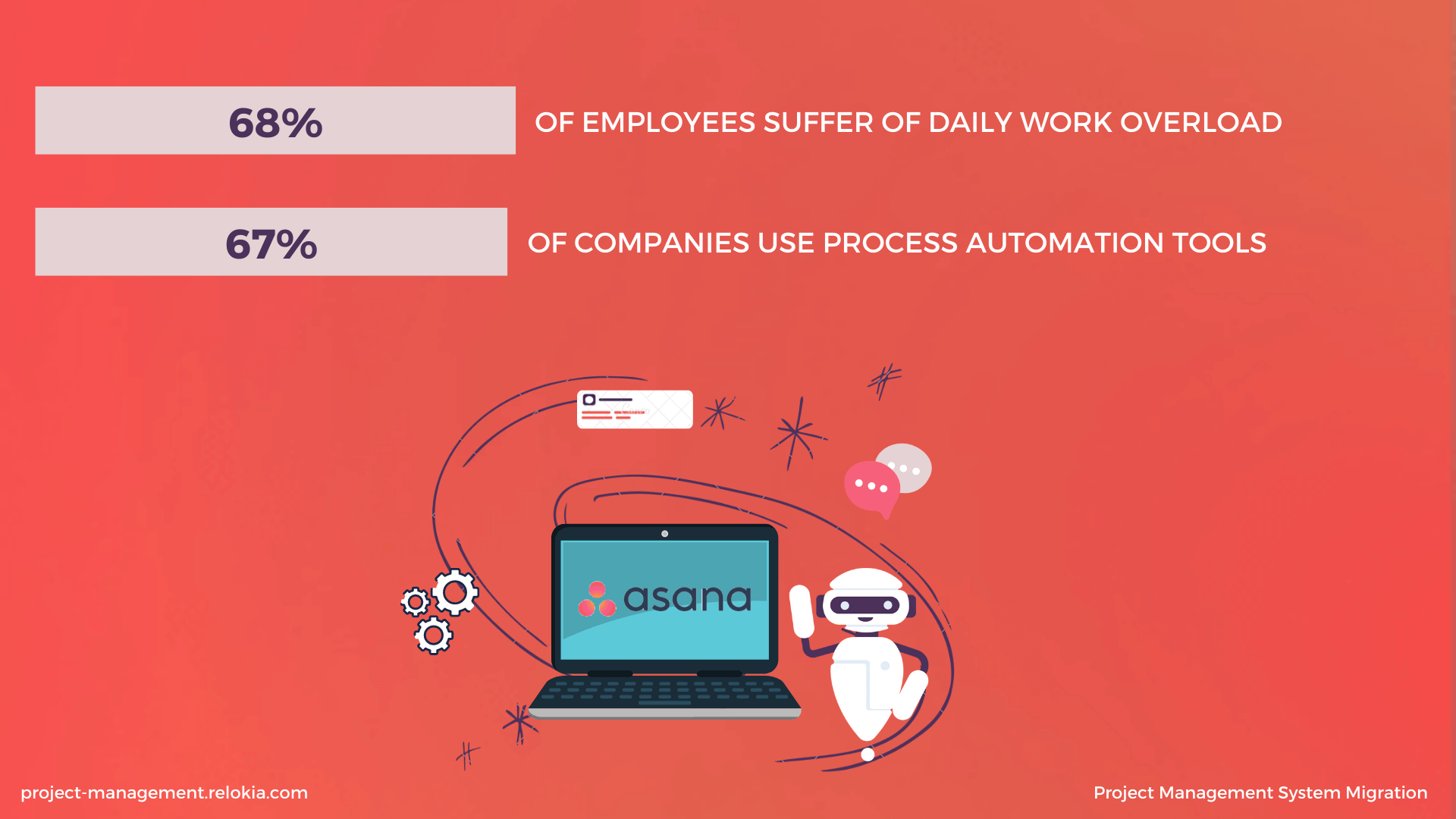 Statistics source
What Do You Mean by Automation?
In plain English, automation is setting up a specific condition or trigger to let the action happen automatically. In project management, the most common automations include notifications, task assignments, changing task priorities, and more. Therefore, most project management software provides tools to build workflows and set automation rules for recurring tasks.
So, what are the benefits of project management automation?
Less tedious work
Smaller risk of errors
Better team productivity
Improved resource allocation
However, building workflows is no picnic if you have no layout to base on. So let's explore the workflow structure.
What Are the 3 Basic Components of Workflow?
Project management workflow is a series of activities focused on enhancing business outcomes. Each workflow includes 3 following components:
Input - the trigger that initiates a workflow
Transformation - the set of parameters that define how the input is received and processed
Output - the result of the transformation and final derivable of the workflow. Output can work as an input for the next step
Commonly, workflow involves several inputs, transformations, and outputs. With the help of workflow automation, you can simply set the inputs and monitor the results.
What Is the Difference Between Workflow and Automation?
Workflow is a set of processes connected by a single business objective. This objective can be more or less important, so you can build workflows to complete any task.
Automation, instead, is a separate task or a group of tasks performed without human intervention. The automated activities happen according to the preset rules.
Can automation be a part of a workflow? Sure. Both automated and manual tasks can intervene and form a single roadmap or workflow.
What Is Asana Automation?
As a comprehensive collaboration tool, Asana offers various features to set hands-off operations and spend more time on strategic work. These include:
Workflow Builder with over 70 rules to automate recurring processes
Preset Rules Gallery to build rules with already set triggers and actions
Audit Trails and Error Alerts to detect errors in rules
Due Dates to arrange tasks and optimize workflows
Task Dependencies to avoid conflicts in schedules
To keep an eye on your workflows, you can use Asana's Gantt charts and dashboards and optimize them on the go.
So how can you implement Asana automation? You can do it using workflow templates or rules. Read on and get familiar with both.
How Does Asana Workflow Builder Work?
Asana Workflow Builder is a visual tool that helps organize work in a logical way. You can gather all tasks and data into a single reusable workflow instead of doing everything from scratch every time. Besides, it's not simply running recurring processes but a separate UI where you can plan automations across multiple teams.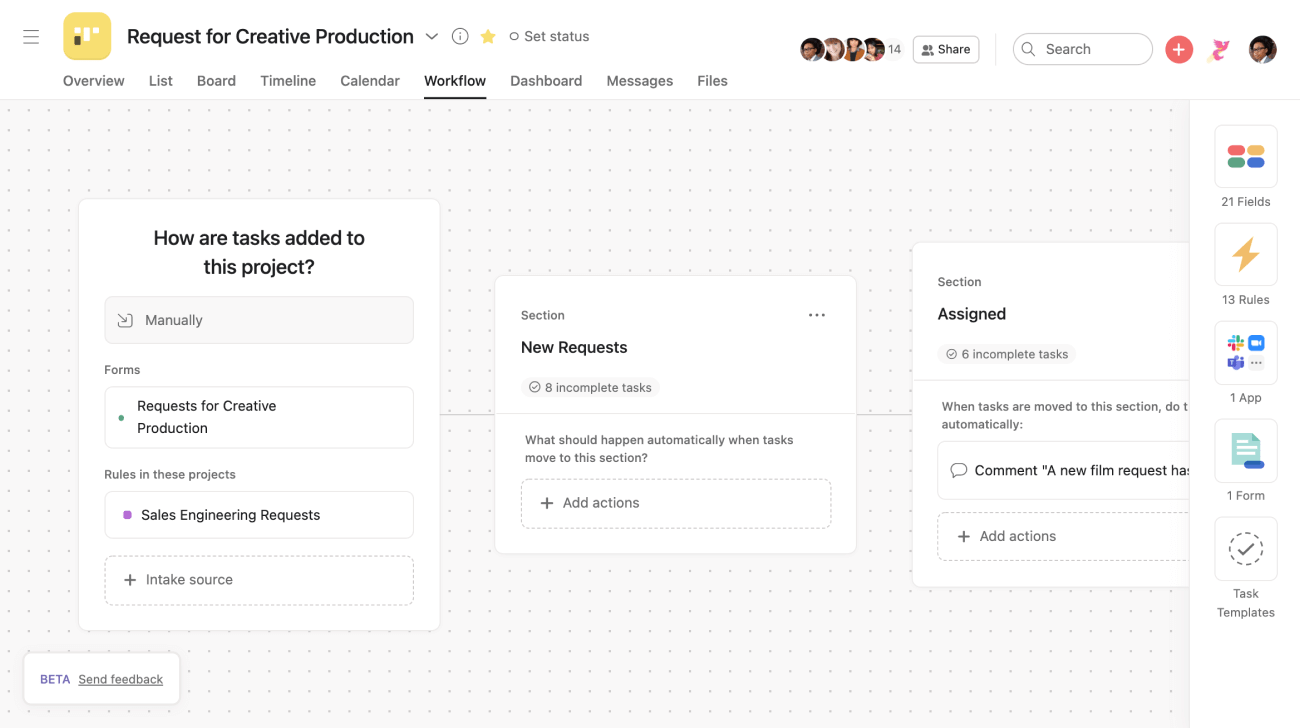 Source Asana
In Asana Workflow Builder, you can add sections as progress stages like In Progress or Done and configure each one. For example, you can specify what should happen when a task moves to a particular section, such as assigning a task or adding a collaborator. To monitor the section updates, switch to the Dashboard view and check the task count in each section.
What Are the Building Blocks of an Asana Workflow?
In Asana, building blocks make up the hierarchy of any workflow. These are the essential workflow components with particular functions that work for a single business objective. Let's check each one.
Organizations bring together all your employees based on your company's shared email domain.
Teams are groups within Organizations that unite collaborators on specific tasks or projects.
Projects assemble tasks related to a particular goal or workpiece.
Tasks are basic action units in Asana.
Subtasks divide tasks into smaller chunks.
Comments on tasks provide additional insights for quick task completion.
Once you decide on your projects and tasks, choose the way to use the Asana workflow sections. You can use them as sequences using the List view or as stages using the Board view. Also, you can add custom fields to automate and report on your tasks the way you prefer.
Asana Custom Rules: How to Build Them?
If ready-made rules from the Rules Gallery miss the one you need, you can create a custom automation. As a Business or Enterprise Asana user, you can use the Custom Rules Builder to combine any trigger with any action. Edit the rule, put it on pause, or delete it in one click.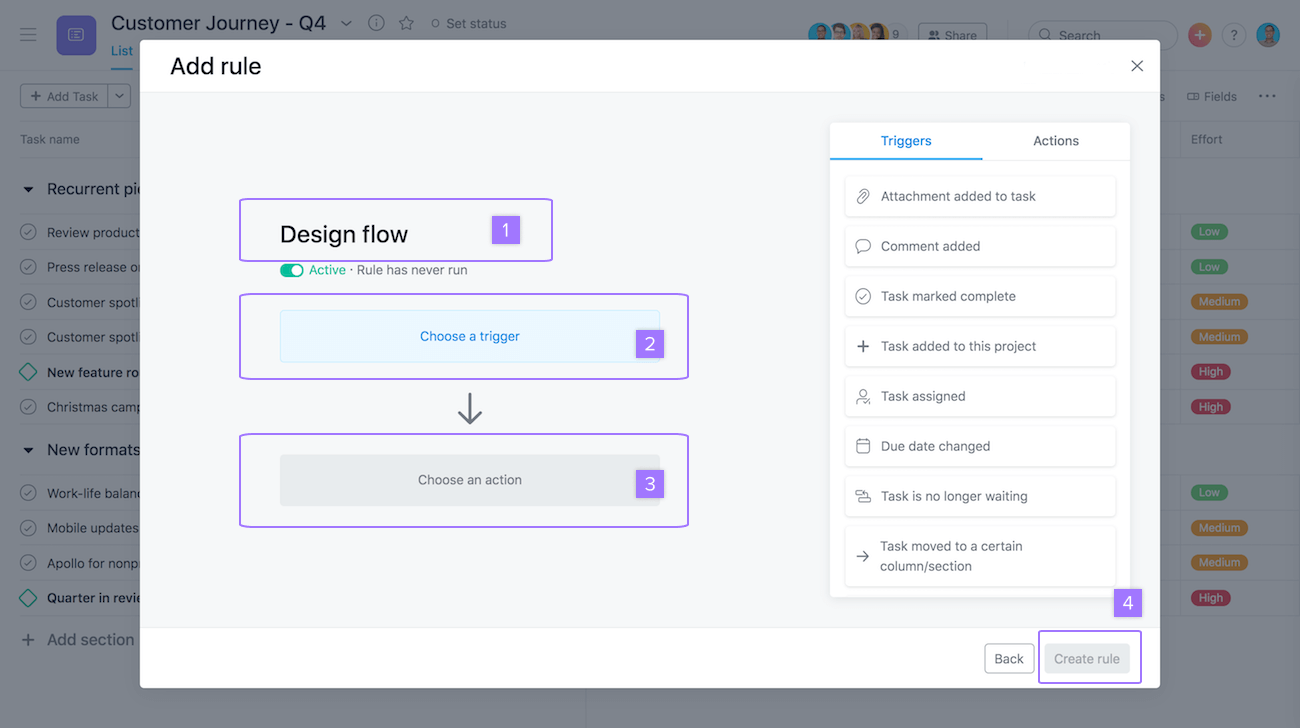 Source Asana
Note: if you select the same trigger when creating a custom rule, you can choose an action only once.
Asana Templates: How to Use Custom Templates?
To avoid the constant recreation of repeating tasks and projects, you can use Asana workflow templates for work requests, onboarding, or project planning or create custom templates. Besides saving time, you can ensure everyone is tuned and works within the right framework.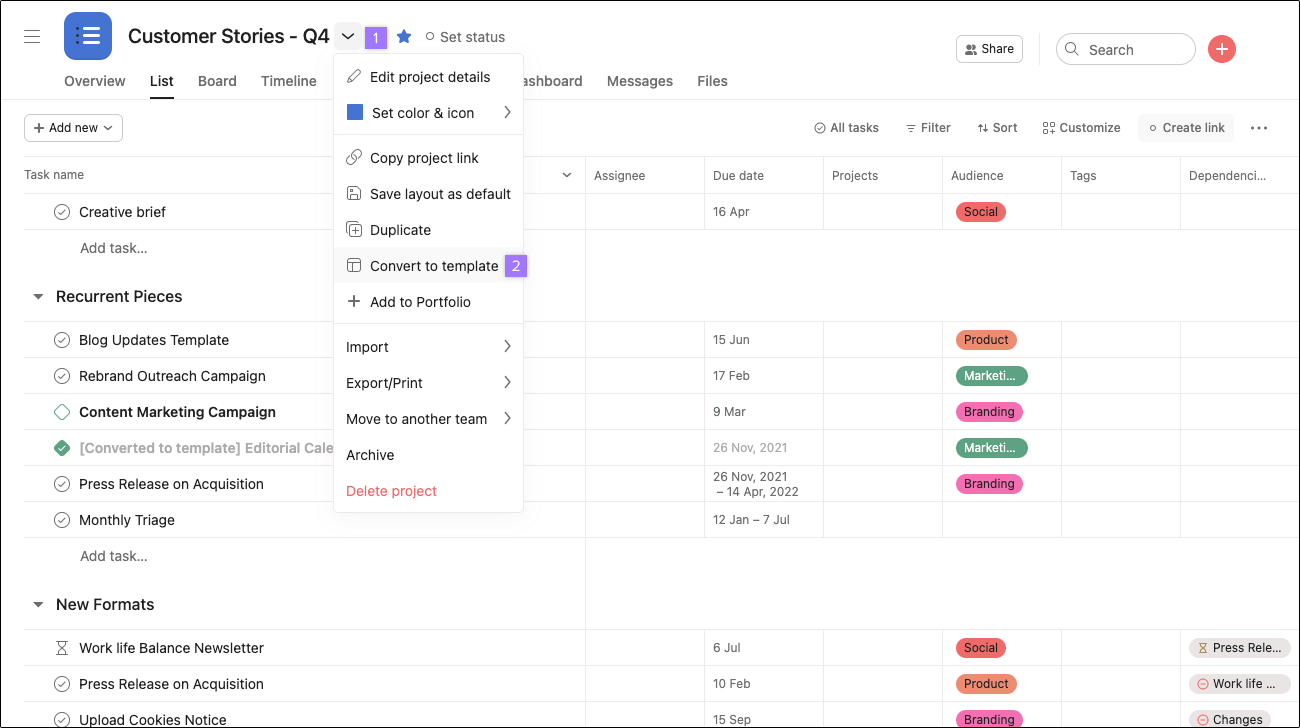 Source Asana
How to create a custom template?
Add a new project or duplicate the existing one and fill it with the sequence tasks.
Make sure to provide the necessary task details, like due dates, assignees, and attachments.
Convert the project into a reusable template.
As you improve the workflow, you can polish up the template and adjust it to your changing needs.
Asana Automation: What Project Management Processes Can You Automate?
Asana automation covers nearly every aspect of an average project management workflow. Besides the pre-set rules for the most frequent processes, you can streamline other workflows using the Custom Rule Builder. Here's the list of Asana's hands-off operations:
Shifting task due dates
Assigning and routing tasks created in Slack, Gmail, and Outlook
Adding teammates to a task
Assigning incoming tasks using Forms
Updating task dependencies in case of schedule conflicts
Approving work requests
Plus, Asana allows you to configure user permissions to interact with the workflows. For example, you can give collaborators comment-only permissions to keep sensitive information safe.
Cover Up
When organized properly, Asana's automated workflows take off a large volume of work and make your team more productive and clear-minded. You, as a manager, are only left to coordinate tasks smartly and monitor the results.
Looks like Asana automation may work for you? Then move your data to Asana and improve your project management performance.
Frequently Asked Questions
Workflow management includes planning and implementing sequences of tasks for specific projects.
Project management automation means using technologies and machines to reduce human involvement in tedious work.
Workflow is a repeatable pattern of tasks performed to achieve a particular business goal.
A workflow aims to streamline processes by removing unnecessary work and automating repetitive tasks.
You can automate workflows with project management software like Asana.
Asana provides workflow builders to set ready-made or custom automation rules. Also, you can use templates to automate specific workflows.
Yes, you can turn on Asana email notifications on workflow updates.
Asana is a project management and collaboration tool that helps teams plan and deliver projects, optimize Agile workflows and communicate.
Asana claims to save over 70 steps per week.
Want to migrate to Asana?
Let's migrate PM data together!
Try for free