Teamwork. Everybody talks about it, tries its free plan. Or read a random Teamwork review to figure out what it's all about.
The app's name gives it away: it should be a perfect project management system for team collaboration. The tool should include everything project managers need to focus on the end goal. But, is Teamwork that simple?
In this article, we attempt to gather some basic ideas on its features, pricing, integration, pros and cons. Let's figure out if the app relates to real teamwork.
What Is Teamwork?
Teamwork is a cloud-based software designed by the Teamwork corp for effective project management. Primary, the tool was designed to eliminate the complexity that comes with team collaboration. Some of its functions promote better work visibility: people see what every member is working on at a time, and what needs special attention.
A great online project management tool that aims at improving team communication and project visibility. So everyone sees how much time each person spends on different projects. On top of that, the Teamwork tool includes billing and invoicing to get paid for work done, and a chat feature to communicate with others. Project managers can view everyone's time and workload, and make sure deadlines aren't slipping.
If you need to work with your project on the go, use a mobile app. Or take your laptop and do your tasks via a desktop version.
Getting Started With Teamwork
Teamwork navigation couldn't be more intuitive. The app is sleek and modern. It has a bright and fun color scheme. You can quickly access lists of tasks, assign them to specific people and use space effectively. Besides, you can change someone's permission levels, spin out a report, or add details to a task.
Every time you want to log in, Teamwork gives you a unique URL. You can always disable the features that your team isn't using. Or choose the default page look for each project; it means that you choose where to land every time you or any team member opens a specific project.
It takes a few minutes to set up an account, creates a project, and add tasks. Teamwork gives you full control over your account:
brand your account with your company's identity
add a logo
customize which features appear in each project
As easy as it is, Teamwork includes a big set of features. However, there are some limitations. There isn't any option to set a deadline for the task or to assign it to someone else.
As for blog and help pages, they make a difference as well. Every time Teamwork releases a new feature, you can usually read about them or watch a video tutorial of how to use them & set them up.
What is Teamwork support?
Teamwork lacks the level of customer support you can get from such project management software as Wrike or Asana. For instance, the Teamwork tool offers help via email, phone, and support tickets. Yet, it lacks live chat support.
On the front, Teamwork offers a huge knowledge base that includes almost all requested questions. And the base keeps growing as the company's support team tries to fill in all the gaps. You can always check out a set of well-made and useful video tutorials. Sometimes, Teamwork organizes webinars for its users as a part of its support offering.
Speaking about phone and email, you can contact the Teamwork team via these support channels during their regular Monday-Friday hours, with some limited weekend availability. But if you prefer to use social media, Teamwork maintains an active presence there as well. Check out their Facebook or Twitter feeds for tips and updates. Or monitor their YouTube channel for new tutorials.
How Does the Teamwork App Work?
It all starts with creating an account. In the header, you got everything to start creating with Teamwork. That includes Projects, Reports, Planning, and Calendars. You can even add People to your team.
You can jump between boards, lists, or tables. From the main page, access a Dashboard feature that lets you create and customize multiple dashboards. You could add several panels to this dashboard to view key metrics, like task list burndown.
If you want to view a specific project, press on the Projects tab. If you search for files, they're in the Files tab. You have everything on the main page. So you don't dig through an intricate hierarchy of tabs or look for a contact list. It's all right there in plain English.
Users can add clients to the project, communicate with them and share project details within one app. Once work is done, the billing feature counts all billable and non-billable minutes and issues an invoice for clients.
Teamwork Review: Core Features
An obvious thing but Teamwork is built with the average user in mind. The project management tool is cleverly thought out so it doesn't have lots of complex functions you might not even use once. Generally, Teamwork focuses on the exceptional coverage of basic project management needs:
Gantt Charts. See each project represented in horizontal bar form with all tasks, milestones, and dependencies. You can easily adjust the timeline or specific tasks, track progress, reassign a task, and so forth.
Board View is also known as Kanban board. Create columns with cards for each of your tasks. You can label the columns according to a workflow, so everyone with access to Board View knows each task status; while project managers can use it to control the progress.
Task Management. Create tasks directly from your account and assign them to one or multiple team members.
Scheduling. Use schedule view to manage all projects on your site with their associated members.
Workflow Automation. Use triggers to receive notifications that a task or a subtask is ready to be approved or is completed.
Team Collaboration. Start planning your projects and assign them to teams and sub-teams. Additionally, you can notify or tag the team members in a comment to ensure everyone gets updates.
Support for Agile Methodology. Break up your project into several phases to speed up the resolution. It also involves constant collaboration and iterations with opportunities to make improvements at every stage.
Support for Waterfall Methodology. Arrange your project in several phases (in the Waterfall model), where an assignee should wrap up each phase before the next one begins.
Document Management. Work with various file types, such as Adobe Photoshop, Microsoft Word and Excel, LibreOffice. You can edit the document and upload it to Teamwork.
Email integration. Connect your mailbox to the Teamwork app and reply directly through your email. You can enable the email forwarding feature to keep all work-related communication in one place.
Mobile Access. Use Timework apps for Android and iOS to stay up to date on projects and tasks no matter where you are.
Timesheet Tracking. Track time spent on projects, tasks, and subtasks to efficiently manage your tasks and projects.
Change request and Case Management. Change the priority and status of your current tasks and projects, reassign them to other users or modify time frames.
Quotes/estimates. You can estimate the level of your customers' satisfaction.
Invoicing. Keep track of every billing detail and invoice you generate.
Workload. You can estimate the capacity of your team members and quickly reassign the tasks to another person if needed.
Milestones. Attach a task list to each milestone to track the project's progress.
Client users. Easily add new clients without any additional user costs. New clients have limited permissions, still, they can review the projects and tasks.
Reporting. Customize reports to your needs to be aware of all updates and changes.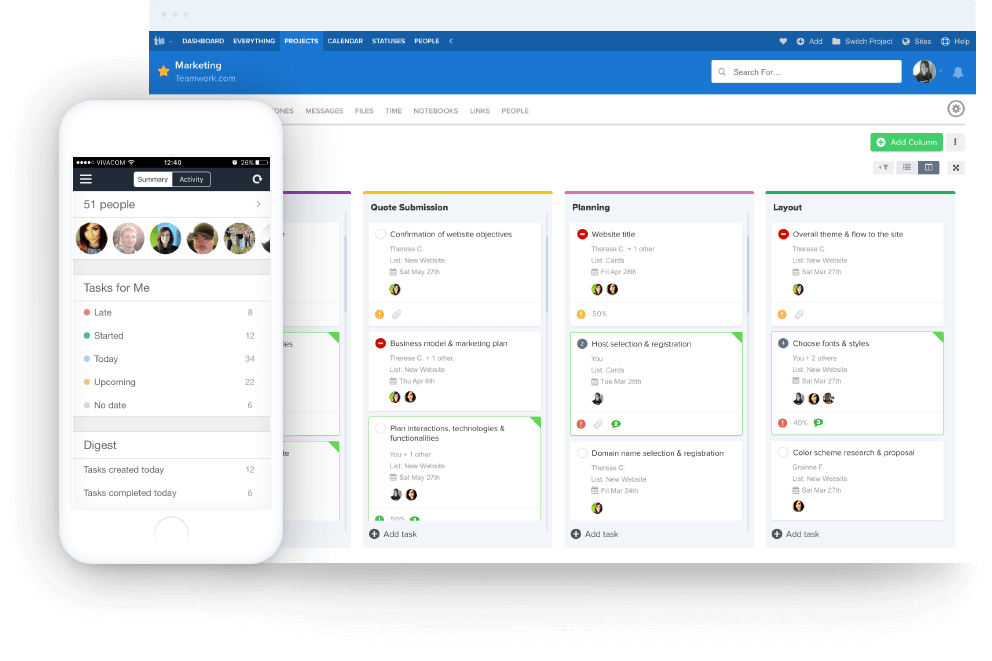 Teamwork dashboard in a cloud version and a mobile app
Teamwork Pricing Review in Brief
Teamwork projects pricing depends on the size of your team and the features you need. The app offers four account types: Free Forever, Deliver, Glow, and Scale. When you sign up for an account, you automatically get a free 30-day trial with no Credit Card details. Users can choose annual and monthly billing cycles.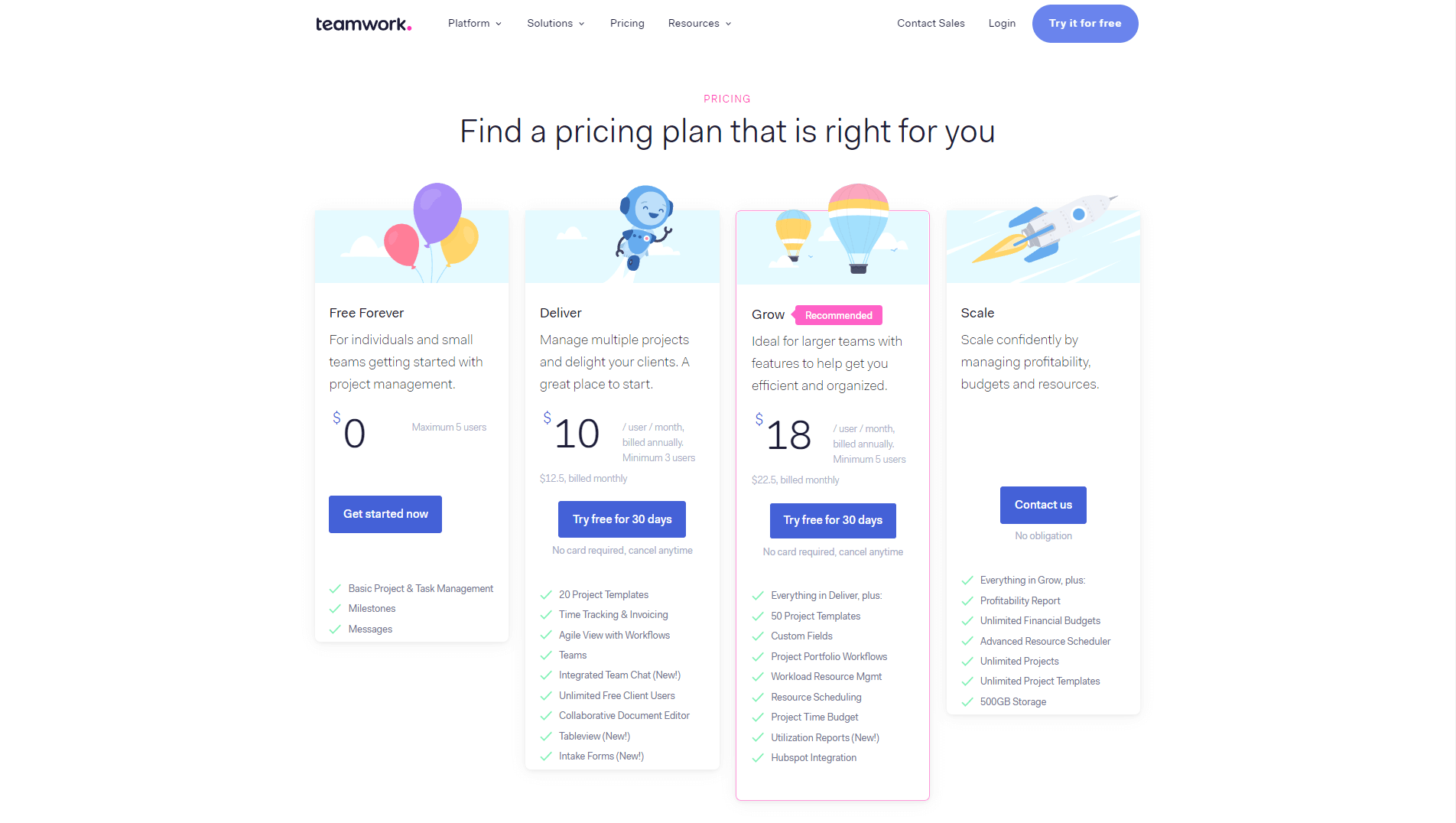 Teamwork pricing. Source: Teamwork
Free Forever. To get a Free Forever plan, you should start the Grow trial and downgrade it to the free version. A Free plan supports five users and offers 100MB of storage space. You get most of the core features for task management, including milestones and messaging. Still, you can only handle two projects at a time. Unfortunately, you can't integrate the Free package with other apps except for Zapier.
The Deliver package costs $10 per person per month with an annual billing cycle and $12.50 with a monthly plan. The number of projects is increased to 300. Additionally, you get most of the advanced features such as:
project templates
time tracking & invoicing
agile view with workflows
workload capacity
integrations with third-party apps
Tableview
integrated team chat
intake forms
The Grow price is $18/user/month with an annual billing cycle and $22.5/user/month if billed monthly. It includes everything from the Deliver plan and increases the projects to 600 and storage to 250GB. Among advanced features the Grow offers are:
50 project templates
project portfolio workflows
resource and workload management
scheduling
project time budget
utilization reports
some premium integrations
Scale, formerly Enterprise, comes with everything from the Grow, plus 500GB File Space, unlimited projects and financial budgets, resource scheduler, profitability reporter, and 10,00 automation. What's more, Scale offers its users advanced protection of their accounts and data. You should contact the Teamwork sales team to get the quote; while the pricing is adjusted to your needs and number of users.
What Are the Pros and Cons of Teamwork?
Teamwork has been in the project management market for a couple of years. Since then, the Teamwork app has made a reputation for itself.
With customers in mind, the company releases lots of small improvements regularly. And you can always know what they are working on at the moment. However, it doesn't mean Teamwork is perfect.
In general, users are most excited about the following Teamwork features:
Easy and intuitive design. With a simple and user-friendly interface, you can create an account and start working on your first project right away.
Customizable. The Teamwork app allows you to customize each task according to your needs and purposes.
Various integrations. In addition to integrating with various third-party apps and tools, Teamwork also supports Email integrations and allows you to forward non-Teamwork emails to your account for viewing.
Billing and invoicing. Teamwork perfectly suits teams that handle billable client work with a powerful billing and invoicing system. You can apply billable and cost rates for both individual users and clients.
Free account. After a free 30-day trial you can keep your account for free with access to a set of key features.
Yet, some people find Teamwork overly complex. The biggest hiccups tend to be with the following aspects:
Limited mobile app. Teamwork mobile app has limited functionality. For example, you can't view Gantt charts properly on smartphones.
Unavailable offline mode. You can't access the Teamwork platform without an Internet connection.
Inconsistent customer support. When you contact the support team, they ask you to look through the knowledge base first.
No PDF or image markup tools. If you work with visual materials, you can't mark up the files using arrows and circles or a highlighter tool.
Teamwork Review: Best Use Cases
Over 20,000 companies worldwide use Teamwork for project management. And the number of users is constantly growing. Teamwork provides solutions for different types of companies and businesses. Whether it is a small agency or a powerful enterprise, any company can find something for itself.
For instance, such global giants as PayPal, Netflix, Disney, Spotify, Novidade Digital, and Liberty Use the Teamwork app on the daily basis.
Teamwork can be a great fit for the companies that want to improve:
Client management. Teamwork increases collaboration with your clients. You can add new clients to your project, permit them to see essential information in the CRM system, easily log time spent on tasks and projects for transparent and accurate invoicing.
Resource management. Teamwork helps you to manage your resources wisely. You can use the Workload feature to get insight into who is working on what, and who is available to take new tasks. Additionally, you can log time spent on certain tasks and projects.
Task management. Take complete control over your project. Create tasks and subtasks, assign them to users, create dependencies, set due dates, track time spent on these tasks. Moreover, Teamwork allows you to create multiple automations to streamline your workflow.
Project planning and development. Make your project planning more efficient and straightforward with Teamwork project management software. Visualize your timeframes, break down your project into milestones and tasks and manage your resources.
Project collaboration. Each team member is aware of what other people are doing, and why it matters. Your team works together with more efficiently by centralizing information and communication. This makes projects run smoothly and reduces the number of meetings required.
Work management. Manage your work better by keeping track of what needs to be done and when. Or map out the workflow of your team to create a more effective and optimized process. From one central place, you get to see what needs to be done in the first place.
What Are Teamwork Integrations and Webhooks?
Teamwork supports webhooks, a feature that allows you to create integration with a lot of online services. For example, you can create a webhook that can send notifications to the project manager once some task is marked as completed.
Another option to use webhooks is to collect custom information. For instance, your team could develop a webhook that logs the user, time, and date every time someone downloads a file located on the team's account. However, you need to have basic knowledge of API to use webhooks.
On the front, the list of possible integrations depends on your pricing plan. Generally, you can connect your Teamwork account to Asana, Basecamp, Box, Dropbox, Hubspot, Slack, Harvest, and different Microsoft 365 and Google Workspace apps. Or use Zapier to integrate your Teamwork tool with such apps as GitHub, YouTube, and Salesforce.
Is Teamwork Secure?
Like no other project management system, Teamwork provides constant monitoring of security. In addition to regular updates and bug fixes, the project management software constantly views general internet security threats and viruses.
Teamwork protects your project management data in the following ways:
Encryption. The tool ensures encryption via HTTPS by default on all Teamwork.com domains and subdomains. For the Scale plan customers, the data is encrypted using an industry-standard AES-256 encryption algorithm.
Advanced authentication. Instead of being stored as plain text, each Teamwork user's password passes through a one-way hash and salt technique. On specific plans, users can enable Two-Factor Authentication to give an additional layer of protection. What's more, Teamwork supports SSO (Single Sign-On) via SAML.
Backup. Teamwork backups data twice daily. You can download the backup project files when necessary. Yet, only account owners can access these files.
Secure facilities. Teamwork locates its locked-down servers and databases in a completely secure facility. Anyone, who wants to access it, needs both a security card and a passport ID.
Note that Teamwork supports secure data migration; you can automatedly import and export data from and to Teamwork.
Is Teamwork Any Good?
Teamwork makes good on its goal to improve team collaboration and project management. The app covers all basic task management features and goes beyond its clean interface. You can add clients and get paid right away with billing and invoicing. And a free plan gives you enough time to test the project management software. However, if you need more advanced features or a packed-up mobile app, consider a different tool.
If you already plan to move your projects to Teamwork, the Project Management System Migration service is just what you need.