Does managing a project feel like an arduous choice than a simple task? It means you need a better project management system. And, in this case, you can't get around Asana vs Wrike.
But how can you pick between two product management tools? Let's compare Wrike vs Asana by the following parameters:
What features do they include?
How to get started with Asana and Wrike?
What is the Asana vs Wrike pricing structure?
What are their pros and cons?
Which team size suits Wrike vs Asana best?
A Basic Overview: Asana vs. Wrike
Before diving into the differences between Wrike vs Asana, let's get to the basics.
What Is Wrike?
Over the years, Wrike has been an astounding success among businesses, dependent on project management and collaboration features. This free project management software stays true to its vision of delivering capabilities to enhance workflows, approvals, and reviews.
Then again, Wrike is an excellent option for middle-sized to large organizations due to its complex task management tools. Its other vital functions incorporate end-to-end project visibility, robust security elements, and real-time project management.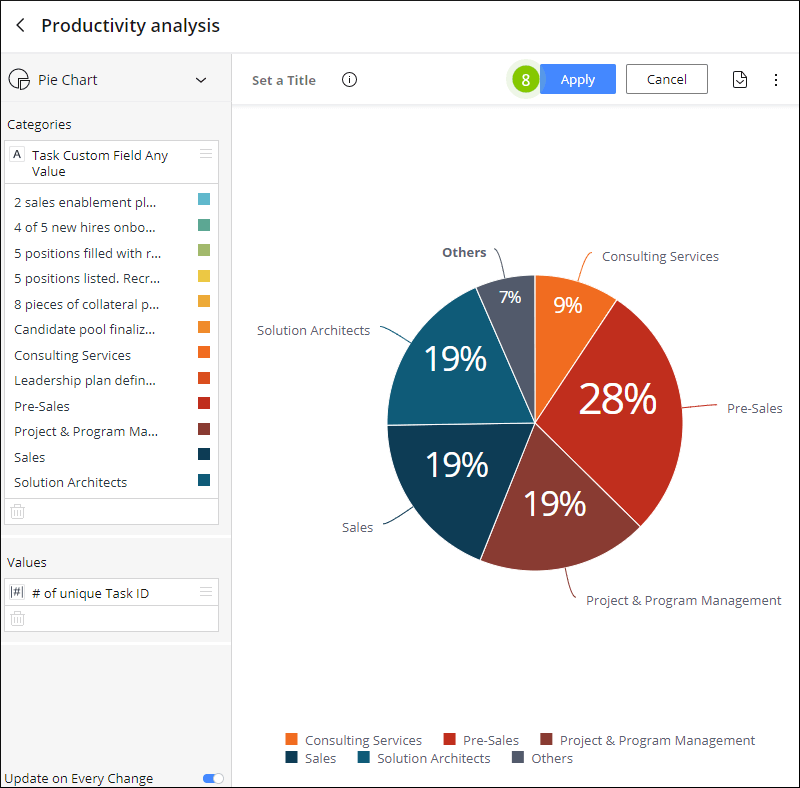 How the Wrike analytics widget looks. Source: Wrike
What Is Asana?
Asana is a cloud-based project management system for organization-wide collaboration and workload management. Since its launch, the project management system has added project timelines, Kanban boards, and multiple integrations.
Like many similar tools, Asana helps you monitor the project progress and gives a 360-view of ongoing tasks. The best part? Asana lets you go beyond simple project management to manage resources and collaborate in real time.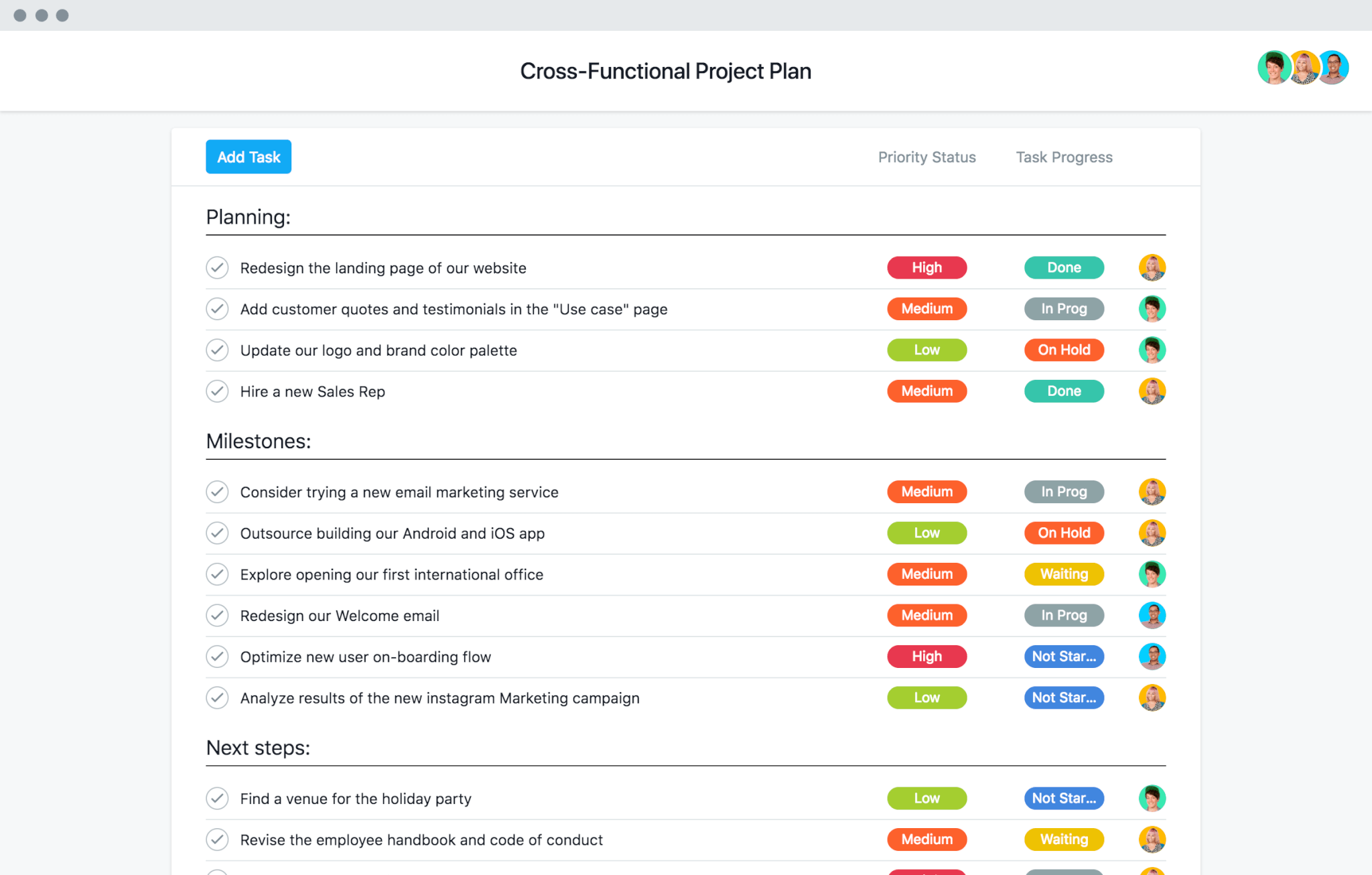 Example of Asana project management templates. Source: Asana
Wrike vs Asana: Getting Started
A fact: Asana and Wrike provide a straightforward onboarding process. But which project management software is the easiest to get started?
How to Get Started with Wrike?
So, how to use Wrike? Like most collaboration tools, Wrike offers you a rapid startup. First, you enter your work email and some brief details about your team.
Once you've filled in the required information, the project dashboard opens. Next, the Wrike Bot shows you a full product tour around the tool. That includes visual guides on creating tasks, managing teams, and building reports. Either way, you can navigate through Wrike with the top and left-hand navigation bars.
Any time you can invite existing or new team members to your projects. Nevertheless, different users can view and access other things in the same Wrike account. Mainly, it depends on the license type, sharing, views, and filters.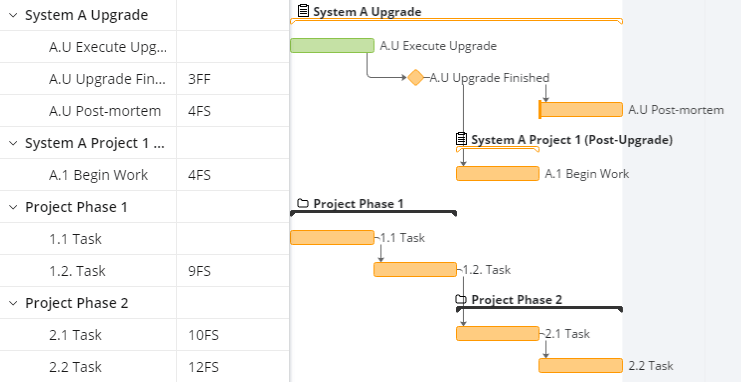 How to improve Wrike dependencies. Source: Wrike
How to Start Working with Asana?
Unlike other free project management software, Asana's startup process slightly differs. Once you fill in your project details, you receive an email invitation. Similarly, you need to look for onboarding guides on managing tasks, onboarding your team, and getting started.
After you've looked through the guides, you can get to the main screen, where you can see your project. And every time you open up a new feature, a pop-up appears with an explanation.
Now you can kick-off: create a new project, plan tasks, and visualize your projects through the Asana Kanban board, list, timeline, or calendar view.

Asana budget tracking. Source: Asana
Asana vs Wrike Features Review
Wrike vs Asana deliver similar capabilities. For example, they let you enter and assign new tasks and subtasks via the list view. However, Asana and Wrike have differences in features too.
What Are Wrike Core Features?
Gantt chart: Overview, adjust and communicate Wrike timeline, tasks, and project details.
Milestones: Use Wrike milestones to mark significant events in your project, like decision points or the end of a project phase.
Dependencies: Specify the relations between tasks with Wrike dependencies. Use them to define when every task should start and finish.
Inbox: Keep track of all essential updates by receiving them in your notification inbox.

Wrike inbox for updates and notifications. Source: Wrike

Wrike Kanban board: Set up dependencies within tasks and consider if they come after or before.

Example of Wrike Kanban board template. Source: Wrike

Proofing: Add comments directly to videos, images, and documents attached to tasks and projects. Wrike proofing lets your team approve creative work too.
Wrike reporting: Make snapshots of your reports to measure project budgets, issues, and task competition times.

Example of Wrike reporting. Source: Wrike

Wrike analytics: Set up an analytics widget to track users' workload and detect any setbacks with baseline charts.
Calendar view: View a specific date and what Wrike subtasks are to be done by then. Wrike calendar view also lets you re-schedule projects and plan future work.
Customization: Use the Automation Engine to build custom Wrike workflows and reports.
Security: Wrike hosts and encrypts your project data with AES-256 both in transit and at rest. Plus, it is compliant with ISO 27001 as well as ISAE 3402 standards.
Customer support: Wrike includes phone and email support, community forums, video tutorials, guides, and a Help Center with webinars.
Third-party apps: Leverage from a long list of popular apps like Google Hangouts, Tableau, Salesforce, and a Wrike Slack integration.
What Are the Most Popular Asana Features?
Asana dashboards contain graphs and visualizations to help you understand your team's progress and identify potential blockers.
Gantt chart in Asana: Visually represent the relations between tasks to keep track of project progress with Gantt-style charts called timelines.
Kanban board: Use cards and columns to maximize productivity and task organization.
Asana calendars: See when tasks are due and how long every project will take.

Plan with Asana calendars. Source: Asana

Asana budget tracking: Stay on top of everything from planning growth projections to budget meetings.
Asana label: Group similar tasks for easier viewing or to provide additional content with labels.

How to add labels in Asana. Source: Asana

Reporting: Consume and translate data with the help of reports in a visual, easily digestible manner.
Asana knowledge base: Create a practical knowledge base dedicated to your specific service or product.
Workload: Visualize what your team is working on in real-time with Asana workload. You can also limit individual workloads to reduce burnout.

Track marketing team with Asana workload. Source: Asana

Templates are a great way to create the bare bones of a basic project. Asana project management templates include options for various departments.
Security: This project management tool complies with the EU-U.S. and applies the General Data Protection Regulation.
Customer support: Contact support reps via community forums, live chat, and support forms.
Third-party apps: Asana integrates with apps like Jira, Trello, Zapier, and Salesforce. Plus, this project management tool has a .csv importer for spreadsheets.
Overview of Asana vs Wrike Pricing
Wrike and Asana deliver a similar pricing structure, including freemium and paid plans. Besides, they provide unlimited collaboration like Asana collaborators and Wrike collaborators vs users. Still, the slight difference between Asana vs Wrike is in the price of the Business plans. So let's see Wrike vs Asana pricing in more detail.
What Is Asana Pricing?
Asana starts excellently by providing a freemium plan. The paid versions certainly add up over time with the unique features and integrations. In general, Asana provides four pricing plans:
Basic includes unlimited tasks, messages, projects, and activity logs. Power up your project with calendar view, list view projects, time tracking, project brief, and mobile apps.
Premium delivers Asana knowledge base, custom fields, workflow builder, rules, advanced search, and reporting.
Business provides customization options like custom rules builder and locks custom fields. Such features as Asana budget tracking, goals, and approvals add to this plan.
Enterprise offers advanced support and control such as custom branding, SAML, data export, cross-regional backups, and service accounts.

How much Asana costs? Source: Asana
How Much Does Wrike Cost?
The Wrike cost is relatively affordable, including all available features. But, it has limits on users within each pricing plan, unlike Asana, which charges tiers only based on features. Then again, Wrike delivers a free option.
Free includes Wrike Kanban board, table view, calendar view, active task limitations apply, and web, desktop, and mobile apps.
Professional features 20 free collaborators, Wrike calendar view, dashboards, analytics view, and custom workflows. And Wrike has unlimited request forms, projects, custom fields, and tasks.
Business delivers all Professional features along with time tracking, reporting, resource management, Wrike timeline view, cross-tagging, and custom item types.
Enterprise has advanced security options such as SSO, 2FA, user audit reports, admin permissions, and custom access roles.
Pinnacle provides advanced accounting and team management functionality like bookings, budgeting, billable hours, and locked spaces.

A snapshot of Wrike pricing. Source: Wrike
Wrike vs Asana: Checking Pros & Cons
With so much in common, it's easy to understand why users have trouble deciding between Asana and Wrike. But, the best project management software has several internal differentiators. So, let's see how their pros & cons stack up.
What Are the Advantages and Disadvantages of Asana?
Pros

Cons

Asana workload monitoring features
No user-cap pricing
Handy email notifications functionality
Options for real-time communication and collaboration, including fast responses
Portfolios feature to the group and customize projects
Free plan and trials

No source-code integration
Limited scalability for big projects
Advanced features only available in a premium tier
Figure 1. Advantages and disadvantages of using Asana
Reviewing Wrike Benefits and Drawbacks
Strong sides

Strong sides

Excellent resource management to balance team workloads
Various templates, including Asana project management templates
Free plan and trial for all pricing plans
Enterprise-grade security for all users
Highly customizable and scalable
Wrike workflow automation capabilities

Limited dashboard options
Not intuitive for new users
Better for more complex workloads
Figure 2. Advantages and disadvantages of using Wrike
Recap: Whether you choose Asana vs Wrike, you can leverage their free pricing plans. However, they only support importing XML and CSV files. To migrate project data directly to Wrike and Asana, consider Migration Wizard. Then connect your source and target platforms, and set up a Free Demo.
Asana vs Wrike: Team Sizes
Whereas Wrike and Asana provide notable features and extensive pricing plans, they still can't meet the expectations of all business types. So, what team size does Asana vs Wrike suit?
Individual Projects
While both Wrike vs Asana offer a freemium plan with various task management features, Asana Basic is the one they can get by. Either way, they don't include dependencies, milestones, or subtasks.
By contrast, the core features of Asana Basic delivers a board view, list view, time tracking, calendar view, and status update. The free tier enables you to assign tasks to others. You can move up to Premium for timeline, forms, templates, and Workflow Builder if you need more.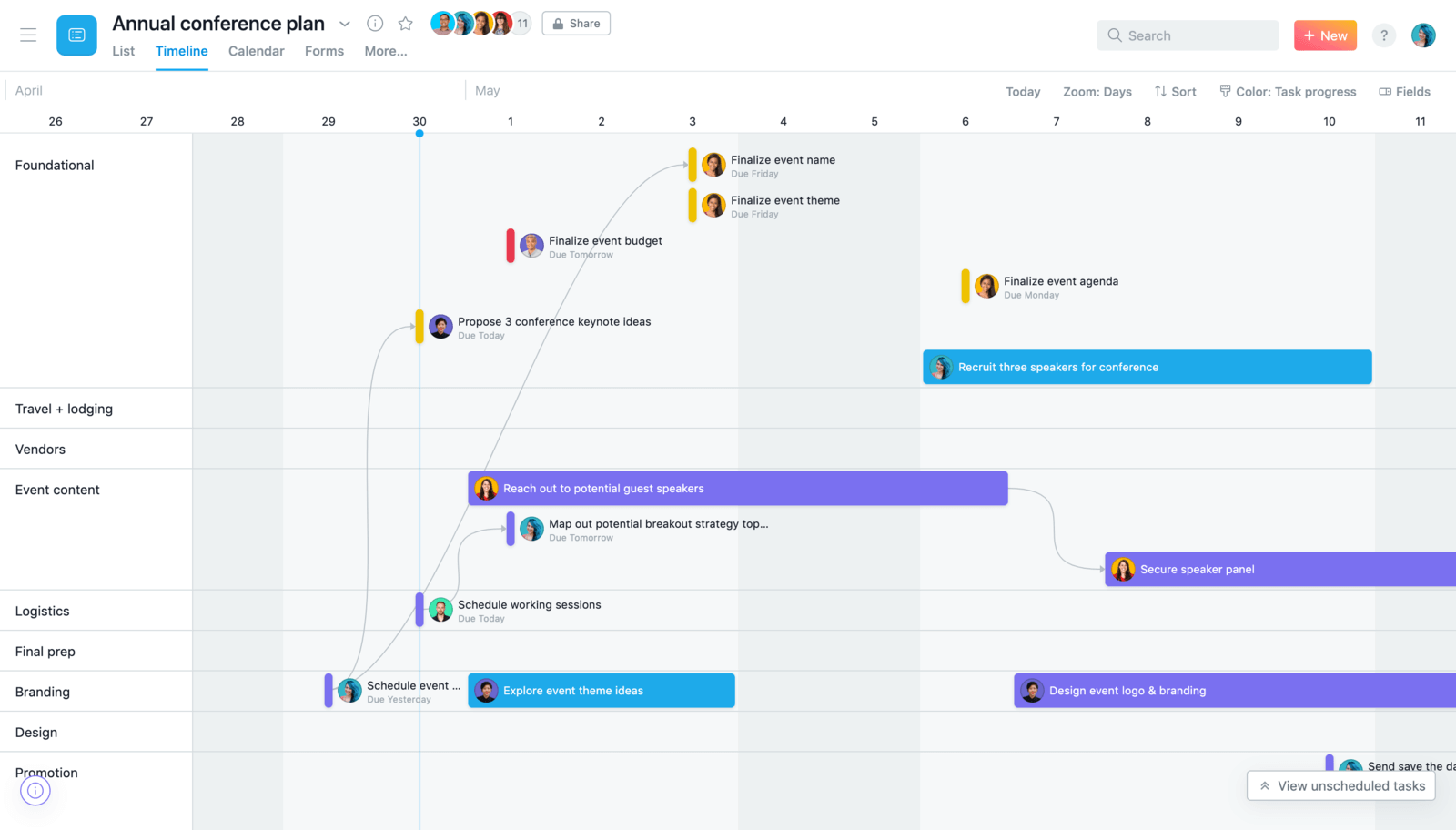 Gantt chart in Asana. Source: Asana
Middle-sized Team
Keeping your projects organized becomes a key focus when your business starts to grow. And that's when Wrike takes center stage: this product management system allows you to create folders and sub-folders within a project. But that's not all; you benefit from built-in time tracking, custom workflows, and analytics view.
What's more, Wrike comes up with the features required for successful team collaboration. The advantages of using Wrike cover document versioning history, proofing, Wrike collaborators, approvals, and digital asset management.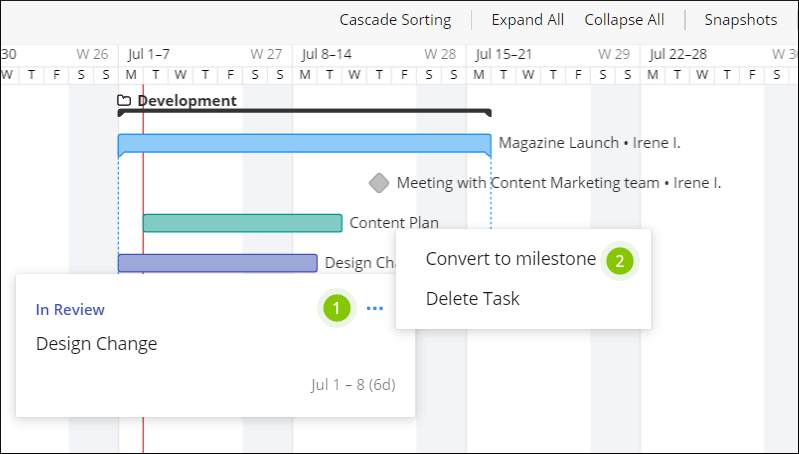 Example of Wrike milestones. Source: Wrike
Large Companies
When it comes to enriching the feature set, Wrike doesn't mess around. Large businesses and enterprises can secure project data with SAML, 2FA, and password policies. They can also set up customizable user types and run user audit reports.
In addition, Wrike offers enterprises advanced security capabilities like whitelisting IP and locked spaces. You can also apply advanced user access controls to monitor folders and sub-fold permissions.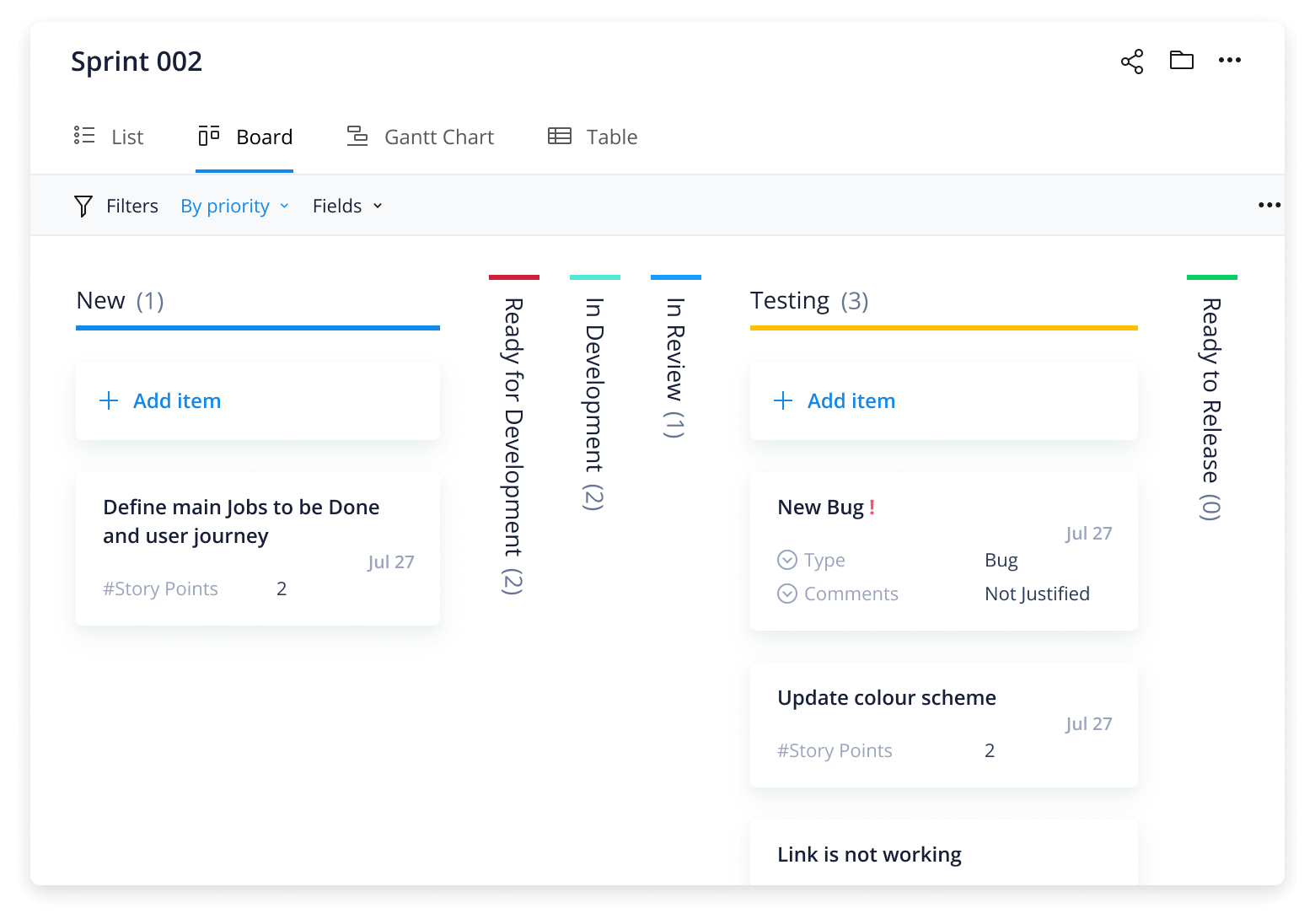 A snapshot of the Wrike agile template. Source: Wrike
Which Project Management Tool to Consider: Asana vs Wrike?
While features and pricing matter, the team size affects your choice between Wrike vs Asana more. For one-man/woman business or SMBs that value simplicity and robust project management, Asana is the best option. Similarly, Wrike edges out Asana for large or rapidly growing companies due to its reporting and time-tracking capabilities.
Still, if it's hard to decide, you can always try a freemium. And, if you need a sample of your data or all projects, use Migration Wizard to import them to a desirable tool.
Want to migrate to Asana or Wrike?
Let's migrate PM data together!
Try for free