If you feel that your project management is heading away from productivity route, check this Asana Review. Since this team collaboration software is on the top project management tools, Asana comes as
a great platform to start your project management
a feature-rich alternative to your current project management tool
What's interesting in our Asana review? Here's a quick review of features, benefits and shortcomings, use cases, pricing, and a bunch of frequently asked questions about Asana. So let's start.
What Is Asana?
A flexible project management software intended to arrange and simplify task management, team communication, and project reporting. That's a short description of what Asana is. This team collaboration solution helps streamline your company workflows and boost task completion. Since Asana is a cloud-based platform, you can work remotely from any device and location.
How to Start with Asana?
It doesn't take a rocket scientist to start working with Asana. So, what are the first steps?
In project management everything begins with a task. So you should start with creating a first task, giving it a reasonable name and detailed description. Then assign it to your teammate and choose a due date. If your task has a bit more context, attach some files to make it clear. Also, you can add collaborators to this task and mention them via @ in comments
Obviously, a project includes all the tasks related to achieving a specific goal or work. Even within the single project, you can group tasks into sections and use custom fields to sort and filter them quickly. In Asana, you can view projects via list, board, calendar, or Timeline. Be sure, you can toggle between these views anytime
Sidebar helps you to see what's going on and what you should do next. Everything is simple: My task is to view tasks assigned to you. Inbox is to be aware of the latest news and updates
You are the first in your organization? Then don't wait up and invite your team to start collaborating on your project. In Asana, there's an invitation button a) on the team name, b) on the right top bar, c) in a team's page header – you type in your employee email and send them invitation guideline. It's better to start working with a small team to set up, run and complete the work and show results
What Is Asana Customer Support?
Asana offers a huge resource base with
Asana Help which is full of how-tos and step-by-step instructions
Asana Forum for a peer-to-peer support and place for a Asana community tips & tricks sharing
Asana Academy which delivers videos, webinars, trainings, and interactive courses
Asana Guide which is a helper on a quick team onboarding
Asana Use Cases which gives samples on how to create and run projects
Asana Developer's Guide which helps developer community to build integrations and add-ons using Asana APIs
What to do if you haven't found the answer? You can submit a ticket describing your issue. As for the phone or live chat support, Asana doesn't mention anything on their website.
Asana Review: How Does It Work?
Asana aims to facilitate such project management processes as task management, workflow organization, team collaboration, routine process automation, and reporting. Each section included here creates a business ecosystem, so you can manage multiple projects and numerous tasks individually or in combination. For instance, you can create tasks, assign them,and track their progress, team and employee workload and performance.
To put it short, Asana helps structure your business as a hierarchy: the main blocks are organizations, then go teams, at the lower level you have projects, then go tasks and subtasks. You can switch visualization and view your projects in list, board, calendar, or Timeline. Such a bird-eye view improves project management, collaboration, and reporting.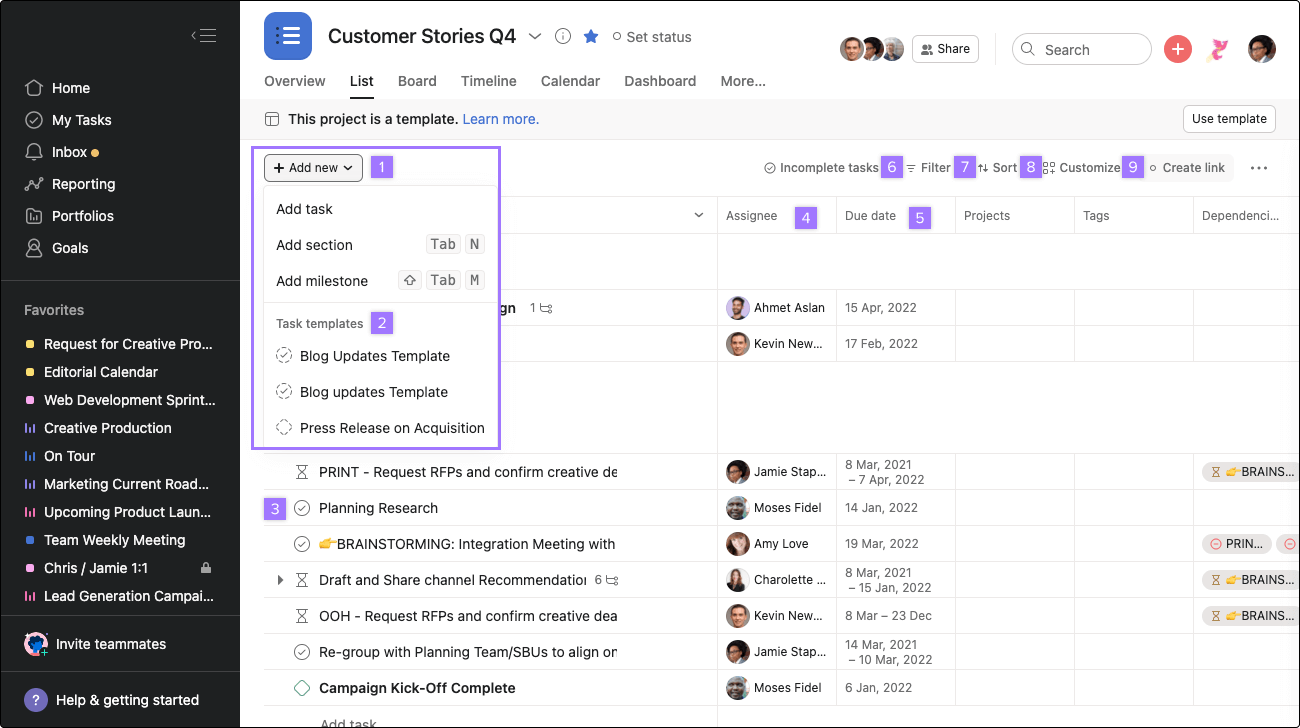 Source: asana.com
What Features Does Asana Support?
The trick of Asana's features lies in their simplicity and convenience. This team collaboration platform enhances project management and helps keep your team on the same page. Let's shed some light on Asana tool set.
Projects help assemble multiple related tasks and subtasks into separate lists or boards. Using the drop-down menu, you set up the project's team, privacy, add the project name and description. Also, you can choose and change the default layout as List/Board, Calendar or Timeline view. In Asana you can lock projects down, leaving them available only for commenting to avoid unwanted edits
Tasks. Choose from offered templates or generate your own task templates that will be available for repeated usage. This option delivers common project management features like: status, clone, and schedule. You can sync tasks between multiple projects and archive them for future reference
Subtasks break the large work into smaller steps. Basically, they help you to supplement the main task and clarify the part assigned to different employees. There are 5 levels of subtasks possible where each subtask means an activity that is related to the previous subtask and is assigned to another worker
Milestones. As the project progresses, you can specify milestones for a better understanding of what has been achieved and what is left to accomplish
Task assignees. In Asana, a task has only one assignee, but still, other team members can comment or tag it. If you forgot to add assignee, it gets a default assignee
Sections. A simple way to divide and organize your tasks into categories, workflow stages, priorities, and more
Custom fields help you to enrich your tasks with additional data. Create custom fields related to specific projects or portfolio and make them reusable across your organization. You can add fields for stage, priority, cost, or anything else that clarifies what should be done. To keep everyone in your project up to date on what stage work is, set up custom field notifications. If you checked a notification box, anyone who is using this field will receive an update about the field value changes
Due dates and times help track task completion down to the minute and keep your teammates motivated. Set a due date to inform an assignee about what time the task has to be finished by. You can make the due date either private or visible to everyone
Start dates allow you to schedule tasks and inform your workers what date the task needs to be started on. This feature ensures the workflow to go smoothly minute by minute
Attachments. Add files to any task from the in-app gallery, Google Drive or upload them from your computer or integrated app. You can browse for an attachment or add it by drag & drop or simply copy and paste it to Asana right pane
Forms make the part of every project and help collect necessary information across the company. You can create, change and share Forms. There is a Required field option available. Once someone fills out your Form, it will appear as a new task in the related project
Rules automate routine procedures like task assignment and prioritization by setting a specific trigger (e.g. due date) to an action (e.g. task assignment). You can set multiple actions to one and the same trigger
Workload dashboard helps track team capacities and current progress across the projects to keep the workload balanced. You can calculate the capacity based on task count or task duration by default or by adding a task effort. Since you can set the task effort as any numeric custom field, you can define the capacity based on hours, points etc. If you need to reassign or reschedule the task, simply drag & drop it to the corresponding place on the dashboard
Goals. Set your flexible goal-tracking system and track results of your team's performance. You can set either Company Goals that are bound to your organization achievements or Team Goals to trace the success on minor levels. Within My Goals tab you can view all the goals you've set and sort them out by All Goals, Open Goals and Closed Goals
Inbox functions as a notification center where you receive all updates on the projects you work within. These include task assignment/unassignment, task due date change, task/project status update, new conversations of a team you're a member of, etc. You can turn the notifications off, mark them as unread or create a follow-up task
Video Messaging. Recently Asana added a new feature allowing recording video messages. The video can be shared to other workers, so that you won't need to spend extra time on organizing special meetings. The video can also be converted into a transcript making the communication even more flexible
Dashboards let you visualize project progress and chase down the updates via charts filtered by specific parameters. Choose among the chart types to calculate incomplete tasks, check task count by assignees, find out the blockers by custom sections (e.g. Content, Design, etc.), and view work trends over time
Portfolios show you a particular project workflow including the project status, task progress, start and due dates, etc. The Portfolios contain two sections: the ones that were created by you and the ones you recently visited
How Does Asana's Pricing Work?
Asana offers a couple of plans including a forever free (Basic) option. The pricing is considered to be quite affordable and makes $13.49/agent/month for Premium and $30.49/agent/month for Business. To get the quote for the Enterprise version, contact the Sales Department.
So, what features are available in each plan? Let's see.
Basic suits only for small teams with no more than 15 members and provides the following package:
Unlimited tasks, projects, messages and file storage
List, Board and Calendar view projects
Task assignee
Due dates
Project overview & brief
Time-tracker integration
100+ free integrations
Premium is intended for small teams as well, with either less or more than 15 team members. It is often preferred over the Basic plan due to its fairly moderate price and a rich toolkit including:
Timeline & Workflow Builder
Task templates
Admin console
Cross-project reporting
Custom fields
Forms
Rules
Advanced search
Milestones
Private projects & teams
Business plan makes a good option for larger companies who want to streamline their project management with more advanced possibilities like:
All Premium features
Workload
Goals
Portfolios
Custom rules
Private custom fields
Approvals & Proofing
Forms customization
Integrations with Adobe Creative Cloud, Salesforce, Tableau, Power BI
What Are the Pros and Cons of Asana?
In this Asana project management review, we've tried to cover its all advantages and disadvantages. So, here we go.
What Are the Gains of Using Asana?
One of the main benefits of Asana is its complex approach to project management and taking care of its every possible aspect including:
Customization. Asana offers a set of features that are adjustable to your work needs
Integrations. You are free to integrate Asana with other servers to upload files or send messages and notifications
User-friendly design. You can easily make sense of Asana functionality that is mostly operated by tabs and drop-down menus
Advanced view capabilities. Depending on what information you are looking for, there are a couple of ways to view project-related data including Kanban board view, Calendar or List view
Advanced search. You can search for necessary projects using various filters like assignee, tags or priority or check workload as a whole. You can also look for files along with their attachments in the in-app gallery
Task order control. With the Calendar feature, you can associate tasks to be completed in the appropriate order. Thus, you can control a task to be started only when the previous one is finished
Business Relations within Asana. You are free to invite your partners and vendors to Asana for more efficient and comfortable cooperation
What Are the Asana Shortcomings?
No native time-tracker. You need to choose a compatible tracking app and integrate it with Asana
One assignee per task. As we've mentioned before, only one team member can be assigned to a task. So you might need to create a duplicate task for other users or they would have to tackle it through other means like inbox or comments
Limited team members for free version. Asana's free version is suitable only for small teams with less than 15 members. If your team is larger, you can check a free trial of the Premium plan which is available for 30 days
5 Best Asana Use Cases
As a versatile collaboration solution, Asana fits well for companies of all scales and industries. It serves as a great communication hub and project management assistant for both up-to-15-member teams and large businesses.
Who are the Asana customers? Google, Amazon, Vodafone, PayPal, Quora to list a few. Asana is mostly used by teams specializing in Computer Software, Marketing & Advertising, and Informational Technologies.
So, what can Asana be used for?
Project Management. With Asana, you can reasonably organize your project management by building your own strategic frameworks. Its customization possibilities let you adjust the app to your needs and priorities making it easier to reach your company goals
Task Management. Asana allows you to inform every team member about what they are bound to do and what are the timeframes. You can mark tasks with statuses, change their priority and track their progress
Team Management. To ensure an efficient distribution of duties between the workers, you can create teams based on the company department. You can appoint admins to manage team members as well
Reporting. You can analyze the current situation using several Asana tabs related to project reporting. These include Lists, Board, Timeline, Calendar, Dashboard, Progress and other. You can also view stats as a chart based on the selected project details. Once you need to run a more thorough report, it is possible to export projects to CSV or JSON
Work Management. Since Asana offers an all-inclusive array of instruments, you can arrange your work in a spick-and-span manner. It allows you to selectively take care of every project management facet and efficiently distribute roles and responsibilities
What Integrations Does Asana Have?
Asana offers you lots of integrations related to communication, file sharing, development, and reporting. What makes it more adventurous is the possibility to integrate with Google services including Google Chrome, Calendar, Gmail, Google Sheets, and Google Drive.
To enrich the communication means, Asana enables integration with such messaging tools like Slack, HipChat and others.
Overall, you can apply more than 100 integrations in the free version. Although, the number of available integrations depend on your pricing plan.
Is Asana Secure?
Since security is critical for every business and for SaaS vendors in particular, Asana gives a high priority to cybersecurity measures. It restricts access to sensitive data and keeps it safe offering the following security policy.
Encryption. Asana provides a 128-bit encryption when connecting to app.asana.com and supports TLS 1.2 and above. Sensitive data is transmitted through TLS or ssh protocols
Data Backup. The app makes daily data backups by copying databases to a separate storage center and keeping them encrypted. So, in case of data breach, the information can be seamlessly restored
Network Security. The access to all Asana servers is limited to its employees. It doesn't provide running on users' own servers
Authentication. Asana offers two-factor authentication. This means that when authenticating, apart from your login and password, you will be asked to indicate an additional code sent to your email
In case you need to perform Asana export or import or want to migrate your data to Asana, you can do it securely with no manual work.
Asana Alternatives: What Are the Competitors?
Asana is a robust collaboration solution that delivers a big set of project management tools, each with its own important purpose. For instance, when choosing between Asana vs Monday free versions, it seems quite obvious that Asana is way more feature-generous. Although, it doesn't concern the paid versions of Monday, which are slightly lower on price compared to Asana. Also, the frequent dilemmas are Notion vs Asana and Asana vs Clickup. And it's not that easy to reach a verdict, since each of these solutions has its both pros and cons and needs to be researched before using.
You might also wonder, what is better Asana or Jira Software? Well, both of these product management tools are worth attention and have similar reputations. However, they do not fit the same market purposes. Asana is good for managing projects and cross-organization tasks, while Jira is focused on engineering and product companies.
So, Is Asana Worth Paying For?
Asana proves to be one of the best collaboration software on the market. It helps manage, automate and track projects and tasks on every company level. Asana is the place where all your projects, tasks, teammates, goals, and work conversations are neatly linked up together and work as a single mechanism. You can track and resolve even minor issues and still keep to your priorities.
Looks like Asana suits your business and project management needs? We can help you to get your data to it automatedly. Simply test-drive our Migration Wizard and migrate your data to Asana nearly effortlessly.
Frequently Asked Questions
Asana is a web and mobile application used to optimize project management, proactively plan and track tasks, analyze team activity and run reports.
You can use Asana free plan with limited features or buy Premium version for $13.49 or Business version for $30.49 per month. To figure out Enterprise plan price, you need to contact the company.
Asana is best in customization (custom task templates, custom fields) and communication facilities.
Among Asana customers you may find Coursera, Disney, NBCUniversal, Procter & Gamble, Indeed, Lionsgate, Samsung, and Vox Media. Asana comes with a few pricing tags that comply with the requirements of startups, SMBs and SEMs.
If your company deals with multiple projects and needs to automate the routine workload, Asana can considerably assist you in managing work and hitting deadlines.