Project management software is on everyone's lips these days. It's not surprising though – as more and more businesses started to implement it in their workflow, project management software became the #1 topic on the discussion board for both big and small companies.
However, with so many options available out there, coming across the perfect software on the first try seems close to impossible. If you've been waiting for a sign to leave your current tool that is not doing it for you anymore and switch to a more powerful option, here it is. Our software engineers made it possible for you to import your project management data over to Zoho Projects. Many people worldwide use it on a daily basis and now you can be one of them.
If you're a first-timer on our blog and you have lots of questions about who we are, the process itself, and the price, we're about to lay it all out for you.
Who we are and what we do?
We're Relokia – a company created with a business's needs in mind. We help companies in the search for the perfect software to move data between platforms and provide a seamless migration experience. Until recently, whenever someone mentioned a data migration, there was always talk about the complexity of the process, the time it takes, and the high price. We came on the market to change that. Since 2016, we conducted more than twenty thousand successful transitions and we hope it will be only one of many milestones of our journey.
Our tool – Migration Wizard – is known for its intuitive user-friendly interface and simplicity of use. On top of that, it is highly automated, allowing anyone, even newbies to the tech industry, to set up the process. Yes, you've heard us right – no data migration expertise required. All you need is a stable Internet connection to perform the migration yourself.
The best thing about the tool is that it can reduce the usual migration time in half, allowing you to transfer data to new software with little to no interruption to the working process.
Affordable migration
With Migration Wizard, you can move over the needed records without hurting your wallet. You only pay for the number of entities you migrate, nothing more, nothing less. You can drop us a line to discuss migration details and run a demo transfer to see the price for yourself.
Pro tip: Go through your data before the migration and get rid of unnecessary data. The less data you migrate – the less you'll have to pay.
The records you can migrate to Zoho Projects
Migration Wizard is capable of moving:
Projects/Folders
Project custom fields
Sections (status column)/Groups of tasks
Tasks along with comments (including the author and date from the source platform) and attachments
Subtasks
'Started at', 'Completed at' and the due dates of the task
Users (have to be created manually before the migration)
As you can see, the list is pretty extensive allowing you to preserve all the core data upon import. If there are some records you really want to preserve on Zoho Projects, but they aren't available for automated migration at all, feel free to contact our support team and we'll do our best to help you out with the customized transfer.
Prepare for migration to Zoho Projects
You don't have to do much, simply check the following before initiating the migration process:
If you have access credentials for source and target platforms. We need it primarily to form a connection between the project management software and our tool.
If you have the admin rights on both systems to run the migration.
How to set up a migration to Zoho Projects
The process of data migration is pretty straightforward. However, a detailed step-by-step guide could go a long way.
1. To initiate migration, start by signing up on our website. Choose the most suitable option for you, including a traditional 'via email' way or link to one of the social networks. The registration will only take up a few seconds.
2. From the list of supported software, select the source platform. Put in all the necessary credentials to grant Migration Wizard access to the data in your account. Then configure the connection by selecting the needed Project.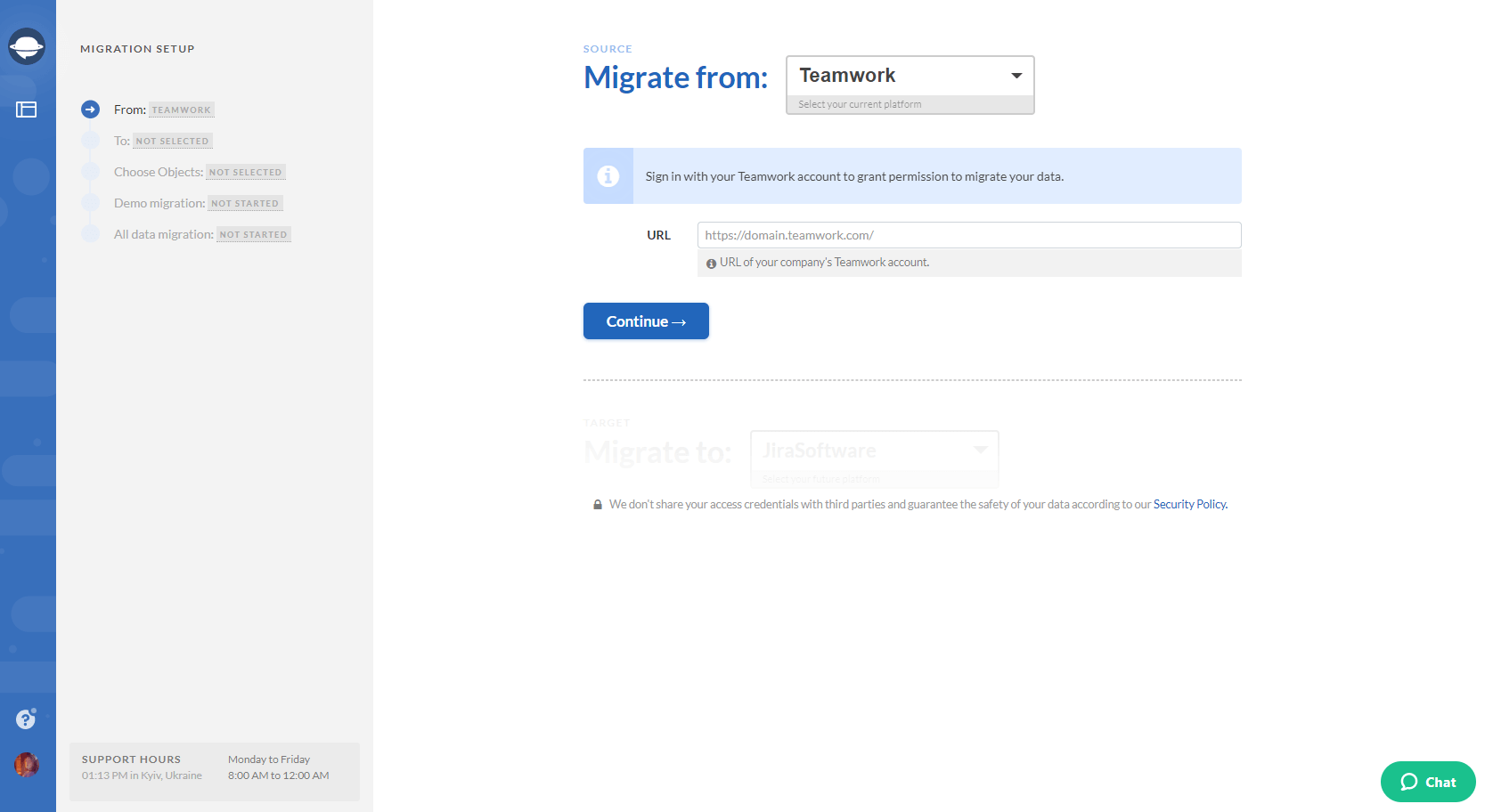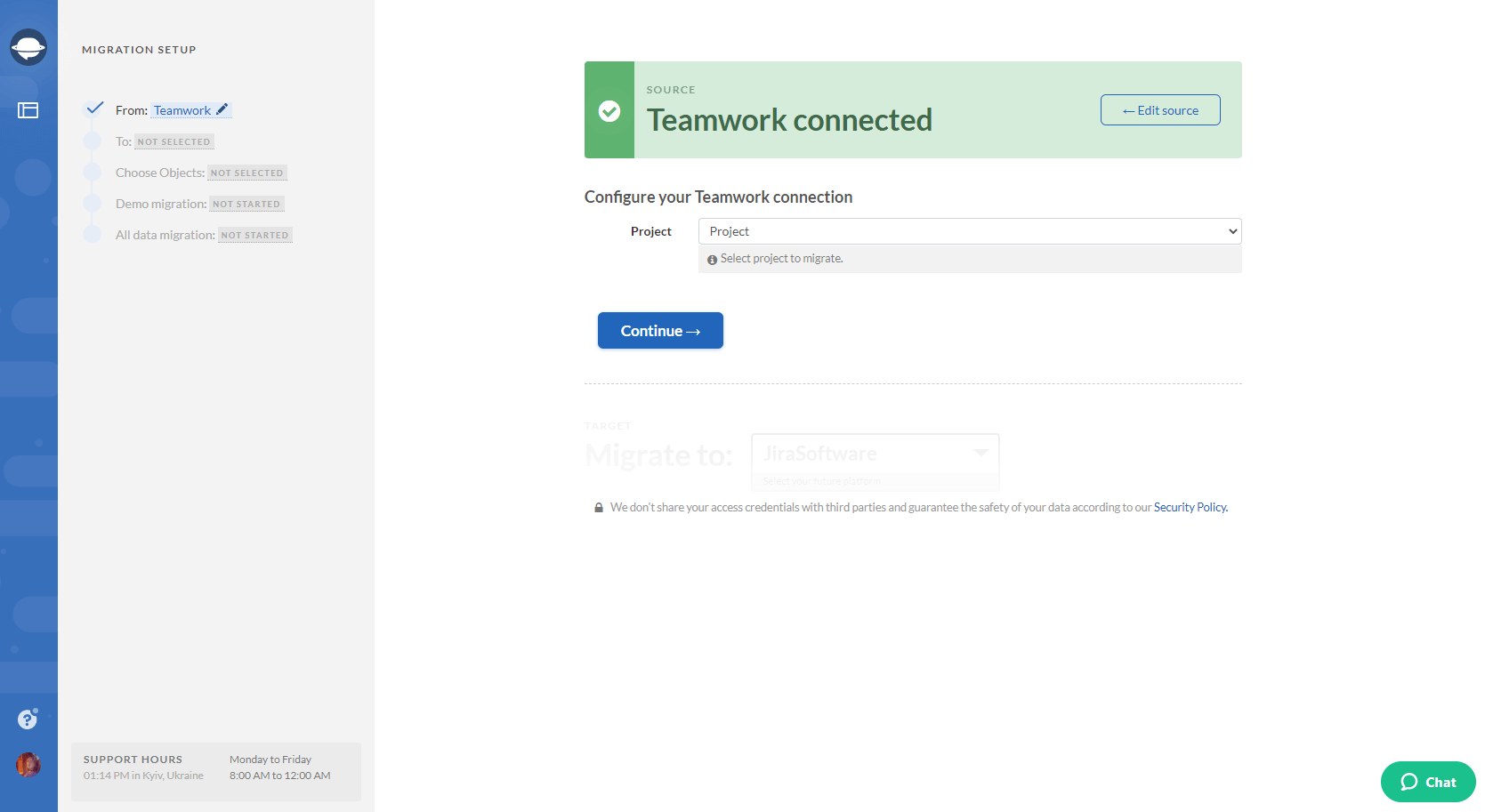 3. Repeat the same process when selecting the target platform (in this case, Zoho Projects) and configure the connection.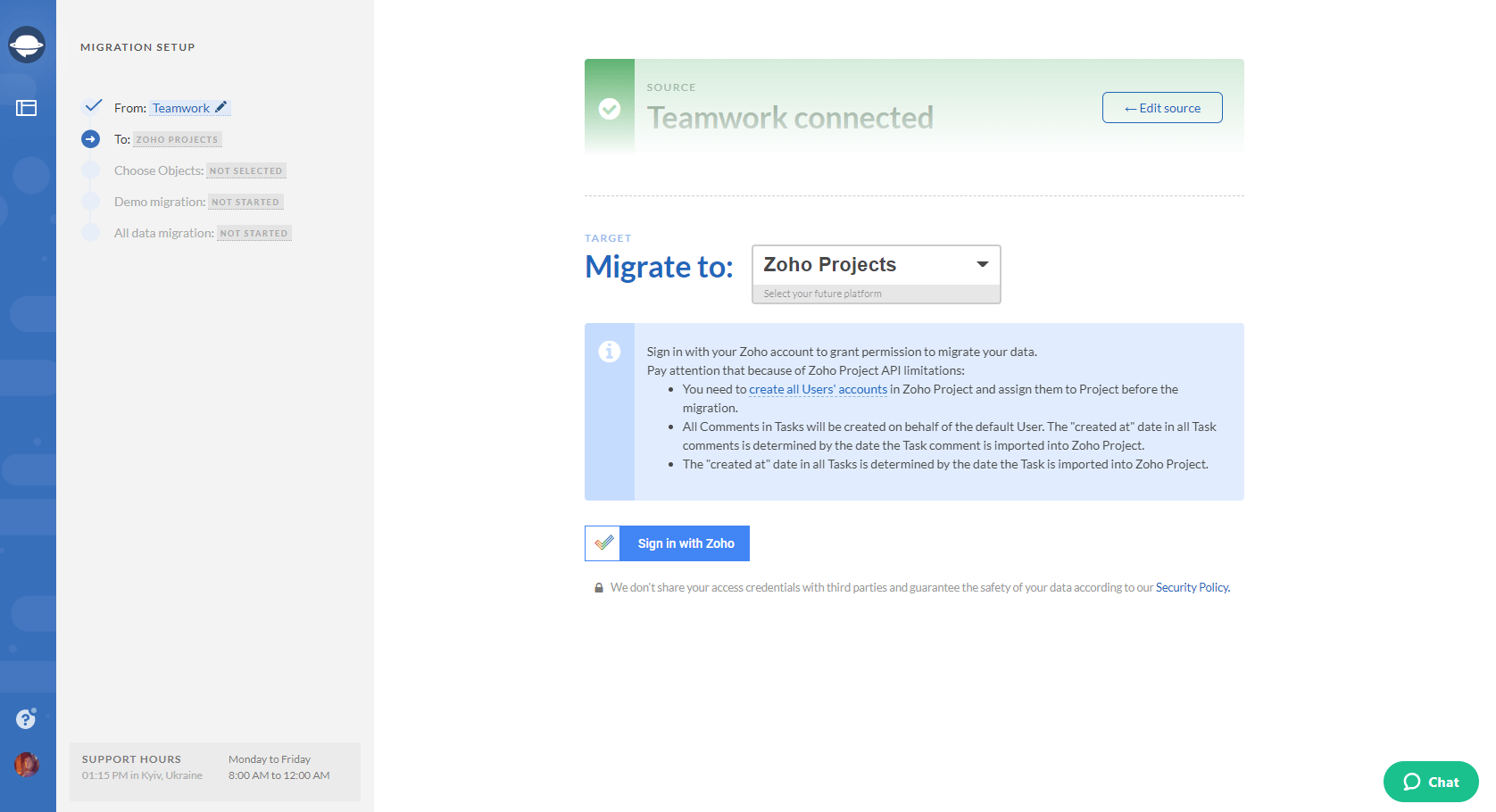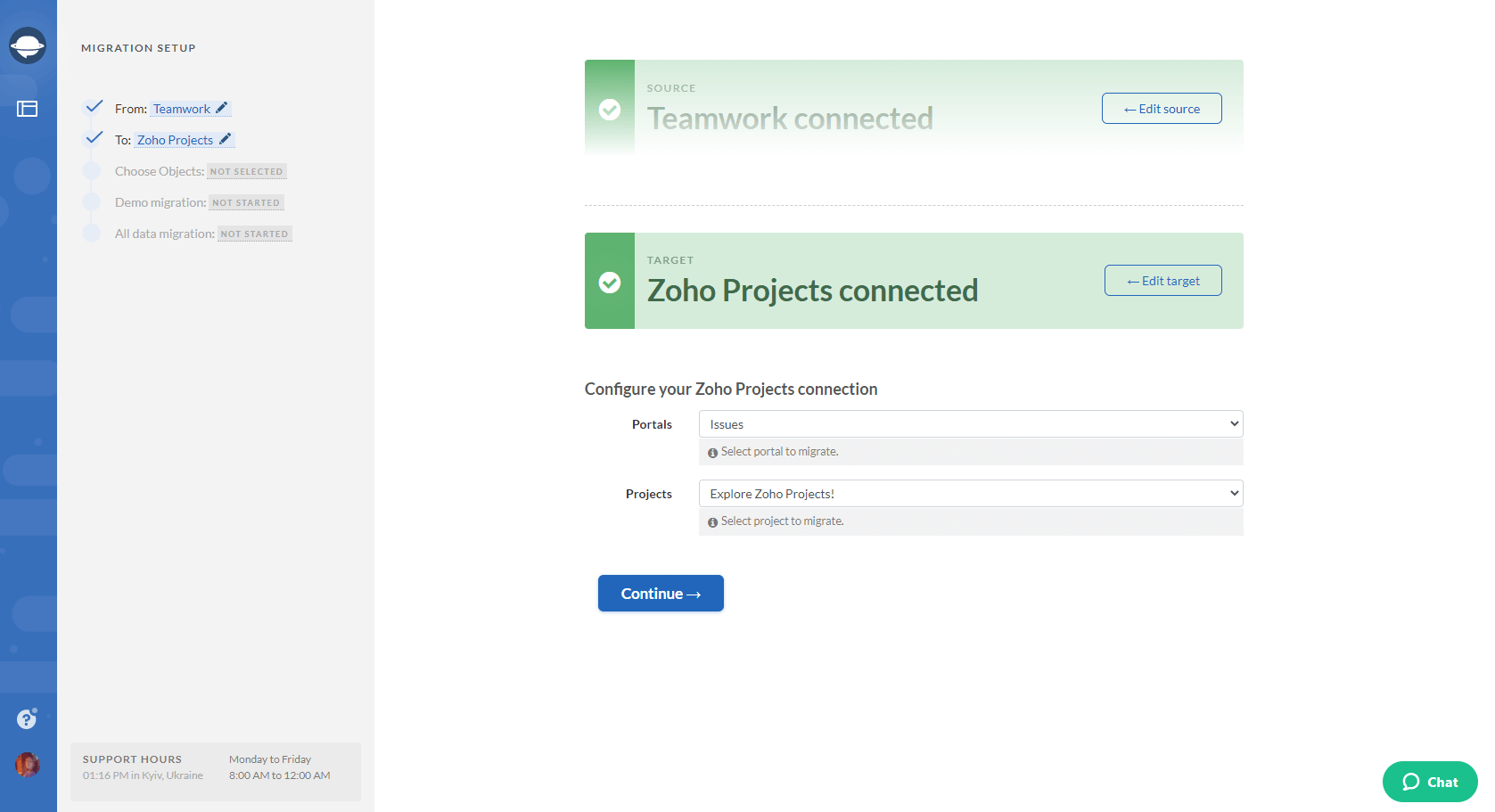 4. Next, select the records that you want to import to Zoho Projects. Select Tasks and Migration Wizard will open a task mapping form.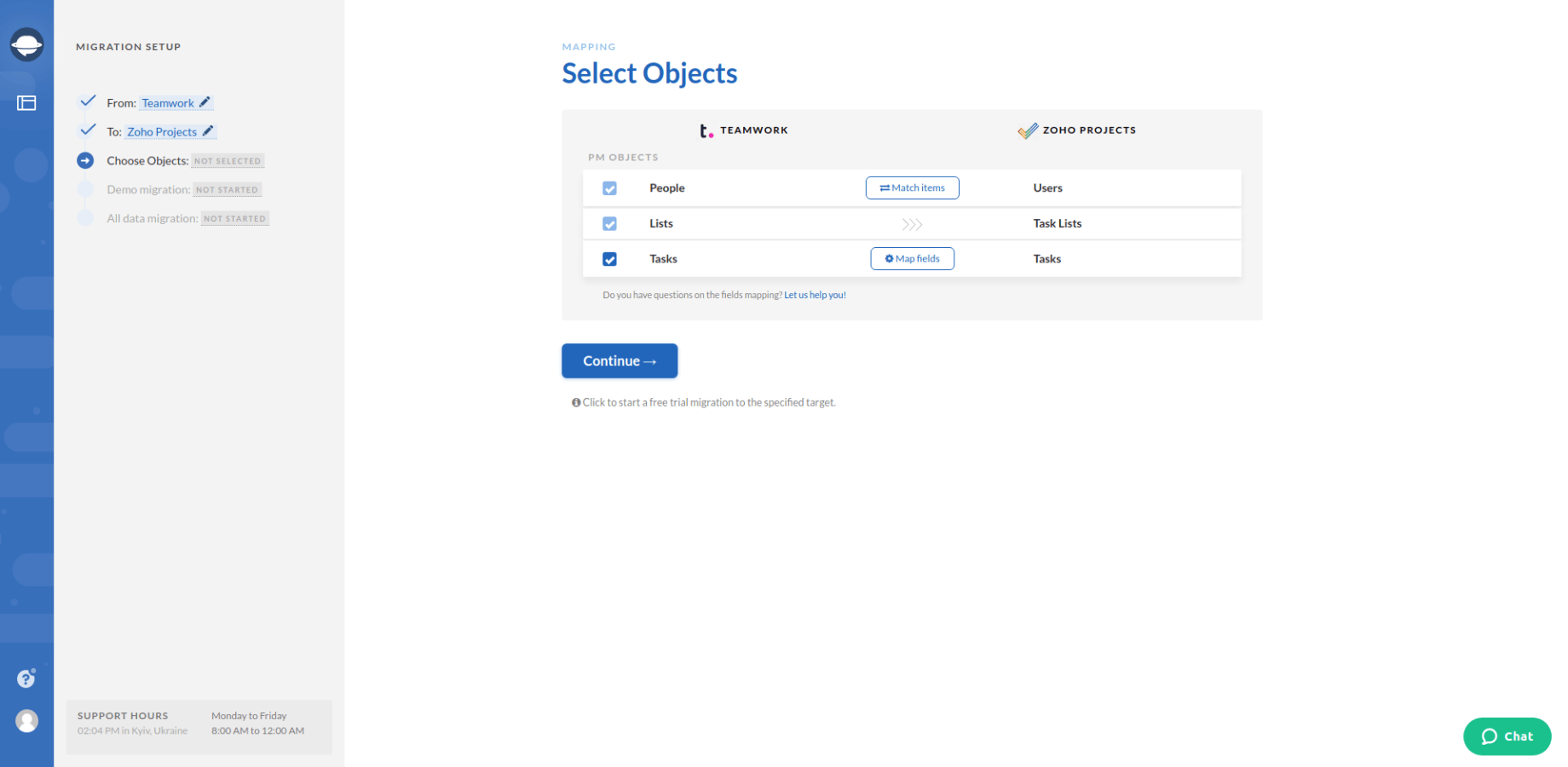 5. Proceed with a simple mapping process.  Match the corresponding fields to easily locate the needed records once the import is over. If any questions arise during the process, contact our support team, and get instant help from our friendly agents.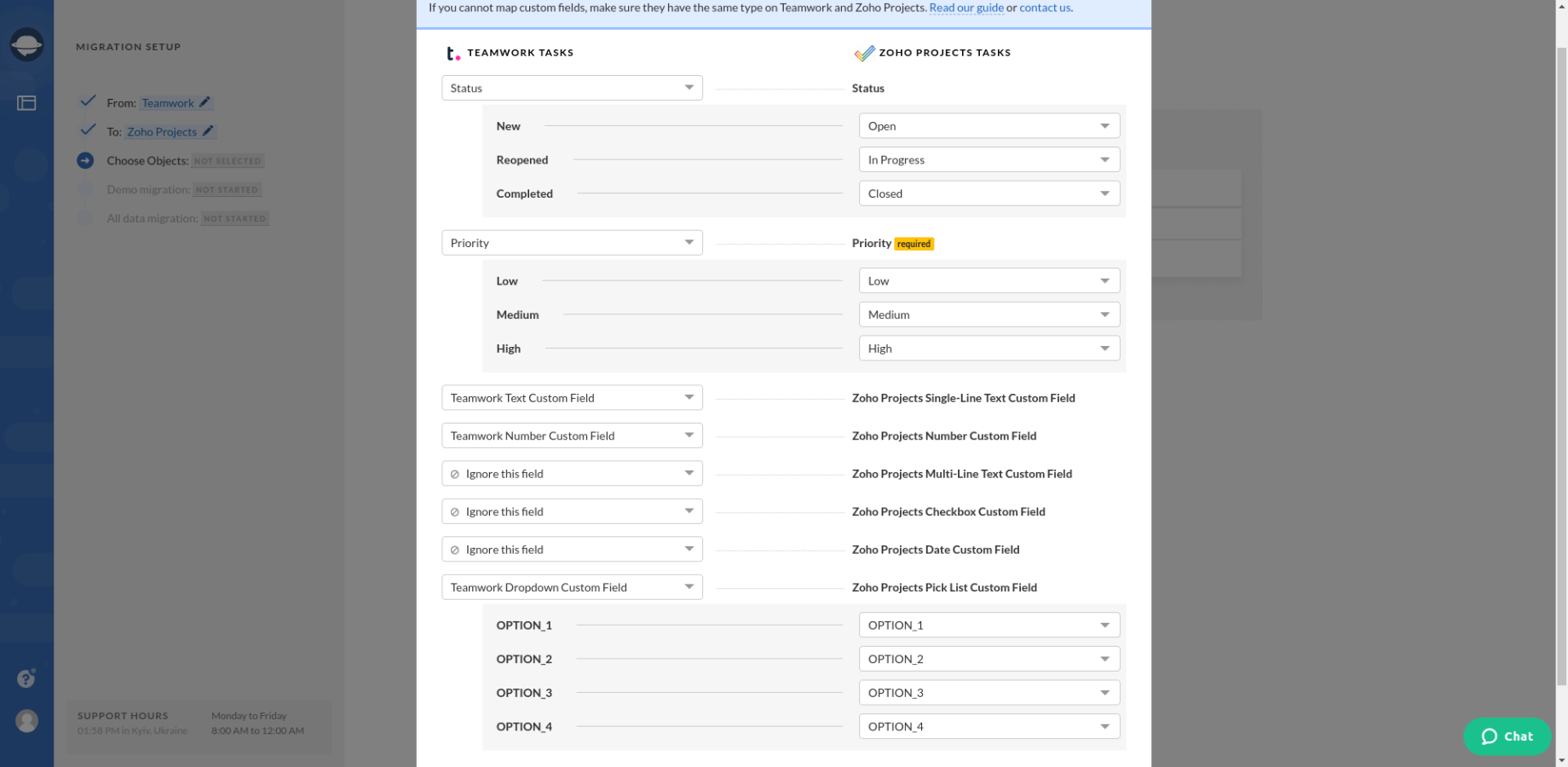 6. When Task mapping is done, move on to user matching. Click the Match items button and match users between the systems.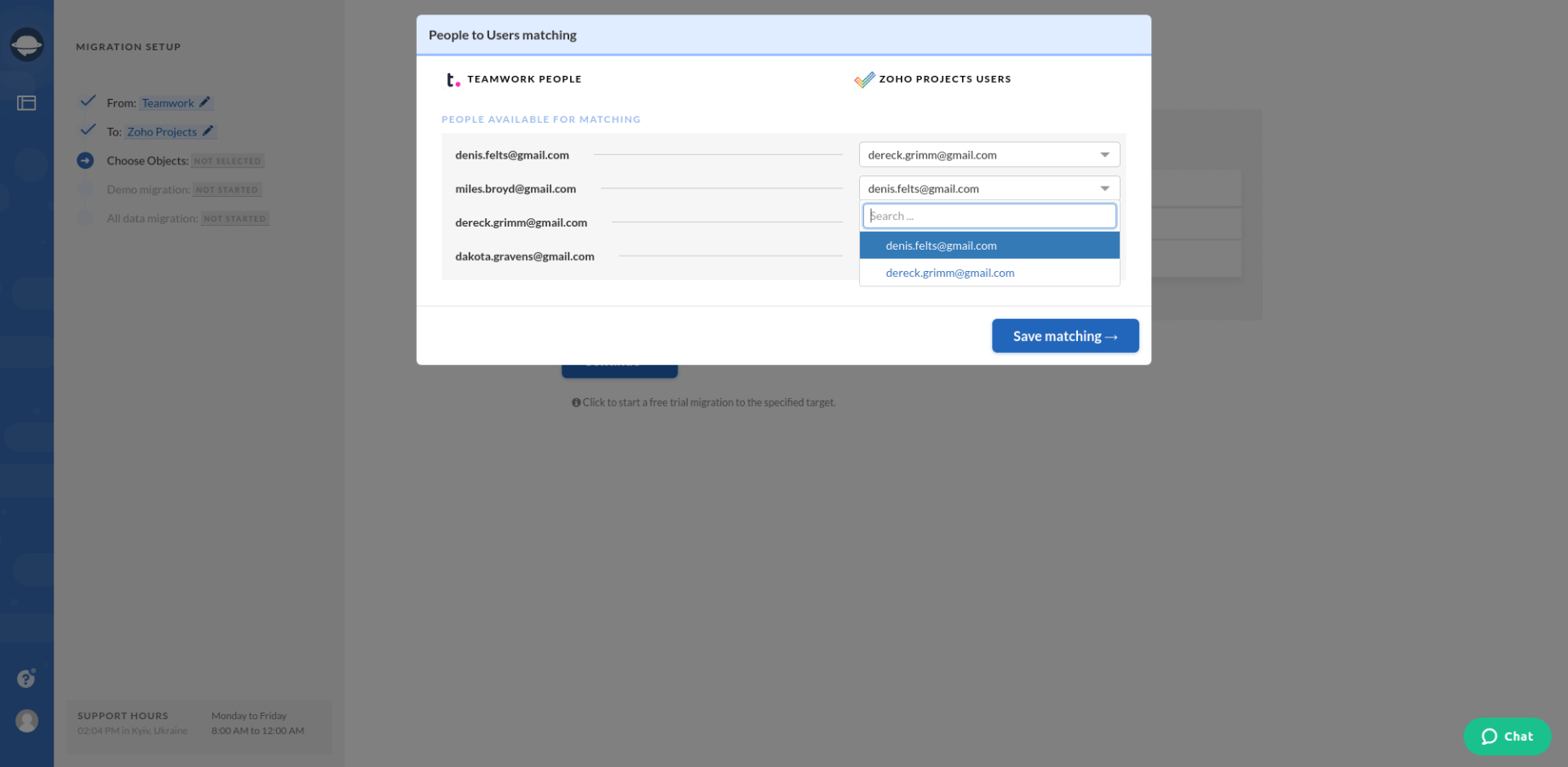 7. If everything looks fine, run the trial migration. It's a required step during which our tool will take a small portion of the data from your current project management software and transfer it to Zoho Projects. Thanks to this sneak peek, you will be able to check the outcome as well as the performance of our tool. The demo process will last no more than 5 minutes and is completely free to try.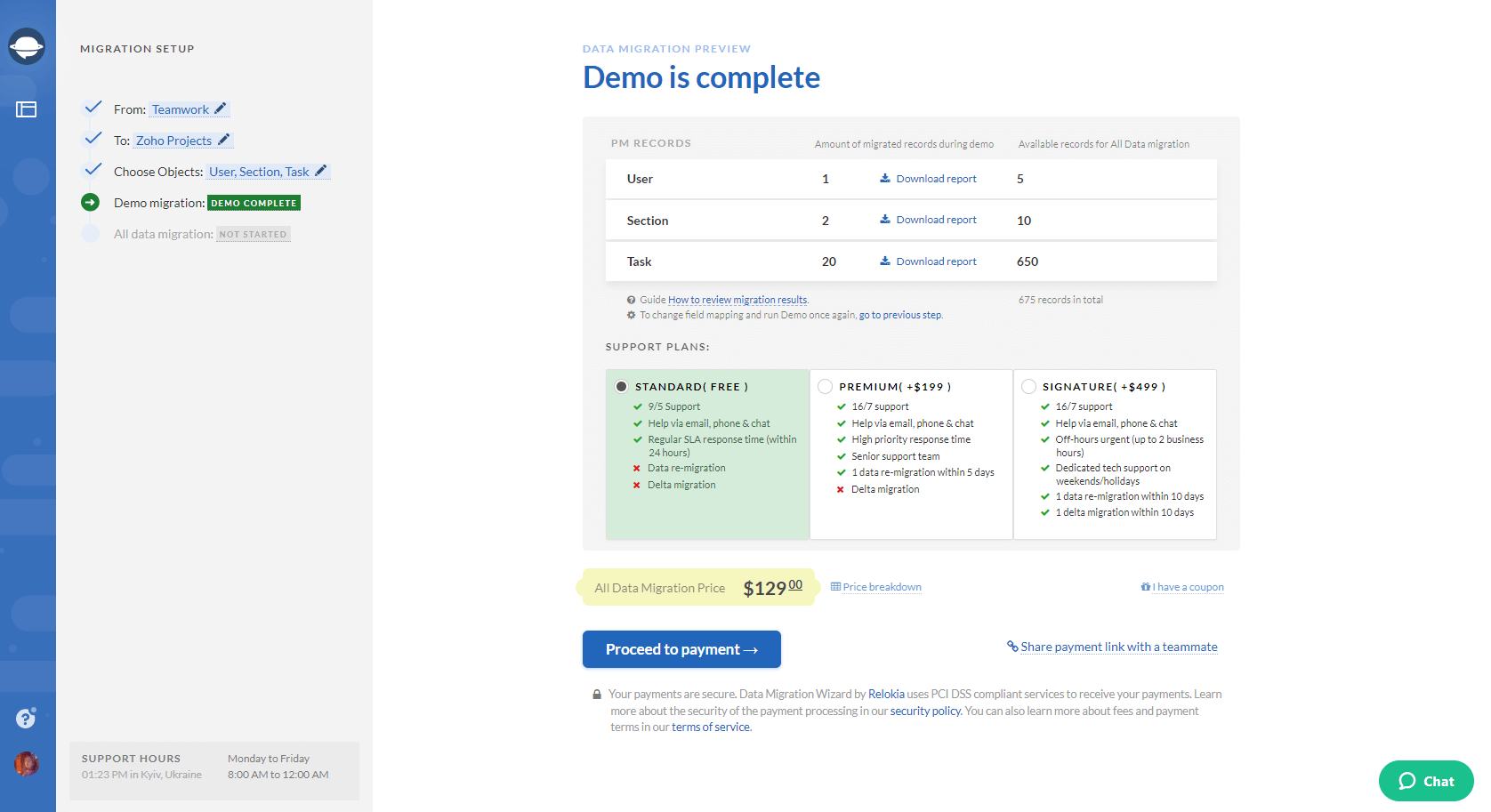 A tip from our team: To avoid any mishaps from happening during the Full Data Migration, take time to carefully inspect the transferred records by downloading the ticket report. If something is not the way you wanted it to look, contact us right away to discuss it with our team.
8. If you're completely satisfied with the way the demo went, initiate Full Data Migration.
Upgrade to Zoho Projects
We hope everything was crystal clear and you are ready to make a switch to Zoho Projects with no back thoughts. Remember, it's only in your hands to create a nutritious and productive environment for your company. So why not sign up for a transfer right now? Big transformations begin with a small step. We will help you to make the first one!