Managing workflow and projects can be a challenge to any company, regardless of its size. But using our Jira Software vs Asana comparison, you'll be able to pick a tool that makes this process as seamless as possible.
Project management represents a lot of challenges to managers and subordinates, from dealing with scope creep, lacking clear goal definitions, and the absence of success criteria. All these factors contribute to a company's failure regardless of its industry.
This is why investing in a successful project management tool is no longer a luxury but the only way that would allow a company to retain and expand its market share in a competitive market.
What Is Jira Software?
Jira Software was first developed as a cloud-based issue tracking tool in 2002 and expanded to become a comprehensive project management platform. The package of Jira Software is an extension to the essential product Jira Core. It includes extra features for agile functionality.
The app's name comes from the word Gojira, the Japanese word for Godzilla, as this product was first nicknamed Bugzilla because of its ability to track and identify bugs.
What Is Asana?
Asana is a productivity tool that facilitates tracking tasks and projects. It's a work and mobile management platform that helps teams organize their work, thus decreasing endless meetings, calls, and emails.
Moskovitz and Rosenstein created Asana in 2008 and called it Tasks. Later on, the product became Asana, a software-as-service product that helps team members and managers professionally.
This article will dive deeper into our Asana vs Jira Software comparison to help you pick the right product management software for your business. We'll also highlight the pros and cons of Asana vs Jira. So, keep on reading.
Jira Software Features Overview
Since it was first introduced, Jira has gone through several updates to add more features and capabilities. Today, it offers new impressive add-ons raising its rating among different project management apps. Here are some of the most remarkable features of Jira as a successful online project management software.
Straightforward Setup
Users can easily set up their accounts on Jira. Moreover, they can also customize their accounts to highlight the company's areas.
You can edit the platform to focus on IT support, marketing, software development, and facilities management. All areas of concern can also be displayed to different team members.
Expanded Scope
Jira is currently offering an expanded scope as a product management software easily customized for particular business needs. In addition, it provides broad coverage to provide a big-picture outlook while reviewing tasks and projects.
Users can fully customize the view of Jira Software using Kanban and Scrum boards. The team management board is a learning tool for those new to agile. Kanban and Scrum boards allow teams to plan, manage work in progress, and work in sprints.
Although Jira Software is available in a mobile version, it's not as functional as desktop. Navigating the mobile app can be a little challenging.
Drag-and-Drop Automation
Automating tasks and projects using the built-in templates is a feature that saves time and effort while using Jira as a product management software. These templates can be imported from Slack and Teams or are already built-in in the app.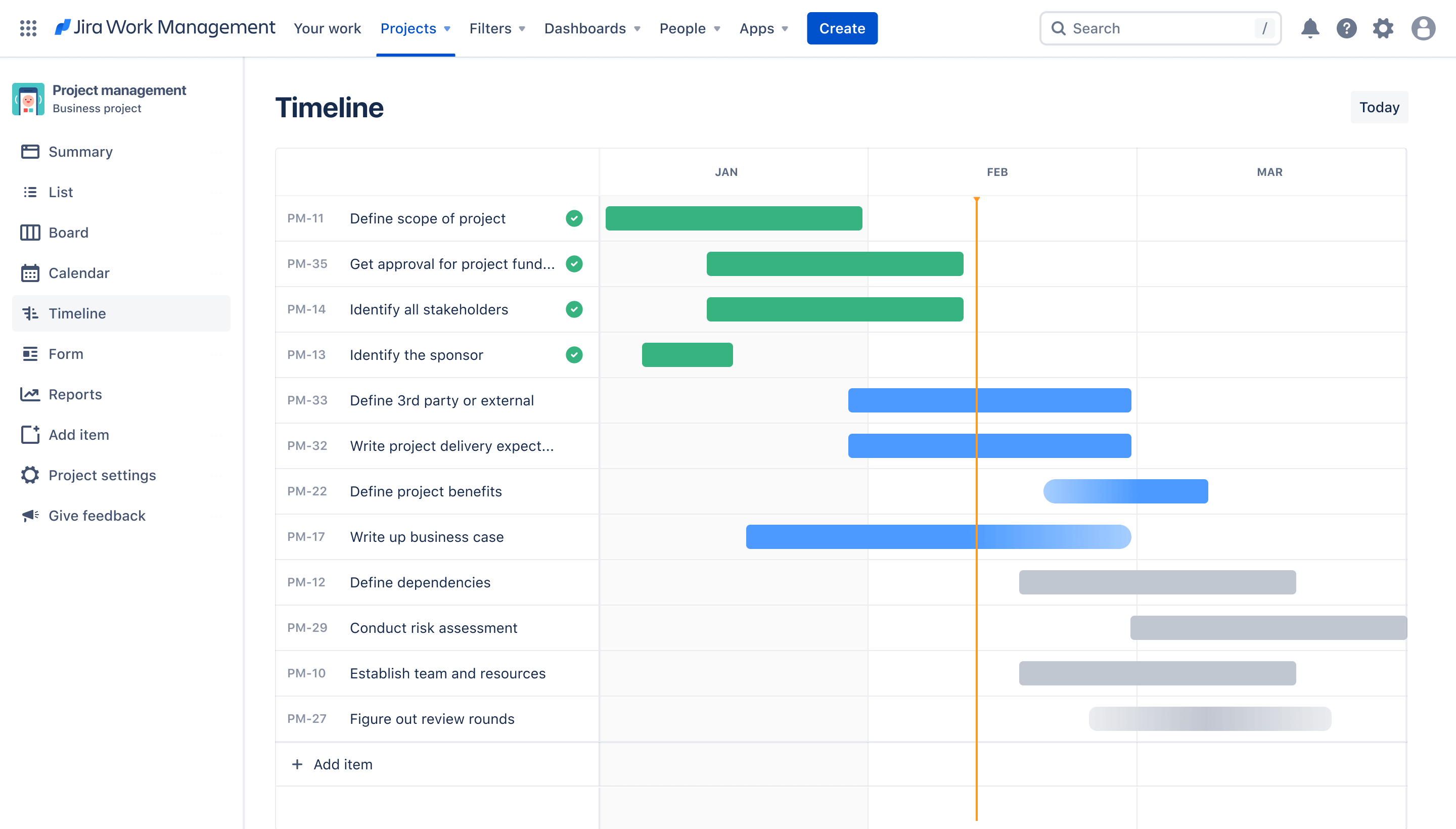 Source: Jira
Jira also offers unique templates for software development teams, management, and different businesses. For example, the app automatically closes old support issues, synchronizes work, and sends a daily summary to Slack.
Jira can easily integrate with more than 3000 software tools for successful automation. It also suggests the best add-ons for design, IT, software engineering, and business teams.
Internal Ticketing
To upgrade the users' ability to seek help, you can integrate Jira with Slack and Microsoft Teams to receive the needed support. This feature facilitates customer support flow.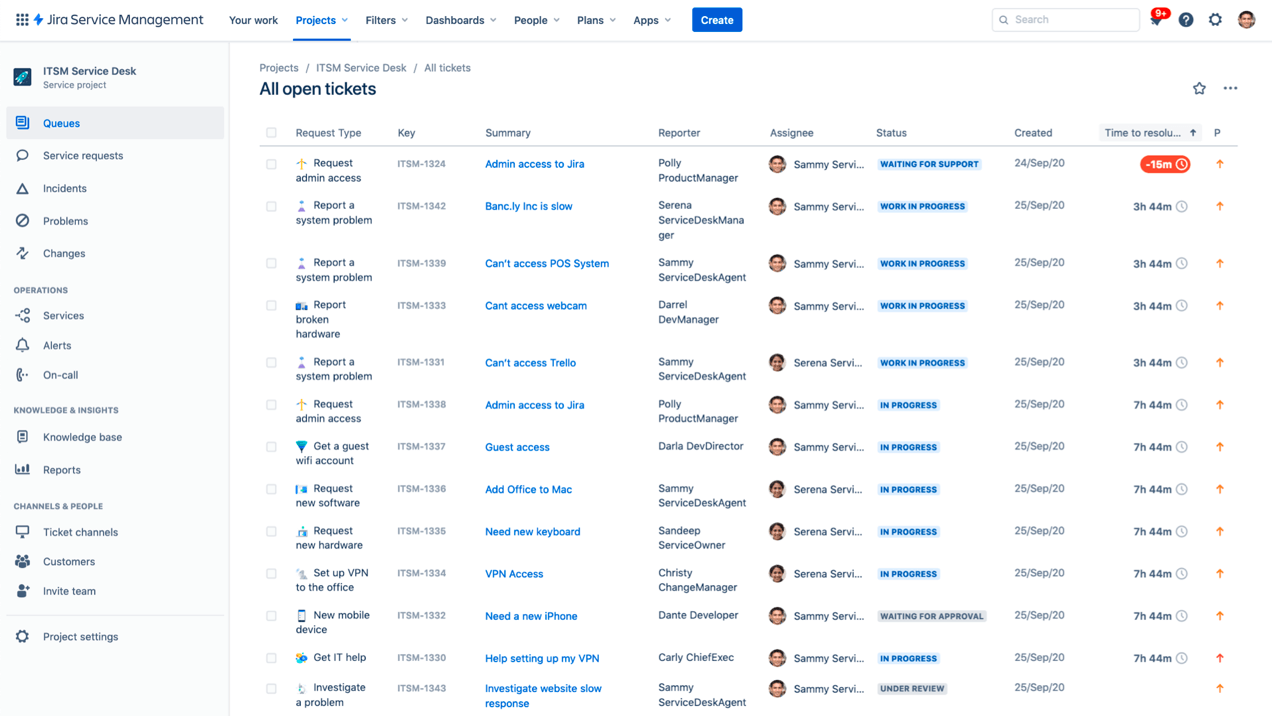 Source: Jira
The user creates a ticket with the issue, and the support system will tackle this issue according to its schedule. Boards can show up to 5000 ticket issues before showing an error message.
As a result, Jira Software excels as a help desk system since getting new tickets into the system and managing them has never been easier. Filters can also be used to view open or resolved issues.
Practical Filters
You can s not only add filters to tickets but also use them to access different reports, work assignments, and queues.
A user can easily access all the tasks and then use the filters to see work assigned, recent issues, and resolved ones. In addition, queues allow agents to group different incidents in the same field to better track issues.
Create Roadmaps
Roadmaps allow you to plan and integrate multiple projects and hierarchy levels. Using this visual tool, team leaders can identify and communicate issues to team members and help resolve them before affecting an entire project.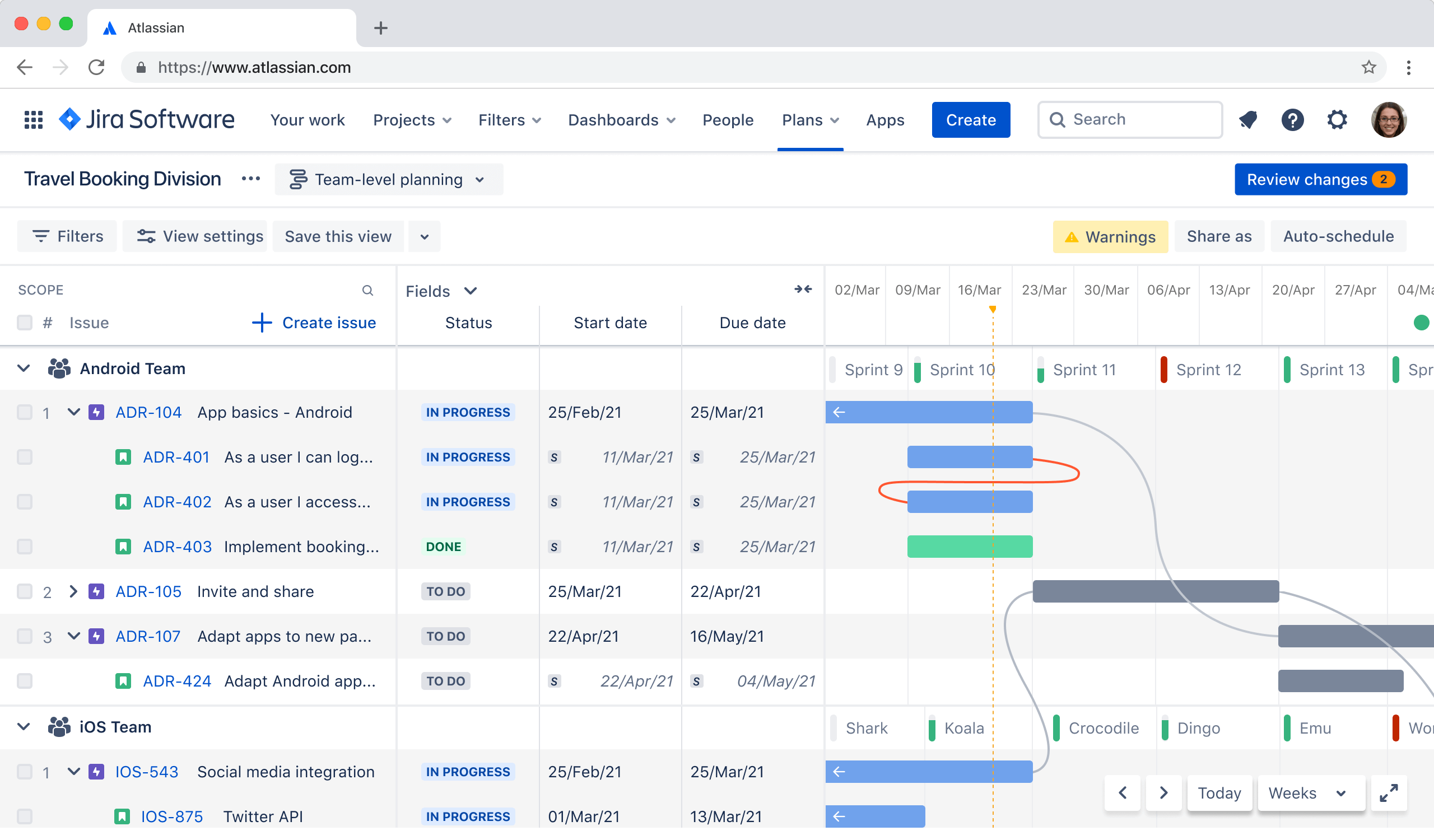 Source: Jira
Reporting and Data Export
Jira Software has already improved these features by adding more custom features to reports. For example, all filters are easily customizable based on the criteria defined by the user.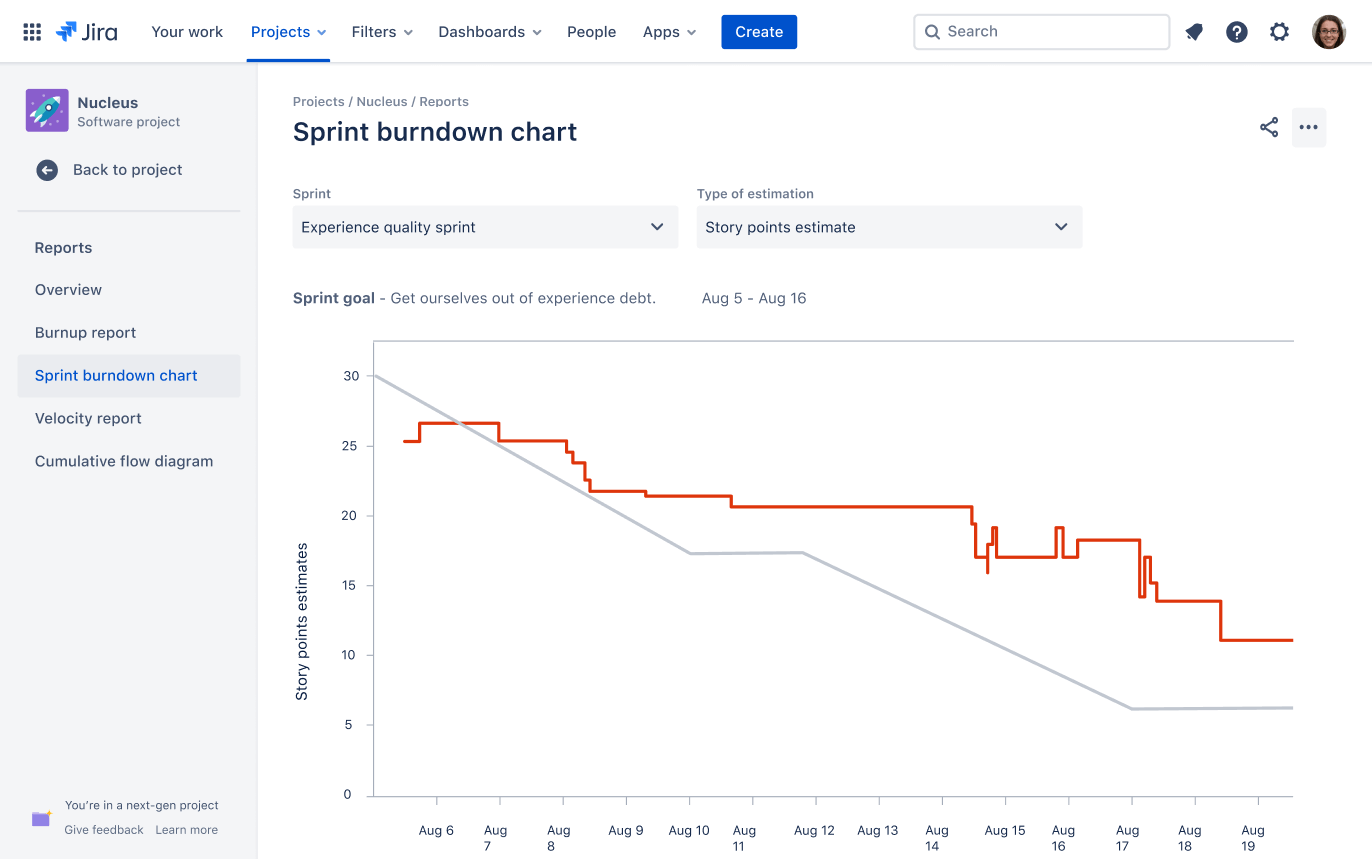 Source: Jira
Jira allows you to export data to a CSV file to create data-intensive reports. However, the app doesn't fully integrate more in-depth analytic tools.
Self-Service Portal AI
Jira Software currently offers a self-service portal where employees and customers can ask questions and answer with no human intervention. Artificial intelligence-based technology makes answers better and more in-depth as time goes by.
However, this feature takes time to develop, and a short time evaluation period might not prove helpful. With more time and questions, Jira Software will provide better answers.
Social Media Support
This feature comes at an additional cost, but Jira is an excellent addition. It allows you to submit tickets and import tickets from Facebook, Twitter, and other social media and chat services.
However, this is not a fundamental feature of Jira Software, and it comes because of two add-ons, OmniChat and Conversations for ITSM. Both add to the overall cost of installing Jira.
Asana Features Overview
The purpose of Asana is not to fully manage your company's resources but to increase productivity by providing a comprehensive view of all tasks and projects. This broad view is accessible to all users to help them manage workflow efficiently. Here are the most valuable features of Asana.
Simple Setup
One of the best perks of choosing Asana is that it takes a little time and effort to set it up. It's a little different from other project management tools because it's not one. Nevertheless, it's intuitive and practical.
When you install Asana, you can choose between two views, Organization and Workspaces. The Organization feature is more inclusive as it connects all the employees in the same company or using the same domain. On the other hand, the Workspaces feature is dedicated to people working on the same task or project.
Asana will be an excellent tool to help you view tasks as a whole and dive deeper into them to evaluate their details.
Flexibility
Asana is scalable to fit all your business needs. You can set it up to access specific tasks and projects with a single click, hiding the features that don't add value to your business.
The main window can be easily customized for the Kanban Board or a tasks list. All the essential features like messages, files, and deadlines will appear depending on setting them up.
User-Friendly Interface
Asana's interface is easy on the eyes and neat compared to some of the other tools on the market. As a result, most users prefer it to easily access the function they need. Moreover, it offers the Dark Mode feature on the desktop version.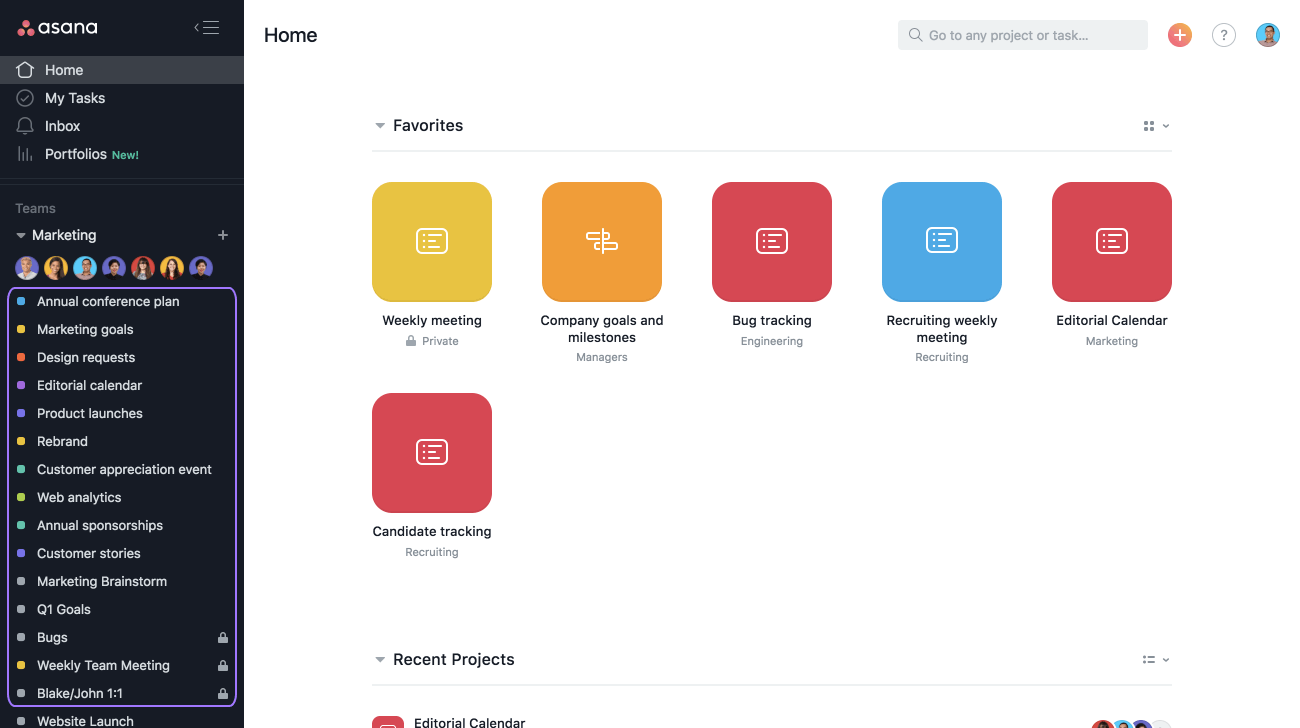 Source: Asana
Accessibility
This is one of the most impressive features of Asana, as it allows team members and managers to collaborate efficiently in remote working conditions. The app is accessible from a desktop version for Windows and macOS devices. But you can also install it on a smartphone as it comes in two versions for Android and iOS devices.
Successful Integration
Remember that we said that Asana doesn't offer comprehensive project management features. Those who made it are aware of this flaw, so they try to make things easier for those looking for more organizational features.
To create the perfect organizational tool for your business, Asana is currently compatible with more than 1000 tools for successful accounting, reporting, communication, marketing, sales, productivity, and compliance apps. The only drawback is that you'll have to buy these tools separately.
Task Tracking and Workflow Management
Although you can't think of Asana as a comprehensive project management tool, it excels at diving to reveal the details of tasks.
Using Asana, a manager can set all task criteria, including the assignee name, due date, comments, attachments, and even create subtasks within the completed tasks. If your goal is successful task tracking, Asana will be the right app.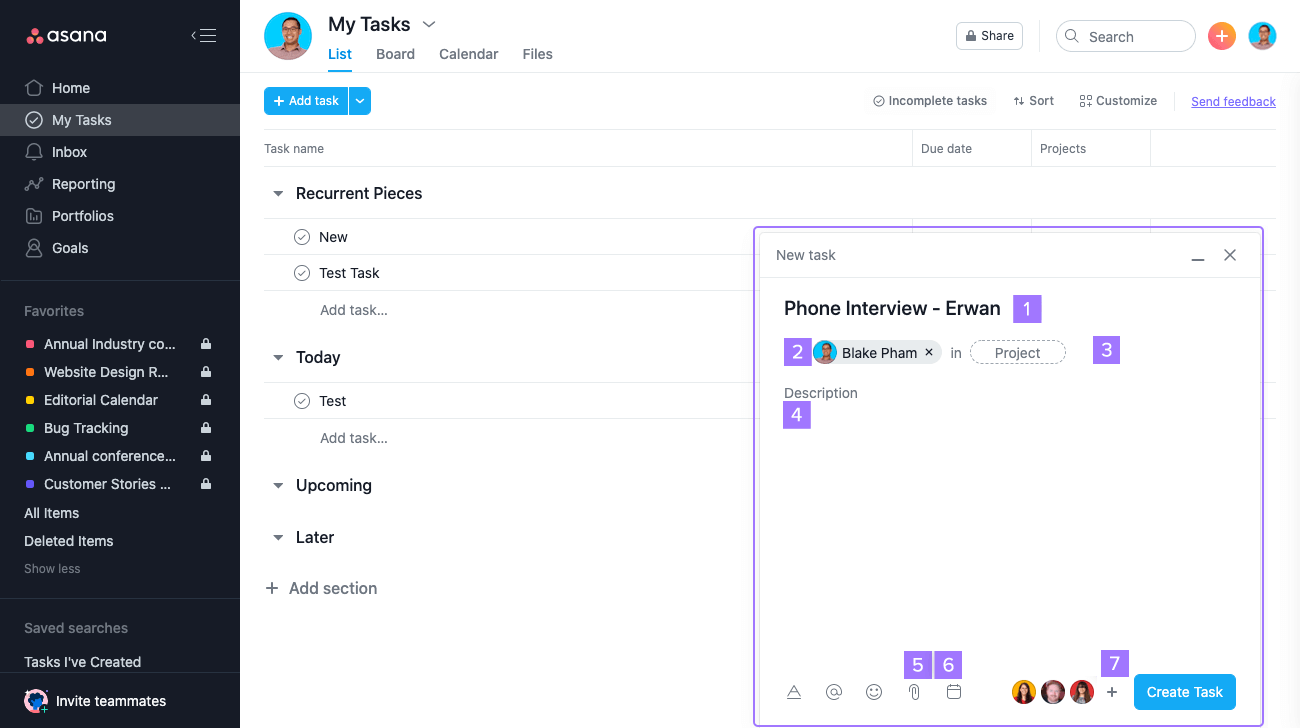 Source: Jira
Combining several tasks with all their included subtasks creates a workflow, and using Asana, you can successfully manage the company's workflow while minimizing confusion among team members.
The app shows its true potential when several people are responsible for several tasks within the same single task. Then, the manager can review the progress of every single subtask and make any necessary adjustments.
Providing Perspective
Using Asana, the user can add tags, files, attachments, and comments to provide a better perspective for participants. When multiple team members work on various related tasks, communication can become a challenge.
Tags allow users to search tasks faster, and the manager can set priorities to ensure that the workflow is progressing as expected.
Asana facilitates this process by providing all the necessary information, so users can focus on their work without making a call or sending an email. Furthermore, you keep all the information in the same place and save all the history of tasks and subtasks for future reference.
Visual Task Dependency
Task dependencies refer to how a single task affects the overall project workflow. Asana allows users to witness this information visually with the help of Gantt Charts.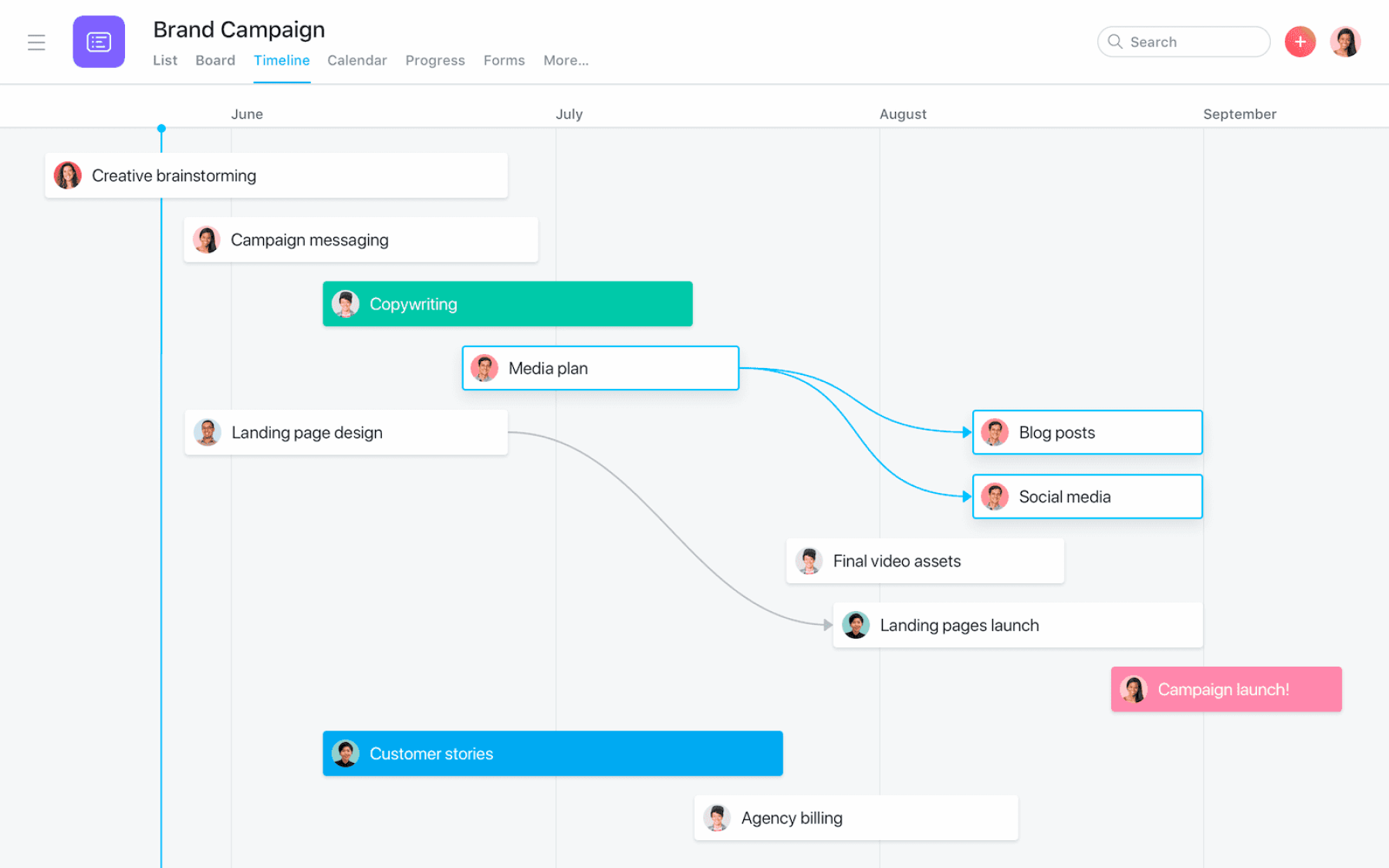 Source: Asana
Moreover, users can organize tasks into columns with images to better understand the task's nature. As a result, Asana will be an excellent tool for companies that work on graphics-intensive projects, as screenshots of tasks' progress will provide the necessary information.
Better Communication
Asana is an excellent collaboration tool as it improves communication between team members, canceling the need for other apps. Users can share tutorials and video messages and even convert videos into audio.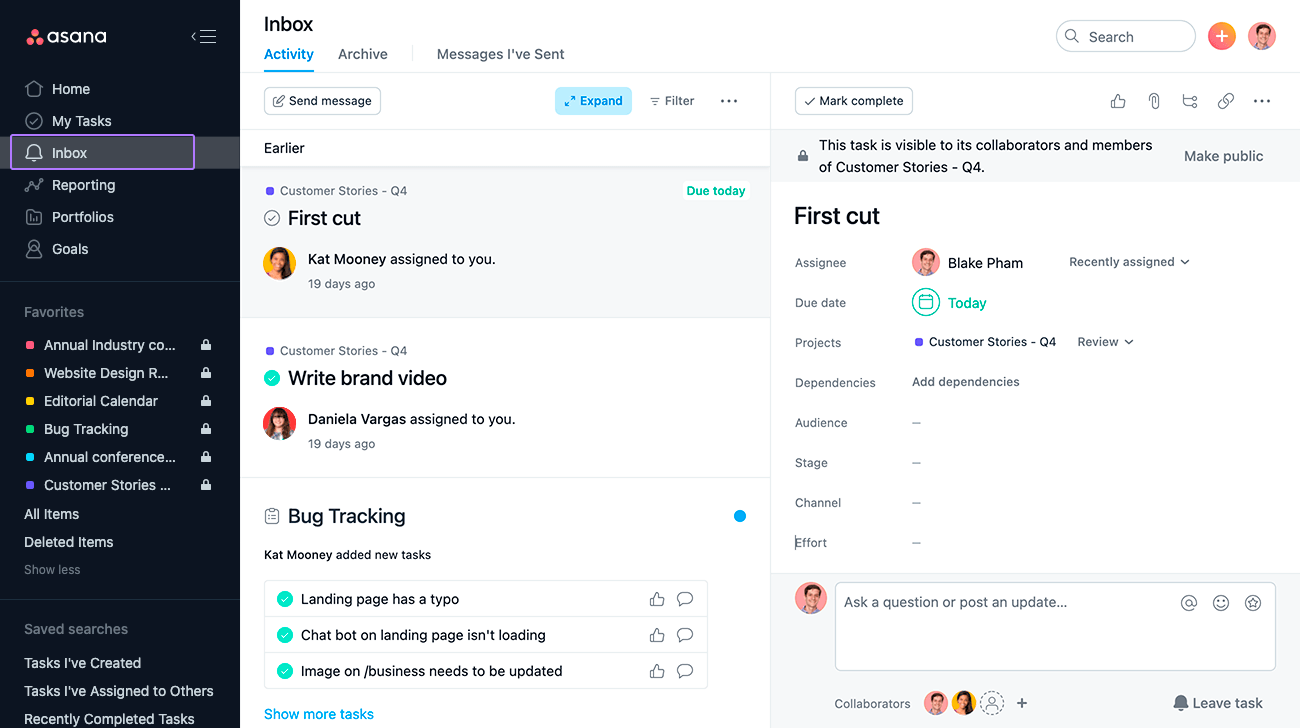 Source: Asana
Jira Software vs Asana: Pricing Checkup
It's essential to compare the price of the project management tool of your choice to see if it works for you. Here's a comparison of how much it costs to get Asana and Jira Software.
What Is a Jira Software Price Tag?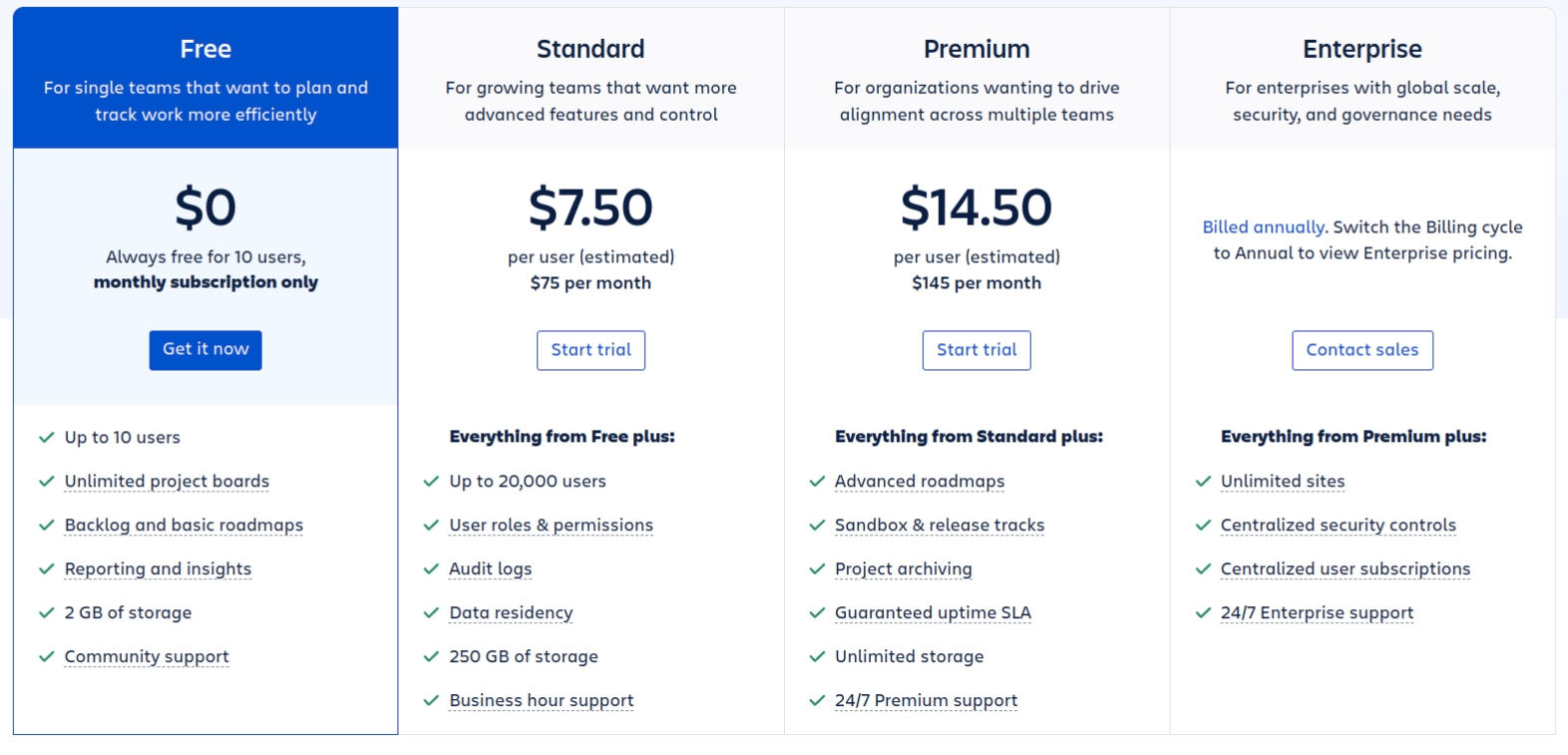 Source: Jira
Jira Software has four pricing plans, and the first one is free. It costs $0 to work on a single project, and it offers 2GB of storage, so it's a good choice if you're trying Jira to see how it works.
This plan lacks most of the necessary features, so most people go for the Standard Plan, which costs $7.50 zper user and supports up to 20,000 team members. It offers insight into a single project with multiple tasks and is suitable for growing teams.
The Premium Plan costs $14.50 a month per user, where team members and leaders can track multiple projects. It also offers advanced task management and roadmaps. This solution works for companies that need to scale project workflow.
If your company works globally, you should ask about the Enterprise Plan. It offers an unlimited number of sites and supports extra add-ons like SCIM, SSO, and Active Directory Sync. Moreover, the plan allows early access to new features.
Atlassian Jira has an on-site subscription calculator that estimates the overall cost of the subscription. When you pay annually, the plan changes to tiers for users. All pricing plans offer a trial period of 7 days.
How Much Does Asana Cost?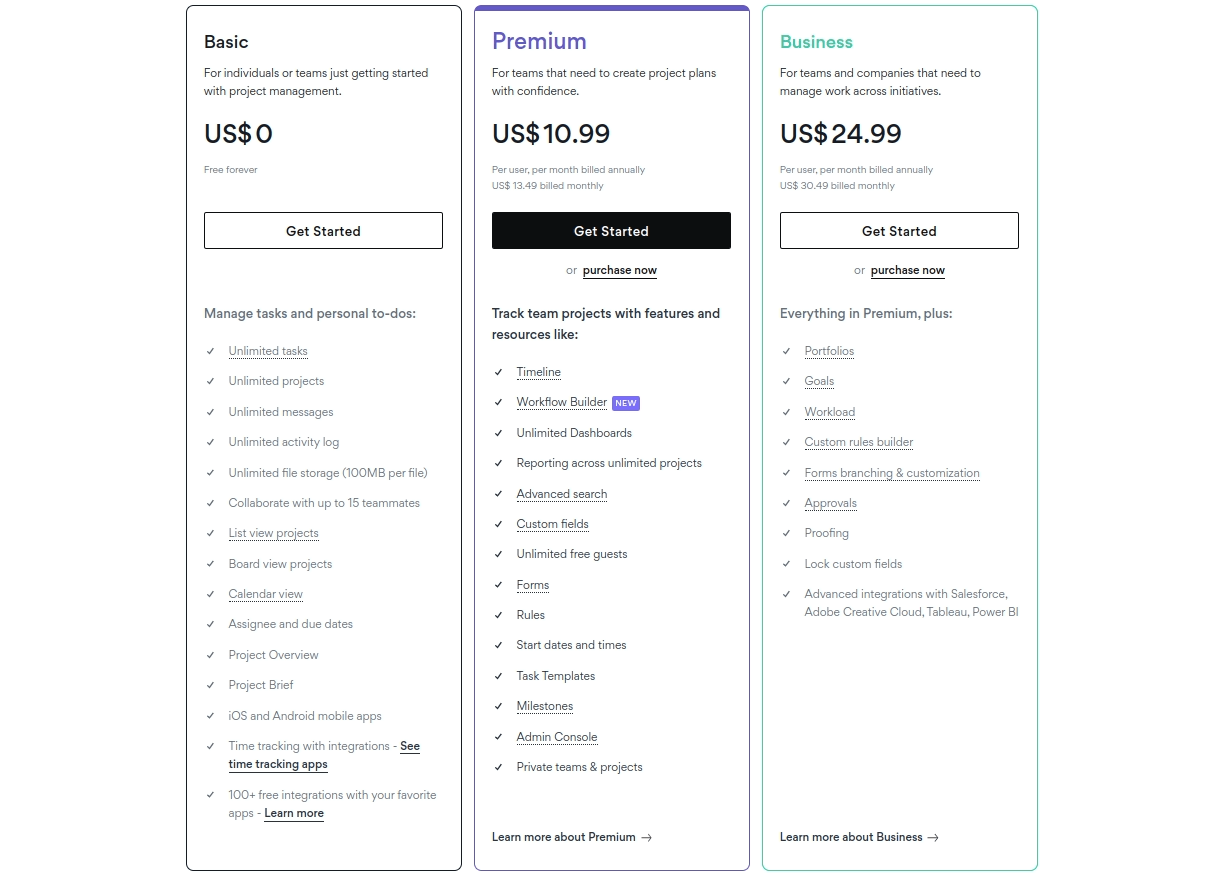 Source: Asana
Asana currently offers four pricing options for multiple companies. The Basic Plan is always free but is more like a demo choice to help you understand the tool's features. It lacks most of the essential features that will allow you to manage your work successfully.
The Premium Plan costs $13.49 per user per month, and it comes with a built-in timeline, workflow builder, and custom fields. As a result, it's quite popular among established and growing teams.
However, if your team is pretty extensive, you can opt for the Business Plan, which costs $30.49 per user per month. In addition to approvals, proofing, and a custom rules builder, this plan offers an in-app integration with Salesforce, Adobe, and Creative Cloud Tableau.
Asana also offers an Enterprise Plan that offers data export and deletion, custom branding, priority support, and all the features in the Business Plan.
Asana has a 30-day trial period, and you can always upgrade your subscription.
Jira Software vs Asana: Which Platform Works Better
While both can help manage projects and tasks, Jira Software and Asana don't work in the same way. Here are the pros and cons of Jira vs Asana.
What Are the Jira Software Pros?
AI self-service support
Customizable view
Flexible Kanban board and roadmaps
Successful internal ticketing system
Great for agile productivity with a comprehensive view for all tasks
Extensive scope for multiple teams
Successful integration with 3000 apps
Filters for reports and tasks
More affordable than other tools
Are There Any Jira Software Cons?
Mobile app is challenging to use
Graphical reports are downloaded as low-quality images
Customer service on social media requires third-party add-ons
Access to authentication services is possible only with an additional subscription
What Are the Benefits of Asana?
Detailed task assignment
Functional search box with tags
Creates context through comments, attachments, and files
Free plan is enough to test the tool's features
Improves collaboration and communication between teams
Easy to use, and the mobile app is highly functional
Advanced task management features
Visual task dependencies
What Are the Drawbacks of Asana?
Can be too expensive for larger teams
Some features are unnecessary and highly specific
Lacks some agile project management features
No roadmaps to create a timeline for project and task management
Who Are the Users of Jira Software?
Jira currently holds more than 31% of the management software market share. It's mostly common in industries like computer software and IT solutions because of its ability to create and track bug issues. However, it's also used in other sectors like financial services, healthcare, and marketing.
There are currently more than 90,000 companies using Jira Software, including names like Zendesk Inc, Lewis, Inc., and the Federal Emergency Management Agency. Most of the companies that use Jira Software are located in the US.
What Companies Use Asana?
Companies that use Asana are mostly located in the US or the UK. However, because it can be easily integrated with multiple apps and tools, more than 11,000 companies currently use Asana.
Asana facilitates communication, so it's used in industries like Computer Software and marketing. In addition, companies like Amazon, Google, and Uber rely on this tool.
How to Migrate Data to Jira Software or Asana?
Migrating your data to a new tool like Jira Software or Asana might help you manage your work correctly. Luckily, at Relokia, you don't have to worry about losing or damaging your most valuable asset.
The process is easy, as you simply head to Relokia's website and click on the list of supported apps. If your current platform is missing from the list, you can quickly contact the experts to ask for help.
You get multiple data migration options to choose the best solution that works for your company. And the best thing is that it's only one click away.
Jira Software vs Asana: How to Choose Your Product Management Tool?
Jira Software and Asana are fantastic project management tools that work for different purposes. Jira Software will be an excellent choice for your company if your main focus is agile productivity, reporting, and managing issues, and creating roadmaps for an extensive view.
Asana is an excellent collaboration tool that facilitates communication. It will work for your company if your main focus is to manage multiple projects, tasks, and subtasks involving the same members.
Frequently Asked Questions
This depends on the nature of your company, but there are several good options like Asana, Trello, Jira, and ProofHub.
Asana is better at facilitating communication, while Jira is more suitable for software and engineering teams.
Asana can replace Jira if your company doesn't manage agile teams. However, if this is your company's scope, this replacement is not recommended.
Asana is a separate app, but it can integrate with Jira for better project management.
You can use it for agile management, but it's not the best tool.
Monday is a simple task and project management tool, and it lacks the in-depth features that Jira has.
Trello is a simple, customizable Kanban board-based tool. However, it doesn't offer a comprehensive agile overview of Jira.
ClickUp offers some of the agile tools that Jira offers. However, Jira is older and more trustworthy.
Want to migrate to Jira or Asana?
Let's migrate your data automatedly
Setup a free Demo