Excel as a project management tool days are running out, right? Whom to blame? The abundance of software on the market. For instance, the rise of Wrike vs Smartsheet has brought improvements to project and collaboration software performance.
And here we get a fresh challenge: Which project management software to choose: Smartsheet vs Wrike? Those two have been on the list of the industry front-runners and offer specific functionality to stand out. But, is it enough for you? Let's find out.
Wrike vs Smartsheet: Comparing Feature Lists
Spoiler alert: Like any other project management system, Smartsheet and Wrike got some quite similar features.
They provide users to log in to their accounts with a single sign-on (SSO) method. The first thing you see after logging in is a Kanban board. You can also set up Gantt charts to track the project's progress more transparently. Wrike and Smartsheet let you monitor tasks on your iOS and Android devices - they got native apps. Plus, those team collaboration tools include calendar management, time tracking, widgets, and customizable workspaces.
It is hard to compare two similar things, right? Let's dig deeper into Wrike vs Smartsheet functions.
What Is Wrike Functionality?
Kanban board: Drag and drop cards from one column to another one to change the status of the task. You can view what tasks still need to be completed, original estimate, and create new tasks on the Wrike dashboard.
Gantt chart: Visually see the project timeline to make quick adjustments when needed. A Gantt chart shows spaces, projects, and scheduled tasks/subtasks.
Table view: Your better equivalent to an Excel spreadsheet. Aimed to help you customize your projects, folders, spaces, and tasks.
Wrike view: Fully customize the way you can view folders, spaces, and projects so you and your team can collaborate effectively.
Project and task approvals: Create multi-stage approvals to securely get stakeholders' feedback.
Timelog view: See all-time log entries regarding your project's tasks and subtasks on one dashboard. To decrease the information, use filters.
Automation Engine: Determine and trigger workflows to reduce manual mistakes.
Effort and time allocation: Define how much time it takes to complete a specific task.
Reporting: With Wrike reporting, you can customize reports to your needs to build data from projects and tasks. Each time you open or refresh the report, it updates.
Files view: You can view all files attached to a project or a folder. Besides, you can see any tasks, subtasks, subprojects, or subfolders linked to those files. With this view, you can open, download, delete, sort, and filter files.
Time tracking: Benefit from a pre-built time tracker to track time spent on projects, tasks, and subtasks.
Three-pane view: Get a clear overview of the project with hierarchy on the left, task lists in the middle, and task details on the right.
Collaborative editing: Add changes to specific files simultaneously with your colleagues. Contribute to projects and share tasks with other team members with ease.
Analytics view: Visually see how your project progresses including an overall project pie chart, milestones, and overdue tasks.
Resource management: This feature includes workload charts, timesheets, job roles, team utilization reports, time tracking, and locking time entries.
Add-ons: Wrike offers four add-ons including Wrike Integrate, Wrike Lock, Wrike Marketing Insights, and Wrike Two-Way Sync.
Mobile apps: The software is compatible with iOS and Android devices. You can make changes, create and assign workflows, set task discussions on your phone.
Integrations: Install Wrike Integrate to get access to hundreds of popular third-party apps including QuickBooks, Salesforce, MailChimp, etc.
Support: The Free plan users get email support five days a week while paid users have chat, 24/5, and phone support.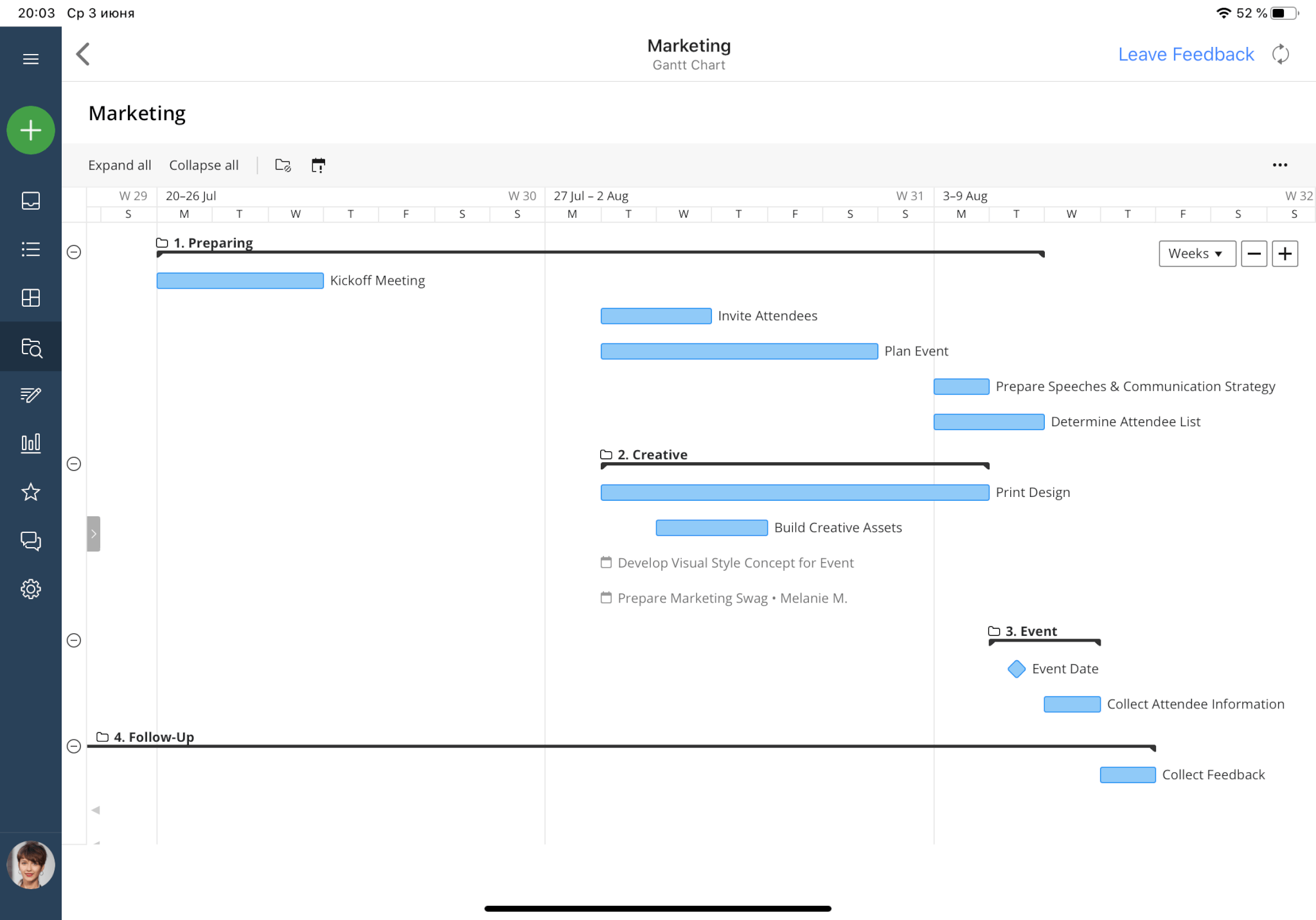 Gantt chart in Wrike. Source: Wrike
What Is a Smartsheet Feature-set?
Calendar view: Get dates and reporting in a block calendar format.
Card view: Displays all tasks as movable cards that you can drag and drop in columns. Smartsheet Kanban board lets you see how your tasks progress and how much time your team members still need to complete them.
Gantt view: Smartsheet Gantt chart, also known as a timeline view, lets you visually see milestones, custom fields, cross-project dependencies, hierarchy, and critical paths.
Free collaborators: If you're a licensed user, you can share sheets with free collaborators. They can only view and edit reports and sheets.
Alerts and notifications: Get automatic notifications and alerts whenever the deadline approaches or any changes have been made on the sheet. Team members can make changes from within email without logging into a project management tool.
Dependencies: Automatically adjust and calculate how long a task takes to be completed and what task or subtask needs to happen first.
Forms with conditional logic: In Smartsheet you can add simple logic rules so your team members can use a single form to send questions to the right people.
Report grouping and summary: Combine data into groups to see it in the shape of organized rows and columns in logical classifications or categories.
Baselines: Simply capture and compare variances between your actual and planned project schedule.
Unlimited automations: Set up updates and reminders based on time and actions that might occur within your sheets.
Secure platform deployment: Use single sign-on and user management functionality to protect sensitive data. This Smartsheet feature lets you share permissions, approve external domains, and handle internal standards.
Real-time visibility: No need to request technical support to respond to trends. Use live reports and Smartsheet Sight to make well-thought decisions.
Reporting: Customize your dashboard to organize data. You get the information updated in real-time. View the data you need to improve team performance and productivity.
Resource management: Review and track team performance and progress across all projects. This feature is invaluable for those who have a large team that often requires the allocation of resources.
Mobile apps: Smartsheet includes mobile apps for iOS and Android to let you have real-time access to your data wherever you are.
Integrations: The product management system integrates with Slack, Google, and Microsoft Office 365 on all tiers. Microsoft Teams, Tableau, Skype for Business, and Adobe Creative Cloud are all available on the Business plan.
Support: Community forums, email, and a learning center are the only free options for Individual users. If you are an Enterprise or Premier user, you get support by phone and instructor-led training.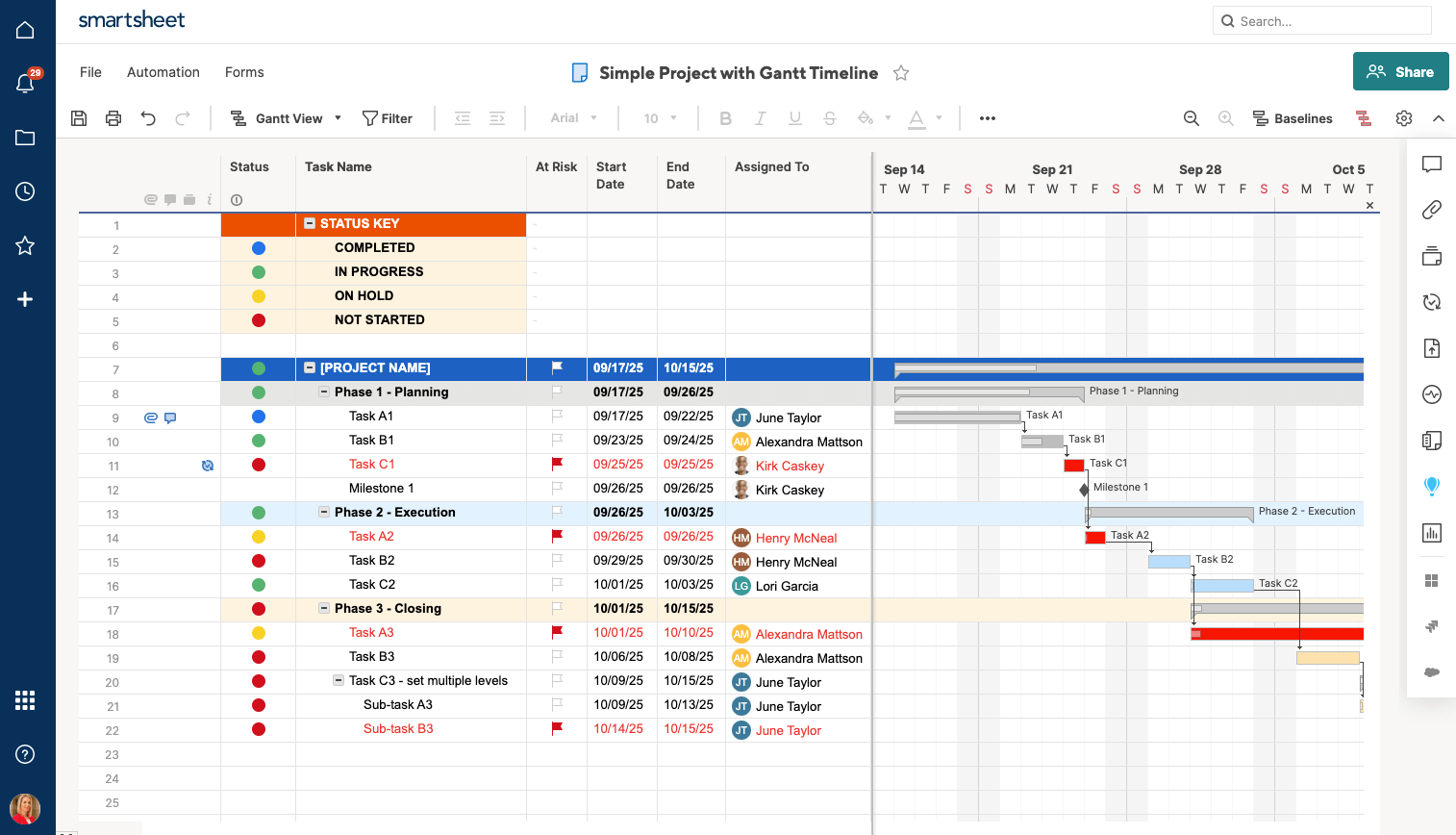 Example of Gantt chart in Smartsheet. Source: Smartsheet
So Wrike's strength lies in automating task allocation and viewing the team workload to coordinate the team workflow. Wrike forms a perfect space for collaborative editing and proofing. Smartsheet stands as one of the best Wrike competitors due to various view options, a simpler organization of materials, and a function to create multiple sheets for multiple projects.
Smartsheet vs Wrike: Which Pricing Is Worth Your Attention?
First things first, Wrike vs Smartsheet pricing is just a separate topic for discussion. As Smartsheet lacks a free plan, Wrike remains one of the free alternatives to Smartsheet. Plus, Wrike offers five diverse pricing options to Smartsheet's three tiers. Let's just figure out which package meets your expectations.
How Much Does Wrike Charge?
Compared to its competitors, Wrike has more pricing tiers than you can think of. The project management software includes five main pricing plans: Free, Professional. Business, Enterprise, and Pinnacle. Before the actual purchase, Wrike lets you try the paid plans with a free 14-day trial.

Free plan is free of charge with unlimited users. The tier includes mobile, web, and desktop apps, task & subtask management, interactive board, and spreadsheet view. In addition, you can also have external and internal collaborators, AI Work Intelligence, and account-wide work schedules. The cloud storage integrations include Google Drive, OneDrive, MSFT Office 365, and Dropbox. You also get 2GB storage space per account.
With a Professional plan, you have everything included in the Free Plan and more. Here the collaboration tool lets you have 5 to 200 users, interactive Gantt charts, shareable dashboards, and product integration including Excel, RSS, and MS Project. Each user has 1 to 2GB storage.
When you choose a Business plan, you get a diverse list of advanced features. Besides the Professional tier functionality, you get custom fields, custom workflows, Automation Engine, branded workspace, project and task approvals, request forms and calendars, real-time reports, and notifications. The list of features isn't complete without workload charts, effort and time allocation, resource management, time tracking, and file proofing.
You get an extension for Adobe Creative Cloud and Salesforce integration as well. As for storage, you can have 5 GB per user.
An Enterprise tier is perfect for companies that need advanced security. Apart from Business plan features, you get such functions: single sign-on, password policies, custom access roles, and two-factor authentication to secure your projects. On top of that, this Wrike tier includes user audit reports, admin permissions, custom access roles, and 10 GB storage per user. Note that you need to contact the support team for a quote.
Not long ago, Wrike added a new plan, Pinnacle. This pricing tier provides locked spaces, job roles, bookings, budgeting and billable hours, digital asset management integrations, and HTML5 proofing and approvals. What's more is that you get advanced reporting and BI, and 15 GB storage per user.
Besides the tiers above, Wrike offers some specific pricing packages for service delivery, marketing, and creative teams. However, like with Enterprise and Pinnacle plans, you need to get a quote from the support team.
Checking Smartsheet Pricing
Smartsheet pricing is incomparable to Wrike's. This Wrike alternative offers only three pricing tiers: Pro, Business, and Enterprise. As opposed to Wrike, Smartsheet doesn't have a free plan, but you can still try a 30-day trial.

Pro plan starts off with $7 user/month with a minimum of 3 users, up to 25 users. The tier includes unlimited sheets, dashboards, and reports. On top of that, you get Gantt, Grid, Calendar, and Card views, forms, dependencies, private sheets, and reports. The platform allows you 10 viewers per object, 20 GB attachment storage, and 250 automations per month. This pricing tier supports integration with Google Workspace, Microsoft 365, and Apple ID login.
As for a Business plan, it has a bigger number of features including a Pro plan functionality. Other than that, the product management system provides unlimited collaborators, unlimited automations, unlimited sheets per report, and unlimited conditional logic. You also get document builder, proofing, baselines, activity log, custom branding, and user, group, license management. Plus, the platform offers you Brandfolder integration and Adobe Creative Cloud extension.
Lastly, an Enterprise plan is aimed at high-security features like single sign-on, custom email domain, approved domain sharing, and domain validation. In case of a security breach, you have backup/recurring backup. You also get WorkApps, account discovery, chargeback reports, user merge, eLearning, and access to Smartsheet Advanced. As for integrations, this Smartsheet tier supports DocuSign and Directory integration.
Pricing Comparison
Pro
Smartsheet's Pro plan differs widely from Wrike's Professional plan both in price and features. Smartsheet may be cheaper, but is limited in users: you can have only 25 users while Wrike includes up to 200 team members. On top of that, Wrike is advanced with cloud storage integrations, collaborators, and third-party apps. Smartsheet also provides less storage space than Wrike.
Business
When we compare Wrike vs Smartsheet Business plan, it's easy to see the huge difference in the number of features. In this case, Wrike is a little bit cheaper than Smartsheet. However, both platforms include Adobe Creative Cloud extension, proofing, and custom branding.
Wrike is limited in the number of automations per month while Smartsheet lets you set up triggers, workflows, and rules as many as you need. As well, Smartsheet offers document builders to generate custom PDFs. However, the platform lacks such Wrike features as time tracking, effort, and time allocation.
Enterprise
Like in any other pricing tiers for enterprise, Smarsheet and Wrike provide advanced security and compliance practices. Smartsheet ensures your projects stay secured with SAML, approved domain sharing, and domain validation.
Wrike includes more security functionalities like two-factor authentication, admin permissions, password policies, and single sign-on in contrast to Smartsheets product management. However, Smartsheet includes such advanced features as governance controls, event reporting, control center, and customer-managed encryption keys.
Which Is Better: Wrike vs Smartsheet?
As someone said: There's always a place for improvement. And, this phrase might become a motto for both Wrike vs Smartsheet. In fact, Wrike publishes release notes with new features or updates each week. At the same time, Smartsheet does it every few days. Still, this doesn't mean they don't have weak points.
What Are Smartsheet Pros and Cons?
Smartsheet is suitable for all business sizes for collaboration and communication because it has such benefits as:
Simple to use UI: The UI is similar to Excel so it's easy to improve work processes across all departments without involving the IT team.
Customizable dashboard: Smartsheet includes features so you can customize a dashboard to your brand.
Real-time visibility: Gives real-time information via Smartsheet Sights and live reports. Similar to dashboards, Smartsheet Sight visualizes, shares, and summarizes users' work.
File sharing: Smartsheet allows you to share important files within a project for quick access.
Productivity tools: Use simple rules to automate business processes.
However, you might consider Smartsheet competitors because of the following drawbacks:
No free plan: Smartshet doesn't have a free pricing tier. Plus, a free user profile is limited in functions and roles.
No time tracking: Smartsheet collaboration software requires you to set up additional software for time tracking and budgeting.
What Are Wrike Pros and Cons?
The number of Wrike users grows due to such advantages as:
Time tracking: Wrike includes an integrated time tracker and consolidated timesheet view to let you track time spent on tasks.
Wrike proofing: This feature allows you to add comments directly to videos, images, Microsoft Office, and PDF files attached to projects, folders, and tasks.
Conflict monitor on Gantt Chart: Wrike includes a pre-built conflict monitor that alerts you if the date shift for a certain task doesn't work for your previous plan.
Two-factor authentication: Provides extra security layer to protect sensitive data. You need to have a time-sensitive verification code together with a username and password.
Free plan: The platform offers a free pricing plan that includes all basic product management features and unlimited users.
Task dependencies function: You can decide in which order to work on your tasks to reach the desirable progress faster.
Mobile apps: Allow users to simply track and monitor the project progress from their mobile devices.
However, Wrike may fail to meet users' expectations because of such disadvantages as:
Long onboarding process: Onboarding might take longer than it should.
Lack of a few basic features: Wrike doesn't have comment tagging and task conversation capabilities, inbuilt messaging system. Besides, project tracking is a little bit limited.
Task export in Excel format: You can only manually export your tasks from Wrike in Excel format.
How to Migrate Data to Smartsheet or Wrike?
At some point, we all decide to switch off to a new project management system. The reasons might be various: a lack of features, multiple bugs and downtimes, expensive pricing, etc. But the question is, how to migrate your projects?
Both Smartsheet and Wrike support native importers to import your data. You can transfer projects, files with tasks, and folders directly to Wrike. Wrike offers MS Project and MS Excel import and export as well. As for Smartsheet, the collaborative tool provides you with the option to import projects from MS Excel, Microsoft Project, Google Sheets, and Atlassian Trello.
Moreover, both Wrike and Smartsheet support data migration via a third-party solution. For example, the Project Management Migration service allows you to import and export your data automatedly and securely. This way you save time on redundant work and prevent potential downtime.
Should You Choose Wrike or Smartsheet?
If you prefer to use spreadsheets, go with Smartsheet. With its rich feature-set, this project management solution is perfect for managing the team workload and individual projects.
Otherwise, Wrike is the better option for a full-scope product management suite. The platform provides simpler, affordable options for small businesses. Both Wrike vs Smartsheet have solid packages for small to middle-sized teams.
And when you choose a suitable platform, consider Project Management Migration System to take care of your data migration.
Want to migrate to Wrike or Smartsheet?
Let's migrate your data automatedly
Setup a free Demo