Trello vs Monday Comparison: Which Project Management Tool Is Best for Small Business
How to make your Trello vs Monday dilemma painless? Point out your needs, think of your daily project management agenda, and use your intuition. Anyway, did you know that only 25% of companies find project management software helpful, while it's the core resource for 77% of successful projects? The problem is poor analysis and bad awareness. So, let's work on it!
Key Takeaways
Trello provides more advanced automations and task dependencies than Monday.com.
Monday.com streamlines project creation with pre-made templates, while in Trello, you create templates from scratch or use templates of other Trello users.
Monday is more expensive and offers a more limited free plan than Trello.
You can use Trello and Monday for Agile project management unless you need robust Agile software.
Monday Gantt chart is more functional and modern than the Trello Gantt chart.
Trello Kanban provides deeper insights than other Trello views.
What Is Trello?
Trello is one of the top project management tools that streamline team collaboration and make project planning and scheduling a breeze. With this collaboration software, you can get a bird's eye view of your projects and drill down into small details. The intuitive interface, custom buttons, and keyboard shortcuts eliminate the learning curve.
You can manage your teams as separate departments with Trello Workspaces and collaborate across the organization. If you like to manage things on-the-go, Trello's mobile apps can come in handy.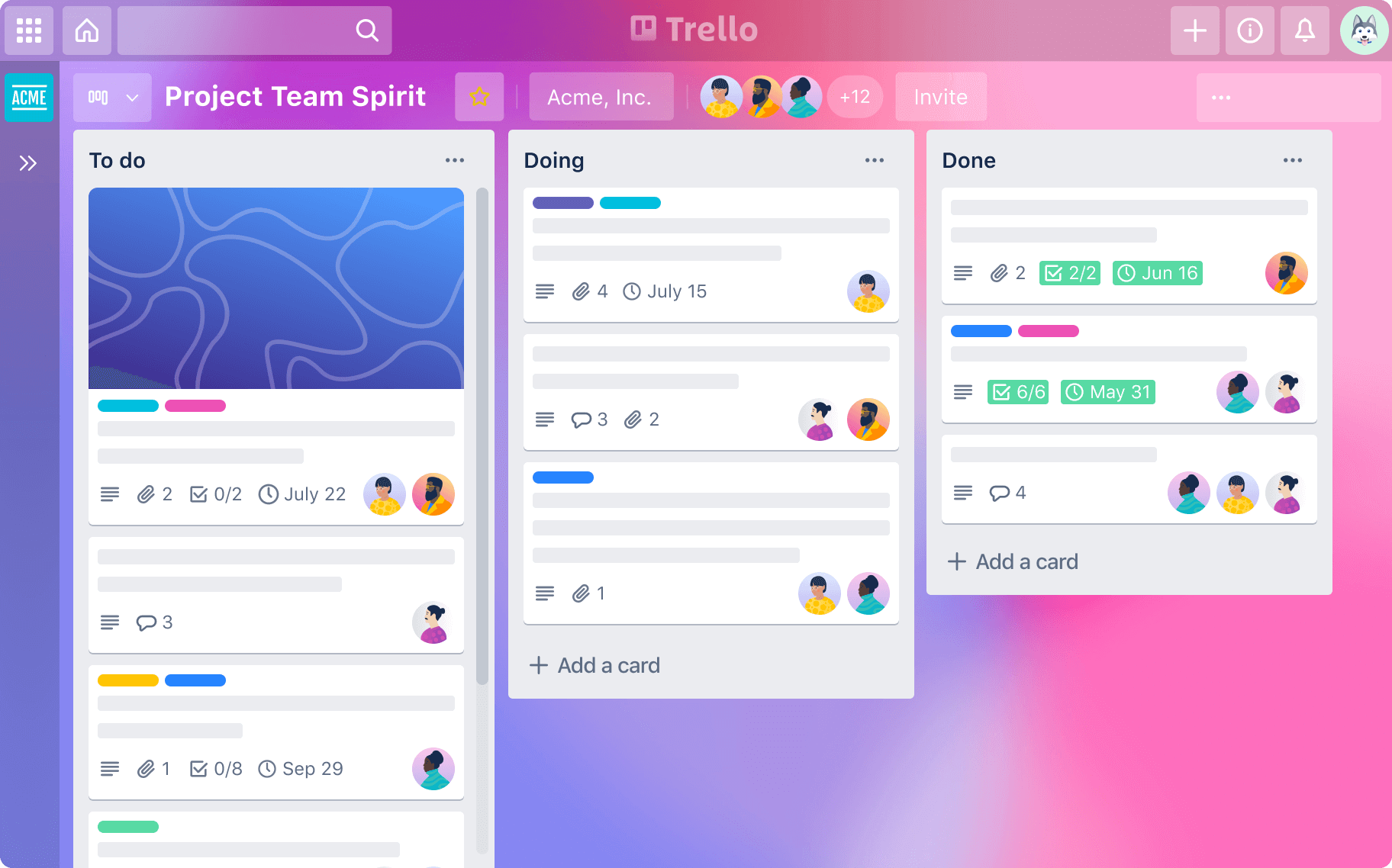 Source: Trello
What Is Monday?
Monday.com is one of the leading project management and work operating systems that helps all-sized teams increase efficiency and make things more transparent. It delivers a well-structured and modern interface and helps focus on specific project areas with multiple views and templates. Team communication features and sharable project boards keep everyone on the same page.
Monday task management ensures your workflows run smoothly due to its customizable structure. Add, edit, or remove work blocks to enhance productivity and reach your goals faster. Wish for quick results? Create Monday.com recurring tasks and set custom automation recipes.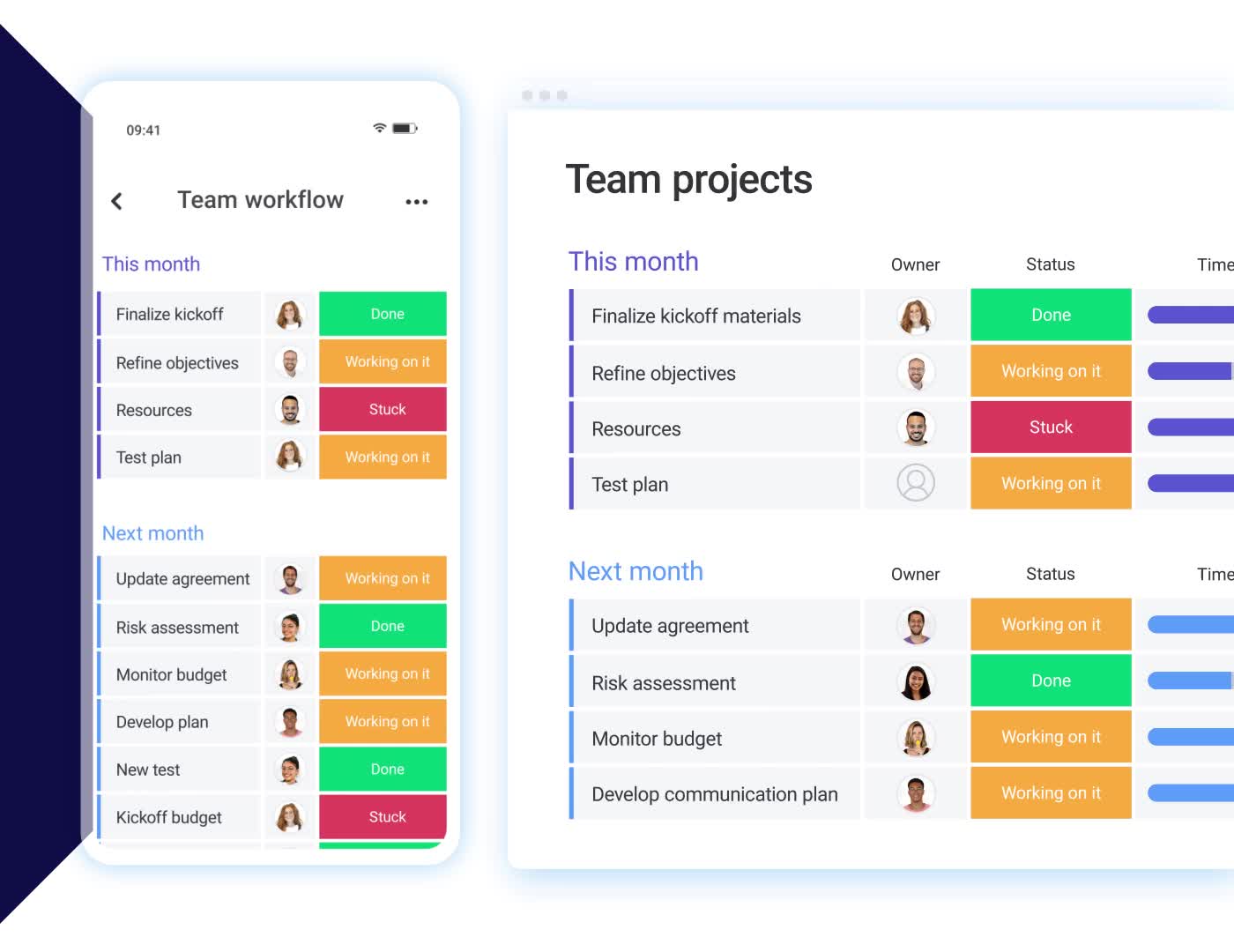 Source: Monday
Trello vs Monday: The Key Project Management Features
| | | |
| --- | --- | --- |
| Features | Zoho Projects | ClickUp |
| Ease of use | Easy | Easy |
| Business size | Small, medium, large | Small, medium, large |
| Time tracking | No | Yes |
| Project views | Yes | Yes |
| Subtasks | No | Yes |
| Custom automation rules | Yes | Yes |
| Forms | No | Yes |
| Custom buttons | Yes | No |
| Pre-made templates | No | Yes |
| Keyboard shortcuts | Yes | No |
| Functional mobile apps | Yes | No |
What Are Trello Features?
Board is a place to keep and track projects. It displays lists with tasks sorted out by their status and priority. The board menu contains control settings, task search, automation settings, and member board permissions.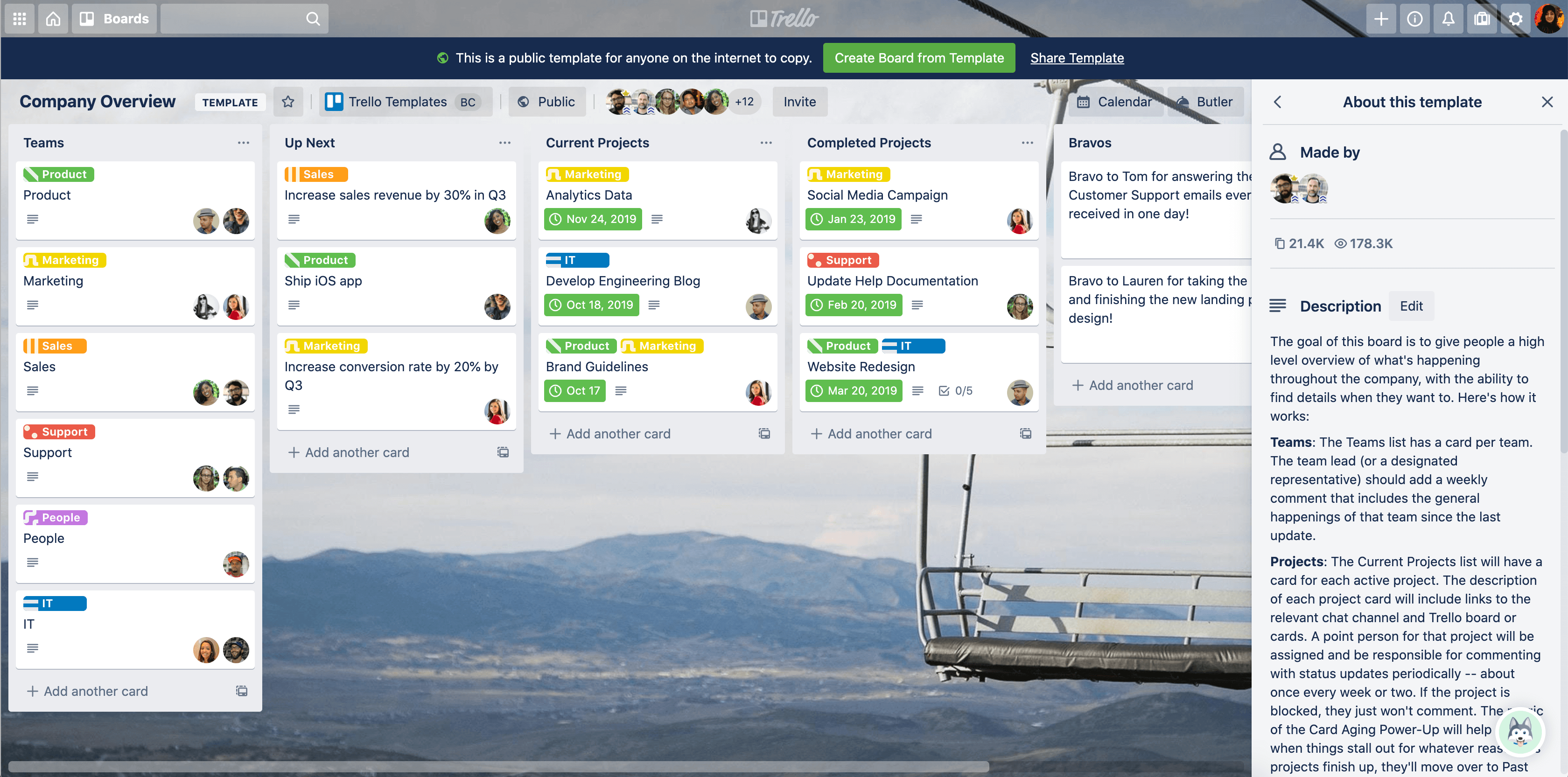 Source: Trello
Lists define the task status like To Do, In Progress, or Done, so the tasks move across each list until it's deployed. You can add unlimited lists to your board and thus create custom workflows.
Cards contain data about the task, including the assignee, description, and due date. Since you can add custom names to the lists, cards can represent any information, be it news or notes.
User permissions. Decide who can access your boards and create or edit content. Trello offers several types of board members with different permissions. Some can do everything, while others can only view the data.
Checklists help teams track subtasks within a card. You can copy items across checklists and mark them as complete. The Advanced Checklists allow you to set recurring checklists and automatically assign items to team members, and set due dates.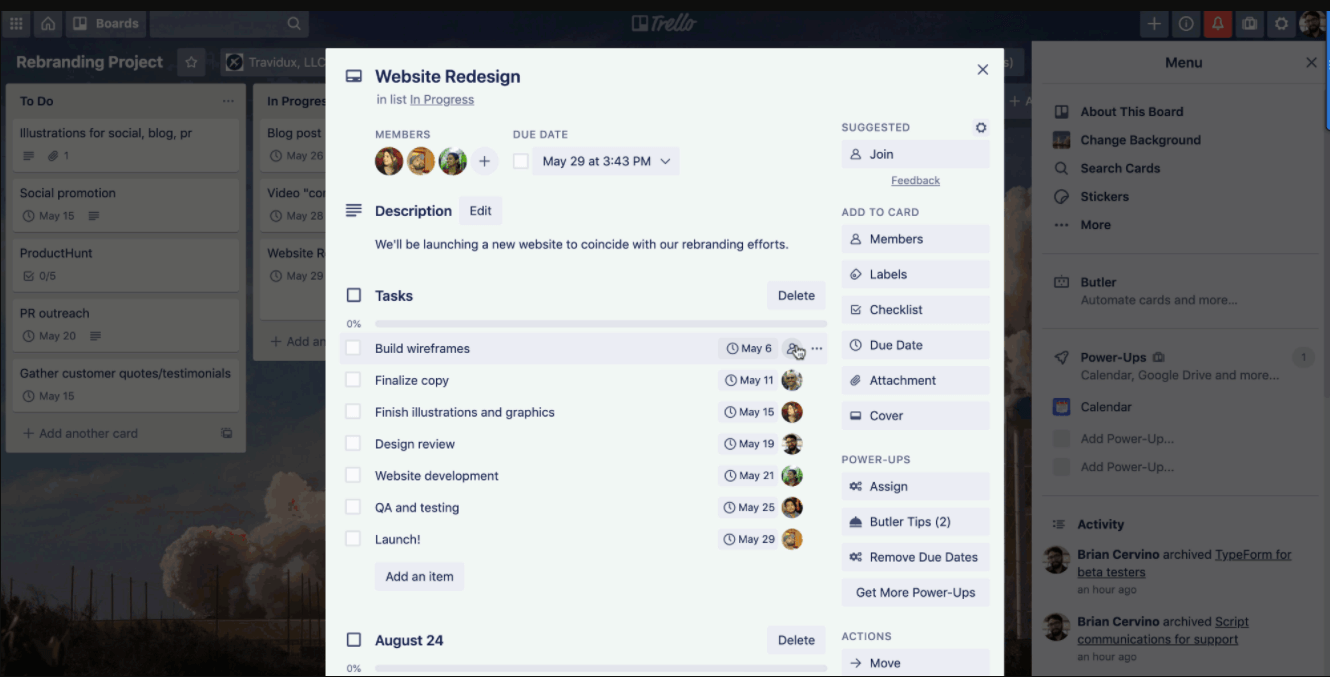 Source: Trello
Automations in Trello are trigger-based rules, custom buttons across a board, and calendar & due date commands. You can automatically detect repetitive tasks and set rules using a rule builder.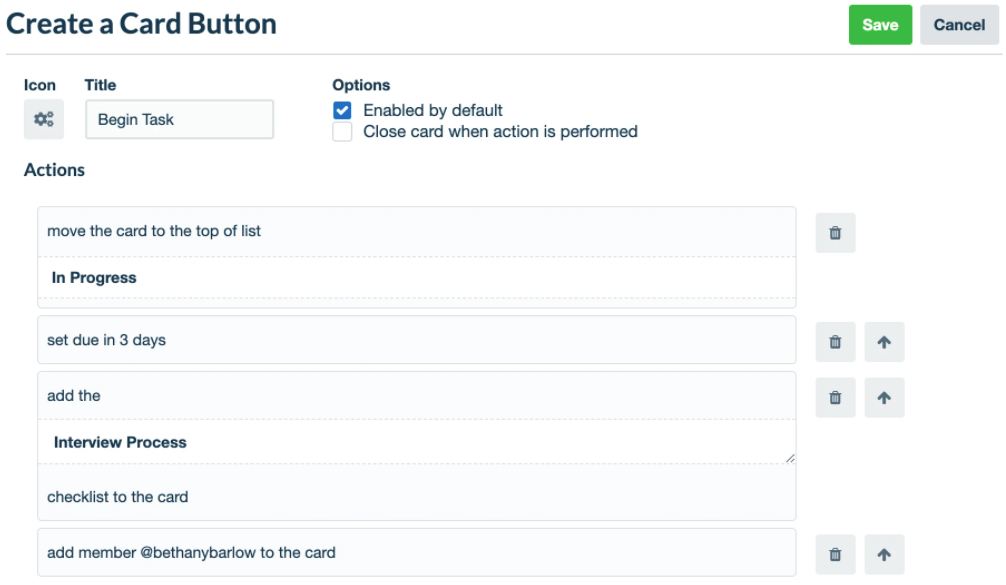 Source: Trello
Project views include Timeline, Board, Workspace, Calendar, Dashboard, and Map. The Dashboard and Workspace views provide a quick summary of your projects, while the Calendar and Timeline views demonstrate your progress against time.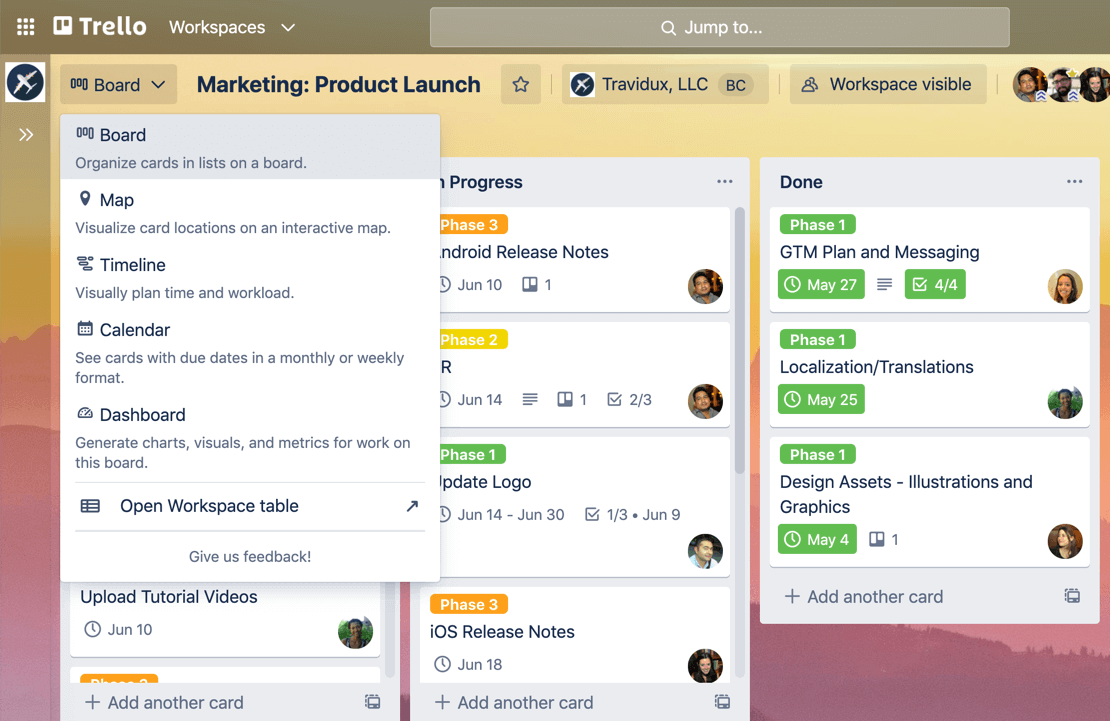 Source: Trello
Templates are primary copies of boards. Once you create a board, you can convert it to a template and reuse it for other projects. You can reach the Trello template gallery from your home screen and get free templates created by other Trello users.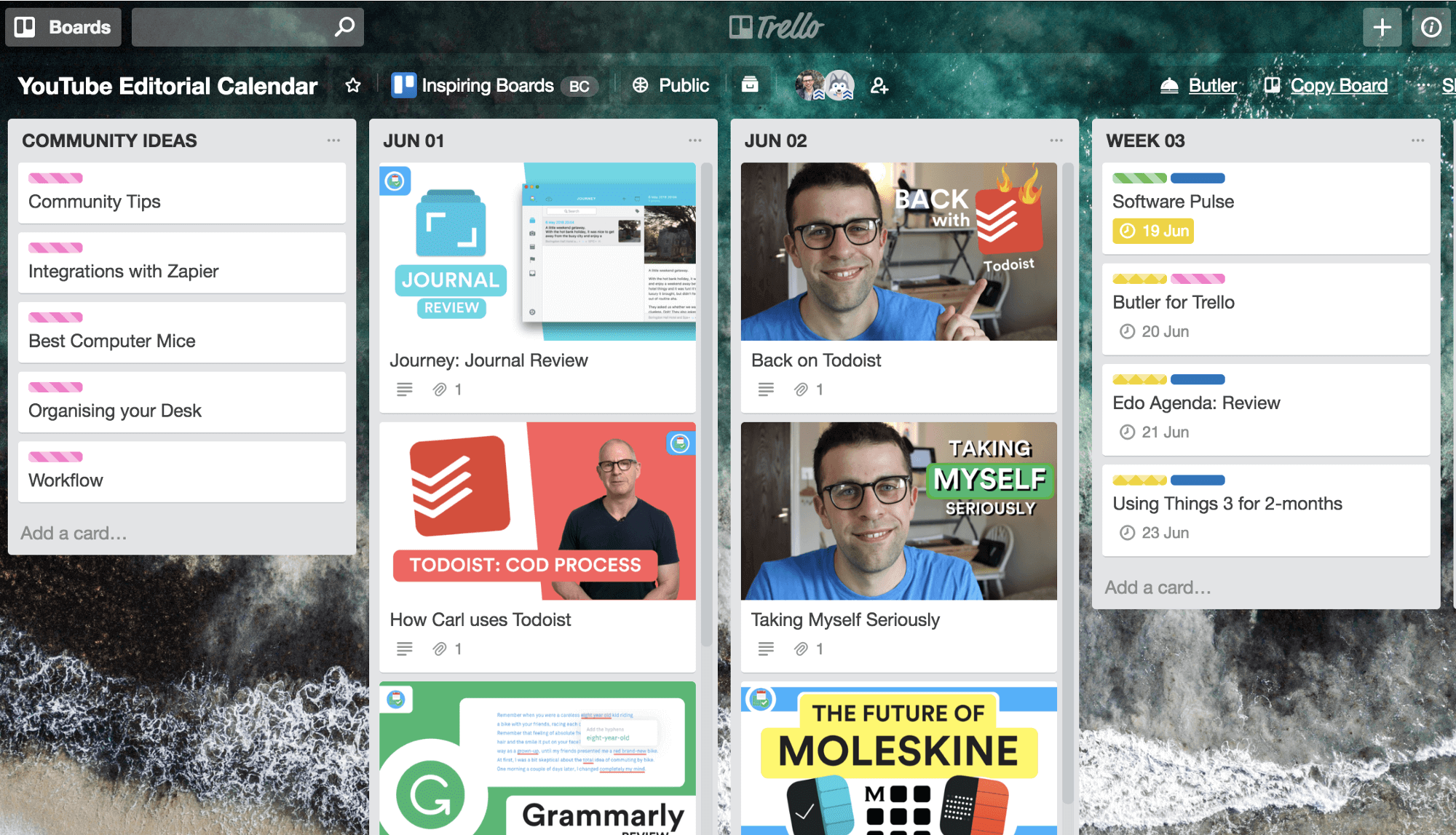 Source: Trello
Task dependencies are subtasks or prerequisites that can be stored as items in checklists. You can automate the dependency links and card state updates.
Keyboard shortcuts help you quickly navigate, create, copy, or filter cards, search for boards, add checklists, attach links, and more. The "Undo" and "Re-do" shortcuts eliminate extra moves.
Power-Ups are Trello apps and third-party integrations that bring extra capabilities to your board. Some Power-Ups add a customizable button to your header to access it with a click.
Security. Trello certifications include SOC2 Type 2, ISO/IEC 27001, FedRAMP, and PCI-DSS. It is GDPR-compliant and follows Standard Contractual Clauses. It keeps data secure with automated vulnerability scans, AWS hosting, AES-256 encrypted backups, network security, and access control.
Mobile app for iOS and Android allows you to create, update, assign tasks, create checklists, share files, and add comments. You can work offline and set push notifications to stay tuned.
What Are Monday.com Best Features?
Templates. You can use the pre-made Monday board templates for marketing, project management, sales, design, software development, and HR and customize them to your liking. Also, you can convert a project board into a template and make it accessible for all account members via the Template center.
Source: Monday
Project views include Chart, Gantt, Calendar, Timeline, Workload, Kanban, Table, Form, Cards, and Files view. You can quickly switch between the views and set a default board view. You can select the favorites to access them faster if you add many views.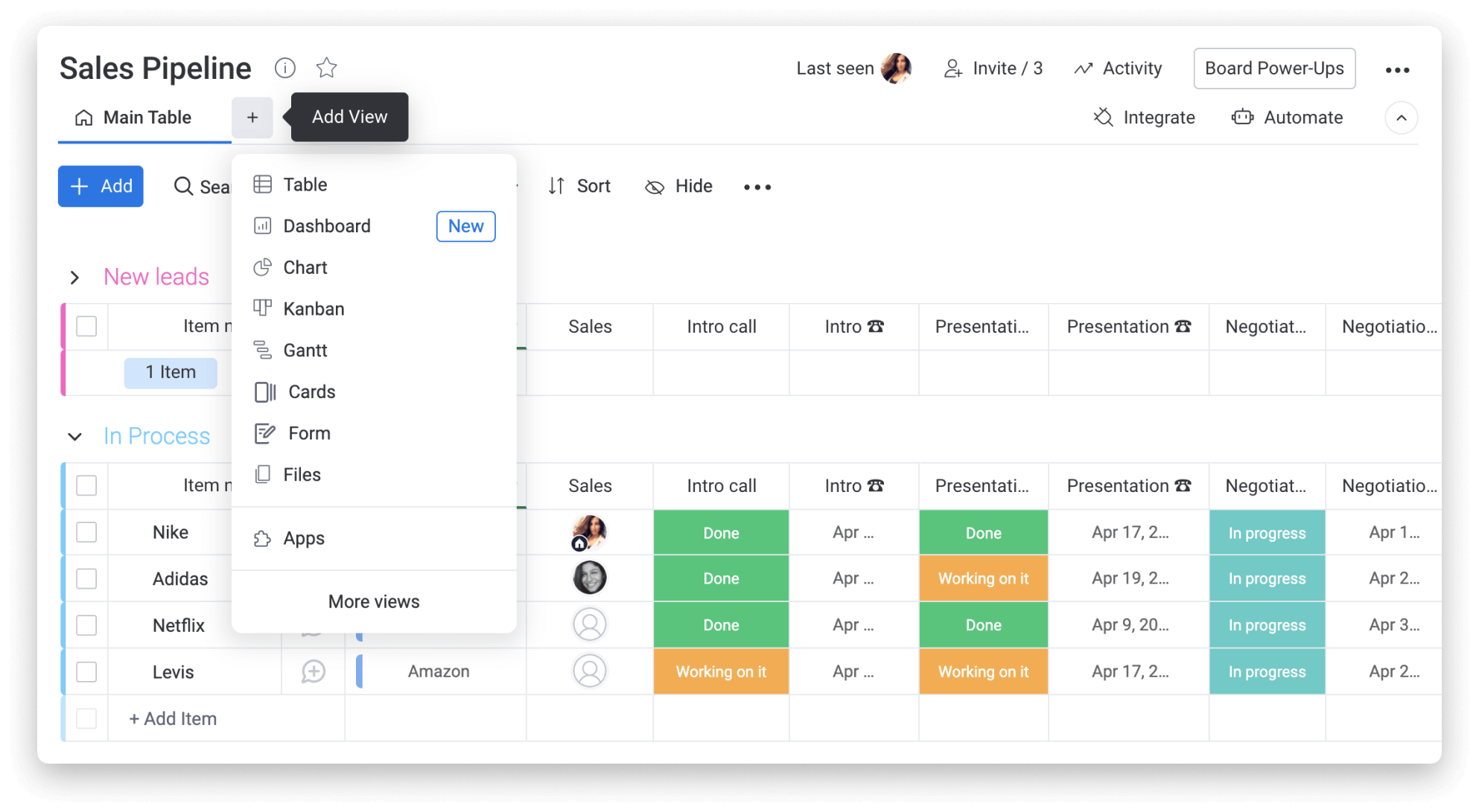 Source: Monday
Dashboards give you a bird's eye view of multiple project boards. With Monday widgets, you can group boards, create summaries, and focus on particular things.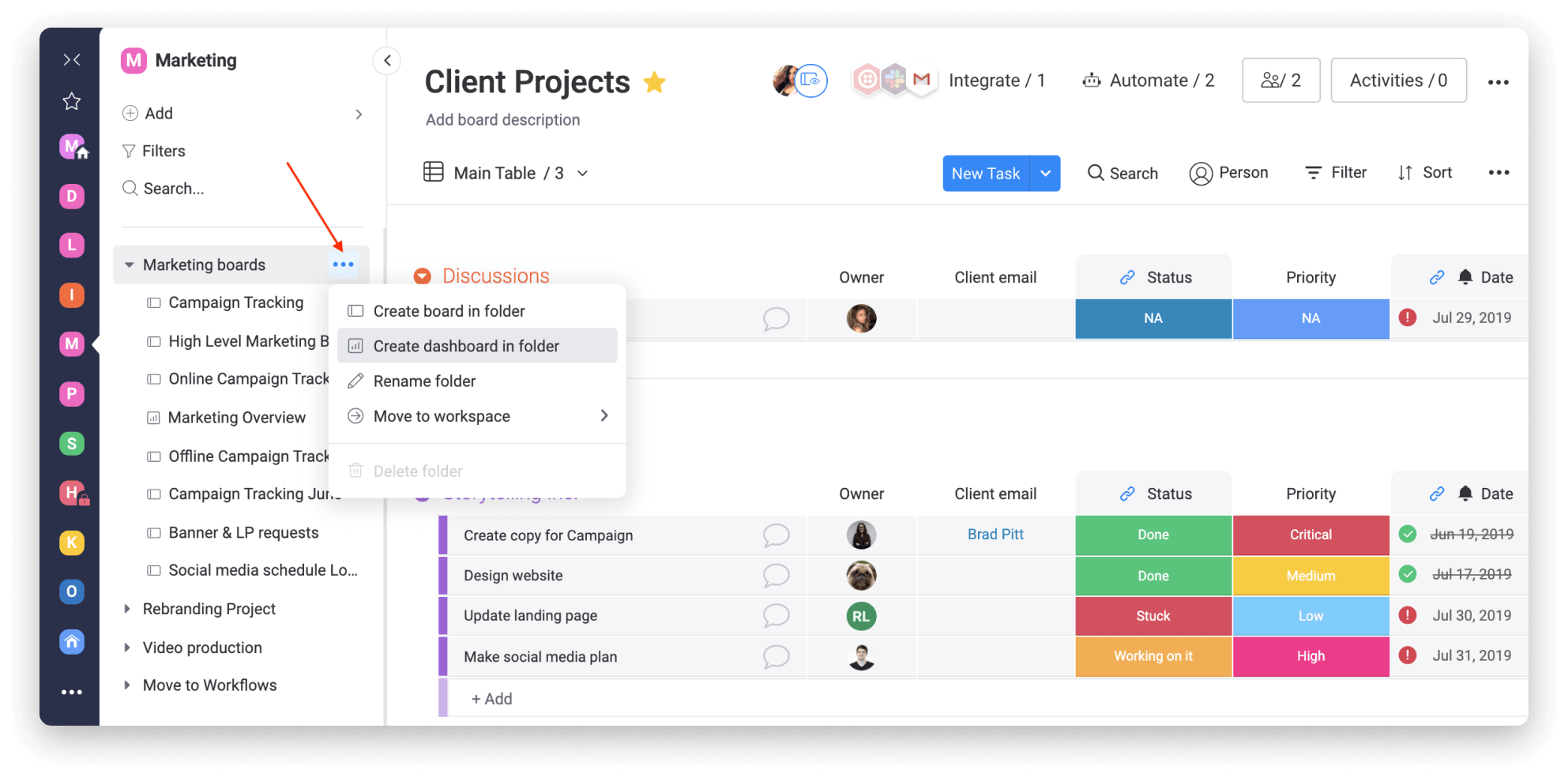 Source: Monday
Gantt view looks like a grid where tasks are placed vertically against a horizontal timeline. You can view task dependencies and add project baselines to your Gantt chart view.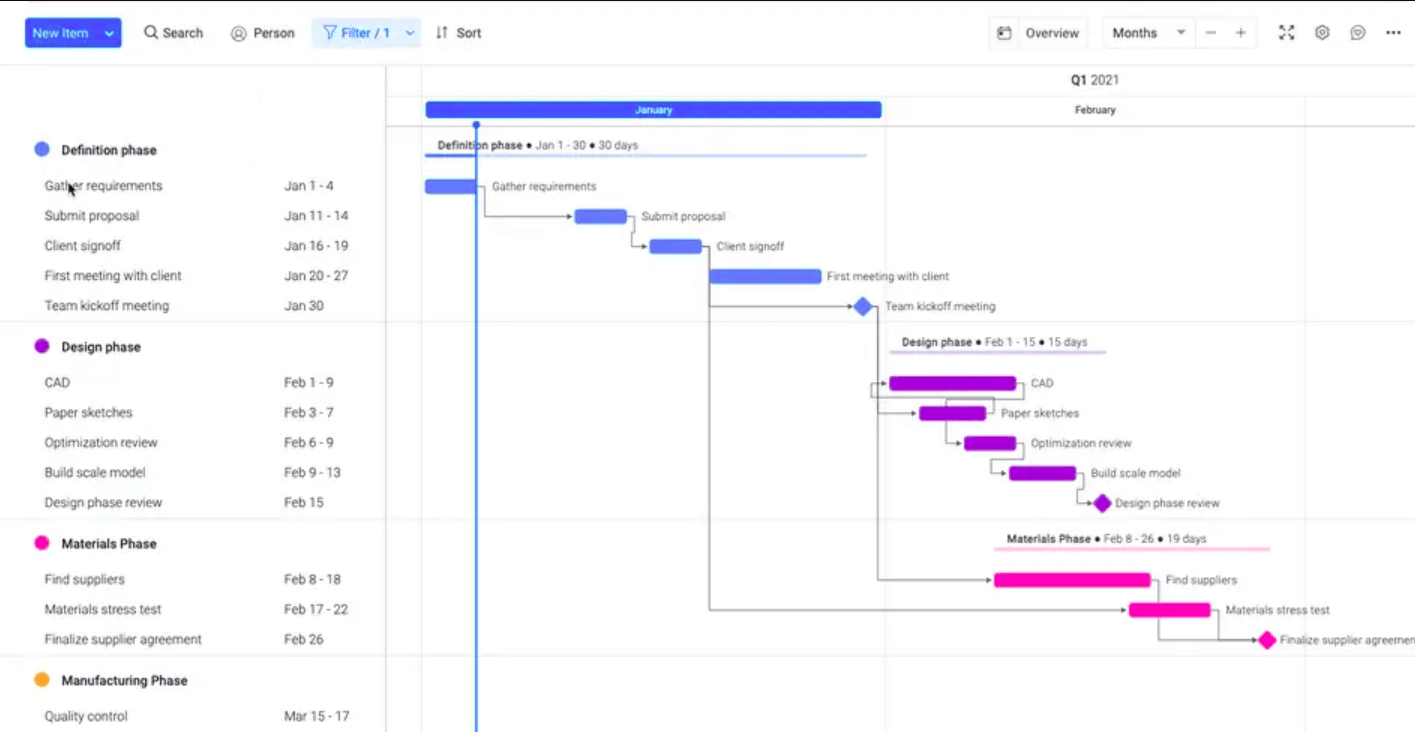 Source: Monday
Kanban view arranges your tasks into columns based on their progress stage. You can choose what task information to display, add covers, create subtasks, and move tasks between the columns by dragging and dropping.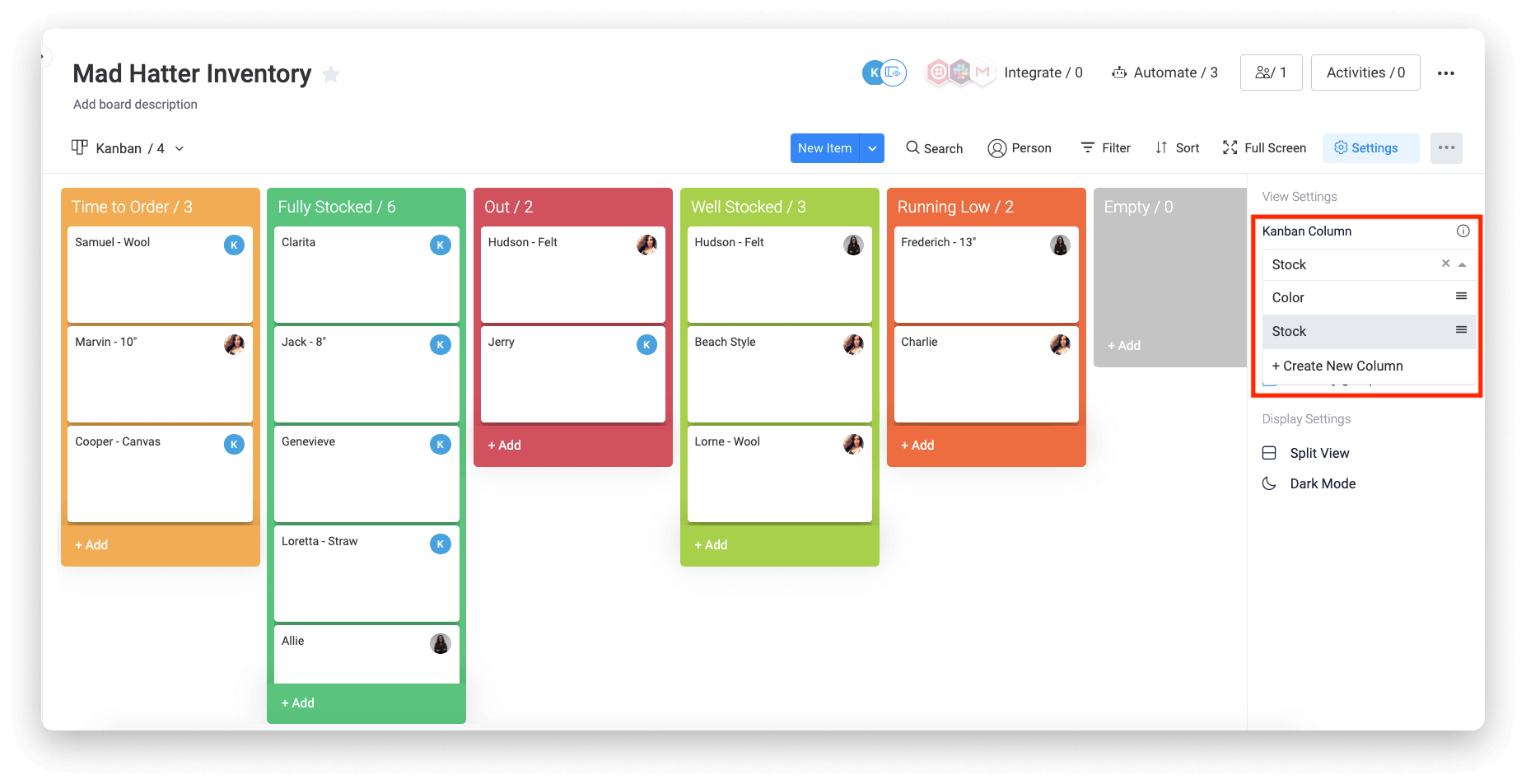 Source: Monday
Dependency column allows you to create task dependencies to avoid overlapping task dates and enhance workflows. Connect the Dependency column with the Timeline or Date column to set the dependencies and track them on the board.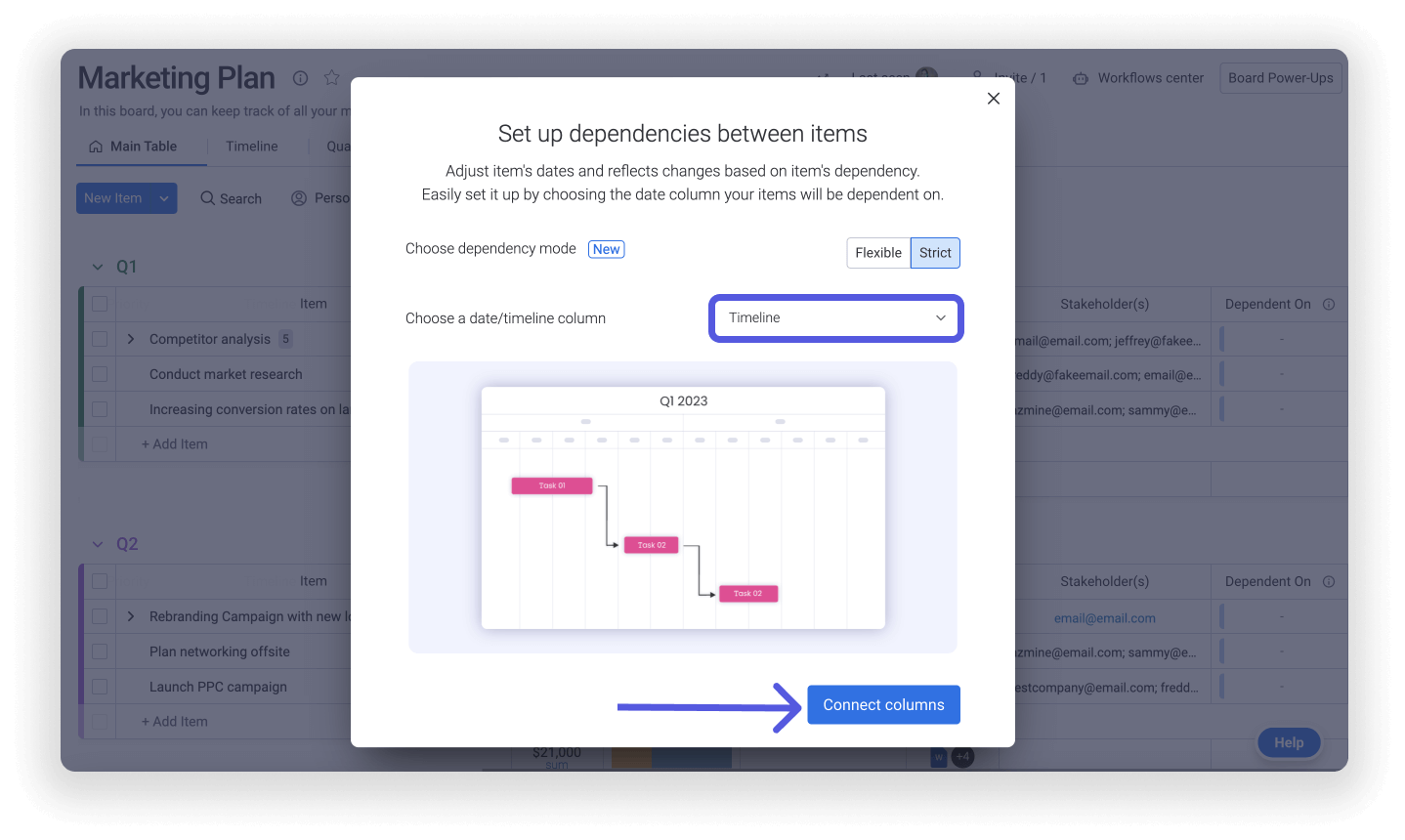 Source: Monday
Automations include the pre-made workflow rules and your own recipes with custom triggers, conditions, and actions. You can set multi-step automations by adding more actions to a single rule.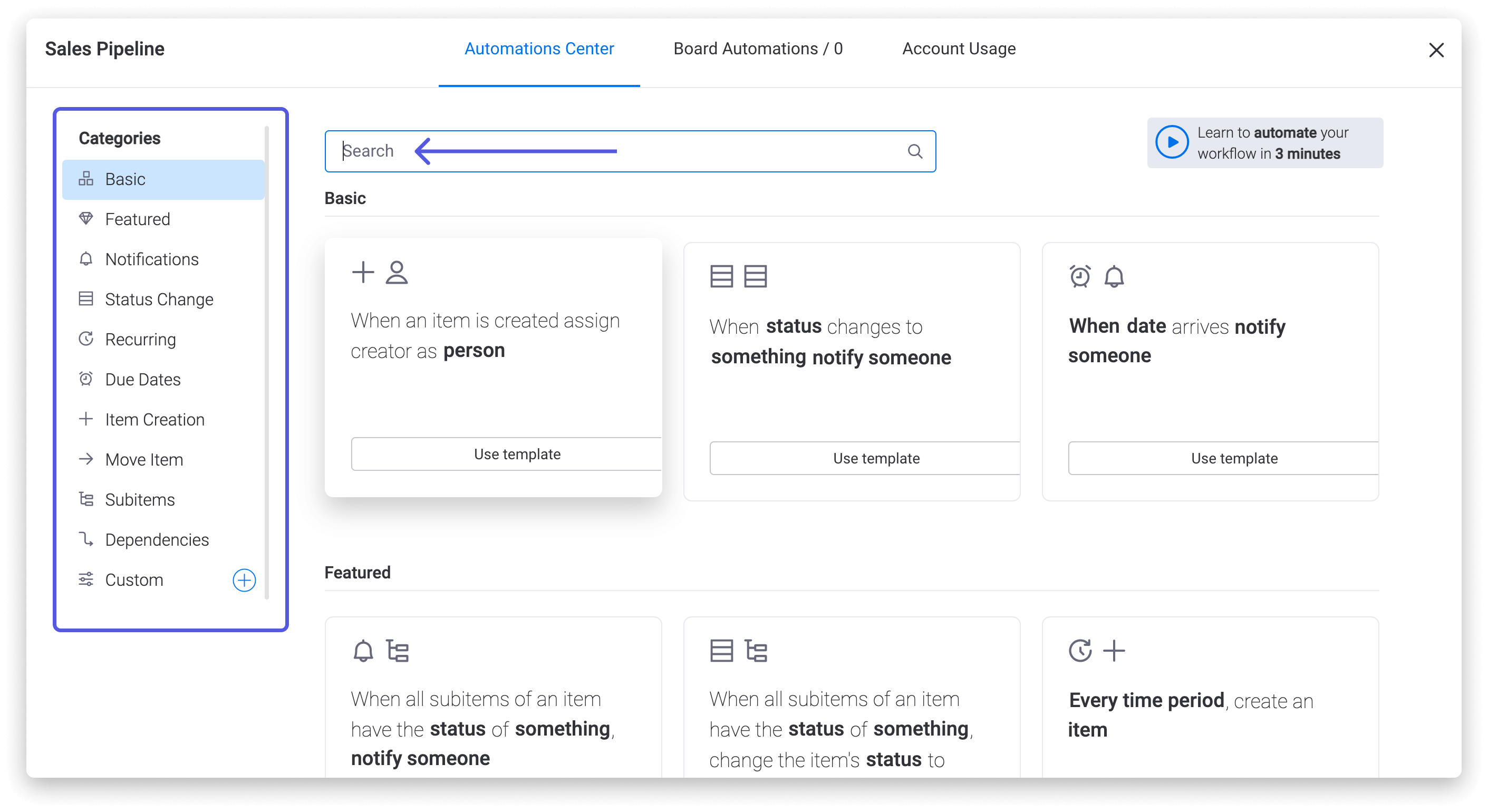 Source: Monday
Time tracking column displays the time spent on each task or subtask. You can start and pause the time tracker or enter time manually. The log history stores all entries and can be exported to Excel.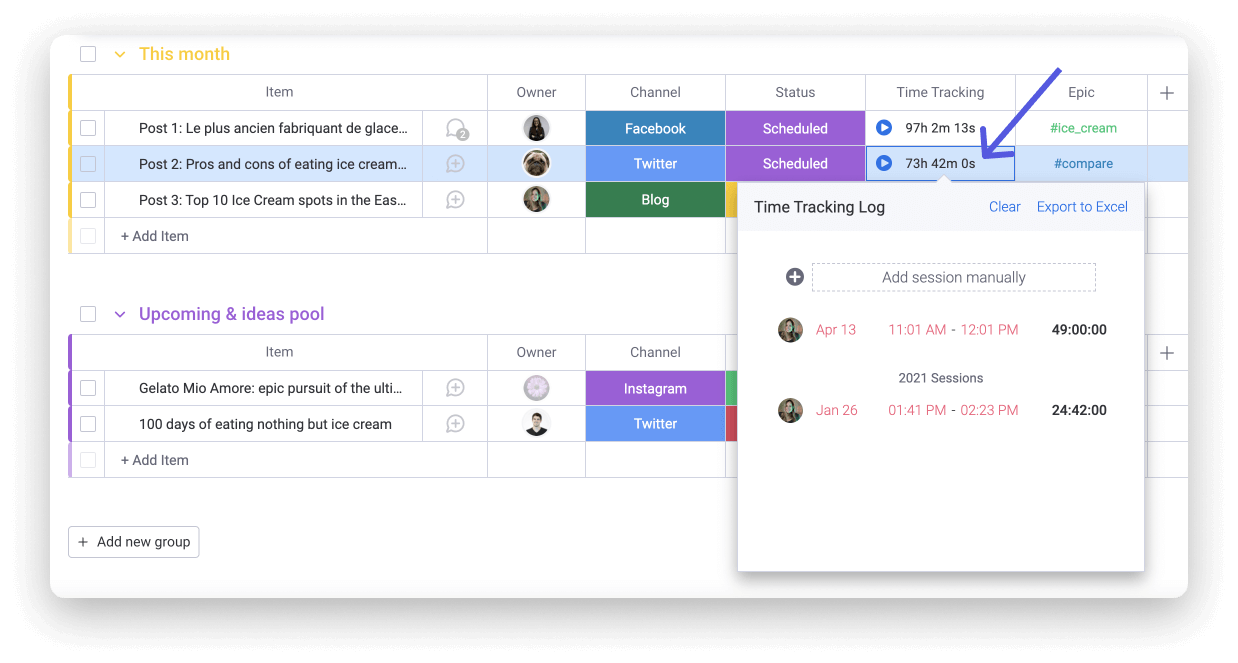 Source: Monday
Docs are work docs to collaborate with your teammates. Create docs from scratch or use templates. You can make docs private or sharable and @mention colleagues to invite them for co-edition. You can restore the older versions to review or undo the changes in a doc.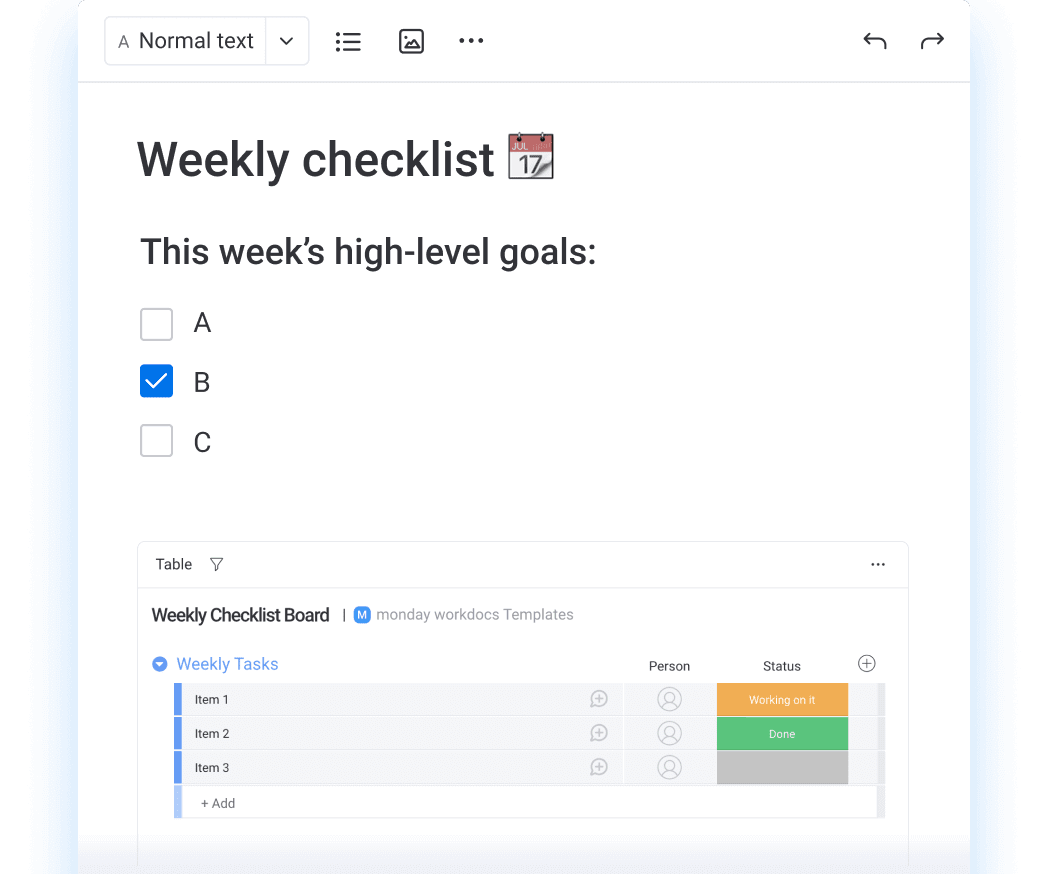 Source: Monday
Files column contains all the files you add to your project board. You can upload files from a link, computer, DropBox, or Google Drive and store your work docs here. The file formats include JPEG, GIF, Word/Doc, PDF, XLSX, CSV, MP4, and more.
Forms are online forms with multiple input fields to collect information. You create forms based on your boards using a form builder. You can use pre-made templates and boards like Contacts, Job Application, or Work Request to generate forms in a few clicks.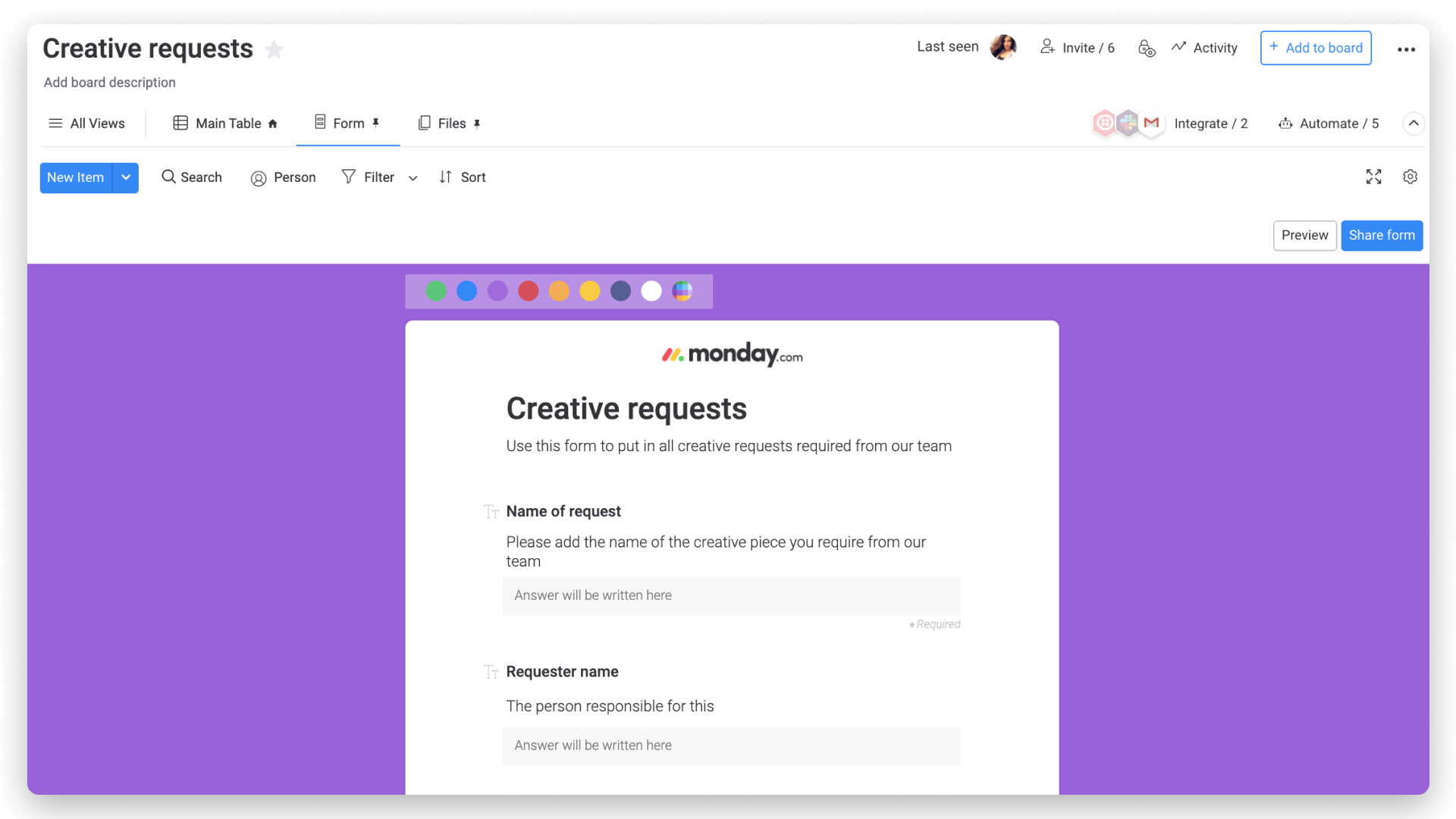 Source: Monday
Integrations center offers apps for communication, marketing, eCommerce, software development, finance, and more. You can add different integrations to particular boards and track related updates.
Security. Monday.com ensures data safety with AWS hosting, firewalls, DDoS mitigation, NIDS sensors, penetration tests, and more. It uses AES-256 encryption for user data and TLS 1.3 encryption for traffic. Data is backed up every 5 minutes.
Mobile app for Android and iOS lets you manage boards, add board views, view dashboards, and check notifications.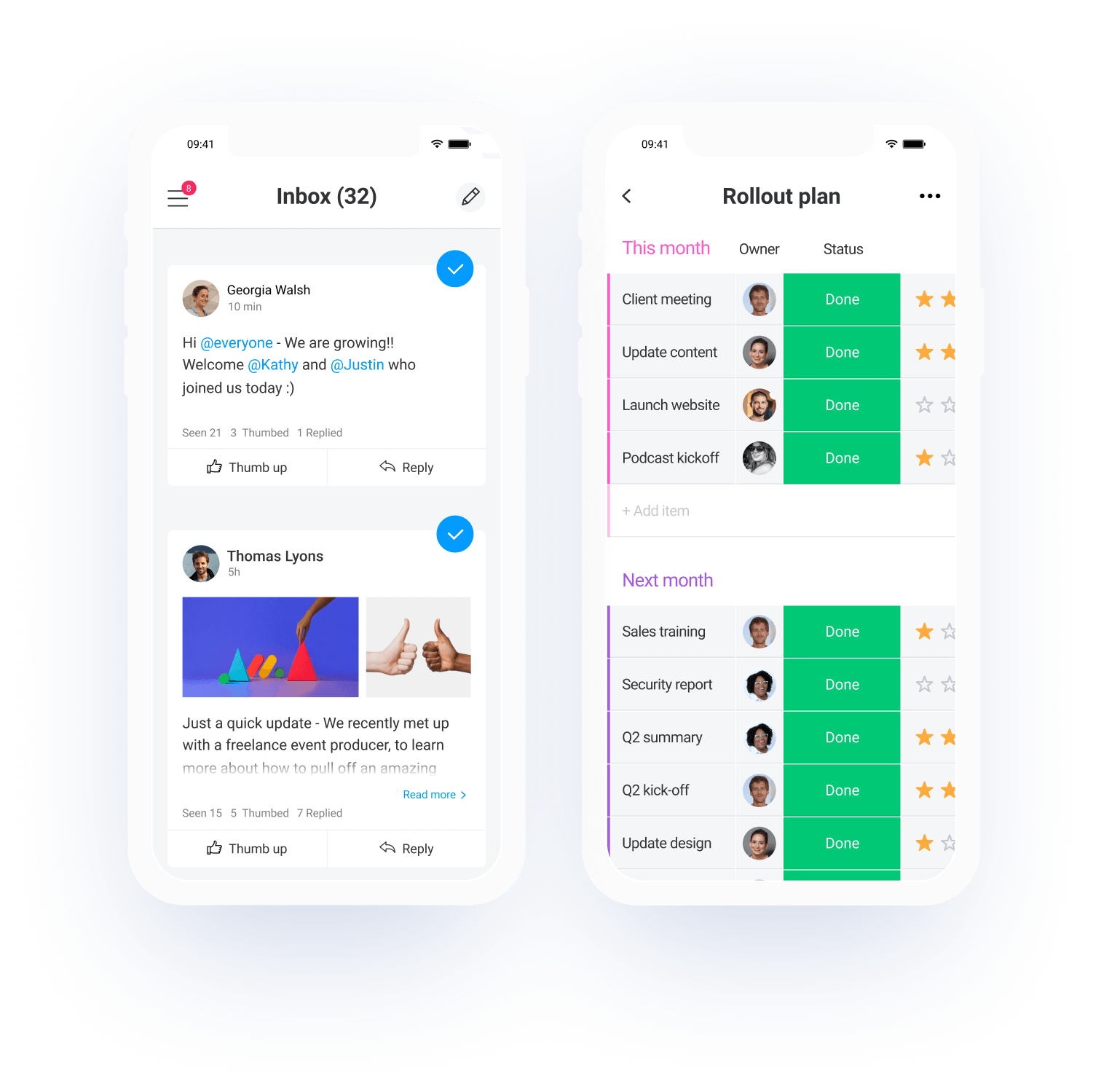 Source: Monday
How Much Does Monday.com Cost Monthly?
Monday offers five pricing packages, including a free plan. While you can add up to 2 members on the free plan, the minimum user number on other plans is 3 members. The freemium offers few features, though you can use the 14-day free trial of a higher plan and decide whether it's worth the price. So, what does the pricing look like?
Individual is the free plan that includes 3 boards, Kanban view, unlimited docs, over 200 board templates, 20+ column types, sharable forms, a 1-week activity log, and apps for Android and iOS.
Basic costs €8/user/month if billed annually and offers unlimited boards & items, unlimited free views, a dashboard based on 1 board, and prioritized customer support.
Standard is Monday's most popular plan, costing €10/user/month. It includes Calendar, Timeline & Gantt views, automations, guest access, integrations, and a dashboard based on 5 boards.
Pro adds private boards and docs, Chart view, time tracking, dependency column, a dashboard based on 10 boards, and more automations and integrations.
Enterprise provides advanced automations & integrations, enterprise-level security, advanced reporting, multi-level permissions, onboarding service, premium support, and a dashboard based on 50 boards. The Enterprise price is custom.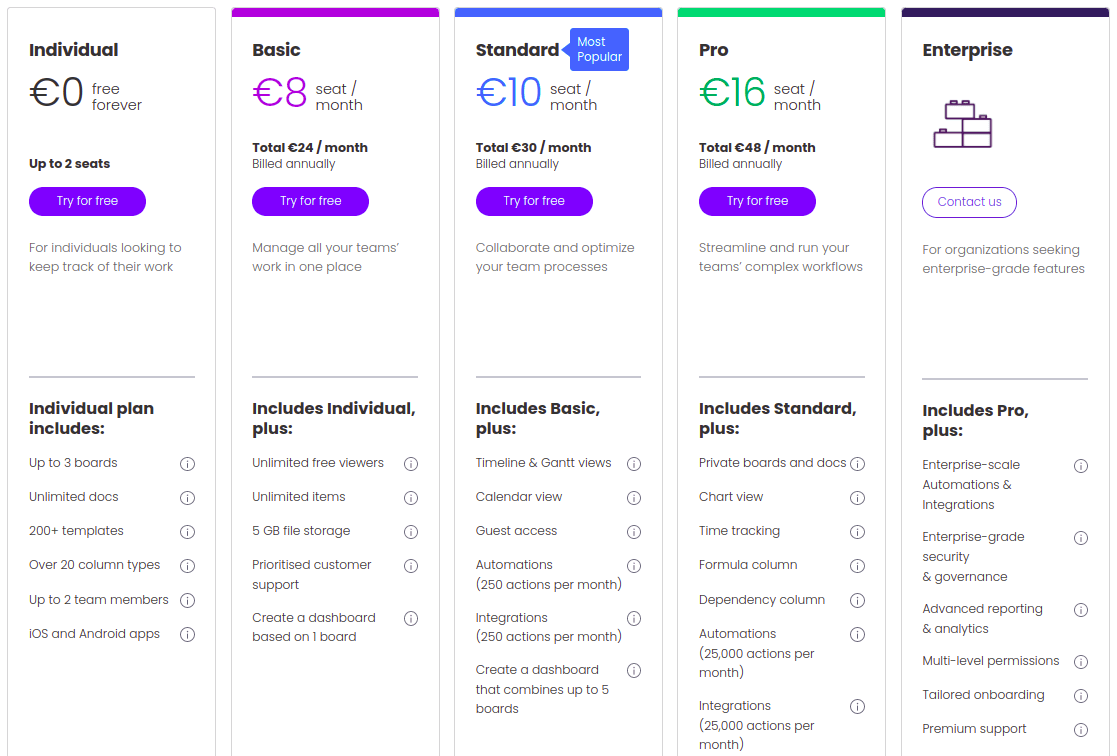 Source: Monday
How Much Does Trello Costs?
Trello's pricing structure includes three paid plans and a freemium plan. There are no user limitations on any subscription except the Enterprise plan. This makes Trello a good choice for any-sized business, as well as private use. Let's check what Trello plan is the best for you.
Free provides unlimited cards and Power-Ups per board, up to 10 boards per Workspace, unlimited storage & activity log, 250 automation rules, and apps for iOS and Android.
Standard costs $5/user/month if billed yearly and includes unlimited boards, advanced checklists, custom fields, 1,000 automations, single board guests, and saved searches.
Premium is the most popular plan that costs $105/user/month. It adds project views, workspace views, unlimited automations, board collections, board observers, priority support, and simple data export.
Enterprise includes cross-organization permissions, unlimited workspaces, multi-board guests, public board management, and more security features.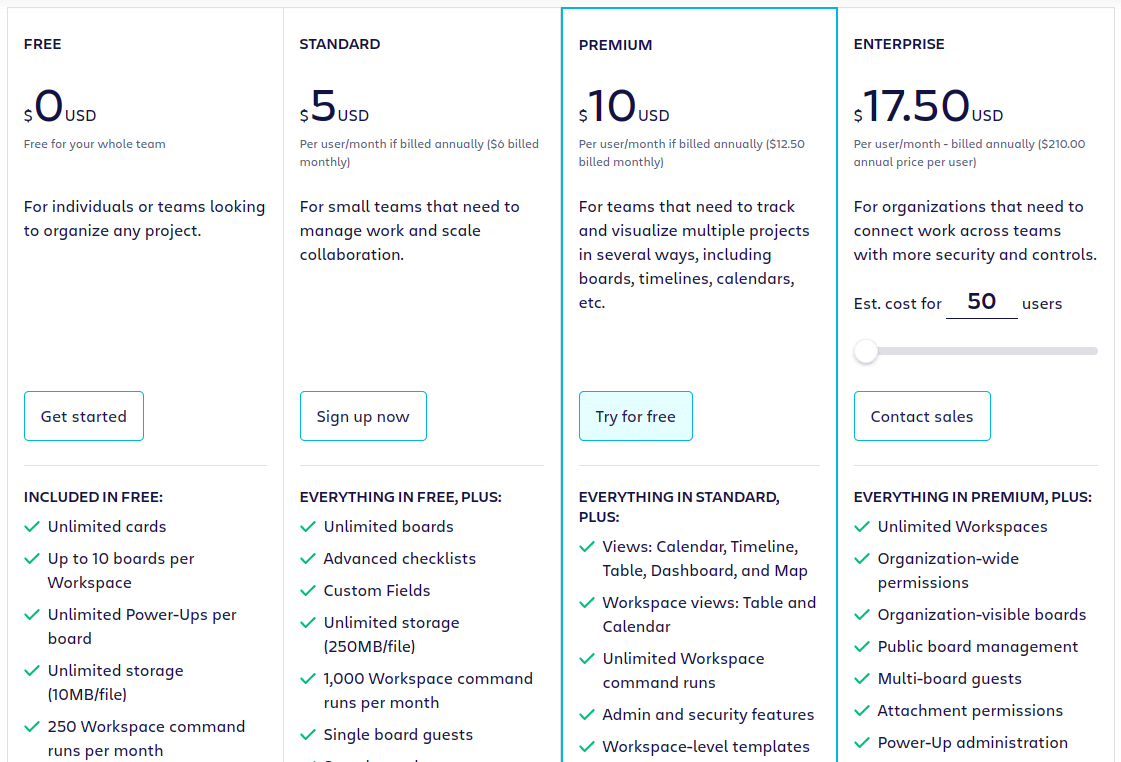 Source: Trello
Trello vs Monday: Weighing Up the Pros & Cons
The toolsets of both project management platforms are powerful and out-of-the-box. Both project management systems are customizable and easily adaptable to any work style. At the same time, both Monday vs Trello have areas for improvement, and those might be decisive for you. So, let's check the strong and weak points of Trello and Monday.
Why Should You Use Trello for Project Management?
Create custom buttons
Save search queries
The free plan allows unlimited users and includes many features
Keyboard shortcuts save time and streamline navigation
Custom buttons allow you to tailor to your work frame
The mobile app has many functions
What Are Trello's Shortcomings?
Most project views are available only on the Premium and Enterprise plans
It doesn't provide pre-made project templates
No built-in time tracking
You can create subtasks only through task dependencies
The free trial is available only on the Premium plan
What Is the Advantage in Monday.com?
Pre-made board templates save time
Board-based forms can be used for various purposes
You can monitor team performance with a customizable time tracking column
Project dashboards provide deeper insights into your progress
You can create subitems and manage them with multiple columns
The Gantt view is clear and functional
What Are the Disadvantages of Monday?
The mobile app has few functions
Automations are less robust than in Trello
You can't view the file dates and edit the file names in the Files column
Only time-based task dependencies available
The free plan is limited
What Companies Use Trello for Project Management?
Trello caters to the needs of various industries, such as IT, Software Development, Marketing & Advertising, Internet, Construction, Healthcare, and Finance. The use cases include
Project & task management
Brainstorming
Meetings
CRM
Editorial calendar
Professional services
Trello claims to provide software for over 4,5 million users across the world, including Google, Paypal, Spotify, Unicef, and other famous companies.
Who Are Monday.com Users?
Monday's key functionality revolves around task management, collaboration, and team efficiency, which are the core elements of nearly any business. Thus, it fits multiple industries, including
Software development
Manufacturing
Construction
Marketing & Advertising
IT
CRM
Non-profit organizations
Monday claims to have over 100,000 customers, including Samsung, Adidas, Coca-Cola, Universal Studio, and Adobe.
How to Migrate to Trello or Monday?
So you already know who's the one for your project management. What's next? The next step is importing data to the desired project management system, which brings efficient features for SMBs of nearly any sector. There are three key ways to carry through this process: import records as a CSV file, use the vendor's import tools or transfer data automatedly using the Project Management Migration service. The last option involves a Free Demo migration before buying your project management system migration. Need customization? Schedule a call, and we'll find the best-fitting solution for your data migration case.
Trello vs Monday: Which Collaboration Tool Suits Your Team
Before saying the Monday vs Trello verdict, let's be logical and rest on Monday and Trello's benefits and flaws. If you choose Trello, you'll need to look for a time-tracking app and create project templates from scratch. Still, you'll have robust automations and great mobile apps. Monday's poor task dependencies and mobile apps might make you want to consider a Monday alternative. Still, this project management software provides outstanding task management. Thus, make your business needs the key criteria, and you'll make the right choice.
Frequently Asked Questions
Monday provides various pre-made templates and views, while Trello is more Kanban-focused.
Monday streamlines task management with ready-made project templates, subtasks, automations, and customization options.
Jira is more robust and can scale software development needs better. Monday.com is an easy-to-use and comprehensive tool that suits general project management needs.
Trello competitors include Monday.com, Smartsheet, ClickUp, Wrike, Asana, Basecamp, and Teamwork.
Monday provides a Kanban view that is close to the Kanban board. You can arrange tasks into columns by status and drag and drop them between the columns.
The top project management platforms include Asana, Jira Software, ClickUp, Trello, Monday.com, and many more. To choose the best, consider your business requirements.
Want to migrate to Trello or Monday?
Let's migrate PM data together!
Try for free