What Is Monday Software?
Once you are reading this Monday.com's project management review, you probably seek full but clear information about this tool. Well, you're at the right place. Let's start with no long entry speeches.
Monday.com project management software helps to plan, elaborate and run projects in a professional way. It is a collaboration tool with admins, team members, and workflows, that settles things down right away. It delivers advanced task management, powerful tracking possibilities, centralized team communication, and many other benefits. On top of that, this solution ensures high-level security of your data with regular checks and back-ups.
Where to Start?
Monday.com has a flexible structure that you can tailor to your needs and preferences in a few clicks. All data is stored in customizable boards that you can use for numerous purposes. Also, the tool provides a dashboard displaying information from all possible angles. With this Monday project management review, you can easily figure out how to work with this team collaboration tool.
So, how to get started?
Create a board. In Monday.com, boards are sharable places to manage specific kinds of tasks like projects, team planning, email marketing, and so on.
Choose a board template or start with a blank board.
Add a group. Boards consist of groups that you can use for monitoring tasks or for any other purpose.
Fill the groups with items and columns according to your workflow.
Assign tasks.
Now, when you are ready to accomplish tasks, move forward and take advantage of Monday.com features.
Monday Project Management Review: the Feature Package
Despite the variety, Monday's features are so handy that you can hardly skip one. What's more, this collaboration tool delivers a clear spreadsheet-like interface where you can easily find necessary functions. In this Monday app review, we've got an explanation of its core features.
Workload Management. Within the Workload View, you can manage and measure workload and any other resources. To measure effort, use the time estimation column. If more than one worker is assigned to a task, you can calculate how much time was spent on the task by each worker or in sum. Set Weekly Capacity for the entire team to limitate time for task completion.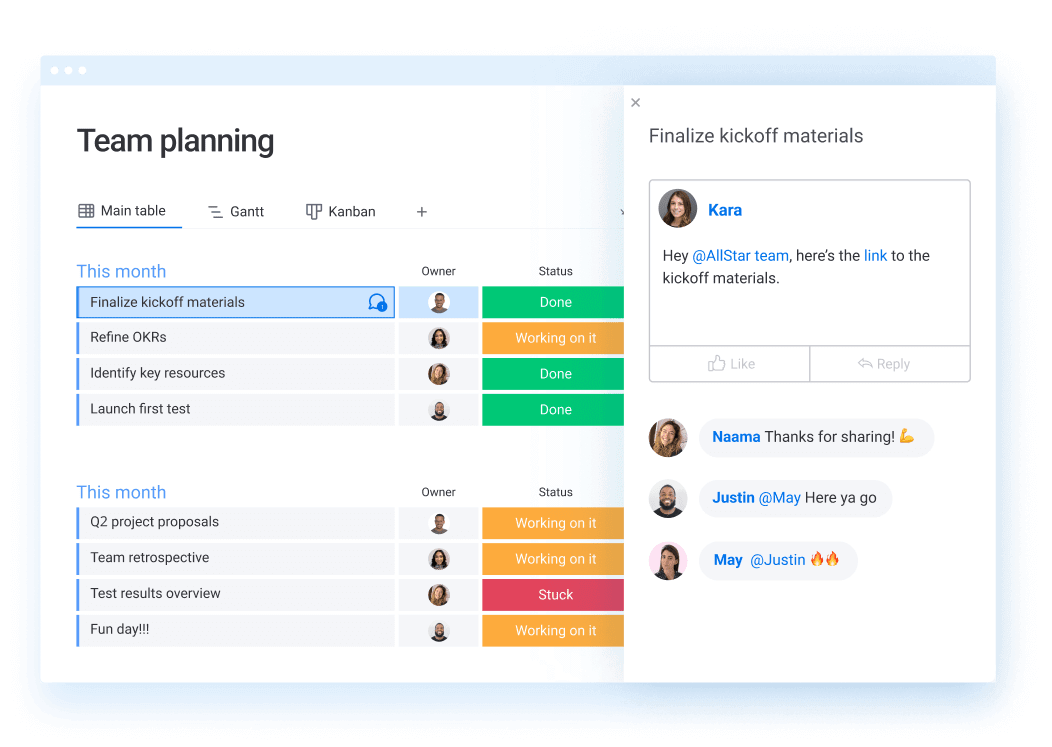 Source: Monday.com
Multiple Project Views. There are Board and Dashboard view types available. Board views show data in one single aspect and include Table, Kanban, Files, Form, and Card views. Dashboard view allows adding multiple widgets, so you can view data in different ways like Chart, Gantt, Calendar, Workload, Timeline, and more views.
Built-in Time Tracking. Once you get started with a task, you can start a timer. Pause it and start it again anytime. All time intervals are saved in the Time Tracking log, so you can check the progress of each task or subtask. You can see the total time tracked or within the subitem.
Custom Automations allow you to put on pilot repetitive tasks based on a trigger, condition, and action. Choose the action from the board column and set a personalized notification when the trigger works. You can duplicate the automation or save it as a template to share with others.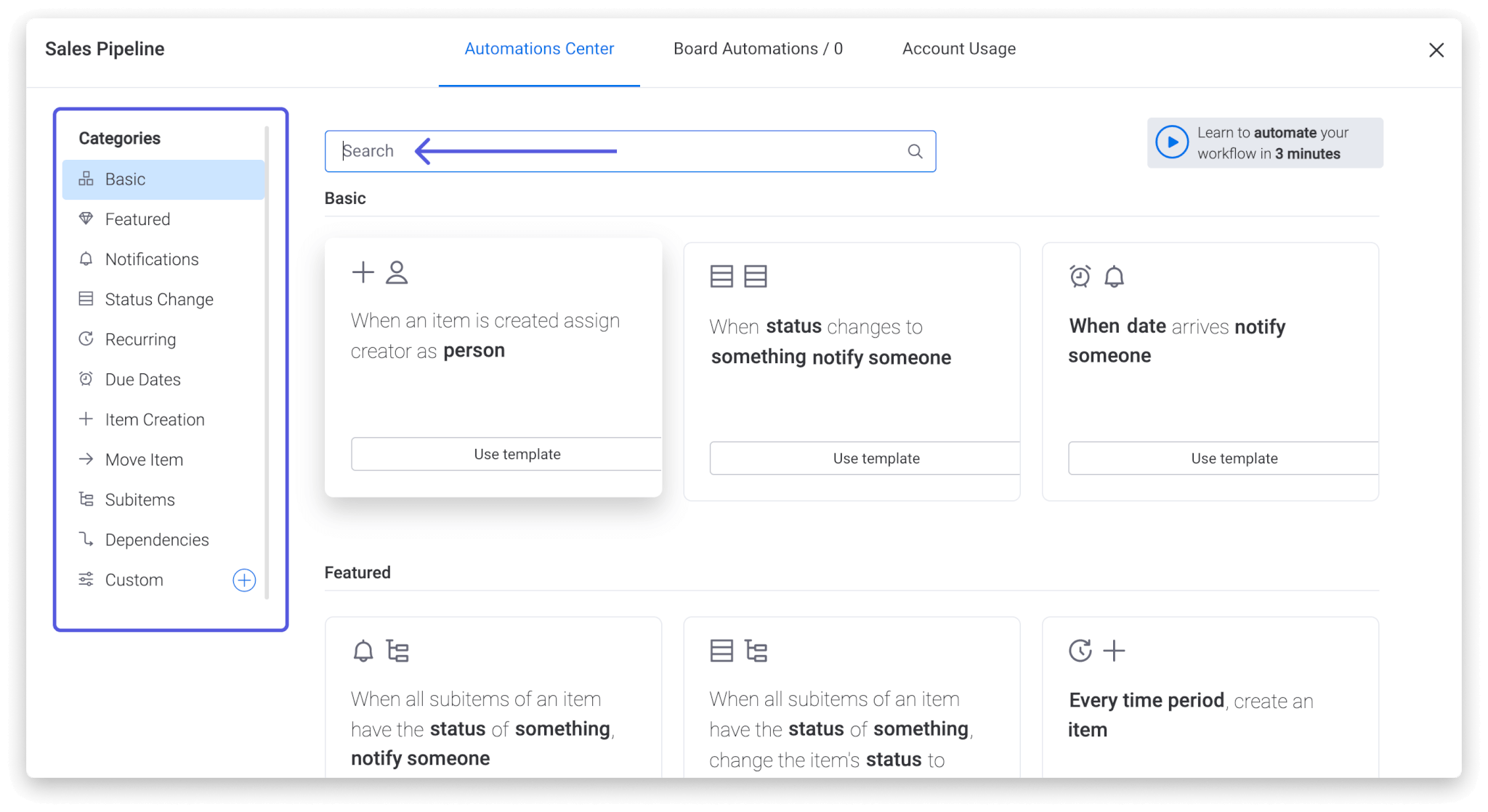 Source: Monday.com
Task Dependencies arrange tasks into specific order using Date and Time columns. Set the start and due time for tasks, so they can be accomplished only one after another.
@mention anyone subscribed to an item, board, or workspace, in a message and they will receive a notification. If you organize a meeting via mentioning, everyone will see the guests you invited.
Agile Methodologies mean an iterative approach to project development. Shortly, you repeatedly deliver a project with on-the-go changes based on customer feedback. The cycle consists of 5 stages that are Testing, Feedback, Planning, Design and Deploy.
User, Role, and Access Management. When you create an Admin account, you can add users with roles like admin, team member, member, viewer, guest, subscriber, or board owner. Depending on the role, each user has editable permissions to deal with the board, column, dashboard, workspace, and account.
Integrations. Connect your monday.com to a range of external platforms concerned with communication, customer support, software development, product management system, and more. You can run the integration process easily and quickly right within your Monday.com account.
Gantt chart is a project schedule with tasks, dependencies, and other events displayed against time. The key components are Date/Time, Task/Items, and Owner. Using the Gantt chart's critical path you can define all individual must-to-do tasks and set deadlines for them.
Project dashboard contains data about the project's progress, team's workload, budget curve, and more. Create multiple custom dashboards to track specific project aspects and switch between them. Dashboards can be private or public. Also, there are various widgets that deliver additional capacities to view and edit data like Time-Tracking, Bookmark, To-Do-List, and many more.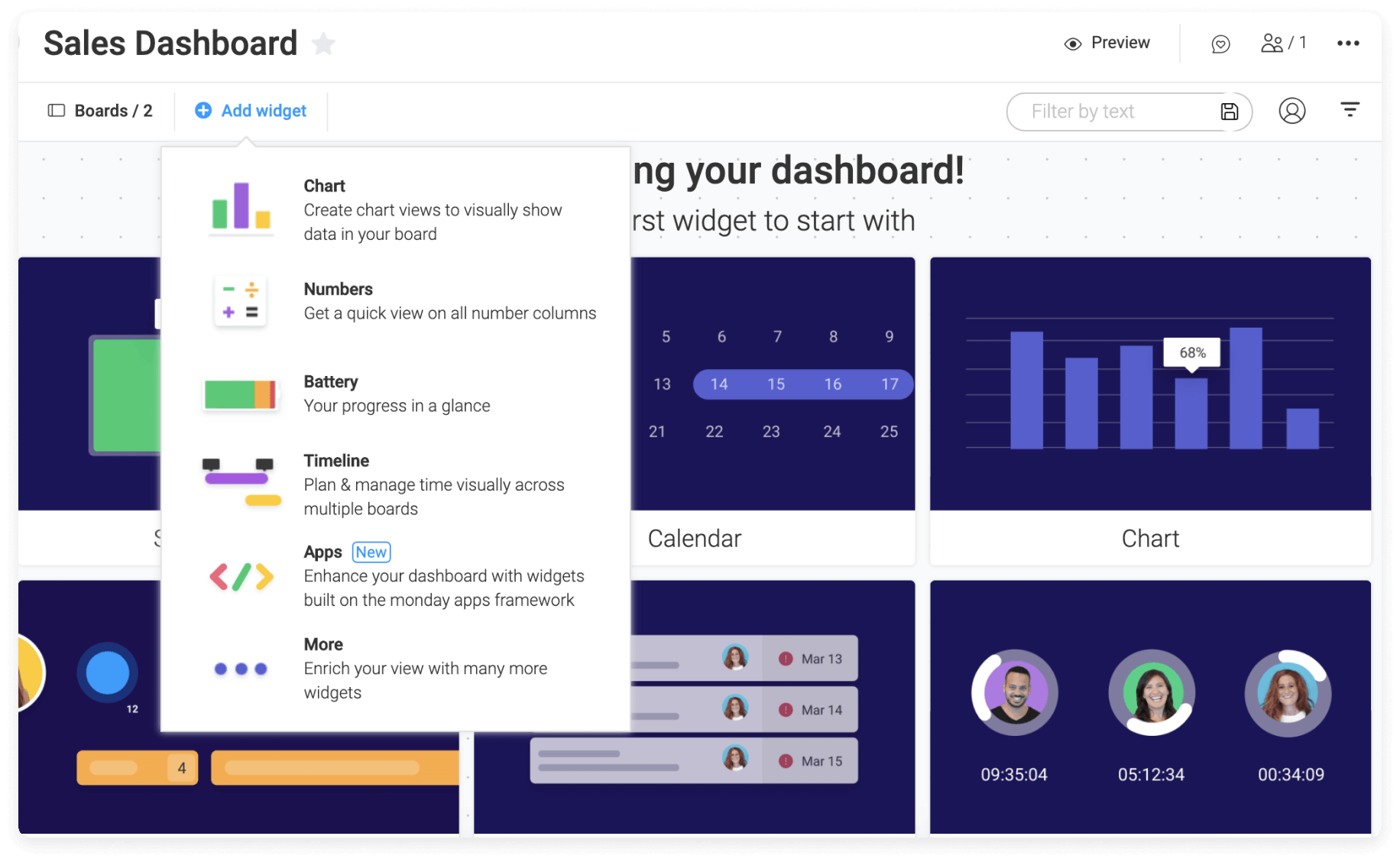 Source: Monday.com
Milestones are important checkpoints that make up the project plan. They help in scheduling, estimating resources, and tracking progress. You can set milestones as regular tasks on the Timeline board, Gantt chart, or Dashboard. Milestones are marked with colors corresponding to their status.
Project Templates serve to quickly organize a place for managing projects based on specific purposes. You can choose a customizable template to handle single or several projects across multiple teams, or deal with project requests and approvals. Each template includes such elements as Overview, Columns, Views, Automations, and Integrations.
Quick Review of Monday.com Pricing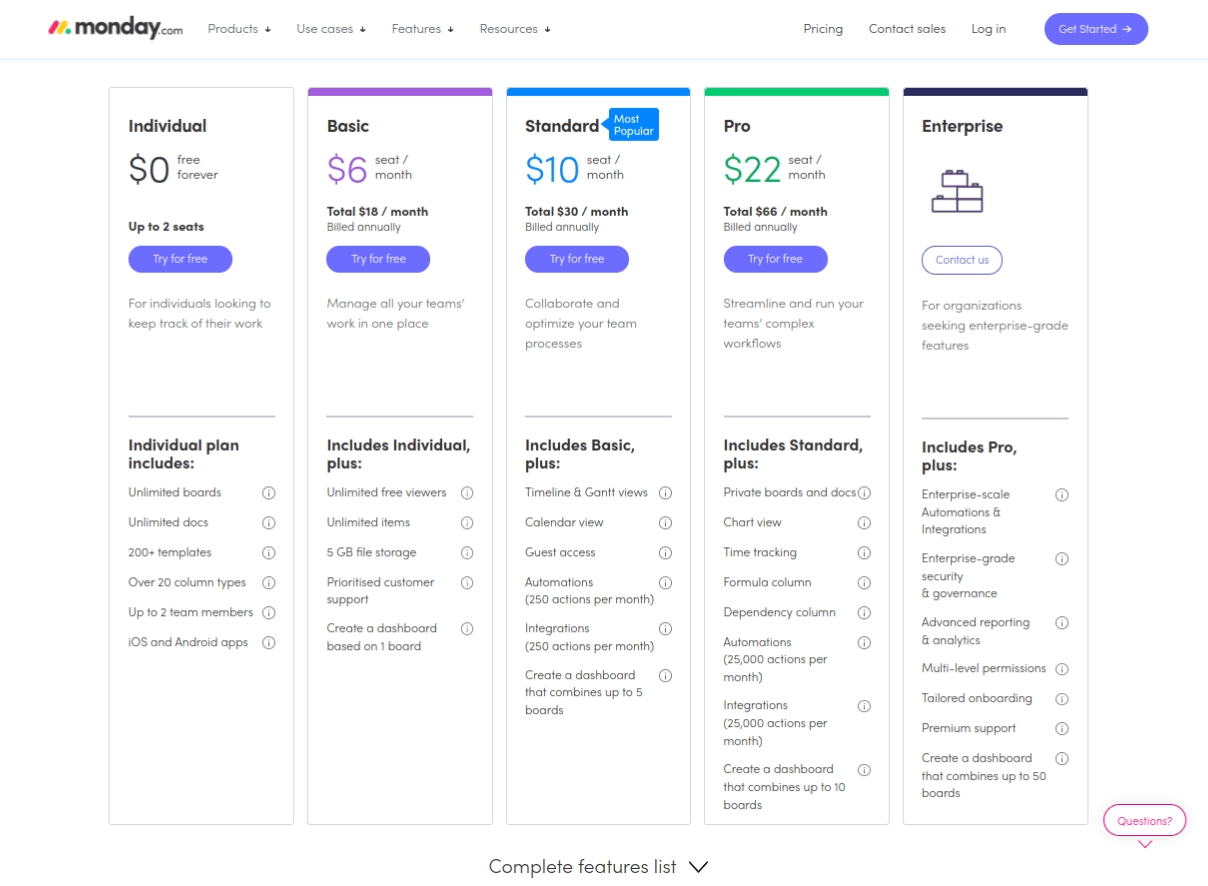 Source: Monday.com
Monday.com delivers a project management package for businesses across different sizes and needs. You can choose between Individual, Basic, Standard, Pro, and Enterprise plan. The price is calculated based on the number of seats plus the plan price. Nevertheless, compared to other project management tools, monday.com comes as an affordable option.
Let's take a look at each plan.
Individual (forever free) fits for individuals or teams with up to 2 members to handle their work with a due feature package including:
Unlimited boards and docs
Over 200 templates
20+ column types
Apps for iOS and Android
Basic is $6/month and is a good start for small teams with elementary project management needs. Besides the Individual plan features, it offers:
Unlimited free users
Unlimited items
Prioritized customer support
5 Gbs file storage
Dashboard with 1 board
Standard is the most popular monday.com plan with the price of $10/month. It delivers a fine feature-price balance and fits well for growing teams. The package includes Basic functions and additional features, such as:
Timeline, Gannt, and Calendar views
Automations (250 actions/month)
Integrations (250 actions/month)
Dashboard based on 5 boards
Guest access
Pro plan fits organizations with complex needs. It covers managing complex workflows and tracking multi-member team activities. For $22/month you get Standard features plus:
Time tracking
Dependencies column
Private boards and docs
Automations (25, 000 actions/month)
Integrations (25, 000 actions/month)
Dashboard based on 10 boards
Expectedly, the Enterprise plan is designed for companies claiming to be enterprise-level organizations and having the corresponding needs. It provides enterprise-grade automations and integrations and other powerful features like:
Enhanced security & governance
Advanced reporting & analytics
Multi-level permissions
Customizable onboarding
Premium support
Dashboard based on 50 boards
Monday Project Management Review: Benefits & Hiccups
In contrast with other project management software, Monday has a few minor flaws to work on. Though, we'll start with the good side. So, what are the biggest benefits of this collaboration tool?
Modern and easy-to-use interface. Even if you are a newbie, you will get through the onboarding process quickly and painlessly. The tool's UI is organized as a clear table with clickable items, so you got everything at your fingertips.
Powerful visualization helps a lot in project management. Using Monday's multiple views, you can not only track the real-time information but evaluate risks, identify pain points, and improve your project strategy on the go.
Custom automations. Annoyed by repetitive tasks? Automate custom actions based on triggers and conditions and save the recipes for others' use. This feature can make your workflows run with cosmic speed.
Integrations for every taste. If you got used to your favorite apps and want to make them work for you, simply choose them from the big list. In all probability, they are right there.
Customizable templates. Getting things done from scratch on regular basis takes too much time and involves making mistakes. With monday.com templates, you have half the work done. Simply, fill in the necessary details and customize the template as you prefer.
Yet, users' expectations are not fully satisfied in the following Monday's aspects:
Tiered pricing. Monday offers several pricing options, and the price depends on the number of team members, too. So, it may be confusing to choose the most fitting plan.
Limited mobile app. The mobile app is compatible with both iOS and Android but is not as functional as the desktop version.
What Is Monday.com Good For?
Monday.com's main focus is project management with all its subdivisions. Still, there are several use cases where you can apply Monday's benefits with full efficiency.
Task management. Schedule, prioritize, and assign tasks to individuals or multiple teammates. Break down the workload into separate groups based on function, date, or other criteria. Using monday.com measuring possibilities you can evaluate the team's performance, set capacities, and distribute work more productively.
Team communication. With monday.com, you have every communication channel connected to one centralized system with chats, email, and sync-up meetings in one place. Another advantage is involving users in conversations via @mentions, so you don't have to send separate messages.
Project planning is an important part of project management that requires some preparation. Monday.com offers ready-made templates to visualize the project outline in different aspects and check the real-time updates. You can use multiple templates for one project to split the project plan into several sections for more scrutinized monitoring.
Time management. Gain full control of all activities within your monday.com account and track each item separately or get the overall picture. Detect the accurate time spent on a task using a timer and add a colored status for a clearer view.
Reporting and analytics. Use a bunch of dashboard widgets to keep track of every detail, whether it's concerned with the company budget, project progress, or teammate workload. Since the dashboard displays real-time data from all connected boards, everyone who is subscribed to those boards stays on the same page. You can share the dashboard with your team by simply sending them the shareable link.
Customer relationship management. Monday.com offers CRM solutions as well! You can automate workflows, collect essential customer data, and assign leads to your sales reps.
Monday.com Add-ons and Integrations
Another strong point of Monday product management system is the wide choice of integrations to empower your project management processes. Combining multiple business tools into one provides versatile control over different project management components without switching back and forth. The available integrations allow you to charge up literary every task you deal with. Monday.com offers over 40 integrations including Gmail, Slack, Shopify, Dropbox, and Google Calendar.
You can add integrations right from your monday.com account and implement them on specific boards. During the integration process, you can map the app's fields with the columns on your board. Thus, the integration will work accurately and bring you more benefits.
How Safe Is Monday.com?
Paying tribute to the importance of data security and privacy, monday.com strives to deliver the most effective safety measures including:
Encrypted traffic. The platform provides 256-bit encryption through TLS 1.2 following the FIPS 140-2 certification standard.
External security. Monday.com passes regular penetration tests and audits.
Safe data storage. All monday.com files are stored in the data centers of Amazon Web Services which ensure a premium level of security.
Frequent data backup. Vulnerable data, including customer data, is backed up every 5 minutes, and non-critical data is backed up daily.
Monday Project Management Review: Is It Worth a Try?
Monday.com is good at making project management well-cooperated and fast. It proves to be among the best project management software with its versatile approach and affordable pricing. And whether you work on your own or manage a small/midsize business, or own an enterprise-level organization, you'll find a Monday option just for you. In any case, you can check the free version and make the choice with no rush. However, if you're looking for a team collaboration tool with a strong mobile app, think about other solutions.
Users often compare Monday to Jira and that's not a surprise, since both tools have similar functions. But while Monday is focused on project management, Jira is helpful for software developers. Anyway, if you want to migrate your data to Jira Software, you can do it quickly and securely.
Frequently Asked Questions
Users consider Monday.com one of the best project management tools. It delivers robust functionality and high-level support.
Monday.com fits for multiple use cases like project planning, task management, team collaboration, and complex workflows.
Monday offers several pricing plans with a free version available. The most popular Standard plan of $10/month (plus the price for seats) provides basic features with automations and integrations.
Monday.com has a range of similarities with Jira, and both tools have strong functionality. Although, Monday makes a good option for project management, while Jira Software is better for software development.
Monday shortcomings include limited mobile app features and tier-based pricing.
The wide scalability of Monday project management software allows for building the right toolkit for a small business.
It offers a forever-free version for teams with up to 2 members.
Monday keeps a reasonable price-feature balance for teams of various sizes. If you're looking for an alternative team collaboration tool, consider Teamwork.
Project management tools by Monday help teams to smartly organize workflows, visualize data, and run projects more efficiently.
Monday delivers feature packages for starting teams at an affordable price. Besides, its interface is clear and intuitive, so onboarding will be quick.