Just a few clicks and you successfully collaborate with your team on a project. Still, does this state relate to ClickUp? Let's figure it out in a ClickUp review. Here, we will weigh all the pros and cons of employing it and describe how to use ClickUp for successful project management. In the end, you can decide whether to invest in it.
What is ClickUp?
To put it simply, ClickUp is a web-based project management and collaboration software that was created in 2016 by Zeb Evans and Alex Yurkowski. The main aim of its founders was to create a tool that would make a world more productive together.
Today, ClickUp is a full suite of collaboration tools, such as wikis, docs, notes, task management, team collaboration, and many more. For companies of all sizes, ClickUp lets teams plan projects in charts, track productivity with analytics and reporting, and collaborate in real-time with editable documents.
The tool is all about customization. Businesses using ClickUp can tailor every visual aspect from web page branding to project funnels within their workspace. Moreover, the project management software is growing in popularity too: more than 200 000 companies use ClickUp to manage their projects.
Onboarding
Once you sign up for your account, you see multiple video tutorials and articles to help you master ClickUp and its various features in no time. Besides, as a reward for watching demo videos, you can receive $10 credits to upgrade your app.
On top of that, ClickUp can help you easily import your data from your current project management tool like Asana, Monday, Jira Software, etc. Or use a third-party app to get help from data migration experts who can transfer your data to ClickUp in a fast and error-free way.
Customer support, documentation & guides
Having credible, round-the-clock support is paramount when you opt for a feature-rich project management tool.
When you choose the ClickUp task management tool, you instantly get 24/7 support, whatever your pricing plan is. If you choose the Enterprise plan, you get your Account Manager and priority support as a bonus.
You can send all your queries via live chat or email. Or find the needed answers by scanning through the FAQ section. ClickUp Help Center includes multiple docs, articles, and videos to help you resolve any possible issues related to its setup. Besides, you can get to know the app via various demo videos or webinars.
ClickUp has a blog that can give you insights on its features and helpful tips and tricks on how to increase your productivity using this project management software.
Besides, you can pay for a real-life coach through the Learn Center to get professional assistance with your ClickUp account.
How Does ClickUp Work?
ClickUp is a cloud-based tool, so it is easy to sync and save projects automatically from any device and anywhere.
ClickUp app supports Windows, Mac, and Linux. Or you can access your account via mobile apps for Android or iOS. The project management software also provides multiple extensions for browsers, emails, and even voice assistants like Alexa and Google Assistant.
ClickUp operates on a four-level hierarchy. On the first level, you get tasks to capture your work. Then, you have lists that include collections of tasks representing a project, sprint, or group of people. You get more extensive collections of lists as folders on the third level. Finally, there are spaces to represent teams working on specific projects.
What Features Does ClickUp Support?
Task Management: Set and track tasks, organize to-do lists, and manage your team in one place.
Resource Management: Use the Workload view to visualize your team's capacity and manage resources.
Gantt charts: Keep track of the progress of your tasks in timelines with interdependencies at a glance.
Scheduling: Build schedules, manage capacity on specific projects, organize calendars, and track working time.
Workflow Automation: Streamline the workflow by creating intuitive and easy-to-manage dependencies. In addition, minimize the routine work through more efficient resource allocation.
Team Collaboration: Post comments, tag team members, and directly communicate with everyone involved in specific tasks or projects. You can message via private and general channels or the ClickUp chat app.
Support for Agile Methodology: Set up an Agile workflow to create and manage Sprints. ClickUp lets you create specialized Folders and Lists in any Space to organize your work.
Support for Waterfall Methodology: Use Waterfall management to map out your projects into distinct sections.
Document Management: Collaborate on document bugs, product/project ideas, or jot down meeting minutes. Plus, you can edit in real-time with other teammates.
Email integration: Send email outside ClickUp via Gmail, Outlook, Office 365, or IMAP.
Timesheet Tracking: Track team's capacity to spot when someone is overscheduled.
Reports: Generate ready-to-use or customizable reports, and share information in a secure way.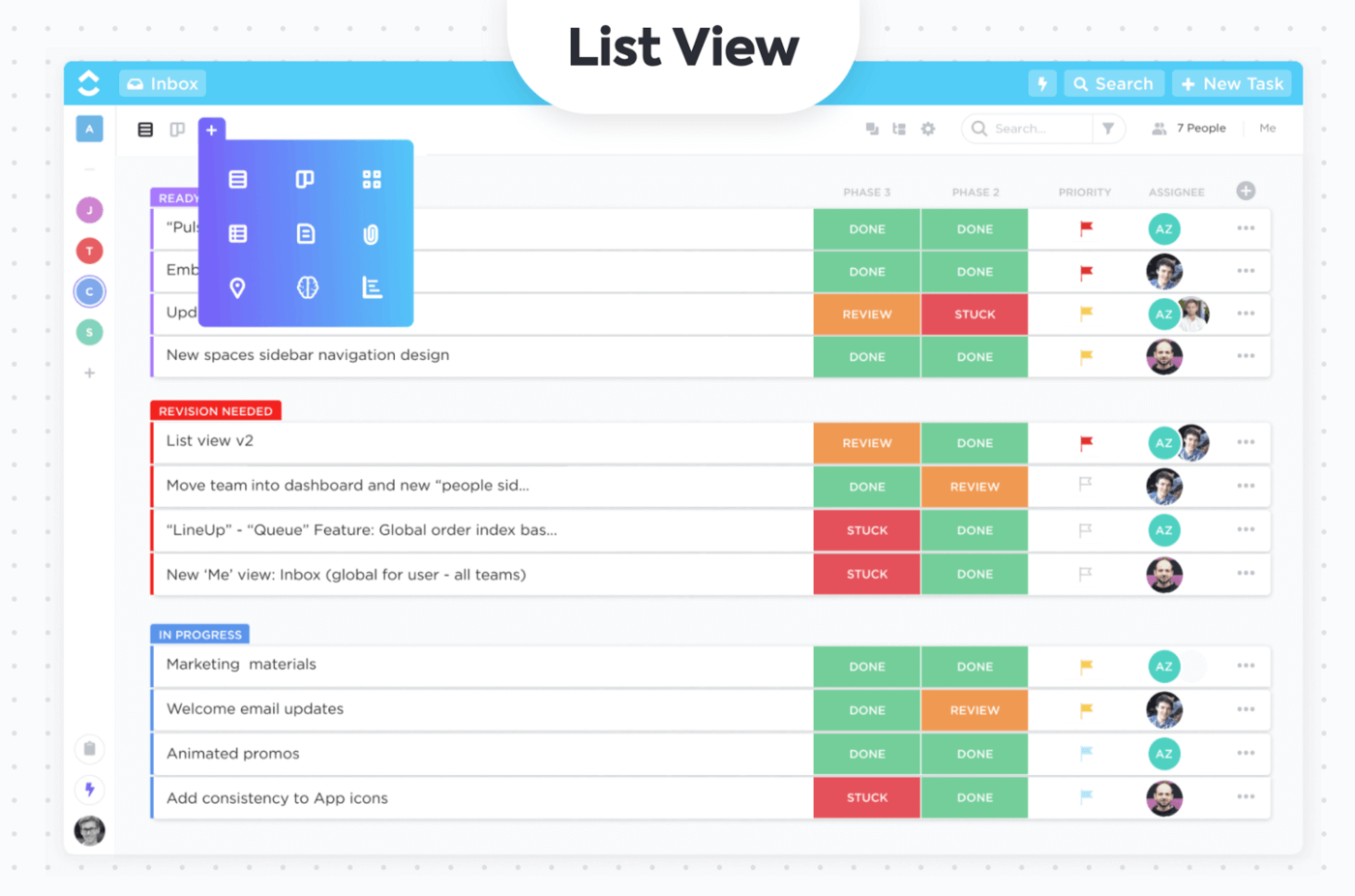 What Is ClickUp Price?
ClickUp has an affordable plan for a wide range of business needs. ClickUp pricing includes five tiers such as Free Forever, Unlimited, Business, Business Plus, and Enterprise. First, you need to sign up with a free account and then upgrade to a paid package. On the other hand, you can always test out a paid plan with a free 14-day trial.
As for features, the available functions depend on the pricing plan you select. However, there are some similarities between all the plans like:
Unlimited number of users
Unlimited number of projects and tasks
Round-the-clock support
Real-time collaboration
Strong privacy standards
Various integration options (50+ native ones and multiple from third parties)
On the top, storage is the first thing that distinguishes all pricing plans: the free tier is limited to up to 100 Mb of storage while others have unlimited storage. In addition, Free Forever is limited to up to 100 Custom Fields when you can get an unlimited number of fields in any paid package.
What's more, is that each plan has its number of permitted guests. For example, Free Forever allows full access for guests with no customized permits. The Unlimited plan offers up to 5 guests, while Business, Business Plus, and Enterprise include up to 10 guests. Besides, they have a Permission feature, unavailable in a free plan.
Paid plans also have an unlimited number of integrations. As for Free Forever, it doesn't support some integrations such as Google Drive, OneDrive Cloud Storage, and Box Cloud Storage.
So, what is best — ClickUp free vs. paid? Frankly, Free Forever only has some storage, integrations, and reports limitations. On the other hand, not every project management software offers such a variety of features in their free plans. However, if you run a middle-sized and or enterprise business, a paid plan might be a better choice.
ClickUp Review: Advantages and Disadvantages
ClickUp keeps everything related to your project in one centralized place. So, instead of jumping between multiple windows, you work entirely from inside ClickUp. But does the collaboration tool have no flaws? Let's check!
Pros
Comfy dashboard: ClickUp has a very intuitive and easy-to-use interface and dashboard with different views — from Task List and Calendar to Kanban and Board. Besides, you can easily switch between these views.
Robust even when free: ClickUp free plan supports multiple features that might not be available in paid packages of other project management systems. The free tier offers Android and iOS apps, email notification, task dependencies, proofing, time tracking, 2FA, real-time collaboration, and many more.
Outstanding customer support: ClickUp provides excellent 24/7 customer support and ensures a personal approach to resolve all customers' issues.
Cost-effective solution: ClickUp can replace all the software you need for your projects, saving you money on multiple apps and programs.
Custom statuses: Create, edit, reorder, and color your custom statuses for each of your projects.
Task assignment: Assign multiple tasks to multiple employees simultaneously. Besides, you can seamlessly manage various tasks using the table view and multitasking feature.
SCRUM: The ClickUp's board view is an agile view built with SCRUM methodology in mind. It provides a user with a straightforward yet very informative presentation of data.
Data import: Easily import the data from any other third-party app with the help of ClickUp's automated importing solution.
Cons
Feature overload: During the initial onboarding, you can experience a learning curve. That's because you need to set up a huge number of features that might not be useful in the future.
Too many customization options: You might get lost with all customization features ClickUp has to offer.
UI needs improvements: It's hard to read text on the platform due to the small size, faint colors, empty panes, and spaces.
Gmail filter to ClickUp: You can't send your tasks from the Gmail filter to ClickUp directly. You can just do it with the help of third-party apps.
ClickUp Review: Best Use Cases
ClickUp is built for organizations of any size and sphere, letting them keep everything they need — from design to development — in one place.
So, who does this project management tool suit best? Here is a shortlist:
Remote teams: They can collaborate and work on tasks and documents no matter where they are.
Agile teams: Easily customize the funnels, build SCRUM charts, manage sprints, and many more.
HR teams: The project management platform includes intelligent performance tracking, easy management, and document storage to manage human resources.
Design teams: You can benefit from ClickUp using comment sharing and file proofing.
Finance teams: Easily manage your accounts, track all the projects' budgets, and add financial goals to each of your projects.
Product development teams: Organize product launches using backlog templates and sprints.
Sales teams: Track all the leads and efficiently collaborate on the deals.
Marketing teams & agencies: Work with customers and receive approvals for the assets.
Healthcare sector: ClickUp is compliant with HIPAA standards making it suitable for various healthcare projects and team management.
What Are ClickUp Add-ons?
Moving forward with ClickUp review, the project management system has a wide variety of native add-ons called ClickApps. The apps aim to customize the working processes according to the needs of each team individually. They helpfully tailor the team's experience within their Workspace. The set of the most popular add-ons includes:
Automation
Dashboards
Custom Fields
Email
GIPHY
Milestones
Custom task IDs
Zoom
Sprints
Besides, ClickUp supports a variety of integration options with other third-party apps: Google Drive, DropBox, GitHub, API, Slack, Youtube, OneDrive, Outlook, Chrome, and many more. The product management software also works great with Zapier that grants you access to more than 1000 applications.
On the front, the company releases the new integration each week, which means you can find what suits your needs best if there is currently no appropriate option for your team.
How Secure Is ClickUp?
In the digital era, it is paramount to use only trustworthy and secure software to avoid any potential risks of data leakage or breach.
ClickUp's number one priority is the privacy and security of its users. ClickUp leverages 256 Bit SSL, including SSO (Single Sign-On) and 2-Factor Authentication. Besides, the collaboration tool is hosted on AWS (Amazon Web Services), making it a secure app.
In addition, ClickUp applies such security measures:
Employing the leading security experts and cyber security firms to make sure all systems and databases work under the highest security standards.
Encryption of all the data both in transit and at REST.
Full compliance with EU GDPR means you can safely export your data or request to delete all the data for your entire team.
Full HIPAA compliance. However, BAA agreements can only be issued to the users of the Enterprise plan.
Certification for Service Organization Controls (SOC 2) to ensure all the tech and company controls are audited regularly.
Why Should You Choose ClickUp?
ClickUp project management software is a good investment, no matter if you are a solo user or an owner of a large enterprise. It fits businesses of any size due to its automation, comprehensive customization options, and ease of use. Besides, if you want to scale your team, you can integrate ClickUp with other third-party apps.
So, if you are looking to manage teams in a specific location, improve productivity, or streamline your project, ClickUp is a top-grade solution. And, when you have a project management migration in mind, you can migrate your data to ClickUp with the Project Management System Migration service.