Nowadays, if you want a product/project to succeed, you require a tool like Zoho Projects vs Asana.
Using the right project management tool makes perfect sense as they help managers assign projects, keep track of tasks, and adjust the plan if things don't go as expected. Besides, they can reduce the waste of resources, boost productivity, and increase efficiency.
But the challenge always remains: which project management tool to choose? Let's get to the very button of Zoho Projects vs Asana review and find out.
What Is Zoho Projects?
Zoho Projects is an affordable cloud-based project management solution that covers the needs of different-sized companies. The core feature set consists of task assigning, project scheduling, and budgeting.
The software's history goes back to 1996 when Sridhar Vembu, CEO of Zoho Corp, started his business with his siblings and friends. Nowadays, Zoho Corporation has more than 50 applications, including Zoho Projects, and more than 60 million people use it.
As for Zoho Projects, the project management platform primarily focuses on:
automating documentation
calculating project costs
managing and sharing project data across multiple team members
What Is Asana?
Asana is a streamlining online project management software that helps companies manage their projects and keep track of their tasks. It's an advanced organizational tool that eliminates the need for meetings and emails while improving communication and providing excellent task management features.
Asana's story started in 2008 in San Francisco when Dustin Moskovitz and Justin Rosenstein came together with an idea of an ideal project management system. Asana's 2022 annual revenue currently represents a 66.71% increase from 2021.
Asana serves multiple purposes: project and task management, viewing work, communicating with team members, and reporting progress. The project management platform helps your team work together in one united space. Pick up a project view that suits your workflow and collaborate anywhere.
Zoho Projects Review: Features in Display
Moving forward with Zoho Projects vs Asana, let's talk about features. Zoho Projects offers excellent project management features to help you organize your tasks and projects in a smooth workflow. Here's an explanation of what you get with this app.
User-Friendly Interface
Zoho Projects doesn't have a distinctive learning curve. The app works brilliantly as a web app. Besides, you can get mobile apps for Android and iOS devices. However, it lacks a dedicated desktop app.
It takes a few minutes to set up an account. And once you sign up for a plan, you get a free trial of Zoho. In addition, new users gain access to tutorials to help them understand the app's scope and features—moreover, Zoho Projects security your account with two-factor authentication.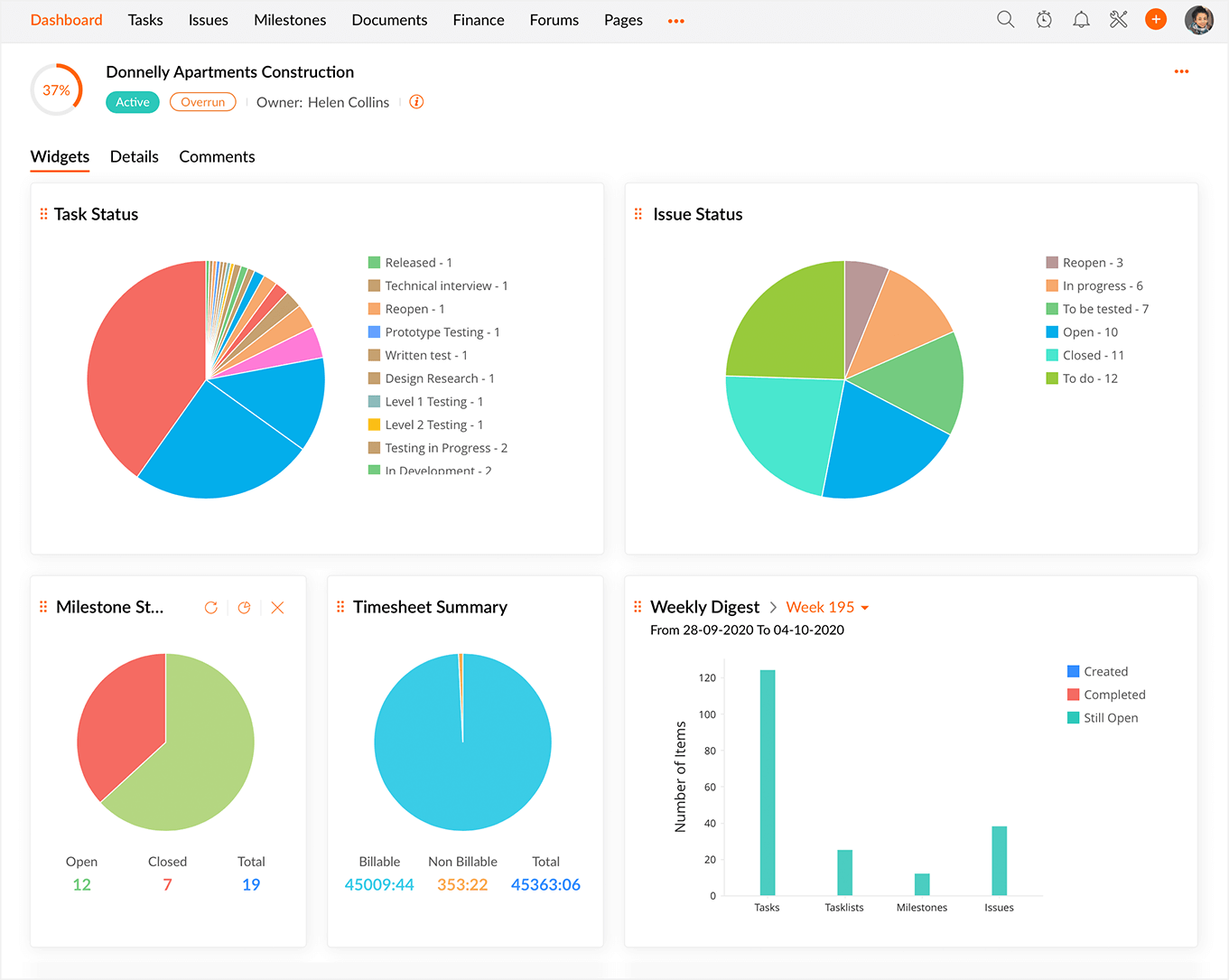 Source: Zoho Projects
Flexible Task Milestones
Zoho product management software allows you to work with milestones to review your projects' progress.
Unlike apps that come with templates, Zoho is more flexible; it lets you build your tasks from scratch. On top of that, Zoho Projects allows users to change the set hours per task every day for more flexibility. However, the lack of templates can be limited to some users.
In-App Time Tracker
Zoho Projects comes with an in-app timer that monitors the time spent on a single task. Depending on the user's needs, you can set up billable or non-billable hours.
Use the weekly log time in the timesheet to calculate the overall time spent on each project. You can also clock in and track multiple tasks; it's a feature unavailable in many tracking apps.
Workflow Rules
This feature is exclusive to the Enterprise subscription. It lets you manage project workflows with automated steps. For example, once someone checks a task as complete, Zoho sends an automated message to the responsible manager. In addition, it also supports webhooks so that you can receive notifications in another app like your email.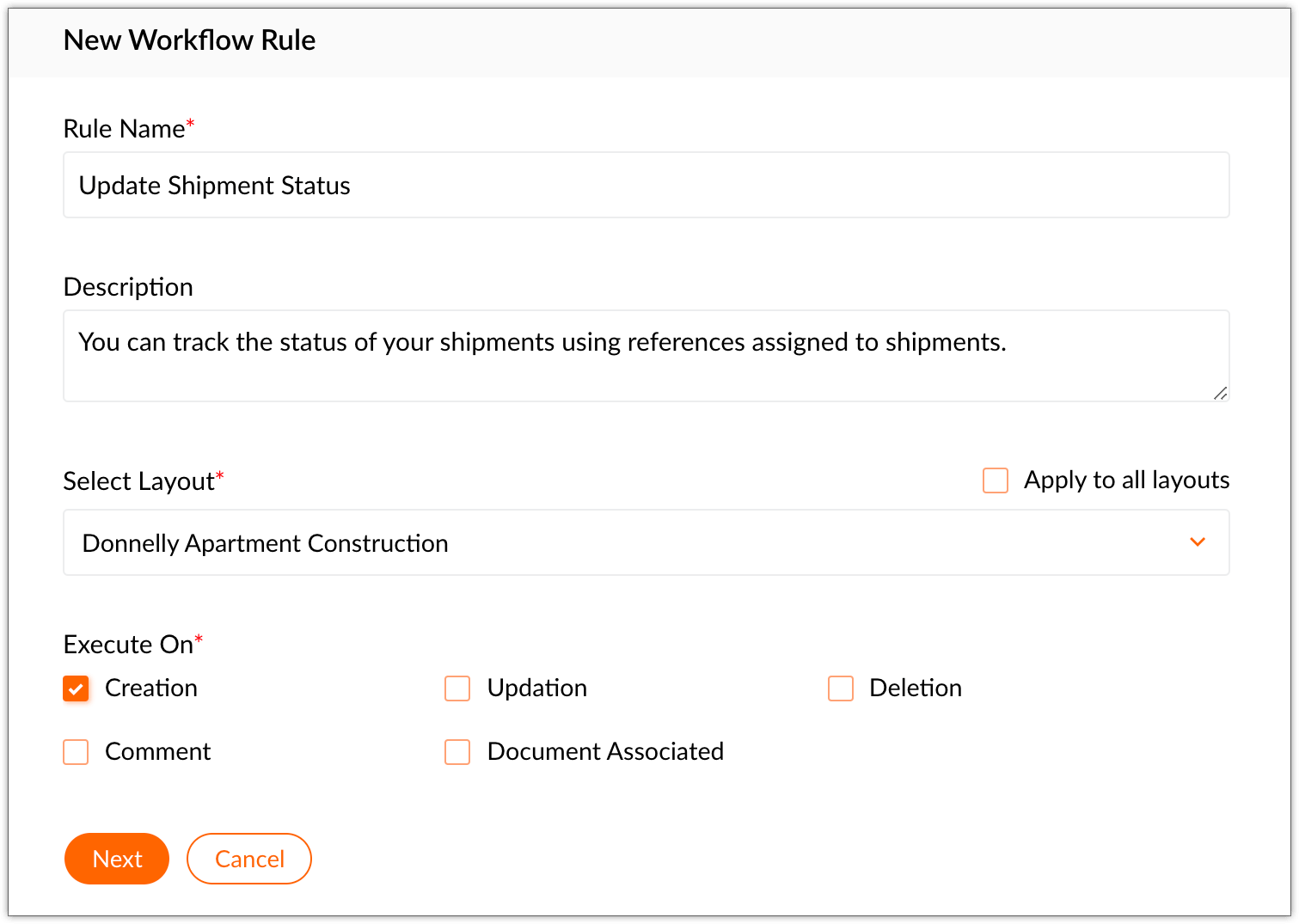 Source: Zoho Projects
Earned Value Management
The feature can effectively predict budgets by comparing the planned versus the actual value of projects. Look at schedules, costs, and time to decide whether the project provides the desired value to the company.
Interactive Gantt Charts
Interactive Gantt Charts lets you create task dependencies. For example, you can add elements to the timeline, and the project can change color if the dependent is too far, affecting the overall due date of the project. This feature is beneficial when multiple people work on different project parts.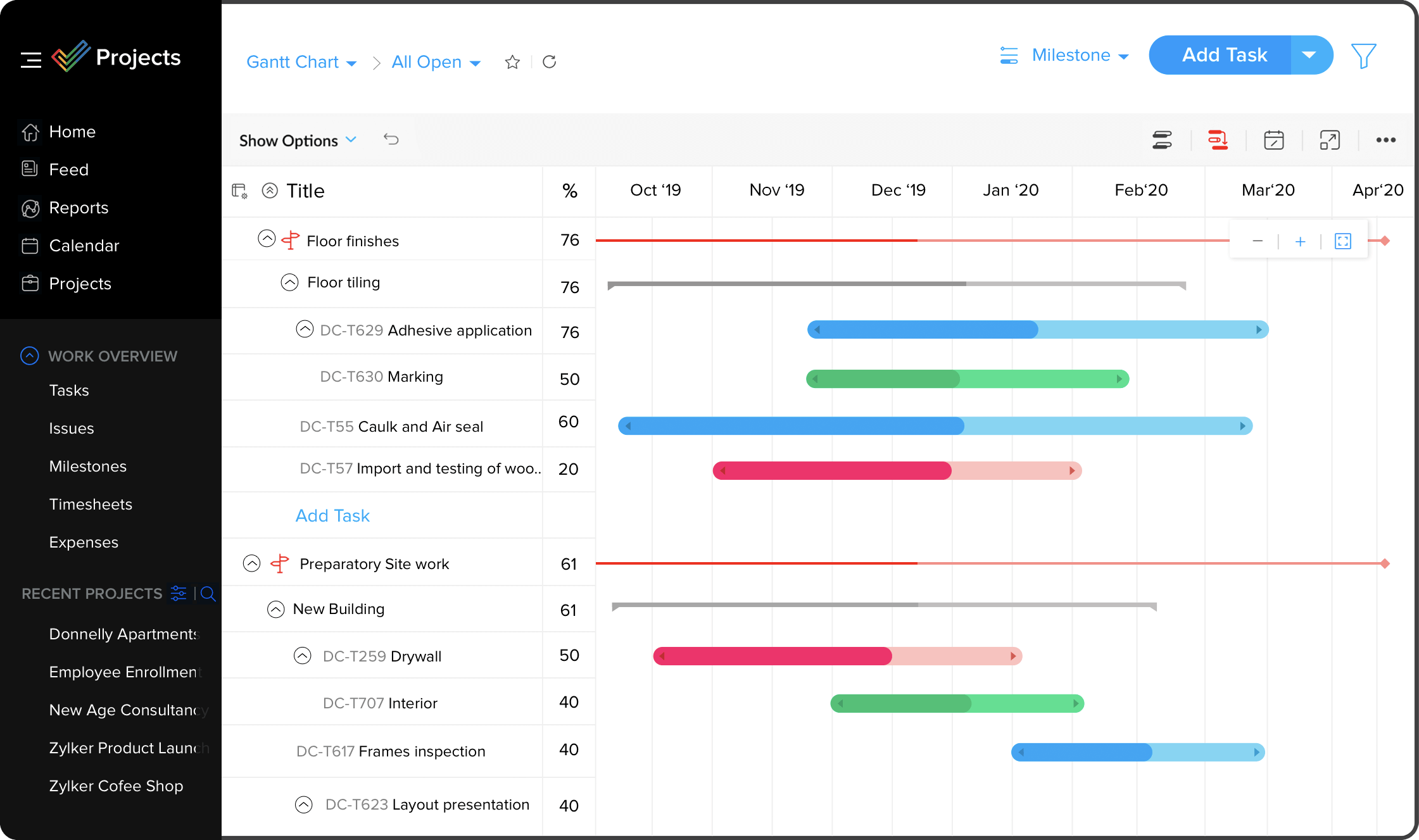 Source: Zoho Projects
Project Views
Zoho Projects also features Kanban Columns. You can see tasks as arranged cards, and the heading of each column corresponds to the task's current status. Each column represents different task criteria like priority or percentage completion. Easily drag and drop tasks between columns to update their status.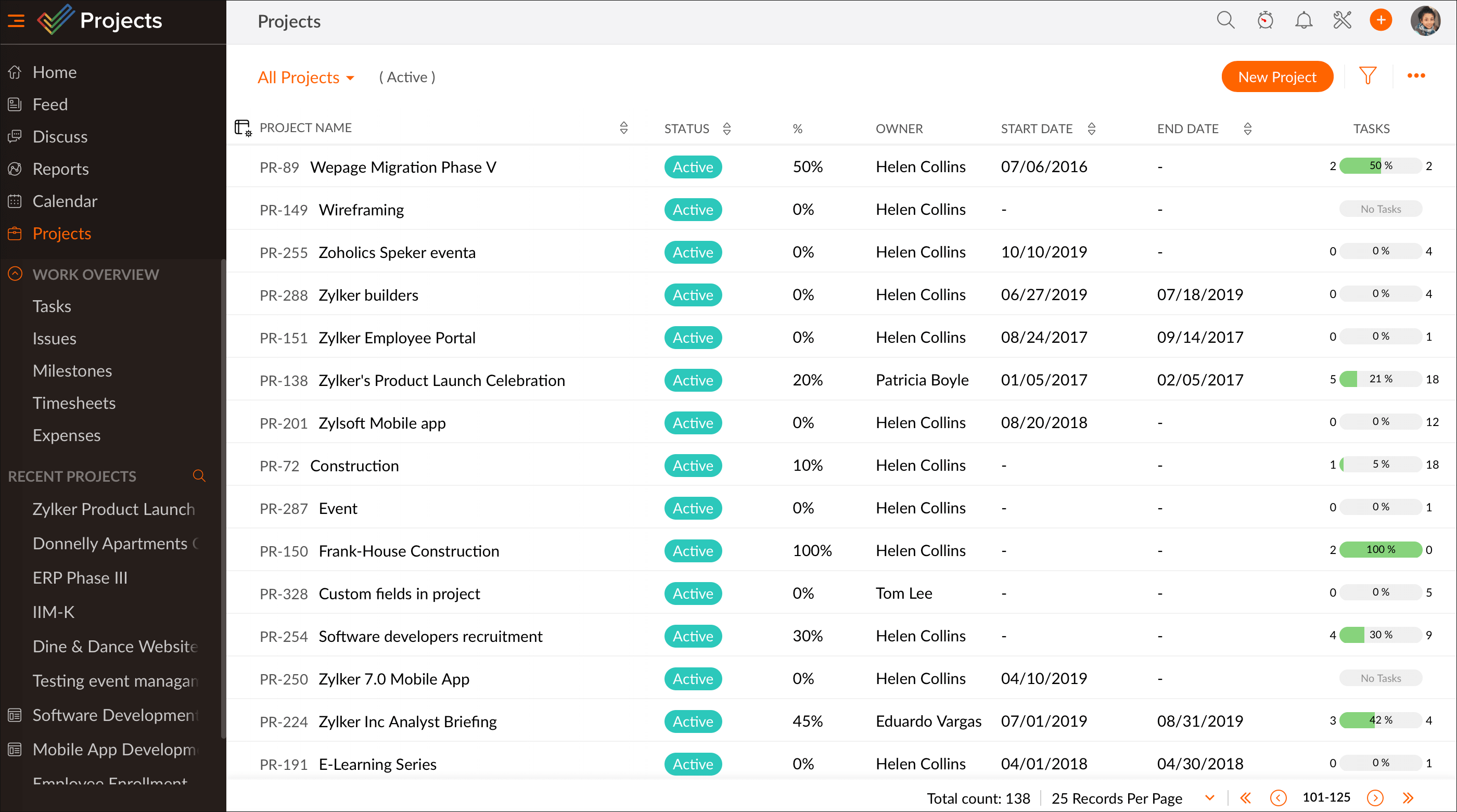 Source: Zoho Projects
Resource Utilization
See which team members are overloaded and which ones are not assigned enough work anytime. Unlike other project management software solutions, Zoho Projects displays it in a timeline with bars that show when someone has fewer tasks than others or too many assignments to complete.
Communication
Zoho Projects also excels as a collaboration tool, with multiple features that you can choose to include or exclude when you first set up your account. It is a pleasant addition if your company has a preferred messaging app.
However, if you don't have a messaging app, Zoho Projects offers you an in-app chat box to talk to various team members and leaders. Besides, you get forums to publish announcements. Zoho Projects also has a status update option and an activity feed.
Moreover, you get the Zoho Meetings feature. Members can join without opening any other apps or typing in a meeting ID.
Integration
There is no need for additional apps; Zoho offers a comprehensive suite of business apps to fill in any of your needs. Besides, it works with Google Apps, so you can easily upload files from a Google Drive or create tasks from your Gmail.
Zoho Projects also supports integration with other apps like Microsoft Teams, Microsoft OneDrive, Slack, Harvest, Dropbox, Zendesk, etc.
How Does Asana Functionality Work?
Asana's features create a comprehensive work management set of solutions to help teams monitor work. However, it lacks some primary functions other project management tools offer. Here's what you can get with this app.
Creative Setup
Setting up Asana isn't challenging but slightly different from other project management tools. Here you can join various Organizations or Workspaces.
The organization connects people with the same email domain, while the Workspace connects users working on a single project. Within the Workspaces, you can create Projects to track work.
Just think of Asana as a productivity improvement and collaboration tool to track tasks and some types of projects, but not multiple projects like other tools.
Efficient Interface
Asana offers an efficient and responsive interface to those who understand its scope. It comes as a desktop app for Windows and macOS devices. Or you can track your projects anytime via Android and iOS apps.
Unlike other apps, Asana provides almost all its features in the mobile version. You can also work offline on the mobile app, and the desktop app offers a Dark Mode.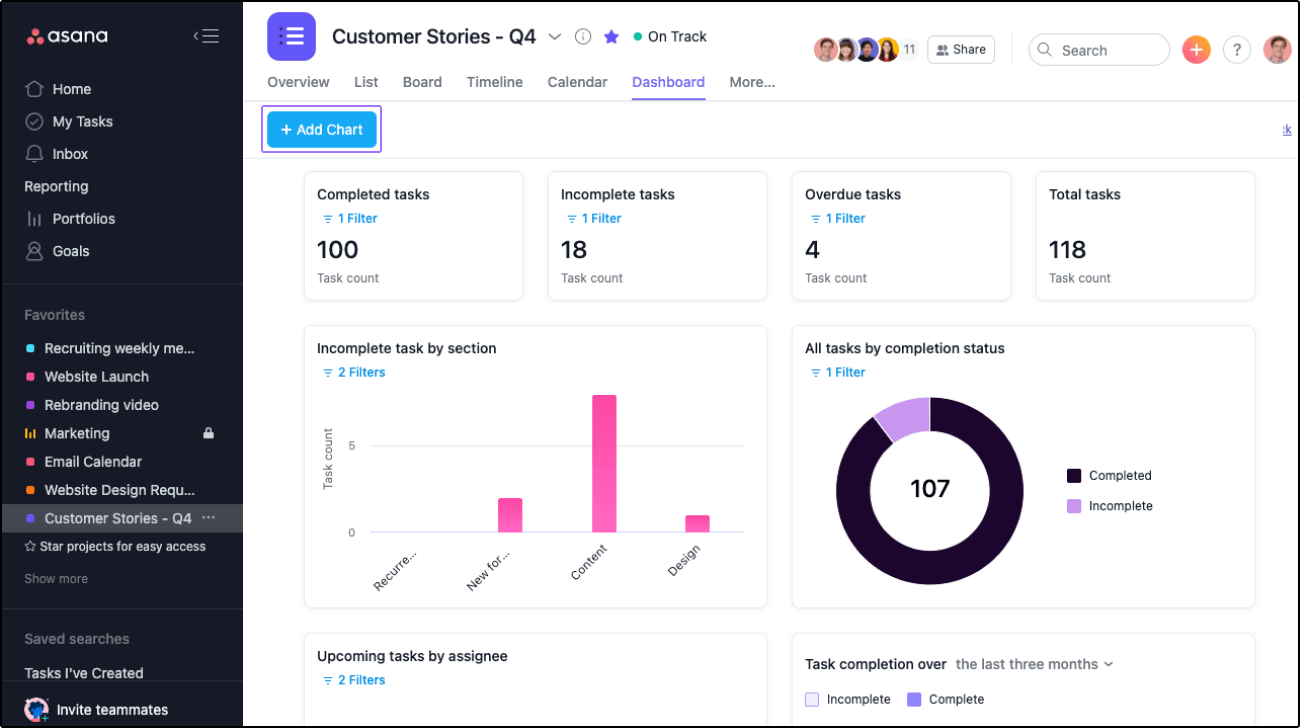 Source: Asana
The interface doesn't look cluttered and guides the user while using the app. Moreover, there are several shortcuts for better functionality.
Integration
Asana offers flawless and immediate integration with other apps as it lacks the basic features of project management or resource management app.
It supports more than 1000 communication, reporting, financial, marketing, productivity, sales, and compliance apps to boost your team and project.
Easy Navigation
Quickly go through all your projects, workspaces, and reports with a single click. Collapse whatever you don't need to create more space. Or customize the main window's view by setting up the Board View with a Kanban Board or a list of tasks. The calendar, files, and messages appear on your homepage, depending on the team's settings.
Task Tracking
Asana doesn't offer complex project tracking but offers task tracking. Yet, you can set the assignee, due date, attachments, and comments for each task. Or create subtasks for better workflow management.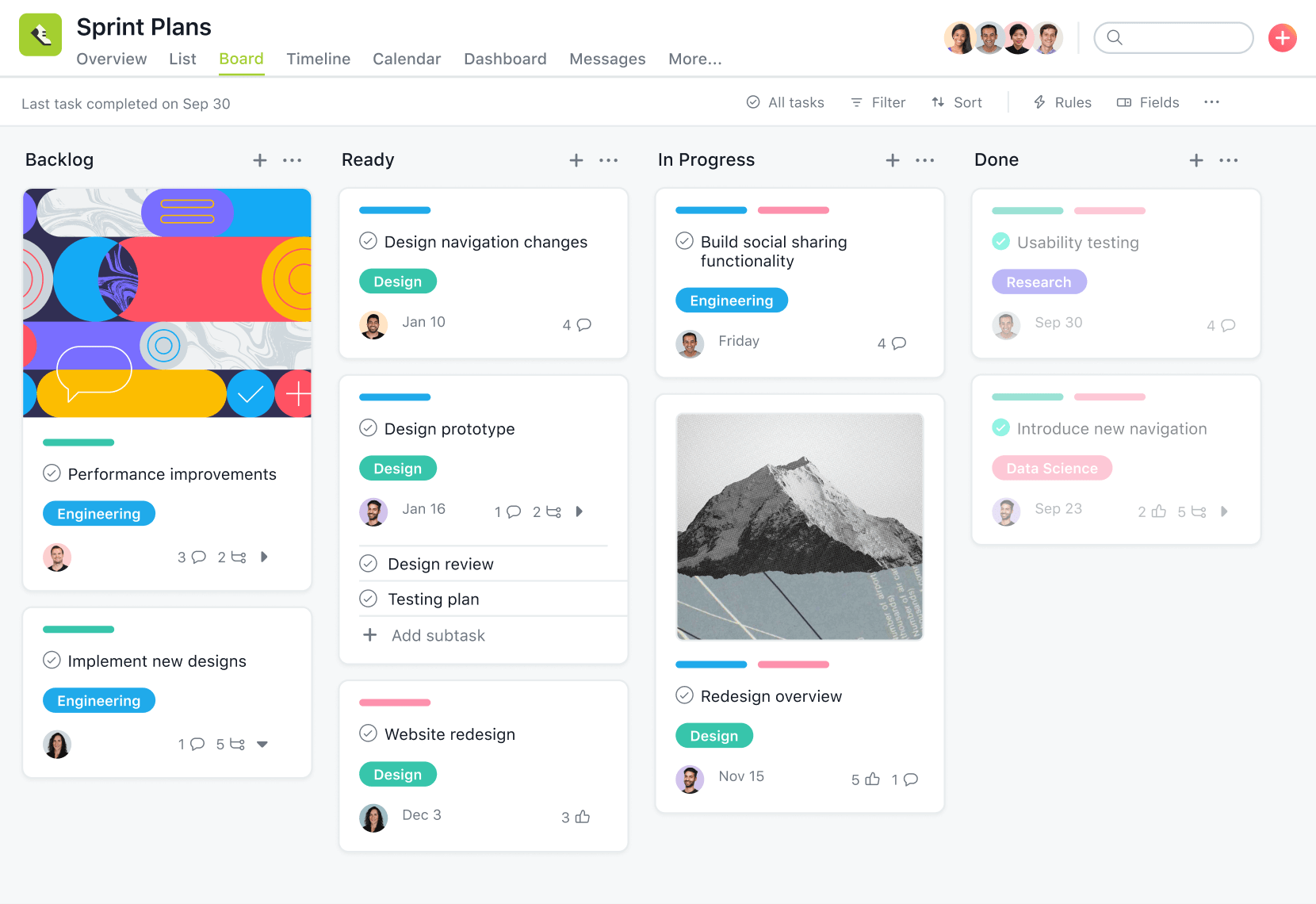 Source: Asana
Workflow Management
The feature focuses on the details of every subtask since there might be different people responsible for different subtasks. As a result, a single task with all its subtasks creates a workflow.
Moreover, Asana allows you to create due dates for every subtask and assign them to the right person. However, you can't group the task and all its subtasks in a single template.
Provide Perspective
Add attachments, files, and comments to tasks so your team members can discuss matters in sync. As a result, communication is streamlined and more efficient because you get all the data displayed in the same place. Moreover, the history of all tasks and subtasks remains in the same spot.
Tags
Use tags to make tasks more searchable for efficient task management. Besides, Asana features interactive checkboxes and an advanced search option so your team can quickly discover tasks and subtasks. On top of that, you can create details, set priority, or tag tasks by their progress status.
Advanced Search and Reporting
The search query offers much functionality whether you'd like to search for a task or a subtask. Moreover, you can narrow the search with custom fields like people, tags, and even subtasks.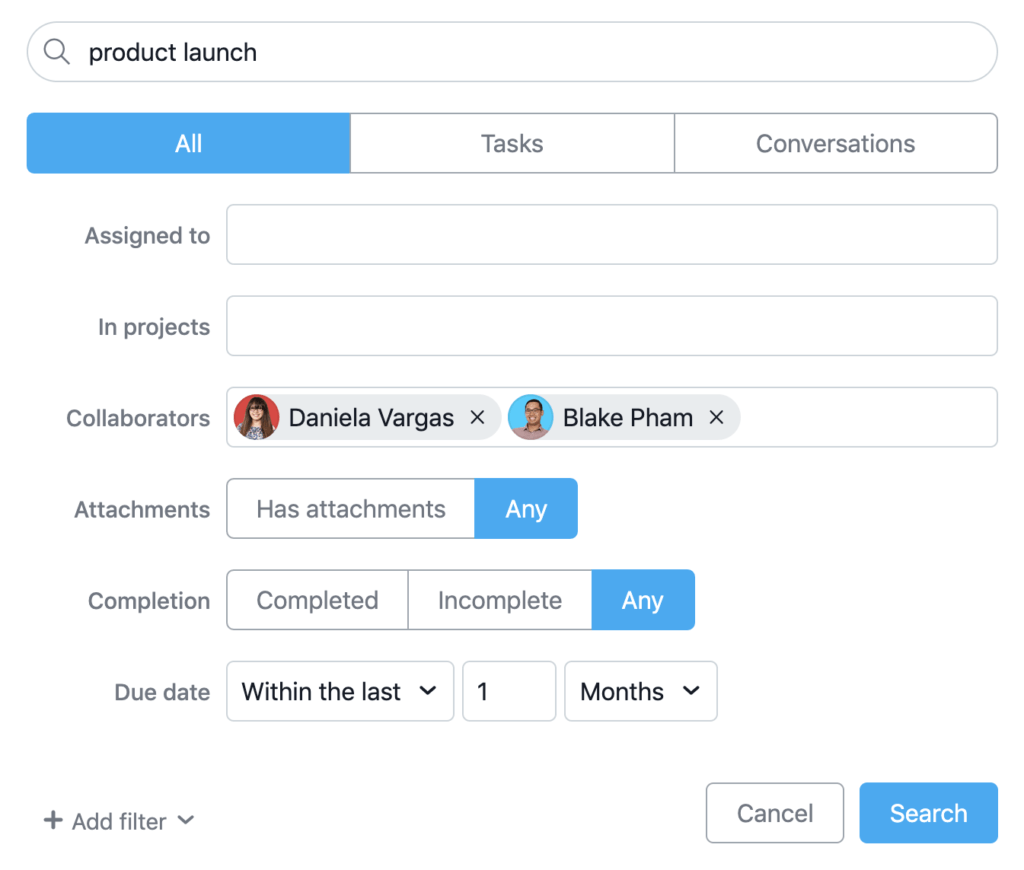 Source: Asana
Task Dependencies
Create task dependencies using Gantt Charts. These charts help team members visualize task dependencies and how they affect the overall due date.
Besides, they let you organize tasks into sections and columns with cover images. As a result, this feature makes Asana an excellent tool for teams working on graphics-intensive projects.
Video Collaboration
Create a tutorial or a video message for team members with Asana. The app allows you to record a video of yourself and share it with your team in a few clicks. So, you don't need to integrate any third-party apps or spend more time on writing guides. Besides, you can also convert the video into an audio transcript.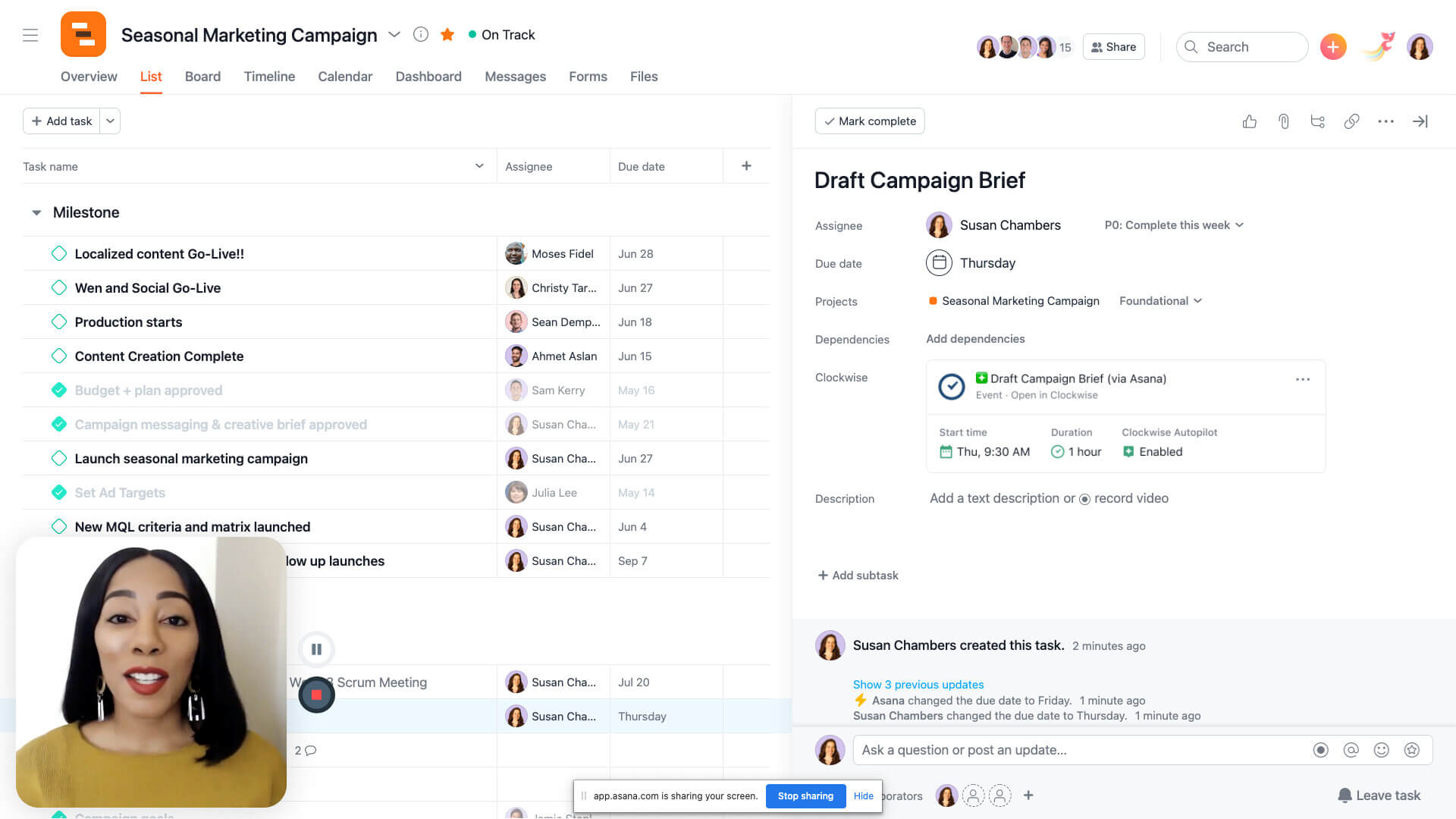 Source: Asana
Zoho Projects vs Asana: Pricing Overview
First, if you want to test Zoho Projects vs Asana before deciding on a project management solution for good, they both offer free trials. However, you need to pick up the subscription plan sooner or later, and here's what you need to pay.
What Do You Need to Pay for Zoho Projects?
Zoho Projects offers three pricing plans; Free, Premium, and Enterprise. Besides, you get a 10-day free trial period with the Premium and Enterprise plans.
The Free plan is pretty limited as you can only add three people to a team and manage two projects with 10MB of storage space. It also doesn't offer all the app's features.
The Premium plan costs $5 per user per month, with a discount if you choose to pay annually. You can use this plan for up to 50 users with 100GB of storage space. Or add client users with limited access at $3 per user per month.
While you can add an unlimited number of projects with the Premium plan, the Enterprise plan offers exclusive custom fields and profiles. It costs $10 per user per month, or $90 per user if you pay annually. Additional client users cost $3 per user per month. So if you have a massive team of more than 5000 people, contact Zoho Projects for a custom price quote.
How Much Does Asana Cost?
Asana offers four pricing options - Basic, Premium, Business, and Enterprise.
The Basic tier can be an excellent start to understanding how Asana works. However, it lacks the Timeline view, dashboards, task dependencies, progress view, and milestones.
The Premium plan costs $13.49 per user per month and offers everything the Basic plan lacks. Moreover, it includes a new feature, Workflow Builder, to create automated processes to coordinate your teams.
The Business plan is suitable for larger teams, and it costs $30.49 per user per month. It offers all the Premium plan features and workload progress, automation, and integration with some specific apps.
If you have a large team or need special features, contact the company for the Enterprise plan and get a special quote.
In short, Asana's cost can be pretty high compared to other project management tools. Unlike Zoho Projects, which comes as a full business suite, you also need to integrate Asana with other apps to manage your work better.
Which Platform Is Better: Zoho Projects vs Asana?
Coming up next is the comparison of pros and cons. Zoho Projects vs Asana come with a robust feature set. However, that doesn't mean both project management platforms have no weak sides.
What Are Zoho Projects Pros?
Ability to create and assign multiple projects
Collaborating with team members through various channels
A comprehensive business suite that cancels the need for different integrated apps
An in-depth view of how projects and tasks are progressing
Efficient resource utilization reports
Strong in-app tracking tools
Great value for money
What Are Zoho Projects Cons?
No premade templates
English is the only supported language
What Are Asana Strong Points?
More than 1000 supported apps for integration
Allows you to add assignees and tags to tasks
Innovative search box
Ability to comment on tasks and subtasks
What Are Asana Weak Sides?
Slightly more expensive, primarily when used on a large scale
Too many features can be confusing or unnecessary
No built-in time tracking feature
Assignments are more limited
Request integrations with other apps for efficient project management
Who Uses Zoho Projects?
It comes as no surprise, but about 424 companies use Zoho Projects. Most of them are in the US. Usually, Zoho's users work in such industries as:
Computer Software
Information Technology
Marketing and Advertising
Real Estate
Most small to medium-sized companies go for the Premium plan, while the Enterprise plan works for larger companies. Some of Zoho Project's most prominent clients include names like Navigator CRE, BIORAY®, Edinburgh College, and Viacom.
Who Uses Asana?
Currently, 11,449 companies set up Asana for project management. However, some businesses use it integrated with multiple apps. As for location, many companies are situated in the US and the UK, although Asana has prominent users in other parts of the world.
Due to its nature, Asana is quite popular in industries like:
Computer Software
Marketing and Advertising
Retail
Higher Education
Asana's cost increases with large-sized teams, so it's more suitable for small and medium-sized companies. However, several big names like Uber, Harvard University, Vodafone, Amazon, and Google use Asana.
How to Migrate Data to Zoho Projects or Asana?
As your business needs change, you might start to look for a better tool to manage various teams and projects. However, then you face a data migration.
Asana offers you a few in-built options to import data. First, CSV Importer lets you transfer projects, tasks, and subtasks. Or you can import data from such project management tools as Monday.com, Trello, Airtable, Smartsheet, Wrike, and Google Sheets. However, you still need to export their data into CSV first. If the chosen tool supports XML or Google Sheets export, you need to convert the generated files into CSV.
As for Zoho Projects, the product management tool supports MPP/ MPX/ XLS/ JSON/ CSV import. In addition, you can pick up the status type and map users. However, you need to do it all manually.
That's why automated data migration is a better option. With Project Management System Migration, easily migrate your data from any supported app to Zoho Projects or Asana and vice versa. Import all project data at once or just a part of it. Plus, you can choose a support package to make your data migration even more smooth.
Which Tool Suits Better: Zoho Projects vs Asana?
In short, both Zoho Projects vs Asana are two excellent choices for project management. However, Zoho Projects is a comprehensive project management tool that allows you to collaborate with your teams through multiple channels. It's also quite flexible, although many features are less valuable than others unless your work depends on creating tasks and subtasks and requires detailed viewing of both.
Asana is more flexible and allows for more creativity, especially if monitoring subtasks isn't the primary goal. However, it can be a little pricey, especially with bigger teams.
Frequently Asked Questions
Zoho is more detail-oriented than Asana, and it offers more in-app features. However, if you don't need them in your business, then Asana will be an excellent choice.
Zoho is one of the best project management software tools.
Several apps can replace Asana, like ClickUp, Trello, Basecamp, and Jira.
On the whole, it's pretty easy to use, but some of the detailed features can be a little confusing for a first-time user.
A project is several tasks that relate to each other and affect each other.
Asana can be more inclusive than Jira, which focuses on more technical aspects of projects.
Smartsheet has more features to make project workflow management more flexible. Nevertheless, Asana is still a good app.
Slack is a communication app, while Asana focuses more on work and project management.
Want to migrate to Zoho Projects or Asana?
Let's migrate your data automatedly
Setup a free Demo