Lately, the industry has seen a growing demand for project management applications by small and midsized businesses and organizations. If you are selecting a project management tool, you can choose from a plethora of platforms available. When it comes to project management applications, Monday and Asana are two popular heavyweight players. In this article, we will thoroughly compare two of the greatest tools available: Monday vs. Asana.
However, before we dive into a detailed comparison and review, let us get some background information about these two project management applications.
Monday.com
Monday.com is a cloud-based tool and an online team collaboration project management system that facilitates medium and small-sized teams to complete tasks on time. You can avail of this platform's service in bi-annual, annual, or monthly subscriptions. Project members may make use of Monday software to share project files, knowledge, assign tasks, mapping task schedules, and communicate with clients. 
Monday.com allows you to construct Kanban-style boards that comprise columns and rows.
On the left of the Monday.com's task management window, you will find rows, which represent different tasks. Furthermore, columns on the right of the window show your project's unique details and information. Details to add include assignee, due date, task status, and so forth.
Asana
Very much like Monday.com, Asana is a workflow management tool (cloud-based) ideal for both medium and small businesses and organizations.
Asana task management enables project team members to collaborate, communicate, share project files and knowledge, conduct tasks assigning, set due dates, create tasks, and much more!
Asana is particularly great for working on projects that are not too intricate in nature.
Monday Vs Asana: Which Project Management Software to Select?
Monday and Asana provide a number of ways to streamline your projects; from centralizing team communication to working with templates. However, these 2 applications provide different experiences in terms of work visualization, user interface, work visualization, and other features. The ideal application for you will be contingent on your project's complexity and how many individuals you are working with.
To help you make the best choice, we will be comparing 4 features that include:
User Interface
Team Management
Work Visualization
Pricing
User Interface
In short, both applications, Monday and Asana, make it considerably easy to add new tasks to projects. However compared to Monday.com, Asana provides a more intuitive user experience.
Asana's side navigation is to-the-point and very simple with friendly labels and icons to assist in guiding you to the right area, from your reports to your inbox. If you somehow end up getting lost, you will be able to find your most pressing tasks with approaching deadlines and previous projects on the Home screen.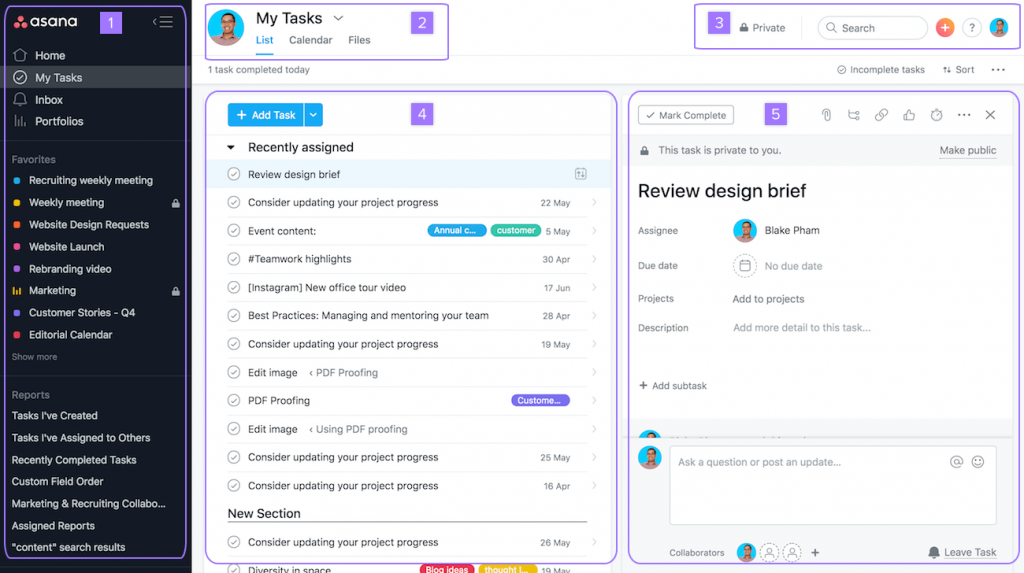 The blue, big button within a project allows you to add tasks. Alternatively, you can click into the project's body to add content. The top navigation swiftly displays other features, such as building a form, beginning a conversation, or switching project views.
On the other hand, Monday's interface is slightly more difficult to acquaint yourself with. The applications' default screen shows your project plans or boards, inbox, and dashboards. The site navigation just shows icons that are not easy to comprehend (as a case to point, a lightning bolt icon indicates "Boltswitch," which lets you switch to another board).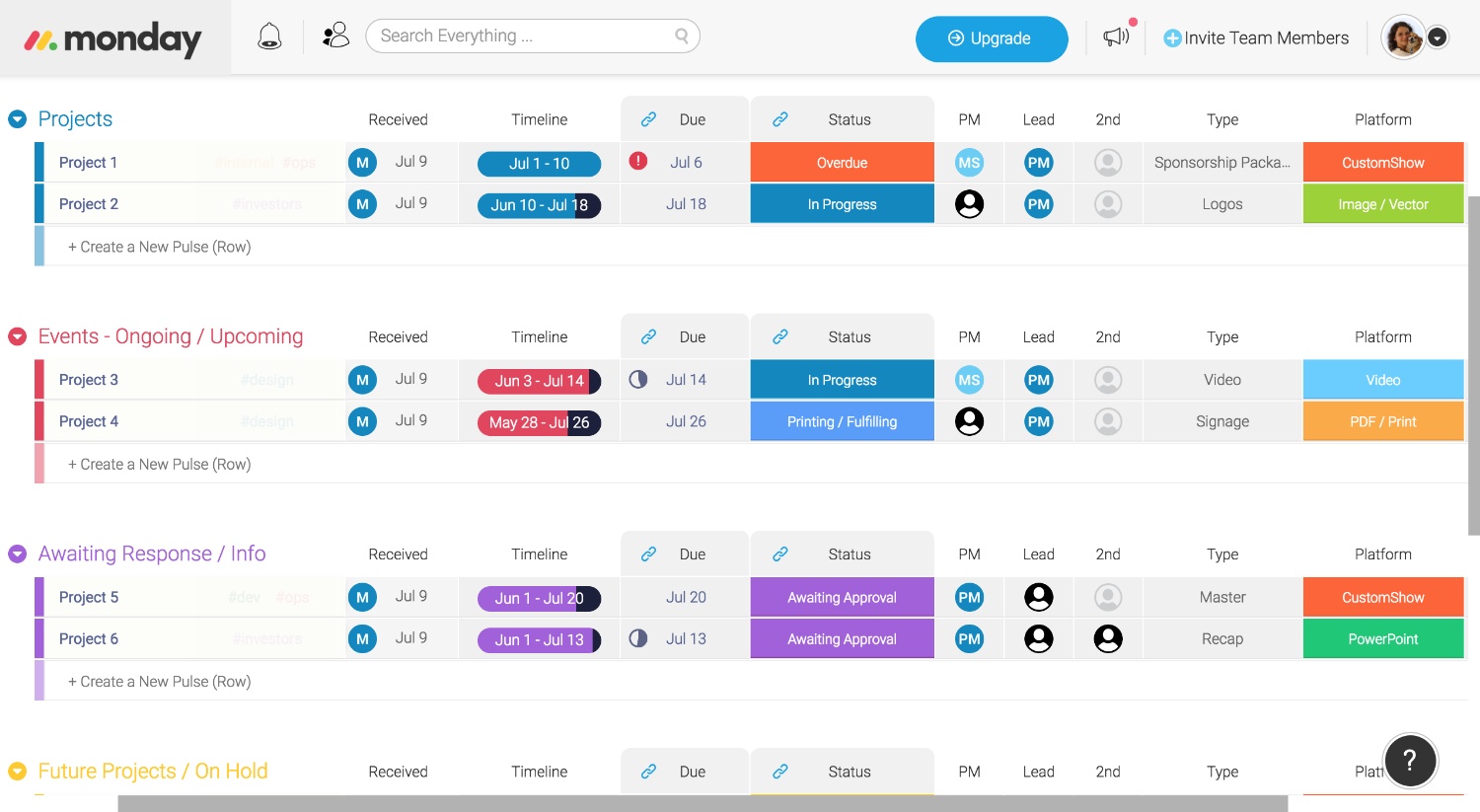 After opening a board, it is simple to comprehend how to add new details, tasks, switch views, and columns. However, unfortunately, that is the limited extent of the software's simplicity! The user interface is minimal and that is a considerable disadvantage. On the upper-right corner, users can see five icons and none of them have labels. To remember what they do, you need to continue to click or hover on them.
Work Visualization
Asana provides a broad range of options to visualize your work. After all, a list might not always be the ideal format to view information. You may view your tasks in a timeline, list or calendar within individual projects. Furthermore, you can also make use of the "Files View" to observe a gallery with every attachment of the project in a single place.
Additionally, you get two advanced visualization features with Asana: workload and portfolios. Portfolios are dashboards (real-time) that combine important project information and show you details such as status (with a green, yellow, or red icon), color-coded priority, and progress bars. Workload is present inside the portfolio feature and is Asana's version of resource management. It provides you with a snapshot of your team's capacity. You can observe every individual's bandwidth across the times and days you choose in a dashboard (chart-like).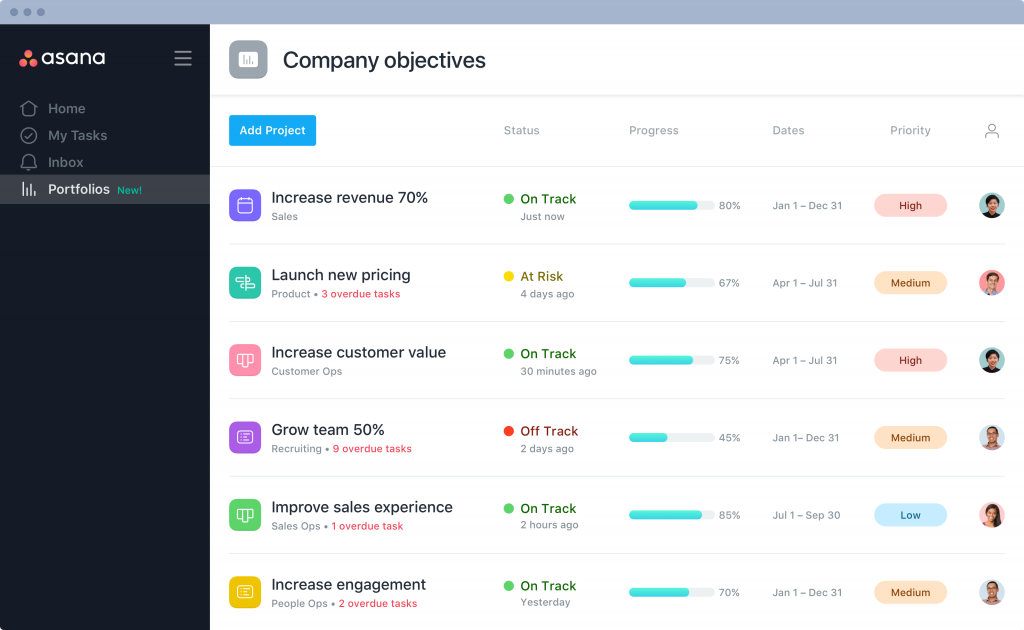 Portfolio management in Asana.
Monday.com provides an even greater number of visualization options to users at the project level. This enables you to view information in a timeline, table, calendar, kanban board, chart, calendar, or map. By immediately changing your project information to a view that suits you, Monday does everything for you!
Furthermore, you have access to more visual options in the project itself with Monday. Each new project is accessible in a table view by default, and you may add columns for information in the table. You can select from several column types, such as timeline, color-coded status, checkbox, progress tracking, star rating, and much more!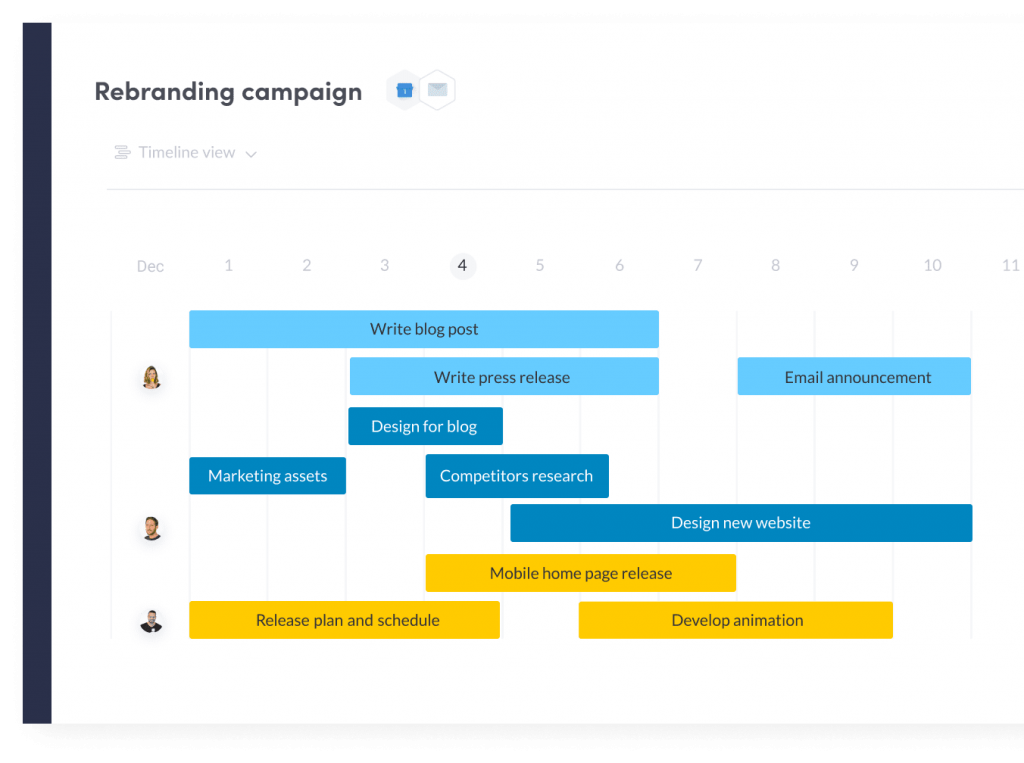 To summarize, when it comes to Monday vs Asana for work visualization, Asana provides a greater number of advanced visualization features. On the other hand, with Monday, you get more options with which to visualize projects.
Team Management
Asana provides more advanced level team management features than Monday.
The most effective team management features of Asana are only applicable to "organizations," that link the working staff members from the same organization by means of the same email domain. Employees can split into teams within a company to work on tasks and projects. Moreover, every team has its own Team Page, where you can view all the projects your team is currently working on, all conversations, and a shared team calendar.
Additionally, you may collaborate with individuals outside your organization or team. However, these guests only have access to what is shared with them explicitly, as they have limited permissions. These guests do not contribute to the membership count overall if you own a paid company account.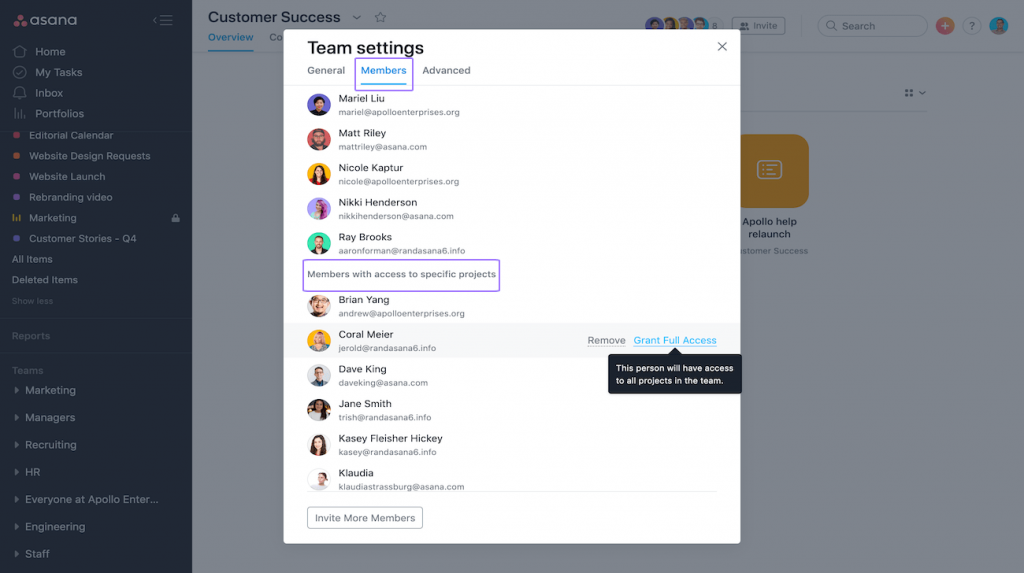 In contrast, team management is handled at the very rudimentary level with Monday.com. On the account level, you may invite a member who can create new edit boards or edit previous ones. You can also invite viewers who have read-only permissions. Similar to Asana, you may work together with clients or vendors outside your team (however, such guests only have access to shareable boards). But this is where Monday.com's team features come to an end. There are no particular organizational components for team boards or a dedicated page for team activity.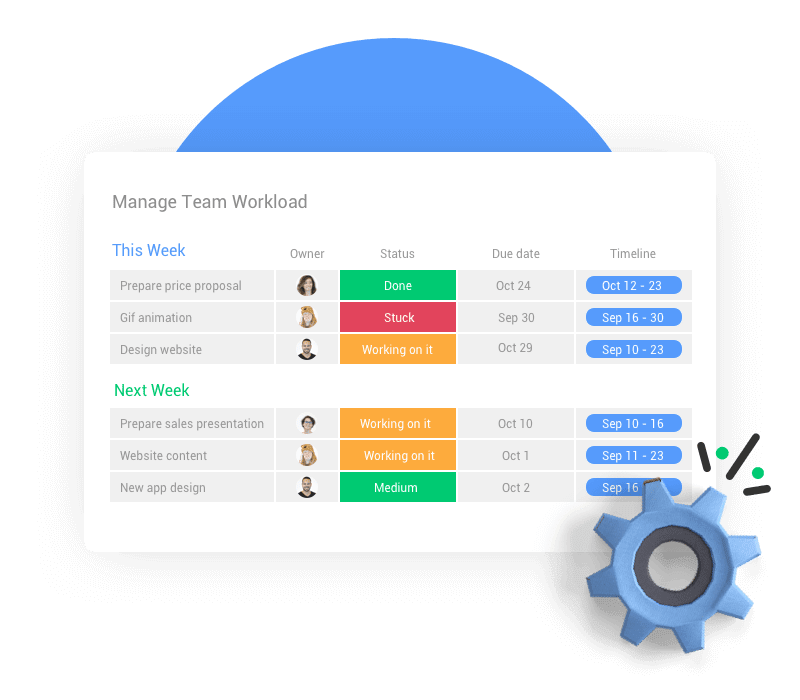 Pricing
When it comes to Monday vs Asana in terms of pricing, both of these applications provide various pricing tiers that depend on the number of user licenses you require. Asana is slightly more expensive than Monday but the former comes with a free plan. Although you can sign up for a 14-day free trial on Monday.com, you will have to upgrade yourself to a paid plan after the free trial expires.
Asana's free trial allows you to work with up to 15 other individuals, and you may still view tasks and track them on a Kanban board or as a list. You might miss some features like access to priority support and advanced security features. However, for freelancers, small-sized teams, and solopreneurs, the free trial of Asana provides all the basics that you require to run simple projects.
Other Primary Differences between Monday vs. Asana
Monday only allows permission settings at the very basic level, whereas with Asana, you get advanced permission levels for teams and pages.
The Asana project management tool enables commenting on team pages, tasks, and project views, while Monday.com only enables comments on tasks
Monday natively provides true Gantt charts while Asana needs some integrations and customizations to accomplish true Gantt charts
Monday does not provide free of cost file storage while Asana offers integration of free file storage.
Conclusion: Which Tool You Should Use Between Monday Vs. Asana?
Both Monday and Asana are highly effective project management applications that will assist you in organizing your work and communicating with your work team.
You should select Asana if you are collaborating on a complex project with several external and internal individuals. Its great team management features put together all information in a single place, and you can allocate resources very accurately, courtesy to advanced features such as workload and portfolio management.
On the other hand, Monday is the best choice for to-do lists or smaller projects where you are either working with one or two other individuals or working solo. At the same time, Monday.com's boards are perfect for showing plenty of detail at a glance in several ways, such as colors, icons, stars, etc.