A long-awaited Trello vs Wrike comparison is here. We all need a powerful project management tool to smooth the project flow and get better results. That's why the choice between Trello and Wrike doesn't look like something unusual. Both tools never cease to amaze with their features and capabilities. But, how to choose your ideal project management system? Let's solve this question together.
Trello vs Wrike: General Feature Concepts
At first sight, Trello and Wrike seem like similar project management systems. They both have
a knowledge base. Multiple users can work on the same project. Vendors support freemium plans with access to the basic features. They let you delegate tasks between individuals easily. Besides, Wrike and Trello support many integrations to simplify the communication between team members. Let's look at both platforms closer and dig into the features, pricing, and pros & cons.
What Are the Best Features of Trello?
Kanban boards: It's a visual board that includes all your cards with tasks. When you start working with the Kanban board, you need to map the required steps to implement your project. Then you place your cards and label them to their priority. You can change settings, add an extra description to tasks, and place filters. Customize your background and colors to your preferences.
Workspace: All boards exist within one Workspace. You can use a Workspace to contain all boards for planning, freelance work for one user.
Unlimited Workspace boards: Trello provides you with a selection of boards that can suit different spheres.
Visual interface: Trello has a user-friendly interface, so your team wouldn't need training, just a quick onboarding before getting to work.
Multiple views: You can see your project from every angle with Board, Table, Timelines, Dashboard, Calendar, and Map views.
Task automation: Butler adds a checklist to a task and sets a due date automatically. Besides, you can add custom buttons to a card view and a Trello board. Butler archives and sorts cards by title, labels, and due date.
Power-ups: They help Trello to meet your needs by managing your workflow.
Labels: You set different color labels for your tasks based on their priority, category, or other aspects. Labels help you to identify the task progress or which department is responsible for it.
Priority Support: You can contact the Trello support team via email or check out their Community. If you are Business Class or Enterprise user, you can use customer support from the Trello team within one business day.
Access control: Add or remove users from a Workspace. Besides, you can send Workspace invite links. You can convert guests into Workspace users easily.
Integrations: Trello offers lots of add-ons, browser extensions, connectors, and Trello to Go integrations.
Mobile apps: Android and iOS support Trello mobile apps.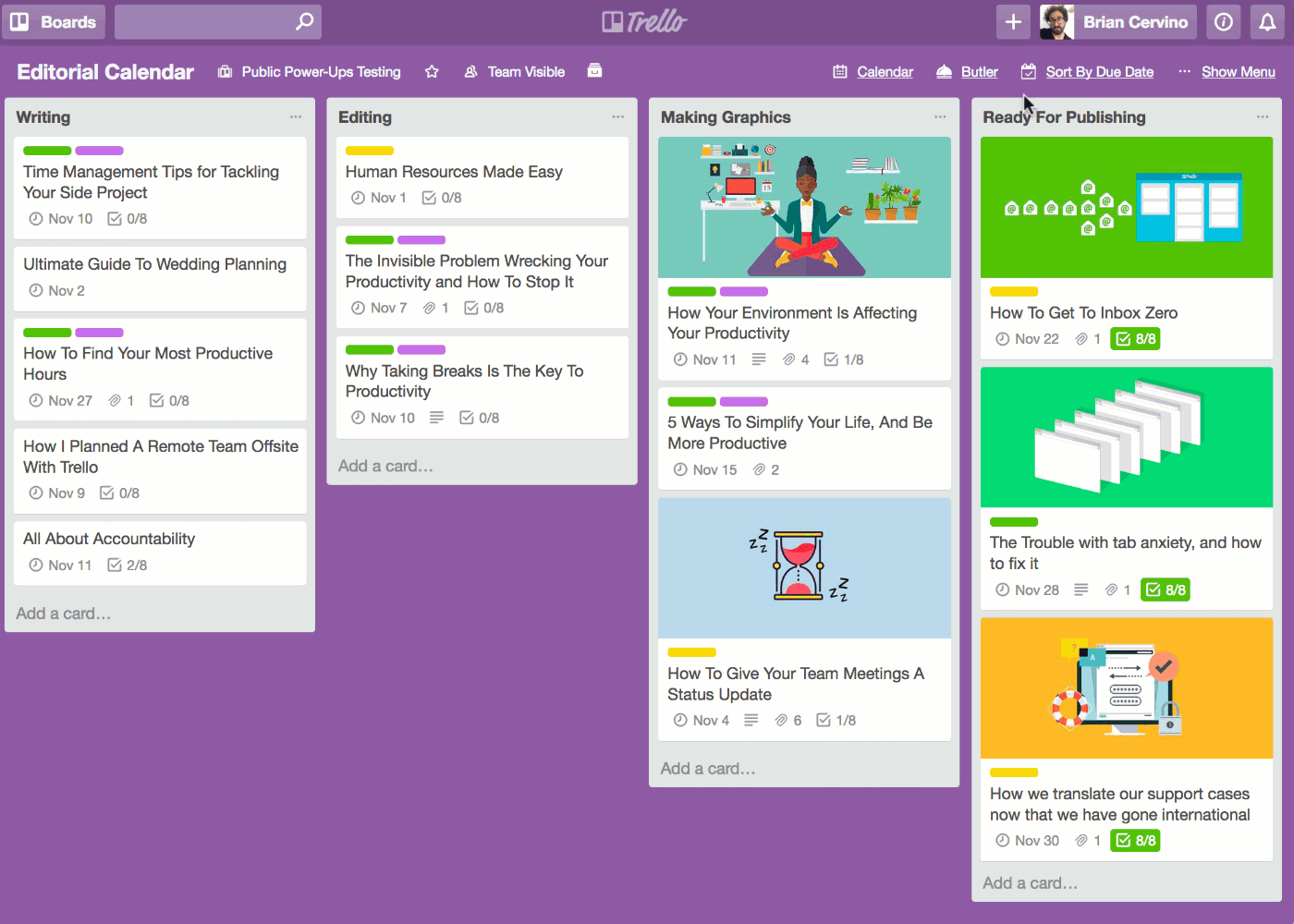 What Are the Features of Wrike?
Gantt chart: A graphic chart depicts the start and finishes dates of tasks and dependencies. You can see how your project progresses and prevent potential blockers and delays.
Kanban board: Visualize your work and limit work in progress. That's the recipe to maximize the efficiency of the project flow. You can use cards, columns, and continuous improvement to help your team stick to the right amount of tasks and get them done.
Framework (Tasks, Folders, and Projects): You can use folders to store and organize the project's details. Each project has an owner, start and end dates, and related tasks.
Shareable dashboards: The dashboards contain Lists, Boards, Tables, Gantt Charts, Files, and Time logs. They are sharable so that you can send them to key stakeholders.
Pre-built email templates and an option to create your own: You can use templates to ensure that all your team members work on the same thing. Templates can be adjusted to each project. You assign each Task to an individual who is responsible for its implementation.
Calendars: Keep the pulse on deadlines, project progress, and possible downtime. The calendars are sharable, so you can send them to all team members to keep everyone in sync. You can integrate your calendar with Outlook and Google calendar.
Request forms: Instead of receiving requests via different channels, you can create a request form. It's easy to enable your team members to access the form outside Wrike. Besides, you can set a form to create Task, Project, or Project from a template.
Advanced analytics: Build an analytic dashboard for your team to receive advanced reports. You can integrate analytical widgets to update the whole dashboard automatically.
Time tracking: Save your team from overtiming and improve task planning via timesheets. Besides, you can create and lock timesheets.
Task approvals: Create a fixed workflow for your task approval. You set the statuses that automate the transition to the next stage. Plus, all approvals are sorted out in a separate widget so it is easy to check up on their status.
Advanced integrations: Wrike offers up to 400 integration to enhance daily tasks, reports and smooth the project flow.
Access control: Wrike offers four Access Roles to users: Full, Editor, Limited, and Read-Only.
Customer support: Receive support from the Help Center via email, phone or chat to get answers to your questions and concerns.
Mobile apps: Wrike has both mobile apps for Android and iOS and desktop versions for MAC and Windows.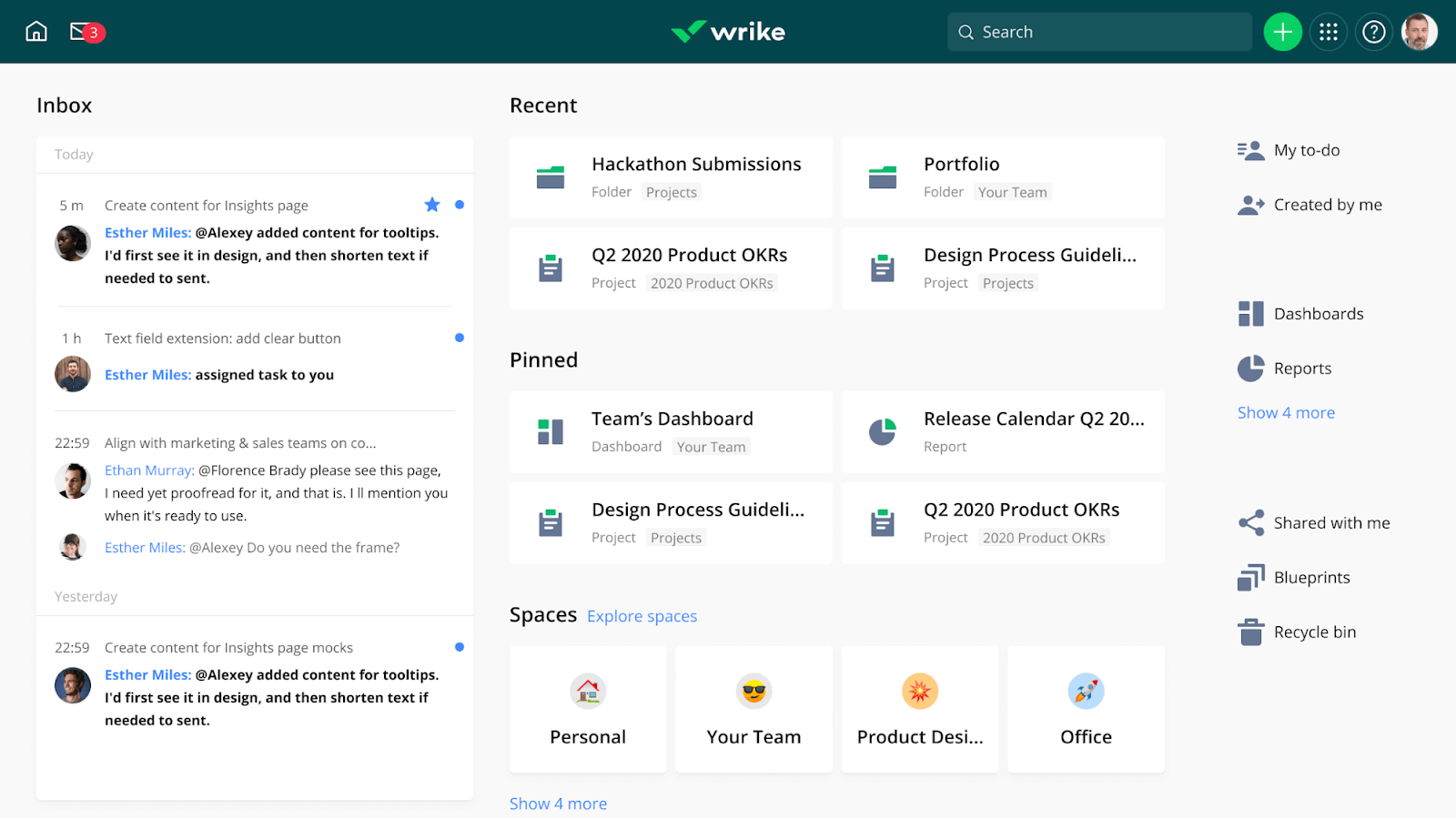 So, Trello suits small projects and simplifies the workflow of small businesses, while Wrike has a bigger functionality to organize the work of big projects and companies. So, if you work for a small company, Trello will help you track the progress and share your cards with clients.
Hence, if your company has a lot of projects and employees, then Wrike is a better option in setting up successful projects.
Wrike vs Trello: What Price Is It Worth to Pay?
You can never underestimate the budget, so Wrike and Trello pricing. Important to mention that both of them offer freemium plans for their customers along with different price tiers. Let's feature what price & feature set meet your technical needs and budget capabilities.
Checking Wrike Pricing
Wrike pricing is rather diverse. It has four main pricing plans: Free, Professional, Business, and Enterprise. You can try the last three options with a free 14-day trial before the actual purchase.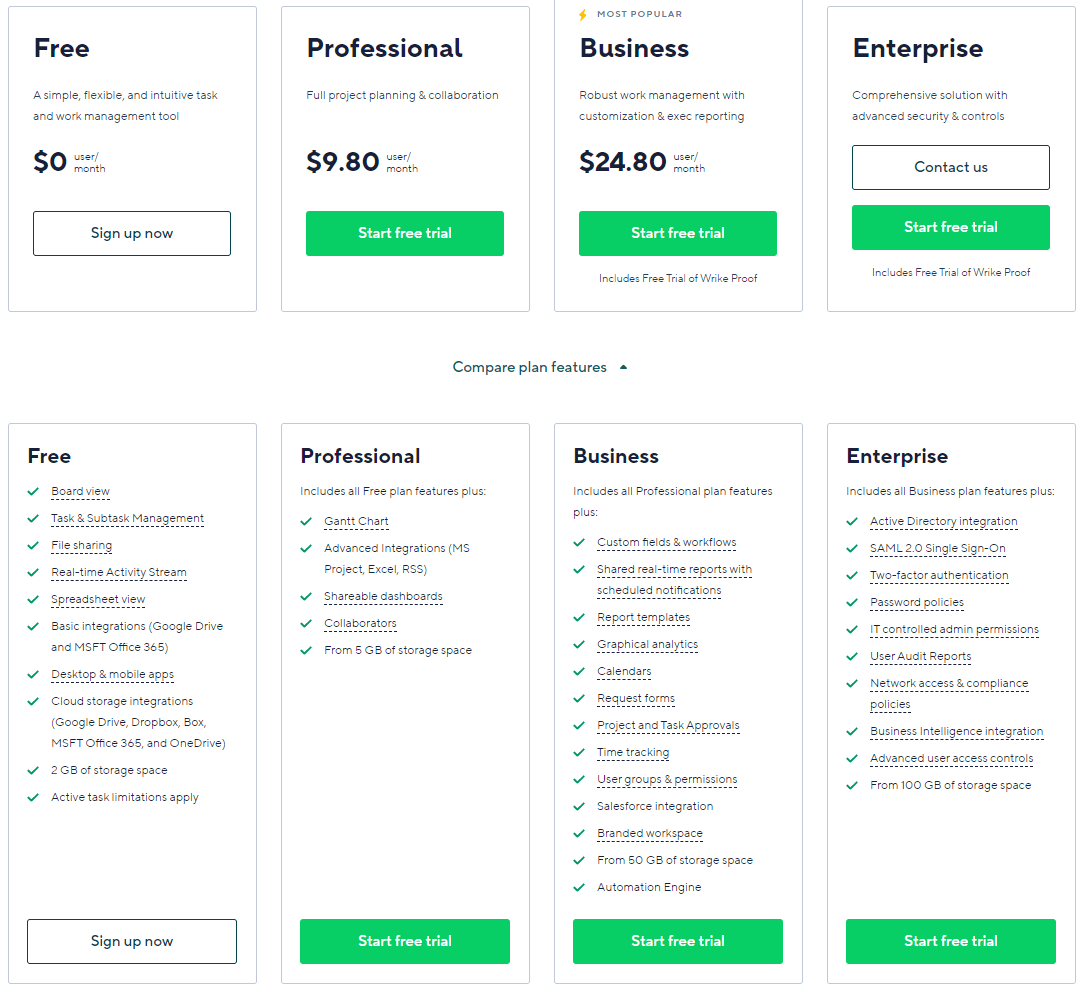 With Free plan, you can have up to 5 users, access board view, file sharing, basic integrations, task management, a spreadsheet view, desktop and mobile apps, and 2 GB of storage.
Professional plan includes everything from the free plan and more. Here Wrike offers you 5-15 users, task and subtask management, collaborators, Gantt charts, sharable dashboards, and advanced integrations. In addition, you have up to 5 GB of storage per month.
As for Business plan, it costs $ 24.80 per user per month. For this fee, you get everything from the professional plan along with calendars, custom fields, track time tools, real-time reports and notifications, request forms, salesforce integrations, report templates, user groups and permissions, and 50 GB of storage per month. What's more, is that this plan includes a free trial of Wrike Proof.
Besides, Wrike offers some specific pricing plans for marketing and creative teams and service delivery teams. These plans are available only for Business and Enterprise users. You need to contact Wrike's support team for a quote and more details on Enterprises, Marketers, and Professional Services plans.
How Much Does Trello Cost?
Trello pricing is more basic in contrast to Wrike. The project management system offers its users just three pricing: Free, Business Class, and Enterprise. In comparison to Wrike, Trello has some power-ups, views, integrations, and automation.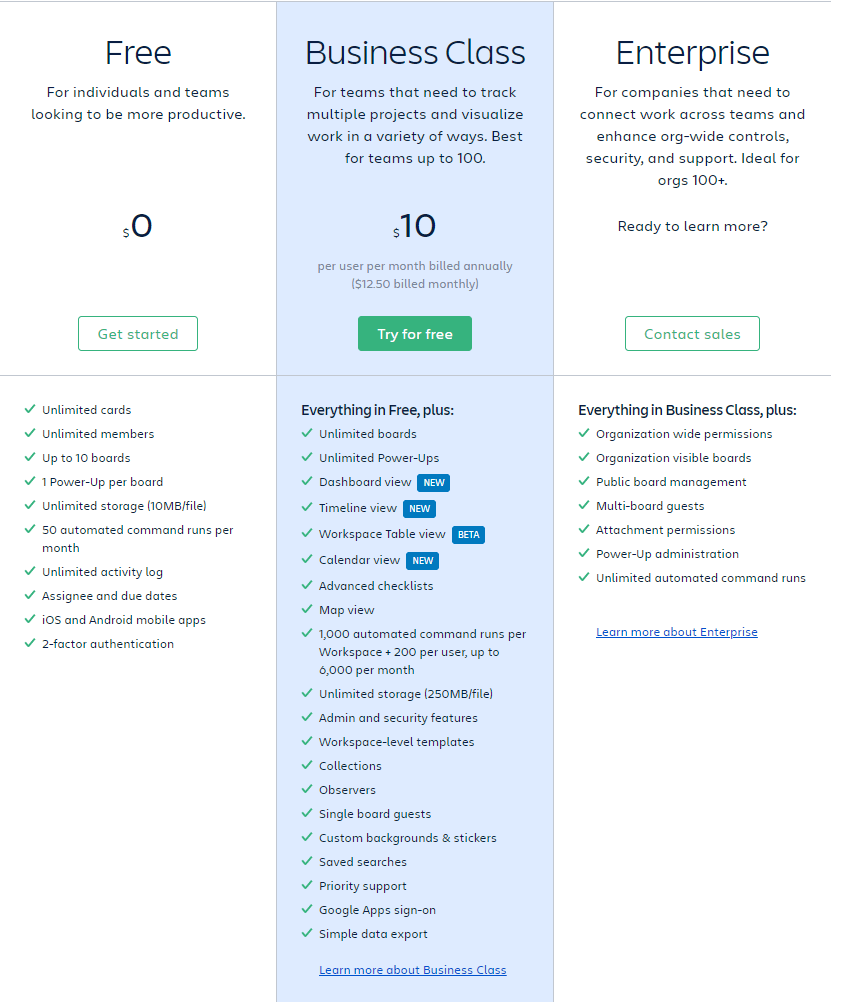 Trello has a Free plan with unlimited users, boards, lists, and personal boards. What's more, is that you can have approximately 10 team boards and 1 power upper board. Plus, Trello gives you simple automation and 50 command runs per month.
Business Class plan contains everything from the Free plan along with custom background and stickers, board collections, power-ups, unlimited team boards, custom fields, calendar and map views, priority customer support, list limits, voting, and card repeater. A Business class plan starts at $20.83 per user per month for less than 300 users. Hence, the more users you have, the lower price per one user you need to pay.
Lastly, Enterprise plan includes all features from the Business class plan; however, it offers personalized onboarding, organization visible boards, public board management, and attachments restrictions.
Pricing Comparison
Freemium
When we compare Wrike and Trello free plans, Trello free plan is much better because of unlimited users, boards, cards, and lists. In contrast to its competitor, Wrike offers just 5 users and a spreadsheet view.
Business
Wrike's Business plan differs widely from Trello's Business Class plan both in price and in features. You pay less for a Trello account, $10.00/user/month, but you receive simpler features. Wrike is advanced with multiple views, automation engine, request forms, project and task approvals.
While Trello has many power-ups and integrations, Wrike has many wonderful add-ons that you can buy as separate products. For instance, you get a free trial of Wrike Proof as you request a Business plan.
Enterprise
Both plans are rather similar in their features offering advanced security and compliance practices. Wrike ensures your projects stay protected with two-factor authentication, advanced user password access, SAML 2.0 Single Sign-On, and password policies.
On the other hand, Trello offers just SAML SSO. Besides, the functionality of Trello's automation tool, Butler, is simpler than standard features in Wrike's Business plan. As a result, Wrike's Enterprise plan is mainly suitable for large corporations and Trello's Enterprise plan.
Which Is Better Trello vs Wrike?
Coming up next is the battle of pros and cons. Both Wrike and Trello never stop surprising their users by offering more and more updated features. But, even the most perfect thing has its strong and weak sides.
What are the Pros & Cons of Trello?
In contrast to its competitors, Trello unleashes such advantages as:
Advanced Kanban board with lots of power-ups: The board goes along with unlimited boards, cards, and lists.
Real-time updates: You can track your task and project progress, potential pitfalls in real-time. In such a way, you can manage your workflow and operate your team.
Mobile app available: You can use Trello on any mobile device as simple as on a PC.
Multiple integrations: You get 200 + apps divided into several categories to skyrocket your account.
Easy to share and to set up an account: You can share your dashboards with all stakeholders and clients.
Customizable themes: It's easy to customize your board to your requirements and visual preferences.
Real-time updates: Get updates on your cards in real-time to see the overall progress.
Unfortunately, the power-up Kanban board can't help Trello hiding some of its main issues as:
Lack of crucial features: Trello doesn't have inbuilt Gantt charts.
Limited calendar app integrations: Trello doesn't have its own calendar, but supports a few integrations.
Unsuitable for large-scale projects: Limited features make it hard to operate multiple projects simultaneously on a single Trello account.
Slow file uploading: Hence Trello provides unlimited storage, the file size is still limited. This makes it almost impossible to upload files that exceed the size limitations.
What Are the Benefits and Drawbacks of Using Wrike?
Among Wrike's Pros, we can single out such great as:
Inbuilt Gannt charts: Get a birds-eye view of your project tasks and team relations. This way you predict where the blocker or deadline might happen and prevent them.
Progress and time trackers: Track how much time your team members spend on each task and improve your workflow planning.
Task dependencies function: Thanks to this feature, you can in which order to put your tasks to reach your desirable progress quicker.
Intuitive interface: It's easy to set up and to use for multiple projects.
Reporting and analytics function: Monitor the status of every task and the overall progress consistently.
App integrations: More than 400 integrations to help you plan and control your project progress.
Real-time updates: You can receive all updates on your team members' tasks so that you can divide the workflow more efficiently.
High-security level: Wrike protects your projects with password policies, two-factor authentication, network access and compliance policies, advanced user access control, and IT control admin permissions.
Despite the big number of advantages, Wrike still has some features to improve. Here we can point out such shortcomings as:
Lack of inbuilt messaging system: You can't communicate with your team members directly in Wrike, but only using emails or messaging integrations.
Customization only available in premium: Wrike enables you to adjust your platform to your needs only if you have a Premium account.
Task export in Excel format: If you want to manually export your tasks from Wrike, you can migrate them only in Excel format.
Planning view export only available in PDF: You can export your planning view only in PDF format.
How to Migrate Data to Trello or Wrike?
Sometimes, the choices we've made lead us to better ways of managing our projects and controlling the workflow. Data migration is the choice that influences our project greatly.
Both Wrike and Trello propose native importers to migrate your data. You can import XLS files with tasks, projects, and folders to Wrike directly. What's more, you can migrate your Outlook tasks and MS project files to this project management system as well. In contrast to its competitor, Trello allows you to manually copy your data from Excel files to newly created cards.
Hence, both project management software enables you to migrate your data using a third-party solution. For instance, you can use Project Management Migration Service to move your data automatically. The data migration tool saves your time on redundant manual work and dealing with different file formats.
Bottom Line
If you have just started getting familiar with project management systems, then Trello is the right option for you. This solution suits small and medium-size projects that rely on the visual understanding of their projects. On the other hand, Wrike fits medium-sized and large companies that need to scale up their projects rapidly.
Hence, both project management systems offer a free version. So nothing is holding you back from finding out on your own which solution is the one for you. And, when you decide to migrate your data, Project Management Migration Service is what you need.