Are you in the market for the best project management tools? If so, then you've probably heard about a system called Wrike. It is dedicated project management software designed with all kinds of business activities in mind. The system itself isn't new and over the years, has garnered a vast amount of attention due to its excellent performance.
Unlike other systems on the market, Wrike project management software is built with speed and efficiency of work management in mind. It doesn't rely on cheap gimmicks nor do you need to pay extra for it as everything was designed that way from the very beginning. It is fast, it is highly compatible, and most importantly, constantly being improved.
Yet, with all this speed and efficiency, collaboration tools come with a steep price tag in place. So, the question is, is it worth stomaching the price, or should you buy something less fancy? The answer isn't as obvious as it might seem, hence why we are here. Today, we'll be covering the core features of the tool, the disadvantages it might have, and naturally, the pricing. We'll also look at tech details in great detail and finish off with user reviews. As usual, the amount of work posed is staggering, so let's not waste any time and start answering questions right away!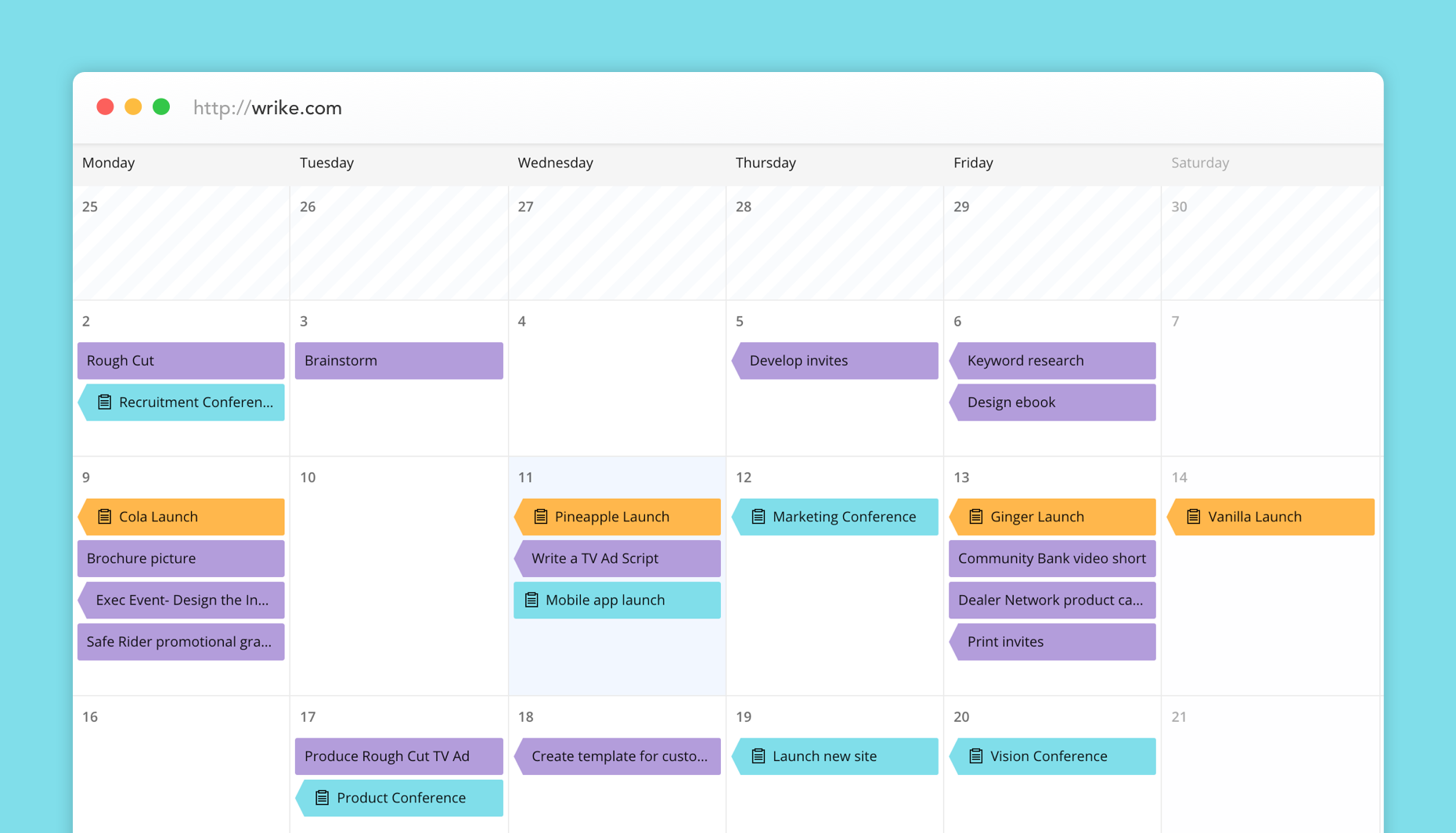 Wrike calendar
Source
Key Features & Benefits
Before we begin with our Wrike review talking about the many benefits and features Wrike has to offer, let's set some ground rules. We won't be covering basic stuff as such features don't represent the system. We also won't be covering every single unique function and only focus on the ones that bring the most value. Alright, now on to the features themselves.
Tags and Folders
When it comes to organizing your project files and structure, nothing beats the Tags and Folders functionality. With it, you can put as many items and files into as many folders s you need, all without duplicating anything. Furthermore, Wrike also allows you to sort everything. Stuff like projects, tasks, and even sub-tasks can be changed locally without worrying that it'll affect other staff, allowing you to personalize the way you see your work without affecting anyone else. Finally, if you are feeling generous, you can share tags and folders with your coworkers.
Activity Stream
One of the best things about Wrike is its ability to provide you with a detailed overview of everything. That's right, you can keep tabs on everything that is happening around through a single entry point, that is the Activity Stream feed. This small little feature is a very sophisticated system as it allows you to view not only small things but the entire picture in just a few taps. Moreover, you can set your activity feed to display stuff in chronological order and if you find tasks that annoy you with notifications, you can unfollow them to clean up space. You can also set the system to show you specified processes at all times, by setting a widget in your Dashboard that'll update in real-time.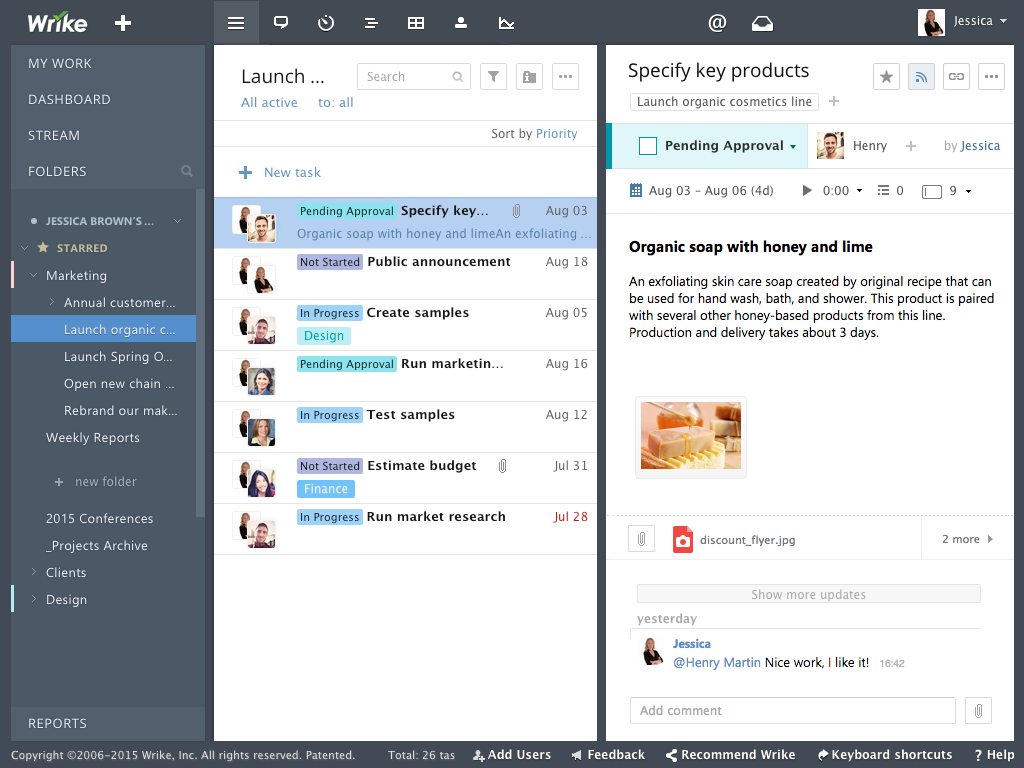 Wrike interface
Source
@Mention System
Tieing up with the previous system, the Mention tool will allow you to see what others are doing and in case of necessity, tag them to point out specific needs. The receiving end will get notifications across the board (unless specified otherwise) with a direct, encrypted link to the specific task. Finally, the system will synchronize with the Activity Feed automatically so that all your team members can have a holistic view of the whole day.
Task Tools
And now for one of the central pillars of the tool, the task system. Wrike likes to do things simply but will leave you with enough room for complexity. What this means is that the Task tool can be used to easily issue small tasks in a matter of seconds. But if you have a massive assignment in front of you, you can divide it into small micro-tasks in a very intuitive way. It will help you build a specific task structure where you can easily close or open new tasks all without being worried that things might get complicated.
Another benefit of the system is that it can help you point out core bottlenecks by looking at the time tables as to how long it took the task to be completed. This system will also form a timeline of the project which you can use to prioritize work. Finally, the system lets you attach files, cross-link work, and display images to boost cooperation without spending extra on sharing systems.
Analytics for Reporting
When dealing with project planning and a ton of tasks at once, keeping everything in top shape can be hard. Thankfully, Wrike's analytics suite can be used to cook detailed reports that you can easily share with your stakeholders, relevant parties, etc. The system comes with a few templates included too. The Global Report will help you see how much was done, what folders are trailing behind, and what is the expense. The Performance Chart, as the name suggests, will help you see what division requires help, and what tasks bottleneck them the most. Finally, there's the Statistics report that you can use to highlight growth or reductions of specific metrics.
Forms and Requests
We are almost certain that when it comes to project management, standardization is practically nonexistent. Everyone is sending out emails and requests the way they see fit. However, with Wrike, you can incentivize your employees to use pre-baked forms and requests that require so much to make them fit into your needs. Engineers over at Wrike know well that unclear requirements and badly communicated priorities are the main culprits of deadline extensions. Forms and requests make communication much more streamlined and clearer as such messages are not only pre-written but stylized accordingly. Urgent messages are highlighted, low key requests are sorted out accordingly, and so on. It is intelligent and it saves time.
Enterprise-Grade Data Protection Reports
Data security is paramount no matter what you might think. Your data is one of the most valuable assets in your company. It is right there with your employees. So, having the ability to get access to an enterprise-grade audit report that'll pinpoint malicious activity in hitch is a very big deal. Wrike will help you identify threats from both, in and out of your company well in advance. Knowing ahead of time means being prepared, and there's no better way to save your information from leaking.
A Robust Integration Module
Last but not least, Wrike provides its customers with an exceptional list of native integrations. Whether it is popular social media sites such as Facebook or Twitter or work-related tools such as Google Docs and Sheets, Wrike will let you hook them in just a few taps. The system will connect you with all the tools you need and in case you need to update data on both ends, Wrike got you covered as it can do that as well.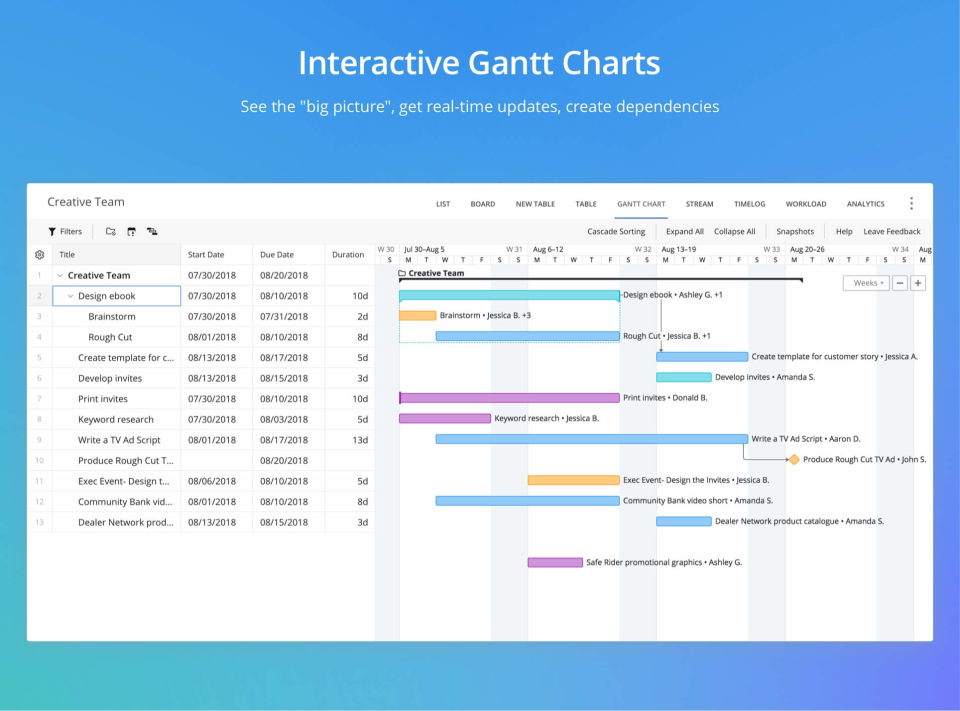 Wrike charts
Source
Disadvantages to Consider
We covered the many benefits and features Wrike has to offer for both enterprise and small business, now let's take a look at some of the disadvantages you need to consider before buying in. As we did last time, we can't possibly list them all so instead, we'll focus on the core issues, which are the following:
Unintuitive UI. The entire system is not known to be super intuitive. The menus are hidden, the color scheme is bland and mastering features requires a lot of reading and practice. Take for instance the Task Management system, if you have a single project it is easy but if you operate a bunch of products, to find a specific task, you first must navigate to the necessary project, scroll through the folders, and only then locate the task. If you need to find another task from a different project, you must go back and do the whole thing again. This gets annoying very fast and it isn't very intuitive.
Onboarding is Difficult. Being an enterprise-grade project management system, Wrike is difficult to master. Due to the sheer volume of features alone, new employees can spend weeks learning the ins and outs of the system. This complexity, by the end of the day, is welcomed but can prove to be a burden for new people and time-sensitive projects.
Limited Mobile App. The title says it all. The mobile app, while available for both, iOS and Android, is very pared back. And we aren't talking about high-level task management functions either. Something as simple as renaming a freshly created folder in a project space through the mobile app is simply not possible. Add poor synchronization to the mix and you have an app that is quite raw.
Tech Details
Wrike is a very well developed system. It offers support for virtually every platform available and is available in just about every language possible. Here's how the tech spreadsheet looks like:
Table 1: Wrike Technical Specification
Device Support
Languages Available
Pricing Options
Business Compatibility
Deployment Method

Windows

Linux

Android

iOS

Mac

Web-based

English

Chinese

German

Japanese

Spanish

French

Russian

Italian

Dutch

Portuguese

Polish

Turkish

Swedish

Annual Subscription

Quote-based

Large Corporations

Medium Enterprises

Cloud Hosted

Open API
As you can see, Wrike is quite the powerhouse. The only downside (and understandably so) is the lack of support for smaller companies. Other than that, there's not much to discuss so let's get into the pricing offerings.
Pricing
Let's get this straight out of the gate, Wrike is not a cheap tool by any means and for many, the pricing will be insurmountable. Funnily enough, though, the vendor offers a free tier so we suggest that you stick around to see what other people have to say before you leave. Overall, there are four plans to choose from, so here's how they all stack up:
Table 2: Wrike Pricing Offerings
Free
Professional Plan at $9.80 user/month
Business Plan at $24.80 user/month
Enterprise Plan at an undisclosed amount

5 Users

Board view

Task Management

File sharing

Real-time Activity Stream

Spreadsheet view

Basic integrations (Google Drive, Dropbox, Box, MSFT Office 365 and OneDrive)

Desktop & mobile apps

Cloud storage integrations (Google Drive, Dropbox, Box, OneDrive)

2Gb of storage space

5, 10, 15 users

Everything that was in free, plus:

Task & Subtask Management

Gantt Chart

Advanced Integrations (MS Project, Excel, RSS)

Shareable dashboards

Collaborators

From 5 Gb of storage space

From 15 GB of video uploads per month

5 to 200 users

Everything that was in the previous plan, plus:

Custom fields & workflows

Shared real-time reports with scheduled notifications

Report templates

Graphical analytics

Calendars

Request forms

Project and Task Approvals

Time tracking

User groups & permissions

Salesforce integration

Branded workspace

From 50GB of storage space

From 15 GB of video uploads per month

5 to Unlimited

Everything that was in the previous plan, plus:

Active Directory integration

SAML 2.0 Single Sign-On

Two-factor authentication

Password policies

IT controlled admin permissions

User Audit Reports

Network access & compliance policies

Business Intelligence integration

Advanced user access controls

From 100Gb of storage space

From 15 GB of video uploads per month
Suffice to say, Wrike offers a ton but it also charges a ton. The free plan will give you a good idea as to how the tool works but to get the big picture, you need to give the Business plan a try. It has the most valuable features and it is the recommended plan by the vendor.
User Reviews
What kind of Wrike app review would it be if we didn't include some user impressions? So, let's now see some Wrike free users reviews.
Pros
Overall, the entire interface is quite intuitive. However, there is a pretty hefty learning curve you need to pass to understand how the folder/project/task hierarchy works. After mastering it, all falls into place.
The dashboard system allows you to customize flows to your desired specs which is a big plus.
Cons
No option to edit shared reports makes last-minute changes a pain.
Interface cues delineating projects and tasks could be clearer.
Pros
The best part about Wrike is that it keeps all my projects on-time & on-budget, all while enabling client cooperation.
Cons
The setup process could be a little less tedious. But even so, it is still worth the time.
Pros
The approvals system is great
Version controlling has everything I need
Task assignment is robust
Cons
Storing and managing files can be difficult
The mobile and desktop app alignment could have been more consistent
Calendar view functionality is hard to use
Bottom Line
And there you have it. Our Wrike project management software review. Over the years, we've seen many different solutions out there and not all of them managed to impress us. Wrike, on the other hand, is a solid system, packed with features to brim. It might not be for every business but if you have the budget for it, you'll be hard-pressed to find anything better.
If you feel like this is the system for you, we can help you move your stuff to the platform. Just give a call or write us a message and we'll send our best experts to help you migrate. Thanks for joining!