Raise your hand if you've received the notification from Trello about moving from Teams to Workspaces. Have you thought about migrating to Trello alternative or backing up your data? Well, you're not alone. That idea has crossed other users' minds, too.
What's All the Fuss About?
Many users have received a notification that Trello goes through some changes and transforms its Teams into Workspaces. So either they switch their boards themselves, or it'll be done automatedly by a system on a mentioned date.
That situation caused an active discussion in different communities around the web. Despite some positive feedback about Workspaces, a lot of users became rather critical and dissatisfied with the need to move their boards to them and, therefore, started to look for a Trello alternative.
What's Trello?
It's a popular tool that helps teams and one-person businesses to move their work forward and collaborate. Trello offers a unified workspace to reach new productivity peaks.
Is Trello an example of Kanban? Yes, it is a web-based version to manage your project like a Kanban board.
What is Trello Workspace?
Trello Workspace presents a unified place where you can keep all your boards and manage your projects.
How Much Does Trello Cost?
It looks like it is fine, right? Well, in a free version, you can have many workspaces but with ten boards only. And now you give access to the whole workspace, not the separate boards. That caused a bit of confusion for users. There're three plans:
Freemium
Business ($10/user/mo charged annually)
Enterprise cost available by requesting a quote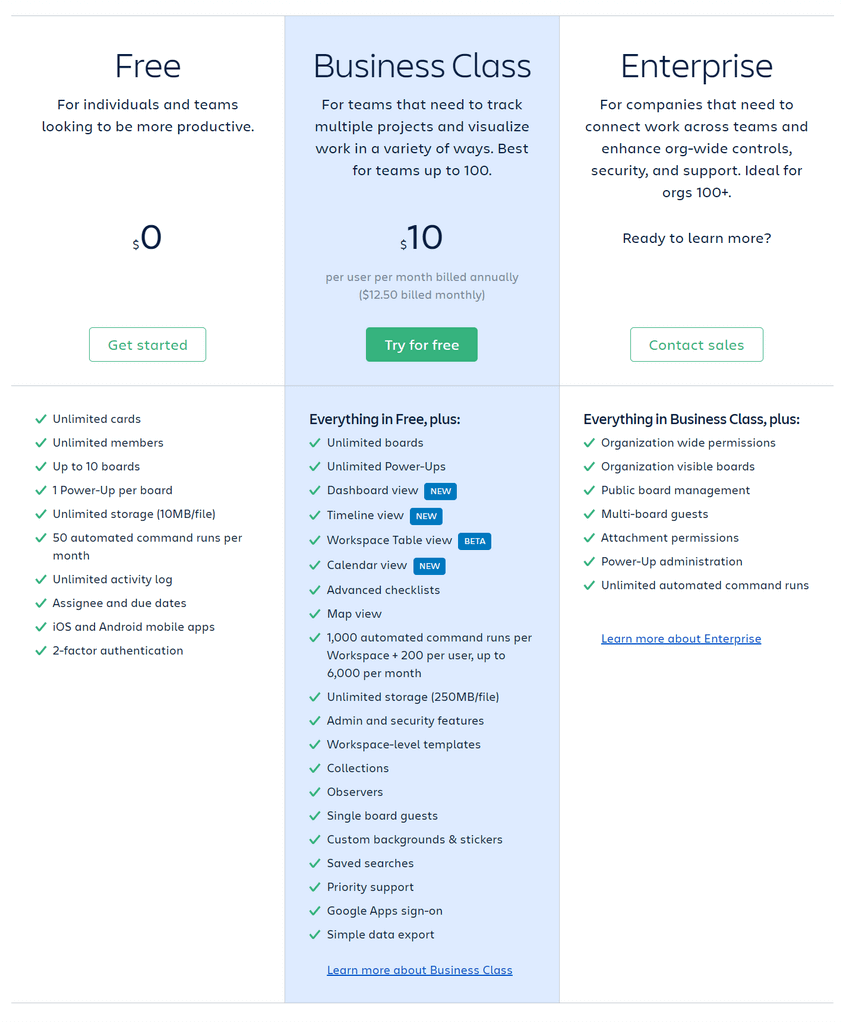 What Can You Use Instead of Trello?
If you're considering changing Trello, check its alternatives to find the most suitable option. Great news: there is a handful of apps like Trello on a project management market. Let's check out a set of platforms similar to Trello.
Notion
Comparing Trello vs Notion is tricky. Trello was built solely for project management, while Notion is more of a productivity tool. Yet, it is often considered an alternative to Trello. So, can you use Notion to manage projects? Let's take a look.
Notion is an all-in-one workspace where you can write, plan, collaborate, and get organized. It provides the building blocks, so you create layouts and toolkits to get work done. Many people refer to Notion as an "internal wiki" allowing teams and individuals to plan their projects, work, and goals. Also, you capture the workflows and record everything creating spreadsheets and databases.
Benefits Over Trello
Trello focuses mainly on project management, while Notion is a multi-faceted productivity platform. One of its robust features is note-taking: text, video, sound, code snippets. All this helps create detailed notes and assign them to different participants.
Another thing that makes Notion different is its flexible viewing options. It has a calendar and table view, and you can modify more functions and workspace structures.
Is Notion Worth Paying for?
Notion offers two main types of pricing: Personal and Teams/Business.
Personal is freemium offers an unlimited number of pages and blocks and to 5 guests.
Personal Pro ($4/mo) allows unlimited file uploads and guests; review and restore pages option.
Team ($8/member/mo) unlocks all (members, guests, files upload, and others), plus bulk export and advanced permissions.
Enterprise (request a quote) adds security, Bulk PDF export, priority support, and early access to new features.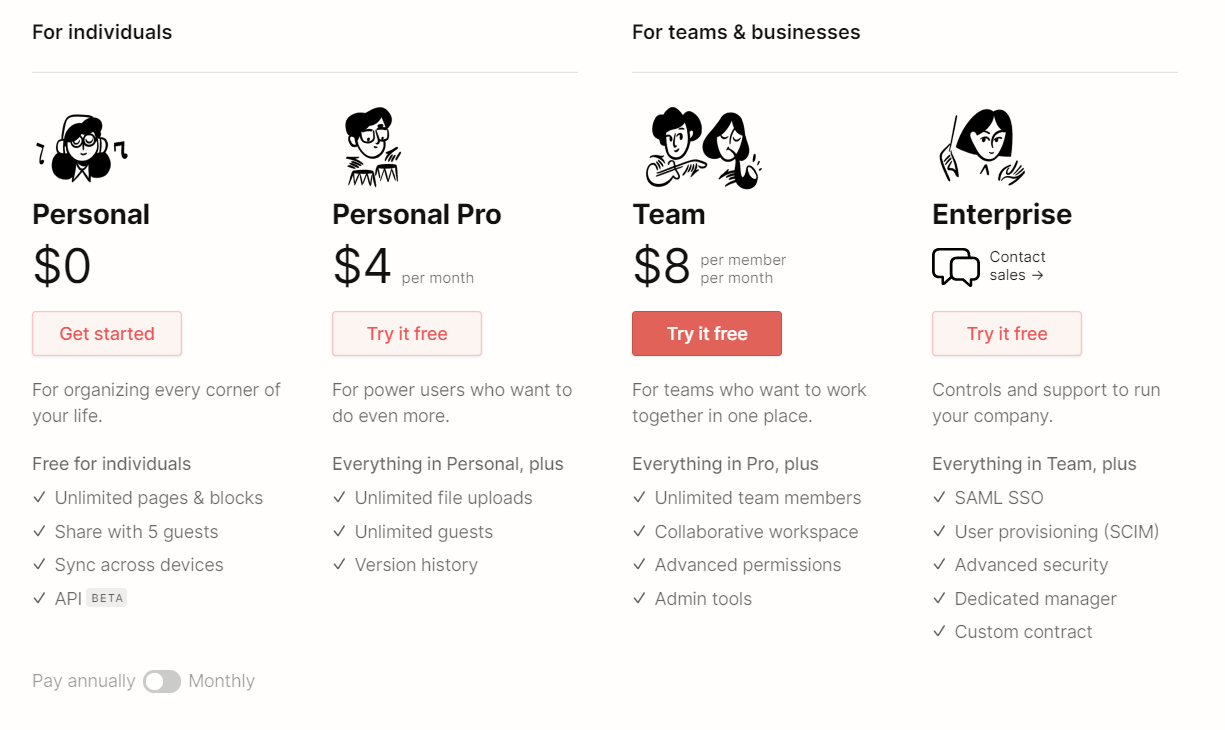 Verdict
Notion presents multiple features for project management and stands out as a robust Trello competitor.
Airtable
Airtable is a hybrid project management system that allows creating and sharing relational databases. It combines the simplicity and convenience of spreadsheets with all the features and benefits of a typical project management system. That's why many project managers see migration to Airtable as an exciting upgrade.
Airtable's Pros
Airtable delivers flexibility and room for creating big, complex workflows. Here you have tables that look just like a spreadsheet with multiple tabs. But it's way more powerful. One table can contain as many tabs as necessary, and you sort out tasks using different views within the table. There's also a bunch of ways to organize your tables by fields. Also, you can add images, checkboxes, and star ratings to cells.
Like Trello, this task management system has a Kanban board with grid, calendar, and gallery views. The platform provides integrations with most of the popular apps. You may also use the API or tools like Zapier to integrate with other business apps you're using.
Airtable's blocks allows building custom apps within tables without coding. Using the data from the tables, you can create a Block that lets you send texts to people (if you're using Airtable as a contacts sheet) or a Block that creates a countdown clock.
How Much Does Airtable Cost?
Airtable offers you four pricing options:
Free tier covers an unlimited number of bases and runs a hundred automations per month. 2GB for uploading files and 1200 records per base.
Plus ($10/user/mo) brings 5K records, 5GB storage, sync tables across bases automatically.
Pro ($20/user/mo) offers 50K records, 20GB storage, personal and locked views. Branding option, priority support, and permission management.
Enterprise (request a quote) advanced security and admin settings, synchronization with Salesforce and other external sources. And you get a dedicated success manager onboarding, setup, branding, and more.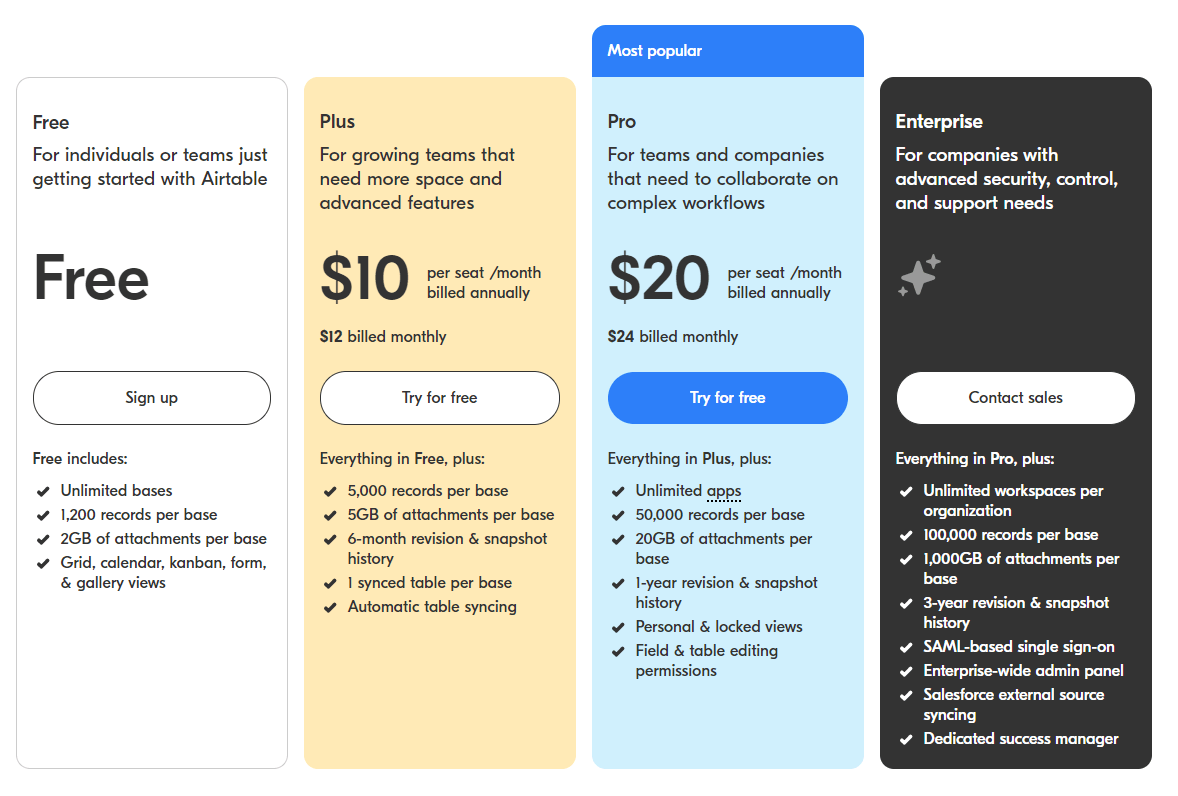 Verdict
Airtable vs Trello: both tools are great and easy to use. But Airtable is great for project management as it allows to structure large data volumes and create relations between records.
Asana
You've definitely heard of Asana. It's been on the market since 2008 and is one of the most popular project management tools out there. This platform enhances setting company goals, running reports, and managing project portfolios.
So far, Asana can cover such business aspects as:
a communication tool for email announcements and instant messaging
bug tracking and submitting forms to the corresponding projects
project management tool with tasks, subtask, and milestones
a place to collect feature requests and suggestions
a meeting structuring
Quick Overview of Trello vs Asana
Asana is easier to use in terms of navigation. In Trello, you have to switch between boards to access tasks.
Once you switch to Asana, it lets you see all your projects in the left panel. Here you can assign a task to multiple projects, unlike Trello, where you need to copy cards.
Out of the box, Asana has more view options available even in the free plan. It is fantastic if you have team members who are used to different view modes.
The system is also more efficient in terms of teamwork. For instance, in Asana, you can label, tag, and place tasks within sections in projects, giving you more options for what you can do.
Finally, Asana is flexible and easy to scale. The feature set and pricing plans allow you to upgrade Asana as the company grows gradually.
What Is Asana Worth?
Asana has four pricing plans to choose from
Basic is the freemium tier that allows unlimited tasks and projects and up to 15 users.
Premium ($10.99/user/mo) offers power-up in the form of reporting, custom fields, advanced search, private teams and projects, and add unlimited free guests.
Business ($29.99/user/mo) gives Premium features, plus integrations with Salesforce, Adobe Creative Cloud, Tableau, Power BI. It brings in custom rules and workflow automation.
Enterprise (request a quote) offers security control, custom branding, and priority support. The enterprise users also get the data export and removal functionality.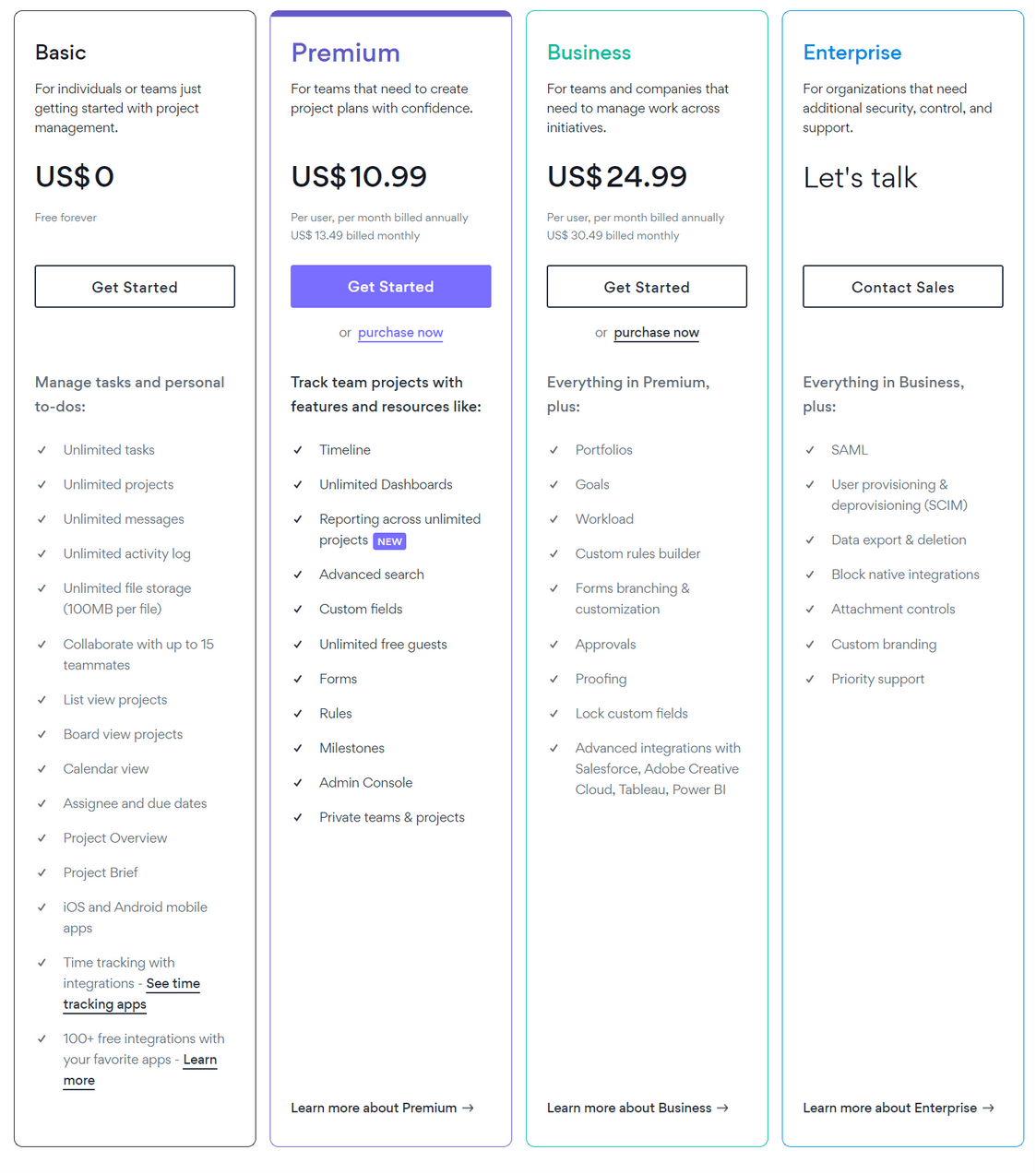 Verdict
Asana delivers a rich feature set that easy to use and scale along with your business growth. You can handle different types of projects, thanks to the platform's adaptability.
ClickUp
ClickUp is a project management platform designed to work in a wide range of industries. It has a simple and intuitive UI along with dozens of features and customizations. With ClickUp, you get numerous modification options to match your work, whether you are a developer, manager, or regular user.
Trello vs ClickUp: Which Is a Better Option?
ClickUp helpі you filter out tasks that are important right now. Trello users create a separate board to collect their backlog there.
In ClickUp, you can build a knowledge base via Docs: internal and external knowledge bases and wikis. You can edit, add attachments, checklists, embed from Google Apps, and much more.
Last but not least, ClickUp works with Google Assistant and Alexa. So, you can create and list your tasks simply by talking to your AI assistant.
What Is ClickUp Pricing?
ClickUp has four pricing options which right off the bat gives a bit more flexibility.
Free gives unlimited tasks in five spaces. 100MB storage and 100 monthly automations.
Unlimited ($5/user/mo) brings unlimited file storage, spaces, custom views, edit permissions, and up to 5 guests. You also get access to advanced features such as sprints, portfolios, goals, and many more.
Business ($9/user/mo) opens custom repost, dashboard widgets, complete version history, time tracking, and a bit better security.
Enterprise (request a quote) has no limitations and offers priority support and advanced security along with the Business feature pack.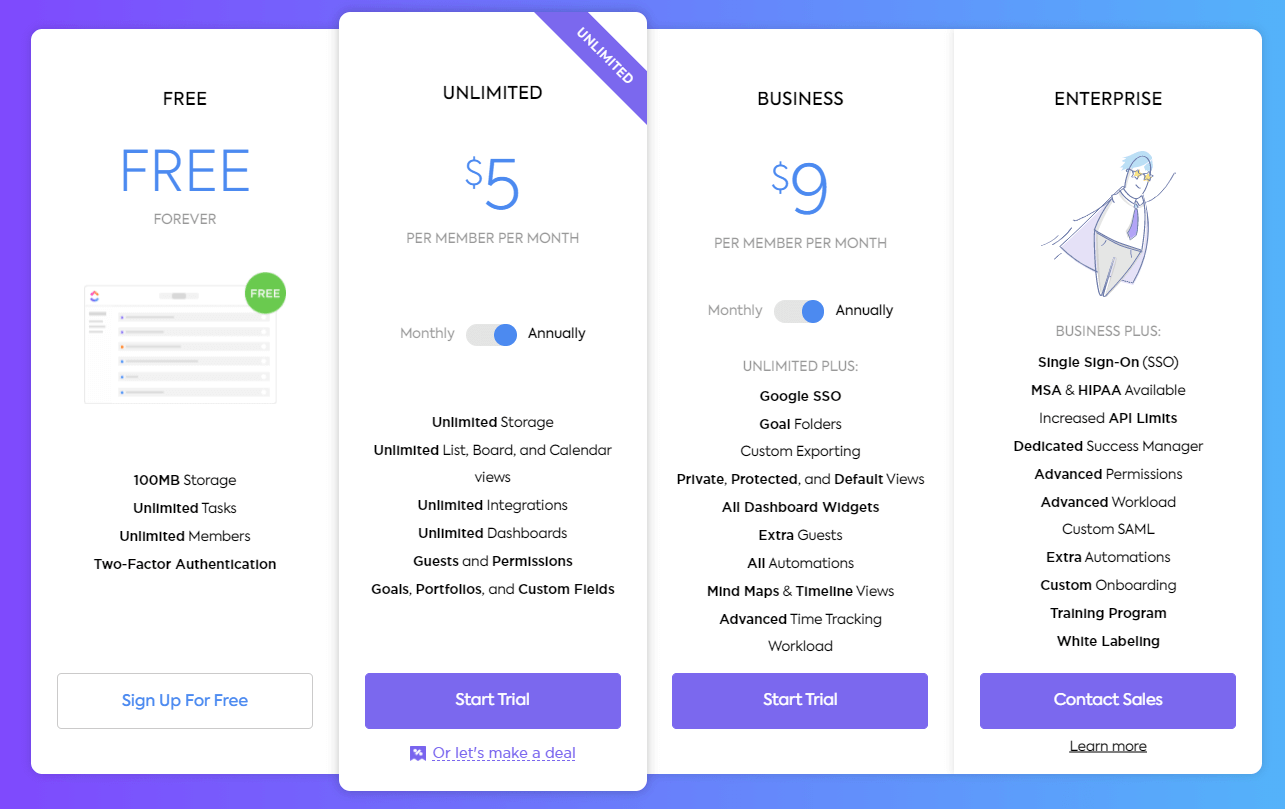 Verdict
Migrating data to ClickUp can bring your business to a better option for managing your work online and collaborating with other team members.
How to Migrate from Trello?
If you're on a Business Class or Enterprise plan, you can export your data to CSV. However, the file will contain only the core data. Don't hope to export custom fields and task comments; Trello doesn't do that.
But there's a quicker and easier way to migrate your data to the Trello alternative enlisted above. With Project Management System Migration Service, you can do it automatically. Learn more about how Trello migration works and what data you can migrate with Relokia.
Key benefits from migrating Trello with Relokia:
You can export more data than with a CSV file.
Save your time trying to make the migration work.
Get a reliable migration partner to answer your questions.
Customize your data migration if necessary.
Wrapping up
As you can see, each Trello alternative caters to specific needs. The choice is yours! Before you decide on anything, test each app. Check out customer reviews, too. They are great at pointing you in the right direction. And Project Management System migration service will help you test-drive your data on the new platform.
FAQs
Q: How can I add subcontractors to an individual card so they can't see the rest of the board?
A: Currently not possible to add someone to a card and not the board. An alternative would be to create a dedicated board/s for the subcontractor and either copy the relevant cards to their boards or sync them using a tool like Unito.
Q: Is Trello similar to Kanban?
A: Trello uses some main Kanban concepts like visualization. However, it is not a Kanban tool, as it cannot employ some of the key concepts and metrics of Kanban.
Q: Is Trello good for personal use?
A: Yes, Trello is great for to-dos, planning, wish lists, shopping lists, and the like.