Just a decade ago, project management tools were at its rarest. Only the big leaders could afford to take advantage of the features such tools had to offer. However, time flies and the demand for PM applications increased substantially, causing more and more tools to appear. Today, there are virtually no limitations – you get to choose among numerous platforms, which are suitable for both small and midsize businesses and organizations.
One such tool that strongly takes a lead on the 2020 market is Asana. It's a project management tool that can track progress, let you view all the current projects, and allows communication within employees. It certainly deserves all the praise; however, several competitors can give Asana a run for its money. We've prepared quite a few of them, to make sure at least one will become your perfect choice.
But, before we will dive into a list of our Asana alternatives, it would be fair to mention some background information about the tool itself.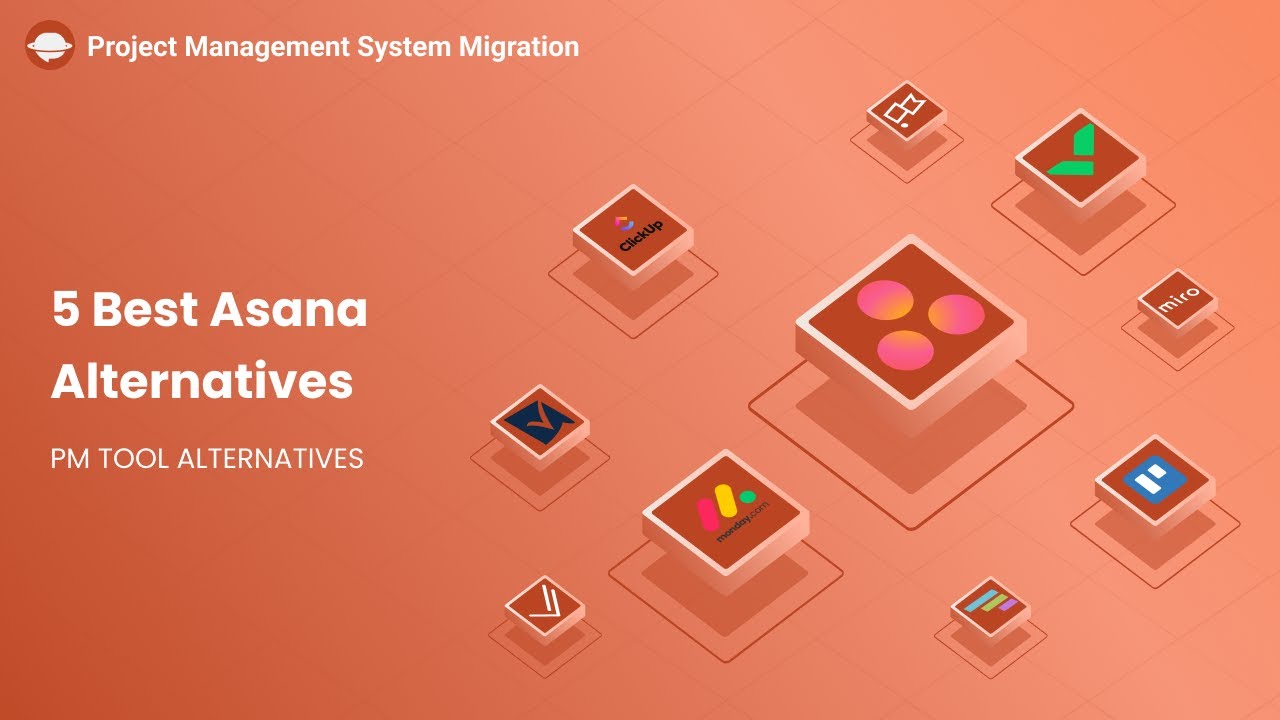 What is Asana?
As we've said above, Asana is a workflow management tool that lets you focus on business goals and objectives, rather than spending hours doing repetitive daily tasks. Moreover, with Asana you can set priorities and deadlines and share important details all in one place. They say their product empowers the team to produce great results and we couldn't agree more. Its list of customers speaks louder than words. Such big names as Nasa, Vodafone, Google, The New York Times, Uber, and many others trusted their project management to Asana.

What Asana has to offer
We could talk about all the ways Asana can ease and speed up your normal workflow for hours, but no one has that much extra time to spare. That's why we will be focusing on Asana's most prominent features that are worthy of your attention:
Project management
If you are fed up with spreadsheets, then you will probably like the way Asana visualizes its tasks in boards, lists, timelines, and calendars. Additionally, you can use the 'Files View' option to take a look at all project attachments in a single place. Such a structure allows your team members to easily track the progress of the current projects. Also, with Asana you can organize your work into shared projects or break complex issues into more manageable tasks. The best thing about it is that you're not imposed on any regulations, and you get to choose the interface to work with.
Task management
Apart from standard options like conducting tasks assigning or setting due dates, you can also create dependencies and sync tasks across the projects. Furthermore, you get to streamline your approvals process and avoid the mess by keeping tasks organized in sections. There's even more to that. You can easily invite not only people from your team but external users to help you manage certain tasks. Pretty impressive, isn't it?
Views and reporting
Asana took reporting to a new level. With its timeline and workload features, you can get a real-time overview of how busy your team members are. Basically, it gives you a picture of your team's capacity. Portfolios will provide you with detailed information on each project, including progress bars, color-coded priority, and status.
Custom fields
You can get more clarity about your team's work with the help of custom fields. Track information that is most important to your company by creating a field for stage, priority, or cost.
Workload and timeline features
Make sure that no one's on your team has an extra amount of work. Workload management feature works both ways, meaning you can also balance the workload for those who are underworking. The tasks can be reassigned by simply using the drag-and-drop feature. To execute the Timeline feature, just create a detailed project plan with a due date for each and forget what missing a deadline is.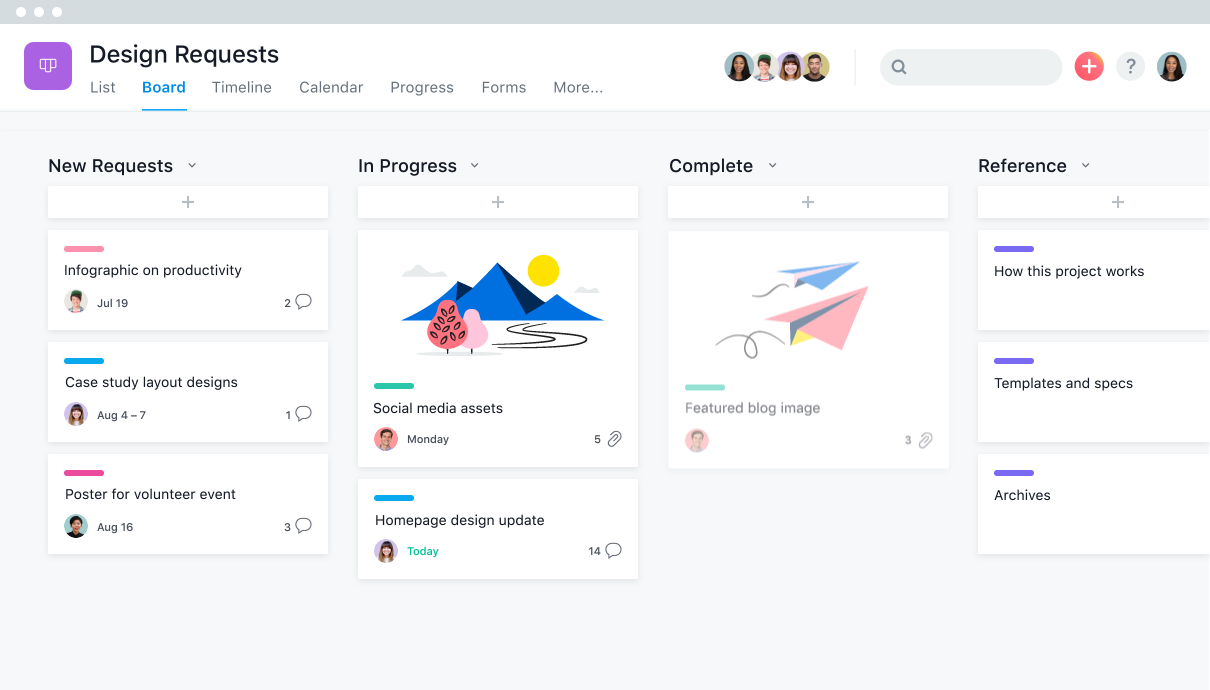 Source
Pricing
Asana has four pricing plans, starting from a free Basic plan, all the way up to an Enterprise one, the price of which should be discussed individually.
Basic

(free)

For individuals, students, and freelancers

 

Premium

($10,99)

 For team leads looking to manage projects

Business

($24,99)

For organization leaders looking to manage work across initiatives

Enterprise

(discussed for each individual case)

 For executives and IT teams looking for advanced security features

Manage tasks and personal to-dos:

 

Unlimited tasks and

projects

No limitations on activity log
Unlimited file storage (100MB per file)
Collaborate with up to 15 teammates
List view projects
Board view projects
Calendar view
Assignee and due dates
iOS and Android mobile apps
Time tracking with integrations
Integrations with your favorite apps

Track team projects with features and resources like:

 

Timeline

Advanced search & reporting
Custom fields
Unlimited free guests
Forms
Rules
Milestones
Admin Console
Private teams & projects

Everything in Premium, plus:

 

Portfolios

Goals
Workload
Custom rules builder
Approvals
Proofing
Lock custom fields
Advanced integrations with Salesforce, Adobe Creative Cloud, Tableau, Power BI

Everything in Business, plus:

 

SAML

User provisioning & deprovisioning (SCIM)
Data export & deletion
Block native integrations
Custom branding
Priority support
Available as: Cloud app on all browsers, Windows, and Linux desktop apps; mobile app on iOS and Android.
Supported languages: English, French, German, Spanish, and Portuguese.
Asana alternatives
Now that we've mentioned the most essential features, it's time to switch to the best Asana alternatives.
Wrike
Wrike is a project management tool that was built with ease and efficiency in mind. The tool is very flexible when it comes to project planning and streamlining the workflow. An extremely user-friendly interface and quick setup make Wrike the perfect choice for everyone who is fed up with overcomplexity.
Wrike's most prominent features include:
Customizable dashboards and shared calendars that can be automatically linked to different teams
Multiple views
Proofing and approval features for faster review of images, videos and PDF files
Gantt charts to visualize dependencies and deadlines
Kanban boards with the complete view of tasks and their prioritization
Advanced reports
Moreover, Wrike has this thing called collaboration software, which allows different members of the team to discuss the subject related matter within the context of their work. Real-time @mentions help to bring special attention to certain issues and as a consequence, resolve them faster. With Wrike, you don't have to worry about looking for another project management tool with updated features, as the software is highly adjustable and flexible.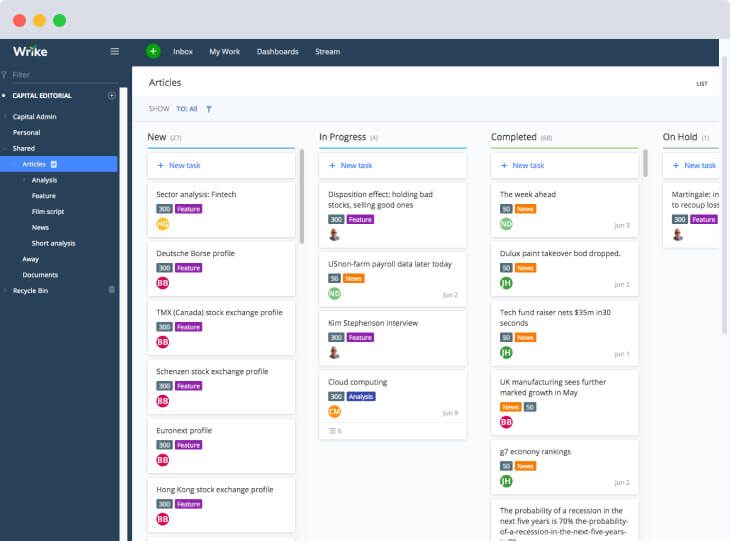 Source
Additionally, this project management software offers a built-in time tracking tool, which is ideal for basic time logs and reporting. Mind that this sharable time tracking cannot substitute a dedicated and comprehensive time tracking system.
When it comes to pricing, Wrike and Asana go almost hand-in-hand. The competition is strong since you get an unlimited number of projects both for free. So, it all comes to the user's personal preferences about the features that would like to have on their future project management software.
Supported languages: English, French, German, Italian, Japanese, Portuguese (Brazilian), Russian, Simplified Chinese, Korean, Spanish, and Polish (user-translated).
monday.com
monday.com is a cloud-based tool and an online team collaboration project management system designed to give its users a flexible way to organize their work. monday.com helps your team to approach new projects with ease and efficiency. Let's be honest, a lot depends on how everything is organized and monday.com is all about giving you the opportunity to create your ideal workspace from the list of premade templates. For example, when creating a project table, you can add different column types, such as timeline, color-coded status, checkbox, progress tracking, star rating, and much more!
monday.com's most prominent features:
Different boards for better structuring of the information
Code-free automation
Multiple views, including workloads, timelines, dashboards, charts, calendar and map
50+ integrations with various apps to streamline your normal workflow
monday.com is great for any collaborations, since most of the data, like conversations, files, checklists, and spreadsheets, is stored in one place. You may work together with clients or vendors outside your team, with limited access to shareable files, without the need to have long meetings or long and confusing email threads. Everything is very accessible and transparent, that's why we love monday.com.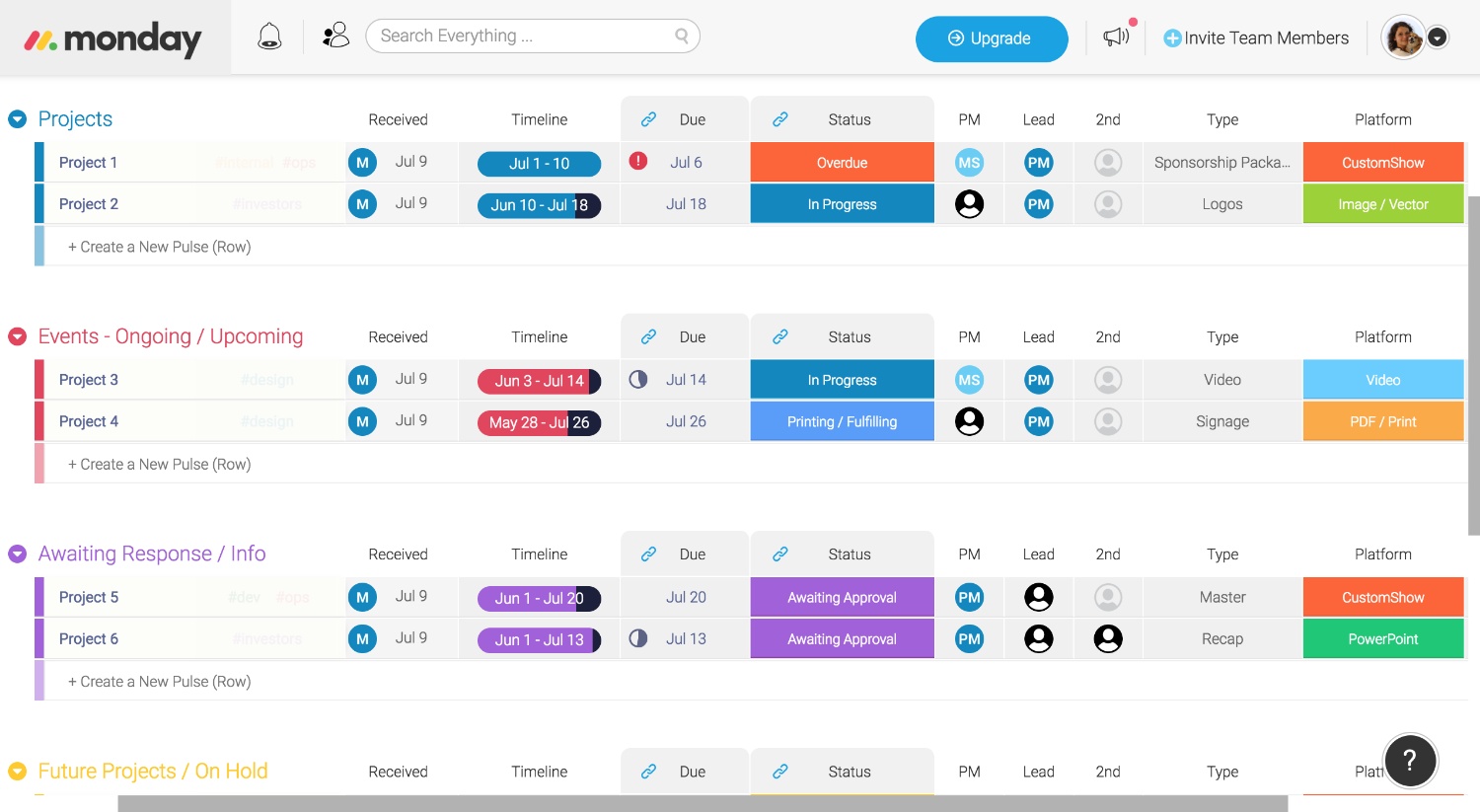 Source
The price tag you will pay in monday.com depends on the number of users you have, which makes it pretty confusing to calculate things at first. Like in Asana, there are four tiers of service to choose from: Basic, Standard, Pro, and Enterprise. No matter the choice you make, you'll have to pay for monday.com through monthly or annual payments. We recommend checking their website for a detailed view of their pricing grid, but in general, the cost per person per month will start from $12.
Supported languages: English
Trello
Another great Asana alternative - Trello - is a versatile project management software that is suitable for all kinds of purposes. Unlike the other big names on the market, Trello is extremely easy to set up – you can get it up and running in just a few hours. So, if you're looking for software that will allow you to get started quickly, Trello is the answer. The interface is very intuitive, which is beyond important for the tool of such level.
Trello's most prominent features:
Notifications system to keep you up to date
Real-time discussions system
Splendid board system with unlimited cards and list to manage the workload efficiently
The voting feature that enables the working staff to decide and vote on specific tasks in real-time
A 'power-up' feature that enables you to modify content on every board and add various integrations
Wide range of apps for integration
With Trello, all your projects and tasks are organized in one unified system. In fact, the key metric here is called a card. The card can contain a detailed checklist, file attachments, due dates, and more. On the dashboards, cards are easy to move between different stages of work. That allows everyone on the team to keep track of the progress.
When it comes to pricing, Trello probably has the best quality-to-price ratio on the market. Like the other PM tool that we've mentioned above, Trello has a free tier with the same possibility of unlimited cards, boards, and lists. To pay or not to pay is certainly up to you, but bear in mind, that free plan is quite limited (obviously).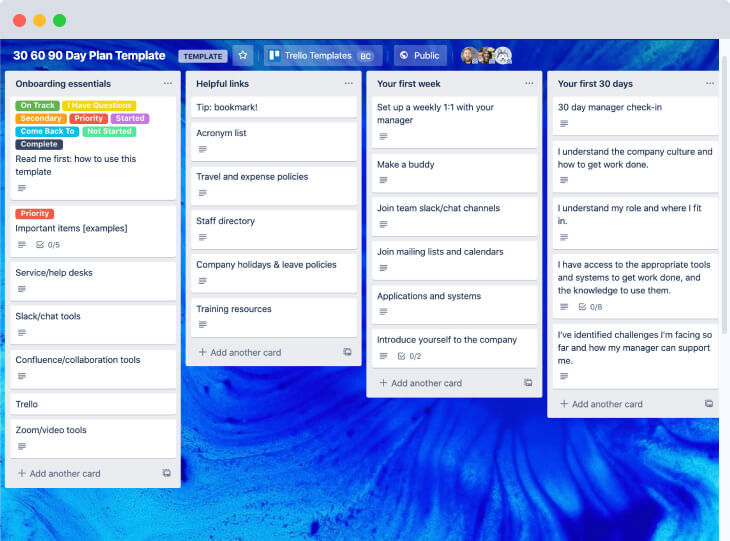 Source
Supported languages: English, Portuguese, French, Spanish, German, Finnish, Norwegian, Swedish, Russian, Polish, Hungarian, Ukrainian, Czech, Dutch, Italian, Turkish, Thai, Japanese, Traditional Chinese, Simplified Chinese and Vietnamese.
Workfront
Workfront – is a modern cloud-based project and work management platform that helps individuals as well as big enterprises to thrive in their business. With everything stored in one place, you can effortlessly manage complex processes and implement best practices. The tool's automation makes it extremely easy to turn new work requests into projects with just a few clicks.
Workfront's most prominent features:
Custom dashboards
Efficient Work Breakdown Structure
Portfolio Management
Time-tracking and real-time metrics
Project templates
Approvals and Online proofing
Workfront has all the major features offered by other PM software, including the opportunity to share and manage documents for collaborations and real-time dashboards to track the status of ongoing projects and recognize employee achievements. The thing that makes Workfront stand out from the crowd is its Demand Management feature that is able to prioritize tasks through automated request queues.
Workfront offers 4 pricing plans – Team, Pro (for one department), Business (up to 10 departments), and Enterprise. The peculiar thing is that there's no actual pricing mentioned on the website, as they estimate everything for each individual case.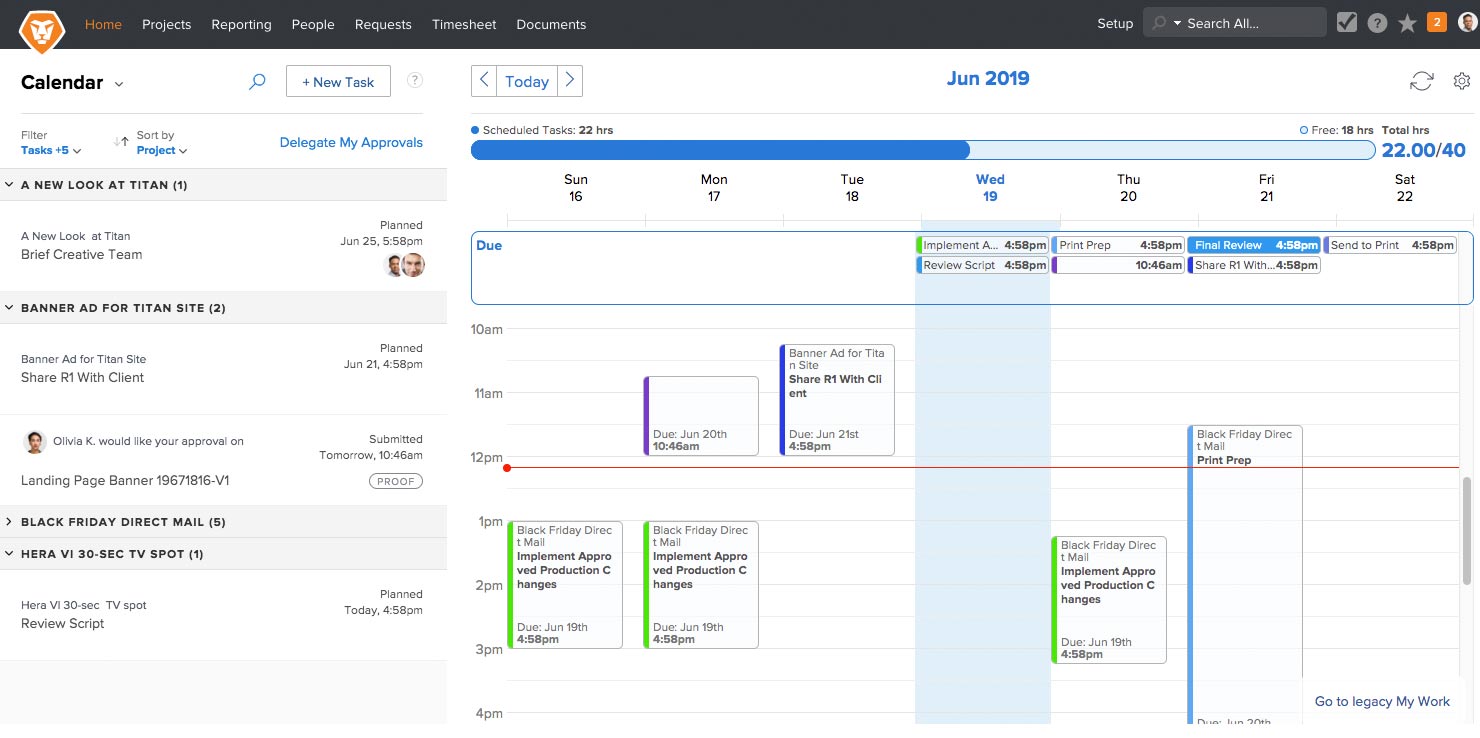 Source
Supported languages: English, German, French, Spanish, Portuguese, Italian, Japanese, and Chinese (simplified and traditional).
ClickUp
One of the most highly rated Asana alternatives is Clickup. It is a multi-purpose project management tool and collaboration software that can help you boost your overall productivity. When we say multi-purpose, we mean it. ClickUp can be used as a notepad for recording different ideas for personal purposes or during the meeting. Another unique feature of this software lies in its ability to serve for organizing events. As a project management tool, ClickUp allows us to organize tasks and make quick changes. With People Sidebar, you get to filter tasks related to certain people virtually in no time.
ClickUp's most prominent features:
Multiple customizable views: Teams, Spaces, Projects, Lists, Tasks, and Subtasks
Filtering
Checklist and team templates and task dependencies
Draft tasks for the ideas that aren't finished yet
Bulk Rescheduling
Agile Boards
With ClickUp you can set priorities for the tasks that are most important and make sure that no deadlines are missed. This project management tool also has unique team reporting features, like Progress Percentage to keep you up-to-date on how the work of certain projects advances.
ClickUp is great but it seems to have too many features which may become extremely confusing for some people, especially if you're only getting started with project management software. We suggest that you visit their official website to learn more insights about all the features to use them to the fullest and prevent any possible confusion.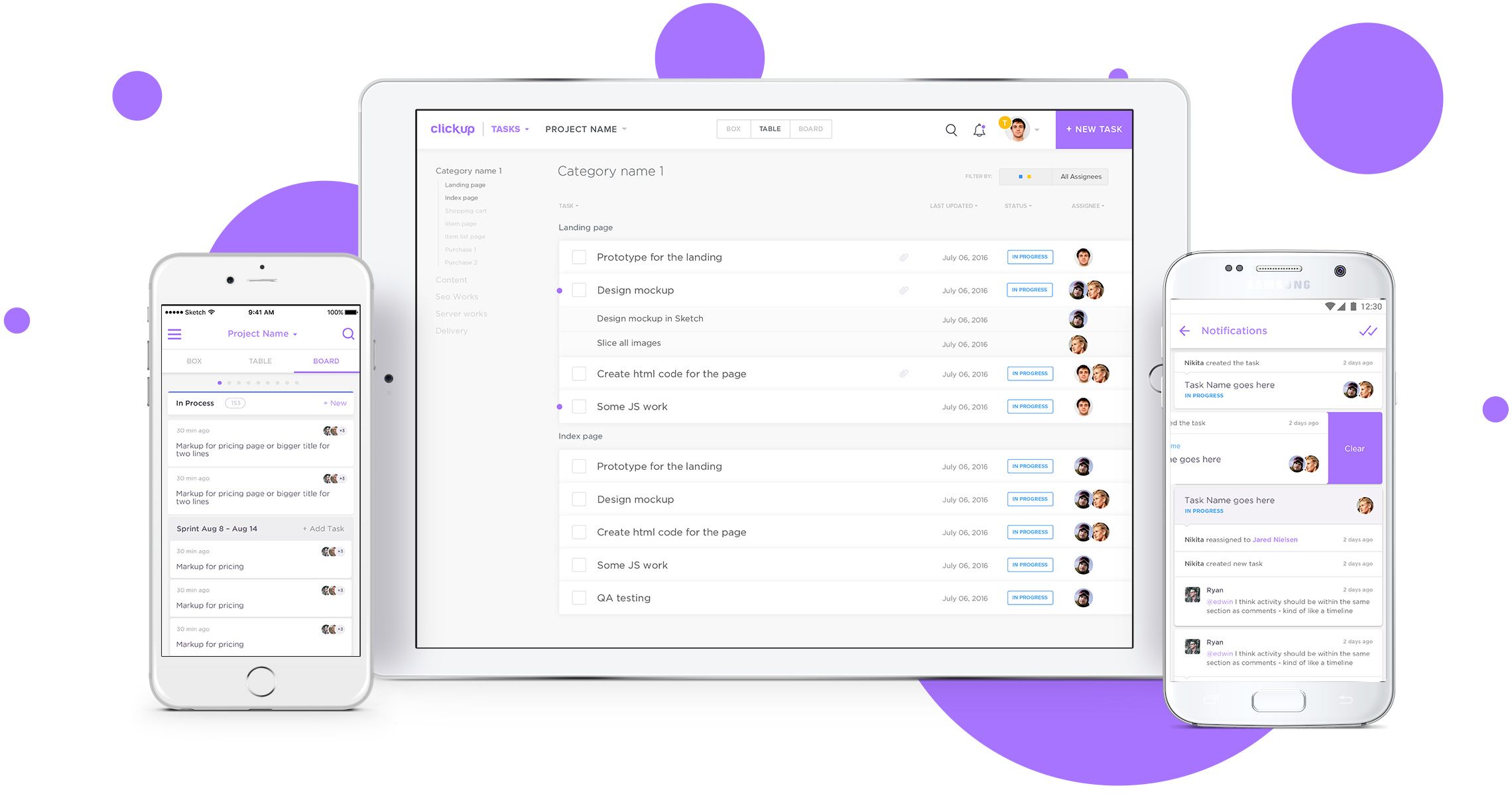 Source
ClickUp also has four different price tiers, starting from the basic free one and going up to the Enterprise plan, which includes advanced permissions, custom SAML and onboarding, and even a training program. Two out of four plans offer free trials for you to try out.
Supported languages: English
Smartsheet
Smartsheet is an online project management software that can be also used for work execution and team collaboration software. The tool is very flexible, when it comes to planning projects, automating certain processes, and managing work. Smartsheet's interface looks like a very advanced spreadsheet (hence the name).
Smartsheet's most prominent features:
Cell linking
Alerts and Reminders
Resource Management
Notification Centre
Card, Gantt and Calendar View
Proofing tool for progress supervision
Portals to keep different teams on the same page
Even though we've mentioned that the platform looks like a spreadsheet, its features are one of the best on the market – the high ratings say it all. With Smartsheet you can automate repetitive processes and do multiple actions at the same time. Thanks to the visual timeline management and collaboration, the projects take less time to be resolved, which is a 'must' for businesses that value their time.
Smartsheet has a Critical Path feature which allows us to see all the tasks that directly impact the project completion date. And if you're all about keeping things organized, the tool's Activity Log will help you keep track of all activities and updates.
The software offers two major plans (Standard and Enterprise), and under each plan, there are two sub plans. However, the cheapest is pretty limited, so we suggest you take some time and decide on the options.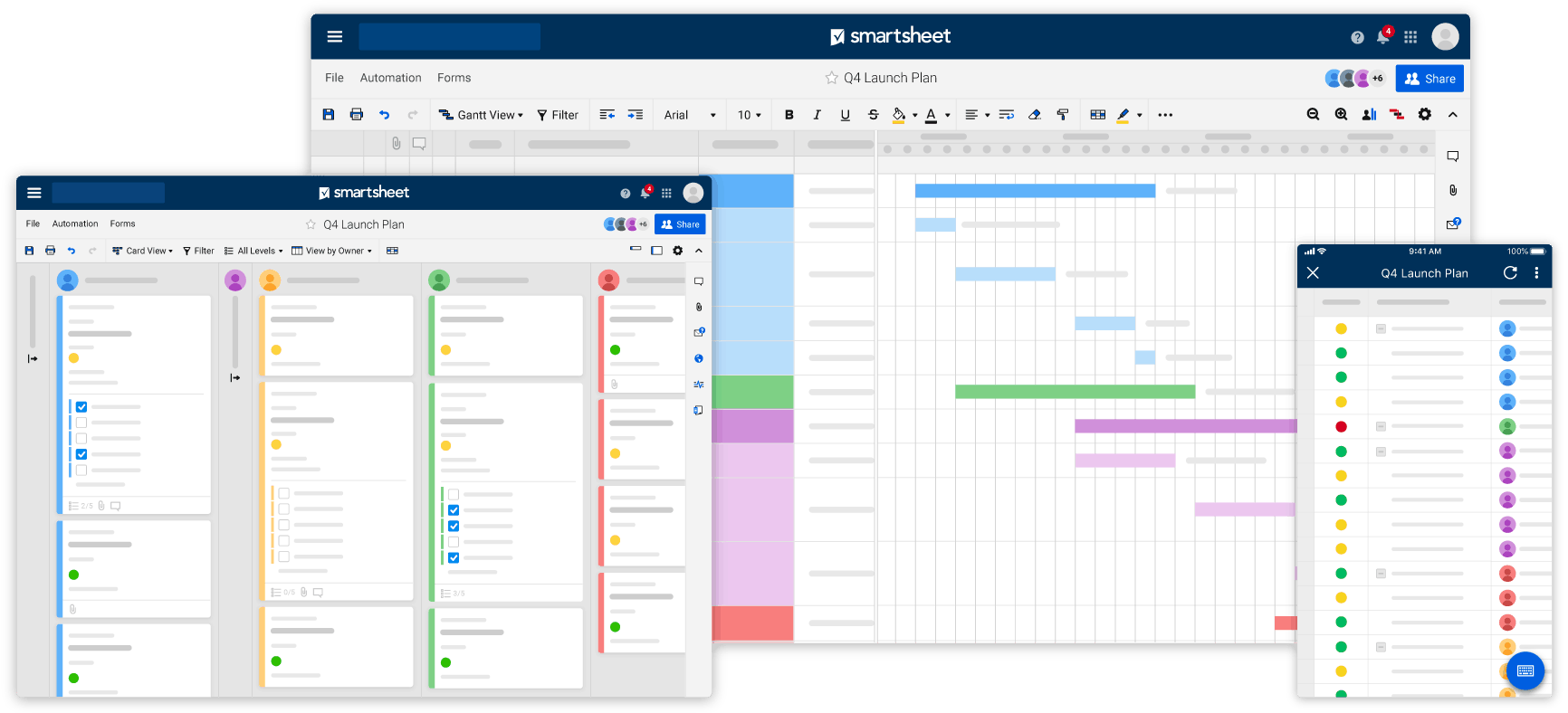 Source
Supported languages: English, German, French, Italian, Portuguese, Spanish, Russian, and Japanese.
TeamGantt
TeamGannt is cloud-based project management software, with the prime focus on Gantt Charts. If you would like to use Gantt charts not simply as a view option, but as a full-on working space then this one's for you. With TeamGantt you can follow all tasks from their beginning to the full resolvement as well as study different dependencies between them. The tool is so intuitive, that even people of all experience levels can set it up in less than an hour.
TeamGantt's most prominent features:
Task Ranking
Release Forecasting
Custom Workflows
Time tracking
Team scorecard
Project map
The drag-and-drop feature that allows creating tasks by dragging dates in a calendar
TeamGantt allows you to prioritize certain tasks and set time tracking for an entire team. The tool has some unique features, that you can only find in a Gantt chart like a Shared Team Calendar. It is basically one-place-for-all storage that shows the tasks' entire duration from start to finish. The feature can help you work on time efficiency in the future. Also, with TeamGantt, users can filter tasks by due dates and assignees as well as convert any Gantt chart into a PDF file.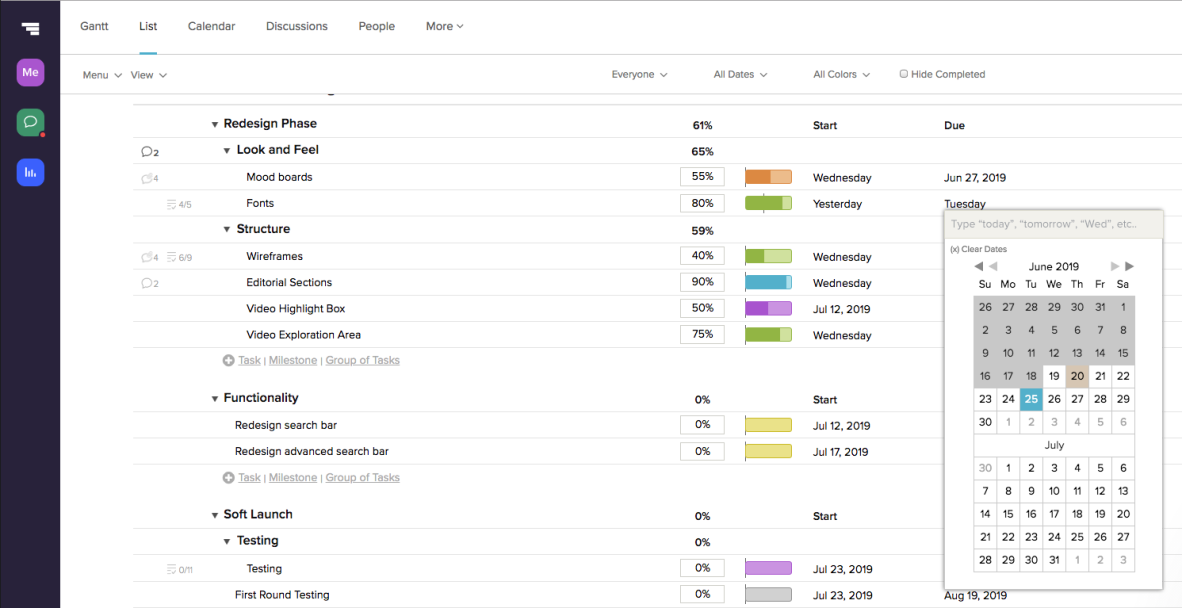 Source
However, the tool is quite pricey and it certainly won't be suitable for smaller businesses. There are three plans – Free (for small projects of 3 people), Standard and Advanced. Keep in mind, that the free option is limited to a single project. The tool, however, offers free trial periods with no credit card required.
Supported languages: English
Wrapping it up
And there you have it – the seven alternatives to Asana. The core features in each case are pretty similar (they are all project management tools, after all) which makes it harder to pick the one. However, every single software mentioned above offers a free trial period starting from two weeks and up to a whole month. We suggest you do more thorough research on the PM tools that you liked the most, to ensure that this is exactly what you are looking for. And if you need help transferring the data from your current project management platform to a new one, make sure to drop us a line. Our agents will do their best to make your dream a reality.