Whether you manage a leading industry player or a small-sized business, keeping track of and managing a number of projects at the same time can be quite a challenging task. That is precisely why project management software has become very common in the market these days. 
Such software can assist you in planning, executing, and controlling projects effectively and a lot more than that as well!  Keep reading to learn about the top 4 project management software you should consider in 2020. 
Asana
A SaaS-based project management software, Asana is undoubtedly one of the best project management software to consider in 2020. It is fully compatible and can run on Windows, Linux, iOS, and Android. Additionally, it features a multi-language capability that includes German, French, Portuguese, and Spanish. Asana's important features include:
Makes use of a RESTful Application Programming Interface that allows you to easily  access and update data
Provides more than a staggering 100 integrations (Outlook, Gmail, Google Drive, Outlook, OneLogin, to name a few)
A broad range of viewing options available that include board view, list view, and calendar view
Dependency management
Offers a Focus Mode and 'My task' list 
Greater than 50 templates to select from
You can receive automatic updates in your emails
Additional Benefits of Using Asana as a Project Management Software
You can share information easily with other users
A free plan is available (bear in mind this has limited functionality)
Agile project management tools
Allows visualization of work  and easy prioritization
Boasts a user-friendly interface (beginners can easily use it)
Provides tickets, email support, and training
You can get real-time updates
Workzone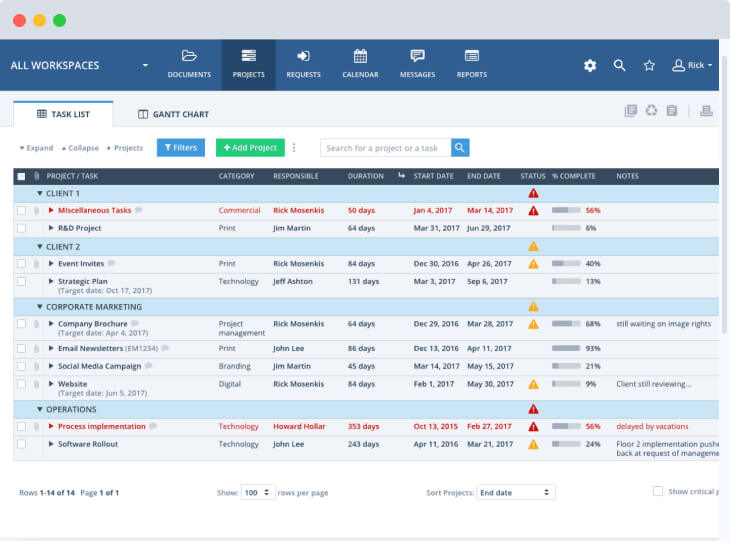 Workzone is a powerful project management software. The cloud-based platform is ideal for businesses that take on multiple clients. A standout feature of Workzone is that it enables custom branding for businesses so that they can display their signatures or logos. Furthermore, this software focuses on allowing collaboration between various business units.
Workzone boasts several key features that include but are not limited to:
Splendid integration with various software that includes Google, Tableau, Dropbox, and so forth
A wide variety of templates available
Detailed document management
Expense and budget management
Provides exportable customized or pre-built project reports
Project dashboard provides a reference to every available feature
Apart from these aforementioned features, the Workzone customer support team offers round the clock support by email and phone. Moreover, with Workzone project management software, you can create external accounts for particular business needs. 
Wrike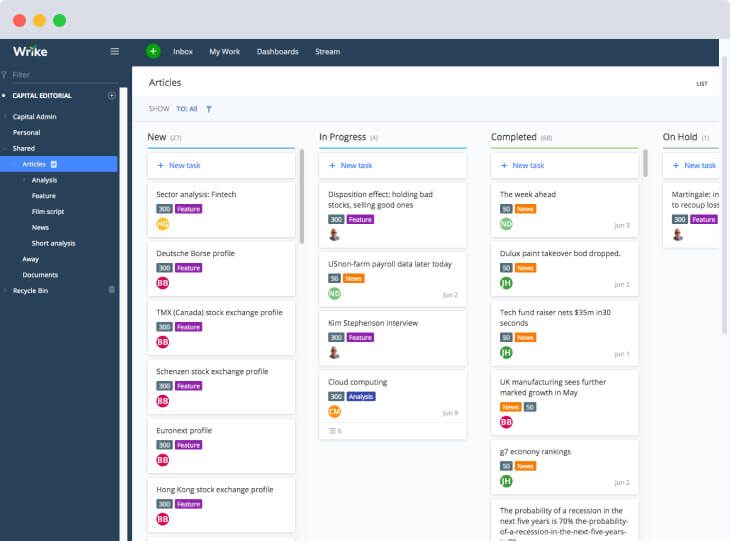 Wrike is the ideal project management software if you are looking for a quick setup because you can't spend several hours setting up an intricate project management tool. 
Wrike's standard built-in project management features include:
Useful dashboards
Gantt charts
Extensive reporting suite
Furthermore, if you want to get up running on a small-sized project, you can do so quickly with Wrike. It lets you get started without having to learn everything there is to know about a complicated and new system.
Additionally, this project management software boasts a built-in time tracking tool that is available to whoever is running the project as a whole as well as people working on specific tasks. Although this built-in tool is not a substitute for a dedicated and comprehensive time tracking system, it manages the most basic requirements easily.
Wrike is readily available on Android and iOS app stores, as well as the Web. Not to mention, it has a very generous free plan that allows users to create an unlimited number of projects! (How cool is that!) Bear in mind, however, that the free plan has limited available features. 
Trello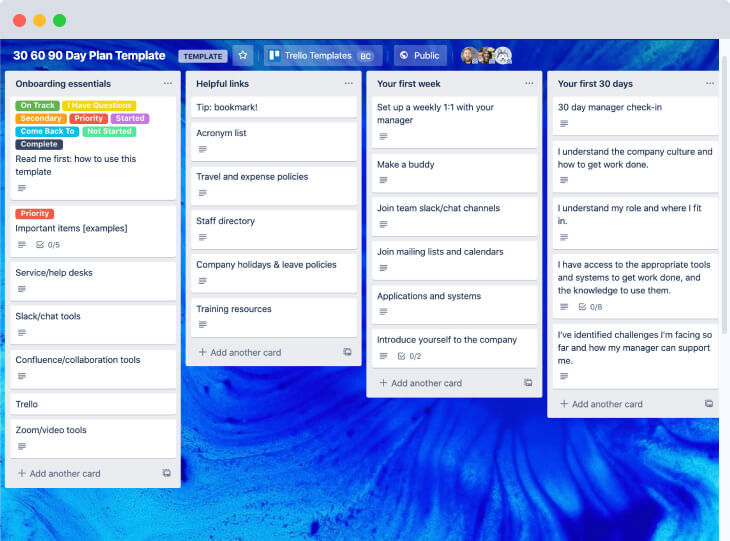 Similar to Workzone, Trello is another terrific cloud-based project management software you should definitely consider in 2020. 
The majority of users consider Trello to be an extremely flexible application that provides superior project collaboration. The best part about Trello project management software is that it is ideal for beginners. In fact, if you are looking for a software that helps you get started quickly, look no further than Trello! It also offers a free basic plan for beginners.
Trello's other key features include:
Drag and drop feature that you can easily use to move components around
Boasts a  voting feature, that enables the working staff to decide and vote on a specific course of action in real-time
Offers several integrations with 3rd party applications such as Evernote, Zoho, Zapier, etc
Unlimited cards, personal boards and lists available to manage and segment the workload accordingly
One of a kind 'power-up' feature that enables you to modify content on every board and add various integrations
Provides alerts on deadlines and regular updates
Offers attachments, checklists and inline editing
Additional Advantages of Using Trello
User-friendly interface, making it easy to use for beginners 
Trello software syncs seamlessly across all kinds of devices such as desktops, laptops, tablets, etc
Fully Supports iOS and Android
Customizable to a high degree for various different project teams
Trello is a very economical project management software that is considerably cheaper than similar apps in the apps in the market
Conclusion
The above-mentioned four project management software are just some of the best tools you can consider in 2020. When selecting the ideal project management platform, it is important to look into the key features of every software to identify which one aligns perfectly with your needs. Eventually, it all comes down to your individual or business requirements, your budget, what sort of metrics you make use of among several other things.