Do you want to make your workday worthwhile? Or even learn new tactics on how to monitor your time, team, and tasks effortlessly? Then your choice is pretty obvious: Asana vs ClickUp.
These two solutions are two popular project management tools that, at first glance, are very similar. They are designed to plan and schedule projects, manage changes, and allocate resources. These project management systems are suitable for quality management and documentation and may be used as an administration system.
So far, so similar. But how to choose the right one for your project? Let's find out.
Asana vs ClickUp: Quick Lookup
It is relatively simple to feel overwhelmed by everything Asana and ClickUp can bring to the table. And, that isn't a good thing when you choose between different team collaboration tools. So, before diving into the facts, let's briefly overview the feature sets of ClickUp and Asana.
Asana Features Overview
Task dependencies: Use dependencies to keep complicated projects on track. With this feature, you can ensure that your team members work on highly prioritized tasks and meet their deadlines.
Forms: Get an overview of all project briefs and requests anytime. When you submit a form, you connect it to the project to have them all in one place.
Custom fields: Track the status and capture, filter, and sort information using drop-down, text, or number custom fields. This feature is available for projects and Portfolios. You can also switch on notifications anytime for new and exciting custom fields.
Custom rules builder: Automate task assignments, field updating, and other manual processes to enhance your workflows.
Multiple views: See your projects in detail with Calendar view, Board view projects, and timeline.
Custom templates: Can create custom project templates to standardize your business-specific workflows.
Start dates: Avoid or eliminate the deadline missing.
Dashboard: Offers custom real-time charts to foresee blockers and tasks going off-track. You can export your charts to PNG.
Milestones: Make your goals clear, track your progress, and keep your team members motivated.
Saved advanced search: Use searchers to search for work you need to follow up on, blocked approvals, and tasks at risk. You can save filters if it's something you need to find often.
Goals: Set, control, and track your project goals while you connect them.
Workload: Control your team's capacities and resources with workload view.
Portfolios: View the status, team members' workload, and timelines across multiple projects.
Approvals: You and your team can request or give approvals on work with a specific project.
Proofing: Reporters can leave specific feedback on images or PDFs, so their teams know what to do to complete tasks. Turn your annotations into subtasks to drive clarity about what changes assignees need to make.
ClickUp Features Review
Numerous views: You can see your projects from all angles with a board, list, box, calendar, activity, workload, table, map, chart, and timeline views.
Dashboard: Add visual widgets for tasks, time tracking, sprints, docs, statuses, and embeds. This way, you combine all project indicators into a single dashboard.
Gantt chart: Keep track of the progress of your tasks in timelines with interdependencies at a glance. No bottlenecks.
Custom task statuses: Set up as many task statuses as you want to define your project's workflow.
Time tracking: Start and stop tracking time anywhere and anytime on any task.
Mind maps: Visualize teamwork projects, methodologies, and ideas on a new scale. Also, you can customize diagrams in a task mode or a blank mode.
Priorities: Plan and prioritize your tasks based on different urgency levels.
Multiple assignees: Assign several team members to a task.
Automations: Use pre-built 50+ actions, triggers, and conditions to automate routine work.
Goals: Set your overall project objectives. Plus, you can access the dashboard to view your progress.
Pulse: Get automatic activity reports to see where you and your team spend the most time. This way, you can improve your time management.
Sprints: Mark priorities, roll up sprint points from subtasks, and set sprint dates. Plus, you can automate unfinished tasks into the next sprint.
Reporting: Get an overview of what your team is up to. Moreover, you can monitor if anyone makes changes or posts comments to omit collisions.
Milestones: Set up your project goals and keep track of essential tasks or subtasks.
Delegate reminders: Use reminders to keep your team focused on what needs to be done and meet looming deadlines.
Asana vs ClickUp: Pricing on Display
Is Paying for Asana Worth It?
Asana's pricing is diverse. Users can choose from four price tiers: Basic, Premium, Business, and Enterprise.
Basic provides you with 15 users and unlimited storage. Manage your workflow with no limitations for tasks, projects, activity logs, and messages. The feature set includes list view projects, calendar view, project overview, board view projects, assignee and due dates, project brief, and 100+ free integrations. Plus, you can access your collaboration software with iOS or Android apps.
Premium plan costs $10.99$ per user/month (billed annually). Here you get unlimited free guests, timeline, custom fields, rules, forums, and unlimited dashboards. Moreover, the plan includes start dates and times, task templates, milestones, and advanced search. You can also access the admin console, run reporting across unlimited projects, and have private teams and projects.
Business plan includes Premium offerings. The features are portfolios, workloads, goals, custom rules builder, approvals, forms branching & customization, proofing, approvals, and lock custom fields. Here you get an integration list of advanced apps such as Salesforce, Tableau, Adobe Creative Cloud, and Power BI.
Enterprise plan includes all Business plan capabilities and delivers additional security, support, and control. You need to contact the vendor to get a quote.
How Much Is ClickUp Worth?
ClickUp pricing includes four tiers: Free Forever, Unlimited, Business, and Enterprise.
Free Forever plan speaks for itself: unlimited tasks, custom views, five spaces, real-time collaboration, dependencies, and 100MB file storage. The features include custom fields, portfolios, goals, mind maps, dashboards, a map view, timeline view, workload view, proofing, and Gantt Charts for 100 uses.
Unlimited price tier includes everything from Free Forever and upgrades to some features. Here you get unlimited spaces, file storage, portfolio, Pulse: live overview, goals, map view, Gantt charts, milestones, custom fields. Here you get 1,000 automations/mo, seven days of activity view, guest visibility, reporting, delegate reminders, and future recurring tasks on a calendar.
Business plan increases the number of the features with permission settings for portfolios, branding, custom forms, and tasks IDs, publicly share everything view, and unlimited custom exporting. Plus, you have access to goal folders, granular time estimates, time status.
Enterprise plan includes all the features from Business plus custom workload view, notes, billable time, and notes to time tracking. This pricing plan is suitable for those who want advanced support and security options. Contact the vendor to get a quote.
Pricing Comparison
Free
When we compare Asana and ClickUp free options, Asana wins easily. Why? ClickUp features have limitations on the number of uses, while Asana doesn't set limits. Plus, in Asana, you get more native integrations and mobile apps. However, ClickUp also offers custom exporting per 5 uses, while Asana has this feature in the Enterprise plan.
Premium
ClickUp Unlimited plan is cheaper than Asana Premium. But it lacks advanced search, private teams, and projects, reporting across unlimited projects. In addition, ClickUp has limitations in time view and automations. However, it offers workload and proofing that are unavailable in Asana.
Business
Asana Business plan integrates with a more significant number of free apps. Asana includes advanced project management features: approvals, custom rules builder, and data control. However, ClickUp Business plan is more affordable at $9 user/mo while Asana costs $24.99 user/mo. Asana Business plan integrates with more free apps. Plus, ClickUp offers unlimited custom exporting.
Enterprise
Both plans have similarities in the functionalities. ClickUp includes white labeling, guest visibility, sprints, and sprint points. At the same time, Asana has project briefs, approvals, and project overview.
But each of them offers advanced security. Asana ensures your project safety with SOC 2 Type II, SAM, Google SSO, and SAML. ClickUp is compliant with Microsoft SSO, two-factor authentication, and custom SAML Single Sign-On.
Which Platform Is Better: Asana vs ClickUp?
These days there are more than enough project management tools on the market. Still, Asana and ClickUp acquire several aspects of functionality that are worth your attention. But even such great product management tools have their benefits and drawbacks.
Pros and Cons of Asana?
Users consider Asana to be the golden standard for project management software with such a list of advantages:
Advanced feature-set: The platform includes a powerful Gantt chart and timeline view.
Smart Box: Your team members can receive only essential updates on projects rather than all messages.
Team Pages: Share all your ideas and conversation for all to see.
Automations: You can use automation triggers and interactions to streamline workflow.
Advanced portfolio: This feature allows you to keep track of projects and overview objectives.
Multiple integrations: Receive 100+ apps and integrations, including Adobe Creative Cloud and Google Suite.
High-security level: Enterprise plan offers multiple security features to safeguard your data.
However, this project management system has some issues:
Limited assignee options: Asana doesn't let you assign one task to numerous assignees.
Overwhelmed with features: New users can face a learning curve with such advanced functionalities.
Expensive: It's almost twice as expensive as ClickUp.
Lack of time tracking: You need to install an add-on to track time spent on a task and a project.
What Are the Benefits and Drawbacks of ClickUp?
ClickUp is a perfect tool for task and process management. To prove it:
User-friendly UI: The team collaboration tool is quick to pick up and easy to use.
Numerous integrations: ClickUp supports up 50 native integrations to extend the functionality.
Cost-effective: It offers affordable pricing plans.
Multiple ways to monitor tasks: You can display all your tasks and subtasks in timelines, calendars, Gantt charts, and more.
Unlimited users. Register countless team members on all plans.
Integrated time tracking: Input time spent on tasks and subtasks, start and stop a timer anytime.
Useful mobile apps: Teams can use the project management tool anywhere and collect more data.
Among the ClickUp shortcoming, you can find:
Lack of reporting: You can't track the whole project at once, but only tasks.
Ordering of projects: A new project appears at the button of the project list, not at the top.
Need for UI improvement: It's hard to read text on the platform due to the small size, faint colors, empty panes, and spaces.
Unsuitable for multiple tasks: ClickUp lags when you try to manage several tasks simultaneously or switch between views.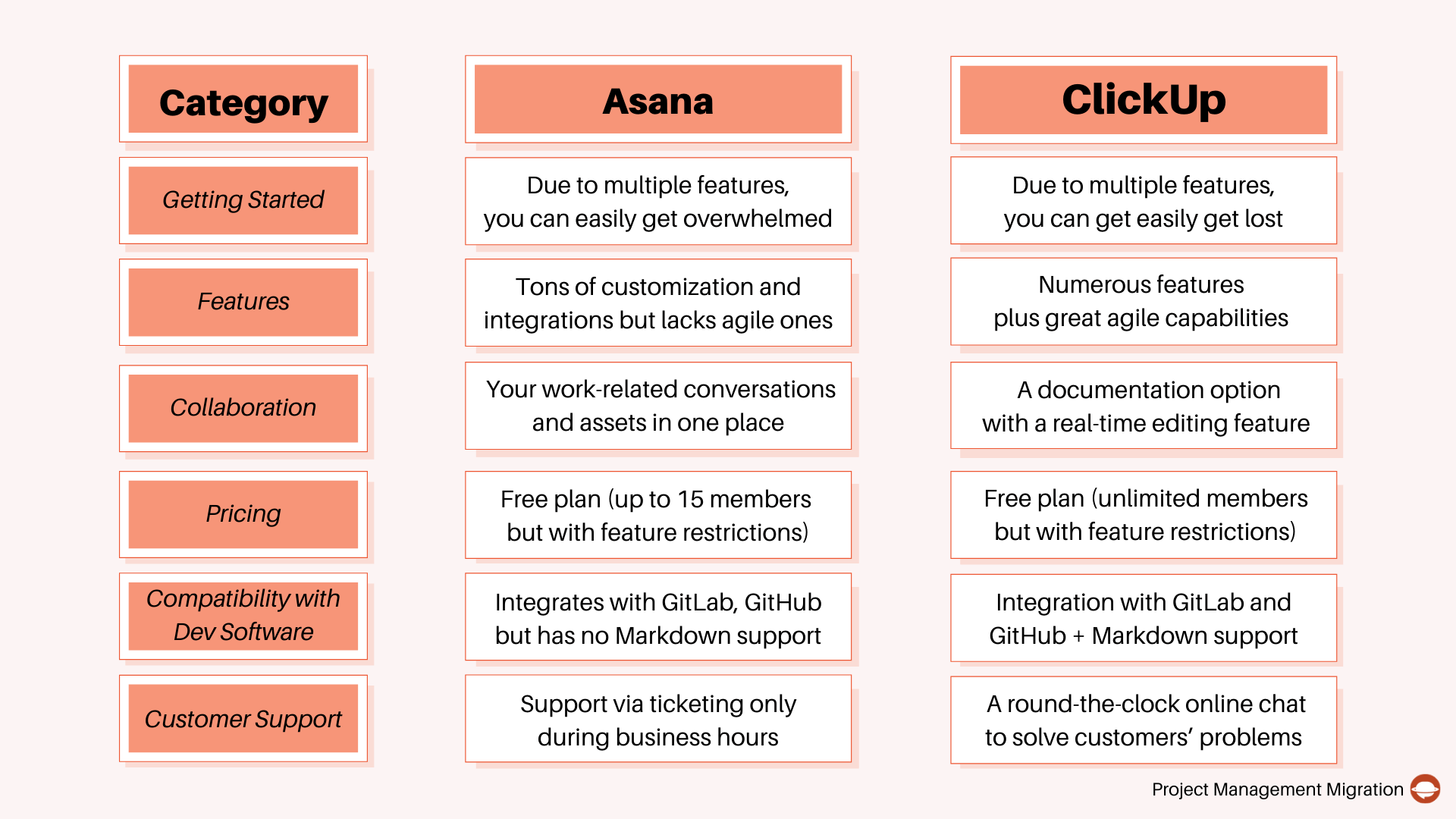 How to Migrate Data to Asana or ClickUp?
Data migration can be hard to complete as any project. It depends on the amount of data you may have, time spent on preparation, and the tool you use.
Asana has a native CSV importer to move your data out of spreadsheet software such as Smartsheet or Excel. You can also import work projects from Monday, Trello, Airtable, Smartsheet, Wrike.
ClickUp supports records importing from CSV, Todoist, Wrike, Asana, Trello, Airtable, Basecamp, and Monday. You can export your projects, team members, and tasks to the platform. However, you can't migrate dashboards.
However, you can omit manual data entries by using a third-party app. For instance, you can try out the Project Management migration service to import all your data automatically.
Verdict of Asana vs ClickUp
Asana looks most suitable for large companies that have to tackle numerous sales and marketing tasks. The project management tool delivers more automated features and multiple integrations.
Whereas, ClickUp will come in handy for companies that value multiple integrations and development-friendly tools. This team collaboration tool is cheaper and provides similar features to Asana.
In the light of the information above, you can try out their free plans to decide which platform you prefer.
Want to migrate to Asana or ClickUp?
Let's migrate your data automatedly
Setup a free Demo