Assigning tasks, keeping track of deadlines, and evaluating project progress are only possible with a proper project management app. But which one to choose: ClickUp vs Monday?
In this blog post compares each platform's features to help you pick the right one. Let's compare Monday and ClickUp to the following criteria:
What features do ClickUp vs Monday include?
What is the pricing model of ClickUp vs Monday?
How to use each tool for project management?
What are ClickUp vs Monday management pros and cons?
Which tool will work better for personal or private use?
Take a Closer Look at ClickUp vs Monday at a Glance
| | | |
| --- | --- | --- |
| Feature | ClickUp | Monday |
| Pricing | From $0 to $19 per user | From $0 to $16 per month |
| Forever free plan | Yes | Yes |
| Free plan storage | 100 MB | 500 MB |
| IOS and Android apps | Mark | Otto |
| IOS and Android apps | Yes | Yes |
| Enterprise plan | Yes | Yes |
| Real-time chat | Yes | No |
| Video chat | Yes | No |
| Integrations | Yes | Yes |
| Note app | Yes | No |
| Customization | Yes | No |
| Overall bird-eye view | Yes | No |
| Time tracking | Yes | Yes |
| Templates | Yes | Yes |
| Slash commands | Yes | No |
| Emails sent and received | Yes | Yes |
| Goals | Yes | No |
| Task tray | Yes | No |
| Dynamic recurring tasks | Yes | No |
| Subtasks | Yes | No |
| User profiles | Yes | No |
Figure 1. ClickUp vs Monday comparison table
Software Overview: Monday vs ClickUp Standoff
ClickUp and Monday have excellent reviews, making picking one for your company challenging. In general, they're cloud-based platforms to simplify the user's experience and save the time and money needed to store big data. At the same time, the cloud platform allows for easy access to update data in real time.
What is ClickUp?
ClickUp project management software is an all–in–one productivity tool that enables managers to manage people, projects, and products, by assigning tasks and milestones and checking performance. Plus, it offers many excellent automation and customization options to help users manage their projects better.
What is Monday?
Monday is a flexible agile-enabled platform that allows team members to collaborate across different departments. It also offers a lot of cool productivity features to ease workflow.
Reviewing Feature of Monday vs ClickUp
With multiple project tracking, product management, and workflow management tools, finding the best one for your company can be challenging. Here's how Monday vs ClickUp stack up.
Dashboards of ClickUp vs Monday
Which user experience is better and more customizable, ClickUp or Monday?
Monday uses artificial intelligence to help you set up your account and have a broad view of all your projects, even if it's your first time using a productivity tool. The intuitive dashboard offers many customization options to help you tweak the features to suit your company and teams better.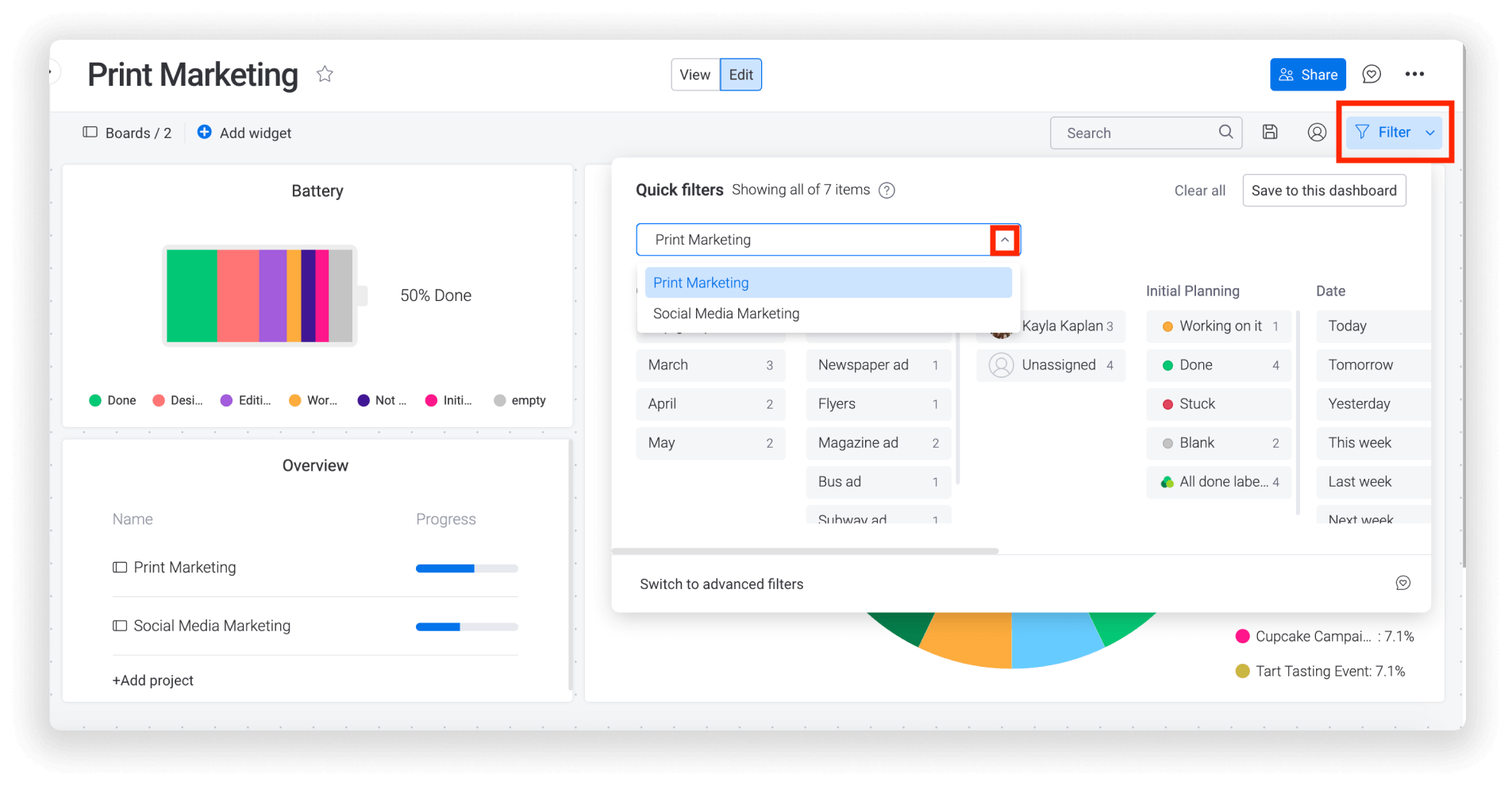 Example of Monday.com dashboard. Source: Monday.com
ClickUp has a clean and easy-to-understand user interface. Users can click and drag items, add tags, and add and remove team members within seconds. And it has no learning curve making it an excellent choice for small and big teams.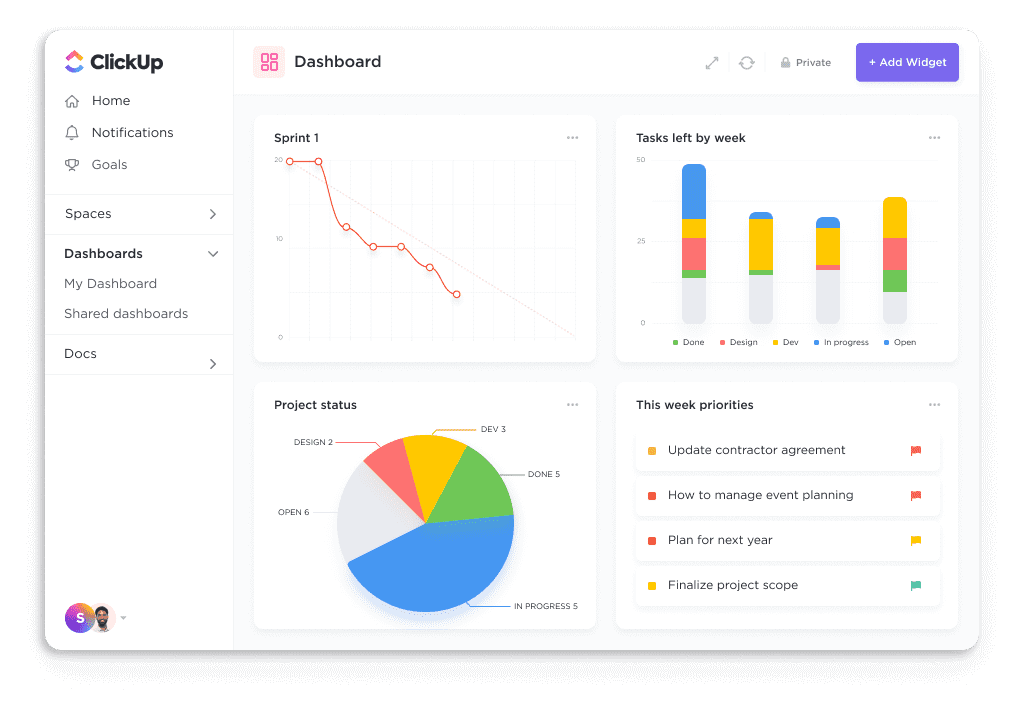 Example of ClickUp dashboard. Source: ClickUp
ClickUp vs Monday: Reviewing Widgets
ClickUp project management software has over 50 productivity widgets and a time tracker for ClickUp to help teams manage their businesses. These include time-tracking features, tables, workload features, calendars, and several external apps.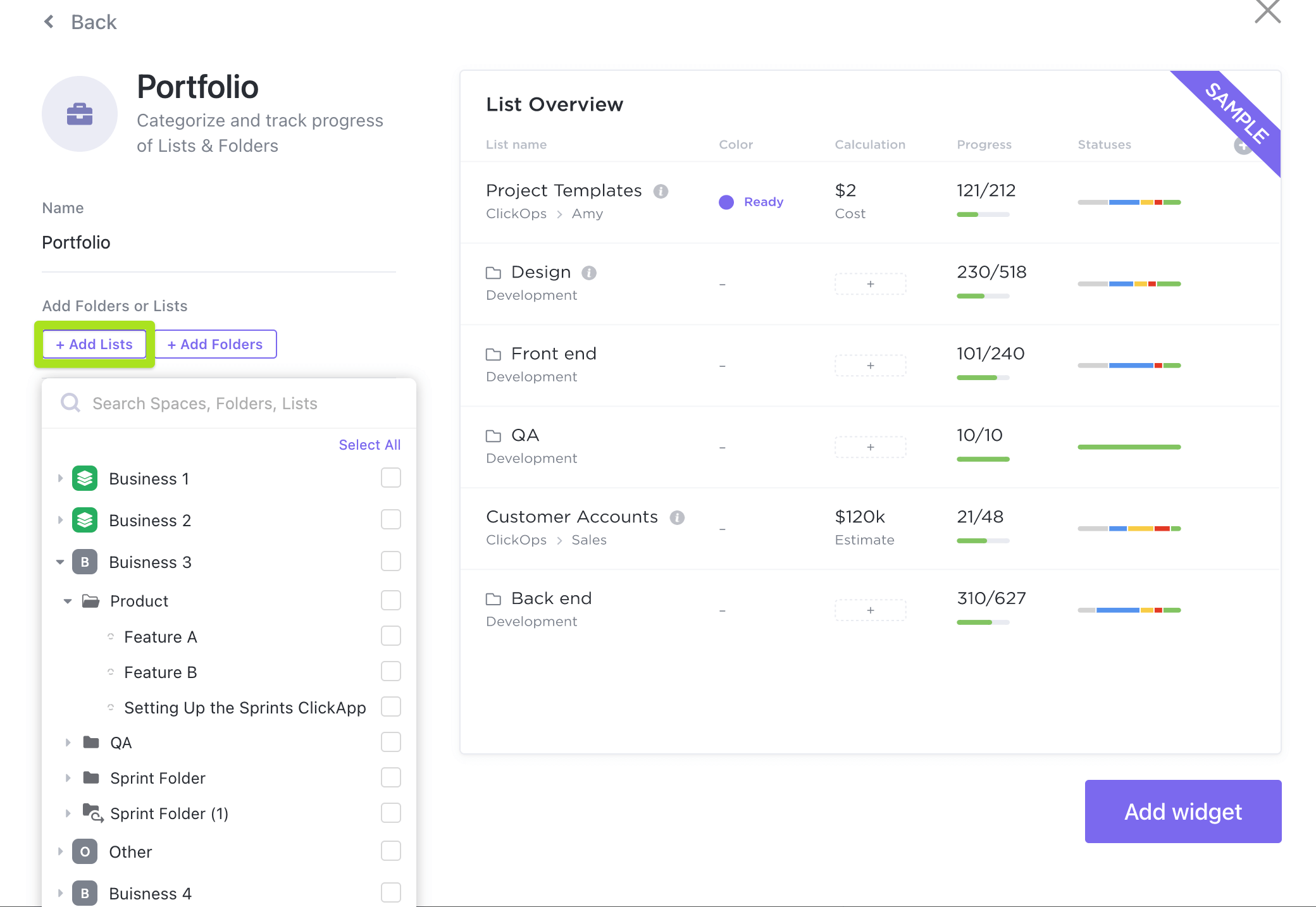 Portfolio widget in ClickUp. Source: ClickUp
Monday project management tool focuses more on productivity and management tools. When you sign up, you need to answer questions about your company and team's purpose. Then assign widgets that suit your business better. Yet, it lacks some time-tracking features that make ClickUp so impressive.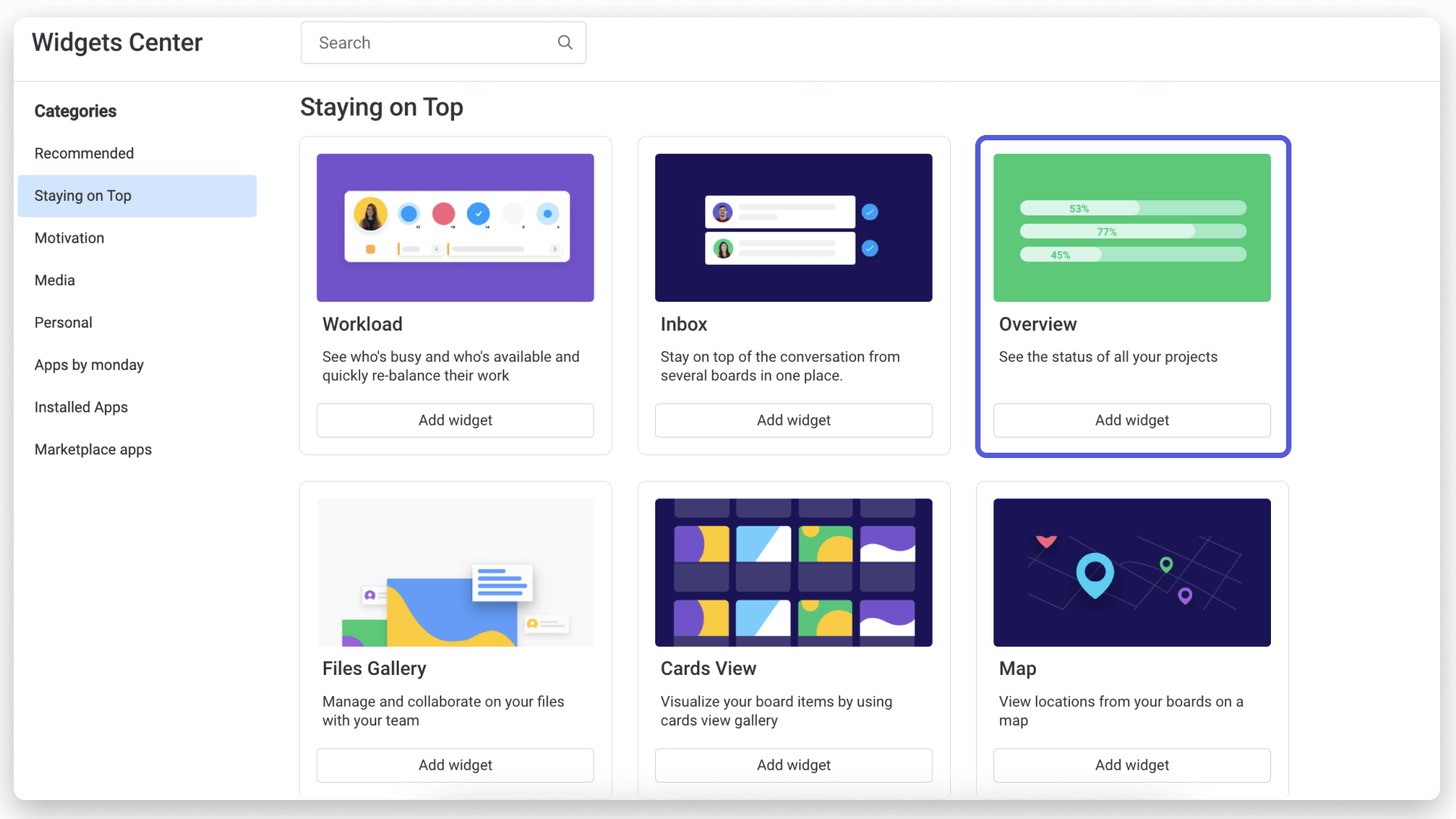 Monday.com widget. Source: Monday.com
Comparing Views ClickUp vs Monday
ClickUp facilitates the process of project and task management by offering different views. These tools are available to team members and managers, who can view and manage diverse teams.
Using this tool, you can leverage Kanban boards, timelines, mind maps, workload and activity views, and the built-in calendar to track work progress. Gantt charts in ClickUp are also quite appealing to users.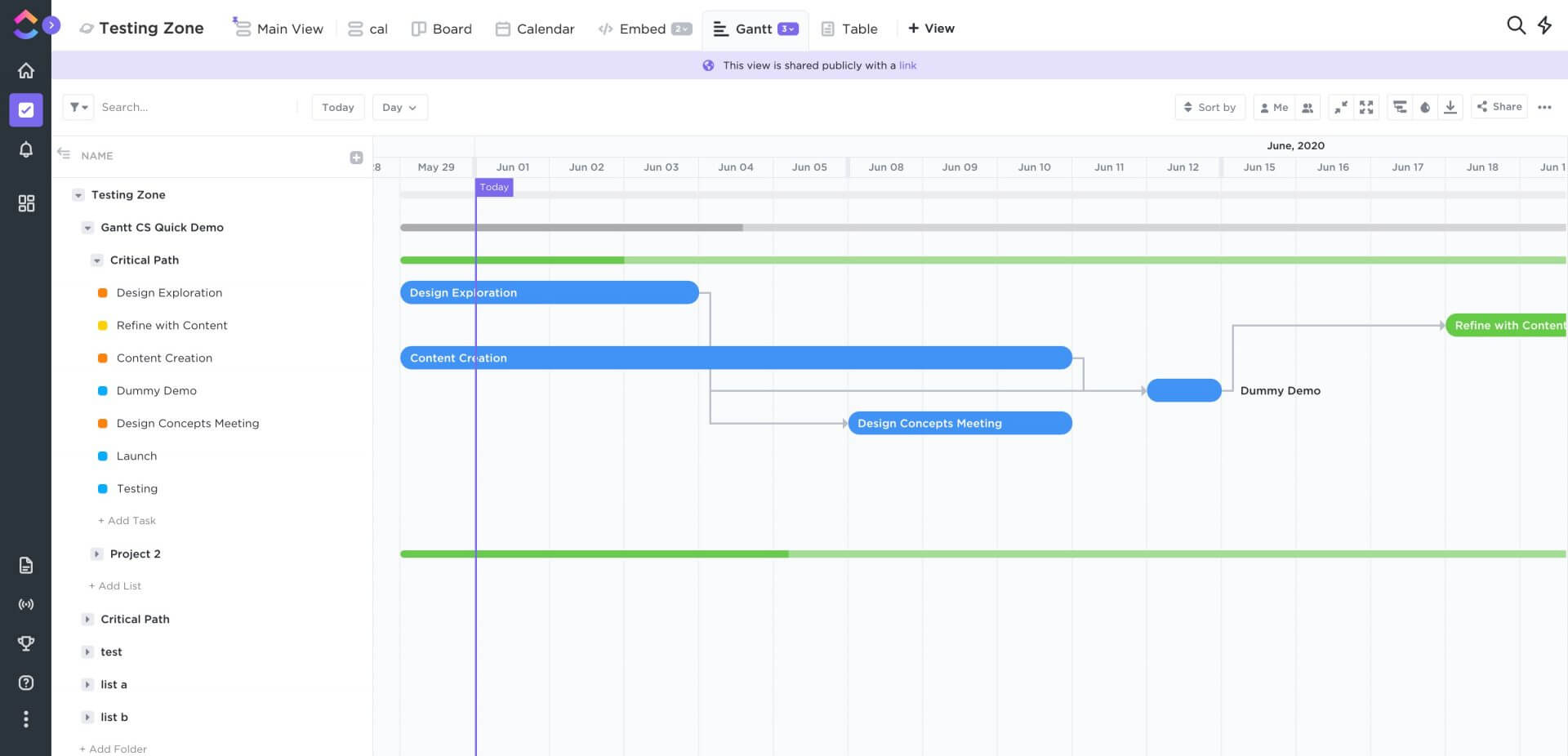 Gantt charts in ClickUp. Source: ClickUp
In contrast, the Monday project management tool offers various project views to help working on many projects. This feature is a big plus when assigning team members to different tasks or projects.
Managers and team members can see each project's status and completion percentage. And several users can update the workflow in real-time. This feature eliminates bottlenecks in the workflow and facilitates collaboration. Users can view their work on Kanban boards, Gantt charts, and calendars.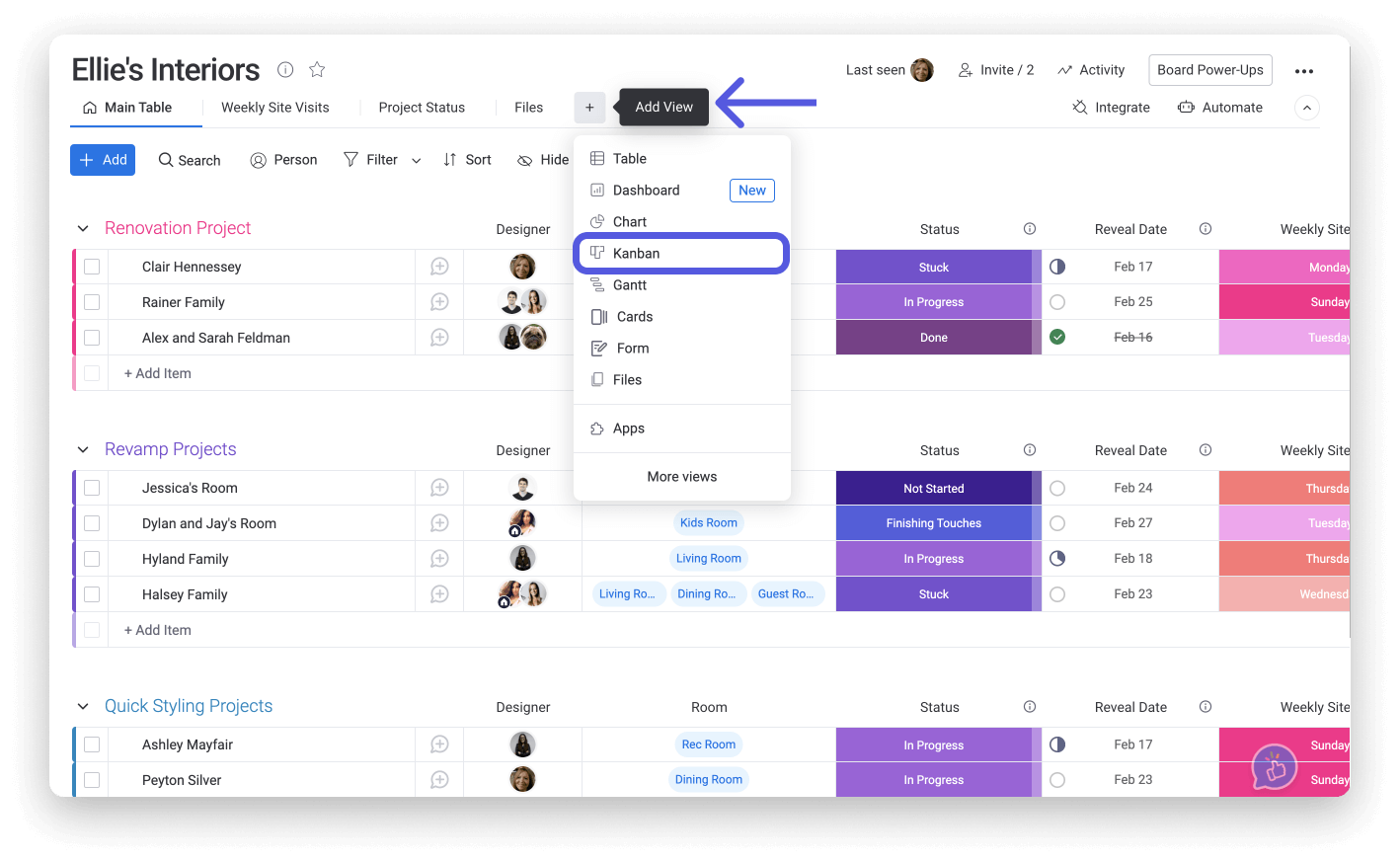 The Kanban view in Monday.com. Source: Monday.com
Collaboration and Communication in ClickUp vs Monday
So, which tool allows for better communication, ClickUp or Monday?
Monday vs ClickUp communication features differs significantly, as ClickUp offers more communication and collaboration features. These include chats, video chats, notes, or the whiteboard app. Users can also add comments and record their screens to share them with other parties.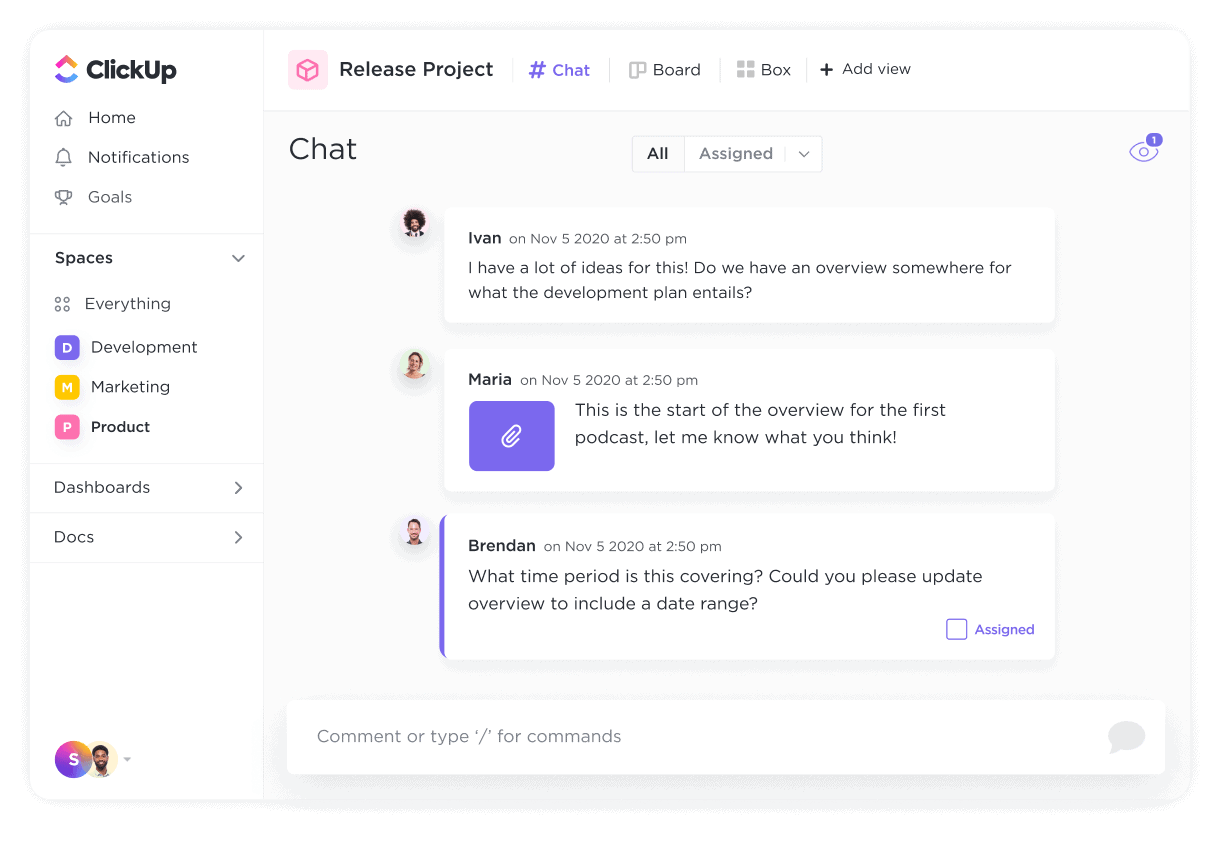 A conversation in ClickUp. Source: ClickUp
The Monday task management features also allow exchanging comments. But they store all exchanges in the inbox for easy access. Video chat isn't available, which can be inconvenient, especially for smaller teams.
Learning Center in ClickUp or Monday
Learning how to use all productivity features can always be challenging. Monday understands this inconvenience and offers an intuitive learning center to explore the platform's potential.
When you first create your account, the platform walks you through a few steps to customize the app. This way, you get clarifications on the widgets or tools you want to use in the present or the future. The Monday project management tool also offers articles and videos about every feature and how to use the platform better.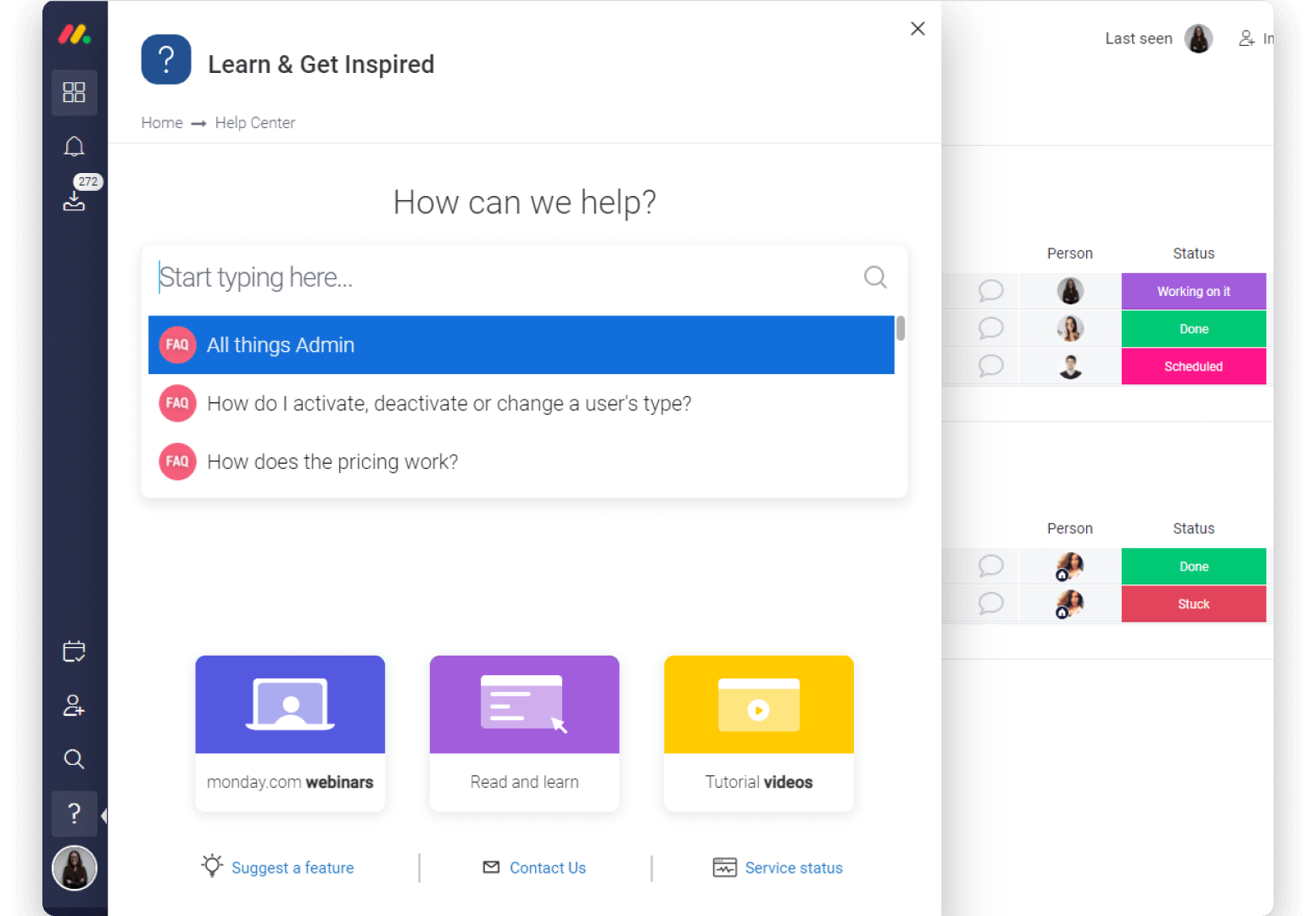 Learning center in Monday.com. Source: Monday.com
To top it off, ClickUp doesn't include a learning center; the platform makes everything self-explanatory. Generally, ClickUp might be more intuitive and easier to use. But Monday is full of cool management features that need detailed guidelines.
Integrations Offered by Monday and ClickUp
So, which app will integrate better with other tools your company uses, ClickUp or Monday?
Both tools offer multiple integrations to allow you to create a one-stop solution for all your teams' tasks. ClickUp and Monday can integrate with thousands of productivity, organization, accounting, and time-tracking apps and tools to provide more value to your company.
Such integrations will be a big plus if you're not satisfied with the lack of time tracking. Integrations with ClickUp will improve its ability to work as a productivity tool.
Cost and Efficiency: Analyzing Monday vs ClickUp Price Points
Monday vs ClickUp pricing models are designed to cater to the users' needs, they work best. Since ClickUp is a good tool for smaller teams, it can also be an excellent choice for freelancers and professionals needing a personal app.
ClickUp pricing offers a free plan with
unlimited tasks
real-time chat
collaborative views
two-factor authentication
Three more plans cost $5, $12, and $19. The Enterprise plan is the most advanced one and offers the entire stack of ClickUp. To get a quote, contact the ClickUp pricing sales team.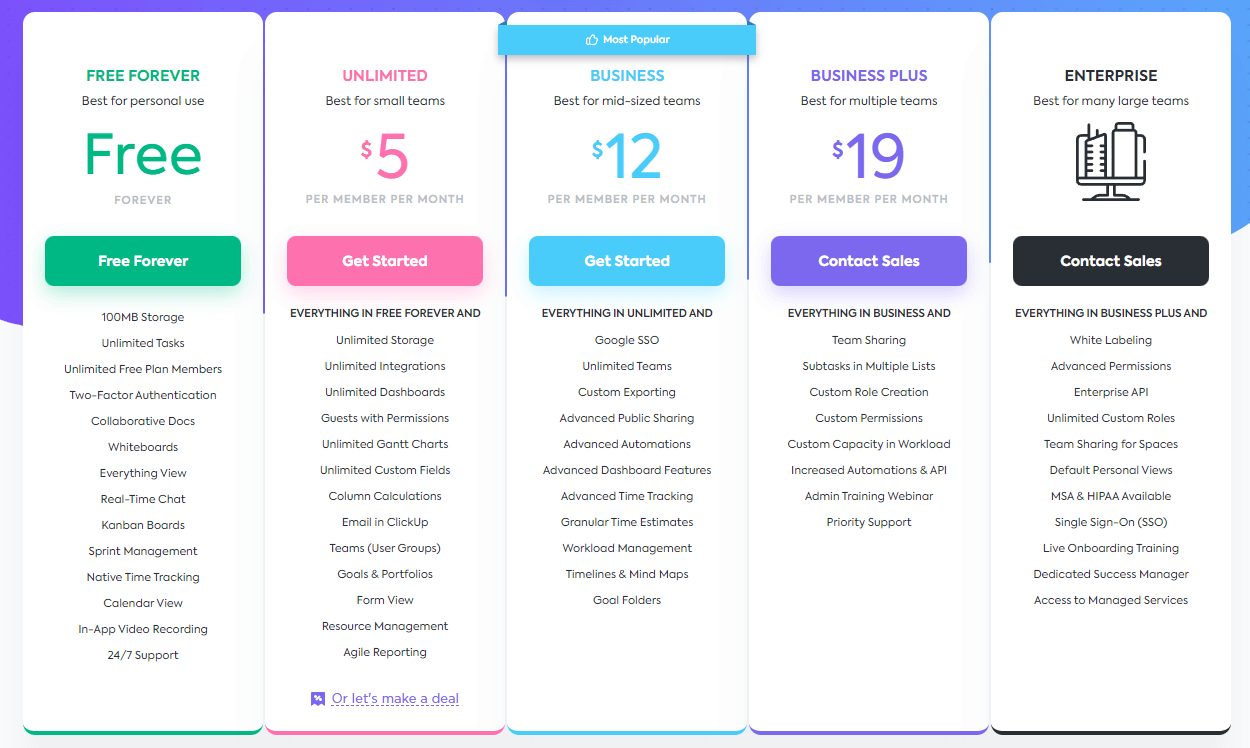 ClickUp pricing. Source: ClickUp
Like ClickUp, Monday pricing delivers a free plan
2 supported users
unlimited access to documents
more than 200 templates
up to three boards for work view
Three advanced plans cost $8, $10, and $16. There's also an Enterprise plan; contact the Monday pricing sales team to know more.

Monday pricing. Source: Monday.com
To sum up: although the lower-tier plans of ClickUp cost less, Monday pricing is more affordable if you're looking for advanced tasks.
Alternatives to ClickUp and Monday
Choosing a project management tool is about getting the correct value for your money. So, if you are unsatisfied with the price plans, search for alternatives to Monday and ClickUp.
If you want a more customized alternative to ClickUp with a better project management experience, pick Hive, Wrike, and Asana. These ClickUp alternatives deliver better team management capabilities.
Other alternatives to ClickUp include Assembla and Teamwork. Trello is another affordable alternative to ClickUp. It's also a more suitable alternative to ClickUp for smaller teams.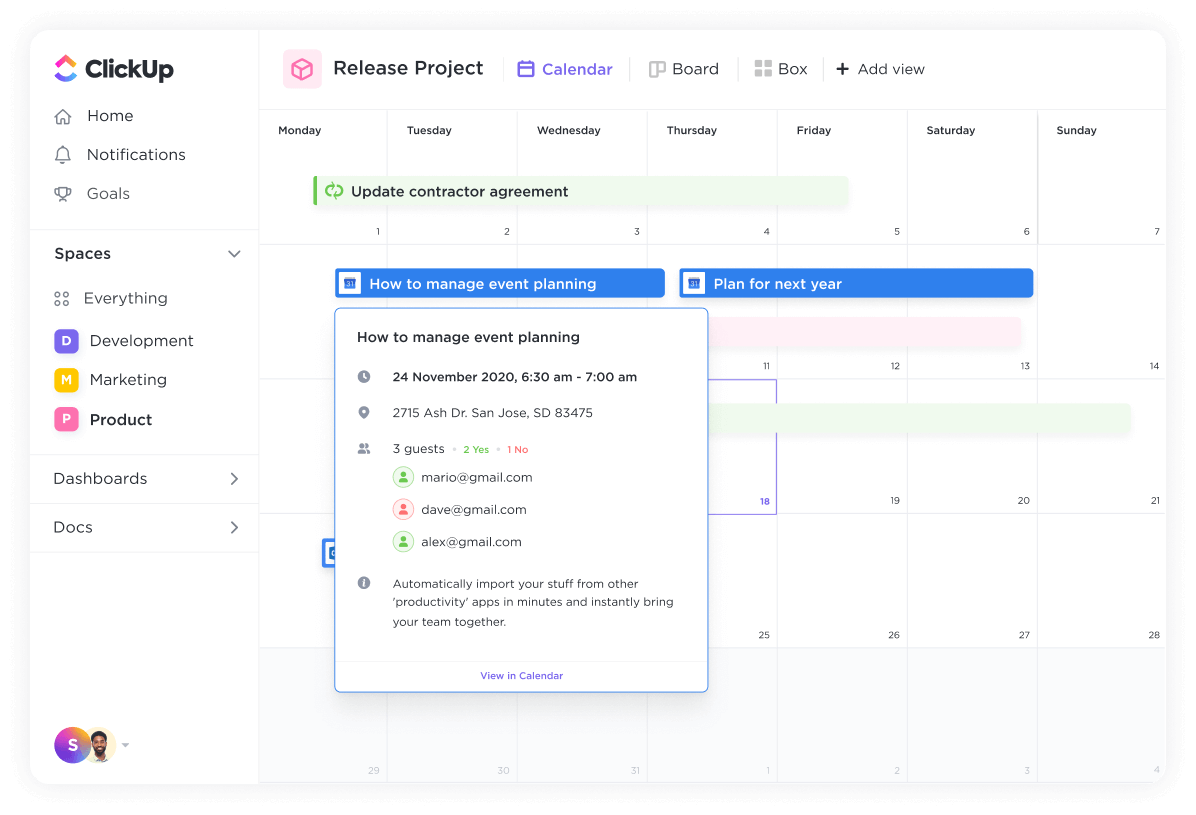 Calendar view in ClickUp. Source: ClickUp
Since time tracking with Monday features aren't comprehensive enough, consider Wrike or Smartsheet for more intuitive collaboration.
For a milestone-creating alternative to Monday, Asana and Basecamp will be better. Each one will be a good alternative to Monday for monitoring progress. Other superb Monday alternatives include Jira Software, Microsoft Projects, and Zoho Projects.
Harness the Power of ClickUp and Monday for Your Project Management
It all comes to how the tool performs when put to the test. Here's how you can use Monday vs ClickUp for managing projects.
ClickUp as Project Management Tool
ClickUp is valued for its scalability and flexibility. You can also work in offline mode. But to set it up for the first time, follow these steps:
Sign up and create your workspace
Set up your projects and tasks
Create automation for recurring tasks and subtasks
Customize your views and visuals
Monitor your work in Gantt charts in ClickUp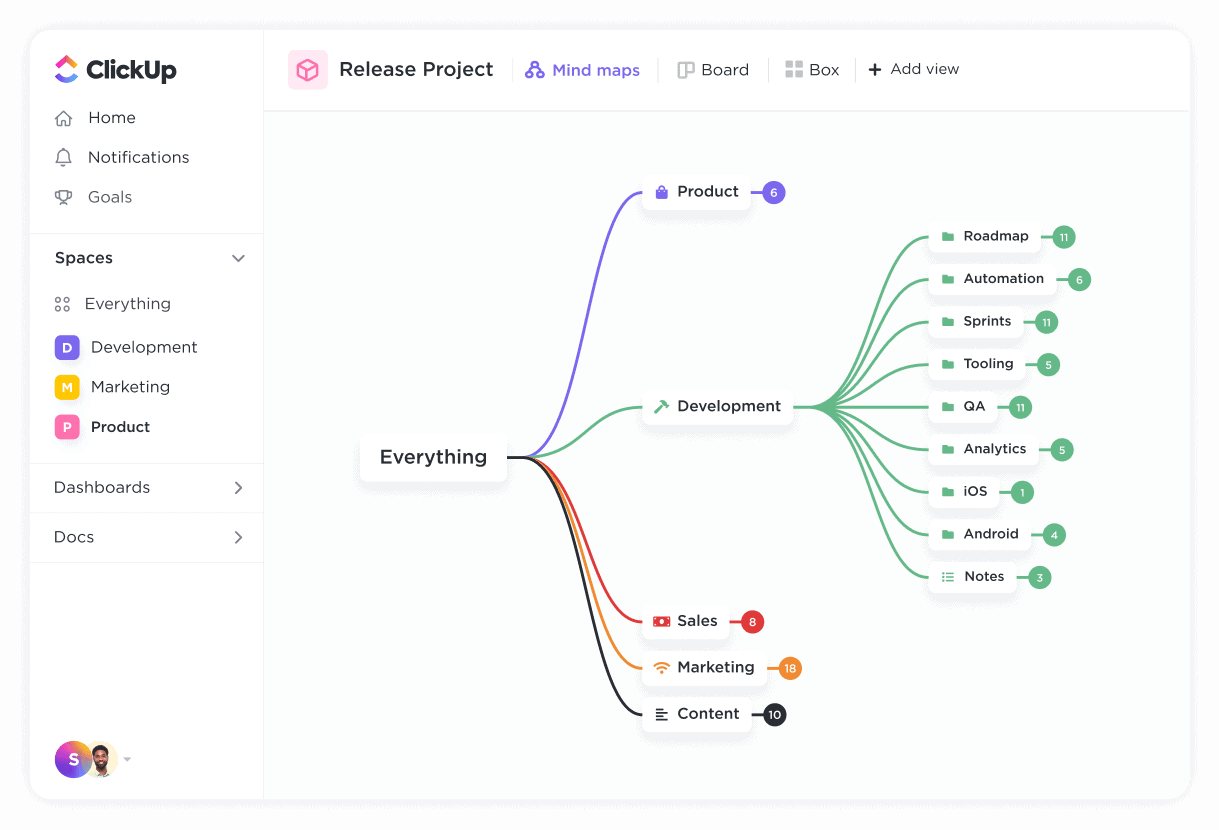 An example of a mind map in ClickUp. Source: ClickUp
Monday as Product Management Tool
Monday has a learning curve, so you need more time to explore its full potential. Yet, this tool provides a learning center with excellent tutorials to get you started and walk you through your project management system.
Similarly, you can create a project board, but a task board is also available. The app can also offer different prompts if you need clarification on the following step:
Create a project board
Assign groups using colors
Assign team members to the People column
Check the status and timeline columns and display the date from the calendar
Visualize your data and automate your workflow
Connect boards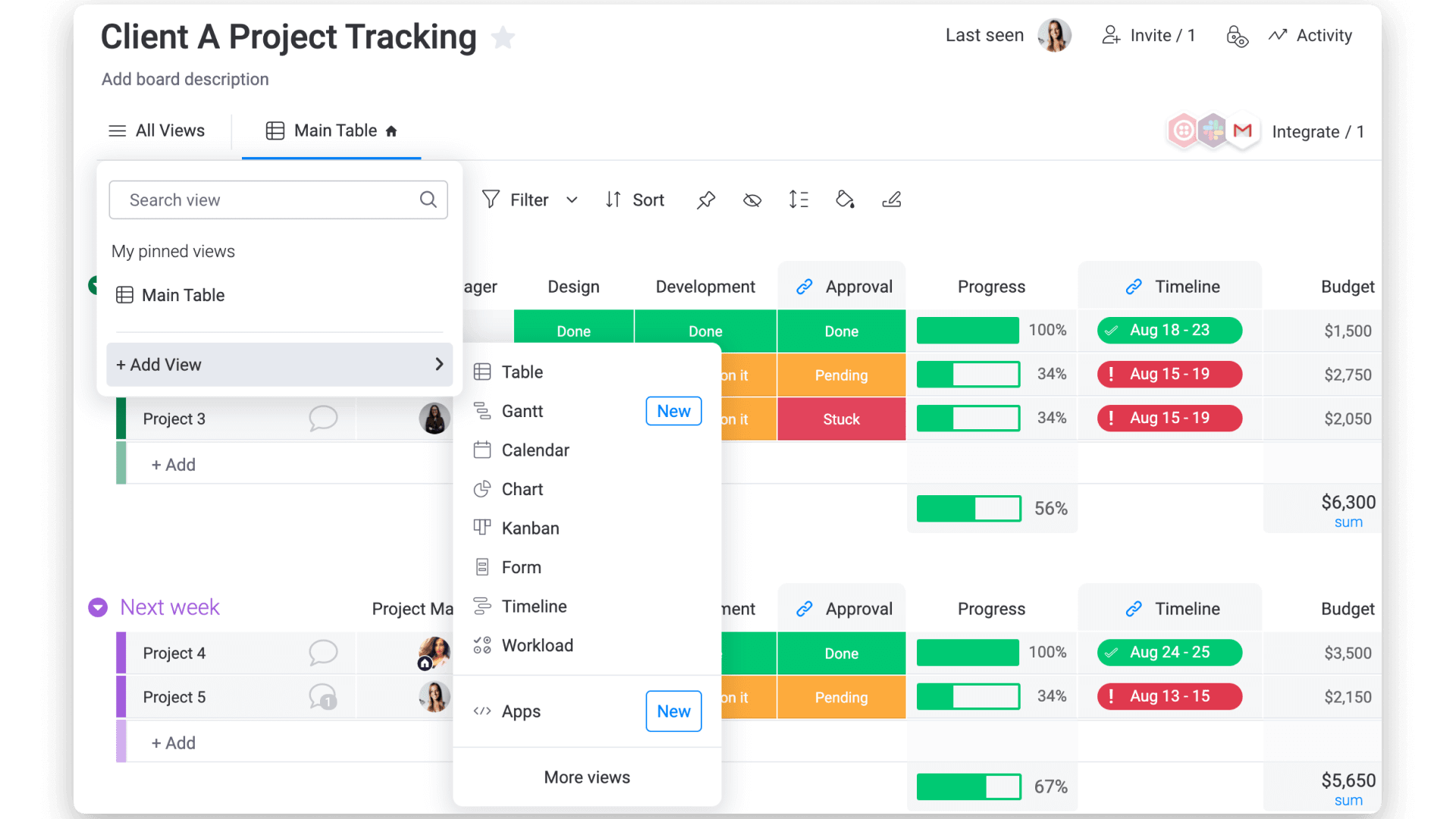 An example of a board in Monday.com. Source: Monday.com
What Are the Pros and Cons of Monday vs ClickUp for Project Management?
While both tools are handy, each one comes with pros and cons that you need to consider.
Exploring the Pros and Cons of ClickUp
Advantages

Disadvantages

Exceptional quality support
Communication tools and messaging integrations
Managers can have a broad view of all activities
Goals creation for teams and members
Clean user interface
Multiple views, including Gantt charts in ClickUp

Customization takes more time
It might not satisfy the needs of bigger teams or members that work on multiple projects
Figure 2. Strong and weak sides of ClickUp
What Are Monday.com Benefits and Drawbacks?
Pros

Cons

Artificial intelligence setup
Easy to use
Better data retention
Due dates and prioritization
User and team reports

It doesn't offer a lot of time-tracking features
It can be a bit overwhelming to set up
Figure 3. Advantages and disadvantages of Monday.com
Regardless of the app you decide to use for your company, you can always migrate your data with the Project Management System Migration service. This unique service allows you to take control of your data and safely transfer it to the tool of your choice. You don't have to figure out how to do it or worry about your data getting altered. Just contact the support team and set up a Free Demo to transfer your project information.
Which Companies Have Unlocked the Power of Monday and ClickUp?
Although Monday and ClickUp are productivity management tools, each can work better for particular work environments.
ClickUp is a collaboration tool designed for all companies and industries. But, it's suitable for small and medium-sized businesses, including many views and an intuitive user interface. This way, you can ease communication between team members.
Larger enterprises might find ClickUp needs more advanced management features. Yet, you can solve this problem by integrating ClickUp with any other helpful tool.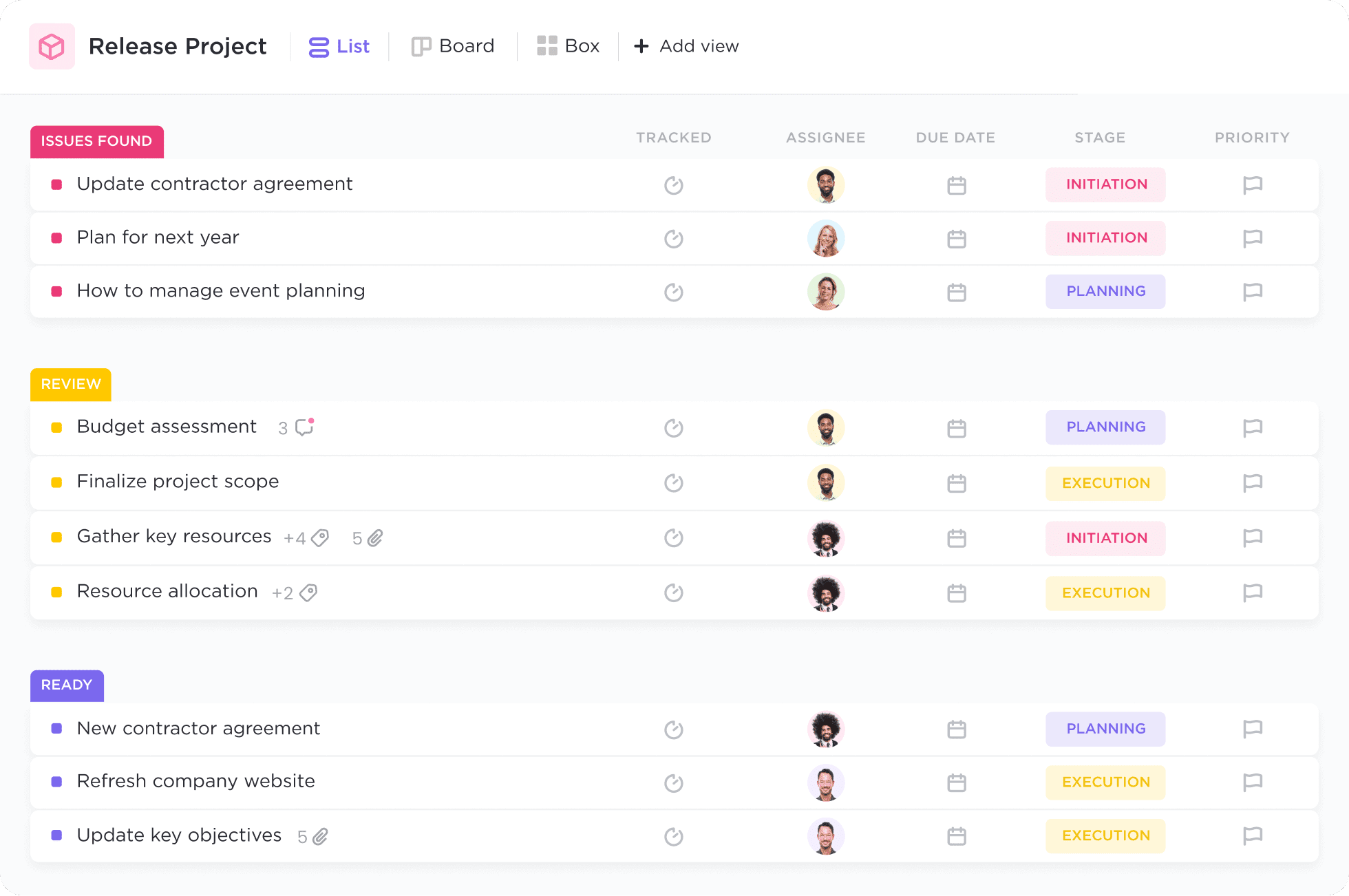 List view in ClickUp. Source: ClickUp
Monday task management features to streamline workflow within and across teams. It supports team collaboration and productivity for various businesses.
Like ClickUp, this tool comes with features for SMBs and large companies that focus on managing sales and keeping track of campaign progress. Regardless of missing time tracking with Monday, it's an excellent tool if you're looking for an enterprise-level solution.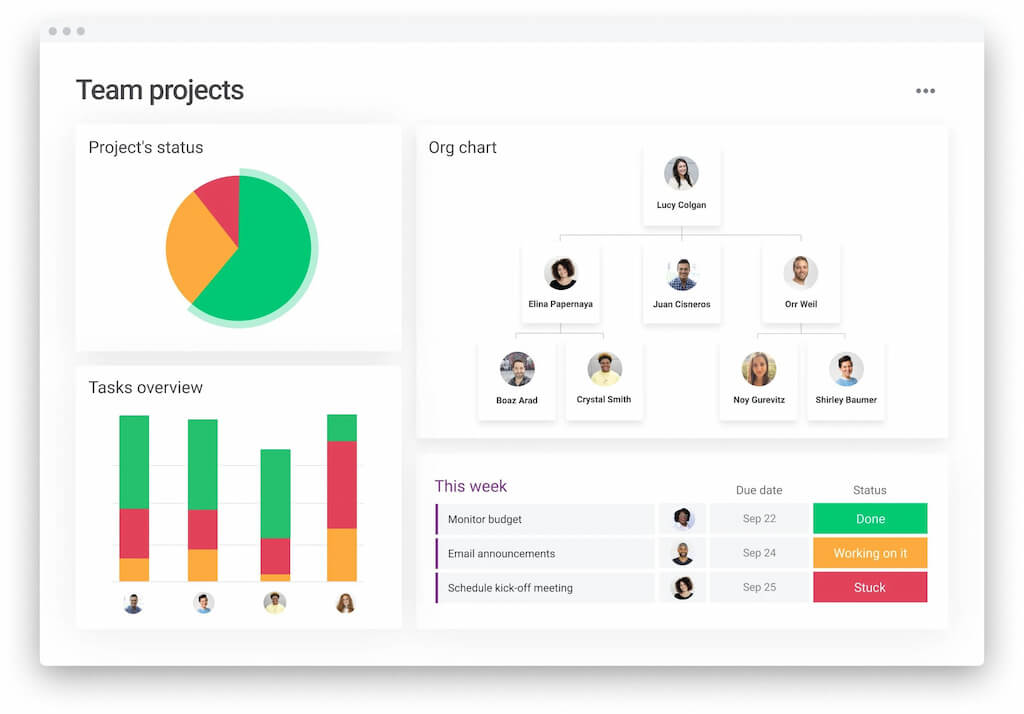 Monday.com for project management. Source: Monday.com
How Monday and ClickUp Can Help Boost Your Freelancing Work
ClickUp is a better tool for personal use if you're a freelancer or work with a small team. Monday is better suited for private businesses with some developer experience. The free plan works for smaller companies, but the tool is more suitable for bigger ones.
Take Your Projects to the Next Level By Using Monday and Clickup
In the Monday vs ClickUp comparison, both tools can help manage multiple tasks and projects, but each comes with unique features. So, is ClickUp or Monday better for your business?
ClickUp is an excellent tool for less experienced users and smaller teams. It comes with a built-in time tracker for ClickUp to keep track of deadlines and is an excellent alternative to Monday if you're a freelancer.
Monday is a comprehensive tool for managing workflow. Monday task management features to cater to the needs of enterprises that manage bigger teams and works for team members who work on multiple projects simultaneously. It's a friendly alternative to ClickUp if you need a more comprehensive productivity solution.
Want to migrate to ClickUp or Monday?
Let's migrate PM data together!
Try for free