In the ever-evolving landscape of project management tools, selecting the ideal one for your team's needs can be a game-changer. Join us on a journey as we pit two formidable contenders, Zoho Projects vs Teamwork, against each other. Through this comprehensive comparison, you'll discover their unique strengths, features, and, ultimately, the perfect fit for your project management aspirations.
Understanding Zoho Projects and Teamwork
Before we explore the core functionalities and strengths of Zoho Projects vs Teamwork, let's delve into the essence of these two powerful project management tools.
Zoho Projects in a Nutshell
Zoho Projects is a highly regarded project management tool known for its comprehensive features like task management, time tracking, and document management. It's the go-to choice for businesses looking to streamline project planning and execution, facilitating better team collaboration.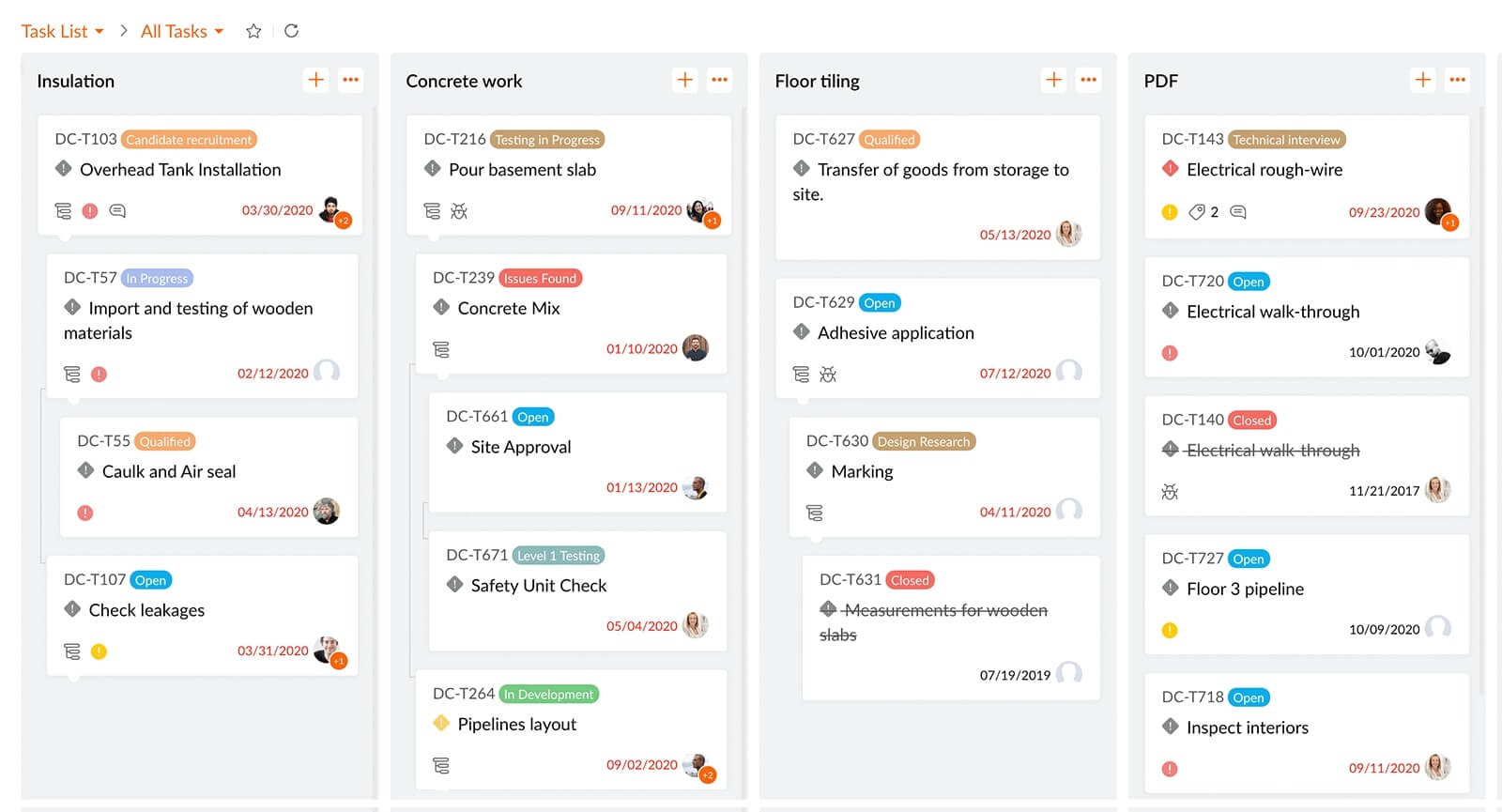 Zoho Project task lists. Source: Zoho Projects
A Closer Look at Teamwork
Teamwork is your ticket to turbocharged collaboration! Say goodbye to project management headaches and hello to streamlined teamwork that packs a punch. With a toolkit featuring task mastery, time tracking, and project planning, it's your secret weapon for delivering stellar results. The creators of Teamwork have a rock-solid track record of providing top-notch project management solutions.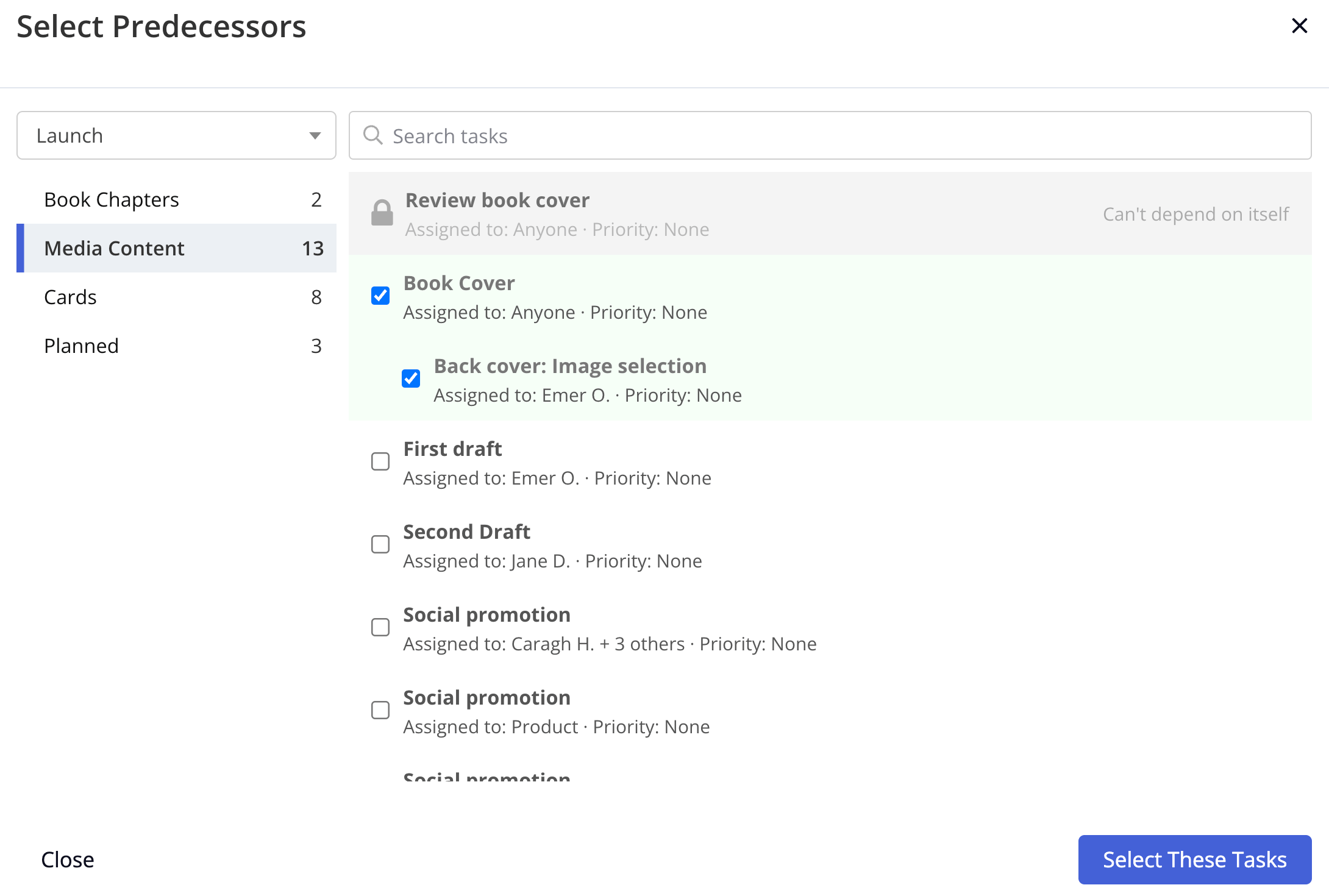 Task dependencies in Teamwork. Source: Teamwork
Battle of the Features: Zoho Projects vs Teamwork
Teamwork and Zoho Projects share substantial features, greatly aiding project managers. In the sections below, we'll delve into the primary functionalities offered by these project management solutions.
| | | |
| --- | --- | --- |
| Feature | Zoho Projects | Teamwork |
| Interface | User-friendly, intuitive | Modern and streamlined |
| Task Management | Robust task tracking | Task lists and boards |
| Templates | Pre-built project templates | Customizable templates |
| Time Tracking | Supports | Supports |
| Gantt Charts | Task dependencies | Timeline adjustment and milestone management |
| Kanban Boards | Default status boards | Customizable boards |
| Collaboration and Communication | Chat, forums, notifications | Messaging and comments |
| Calendar Management | A calendar module | A calendar area |
| Project Planning and Scheduling | Gantt charts, milestones | Task dependencies |
| Document Management | Document storage and sharing | File attachments |
| Reporting and Analytics | Custom reports and analytics | Reporting capabilities |
| Integrations and Customization | Extensive integrations | Third-party integrations |
| Security | Data encryption and access control | Security features |
Figure 1. Teamwork Project vs Zoho Projects features
User Interface
Zoho Projects keeps it clean and clutter-free. Its interface is like a well-organized desk—everything has its place, and you can easily find what you need. It offers a streamlined navigation menu; the dashboard is your project control centre. The chat box is just a click away, making communication a breeze, and its customizable widgets let you tailor the interface to your liking.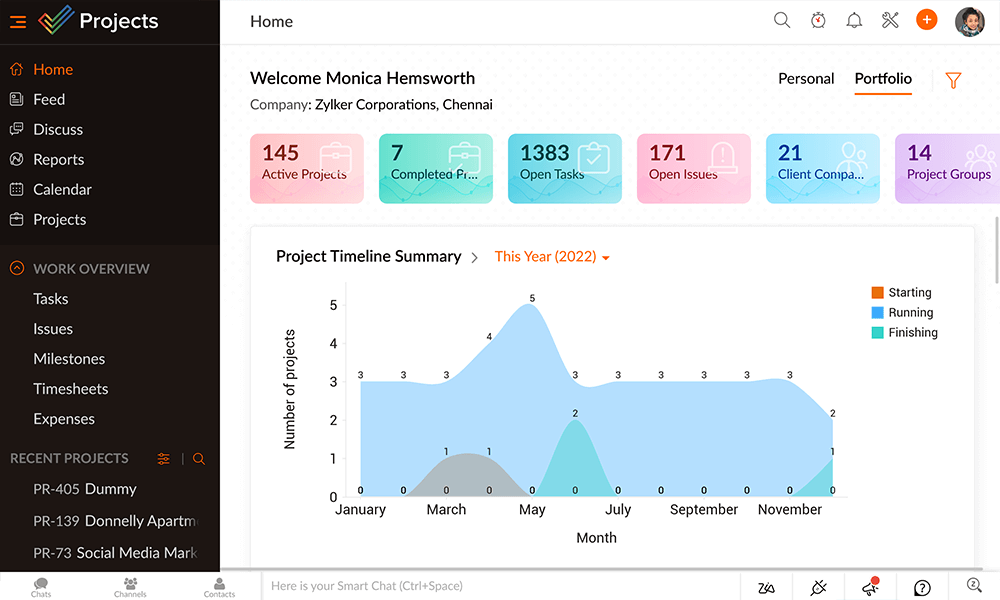 Zoho Projects dashboard. Source: Zoho Projects
Teamwork's interface is a bustling control centre buzzing with activity. The dashboard is like a busy city square, with real-time updates, task lists, and project timelines all in one place. The intuitive layout offers a quick overview of your projects, and the Gantt charts are like the skyscrapers of your project skyline—imposing yet captivating. Plus, it's got a dedicated "Everything" area for your most important updates.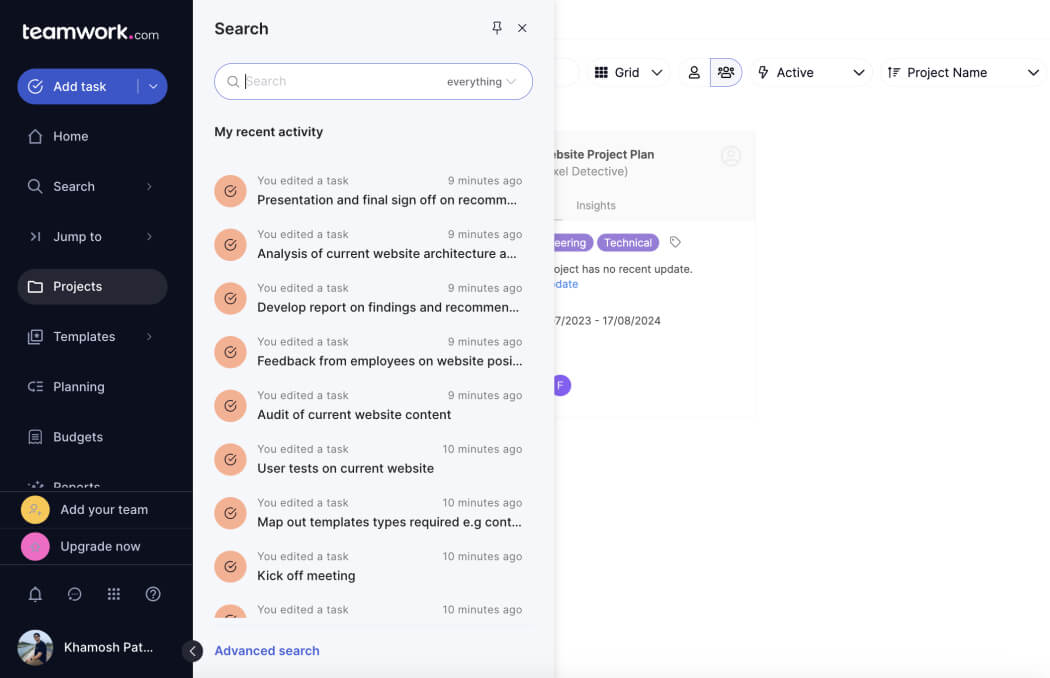 Teamwork interface. Source: Teamwork
Task Management
Zoho Projects offers precise control, from deadlines to daily hours allocation, and even a built-in timer for premium users. You can track progress, mark tasks as billable, and stick to strict project timelines.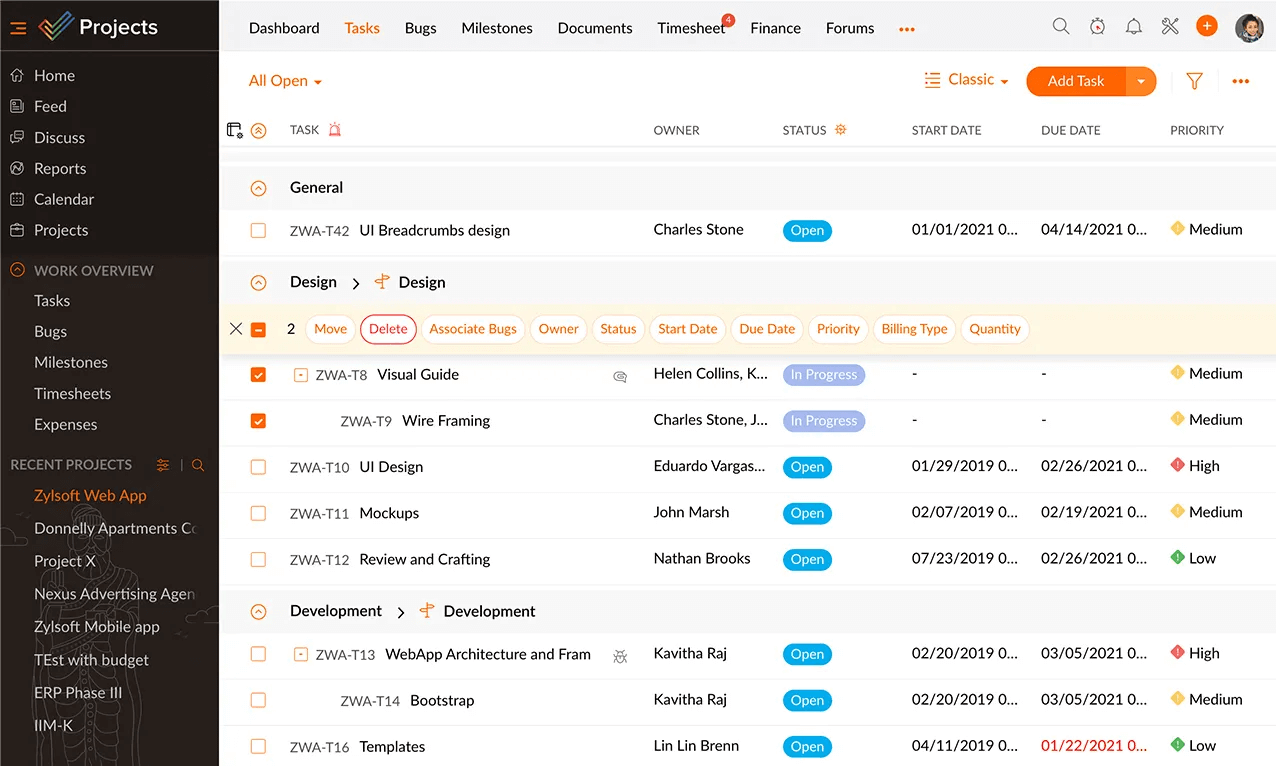 Zoho Project's task management. Source: Zoho Projects
On the other side of the ring, Teamwork boasts comprehensive task management. Create, assign, and track tasks effortlessly. They sweeten the deal with task templates for easy project setup, time tracking for everyone, and the power of task dependencies and Gantt charts.
In a nutshell:
📋 Templates: Teamwork Project takes the lead with its task templates.
⏱️ Time Tracking: Both contenders offer robust time tracking, but Zoho Projects reserves the fancy features for its paid accounts.
🤝 Task Dependencies: They're a tie! Both platforms support task dependencies and serve up interactive Gantt charts.
🎨 Customization: Zoho Projects goes all out with detailed task customization.
Gantt Charts
Zoho Projects and Teamwork offer interactive Gantt charts, though the last one reserves this feature for paid plans. These charts allow easy task and milestone management, project timeline adjustments, and task dependencies creation. Gantt charts are a practical hub for project editing, providing an overview of tasks and deadlines while adding new ones.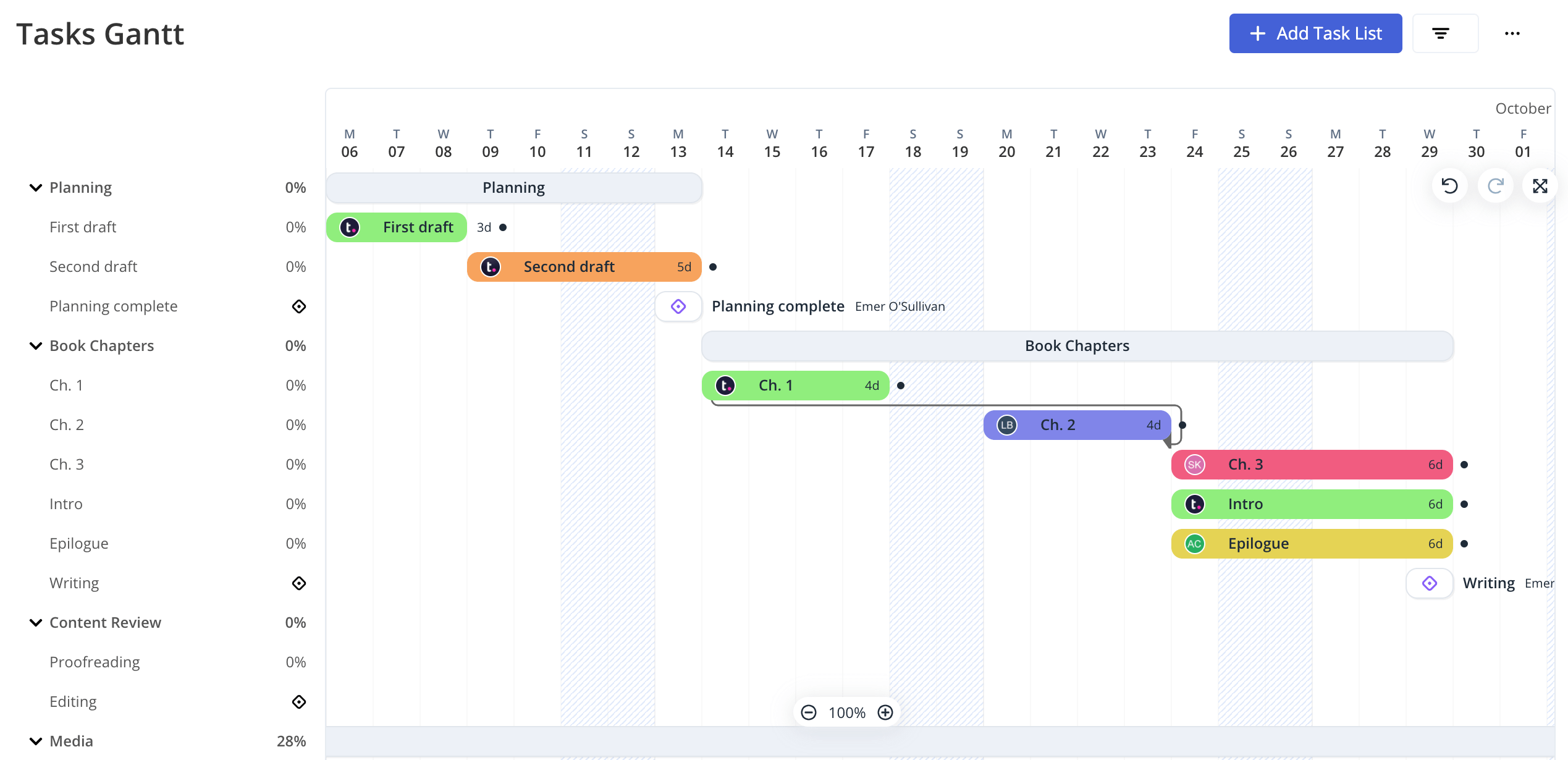 Teamwork Gantt chart. Source: Teamwork
Zoho Projects enhances this with task dependencies, best configured within the Gantt chart view. They are interactive, permitting drag-and-drop adjustments to task timelines. If you extend tasks too far, causing conflicts, they turn red. Task dependencies are easily created by dragging lines between tasks. A recent addition is the helpful undo button.
Kanban Boards
Both Teamwork and Zoho Projects offer Kanban boards, a visual way to manage tasks. In Teamwork, Kanban boards are part of the board view, allowing you to organize tasks into columns like To Do, Doing, and Done. Zoho Projects also has Kanban boards featuring columns like Open, In Progress, and Closed by default, but you can customize them. Kanban makes tracking tasks a breeze, providing a clear view of progress and status.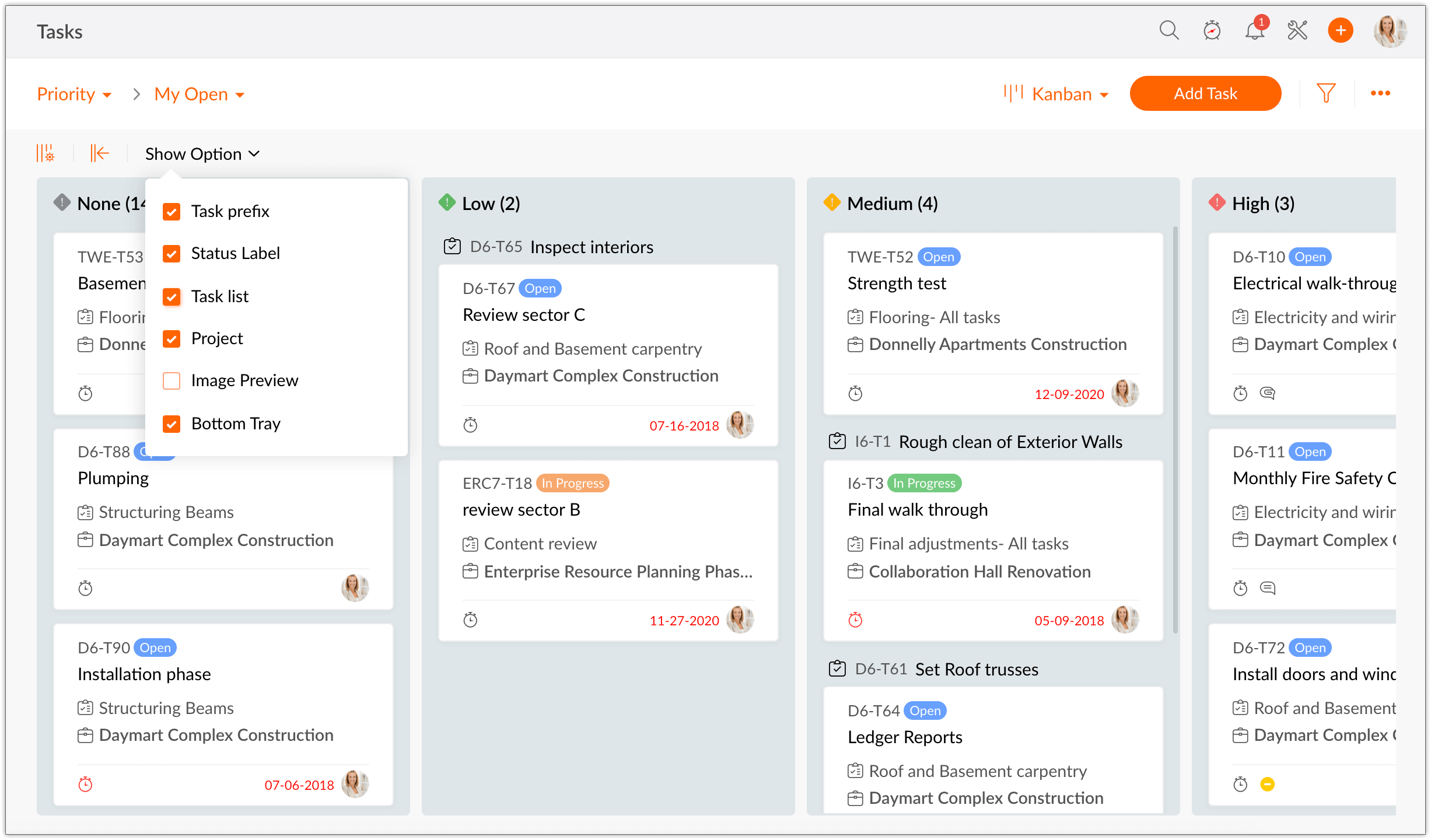 Kanban board in Zoho Projects. Source: Zoho Projects
Project Templates
Zoho Projects keeps it simple yet effective. You can create project templates with predefined task lists, milestones, and custom fields. Use these templates to kickstart new projects hassle-free. It's a winner for those who like straightforward, no-fuss templates.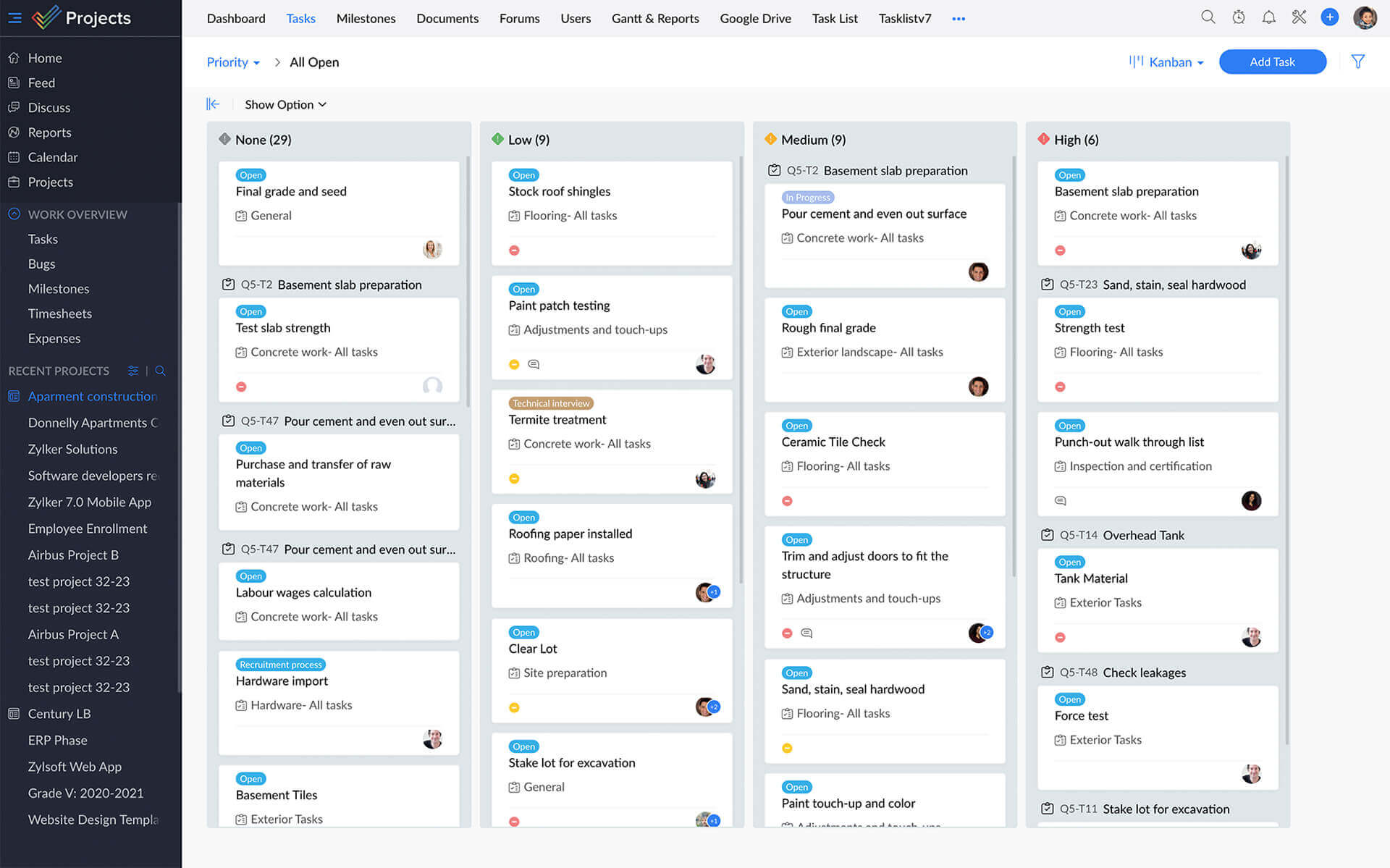 Zoho Projects templates. Source: Zoho Projects
To top it off, Teamwork steps up with templates, too! You can create templates for various project types, saving common structures and tasks. Apply these templates to new projects for instant setup. It's perfect if you want flexibility and customization in your templates.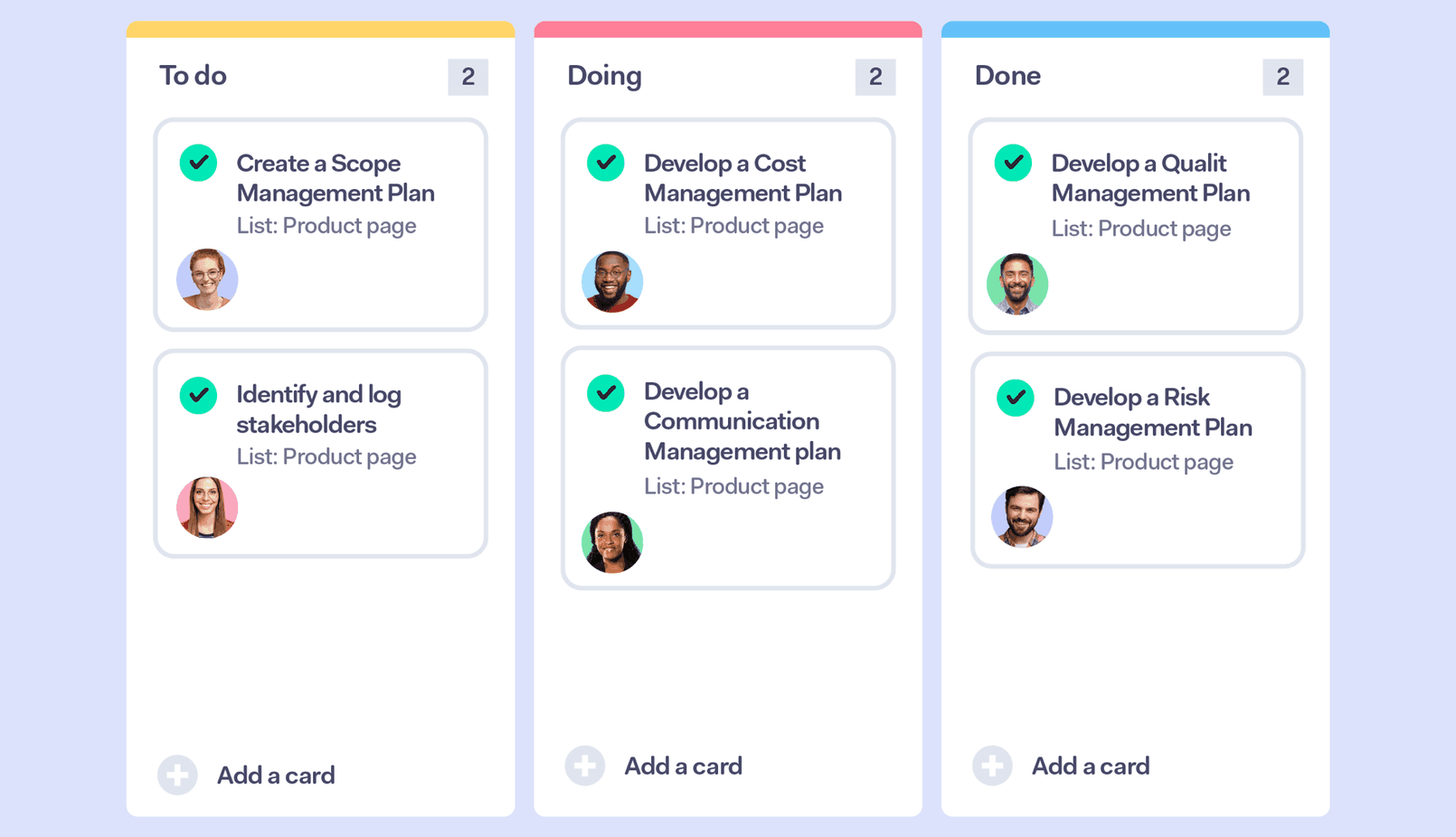 Teamwork project templates. Source: Teamwork
Time Tracking
Zoho Projects brings you time tracking with style. Whether on the free or paid plan, you can log time for tasks, projects, and clients. It's got manual entry and a slick built-in timer. You can even bill clients with ease and dive into insightful reports. It's perfect for teams of all sizes.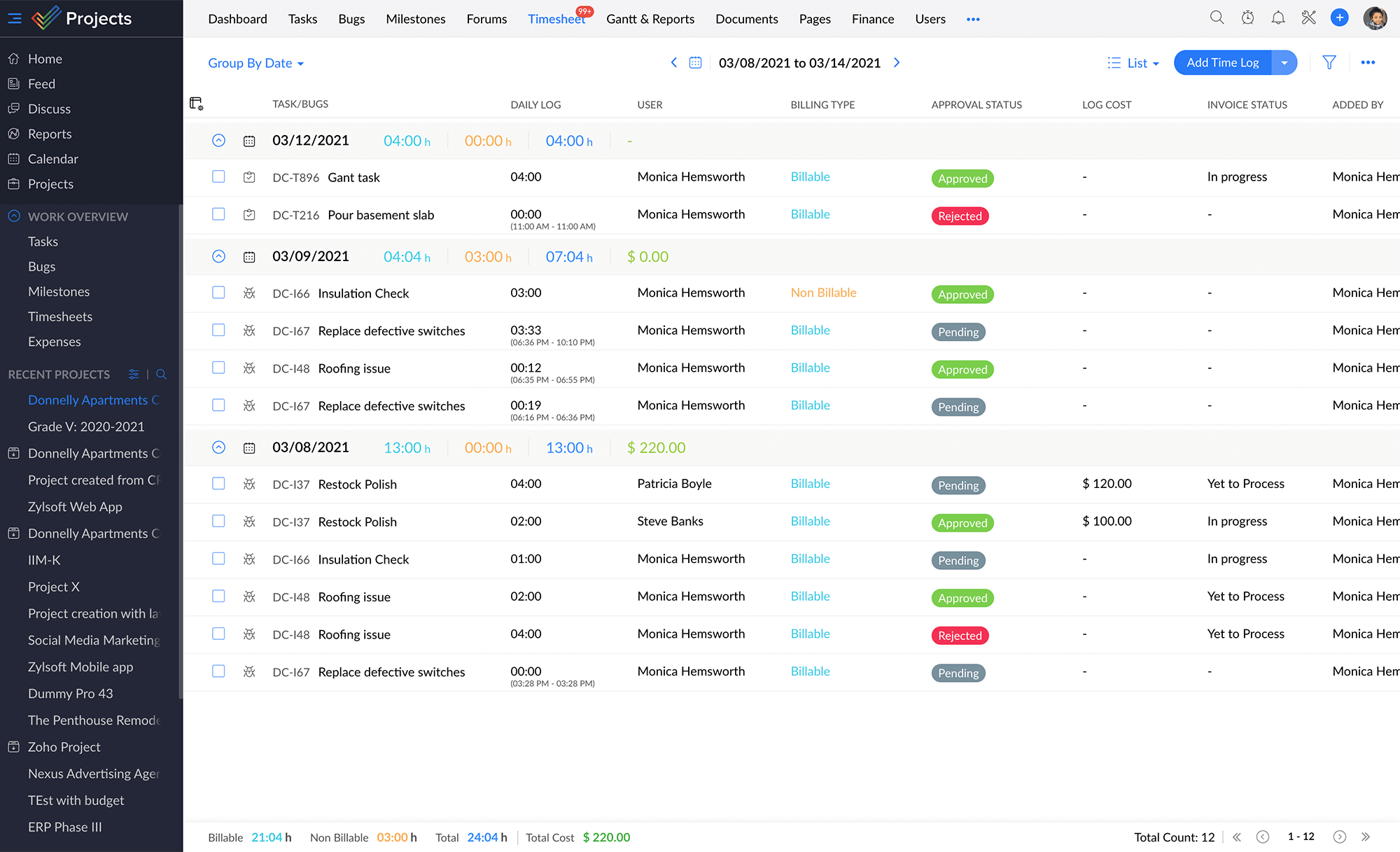 Zoho Projects time tracking. Source: Zoho Projects
By contrast, Teamwork isn't backing down either! Time tracking is for everyone, no matter the plan. It offers detailed time entry, billable rate options, and seamless integration with time-tracking tools. The cherry on top? Eye-catching reports and graphs to keep you in the time-tracking groove.
To sum it up:
Both Zoho Projects vs Teamwork ace time tracking.
Zoho's got simplicity and versatility, while Teamwork offers detailed tracking for all.
No need to pay extra; time tracking is available for all users.
Collaboration and Communication
Teamwork knows the importance of staying connected. It offers team chat, seamless file sharing, and collaborative document editing. Plus, it plays nicely with popular tools like Slack and Google Drive. For external collaborations, the "Client Users" feature is your ticket to inviting partners from outside your organization, with fine-tuned access control.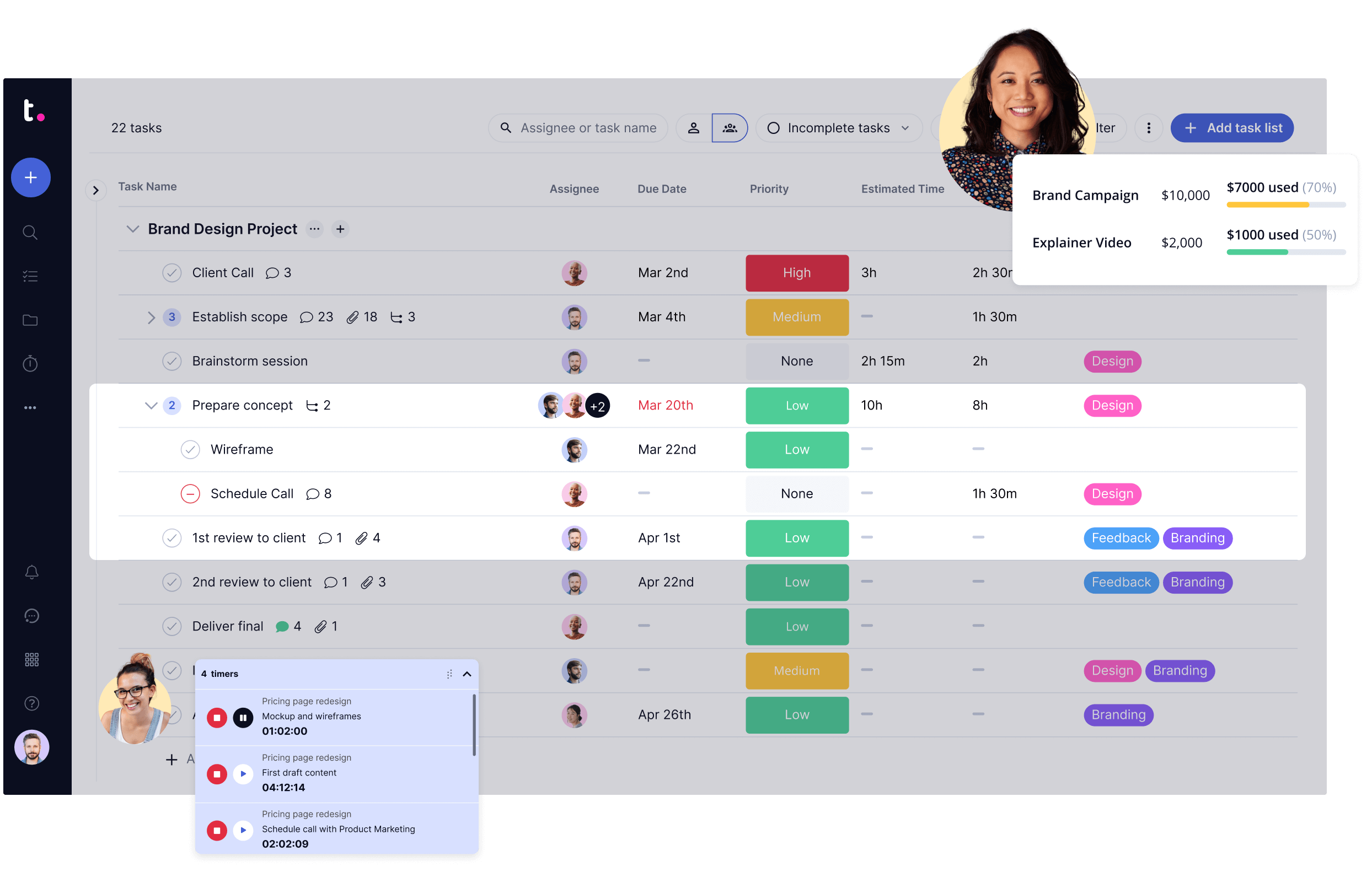 Client Users in Teamwork. Source: Teamwork
Similarly, Zoho Projects takes a unique approach by consolidating everything in one place. It features team chat, file sharing, forums, and pages for knowledge-sharing and document collaboration. You can even start online meetings instantly with Zoho Meeting integration. It keeps your team's communication seamless and efficient.
Calendar Management
Teamwork's calendar module facilitates meetings, events, tasks, and issues organization. It uses colour codes for module identification and provides options like drag-and-drop scheduling and advanced filters. Collaborators have view-only access.
Zoho Projects integrates task management within its calendar. Users can specify task details, allocate hours, and use built-in timers for tracking. It supports task dependencies and offers Gantt charts for visual management.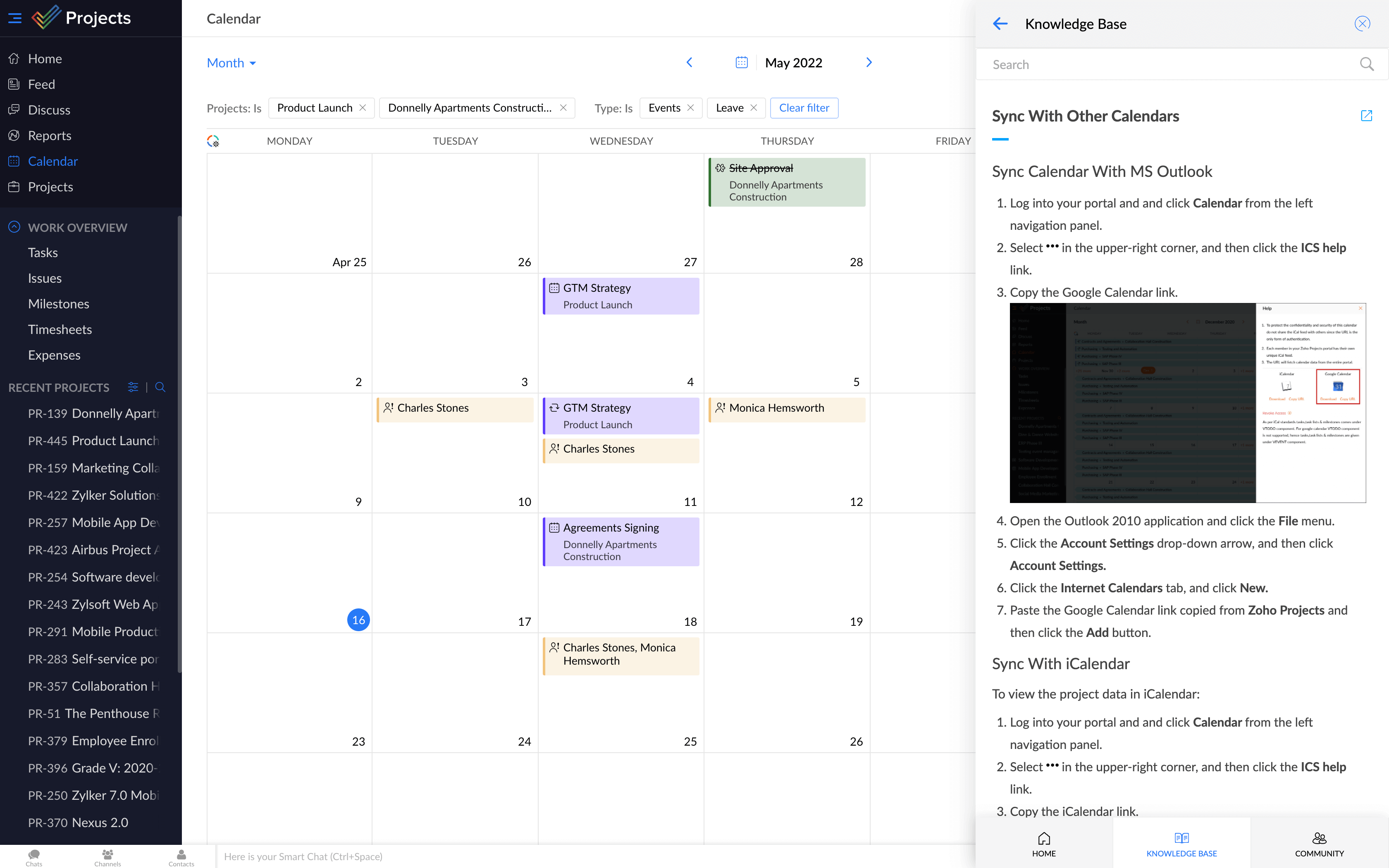 Project calendars in Zoho Projects. Source: Zoho Projects
In summary, Teamwork focuses on visual organization, while Zoho Projects emphasizes detailed task management and customization. Your choice should align with your
project management needs
.
Project Planning and Scheduling
Project planning and scheduling are the cornerstones of effective project management, and both Teamwork vs Zoho Projects are equipped to help you master these crucial aspects. So, how do they compare?
Teamwork understands the art of project planning. It offers Gantt charts, project templates, and milestone tracking to give you the tools to craft well-thought-out project plans. With these features, you can schedule tasks, set milestones, and keep a close eye on your progress as you work toward your project goals.

Teamwork milestones. Source: Teamwork
Otherwise, Zoho Projects is clear regarding project planning and scheduling. It provides Gantt charts, task dependencies, and critical path views visually representing your project timeline. This allows you to see task interdependencies clearly and identify critical tasks that could impact your project's overall timeline.
Document Management
Teamwork offers a robust document management system. It's all about storage, sharing, and collaboration. With version control, you'll always be on the same page. Teamwork Spaces adds a real-time collaborative twist, making document edits a dynamic experience. Plus, you can organize and find content effortlessly. It's a document wonderland with features like embedded media, info panels, and status chips for added context.
Zoho Projects is no slouch, either. It centralizes document storage, making sharing and collaboration a breeze. Integration with Zoho Docs expands your options. The chat application and activity feed keep you connected, supporting document sharing, voice messages, and emojis. And don't forget Zoho Writer for real-time document editing.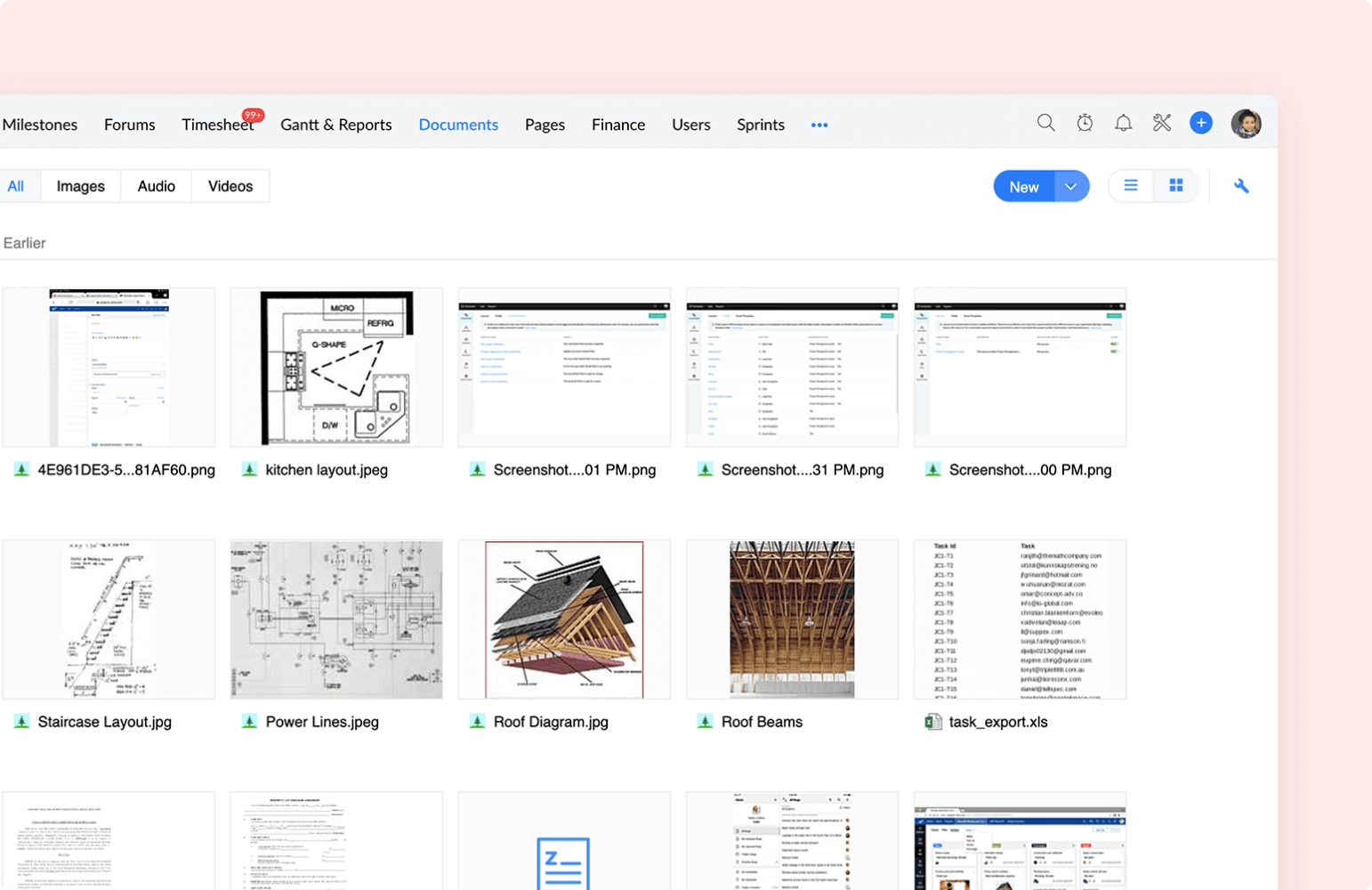 Document management in Zoho Projects. Source: Zoho Projects
Reporting and Analytics
Teamwork brings a formidable suite of reporting and analytics tools to the ring. With it, you can generate detailed reports on project progress, time tracking, and resource allocation. These insights are your compass to gauge project health and make informed decisions.

Project Health in Teamwork. Source: Teamwork
Zoho Projects is no stranger to robust reporting and analytics. It offers a wide range of pre-built reports and even lets you craft custom ones. The cherry on top? Analytics dashboards that paint a visual picture of your project data.
Resource management reporting is a standout feature, giving managers weekly insights into workloads and project allocation. However, it's worth noting that the report presentation is unique, using a balance scale illustration to rate team members' work balances.
Integrations and Customization
Integrating other tools and customizing your project management platform can improve it.
Teamwork connects with tools like Slack, Google Drive, and Dropbox. You can also create custom integrations using its API. You can personalize project workflows and templates, too.
Zoho Projects also integrates with Zoho apps, Google Drive, and Microsoft Office. It has API access for custom integrations. You can customize project workflows and forms for your needs.
Security
In the age of cyber threats, data protection is paramount for Teamwork vs Zoho Projects.
Data Encryption: Both project management tools use robust TLS and AES-256 encryption to safeguard your data in transit and at rest.
Certified Security: They hold ISO certifications and SOC 2 compliance, underscoring their commitment to data security.
Server Protection: Your data resides on Amazon Web Services servers, fortified with advanced security measures.
Authentication: Both product management apps offer two-factor authentication, SAML, and single sign-on for secure user access.
Custom Control: Zoho Projects lets you create custom roles and permissions for data access control.
Vigilant Oversight: Zoho Projects employs role-based access controls and robust monitoring for data security.
The Pros and Cons: Zoho Projects vs Teamwork
Whether you're a seasoned pro or new to project management, comparing Teamwork and Zoho Projects' pros and cons will guide you in making the best choice for your project's success. Let's begin by looking at Zoho Projects.
Zoho Projects: Strengths and Weaknesses
Pros
check_circle Typically straightforward to configure and use
check_circle Various in-app communication options available
check_circle Extensive customization choices
check_circle Robust time-tracking features
Cons
cancel Lacks pre-designed templates
cancel Features a somewhat unique resource management perspective
Figure 2. Advantages and disadvantages of Zoho Projects
Teamwork: A Look at the Good and the Bad
Advantages
check_circle Enjoy a free 30-day trial for Deliver and Grow subscriptions, plus an unlimited free plan
check_circle Visualize project data, create reports, and share them
check_circle Easily bulk-edit sections and tasks
check_circle Billing and invoicing included
Disadvantages
cancel You must Invite your team before you can start using it for tasks
cancel Some features might need a bit of learning
cancel No PDF or image markup tools
Figure 3. Strong and weak sides of Teamwork
No matter your choice of task management app, our Project Management System Migration service makes data transfer easy and worry-free. Contact our support team for a Free Demo and take control of your project data.
Pricing Comparison: Teamwork vs Zoho Projects
Teamwork vs Zoho Projects employ distinct pricing models, and their price ranges may seem quite apart. However, Zoho Projects is a small part of the broader Zoho ecosystem. To access features similar to Teamwork, Zoho users may need to subscribe to and pay for several other Zoho products, increasing long-term expenses. Let's go into the details.
Teamwork Pricing: What Will It Cost You?
This project management system offers a range of plans tailored to diverse needs. These include:
Free Forever: Ideal for small teams, supports 5 users, 2 projects, with basic features and 100MB storage.
Starter ($8.99/month or $71.88/year per person with a 3-person minimum): Adds webhooks and advanced integrations.
Deliver ($13.99/month or $120/year per person with a 5-person minimum): Offers 100GB storage, 300 projects, unlimited collaborators, and project-level team management.
Grow ($25.99/month or $239.88/year per person with a 5-person minimum): Provides 250GB storage, 600 projects, templates, burndown reports, and extensive integrations.
Scale (Customized for teams with 100+ members): Offers extra storage, unlimited members/projects, premium support, and dedicated account management.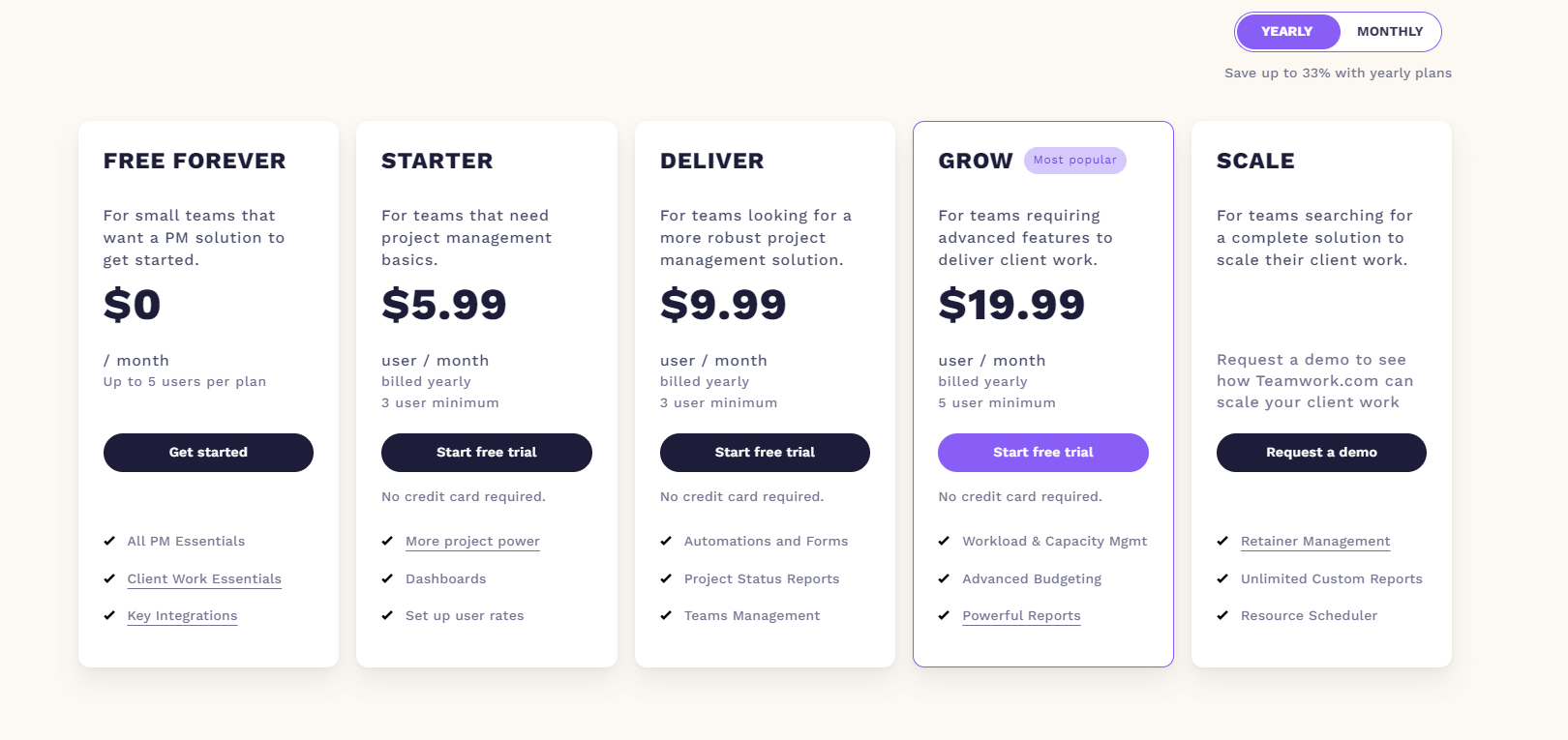 Teamwork pricing. Source: Teamwork
Sign up today and enjoy a 30-day trial of the "Grow" plan without needing credit card information. Find the perfect plan to power your project management needs!
Zoho Project Pricing: How Much for the Goodies?
Zoho Projects offers three exciting plans: Free, Premium, and Enterprise. The best part? You can test drive the Enterprise plan with a 10-day trial and no need for credit card details!
The Free plan suits those on a budget but has limitations—only three team members, two projects, and 10MB of storage. It's pretty basic, as shown on Zoho Projects' plan comparison page.
Upgrade to the Premium plan for just $5 per person per month (or $48 per person per year with annual billing) and unleash a wealth of benefits. Add client users at the same cost, offering them read-only access. With 100GB of storage and unlimited project management, it's a solid choice. You'll only miss a few features exclusive to Enterprise accounts.
The Enterprise plan, now at $10 per person per month (or $108 per person per year), is still a steal. It's suitable for any team size. You get all the premium features, from task dependencies across projects to a cross-project resource use chart and more.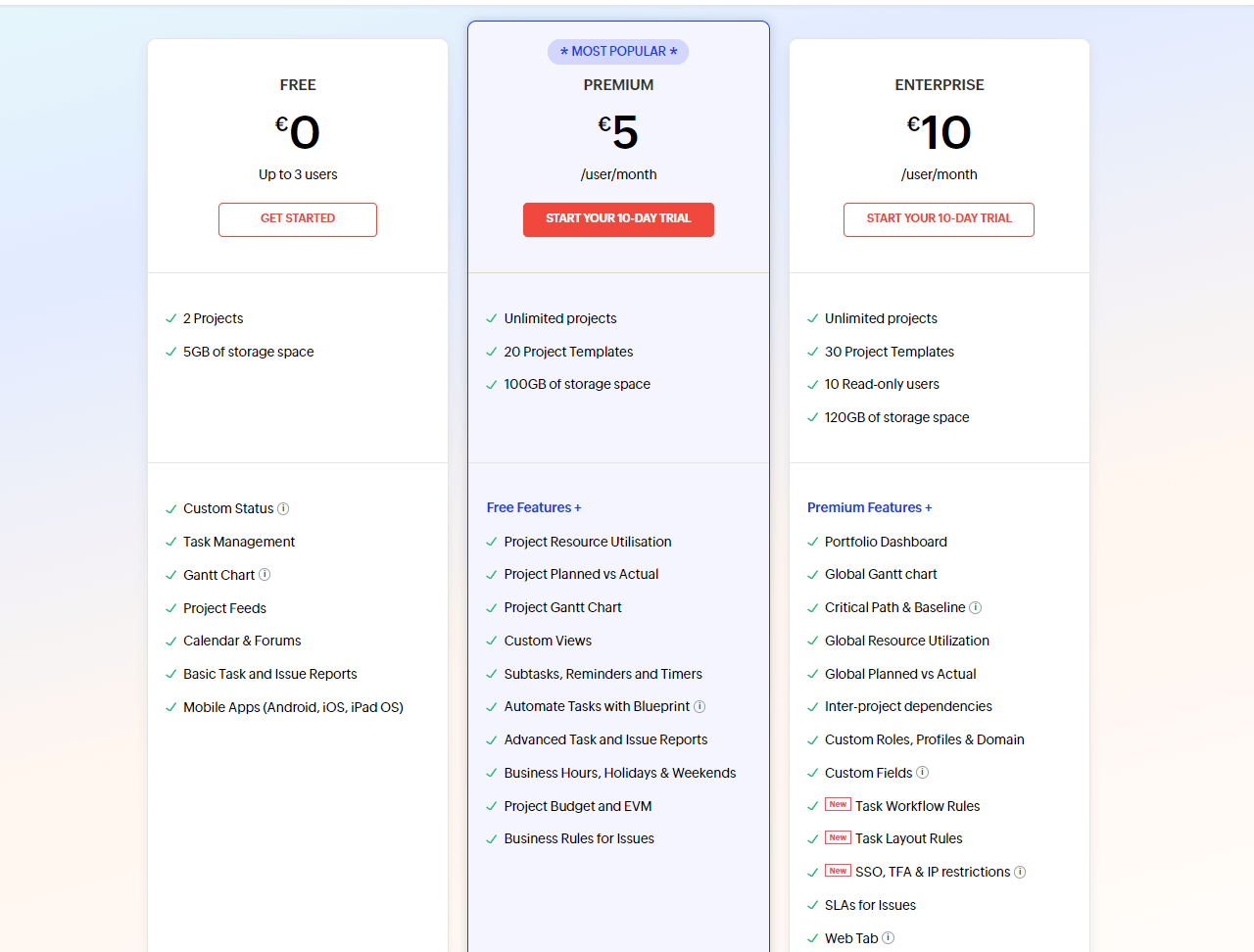 Zoho Projects pricing. Source: Zoho Projects
Pricing Face-Off: Teamwork vs Zoho Projects
When comparing Zoho Projects vs Teamwork pricing, it's essential to consider various factors, including features, storage, user access, scalability, and support.
Zoho Projects offers Free, Premium, and Enterprise plans, while Teamwork provides Free Forever, Starter, Deliver, Grow, and Scale plans. The choice depends on your budget and project management needs.
Zoho Projects excels in Gantt charts, task dependencies, and time tracking. Teamwork, on the other hand, focuses on milestones, time tracking, and advanced reporting. Storage capacities vary between the two platforms. Zoho Projects offers storage ranging from 10MB to 100GB, while Teamwork's storage options range from 100MB to 250GB.
Both project management tools provide client user access, with Zoho Projects offering this feature in Premium plans and above. Teamwork allows unlimited collaborators and client users in select plans. Zoho Projects is suitable for teams of all sizes, while Teamwork offers a customizable "Scale" plan tailored for teams with 100 or more members.
| | | |
| --- | --- | --- |
| Pricing Plan | Zoho Projects | Teamwork |
| Free Plan | ✔️ | ✔️ |
| Standard Plan | - | $5.99/user/month |
| Express Plan | - | $9.99/user/month |
| Premium Plan | $5/user/month | $19.99/user/month |
| Enterprise Plan | $10/user/month | Custom |
Figure 4. Comparing Zoho Projects vs Teamwork pricing
The Support and User-Friendly Experience Showdown: Teamwork vs Zoho Projects
Teamwork boasts an intuitive interface that's a joy to navigate. Its clean and organized layout simplifies project and task management, making life easier for users. You'll find a wealth of knowledge in their comprehensive base, and if you need a helping hand, 24/7 customer support is just an email or live chat away. Or you can join the Teamwork Academy for fast learning and onboarding.
Zoho Projects also offers a user-friendly interface, but that's just the beginning. Their customizable dashboard provides quick project snapshots. Dive into a treasure trove of articles, tutorials, and webinars within their help centre. But when you need support, Zoho Projects has your back with assistance via email, live chat, and even phone during business hours.
| | | |
| --- | --- | --- |
| Support & Training Options | Teamwork | Zoho Projects |
| Knowledge Base | Yes | Yes |
| Email Support | Yes | Yes |
| Phone Support | No | Yes (For Certain Plans) |
| Live Chat Support | Yes | Yes |
| Community Forum | Yes | Yes |
| Video Tutorials | Yes | Yes |
| On-Demand Webinars | Yes | Yes |
| In-Person Training | Yes (On-Demand & On-Site Available) | Yes (On-Demand & On-Site Available) |
| Documentation | Extensive | Extensive |
| Customer Success Programs | Yes (For Certain Plans) | Yes (For Certain Plans) |
Figure 5. Comparing Teamwork vs Zoho Projects support options
Which Tool to Decide on: Zoho Projects vs Teamwork?
Both Teamwork and Zoho Projects bring their unique strengths to the table. Both offer a robust toolkit for project management, collaboration, and seamless communication.
Now, let's talk about choices. Your decision will be a reflection of your specific wants and whims.
Are you someone who values a user-friendly interface that makes managing tasks a breeze? If so, Teamwork might be singing your tune. It not only boasts a clean and intuitive interface but also nails task management with flying colours. Creating, assigning, and tracking tasks? Consider it done.
If your quest leads you to a platform with mighty reporting and analytics chops, Zoho Projects could be your answer. It's all about delivering those detailed reports and insights to elevate your project's performance.
The choice between Teamwork vs Zoho Projects dances to the rhythm of your specific needs, budget, and preferences. Our sage advice? Set up a Free Demo Migration to import a sample of your data to any of these project management tools and test them out. Then, run a Full Data Migration to whatever task management system suits your business best.
Frequently Asked Questions
You'll encounter a built-in desktop app compatible with Windows and macOS, as well as mobile applications for both iOS and Android.
Zoho Projects offers a robust suite of project management features, but its suitability depends on your unique needs and team preferences. Try a free trial to see if it fits your requirements.
Indeed, Teamwork is a solid choice for project management. It packs a range of features to streamline tasks and team collaboration. The key is to assess if it aligns with your specific project goals.
Zoho Sprints is
agile-focused
, ideal for teams using Scrum or Kanban. Zoho Projects covers broader project management needs, making it versatile for various methodologies.
An agency asks clients about the main problems their product will solve. This information is important for understanding the overall solution concept.
Zoho Projects is your go-to tool for efficient project management. It helps teams organize tasks, collaborate, track time, and generate insightful reports. Whether for work or personal projects, Zoho Projects has your back.
Zoho Projects is designed to be user-friendly and offers tutorials to help users learn its features quickly.
Zoho is divided into three divisions: Zoho.com for online office tools, Zoho Mail for email services, and ManageEngine for IT management software.
For small teams, Agile project management is often a good choice as it allows for flexibility, quick adjustments, and close collaboration among team members. Scrum, a specific Agile framework, is also popular for small teams.
Have a data migration in mind?
Let's migrate PM data together!
Try for free