Did you know that more than 50% of professionals in the US say: that the success of their business relies on efficient collaboration. What does it mean? The project management tools matter a lot. Some businesses choose Basecamp, and others are searching for Basecamp alternatives.
With the collaboration software market size estimated at $11.91 billion in 2021, there are plenty of options available that your company can choose from if you're looking for the best Basecamp alternatives.
What Is Basecamp?
Project management systems like Basecamp aim to increase productivity by streamlining communication and problem-solving. Using the software, you can share files, documents, and information in a single app that retains all information for future use.
Basecamp is a comprehensive collaboration and project management system that aims at improving work quality. It's designed to increase productivity in the workplace and in remote work environments by streamlining the process of sharing and managing information.
Using this project management software, users can keep track of files, tasks, discussions, and announcements that happen around work, without having to interrupt their workflow and send emails or make phone calls.
This software was first designed in 1999 by Carlos Segura, Ernest Kim, and Jason Fried as part of their web design company. The tool was first called 37 signals, and it got its new name, Basecamp, in 2014.
A lot of versions are currently in use, but the latest one is version 3, which is currently available for PC, Mac, Android, and iOS devices.
What Comapnies Are Using Basecamp?
Currently, about 1904 companies rely on Basecamp, but the actual number of users can be a little higher since this tool is also used by freelancing teams as a means to improve communication. It currently holds about 2% of the market of project management and collaboration tools.
Most of Basecamp's clients are located in the US, followed by the UK, Canada, and India. These clients work in several industries including computer software, marketing, and social media advertising. It's also used in several nonprofit sectors like higher education and health care.
The list of customers includes several names from various industries and sectors, including 121 Captions, AAAS, American Elite Kids, All-Stated Medical Supply, 9GAG, G Suite, and Slack.
Why Do Businesses Want to Move from Basecamp?
Despite being a simple and efficient collaboration tool, after a while, you might feel the need to switch from Basecamp and invest in more comprehensive project management systems.
The main reason why businesses choose to do so is what we've just started; it's not an efficient product management solution. When a business looks for a collaboration platform, they want to track progress properly. Basecamp offers some project and task tracking features but for many teams those are not enough.
Basecamp does a few things well, but these features crave more scalability to support the needs of either growing or established businesses. So, while it can be a good choice for freelancing teams and those who run small projects, larger companies feel a bit limited.
Let's dig deeper into the features of Basecamp, its pros, and cons, and list the best alternatives to Basecamp that you can give a try.
What Features Does Basecamp Offer?
Basecamp features allow for straightforward project workflow management by acting as a virtual hub for all team members and managers. It's a flexible and reliable tool that does what it promises, and here are some of the features that make it a favorite among lots of users.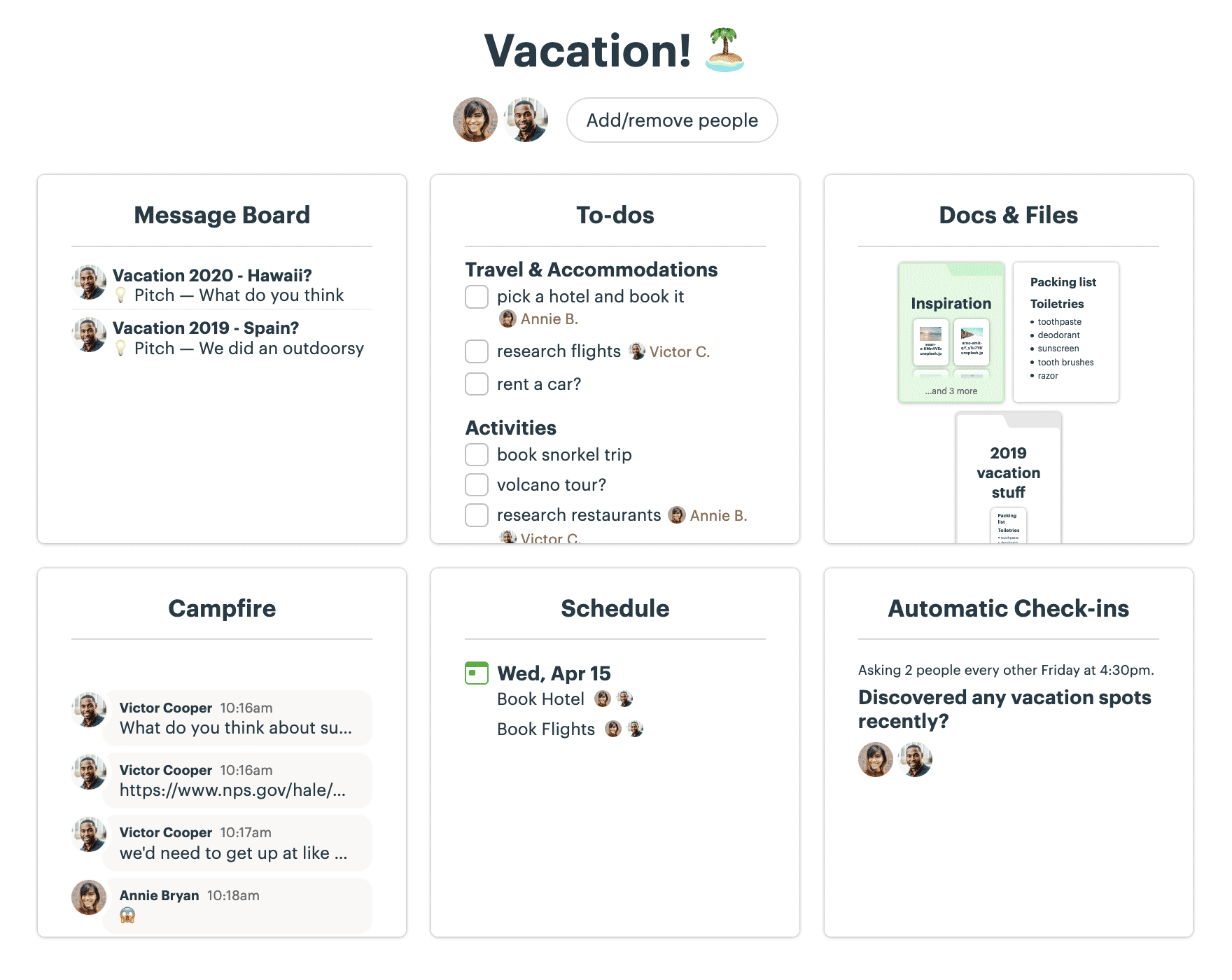 Source: Basecamp
Simple Onboarding
Basecamp helps you handle your business communications in the easiest way possible. You set up your account in a few minutes, and gain access to tasks and projects.
The project management solution is available in a web-based version, and you can download the desktop version of the tool. Plus, the vendor's mobile app enhances managing your work on the go.
Comprehensive Dashboard
Do you know-how focusing on the details sometimes makes you miss the big picture? Basecamp offers a solution as it grants you a comprehensive overview of your projects and tasks and helps you monitor how work is progressing.
As a result, it's an excellent tool for team leaders, especially when they work with people who handle different tasks at the same time.
Now, on the downside, the lack of in-depth details can be a little confusing for the people working on the actual tasks. This is why you need to understand the scope of this app before you choose to use it in the workplace or while managing remote work.
Real-Time Communication
Basecamp focuses on providing real-time communication with the group and private messages so your team members will always be on the same page. For this reason, it uses two apps, Campfire and Ping.
Campfire is usually used for quick file-sharing, announcements, and group discussions and it retains all messages in one place for future references. Ping is used for sending a private message to one specific user or a group of users.
There's also a message board for long-lived communication, like questions and answers about business rules. These three communication options will greatly improve the productivity of your company because everyone will have access to all the necessary data whenever they need to.
File Sharing
Creating and sharing engaging documents is one of the perks of using Basecamp. The documents you create appear as thumbnails and all the users in your space can download, share, and edit them. Moreover, you'll have access to the history of every document.
But this feature has more to offer. Basecamp can also integrate with your email app, so you can share documents from and to your email with a simple click. Of course, you can add comments and descriptions to files to make them easier to understand.
Task Management To-Do Lists
Work management tracking progress can become too challenging with the creation of multiple tasks and subtasks. The To-Do Lists feature facilitates the work of team leaders as they can assign tasks and monitor their progress once team members start working.
Basecamp allows you to group similar tasks for better follow-up and add tags like images and notes that allow you to search and group tasks based on their nature.
Hill Charts
Using visuals has always been a plus when it comes to project management and tracking. Basecamp offers Hill Charts to allow you to track progress accurately at a glance. Moreover, you can add and edit updates by adding notes and comments to the charts.
They're visually appealing and you can take screenshots of these charts and share them with other team members.
Progress Reports
With Basecamp, you can gain a quick insight into how work is progressing with reports about due and overdue projects. Moreover, as a team leader, you can monitor the progress of every team member.
This feature is helpful if you have team members assigned to different tasks, as Basecamp focuses mainly on the big picture. Nevertheless, this tool lacks a built-in time tracker, so you need to integrate with another app for this feature.
How Much Does Basecamp Cost?
Unlike other project management tools, Basecamp has a simple pricing plan with a single tier, in addition to the free version.
The Free Plan of Basecamp is limited to up to three projects and access to 20 users. As a result, this can be a great option if you're a freelancer, run a small company, or want to explore the features of Basecamp. It offers 1GB of storage and no access to project templates, so you can only think of this plan as a step along the way.
However, if you want access to unlimited users and projects, the Basecamp Business Plan will be the right one to pick. It costs $99 per month and offers 500GB of storage with advanced client access and project templates.
You can enjoy this plan for a 30-day trial period and if you pay annually, you can get a 15% discount. Moreover, Basecamp offers a 50% discount for nonprofit organizations. But that's not all, because if you need Basecamp for educational purposes, teachers and students can gain access to all the app's features for free.
What Are the Basecamp Pros and Cons?
Basecamp has a lot of advantages but comes with some drawbacks that you need to consider.
The Benefits of Basecamp
The app is easy to set up and use
The Free Plan has a lot of nice features and there's a discounted subscription for nonprofit organizations
Integrates with different apps to compensate for its shortcomings
Visually appealing progress charts
Different communication options for better collaboration
The Shortcoming of Basecamp
No Gantt Charts to create task dependencies
Spaces can be difficult to use for communication
No built-in time tracking or invoicing feature
Basecamp doesn't offer enough features for big companies and enterprises
5 Basecamp Alternatives: Find Your Next Project Management System
Despite being a cool collaboration tool with multiple integration possibilities, there are other project and task management tools that might work better for you. Choosing the appropriate software depends on the nature of your company and the purpose of using the app. Here are a few alternatives that you can consider.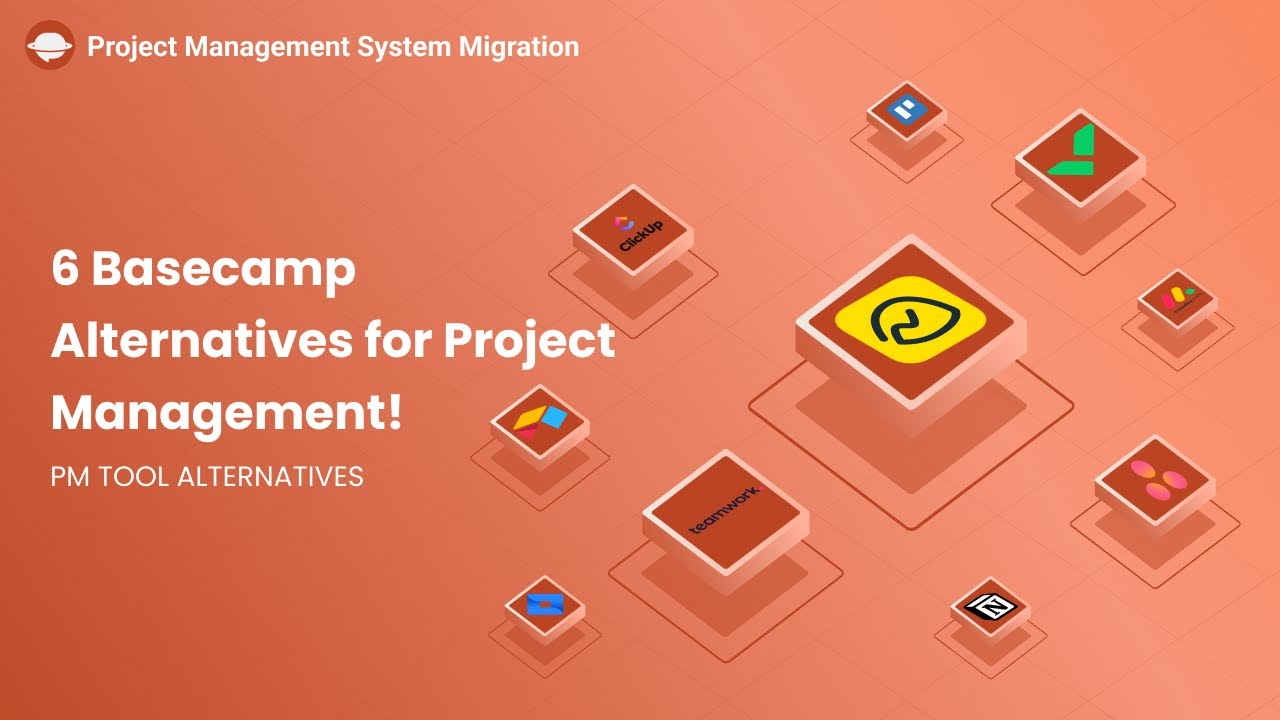 Wrike
Being one of Basecamp's competitors, Wrike offers more project management features without sacrificing the collaboration options that make Basecamp so popular.
Quick Features Check Up
Different viewing options will enable you to track projects more accurately
Gantt Charts for interactive project progress monitoring
Baseline and Performance Charts for progress tracking
Assigning tags to tasks and subtasks
Editing options at project and task levels
Real-time document editing
Built-in time tracking tool
Built-in chat app to communicate with team members
In-depth reporting with filters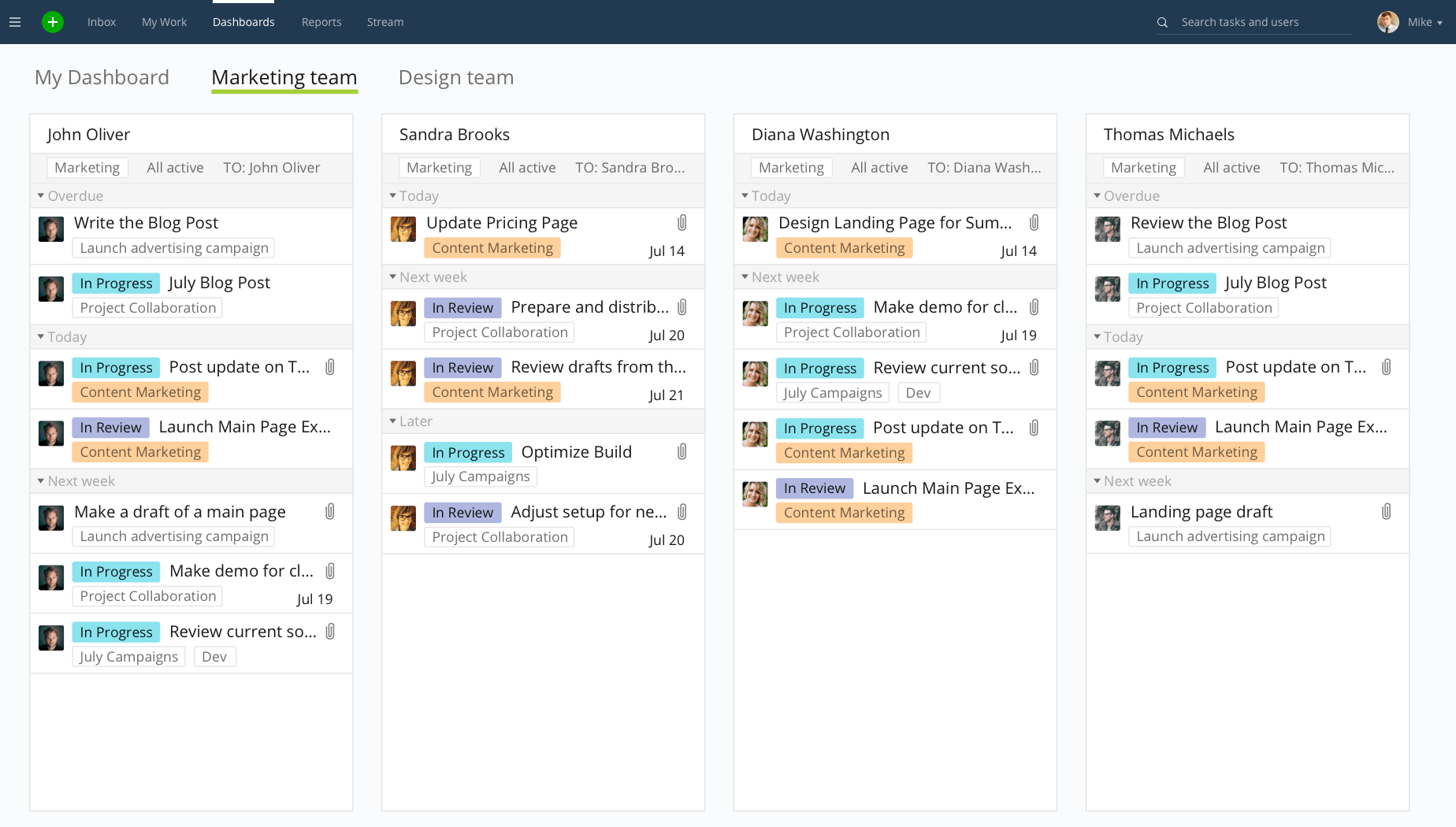 Source: Wrike
How Much Does Wrike Cost?
Wrike offers a Free Plan for up to five users with all the essential task and project management features.
If you need access for up to 200 users, the Professional Plan will work for you. It offers productivity integrations with different apps and interactive Gantt Charts, and it costs $9.80 per user. The Professional Plan costs $24.80 per user and offers custom workflows and fields with an automation engine that generates up to 200 actions per month.
If you need more features, you can request the Enterprise Plan. This plan is created for an unlimited number of users and offers two-factor authentication for more security. It also features admin permissions and custom access roles.
Why Wrike Is Better Than Basecamp?
Wrike product management software is a collaboration tool that offers the project management features that Basecamp lacks. The multiple viewing options and in-depth reporting system allow you to manage tasks and subtasks successfully. It also comes with a built-in time tracking feature.
Asana
Asana is an easy-to-use collaboration tool for freelancers, SMBs, and larger companies. It's considered a successful organizational tool for teams of all sizes.
What Features Does Asana Offer?
Creative setup with Organizations or Workspaces views
Shortcuts on the mobile app for better functionality
More than 1000 integration apps to support different reporting, financial, sales, and
compliance functions
Gantt Charts for visual task dependencies
Task management and project workflow progress
Adding tags and markers for easy navigation and communication
Advanced reporting system
Video and audio recording for better communication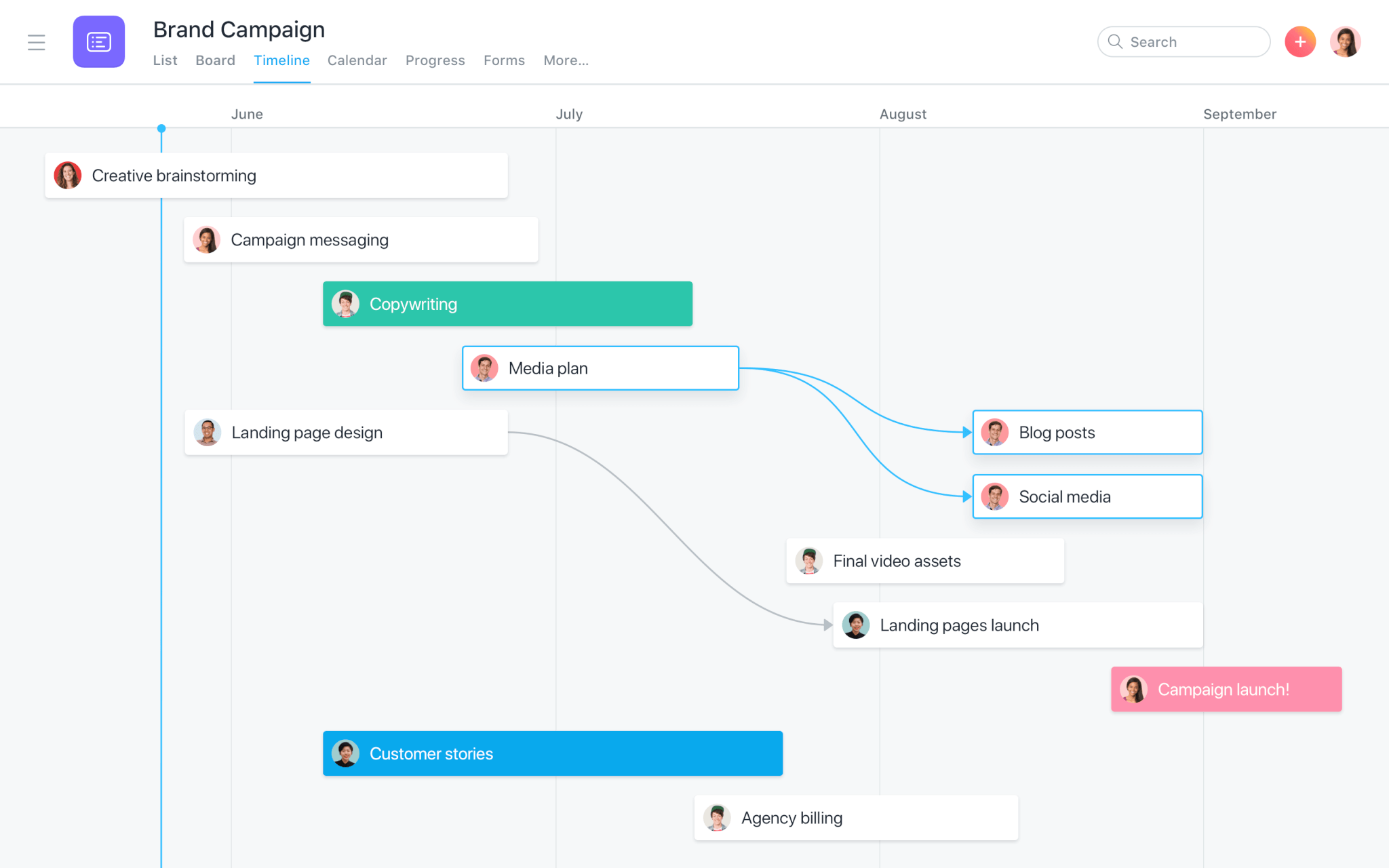 Source: Asana
Asana Pricing: How Much Will You Pay?
Asana has a free Basic Plan, but it lacks some of the essential features like the timeline view, task dependencies, and milestones. As a result, this plan doesn't offer much functionality.
The Premium Plan costs $13.49 per user per month, or $10.99 when billed annually. It grants access to reporting across multiple projects, forms, and rules. This will be a good option for a small or medium-sized company.
If your team is growing significantly, you can upgrade to the Business Plan, which costs $30.49 per user per month, or $24.99 when billed annually. In addition to all the basic features, this plan offers the opportunity to create portfolios, goals, and other customization options.
Asana also allows you to create a customized Enterprise Plan for more control. You can contact the website to get a quote based on your business needs.
Is Asana Better Than Basecamp?
Asana is simple to use and offers some customization that Basecamp lacks. Compared to Basecamp, Asana offers more ways to view projects, tasks, and employees for progress reports.
Trello
Trello is probably second to Wrike when it comes to the world of collaboration apps. It's a comprehensive communication and collaboration tool with a simple and user-friendly interface that makes work management a straightforward task.
A Quick Trello's Features Overview
Kanban Boards for easy creating, organizing, editing, and sharing files
Easy upload from Dropbox and Google Drive
Drag and drop editing feature
Progress meter checklist
Individual and group task assignment and management
Data filters
Mobile version looks just like the web-based version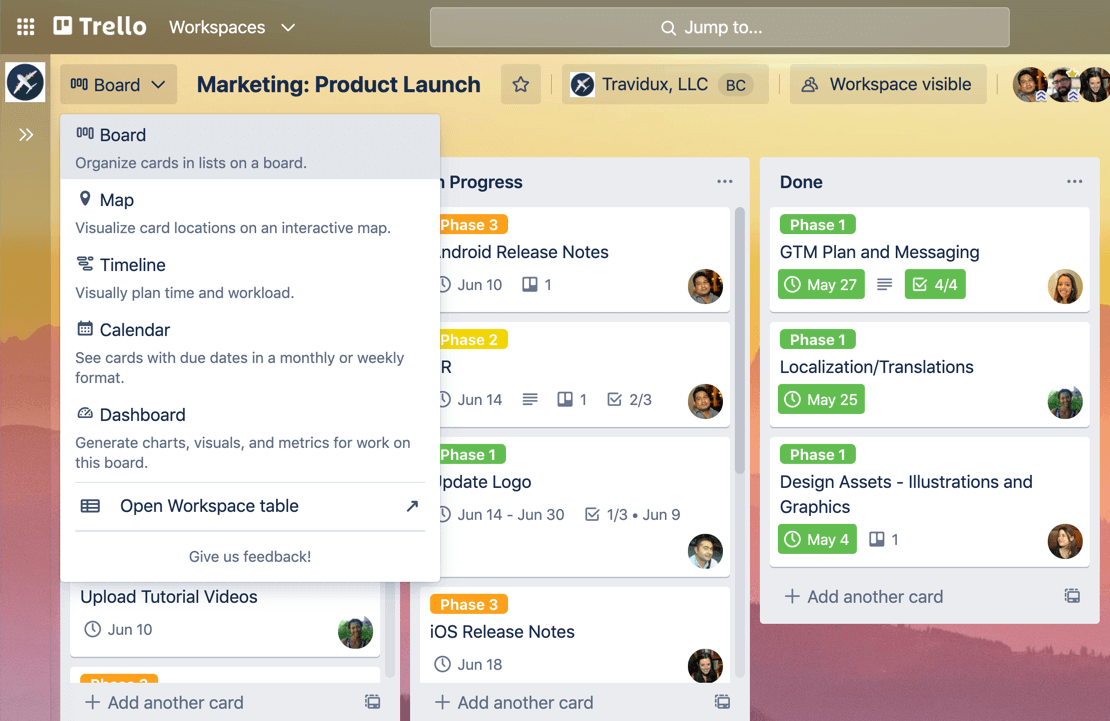 Source: Trello
Is Trello Free? Trello Pricing Check
Trello is probably one of the most affordable solutions for teams and freelancers.
The Free Plan is suitable for creating unlimited cards and up to 10 boards per workspace. This is why it's an excellent way to share Google Docs and Sheets with your team members.
The Standard Plan costs $6 per user per month and $5 if billed annually. It grants you access to creating unlimited cards with 1000 workspace commands per month. It also offers custom fields and you can save your searches for retrieving data.
If you have a team of up to 100 users, the Premium Plan will be a good option. It costs $12.50 per user per month and $10 if billed annually. This plan offers multiple view options for tracking various projects. It also grants you priority support.
For larger teams and more complicated tasks, you can contact Trello for the Enterprise Plan. The cost is calculated based on the number of users and there's a discount if you pay annually.
True or False: Trello Is Better Than Basecamp
You're probably asking "Which is better Trello or Basecamp?" Trello is more scalable than Basecamp, and the Standard and Premium Plans provide everything that a small or medium-sized company would need in online project management software. It also offers a user-friendly interface and more project tracking features.
ClickUp
ClickUp is a collaboration and project management tool for businesses of all sizes and industries. It offers several tools to help you keep track of your workflow.
What Are ClickUp Features?
Process management for more details
Built-in timer for tasks and projects for successful time management
Team collaboration and reporting tools
Setting up targets and goals
In-app video recording
Reminders, notifications, and comments for more customization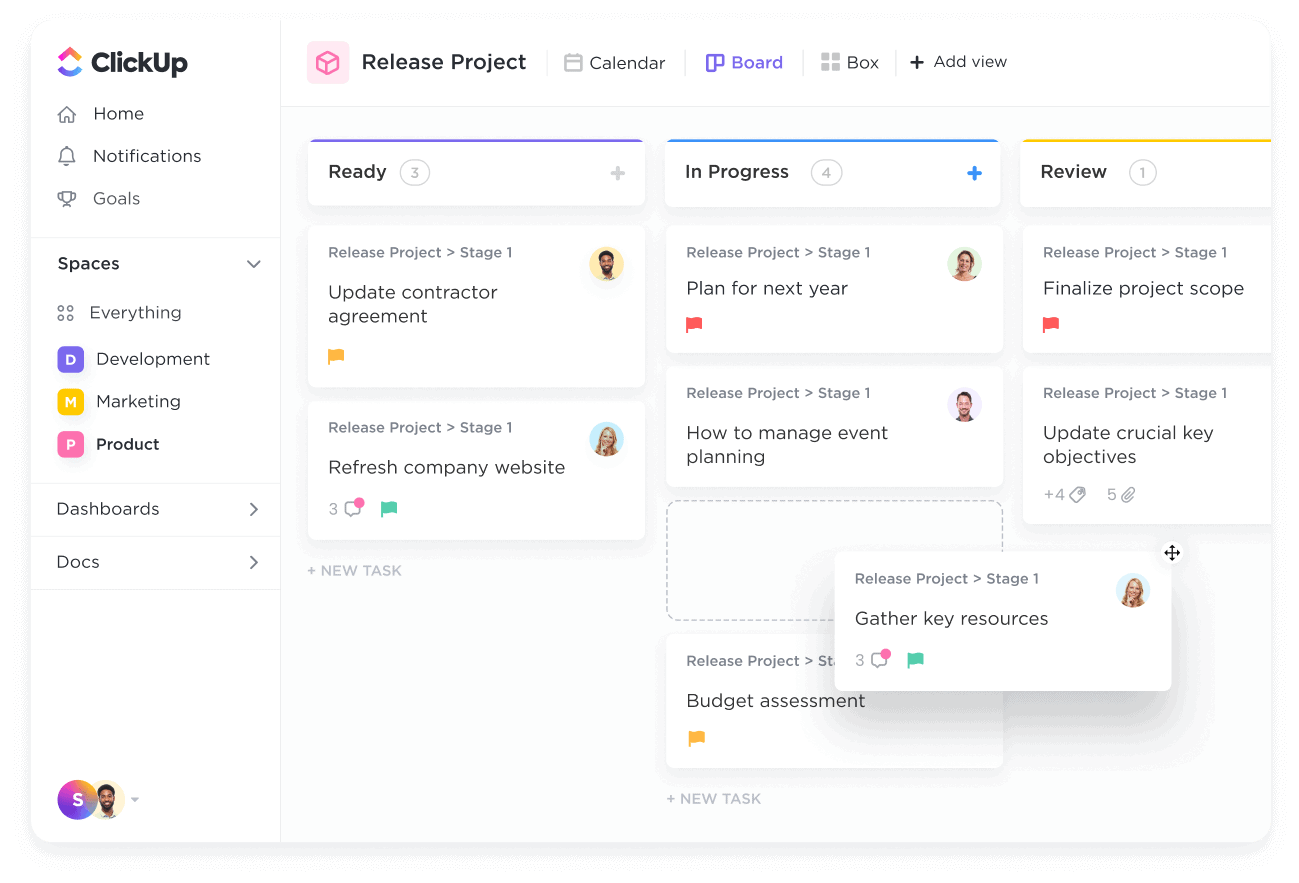 Source: ClickUp
How Much Does It Cost to Use ClickUp?
ClickUp offers a Forever Free Plan that offers unlimited tasks for an unlimited number of members, with an in-app video recording and time tracker.
The Unlimited Plan is suitable for small teams and costs $5 per user month and offers agile reporting, resource management, Gantt Charts, and custom fields.
If you have a mid-sized company, the Business Plan will work for you. It costs $12 per user per month and offers Google SSO, advanced public sharing, custom exporting, advanced time tracking, and timelines.
The Business Plus Plan is suitable for multiple teams and costs $19 per user per month. It offers team sharing, subtasks in multiple lists, and priority support.
If you have more needs, you can contact ClickUp for the Enterprise Plan. It offers white labeling, advanced permissions, MSA & HIPAA compliance, and enterprise API.
ClickUp Is Better Than Basecamp: Hot or Not?
ClickUp is a collaboration tool just like Basecamp, but it offers more features and customization options. It also offers some project and task management tools, even if you're using the free version.
Jira Software
Jira Software is an agile productivity tool with task and project tracking features. It's a comprehensive tool that covers the needs of multiple industries, especially the ones that deal with software development.
What Are the Key Jira's Features?
Expanded scope of tasks and projects
Drag and drop automation
Practical filters to monitor tasks and issues
Internal ticketing system to track issues
Data exporting and reporting of progress
Create roadmaps
Social media support
Source: Jira Software
How Much Does Jira Software Cost to a Company?
Jira Software is available in a Free Plan that allows you to work on a single project, but it lacks some features.
The Standard Plan is suitable for growing teams and supports up to 20,000 members. It costs $7.50 per user per month and provides access to various tasks and subtasks.
The Premium Plan costs $14.50 per user per month and it works for tracking multiple projects with advanced task management tools.
The Enterprise Plan is suitable for international companies and you can get a quote based on your company's needs.
Jira Software vs Basecamp: Which Is Better?
Jira Software is a better solution if your company works in software development. It offers multiple task and project management tools, in addition to some collaborative features.
Teamwork
Teamwork is a cloud-based task and project management tool with milestone and time tracking features. Using this app guarantees successful business operations for different company sizes.
Overview of Teamwork Major Features
Simple workload management
Board view for accessing task progress
Gantt Charts for task dependencies
Cross-project dependencies
Invoicing and billing features
Notification groups and SMS notifications
In-app chatting feature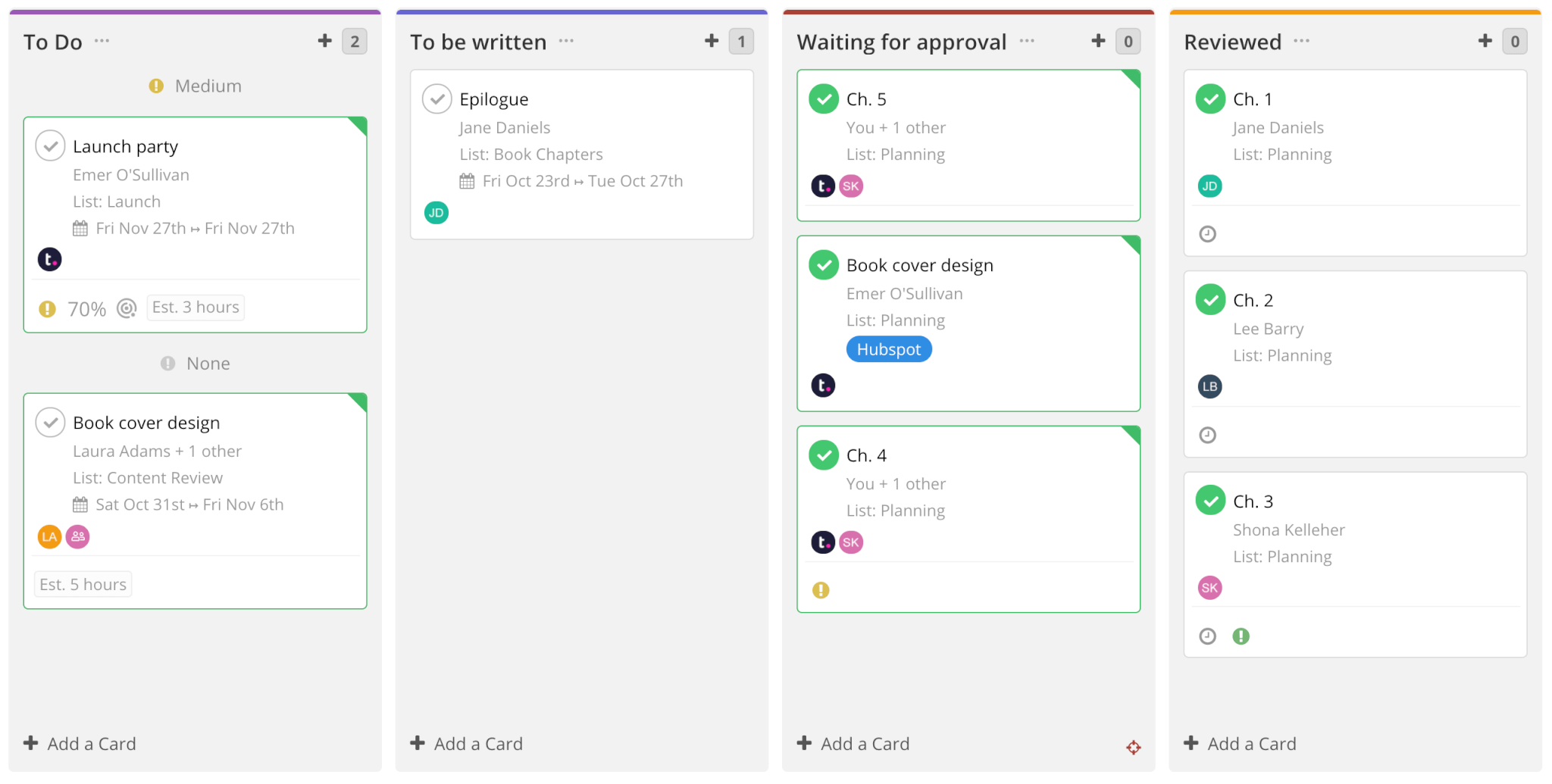 Source: Teamwork
Teamwork Project Management Pricing
Free Plan that is available for five users who work on two projects.
Deliver Plan costs $12.50 per user per month or $10 if billed annually, and offers time tracking and invoicing with more than 20 project templates.
Grow Plan costs $22.50 per user per month or $18 if billed annually. It offers 50 project templates with custom fields and budgeting features.
Scale Plan is suitable if you want to scale Teamwork to suit your business needs. It offers profitability reports, an unlimited resource scheduler, and unlimited financial budgets.
Is Teamwork Better Than Basecamp?
Teamwork product management software offers better search options to allow you to find tasks and projects. It has a time-tracking option that is even available on the mobile app. Moreover, it offers milestones, profitability, and budgeting tracking.
Wrapping up Basecamp Alternative Comparison
Basecamp is an excellent collaboration tool with multiple simple tasks, so it works for smaller businesses. However, if your team is growing, you might be tempted to find another collaboration tool. Luckily, there are several Basecamp project management alternatives that you can choose from.
If you're no longer convinced that Basecamp is the tool your company needs, you can easily migrate all your project management records to any of the enlisted Basecamp alternatives using our Migration Wizard.
Frequently Asked Questions
Podio and Trello are similar to Basecamp, and they'll work for you if you need a free alternative.
Microsoft Projects is a good collaboration and project management tool that can replace Basecamp.