Using a reliable project management tool is necessary for team members to track their tasks. Unfortunately, almost 11.4% of organizations' resources are wasted due to poor project management. A successful tool will enable team leaders to witness the whole process, set milestones, and modify goals depending on how the project is going. This article will dive into the Basecamp vs Teamwork comparison and explain the features, pros, cons, and cons.
Basecamp and Teamwork are two popular tools that people can use to manage multiple tasks and keep track of operational goals. In addition, key leaders in various industries use them to improve communication in the work environment. Therefore, we analyze the necessary methods, skills, and experiences of these project management tools.
What Is Teamwork?
Teamwork is web-based project management software for successful task management. Peter Coppinger and Daniel Mackey developed it, and these days many industries and niches run the project management using Teamwork.
Teamwork focuses on the client first and allows scaling to meet the business requirements. And because they strive for excellence, this product management tool has become a choice for many companies across the globe.
What Is Basecamp?
Basecamp is an all-one tool that allows people to work together and improve their work quality. It enhances communication and productivity in the workplace and remote work environments.
It's an older collaboration tool founded in 1999 in the US Jason Fried, Carlos Segura, and Ernest Kim developed this app as part of their web design company, and it was first called 37 signals until they changed the name to Basecamp in 2014.
Teamwork Features: What Can Project Management Use?
Several features make Teamwork one of the best project management applications available today, and we'll explain them briefly in this section.
Dashboard
You can access Teamwork features from the dashboard. Users can only see some of these features if the administrators allow them, but they have access to other information by default, like upcoming tasks, milestones, and time logged.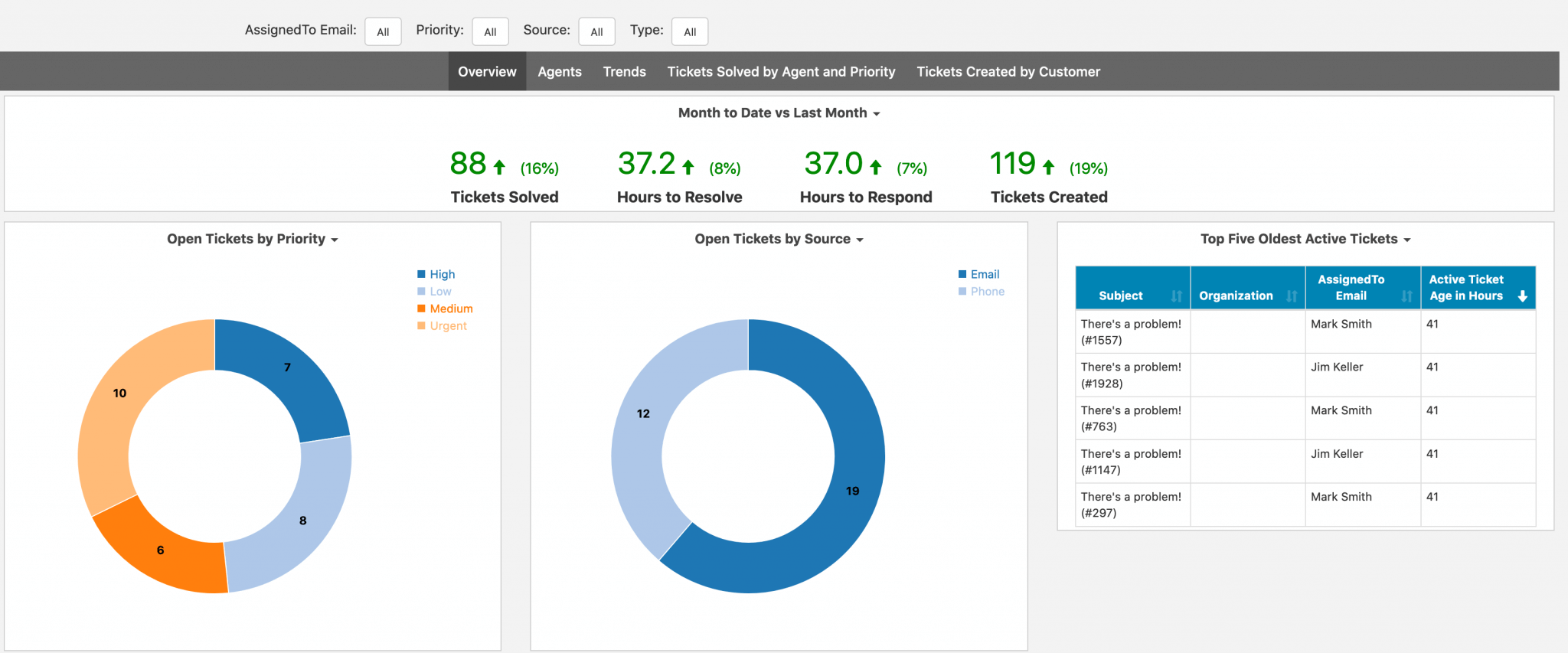 Source: Teamwork
Fast Setup
Teamwork is suitable for first-time users because setting up an account is straightforward and doesn't take much time. Users can quickly enter the details of the project they want to monitor, and the application will be ready for use. Besides, it skips all the complex terminologies that might confuse a user who lacks a technical background or never used a project management software tool.
One of the perks of using Teamwork is that it's visually appealing. The interface is innovative yet not complicated. And the app is available in Desktop and mobile versions.
Workload
The workload is a simple resource management tool that allows the team leader to check every team member's workload, the time estimated to complete each one, and deadlines. This is an excellent tool if a team member is assigned to different projects. The project manager can see every team member's available time without communicating with other departments or project managers.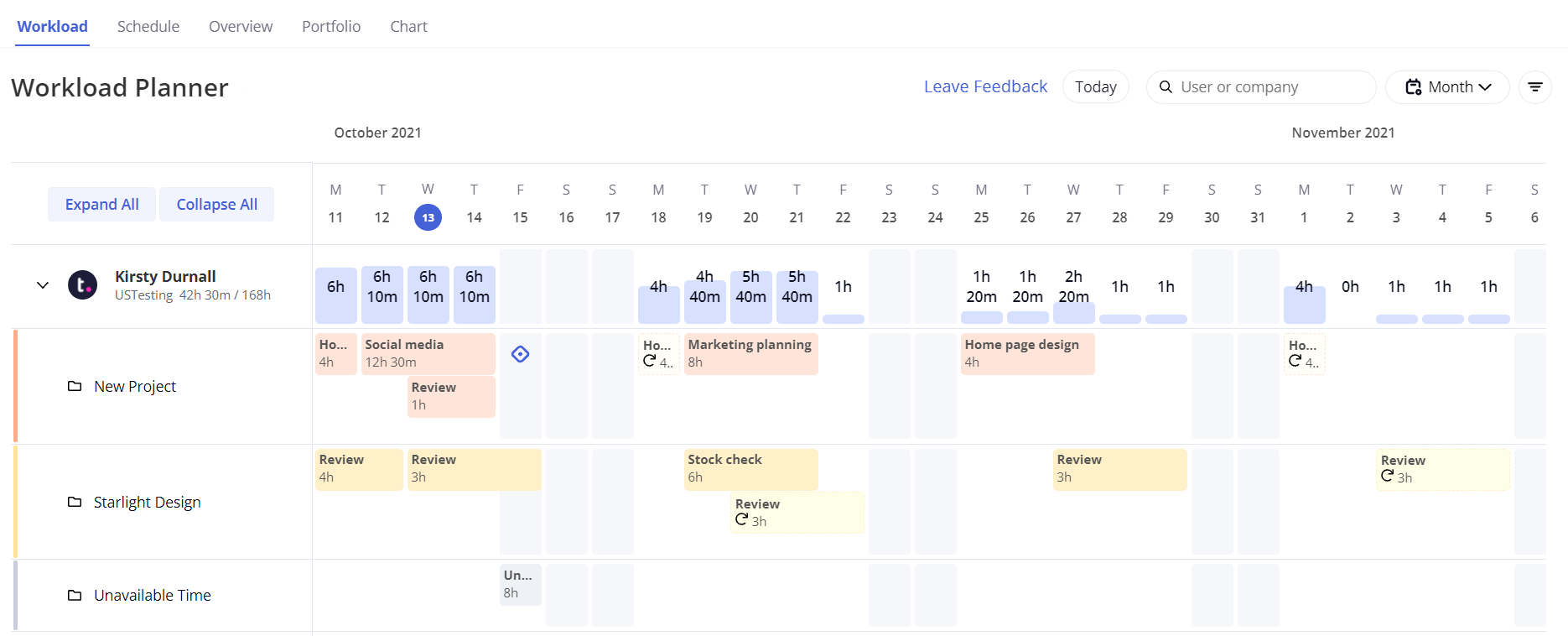 Source: Teamwork
Unfortunately, almost 70% of all employees feel overloaded, increasing aggression in the workplace. Using this tool, managers can monitor everyone's capacity and assign tasks to other members if someone is overloaded.
Gantt Charts
Teamwork allows users to use interactive Gantt charts if they're not using the free version. These charts are straightforward to access and will enable the project's administrator to adjust the timeline of projects, change due dates, create task dependencies, reassign tasks, change priority levels, and keep track of completion rates.
Source: Teamwork
Board View
Teamwork's Board View features agile Kanban Boards to allow users to manage projects efficiently. Kanban Boards represent a powerful method of visualizing work to improve project efficiency. The board is divided into columns that signify Teamwork workflow, whether to do- or done. In addition, each column is filled with tasks.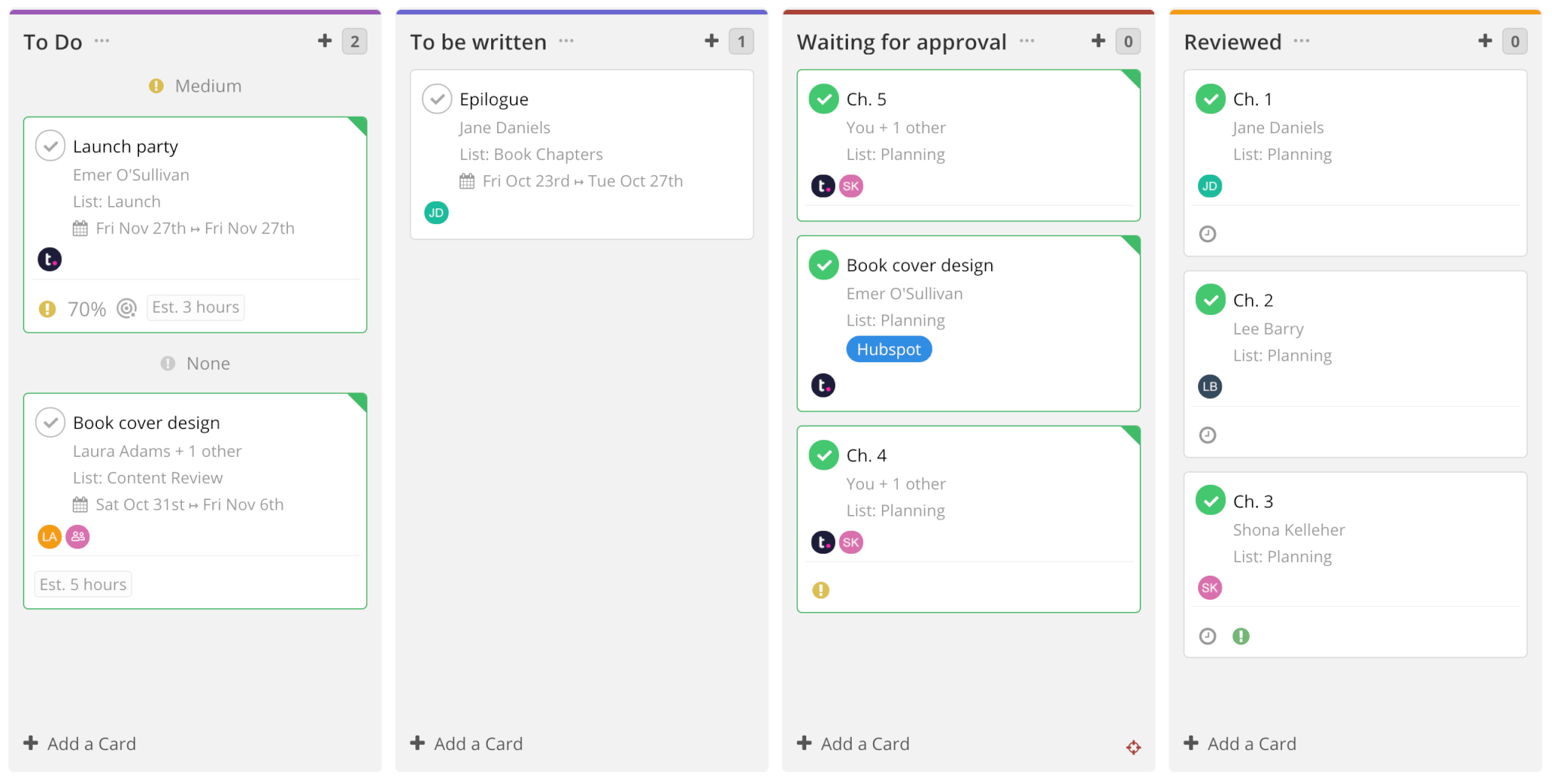 Source: Teamwork
Administrators have the flexibility to change column labels to whatever they like. In addition, once work is assigned, users can move cards from one column to another, allowing the team leader to monitor how work is progressing.
The Board View also features various Triggers. For example, when one card is moved from one column to another, the manager receives a notification, or another predetermined action happens.
Invoicing and Billing Tools
The Billing feature includes other tools that allow you to send detailed invoices to your clients. All the invoices are recorded and managed to avoid double billing one client for the same expense.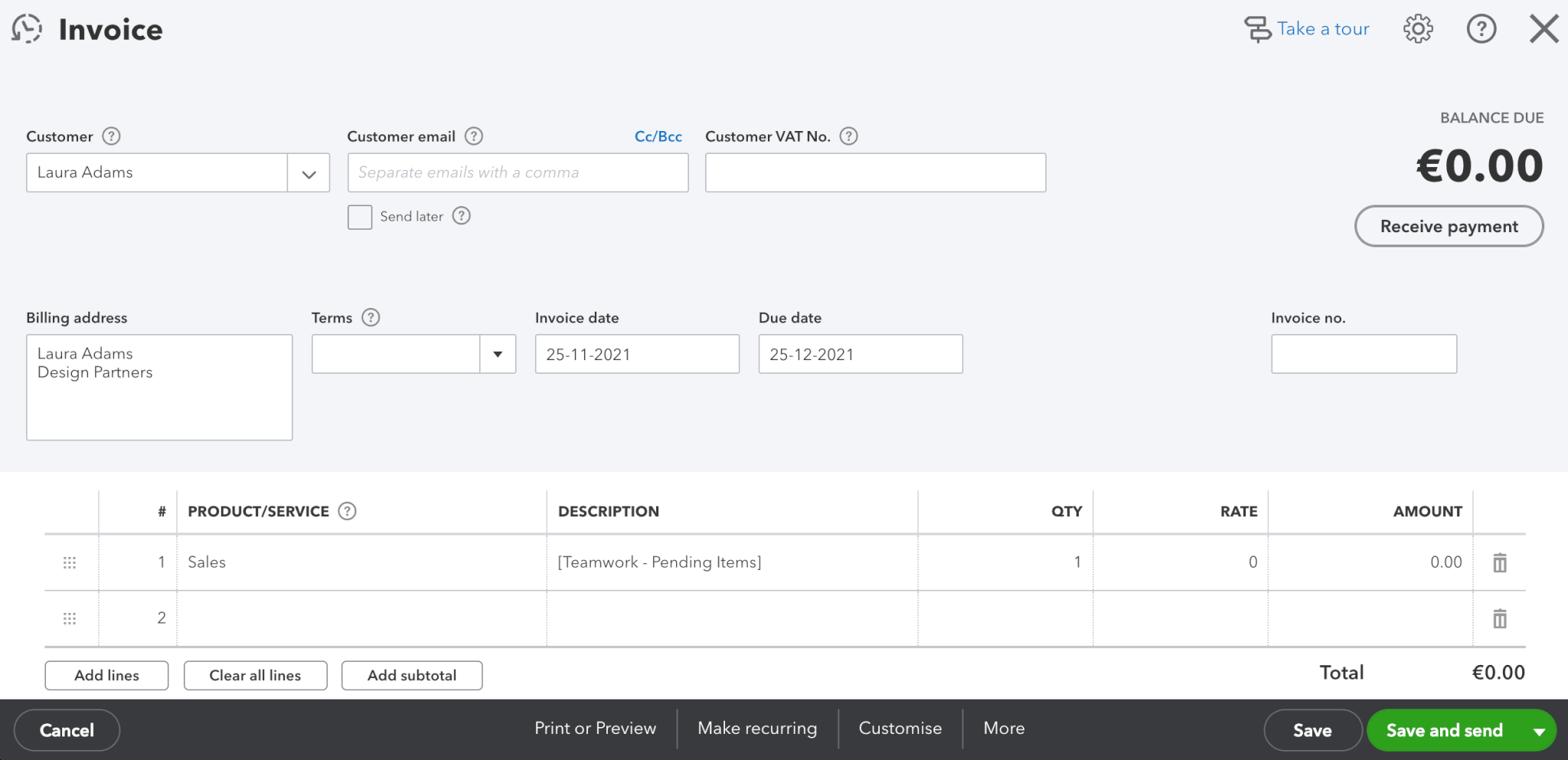 Source: Teamwork
Teamwork has an in-app timer that users can launch when they begin work. But they can also manually add the hours worked for billing purposes.
Moreover, in 2021, Teamwork improved the Billing feature so that project managers can differentiate between billable and cost rates for users and clients. Teamwork also connects with other accounting tools like Xero, Harvest, and QuickBooks.
To facilitate working with recurring clients, Teamwork offers the Intake Forms feature. This feature allows frequent clients to submit new work requests without affecting the existing ones. Intake Forms are also available for internal projects between departments.
Integration Capabilities
Through webhooks, Teamwork is easily integrated with other online services. This feature sends notifications to the project manager or other team members whenever someone completes a milestone, downloads a file, or sends a message. These webhooks are easily customized according to the nature of the project.
Teamwork product management software supports several apps for better integration, including Microsoft 365, Google Workspace, Basecamp, Box, Asana, Dropbox, HubSpot, InVision, Slack, Hubstaff, and email applications Gmail and Outlook.
Collaboration Options
Teamwork offers an in-app chatting feature, but this feature is technically separate from the project management bundle. Unless your team or company has a preferred messaging app, you can choose to add this feature for better collaboration.
Moreover, Teamwork offers other products that can help you better manage your business, including the Help Desk tool, CRM, and Teamwork Spaces for sharing and editing living documents.
However, Teamwork falls short in collaboration with outside users compared to other apps. For example, you can share and edit files, but it lacks some visual editing tools that your team might need.
Besides, we've already done a detailed review of Teamwork lately. If you are interested, be sure to check it out.
Basecamp Features to Improve Your Project Management
Basecamp focuses on task management and communication and provides multiple features that satisfy these needs. Here are some of them:
Easy Setup
Setting up your account takes a few minutes, and you can either enter your name or choose the organization's name. After that, you can set up spaces for all types of projects, and they'll be automatically added to your account.
When you log into your account, you'll see three-card groups; Initiatives, Teams, and Projects. You can also change the view to lists.
Once you're done, you'll invite other collaborators or team members using their email addresses. You can also ask clients to view-only access, and the app allows you to select the content that your clients will be able to see.
To-Do Lists
Using Basecamp product management software, you can create tasks in to-do lists. You can also create sub-tasks and set notifications to help you keep track of their progress.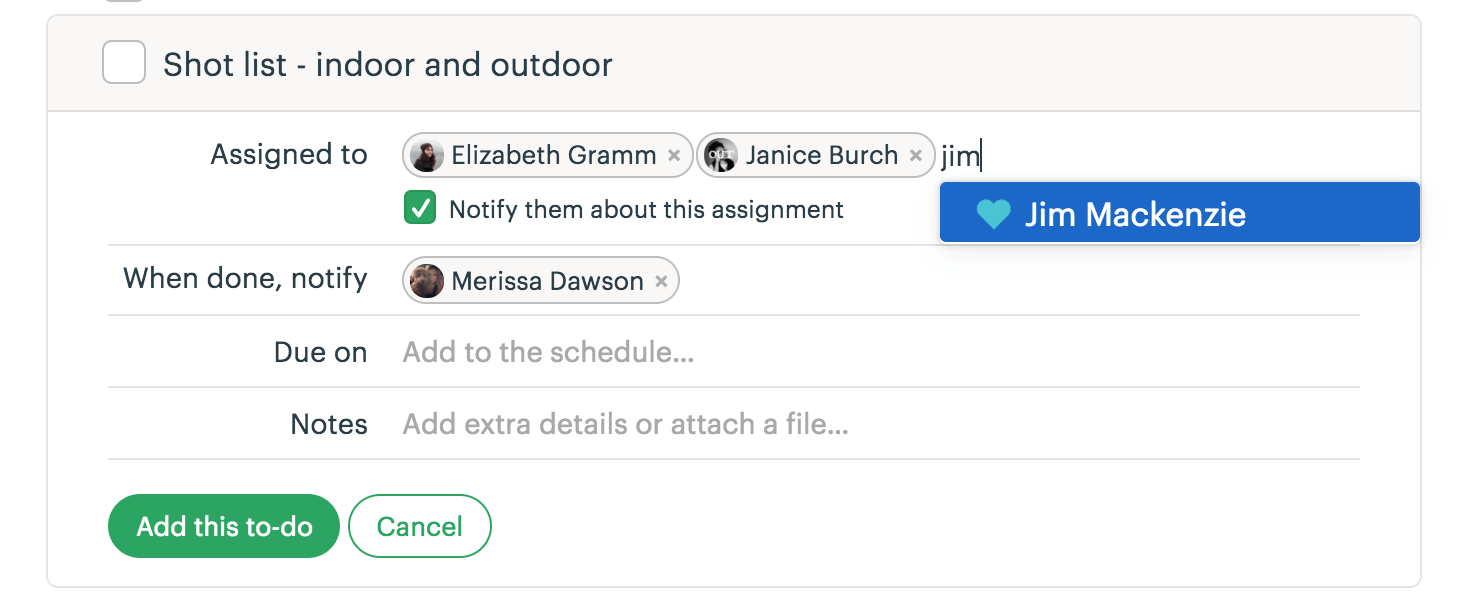 Source: Basecamp
Basecamp workflow allows you to add more details to your tasks, like notes, images, or other files that team members need. In addition, you can group similar tasks to better organize work for people who work in multiple teams.
Real-Time Communication
According to Expert Market research, 90% of companies have witnessed positive impacts from remote working. In such a work setup, efficient communication becomes a must.
Basecamp has two messaging apps; Campfires and Pings. Campfire is used for group communication, while Pings works for private messaging.
Team leaders and members can use Campfires for quick questions and file sharing. In addition, each project has its dedicated chat room, where you can share files and mention people in a group discussion.
Pings are what collaborators use for private messaging. You can choose to send Pings to one person or a group of people.
Message Board
The Message Board is used for announcements. It's different from Campfire, which you use for real-time conversations because the Message Board is more suitable for long-lived communication.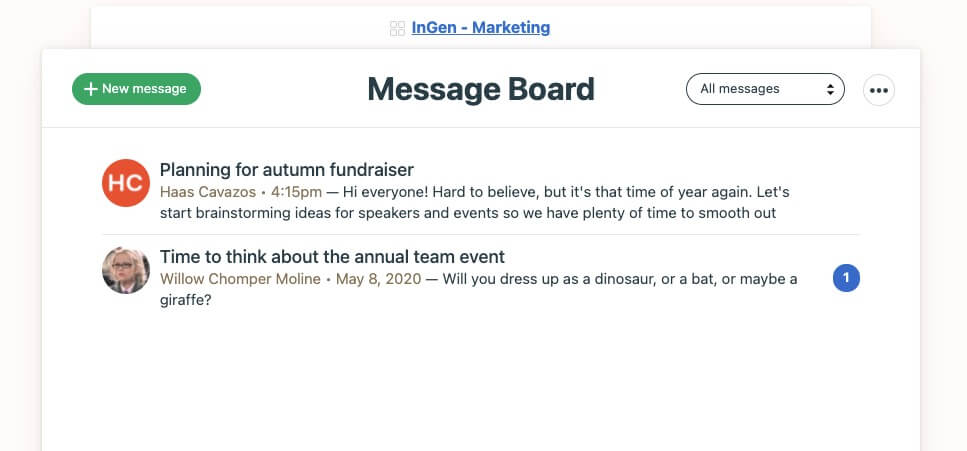 Source: Basecamp
You can also create an HQ Space, a company-based messaging room. It would allow you to send messages to everyone who accesses your company's account.
Reporting
Gaining quick insights into how your work is progressing is possible with the Reporting function of Basecamp. The app sends you reports about overdue projects and what's due soon.
You'll also receive reports about upcoming tasks and users' activities across different projects. This feature will enable you to see the workload assigned to every team member and will be helpful if your team members are working on multiple projects.
Basecamp doesn't have a time-tracking app but can be connected with other apps to integrate time-tracking and invoicing.
There are several apps that you can connect to Basecamp, including Slack and Zendesk. In addition, there are other apps in the supported list from Basecamp if you want to compensate for its shortcomings.
Hill Charts
Hill Charts help you track the progress of several projects in real-time. These charts eliminate the need for daily meetings and help you track projects' progress accurately.

Source: Basecamp
Using Hill Charts, you can add comments and notes to your projects for better updates. You can also edit these updates over time to see which tasks are progressing and which ones aren't.
They provide an excellent way to visualize your progress and give you the ability to take screenshots of them.
Document Sharing
Basecamp allows you to create engaging documents as the images appear as thumbnails once they're uploaded. Anyone in the space where you shared the document can access the file you shared, download it, and upload a new version after editing it.
As a team lead, you'll be able to see the history of every document. You can also activate the Email Forwarding option to forward emails into Basecamp.
However, this feature has some limitations. For example, you can't add descriptions and comments to images or PDFs. Moreover, you can't accept or reject a file, especially when several versions need to be uploaded.
Teamwork vs Basecamp: Pricing Plan Checkup
Pricing is one of the features you need to consider if you choose between Teamwork and Basecamp. Here's how Basecamp vs Teamwork compares.
Teamwork Pricing Tags Review
Teamwork has three pricing plans, plus a fourth one that you can scale according to your needs.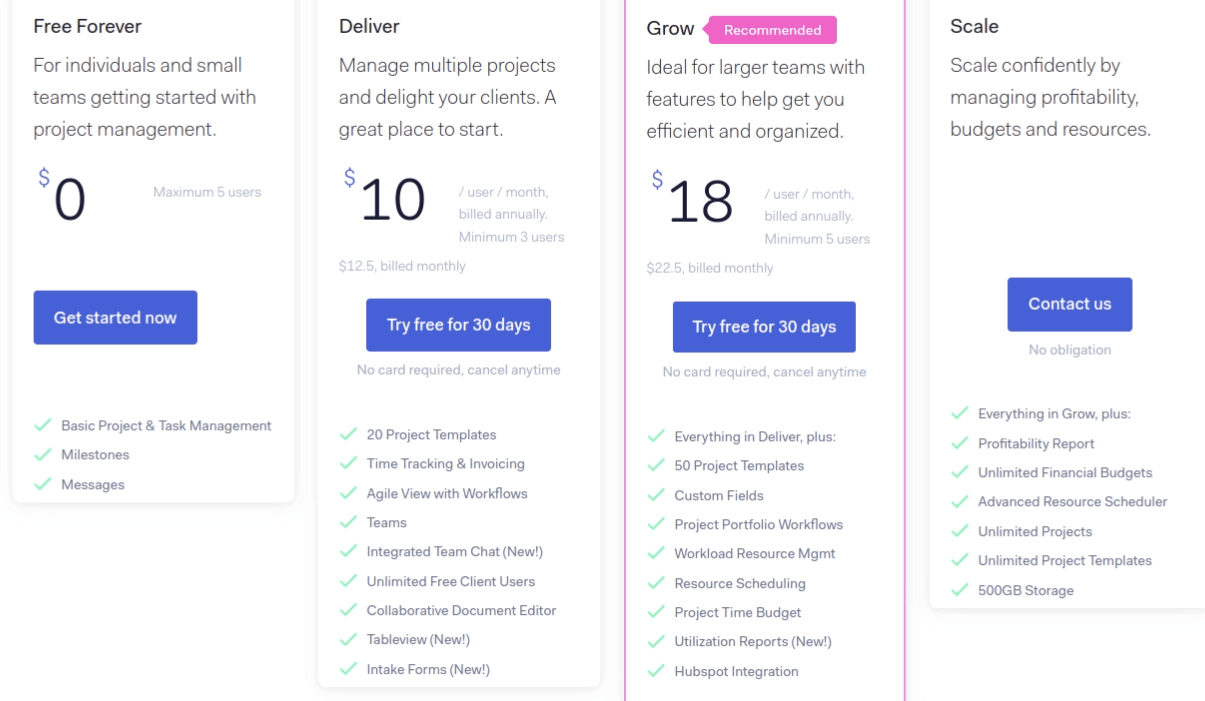 Source: Basecamp
The pricing model is based on the rate per user per month, and you get to save if you pay annually.
The Free Forever plan is always free, but it only limits your access to 5 users distributed over two projects. With only 100MB of storage, there's a big chance that you'll soon choose to upgrade.
The Deliver Plan works if your team has a minimum of 5 members and you get 100GB of storage space. In addition, this plan grants you access to 20 project templates, tracking and invoicing, team chat, and unlimited free client users. In this plan, you pay $10 per user per month.
The Grow Plan costs $18 per user per month and grants you access to 50 project templates, custom fields, utilization reports, and so much more. This plan is ideal for larger teams and provides the most advanced project management features with access to 250GB of storage. Using this plan, you can change the history of tasks, set project time, receive reports, and add more custom fields for better project management. If this plan doesn't work for you, you can contact Teamwork for a Custom Plan.
How Much Is a Basecamp Cost?
If you have a small company or need to use Basecamp on a smaller scale, you can use the Free version. This is a limited version that allows you to work on three projects with a maximum of 20 users. It provides you with 1GB of storage space but lacks some features like project templates or client access.
Basecamp product management software has a simple pricing model as it charges a flat fee of $99 per month regardless of the size of your company or team. With this subscription, you can access unlimited projects and users and 500GB of storage.
Source: Basecamp
When you pay annually, you get a 15% discount, and if you run a nonprofit, you get a discount of 50%. Moreover, students and teachers can sign up for the full features.
Comparing Teamwork vs Basecamp Advantages and Drawbacks
Teamwork and Basecamp work in different ways, and in this section, we'll list their pros and cons to compare them.
Teamwork Advantages
Teamwork offers users a professional view with better project management features and excellent visibility using Gantt Charts
It offers phone support, in addition to online support and video tutorials
It offers an in-app time tracking feature
The app provides a more detailed workflow
You can measure employee billable hours and check task-dependent timelines
It offers detailed and in-depth resource management
Billing and invoicing features are available
You can grow your Teamwork account based on your team's needs
Drawbacks of Teamwork
The free plan of Teamwork is minimal and doesn't even work for small businesses
Compared to other project management tools, the per-user pricing model makes Teamwork more expensive
It has no PDF or image markup tool
Benefits of Basecamp
Basecamp is extremely easy to set up
The app supports integration with a variety of other apps
The free plan is suitable for small teams and freelancers
Hill Charts provide better visibility for task progress
The pricing model is transparent and more affordable for larger teams
Basecamp workflow allows for a better visible representation of tasks and projects
Basecamp Shortcomings
Communication can become challenging as you always have to go to sections within spaces
It offers limited reports compared to other project management tools
There's no native time-tracking feature
The app isn't scalable for bigger teams and enterprises
Who Uses Teamwork?
52% of Teamwork's users are located in the US, and 11% are located in the UK. It's most commonly used in industries like Computer Software, Marketing and Advertising, and Information Technology Services.
Teamwork is more suitable for large-sized companies as it provides a potent way of keeping track of multiple projects simultaneously. Companies like PayPal, eBay, Disney, Forbes, Spotify, and HP use Teamwork as a project management tool.
Who Uses Basecamp?
Basecamp is commonly used in Computer Software, Marketing and Advertising, and High Education industries. Almost 79% of Basecamp's clients are located in the US.
The app is suitable for freelancers and small and medium-sized businesses. However, the inability to scale the features makes it less flexible for large-sized teams and companies.
Moreover, it lacks the billing and invoicing features that these companies need. It's used by organizations like Accenture, 9GAG, and Compile Inc.
How to Migrate Project Management Data to Teamwork or Basecamp?
Implementing or adopting project management tools takes more than just buying and onboarding your team on Teamwork or Basecamp. Data transfer matters a lot. To save your time and your IT department resources on data migration.
So if you need to migrate to Teamwork or switch records to Basecamp, leave that task to our Migration Wizard and run it automatedly. The option of the Free Demo to test-drive how you can migrate your project management data.
Which Should You Go for Teamwork vs Basecamp?
Teamwork and Basecamp are two popular project management tools, but each approaches project management differently.
If your main focus is to keep track of individual tasks, improve reporting, and create invoices, then Teamwork will be a better option. It's also scalable for bigger businesses.
Basecamp's primary focus is to improve communication between team members and add rich documents to facilitate work. It will work for you if you need an affordable tool or you run a small-sized business.
Frequently Asked Questions
Several names like 9GAG, Groupon.com, and Bunker Hill Community College use it.
Basecamp is best for real-time communication with your team members. You can use it to store documents, make announcements, and manage your projects' progress.
Yes, both have apps for Android and iOS devices, but they might restrict some features on the mobile apps.
Asana offers more features and integrations for more prominent companies and more demanding business operations.
There are other alternatives to Basecamp if you're interested in real-time tracking and billing features. For example, Teamwork, ClickUp, and Asana might be better for your company's needs.
Basecamp 3 integrates with more than 650 desktop and mobile apps like Zapier, Harvest, TeamTimeApp, MangoBoard, and Git Helpers. In addition, Basecamp 2 can integrate with more than 300 third-party apps.
Want to migrate to Teamwork or Basecamp?
Let's migrate your data automatedly
Setup a free Demo