ClickUp is a go-to project management tool for small to middle-sized businesses. But what if ClickUp isn't the right fit for you? Whatever your business needs, there's always another feature-packed ClickUp alternative perfect for your team.
This blog post will look at the best 16 alternatives to ClickUp. From Trello and Asana to Jira Software and Monday.com, there's an ideal project management tool for everyone.
What to Look for in Alternatives to ClickUp?
While ClickUp makes a name for itself, there might be other options for some project managers. Here are some areas where ClickUp project management software may fall short.
Requires considerable customization: Your team needs to put a lot of time and effort into getting ClickUp working the required way. If you or your colleagues don't have any technical expertise, it might be challenging to customize ClickUp.
Limited features for free users: ClickUp's free plan is limited in terms of features. You should upgrade to a paid plan to access time tracking, a ClickUp Gantt chart, a work hours tracker, cloud storage, or a timesheet app.
Complex UI: ClickUp may be overwhelming for businesses just starting with project management. You need time to get used to its UI or find any required features.
Tricky hierarchy structure & poor teamwork visibility: It can be tough to create nested tasks or subtasks. Plus, ClickUp misses advanced visibility to glance at high-scaled projects at once.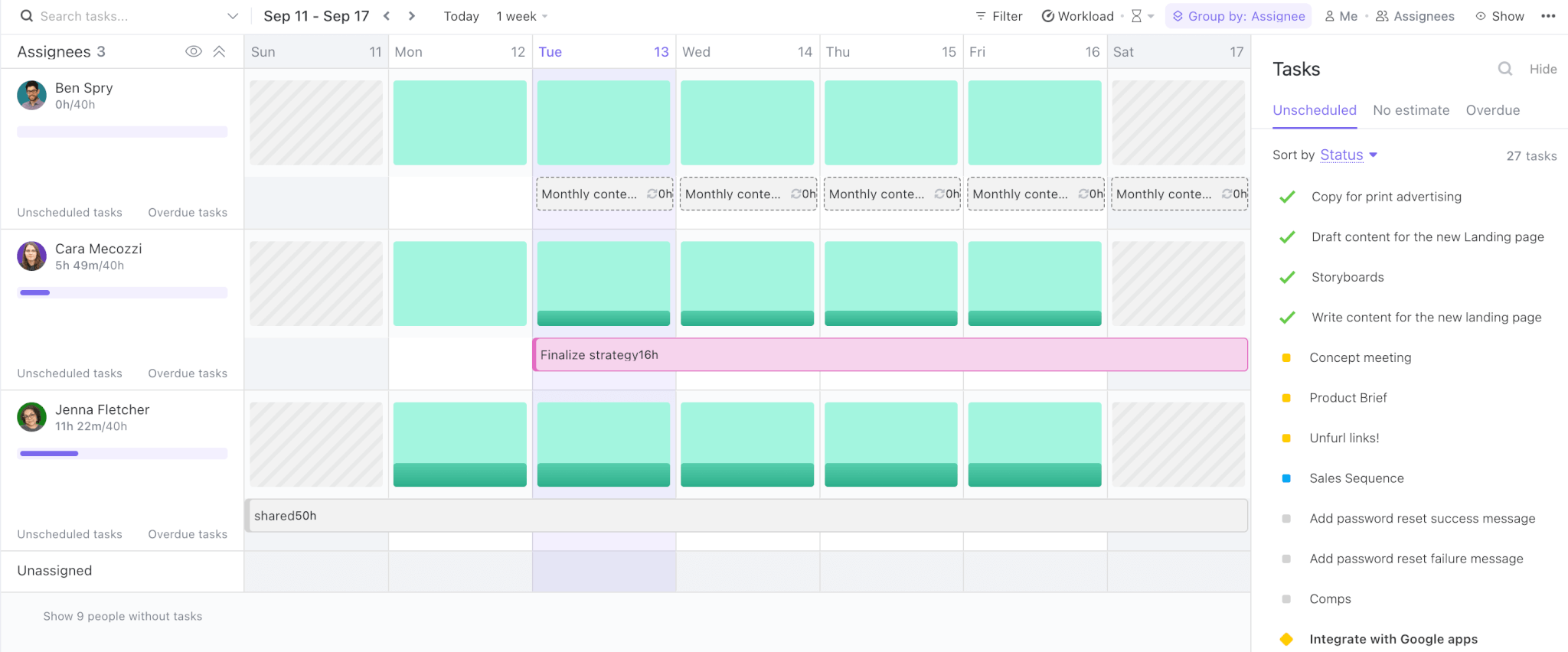 ClickUp workload view. Source: ClickUp
But, before diving into ClickUp alternatives, let's check what task management software offers its users.
ClickUp Features Overview
ClickUp is a wealth of features, providing your team with dashboards, reports, custom fields, portfolios, and more. So let's see what hides behind a vast stack of functionality.
Gantt chart: Organize your project timeline and manage dependencies with a ClickUp Gantt chart.
Task management: Drag and drop files related to the task, add notes, or break down the task into subtasks. You can also assign ClickUp tasks to multiple team members. Or set up a ClickUp recurring task if needed.
Multiple views: Set up a classic spreadsheet with numbered rows to track progress in a table view. Or manage numerous to-do lists and projects with a calendar view. You can also switch to the ClickUp timeline view or ClickUp workload view too.
Goals: Create trackable ClickUp goals and tie them to specific monetary values, numbers, tasks, etc. You can use goal folders for ClickUp sprint planning too.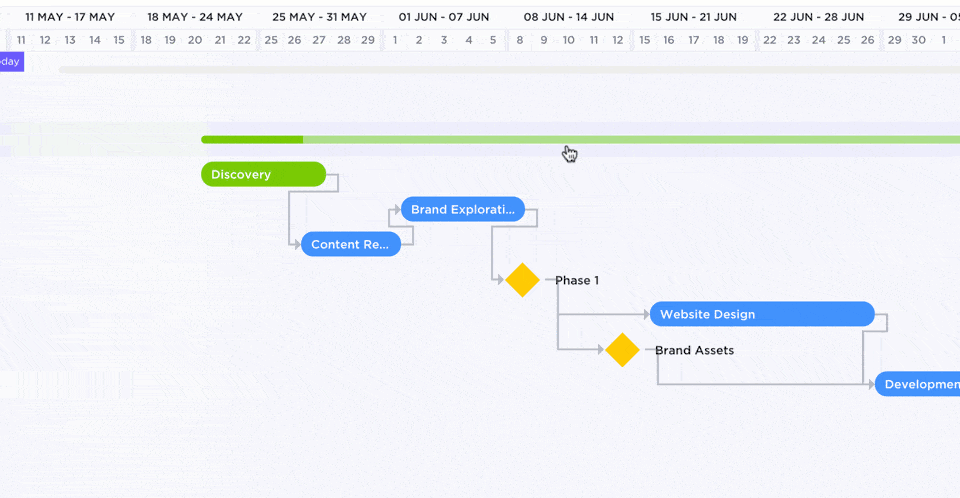 ClickUp Gantt chart. Source: ClickUp
ClickUp reports: Use default and custom reports to reveal completed, worked on, team points, who's behind, time tracked and estimated.
Task status: Keep everybody aligned with the project progress with the task status.
Comments: Turn comments into an actionable task and assign them to your team members. You can apply additional tasks or suggested changes for your project too.
Time tracking: Track time manually or automatically, and link it to tasks from desktop and mobile. ClickUp time tracking also lets you set estimates and view your reports on time spent.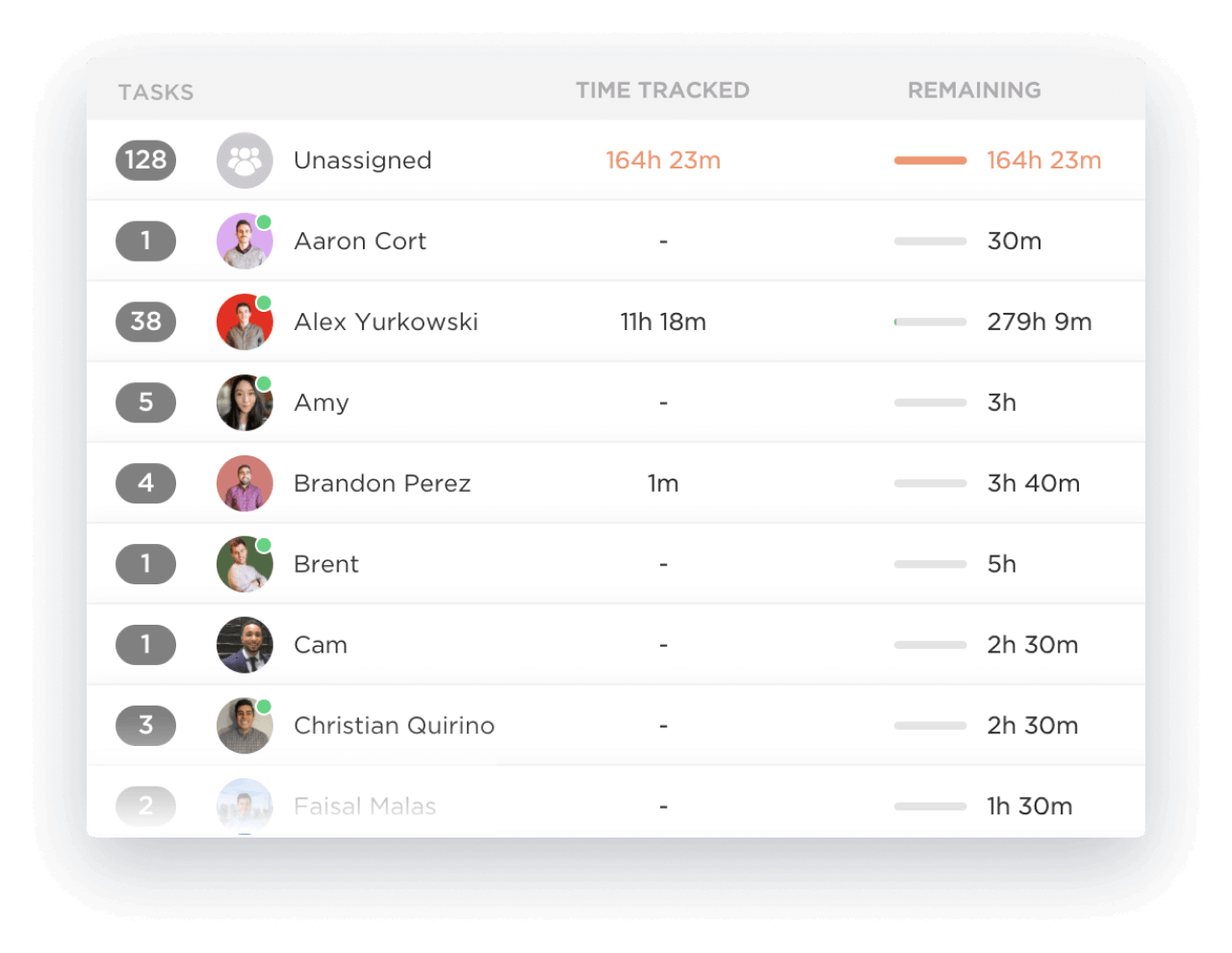 ClickUp time tracking. Source: ClickUp
Automation: Use pre-built automation recipes or tailor them based on the project needs. Automations also work with third-party apps in one shared workflow.
Portfolio: Organize your team objectives with ClickUp portfolios. Share portfolios with stakeholders or set up user permissions if needed.
ClickUp API: Develop your custom integrations and ClickUp apps with API.
Roadmap: Built a ClickUp roadmap to outline a strategic document, including priorities, steps, and timelines.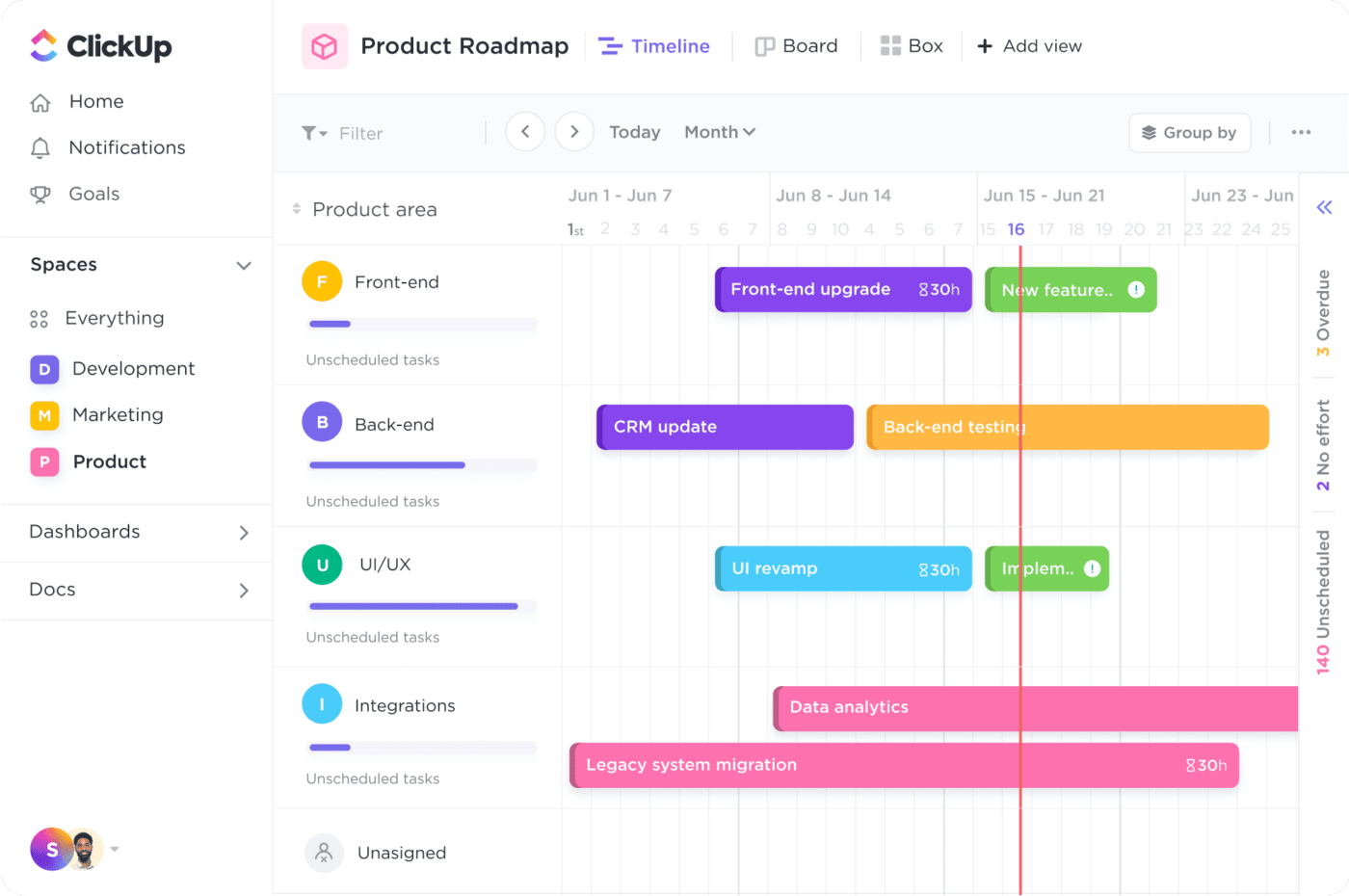 ClickUp roadmap. Source: ClickUp
ClickUp Pricing: How Much Does ClickUp Cost?
Compared to most ClickUp alternatives, ClickUp pricing is rather diverse. The task management software includes five pricing options. You can start off your project with a Free plan. Or try a free trial with lower-paid plans. So, what else does ClickUp cost offer?
Free Forever is the best option for personal usage and includes unlimited tasks, five workspaces, a real-time group chat, whiteboards, a Kanban board, and native time tracking.
Unlimited offers unlimited storage, dashboards, custom fields, Gantt charts, and integrations. You can also get a form view, resource management, ClickUp goals, and portfolios.
Business delivers everything in Unlimited, plus advanced public sharing, time tracking, automation, and dashboard features. You can set up workload management and custom ClickUp export.
Business Plus provides team sharing, custom permissions, and role creation, subtasks in multiple lists, and increased automation.
Enterprise is full of features along with white labeling, a group chat, default personal views, SSO, ClickUp HIPAA, enterprise ClickUp API, and advanced permissions.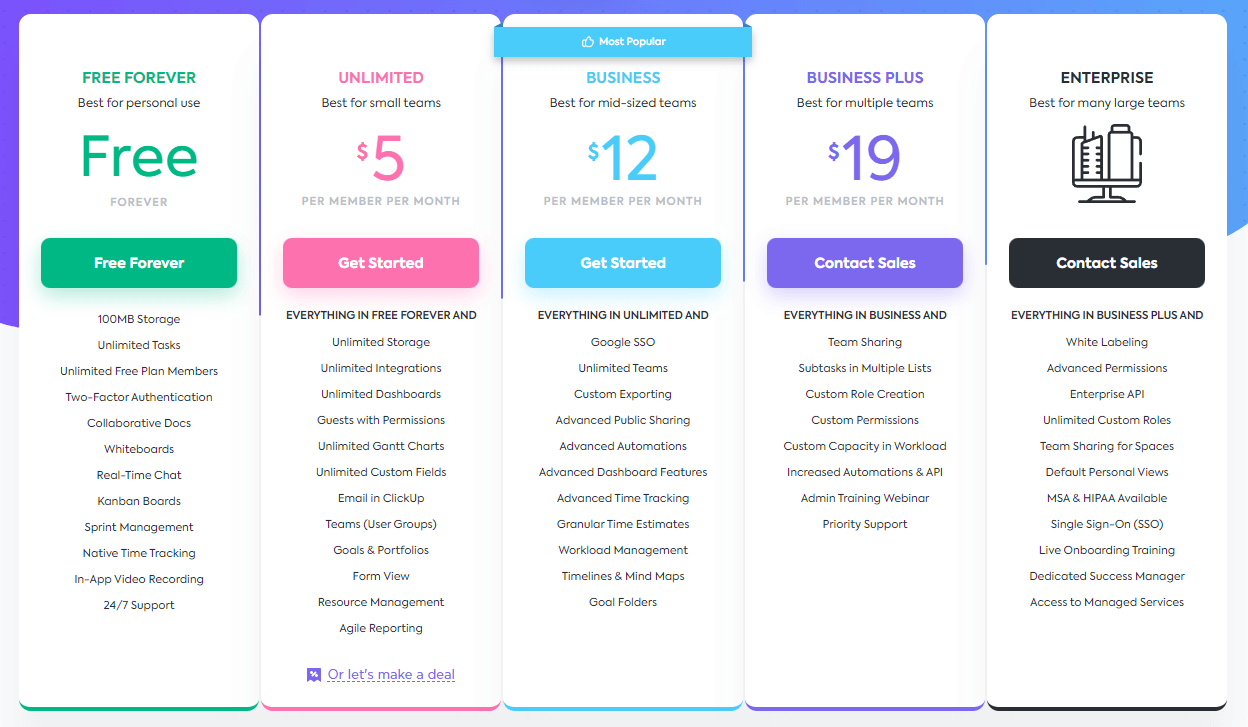 ClickUp pricing. Source: ClickUp
Reviewing ClickUp Pros and Cons
Now that you're familiar with ClickUp's cost, let's dig into ClickUp's advantages and disadvantages you might want to consider before migrating to an alternative.
Advantages

Disadvantages

Multiple views, including ClickUp timeline view, workload view, Kanban board, Gantt chart, and others;
Access to over 1,000 integrations;
Extensive import options along with ClickUp export list;
Creat team collaboration capabilities like a group chat, ClickUp workload view, comments, and notifications;
Real-time reporting to create insightful reports;

Limited ClickUp time tracking;
Free trial only for the Unlimited plan;
Lagging when switching between projects views;
Required onboarding and training;
Figure 1. ClickUp advantages and disadvantages
Recap: If ClickUp pros and cons don't fit into your business requirements, consider migrating to a ClickUp alternative. You can set up a ClickUp Demo Migration with Project Management System Migration and test how the tool works. Or migrate a part of your data from ClickUp to try out a desirable project management tool.
Best 16 ClickUp Alternatives
Here's a list of 16 ClickUp alternatives that could be a good match for your projects. First, we'll go over some of their key features and pricing to give you a clear picture of each alternative to ClickUp.
The best alternatives to ClickUp are:
Asana
Trello
Jira Software
Monday.com
Teamwork
Wrike
Microsoft Projects
Freedcamp
Basecamp
Notion
Airtable
Avaza
YouTrack
Zoho Projects
Hive
Smartsheet
Asana
Asana is a popular ClickUp free alternative whose freemium plan is a good match for teams of up to 15 members with basic project management needs. Besides, it delivers a timeline view and a Kanban board so your team can quickly start the project from scratch.
Asana offers a Gantt chart, file sharing, project reporting, and messaging. In addition, this project management system includes many integrations with other tools like Gmail, Slack, Dropbox, and Everhour (a tool for time tracking).
Task automation works well in Asana too. Choose a pre-designed Asana automation from the Rules gallery or create your own with the Custom Rules Builder.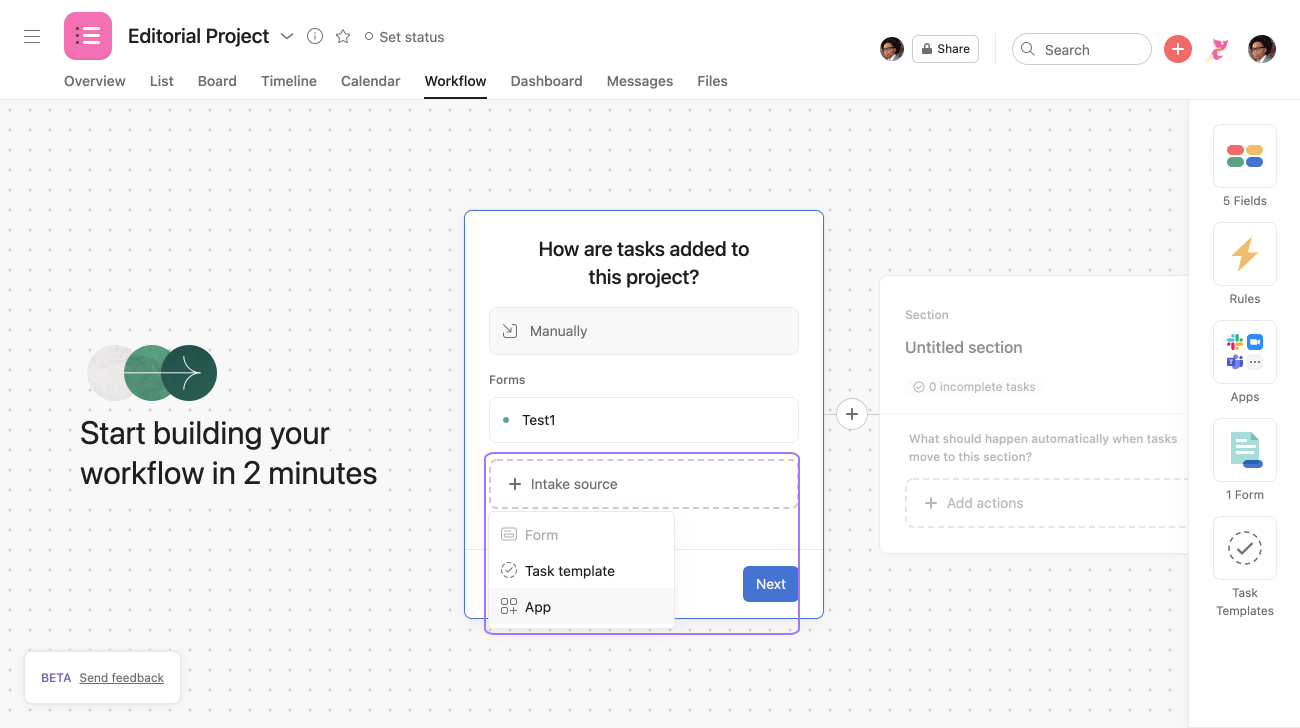 Workflow Builder in Asana. Source: Asana
Key Asana Features
Kanban board
Timeline
Workload
Milestones
Dependencies
Rules
Custom templates
Portfolios
Advanced search
Multiple views, including files view, calendar view, and teammate view
Project & team conversations
Custom fields
Asana reports
Work goals
Integrations
What is Asana Pricing?
Unlike some alternatives to ClickUp, Asana delivers both free and paid plans. It includes a 30-day free trial and a 50% discount for nonprofits:
Free plan with up to 15 users and unlimited boards
Premium, $10.99/user/month, billed annually
Business, $24.99/user/month, billed annually
Enterprise, no public quote
Why Is Asana a Good ClickUp Alternative?
Asana offers a great set of features, including unlimited tasks, projects, messages, activity logs, and file storage (100MB per file), making it one of the best free ClickUp alternatives. Plus, the project management system lets you track work goals and generate a work summary for stakeholders. In contrast to a limited ClickUp workload view, Asana offers a specific feature so you can see what your teammates are doing and how tasks are progressing.
Trello
Trello is another ClickUp free alternative that works best if you are a fan of Kanban-style methodology. It's an ideal project management system for visual thinkers as they can see all tasks in front of their eyes.
Aside from a Kanban board, Trello has features like labels, due dates, and file attachments. A Butler Bot is its biggest pride and joy; it recognizes repetitive actions and helps project managers automate workflows. Then again, as part of Trello's task management section, you can prioritize and set recurring tasks.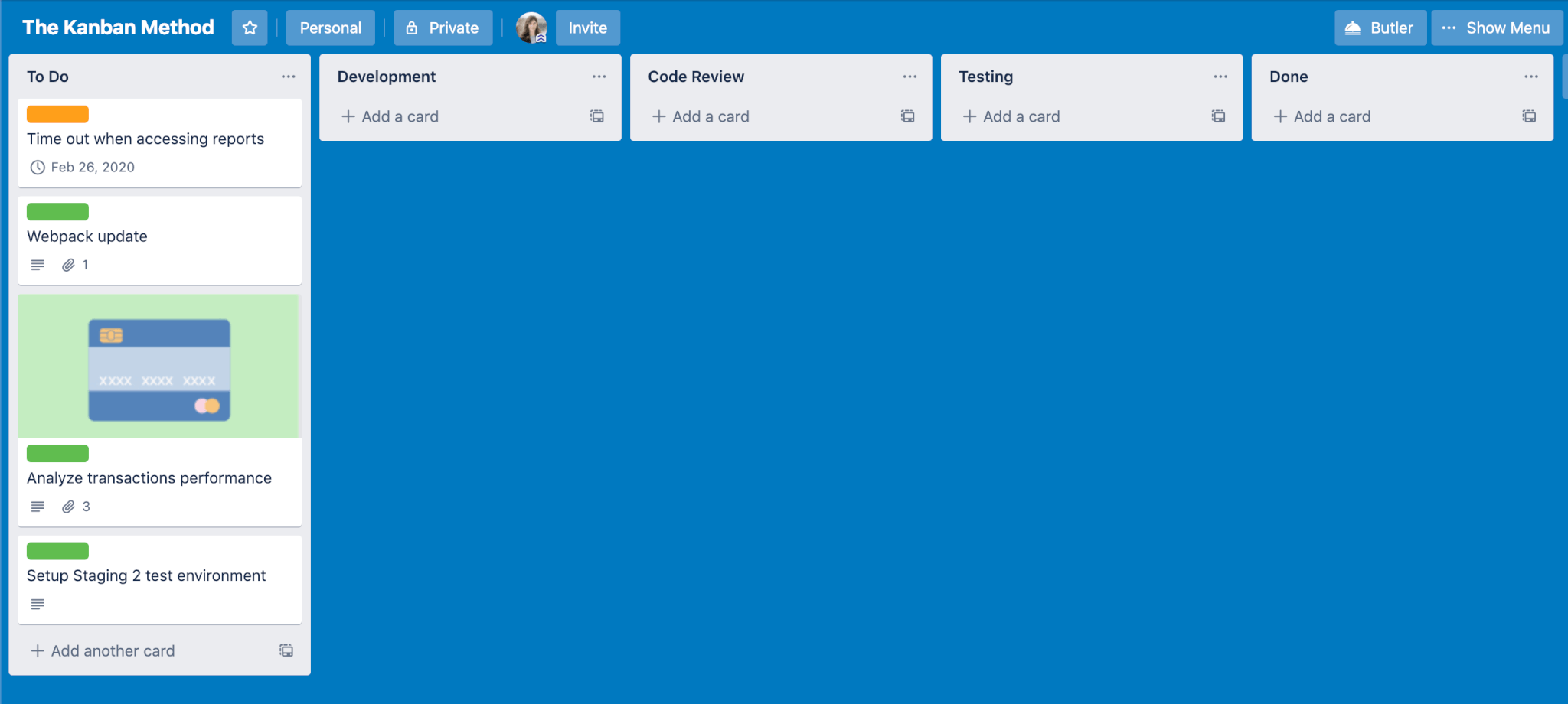 Trello Kanban board. Source: Trello
Trello Key Features
Kanban board
Butler automation
Views along with the timeline, calendar, dashboard, table, and map
Power-ups made by Trello
Templates for design, marketing, business, education, engineering, etc.
Board collection
Command run administration
Unlimited activity logs
Third-party integrations
Custom fields iOS and Android mobile apps
Trello Pricing: How Much to Pay?
Trello has a basic pricing plan, including a free and paid plans. You can also try out a 14-day free trial for a Premium plan or go for a Free plan.
Free plan for unlimited users
Standard plan, $5/user/month, billed annually
Premium plan, $10/user/month, billed annually
Enterprise plan, $17.50/user/month, billed annually
Why Can Trello Be an Alternative to ClickUp?
If you are looking for a ClickUp alternative for small teams or individuals, then Trello is your choice. It offers a free plan for unlimited users, including unlimited cards, 250 workspace command runs per month, integrations per board, and storage.
Simplicity and intuitive nature are Trello's top pros against ClickUp. It also offers a more interactive experience as you can invite teammates on a board and attach files or images.
Jira Software
Jira Software is the best ClickUp alternative for agile project management. The tool uses Scrum and Kanban boards to help you organize and prioritize your projects.
To top it off, Jira Software extends tons of features for analytics to help you break down every teammate's performance. It covers aspects like newly created issues, pending tasks, resolution time, velocity charts, sprint reports, and user workload.
What's more, you can customize workflows for every project to any set of project stages. And Jira Software integrates with thousands of third-party apps such as Figma, Slack, Confluence, Github, and Bitbucket.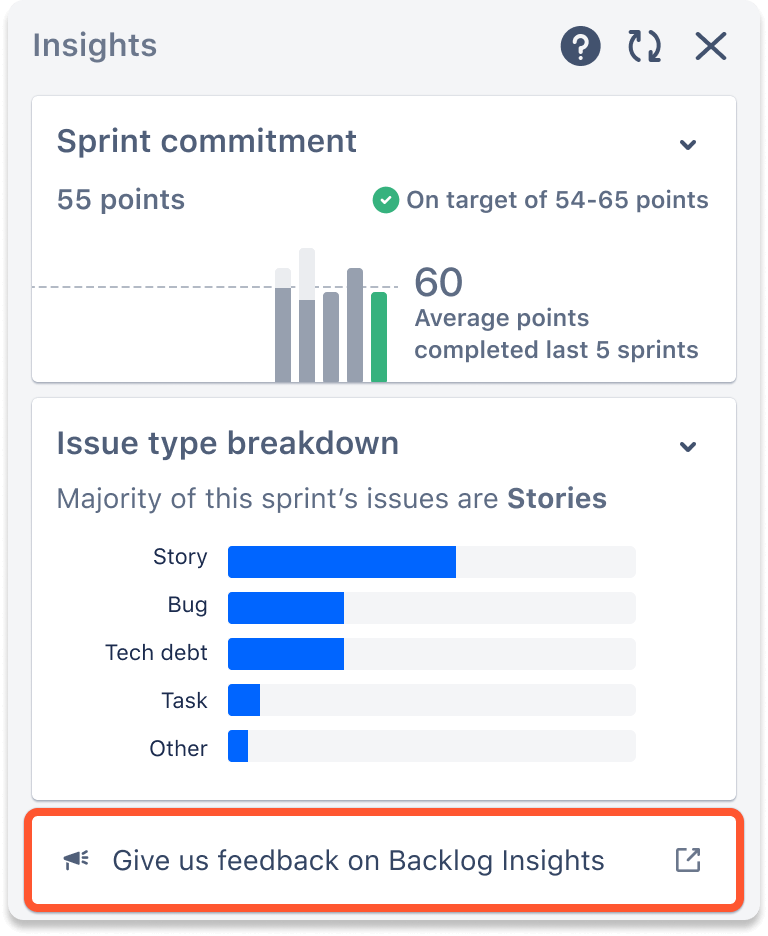 Insights in Jira Software. Source: Atlassian
Main Jira Software Features
Backlog
Agile reporting
Customizable workflows
Issue tracking
Integrations
Automations
Roadmaps
Reports and insights
Scrum & Kanban boards
Desktop and mobile apps
Capacity planning
What Is Jira Software Pricing?
Jira Software also includes a free pricing plan along with several paid plans. Or you can start a 7-day free trial for up to 10,000 users.
Free plan for up to 10 users
Standard plan, $7.75/user/month, billed annually
Premium plan, $15.25/user/month, billed annually
Enterprise, no public quote, billed annually
Why Is Jira Software Better than ClickUp?
Jira Software is your ideal ClickUp alternative if you need an agile project management tool. It lets you track tasks, feature requests, and bugs. Whereas ClickUp is limited, Jira Software offers powerful upgrades for time tracking, integrations, and custom workflows.
In terms of views, Jira Software has one of the best Scrum boards and decent Kanban boards for software development teams. They are great for helping agile project managers manage plan roadmaps and overflowing backlogs.
Monday.com
Monday.com joins a list of alternatives as yet another ClickUp free alternative. Its key features are time tracking, task automation, feedback with note views, and to-do lists.
Thanks to the various features, your team can automate tedious tasks while leaving comprehensive notes on projects. Moreover, it includes an intuitive UI with color schemes, pop-up text, and animations. Monday.com also beats ClickUp when it comes to data visualization and CRM features.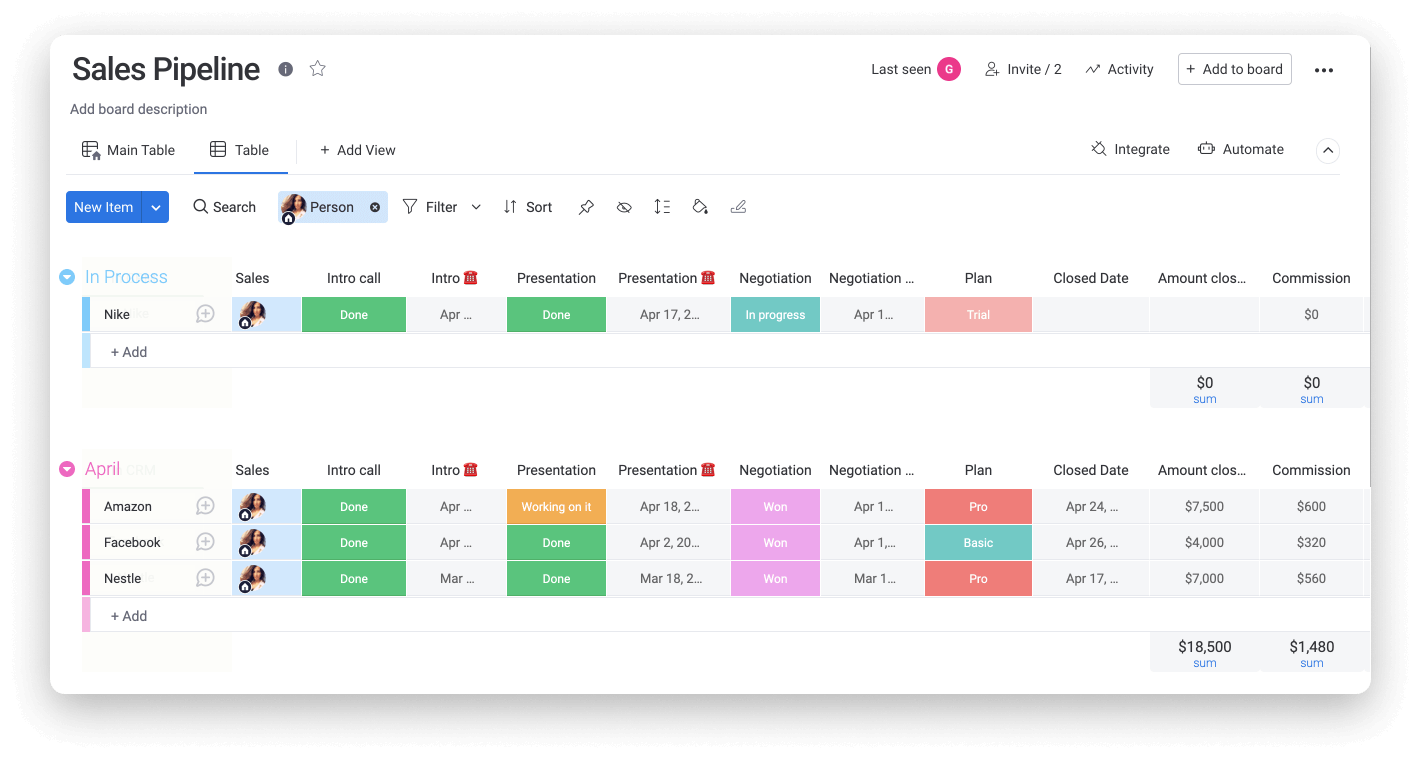 Monday.com board view. Source: Monday.com
List of Monday.com Features
Dashboards
Kanban board
Embedded documents
Gantt chart
Dependencies
Time tracking
Shareable forms
Customizable notifications
Repositories
Sandbox
iOS and Android apps
Project Views
Automations
Reporting and analytics
How Much Does Monday.com Cost?
The project management tool has a similar pricing structure to the previous entries: a Free plan and a couple of paid options. Like other ClickUp competitors, Monday.com offers an 18% discount if you pay a year ahead. You can get a separate plan if you run a nonprofit or NGO business.
Free plan with up to two seats and unlimited boards
Basic, $8/seat/month, billed annually
Standard, $10/seat/month, billed annually
Pro, $16/seat/month, billed annually
Enterprise, no public quote
Why Choose Monday.com Instead of ClickUp?
Monday.com works better as a paid ClickUp alternative; you get unlimited seats, items, boards, free viewers, and docs. The best thing about Monday is that whereas ClickUp can be overwhelming to use, Monday is extremely easy to use.
If you are used to viewing your projects from multiple angles, Monday.com offers a Kanban, Calendar, Chart, Map, Timeline, and Workload view. You can also create custom task statuses and integrate with over 40 scalable apps.
Teamwork
Among all ClickUp alternatives, Teamwork outruns other options regarding client relationship management. For instance, it offers billing and invoicing capabilities for changing clients and contractors. Similarly, Teamwork lets you keep an eye on all the generated invoices so you won't bill anyone twice.
Then again, you can invite users from outside your organization to view needed projects. And you can even split people into groups based on the project and add client companies. So, it's suitable for organizing teams, projects, and resources.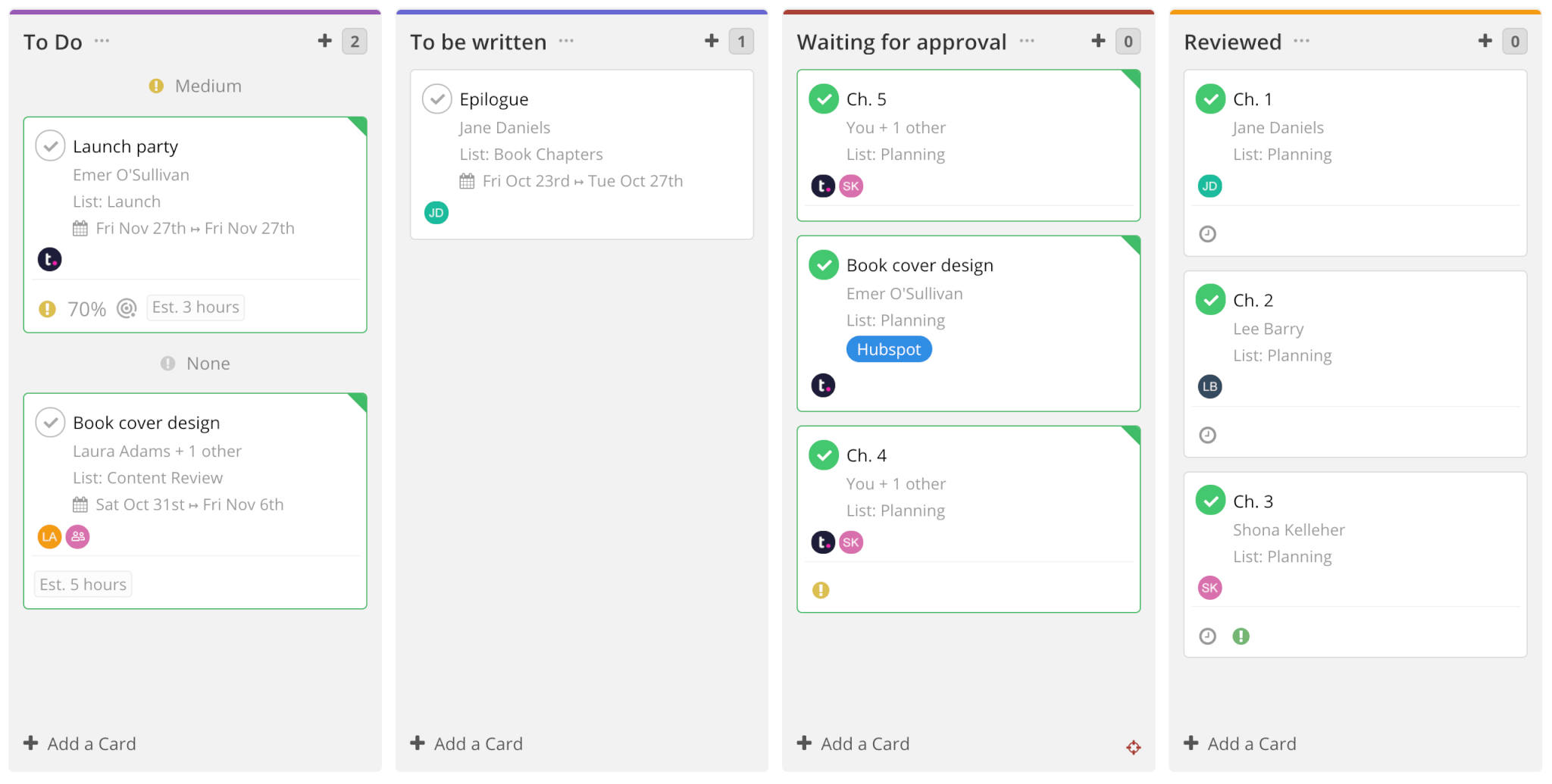 Board view in Teamwork. Source: Teamwork
Teamwork Core Features
Intake forms
Milestones
Project-specific subtasks
Templates
Integrated team chat
Time tracking
Billing and invoicing
Resource management
Dependencies
Project-level tags
Project views
Burnout reports
Workflow automations
Custom fields
Teamwork Pricing in a Nutshell
Teamwork pricing stands out among other alternatives to ClickUp because it includes time tracking in all plans. The same thing applies to task automation, milestones, and dependencies.
Free Forever plan for up to five users
Deliver plan, $9.99/user/month, billed annually
Grow plan, $17.99/user/month, billed annually
Scale plan, request a custom quote
Why Choose Teamwork as a ClickUp Alternative?
Teamwork is an excellent ClickUp free alternative for SMBs and growing teams. And it has powerful and flexible features for companies working with complicated projects. Above all, the project management software also pre-built templates and various visual layouts. If you need billing, invoice, scheduling, and integrated team chat, select Teamwork as an alternative to ClickUp.
Wrike
Wrike is the best ClickUp alternative for fast-growing companies with a larger budget. Or if you want a project management tool similar to ClickUp, this tool works for you too.
Its best functionalities include project portfolio management, Gantt charts, resource management, workflow automation, advanced reporting & BI, and capacity planning. Otherwise, Wrike is a relatively flexible tool; you can use it as a complex project management tool or a simple to-do list.
Board view in Wrike. Source: Wrike
List of Core Wrike Features
Kanban board
Gantt charts
Custom fields
Table, Calendar, and Board views
Cross-tagging
Project Blueprints
Project and task approvals
Workflow automation
Resource management
Capacity planning
Workloads & time tracking
Advanced Reporting & BI
How Much to Pay for Wrike?
Wrike offers enterprise-level pricing. You can adopt a pricing plan that will meet your growing team's needs. Or you can try out a free trial to test the Professional or Business plan.
Free plan with unlimited users
Professional, $9.80 user/month
Business, $24.80 user/month
Enterprise plan, request a custom quote
Pinnacle, request a custom quote
Why Is Wrike the Best ClickUp Alternative?
Wrike provides a gallery of templates available for different purposes. But, in contrast to ClickUp, if you can't find a required template in Wrike's base, contact the vendor's experts for help. In addition, while the ClickUp project management software is full of features, it can't compare to Wrike's visual proofing system and automated approval.
Microsoft Project
Microsoft Project is a comprehensive project management tool part of the Microsoft 365 family. Thanks to its powerful features, it can fit SMBs and large businesses.
Microsoft Project empowers team members and stakeholders to work on the same task lists and schedules to edit and update them. You can also gather project and non-project time for invoicing and payroll. And you can track the project progress, similar to ClickUp portfolios.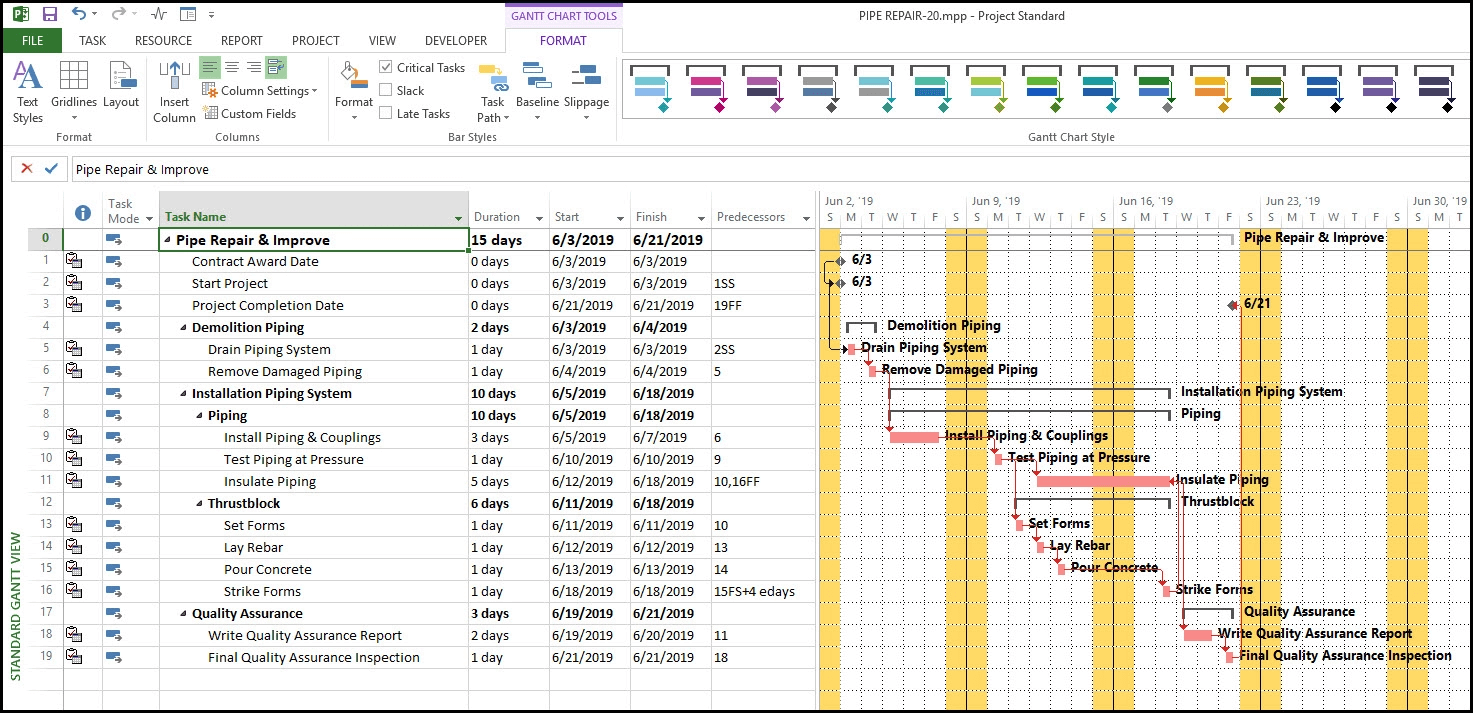 Resource management in Microsoft Project. Source: Microsoft
List of Key Microsoft Project Features
Project home
Grid view
Board view
Timeline view
Coauthoring
Collaboration and communication
Project planning and scheduling
Roadmap
Reports
Resource management
Demand management
Portfolio selection and optimization
What Is Microsoft Project Pricing?
Unlike most of ClickUp's competitors, Microsoft Project offers cloud-based and on-premises solutions. If you set up an on-premise version, you pay once. Let's see what cloud-based options Microsoft Project includes:
Project Plan 1, $10/user/month with Project Online Essentials
Project Plan 3, $30/user/month with Project Online desktop client
Project Plan 5, $55/user/month with Project for the web and Project Online
Why Is Microsoft Project Better than Other ClickUp Competitors?
Microsoft Project is robust in terms of the more detailed aspects of project management, like timesheets, resource management, and customized reports. In contrast to some ClickUp alternatives, this task management software can empower you to estimate budgets.
Or use can set up default templates to get started. Then, you can simply create a project plan and dig into your resources. But, you need some training to work with Microsoft Project.
Freedcamp
Freedcamp is a collaboration tool with an emphasis on project management. The solution focuses on helping users track time and issues and streamline projects. As a project management system, this ClickUp alternative is as straightforward as possible.
Freedcamp's key advantage is its free plan that supports unlimited tasks, users, projects, and storage. Like ClickUp tasks, Freedcamp includes task lists, a Kanban board, and Gantt charts to plan and schedule work in advance.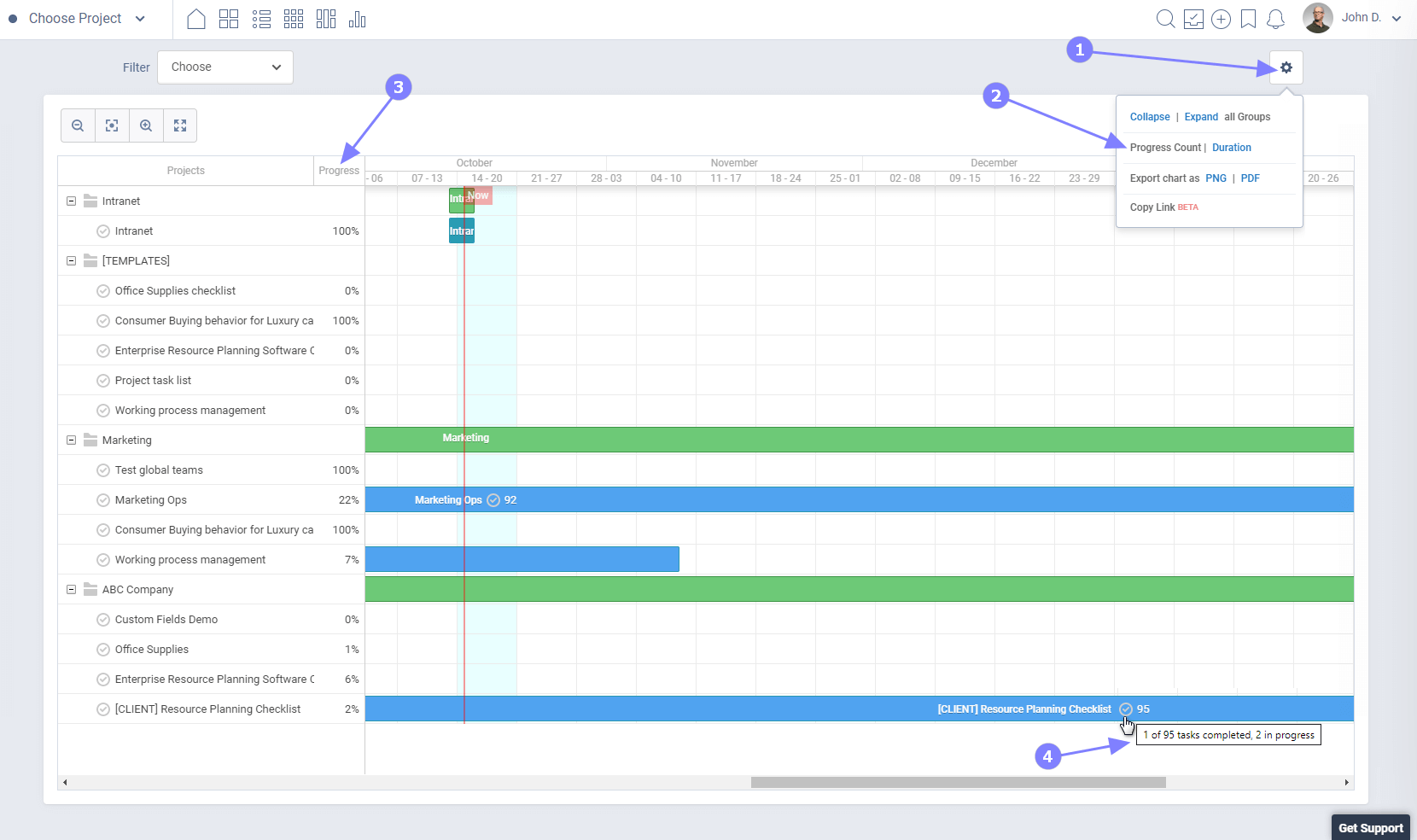 Resource view in Freedcamp. Source: Freedcamp
Core Features of Freedcamp
Public projects
Tags
FileEdit
Data snapshots
White labels
Table view
Data feed links
Bulk edit
Recurring tasks
Issue tracker
Invoices+
Project templates
Reports
How Much Does Freedcamp Cost?
All Freedcamp pricing plans include unlimited tasks, projects, and storage. You can choose between a free plan or paid options. Or you can try out a 14-day free trial.
Free with unlimited collaborators and standard support
Pro, $2.49/user/month, and premium support
Business, $8.99/user/month, and advanced support
Enterprise, $19/user/month, and lightning-fast support
Why Use Freedcamp Instead of ClickUp?
When you work with Freedcamp, you can be 100% sure of security. This list includes SSO, 2FA, and account permissions features.
You can leverage a shared team calendar, time tracking, task prioritization, and scheduler to achieve work goals. And you can create detailed invoices if you combine invoicing and time-tracking features.
Basecamp
Basecamp is a lightweight project management system that you can set up overnight. This collaboration tool comes up with various communication functions instead of delivering only functionality related to project management. Mainly, it includes a Campfire, where your teammates can communicate in real-time.
Similarly, Basecamp offers client access to invite external users to overview specific tasks and projects. And you can use a Message Board to share announcements and ask questions. Or use Pings for direct messaging.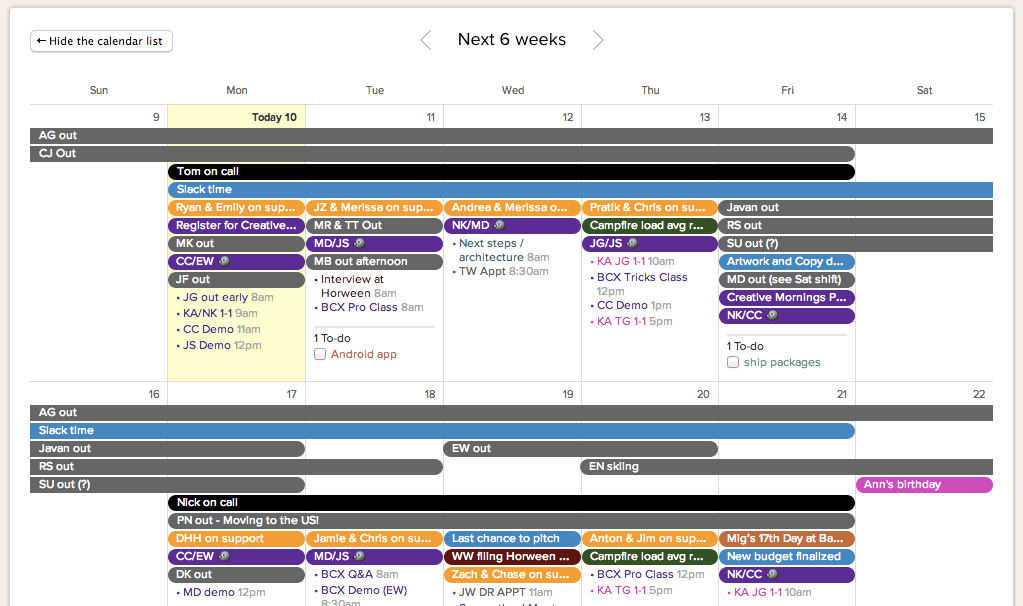 Calendars in Basecamp. Source: Basecamp
What Basecamp Features to Consider?
Home Board
Message Board
Chat
To-do Lists
Docs & Files
Campfire
Card table
Schedule
Hill chart
Pings, direct messaging
Mobile apps
Reporting and analytics
Notifications
Integrations
Latest activity
Templates
Client Access
What Is Basecamp Pricing?
Basecamp has a relatively simple approach to pricing: two paid options. But, you can try each plan with a 30-day free trial.
Basecamp, $15/user/month, billed monthly
Basecamp Pro Unlimited, $299/month for unlimited users, billed annually
Why Choose Basecamp Instead of ClickUp?
Basecamp might be your suitable alternative to ClickUp if you need an all-in solution. It also includes a real-time group chat, which is missing in ClickUp. In addition to its cloud-based solution, Basecamp is compatible with iOS, Android, Mac, and PC.
Plus, it's a perfect option if you need unlimited users. Or you require a Hill chart to know where projects stand still.
Notion
Notion is a versatile task management system used for various purposes. In other words, you can track your work progress, create to-do lists, or brainstorm ideas. After that, you can categorize every item into folders for easy retrieval.
One of Notions' strong points is its collaboration tool capabilities. In short, you can create shared files with your teammates through third-party apps like Typeform, Google Calendar, and Google Drive, etc.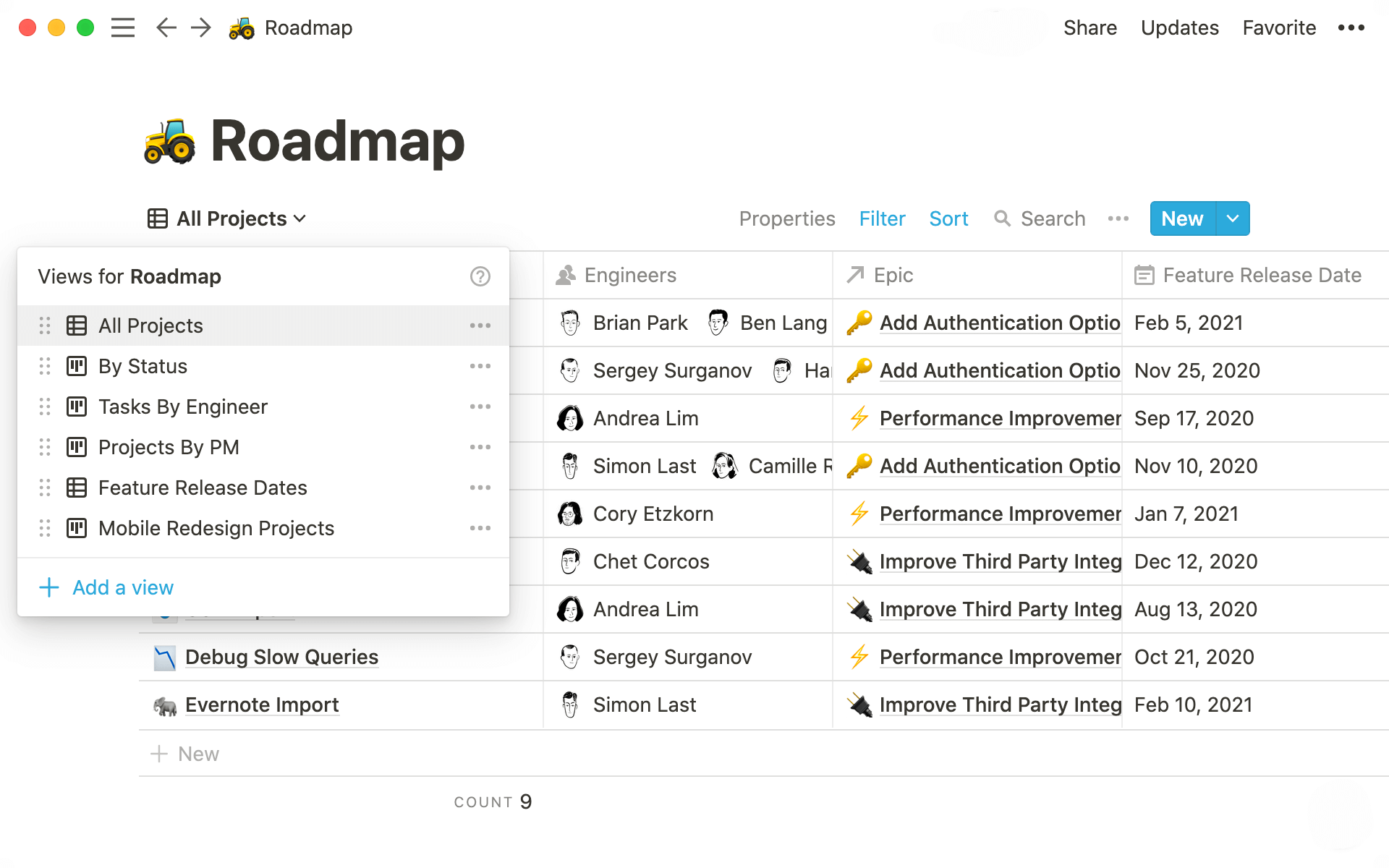 Database view in Notion. Source: Notion
List of Notion Features
Collaborative workspace
Basic page analytics
Audit log
Private team spaces
Collaborative workspace
Guest collaborators
Customizable database for a variety of purposes
Dynamic link previews
Public API
Unlimited blocks for teams, page history, and file uploads
Integrations with various tools
Notion Pricing Structure
Notion delivers a free plan with various outstanding features to organize every corner of your work and personal life. Most of all, you can choose paid plans when your business grows.
Free with 10 guests
Plus, $8/user/month, billed annually
Business, $15/user/month, billed annually
Enterprise, request a custom quote
Why Is Notion a Good ClickUp Free Alternative?
In any case, Notion works excellently as a note-taking tool and as a decent project management system. While this task management software isn't robust like ClickUp, it does deliver unique features. For example, you can link effective content between your project boards. In addition, you can connect existing cards or link tasks with the preserved data.
Airtable
Airtable is a suitable ClickUp alternative if you need spreadsheet-based task management software. It can help you create databases to tackle your projects. Then again, you can simplify your to-do lists and create automations.
Airtable also lets you benefit from project reports to see your work output. It includes an intuitive interface adaptable for beginners to manage workflows and organize projects.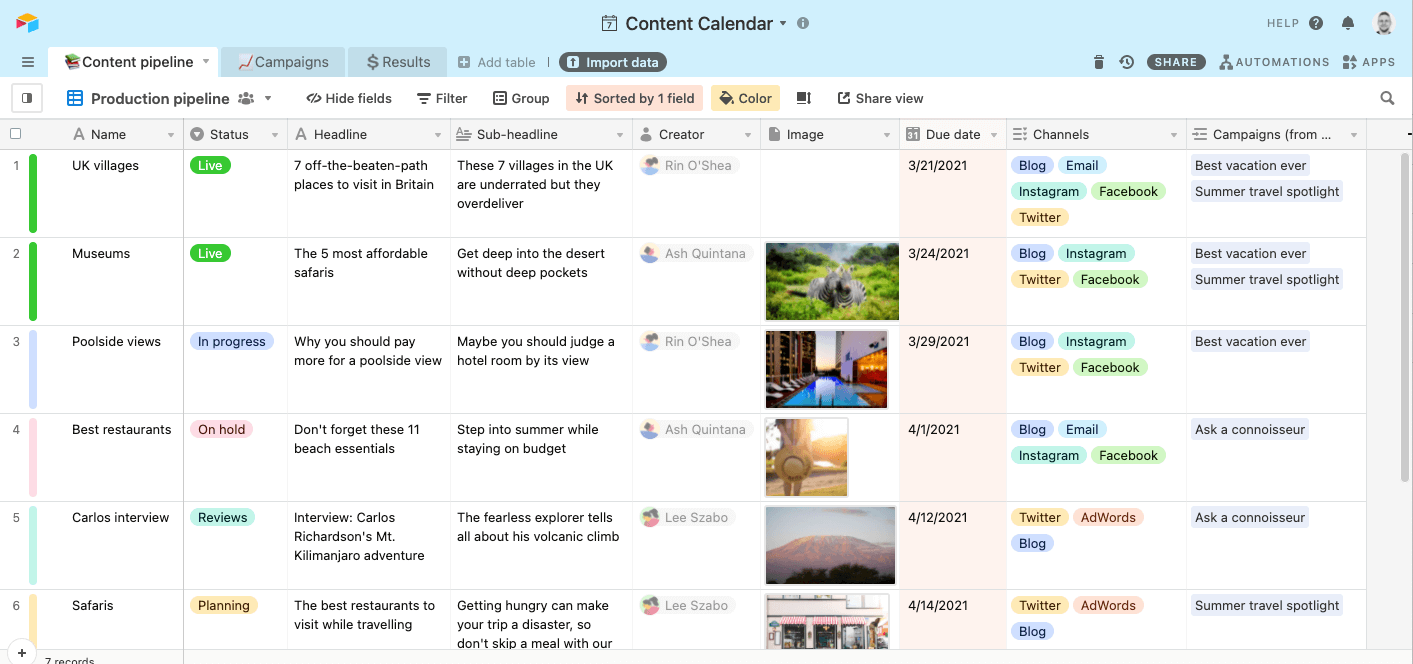 The view sidebar in Airtable. Source: Airtable
What Airtable Features to Consider?
Unlimited bases
Unlimited commenter & read-only users
Custom branded forms
Revision & snapshot history
Interface designer
Automatic table syncing
Gantt & Timeline views
Personal & locked views
Granular interface permissions
Field & table editing permissions
What Is Airtable Pricing?
Airtable has four pricing options you can choose from, including a free plan with unlimited bases. You can also test out a free trial.
Free for up to 5 users
Plus, $10/seat/month, billed annually
Pro, $20/seat/month, billed annually
Enterprise, request a custom quote
Why Is Airtable the Best ClickUp Alternative?
Airtable stands out as one of the best ClickUp alternatives due to its interface, Grid view, real-time collaborative experience, and calendar views. Moreover, the task management software simplifies the onboarding process with documentation, live online webinars, and video training.
Its free pricing plan also offers a great alternative to ClickUp project management. This Airtable option provides 2GB of attachments and up to 1,200 records per base.
Avaza
Avaza is task management software well-suited to SMBs and growing startups. The project management tool covers resource tracking, invoicing, collaboration capabilities, and timeline visualization, similar to the ClickUp timeline view.
In addition, Avaza includes a goal tracker so you can enter the total work time spent on a specific task or project. Then you can send invoices to the clients. And if you manage international teams, Avaza is available in multiple languages.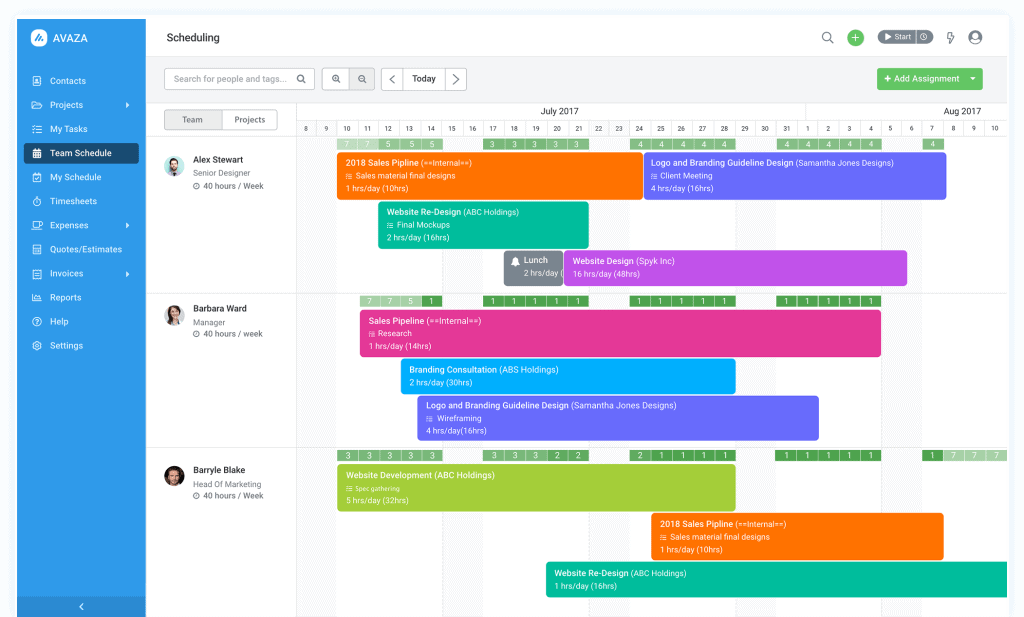 Scheduling in Avaza. Source: Avaza
Core Features of Avaza
Project collaborators
Active projects
Recurring invoicing & bills
Customers
External contacts with chat access
Resource scheduling access
Timesheet access
Expense access
Team members with chat access
Quotes & expenses
Business reporting
How Much Does Avaza Charge?
This task management software provides four various options, including a free plan. Every plan includes project collaborators, external contacts with chat access, and customers. The price depends on the number of admins, timesheets, team members, resource-scheduling users, and active projects.
Free with unlimited project collaborators
Startup, $11.95/month
Basic, $23.95/month
Business, $47.95/month
Why Choose Avaza among ClickUp Competitors?
While the Clickup project management software tackles fundamental project management processes, Avaza goes a step further with additional functionalities like timesheets, quoting, and expense tracking. And another thing is, Avaza lets you create customized invoices and manage multiple bills at the same time.
Above all, this alternative to ClickUp project management gives instant feedback on project progress so your team can ensure everything goes according to plan. And you have an iCalendar feed to identify your pending tasks.
YouTrack
YouTrack is an agile project management system designed to adapt to mixed and proprietary processes for Kanban and Scrum entrepreneurs. The tool is designed to help your team with issue tracking, ticket management, workflows, and time management. But that's not all; YouTrack delivers the best search capabilities among other ClickUp competitors.
Primarily, YouTrack works as an issue-tracking tool. This task management software can enable you to modify issues with your keyboard or search them, which is a big plus compared to ClickUp search.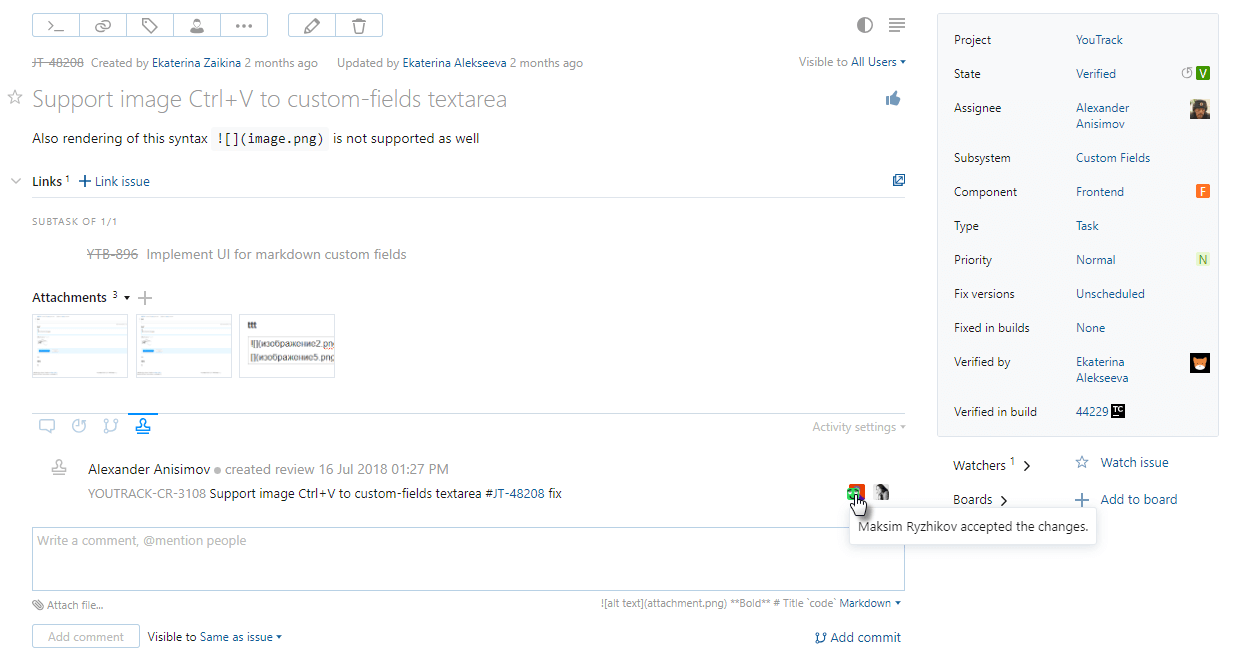 Code review in YouTrack. Source: Jetbrains
What Are the Key YouTrack Features?
Task management
Capacity planning
Gantt chart
Agile boards
Team collaboration
Knowledge base
Workflows
Customization
Integrations
Onboarding pack
YouTrack mobile
A Sneak Peak of YouTrack Pricing
This alternative to ClickUp project management provides two versions: a cloud version and a server version. YouTrack also includes special offers for startup companies, non-profit organizations, or when migrating from another tool. A cloud version delivers:
1-10 users, free plan
11+ users, $3.67/user/month
Note: Discount grows with the number of users when choosing more than 11+ users.
Why Pick YouTrack Instead of ClickUp Project Management?
If you are considering an on-premise tool, then YouTrack might be the one. It supports many processes, has solid agile support, and offers many reports.
Like ClickUp, YouTrack provides custom workflows, which is more than a scheme of possible issue states. But the workflow is more like an automation script so that you can customize the tracker to your particular business needs.
Zoho Projects
Zoho Projects is a popular project management tool by startups and SMBs as a cheap ClickUp alternative. Aside from its affordable monthly plans, the project management software is famous for its excellent ease of use and rich features.
In Zoho Projects, you can juggle multiple projects simultaneously, while ClickUp lags a little bit. Moreover, it's easy to visualize, deploy workflows, and deliver excellence with Zoho Projects. And you can integrate other Zoho products if needed.
Core Zoho Projects Features
Kanban boards
Analytics and reporting
Automation and workflows
Issue tracking and bug tracking
Subtasks, timers, and reminders
Custom status and views
Gantt chart
Calendar & forums
Project feed
Basic task and issue reports
Task management
How Much Does Zoho Projects Cost?
Unlike some ClickUp alternatives, Zoho Projects only offers three pricing options, including a free plan. You can start a 10-day free trial or save a 12% discount per user paid yearly.
Free plan with up to 3 users, 2 projects, and limited storage space
Premium, $5/user/month, billed annually
Enterprise, $10/user/month, billed annually
Why Is Zoho Projects a Great ClickUp Alternative?
Unlike ClickUp, Zoho Projects allows you to switch several color themes and two modes, light and dark. Furthermore, Zoho Projects might be a better choice for enterprises because it offers a wider range of features. Several people believe Zoho Project's free plan outdoes ClickUp's free plan for small businesses and startups.
Hive
Hive is yet another alternative to ClickUp project management software suitable for teamwork optimization. You can fine-tune automated workflows to unify your handling of various recurring tasks.
But that's not all; you can switch between multiple views like a list, Kanban, Gantt, or calendar view for maximum flexibility. Then again, Hive has features to set up detailed forms, customize the questions, and collect data. This task management software is more beneficial for teammates needing the best planner app.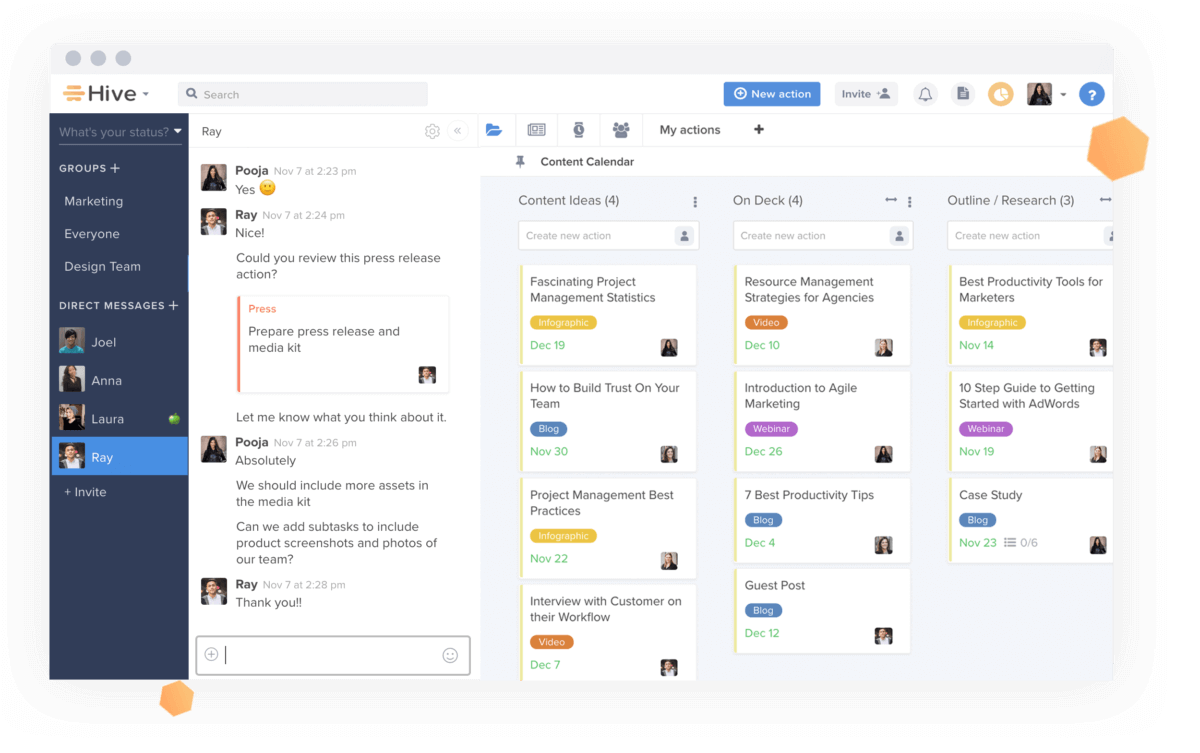 Hive for project management. Source: Hive
List of Hive Features
Automated workflow management
Agile tracking
Collaborative notes
Custom emojis
Multiple project views (Gantt chart, Kanban board, Table view, Calendar)
Team-wide resourcing
Desktop, iOS, and Android apps​
Advanced team collaboration
Auto-schedule meetings
Integrations
Project and Action templates
What Is Hive Pricing?
Among all ClickUp competitors, Hive offers a pricing structure; you can choose three pricing options.
Free plan, up to 10 users, and 200MB storage
Teams, $12/user/month with unlimited storage
Enterprise, request a custom quote
Why Is Hive the Best ClickUp Alternative?
If your team is looking for a more streamlined tool than ClickUp, this task management software is for you. You can run a centralized workflow management tool to provide the necessary information.
Unlike ClickUp's everything view, Hive includes a customizable summary view. It lets you streamline all your tasks with actions and sub-actions. Similarly, Hive delivers a team view, which is missing in ClickUp. Also, you can turn on real-time communication via a built-in chat.
Smartsheet
If your business grew up on Excel, Smartsheet is one of the best ClickUp alternatives. The task management software is based on a table view, similar to a spreadsheet.
In short, Smartsheet is a good choice for companies that work in a solution like Google Sheets or Microsoft Excel. This project management tool also has automation flows to help you minimize redundant work and automate recurring tasks.
Like the ClickUp Gantt chart, Smartsheet also has a similar view. You can also view the projects in Calendar view and Board view if you need to see a project from a different angle.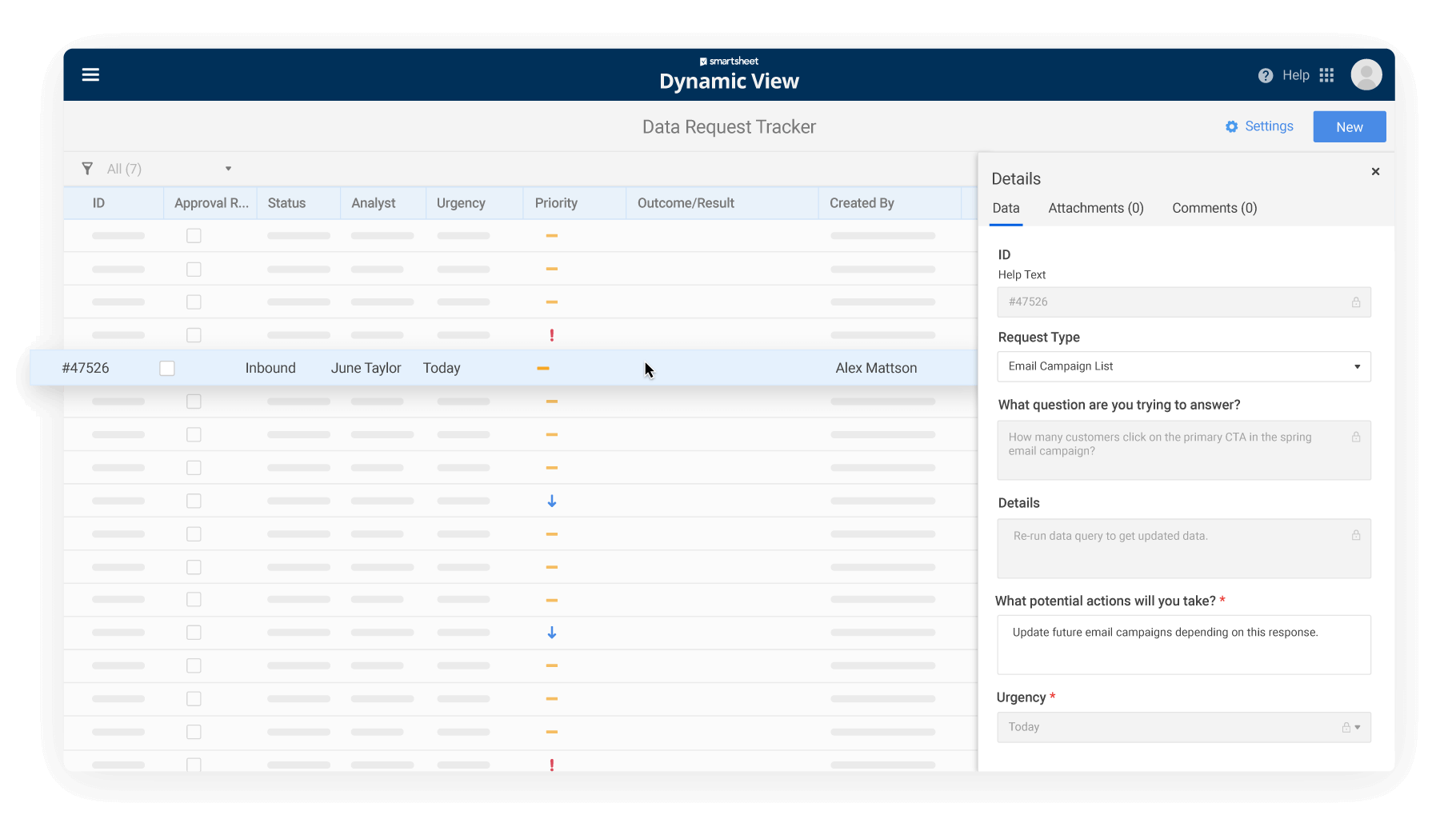 Dynamic view in Smartsheet. Source: Smartsheet
List of Best Smartsheet Features
Unlimited sheets and viewers
Forms
Baseline
Grid, Gantt, Card, Calendar views
Pre-built automation rules
Dependencies
Form with conditional logic
Templates
Automation
Mobile apps
Adobe Creative Cloud Extension
Proofing
Document builder
What Is Smartsheet Pricing?
Frankly, Smartsheet doesn't offer a free plan like some ClickUp alternatives. And, you are limited in users too. However, a free trial is available for the Pro and Business plans.
Pro plan, $7 per user per month, billed annually
Business plan, $25 per user per month, billed annually
Enterprise plan, request a quote
Why Consider Smartsheet as a ClickUp Alternative?
This ClickUp alternative is suitable for workflow automation and content management functions. Beyond that, this task management software includes team collaboration features to get everyone on the same page. Moreover, Smartsheet has resource availability to help you estimate resourcing needs. Also, you can use digital asset management to distribute assets.
How to Plan Data Migration from ClickUp?
Let's imagine you've picked up the ideal ClickUp alternative. But then, how can you migrate your project data from ClickUp? Here's a brief guide to doing so.
1. Prepare your team.
Inform them about data migration in advance. This way, they have enough time to learn how to use the new project management tool. Similarly, they can complete any critical tasks or projects before data migration.
2. Back up your data.
Before you begin ClickUp data export, identify what data you're migrating. Then, list existing projects and back up the needed ones. So you can restore your project data to its original state anytime.
3. Choose a new project management tool.
Enlist all the features you want to have in a new task management software. Next, read reviews on different collaboration tools. Then test out a few with a free plan or a free trial.
4. Choose a migration tool.
If you've chosen the data migration tool, reassess its flexibility and features to see if it meets your requirements. Most importantly, check if the migration app can export all needed project records. This way, you ensure the integrity of ClickUp tasks.
5. Run a Demo Migration.
Connect both source and target project management tools. Then pick up the project you want to import. Afterward, select the data to export and map tasks.
6. Check the result of Demo Migration.
Once the project management migration is complete, ensure your project data is moved correctly. First, compare the imported data on both source and target platforms. Then check if all attachments, tags, comments, or custom fields migrated correctly.
Which ClickUp Alternative Works Best?
Your choice of a ClickUp alternative depends on your needs and preferences. On the contrary, pick up Teamwork if you handle lots of client work. On the other hand, Trello is your best bet if you prioritize having a simple tool to manage a project visually.
On the other hand, Asana is the best ClickUp free alternative, while Basecamp can meet the needs of teams looking for a solution that combines communication and project management features.
But if you need more time to decide, pick each task management software's free plan or trial. Then use Project Management System Migration and set up an automated migration.
Want to migrate from ClickUp?
Let's migrate PM data together!
Try for free