Choosing between Jira vs Monday can take time if you're not familiar with the core features, purposes, and use cases of these project management tools. What's more, besides their strong sides, you need to be aware of their shortcomings. That's why we made this Monday com vs Jira Software comparison of their functionalities, pricing, and pros & cons.
Key Takeaways:
Jira Software is more functional than Monday but it has a tangible focus on the IT industry. Monday is more all-purpose.
Monday offers more customization options, however, they might be overwhelming for some users.
Jira delivers solutions for various teams like sales, marketing, HR, finance, design, etc. Monday is a versatile tool as well, however it lacks depth in functionality.
Jira wins in scalability and it's more affordable compared to Monday.
You can integrate Jira and Monday or migrate data from one platform to another, or run a CSV import.
So, let's start with general information about Monday vs Jira, and then we'll get more specific.
What Is Monday.com?
Monday.com is a collaboration tool that helps PMO (Project Management Office), marketing, sales, and development teams manage projects and work together in real-time. It simplifies team communication and reduces manual work for quick and quality results. Both small and big teams can visualize workflows, set milestones, and track progress with customizable dashboards.
Monday's intuitive interface and straightforward structure attract beginners and tech-savvy users. Place and orchestrate your work and team within workspaces, teams, boards, items, and subitems. You can apply the colored boards and numerous customizations to add the perfect perception.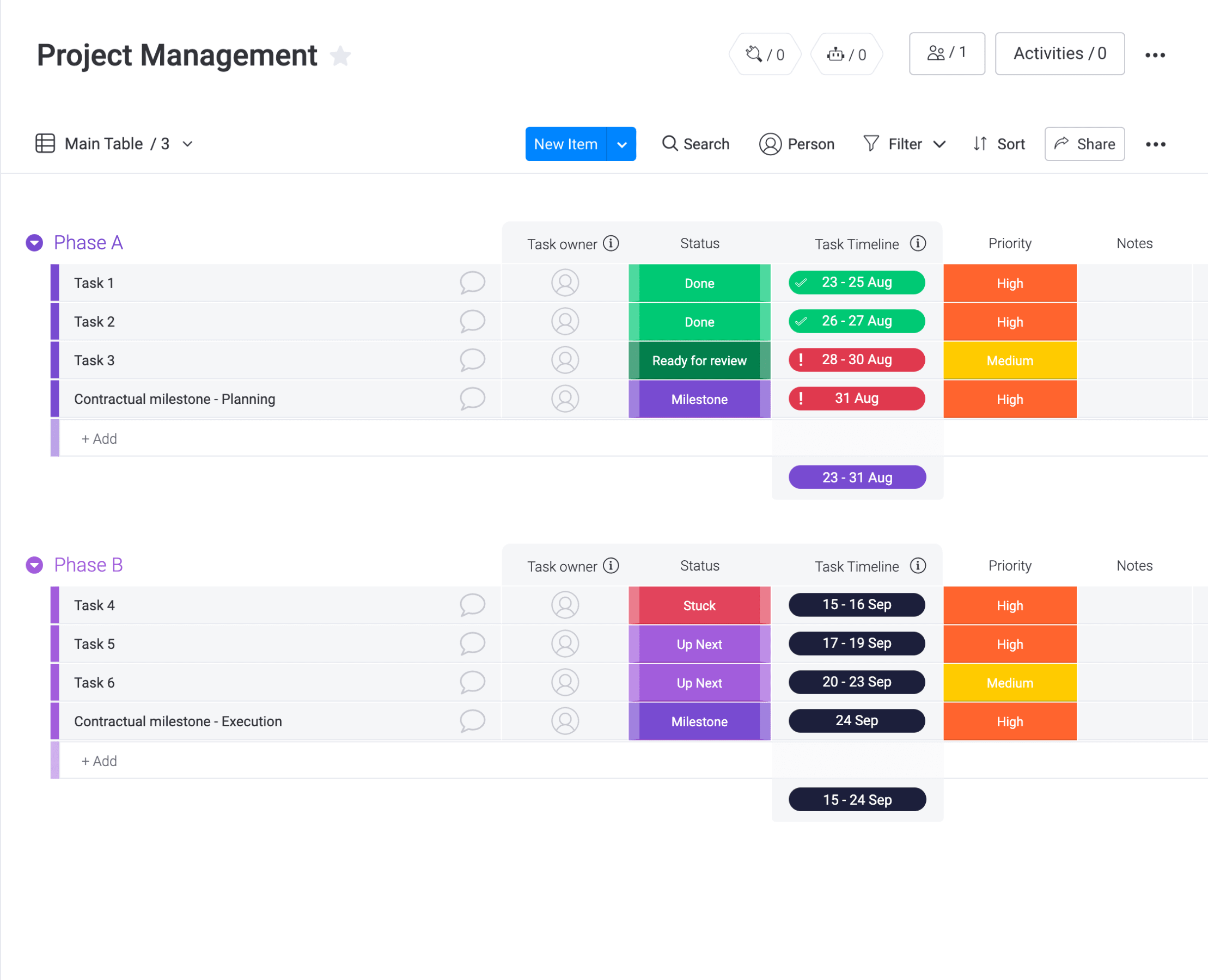 Source: Monday
What Is Jira Software?
Jira Software is a project management system that helps plan and track complex development projects. This software is popular among teams following Agile methodologies like Scrum, Kanban, or hybrid frameworks.
With Jira Software, you can use the workflow templates or build custom workflows. As tasks move through stages like To-Do, In Progress, Teamlead review, Testing, and Done, the team sees the progress and everyone is on the same page. Plus, Jira Software offers a suite of in-depth reports that helps you to collect actionable insights and spot weaknesses.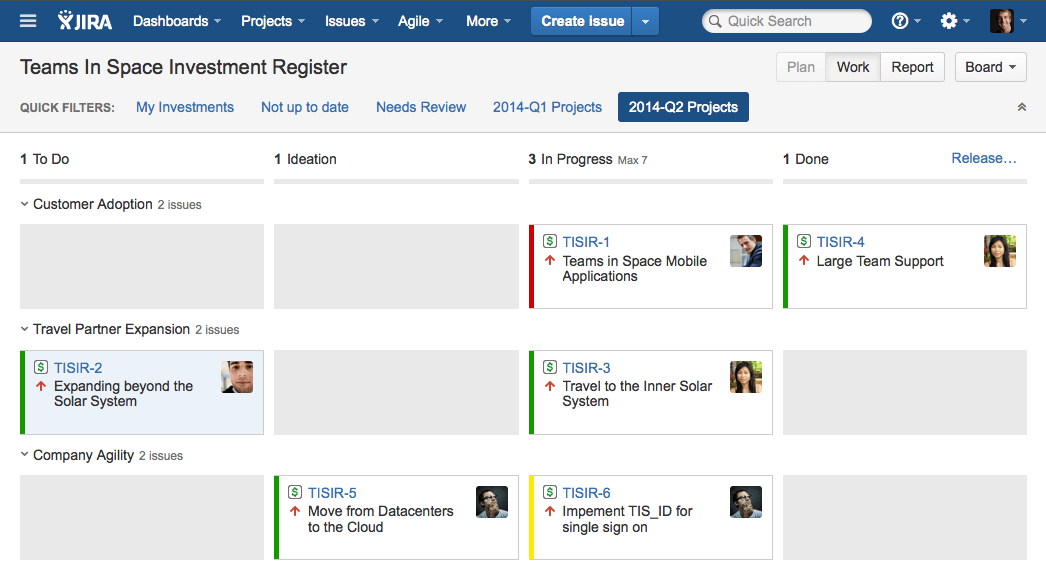 Source: Jira Software
Jira vs Monday: Comparing the Core Features
Both Monday.com and Jira Software deliver rich toolsets but approach project management in different ways. Probably, this results from the initial purpose of these tools - Jira Software was originally designed as a bug tracker when Monday.com was developed as a work management platform. Thus, while Jira is more IT-focused, Monday is more fit-any-business.
Anyways, let's check Monday vs Jira project management tools, so you can analyze their purposes from your perspective.
| | | |
| --- | --- | --- |
| Features | Monday.com | Jira Software |
| Ease of use | Easy | Slight learning curve |
| Business size | SMBs | Medium and large |
| Roadmaps | No | Yes |
| Kanban | Yes | Yes |
| Marketing | Yes | No |
| Integrations | 40+ | 3,000+ |
| Docs | Yes | No |
| REST API | No | Yes |
| Mobile app | Yes | Yes |
What Project Management Tools are Available on Monday?
Templates. Monday provides highly customizable project templates to manage one or several projects. You can check the activities using several views and edit the columns. There are ready-made templates for marketing, sales, software development, and more.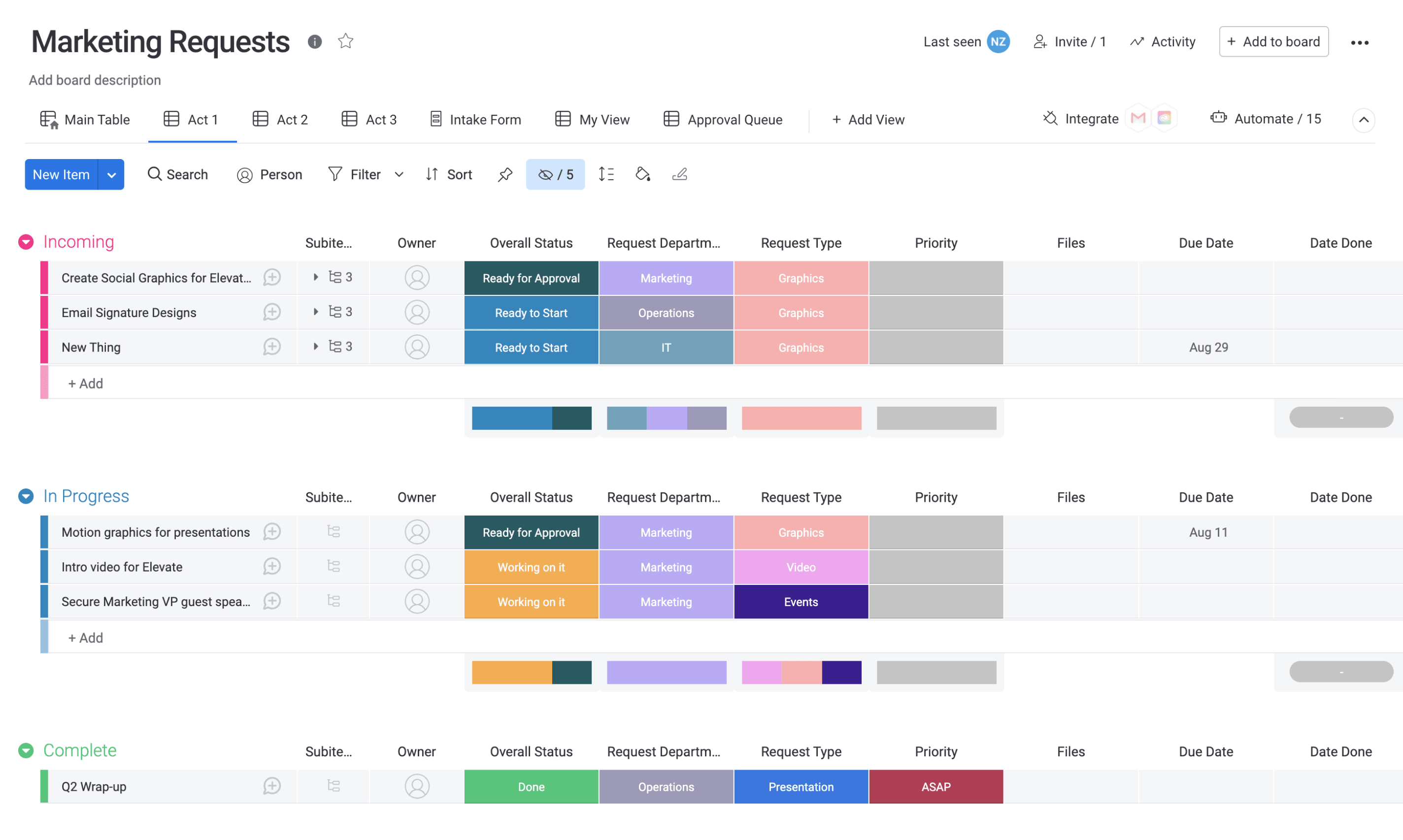 Source: Monday
Project views include Table, Dashboard, Chart, Kanban, Gantt charts, Cards, Form, and Files.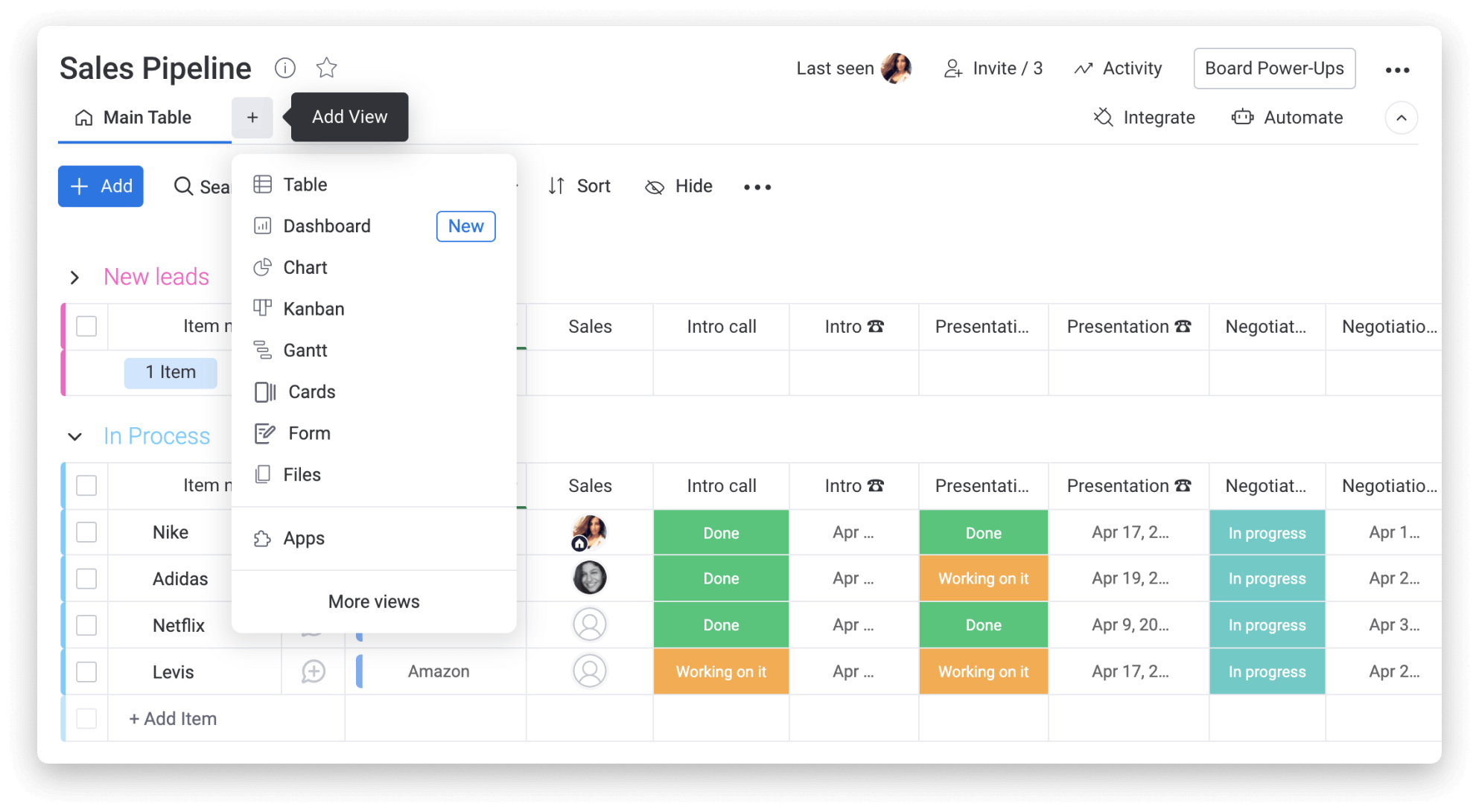 Source: Monday
Agile project management includes real-time reports, backlog, sprint planning, bug tracking, and product launches.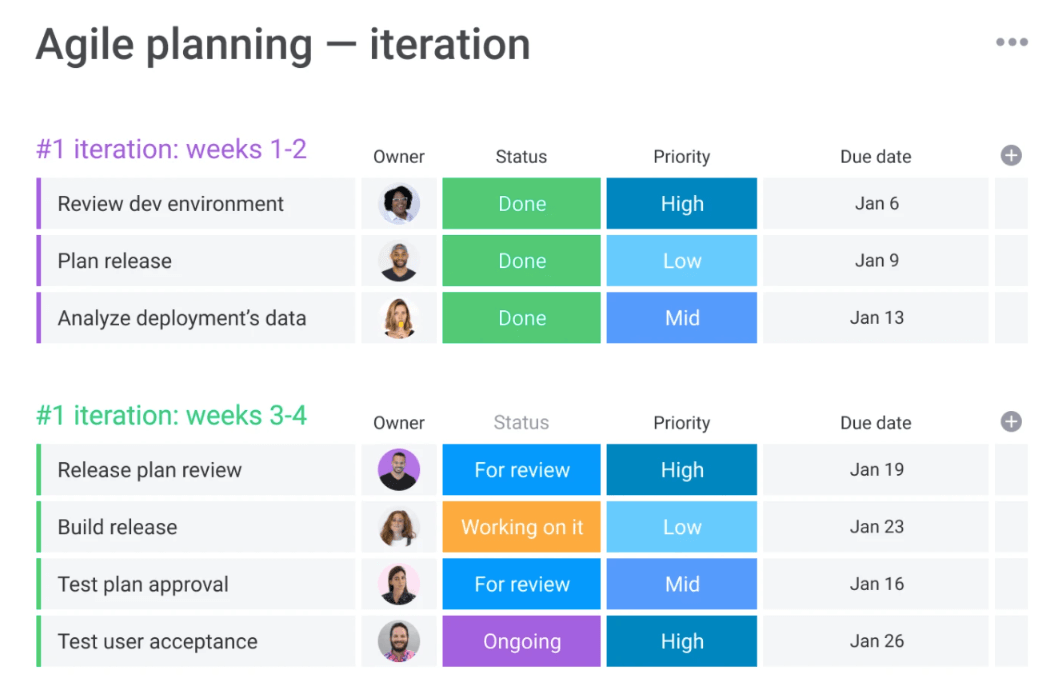 Source: Monday
Team communication. You can send direct messages via @mentions or integrate with Slack and MS Teams.
Time tracking column allows you to log time spent on tasks (start a timer or enter/edit time manually). You can check the time tracking log and track time for subitems.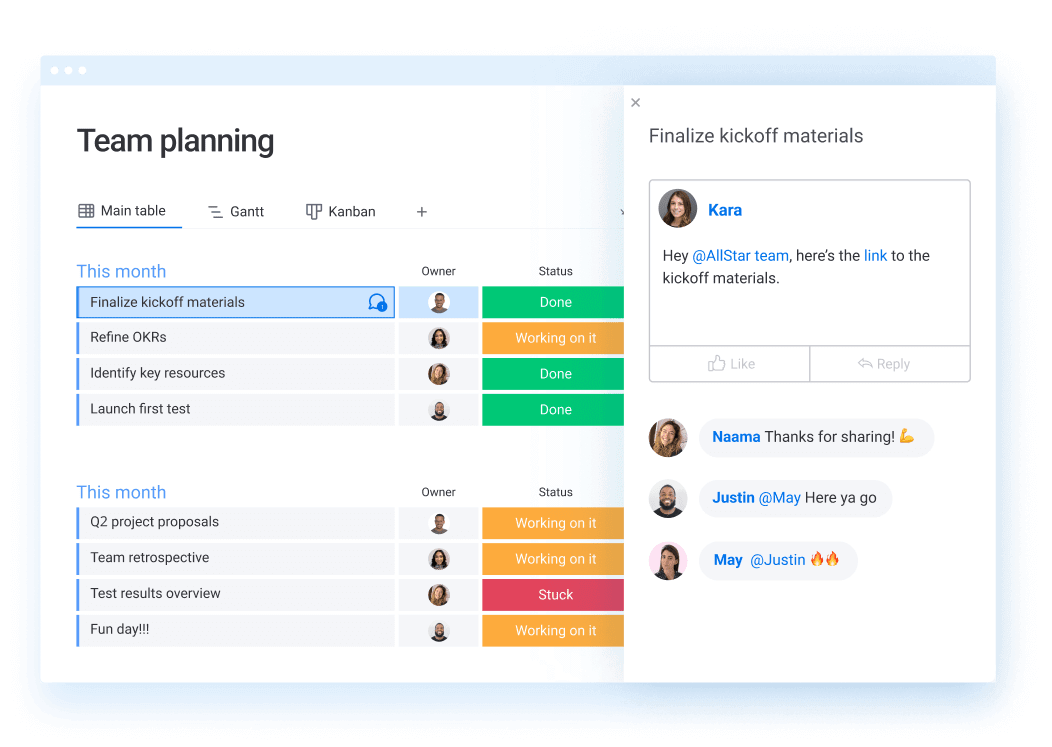 Source: Monday.com
Automations. Apply pre-set automation rules or set custom rules with an automation builder. A trigger can be a column (Status, Date, People, etc.) or an action/event. You can edit, delete, duplicate, or turn automations into templates.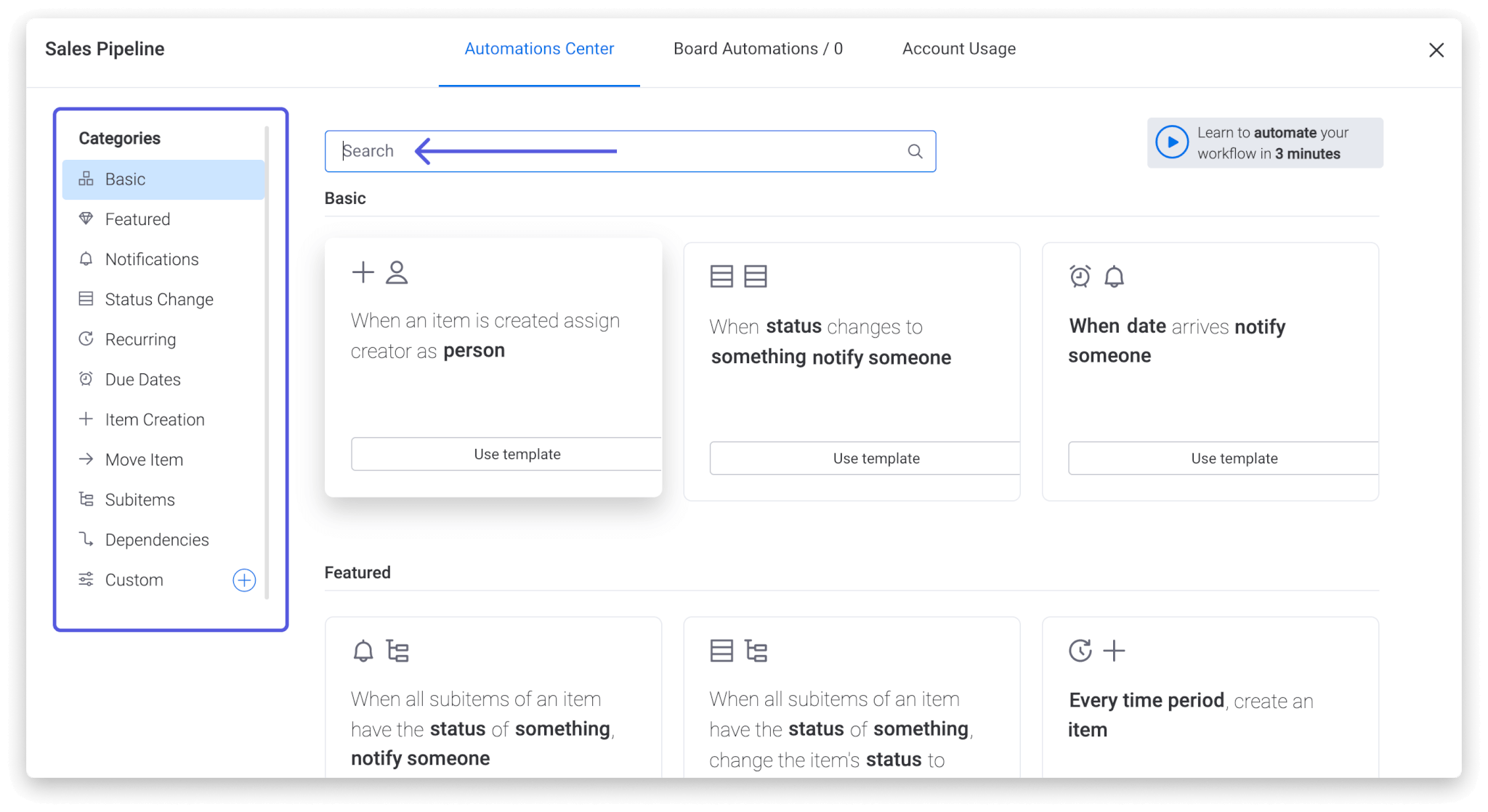 Source: Monday
Reporting. Chart Performance Insights and multiple dashboards show your progress in detail, while the Formula column displays your budget activities. You can generate reports with data from one or several boards and share them with teammates.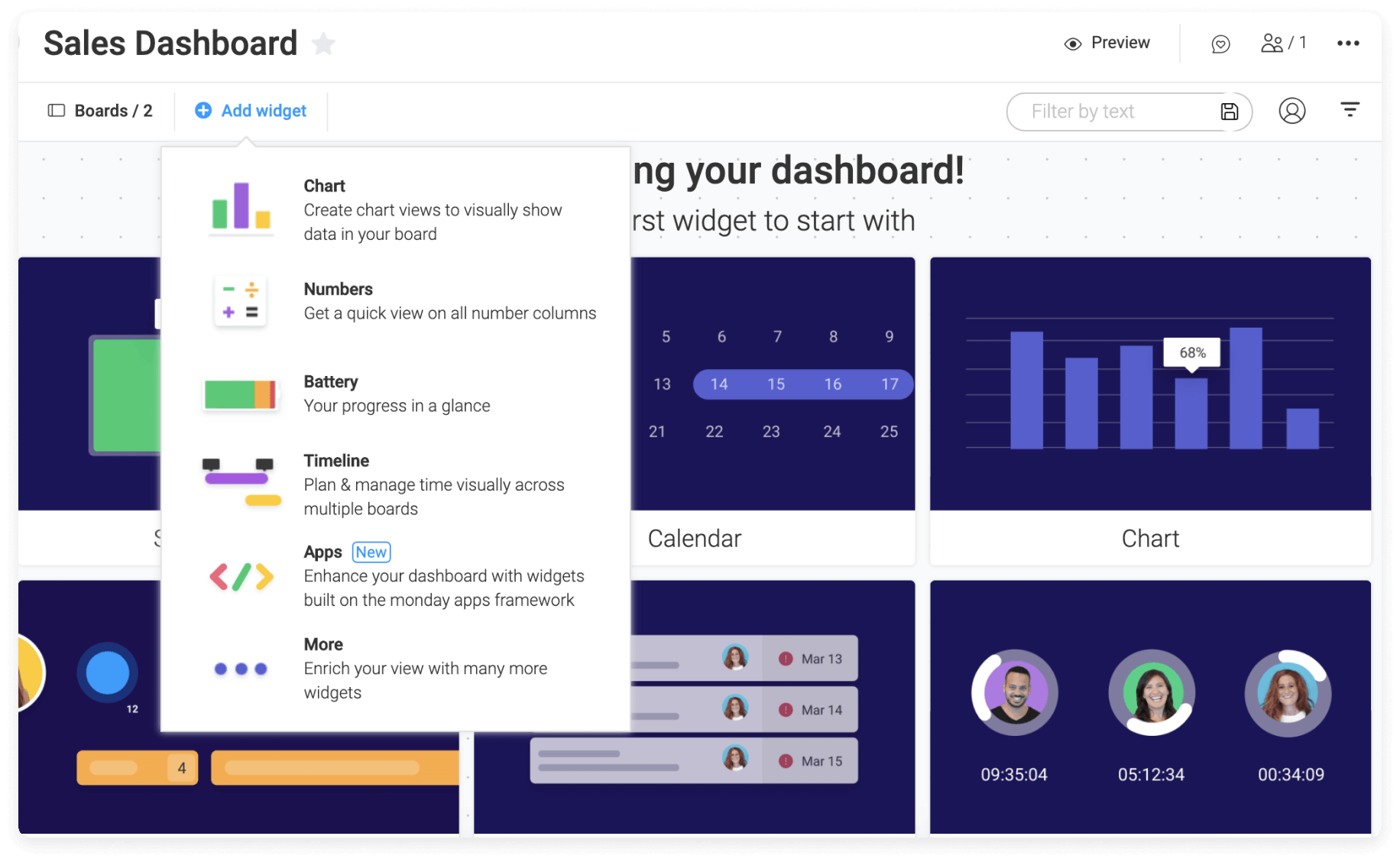 Source: Monday
Customizations. Edit board columns, groups, and views; change coloring, rename items, reorganize or hide columns, and add column summary and a board footer.
Integrations include 40+ apps for marketing, CRM, software development, and project management.
API. With Monday App Framework, you can build apps and custom features like board views, dashboard widgets, and item views.
Mobile app allows you to build boards, communicate with teammates, check updates on dashboards, and get bell notifications.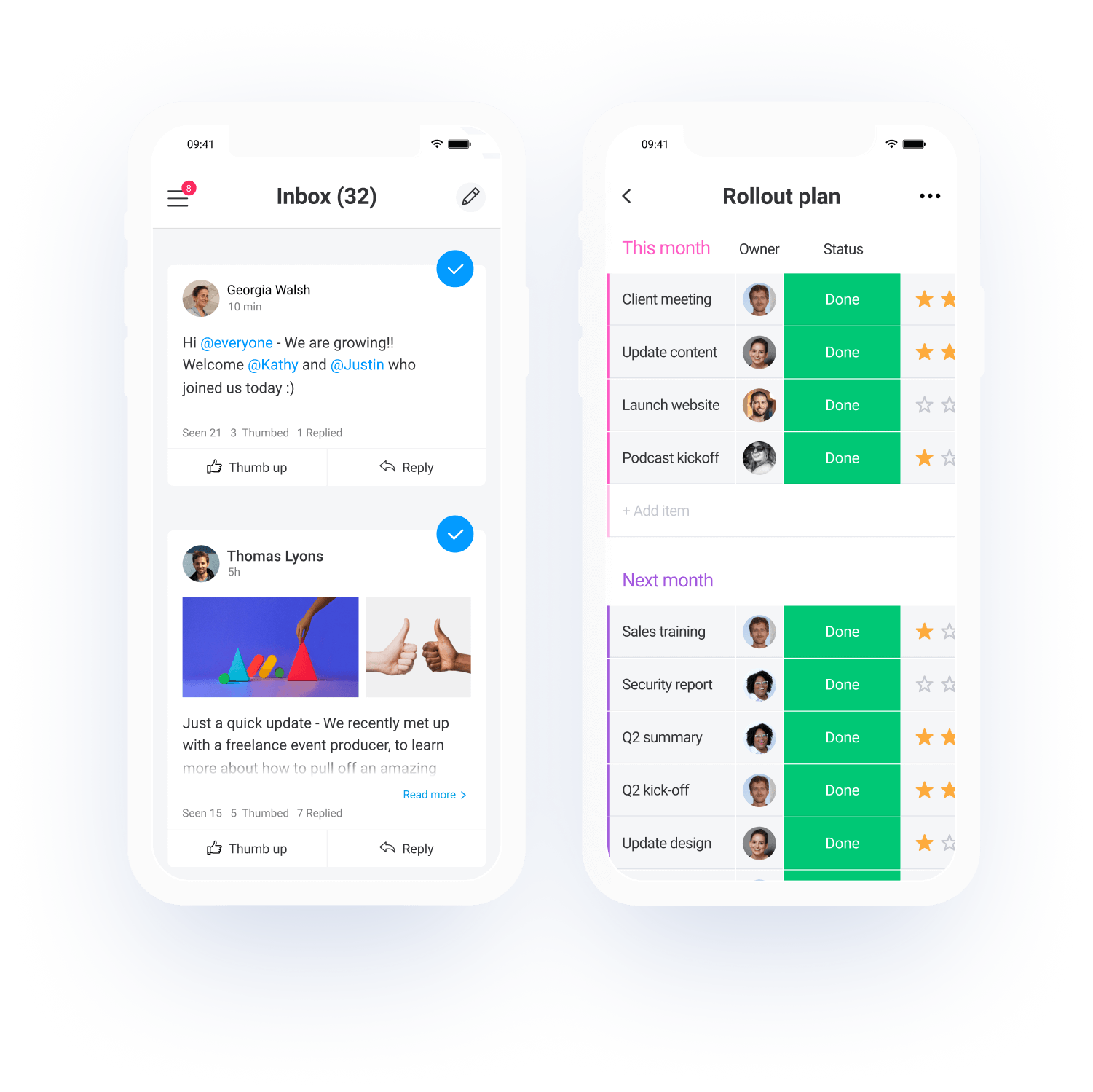 Source: Monday
Security includes 256-bit TLS 1.2 encryption, external security audits, penetration tests, and regular data backups. Servers are stored in multiple data centers of Amazon Web Services.
What Features Does Jira Software Provide?
Templates. Jira brings templates for different purposes like onboarding, sales pipeline, policy management, and more. There's also a ready-made project management template with a dashboard, project views, subtasks, and integrated reports.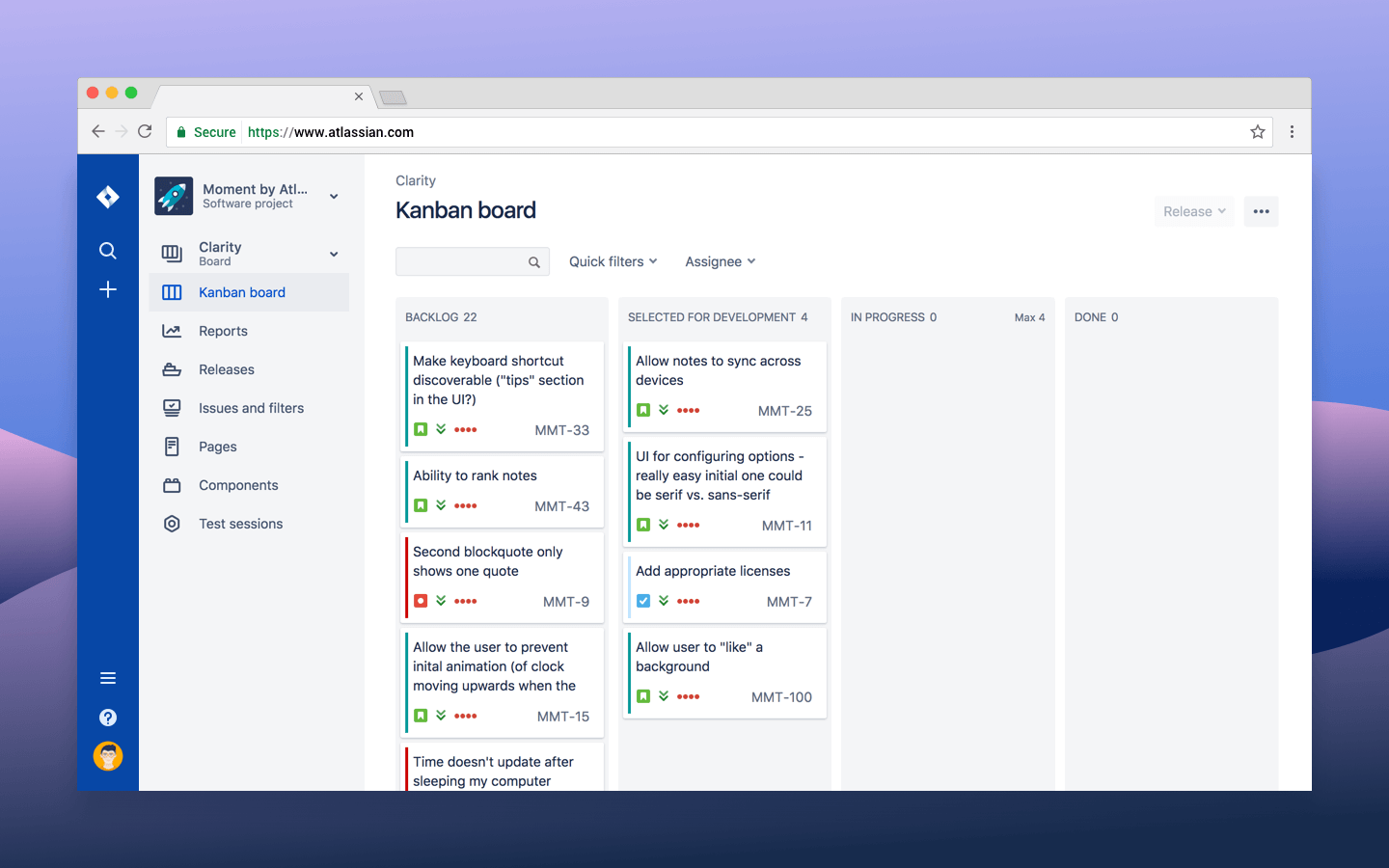 Source: Jira Software
Project views include Summary, List, Calendar, Timeline, Form, and Reports view.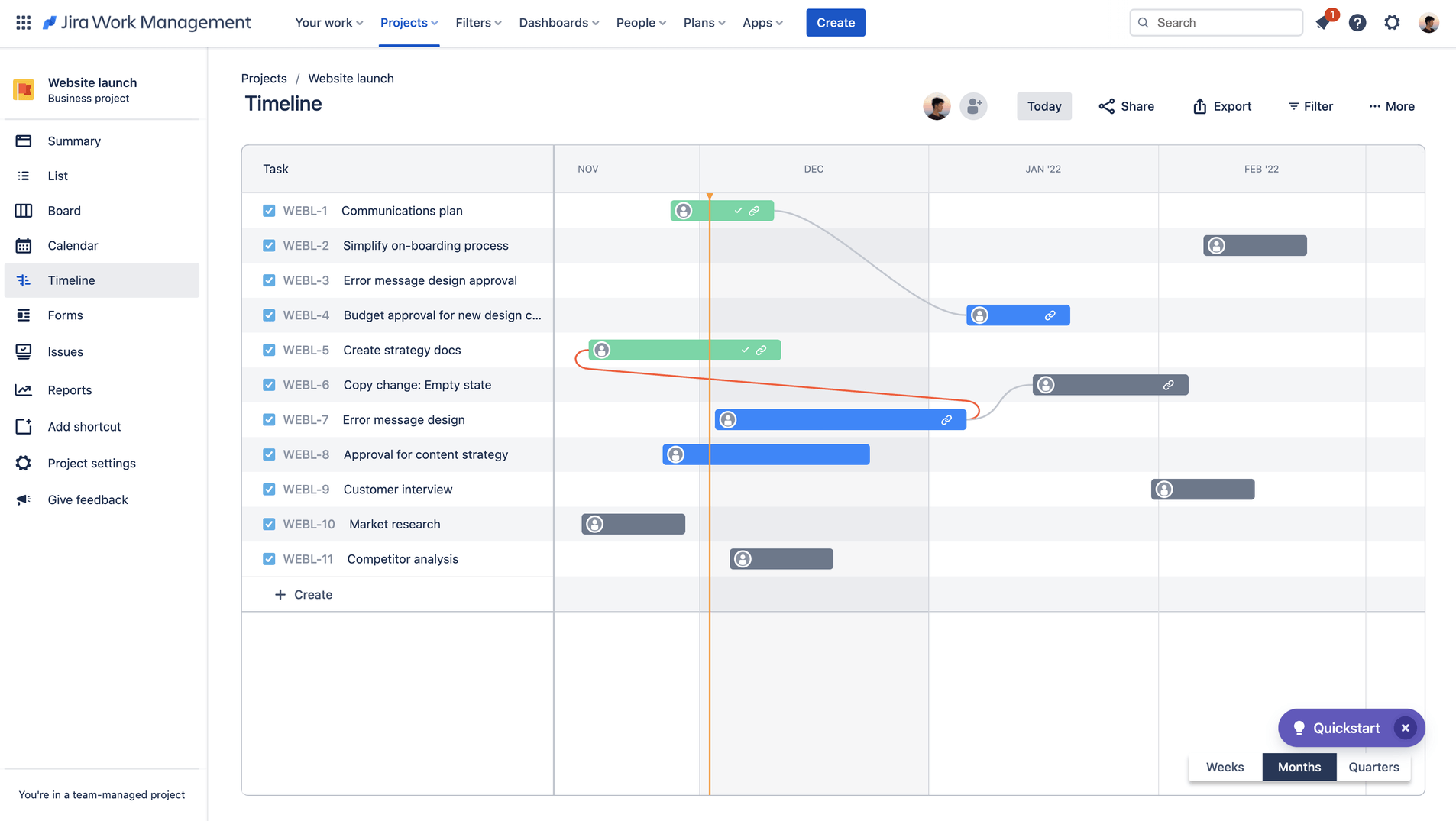 Source: Jira Software
Agile project management. With Jira, you can track progress with Agile boards, use backlogs, track issues, create roadmaps, and control versions.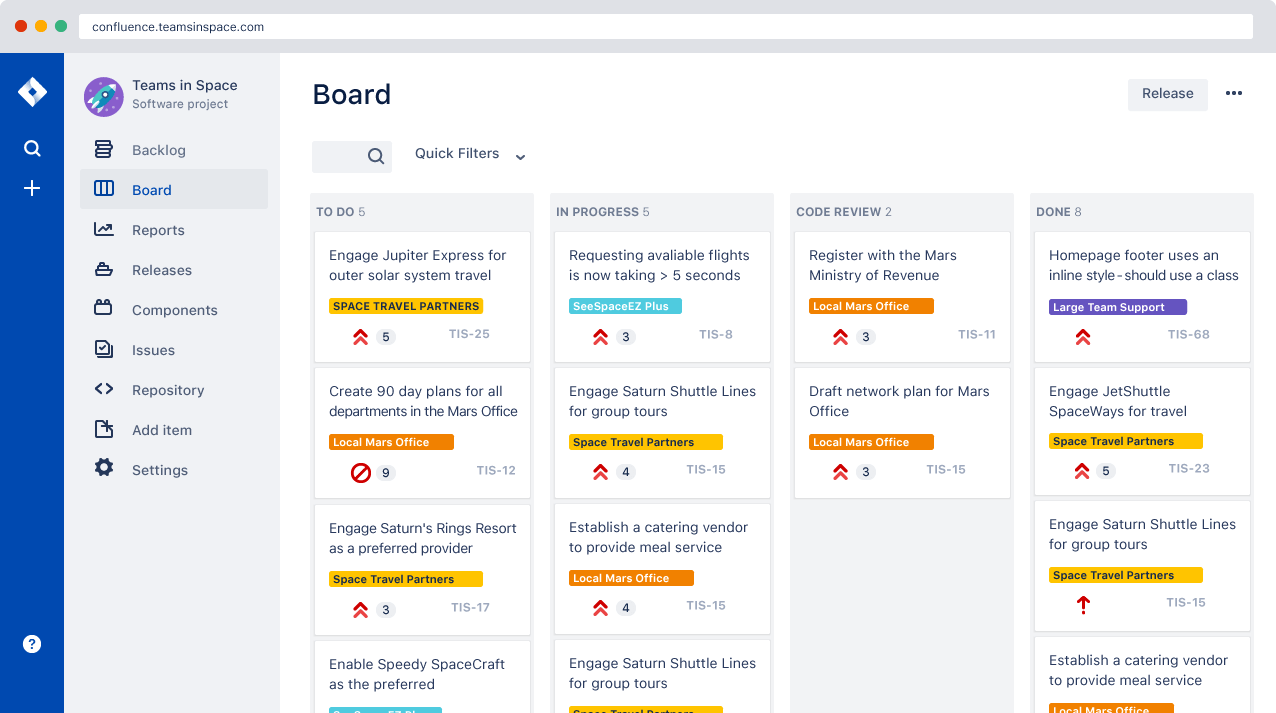 Source: Jira Software
Team communication. Direct messages are possible by integrating Jira and Slack or MS Teams. There's also in-app commenting.
Time tracking is enabled by default. You can configure time tracking permissions and enable/disable time logs for specific projects.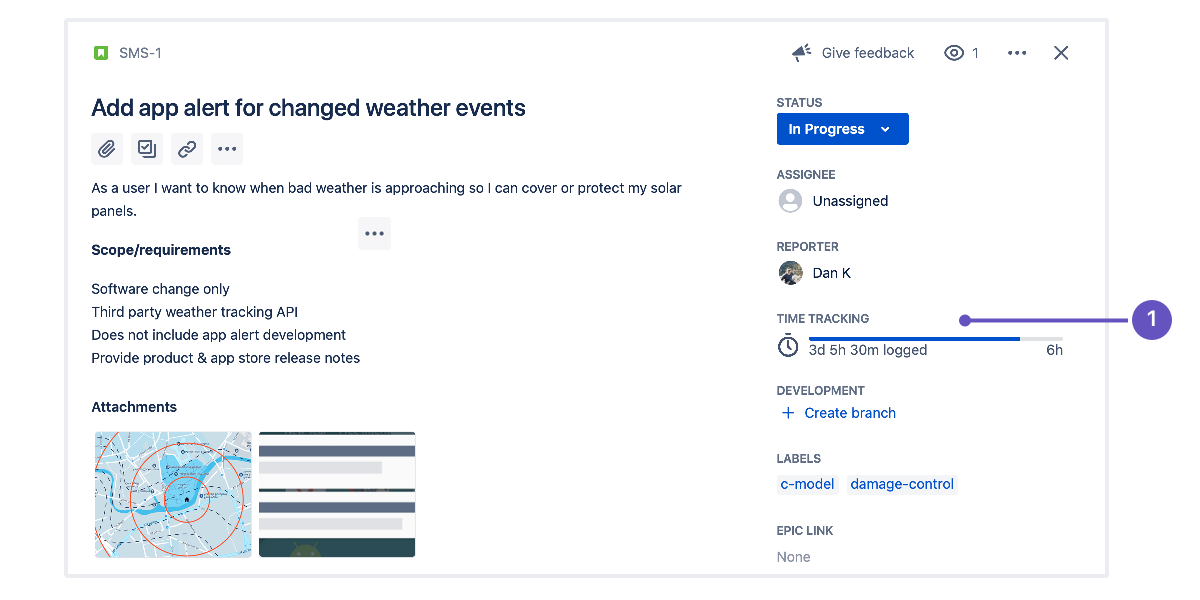 Source: Jira Software
Automations include a custom rule builder and a library with automation templates for different purposes. You can integrate the rules with Slack and GitHub or other apps and apply them to a single project or multiple projects simultaneously.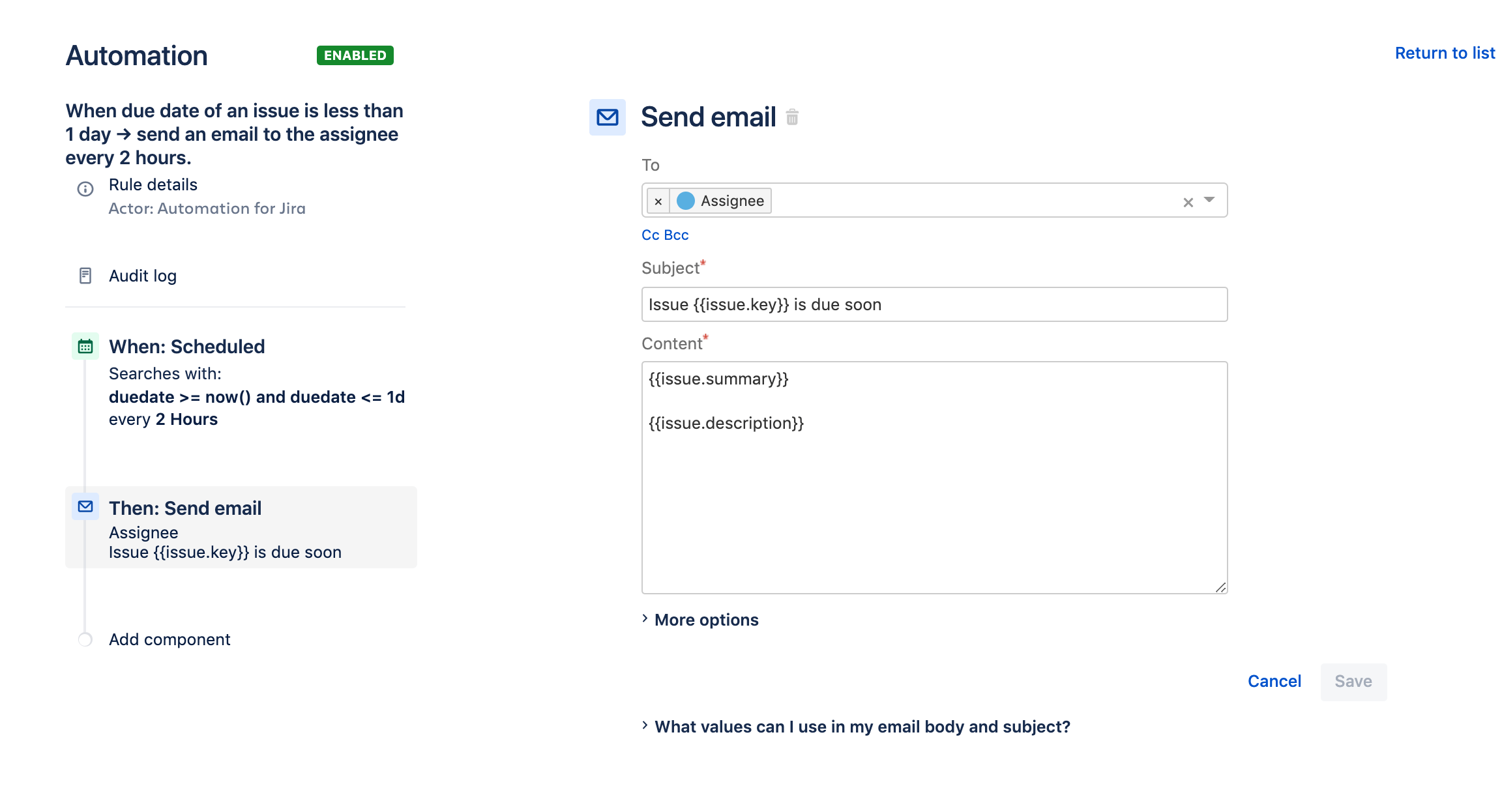 Source: Jira Software
Reporting on Scrum and Kanban activities, issue analysis, and forecasts are available. These include sprint report, burndown chart, velocity chart, control chart, time tracking report, etc.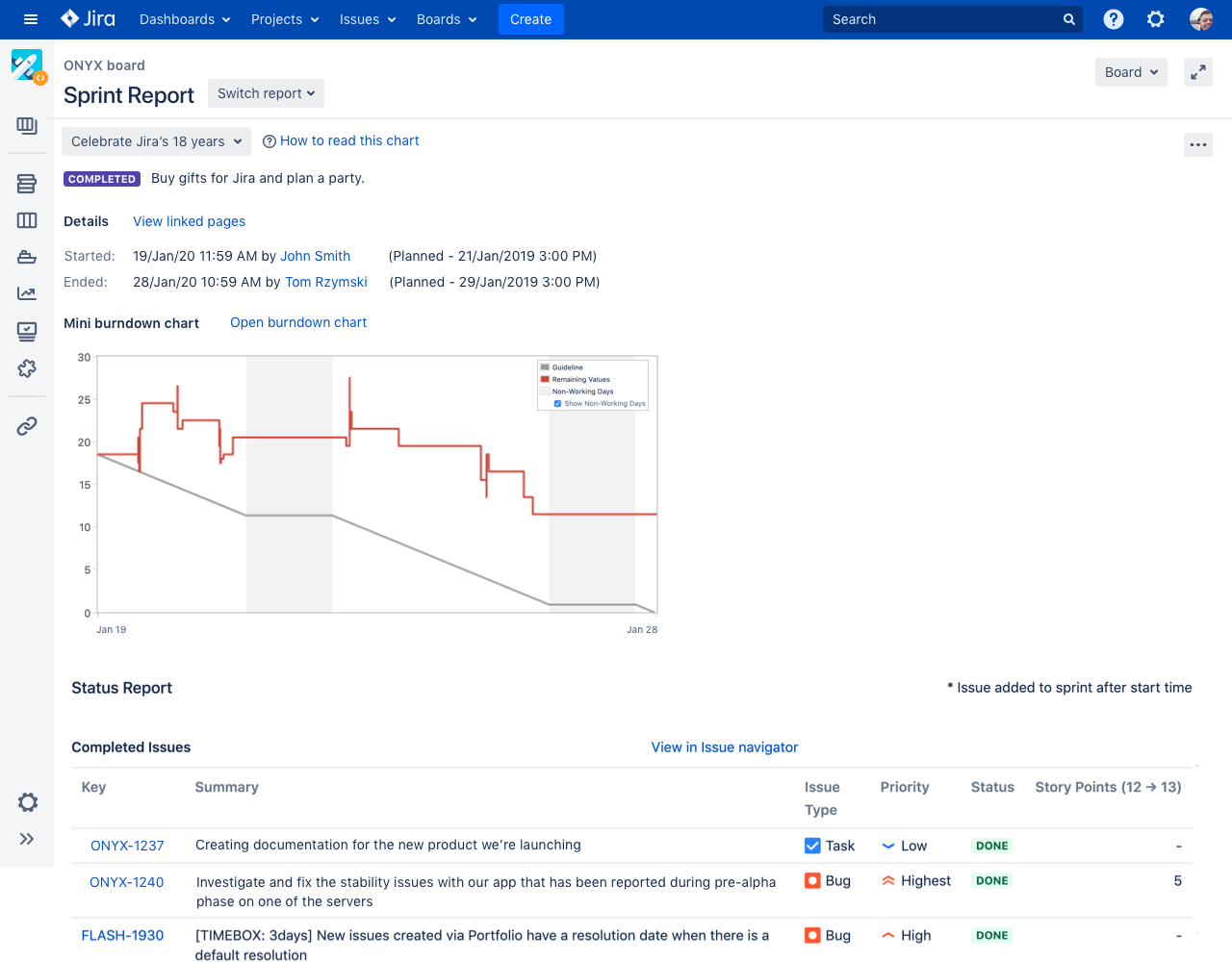 Source: Jira Software
Customizations. Change issue view by adding buttons and editing fields, field tabs, and request forms; customize the app layout by changing the logo, site colors, and date format.
Integrations include 3,000+ apps, plugins, and add-ons for business, IT, design, and software development teams. To enlist a few: Gmail, GitHub, Figma, Google Sheets.
API. You can use Jira REST API to build apps and script integrations with Jira or develop integrations of other types.
Mobile app allows you to manage boards and backlogs, add and edit issues, manage SLAs, and get push notifications.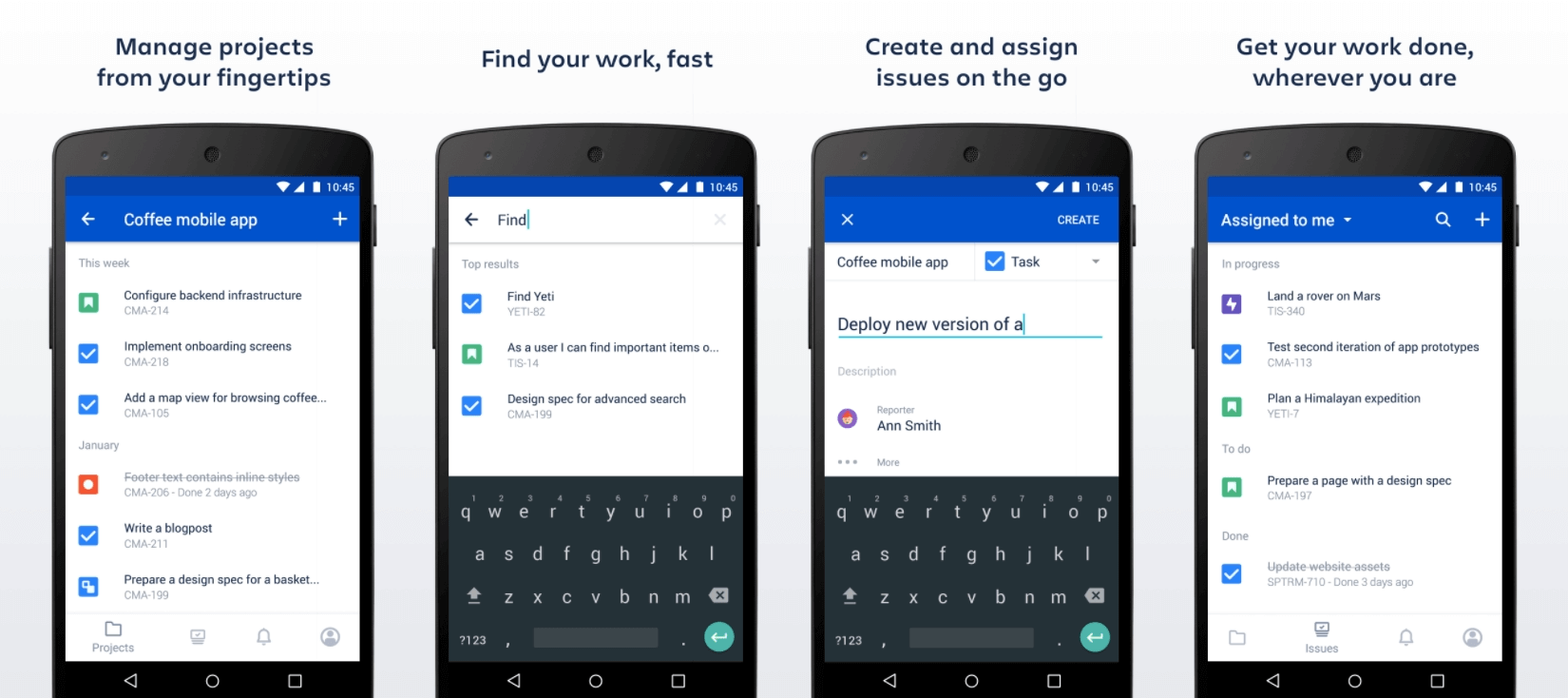 Source: Jira Software
Security enables user roles, bolstered security safeguards, SAML SSO and SCIM, TLS 1.2+ encryption, compliance with SOC 2, SOC 3, GDPR, PCI DSS, SO/IEC 27001, SO/IEC 27018, and GDPR.
Who's More Beneficial: Jira vs Monday?
That's an uneasy question to answer. We'll try to find this out by leveraging the strong and weak sides of Jira Software vs Monday and check the outcome.
What Are Jira Software's Pros?
Built-in roadmaps provide a big picture of what's happening
Jira workflow and issue types enable multiple scenarios
Powerful agile support creates a comfortable environment for agile teams
Numerous integrations allow you to extend functionality in a preferable way
What Does Jira Software need to Work On?
Jira is geared for technical teams and might be complicated for general project management needs
You can assign an issue only to one person
There's no built-in external sharing option
What Are Monday's Benefits?
Easy onboarding
Built-in Docs feature allows teammates to collaborate on ideas in real-time
You can add an integration column to the board and check the related updates
Multiple ready-made templates save time
What Are Monday's Shortcomings?
Tracking time per task is challenging for some users
You can set task dependencies only based on due date
Many users wish there were more integrations
Overall, Jira Software is a stronger project management tool with more sophisticated features. Monday, instead, seems to better adapt to more modest business needs.
How Much Does Jira Cost?
Powerful + affordable is a very rare combination but Jira Software manages to handle it. Besides, it offers a free version for teams with up to 10 members which includes agile boards and reports, customizable workflows, backlogs, and automations for a single project.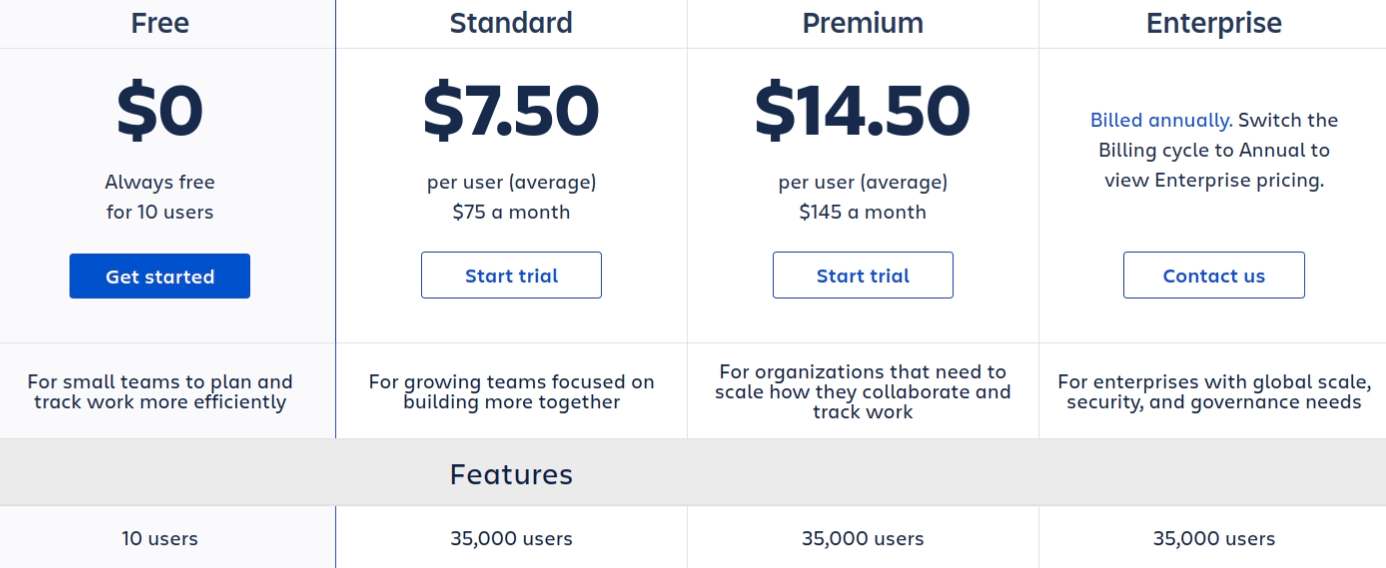 Source: Jira Software
The other three pricing tiers are Standard, Premium, and Enterprise. Let's see what's inside.
Standard starts at $7.50/user/month/ and comes with enhanced security, project roles, audit logs, and 250 GB of storage.
Premium plan costs $14.40/user/month and adds advanced roadmaps and dependencies, sandbox, unlimited storage, 24/7 support, and other high-end features.
Enterprise is designed for large businesses working on a global scale. It includes unlimited sites and built-in Atlassian Access.
What Is Monday Pricing?
Monday increases the price and features slightly from tier to tier. So it offers five pricing options that are Individual (free forever), Basic, Standard, Pro, and Enterprise. What do they include?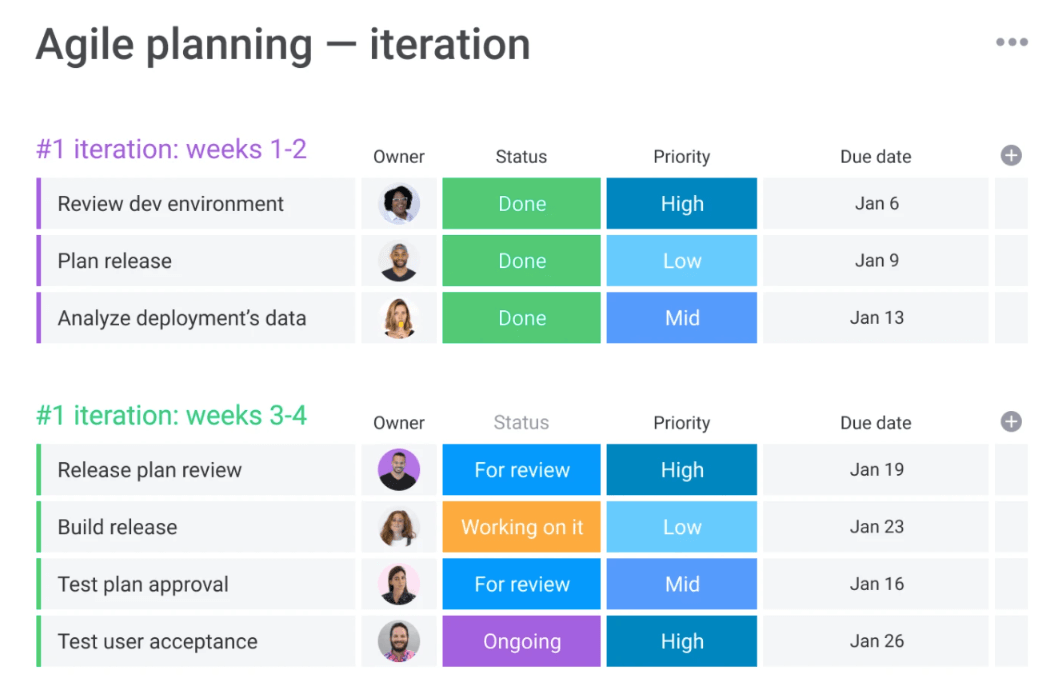 Source: Monday
Individual plan allows up to 2 seats and includes up to 3 boards, over 200 templates, unlimited docs, and iOS and Android apps.
Basic costs $8/user/month and allows unlimited items, 5GB of storage, prioritized customer support, and a dashboard based on 1 board.
Standard (most popular) tier starts at $10/user/month and comes with several project views, automations, integrations, and a dashboard based on up to 5 boards.
Pro adds more views and columns, time tracking, more automation rules, and a dashboard based on 10 boards.
Enterprise brings advanced automations and integrations, enhanced security, and premium support.
Who Uses Monday?
Since Monday's functionality revolves around collaboration and visualization, it's used by businesses of all sizes and industries including marketers, manufacturers, and software developers. Currently, this vendor claims to have over 150,000 customers worldwide. Among the brands, you can find such big names as Samsung, Adidas, and Uber.
The use cases include:
Task management
Team management
Work planning
Event management
HR
Lead tracking
What Companies Use Jira Software?
Jira's robust workflow engine and flexibility suites various industries including IT, finance, healthcare, and retail. According to Jira, this software is used by over 65,000 companies globally.
What could you use Jira Software for?
Task management
Project planning
Software development
Marketing
HR
ITSM
Design
Legal
Operations
Finances
Are Monday and Jira suitable for personal use? Well, both offer free versions with core project management features like project boards and basic reporting. Therefore, these tools are great options for private use.
How to Migrate to Monday or Jira?
Data migration is the first thing to consider after you choose the software. How to carry this out? There're two ways to import your project management data automatedly, you can migrate via CSV files or connect your Source and Target platforms to switch your projects effortlessly and quickly. Get started with a Free Demo to see how easy your migration to Jira or Monday can be.
Which To Choose: Jira vs Monday?
After reading this review you might have a twofold impression. This is because both Monday and Jira are powerful tools that can be tailored to various needs. Still, if you don't deal with IT and look for a comprehensive tool, Monday is a better option. But if your team develops software or uses agile frameworks, Jira Software will be more helpful.
Frequently Asked Questions
Monday is a general-purpose work management tool, while Jira is focused on software development and bug tracking.
You can replace Jira with Monday for project management purposes.
Jira's alternatives include Monday, ClickUp, Asana, Wrike, Smartsheet, and Basecamp.
You can use Jira to plan, track, and release projects, manage teams, and orchestrate large work volumes.
Monday is popular among software developers since it provides agile boards, time tracking, and backlog templates.
Monday's rich customization options make it well-adjusted to game development needs.
Monday, ClickUp, Asana, Wrike, Smartsheet, and Basecamp can replace core Jira features.
Jira Software offers a free version for teams with up to 10 members.
Monday provides a Scrum planning template with increments, timeframe projections, priorities, and more.
Jira is popular due to its powerful workflow engine, issue tracking, and reporting capabilities.
Jira can cause a slight learning curve for non-technical users.
"Jira" derives from the second syllable of the Japanese word Gojira which is Japanese for Godzilla.
Want to migrate to Jira or Monday?
Let's migrate PM data together!
Try for free