When managing a large company project, do you find yourself overwhelmed? Are your tasks piling up each day? With Trello vs Teamwork, it's easy to plan out a complex project roadmap.
But, how can you choose between two equally advanced tools? Let's compare Teamwork vs Trello by the following parameters:
What features do they offer?
What is their pricing structure?
How Trello vs Teamwork work for project management?
What are the pros and cons of Teamwork vs Trello?
Who uses Trello vs Teamwork?
Teamwork vs Trello for personal use
What Is Teamwork?
Teamwork is an all-in-one project management tool developed to set up detailed tasks and customization to give you full control over your project. With Teamwork projects, you can track and submit your work and collaborate across multiple projects.
Besides, Teamwork software empowers you to oversee the entire project completion, from the start till the very end. And you can simplify teamwork management with Teamwork time tracking and team chat. Another thing is the Teamwork project management software is flexible. It's advanced and customizable enough so any team size can adapt to their needs.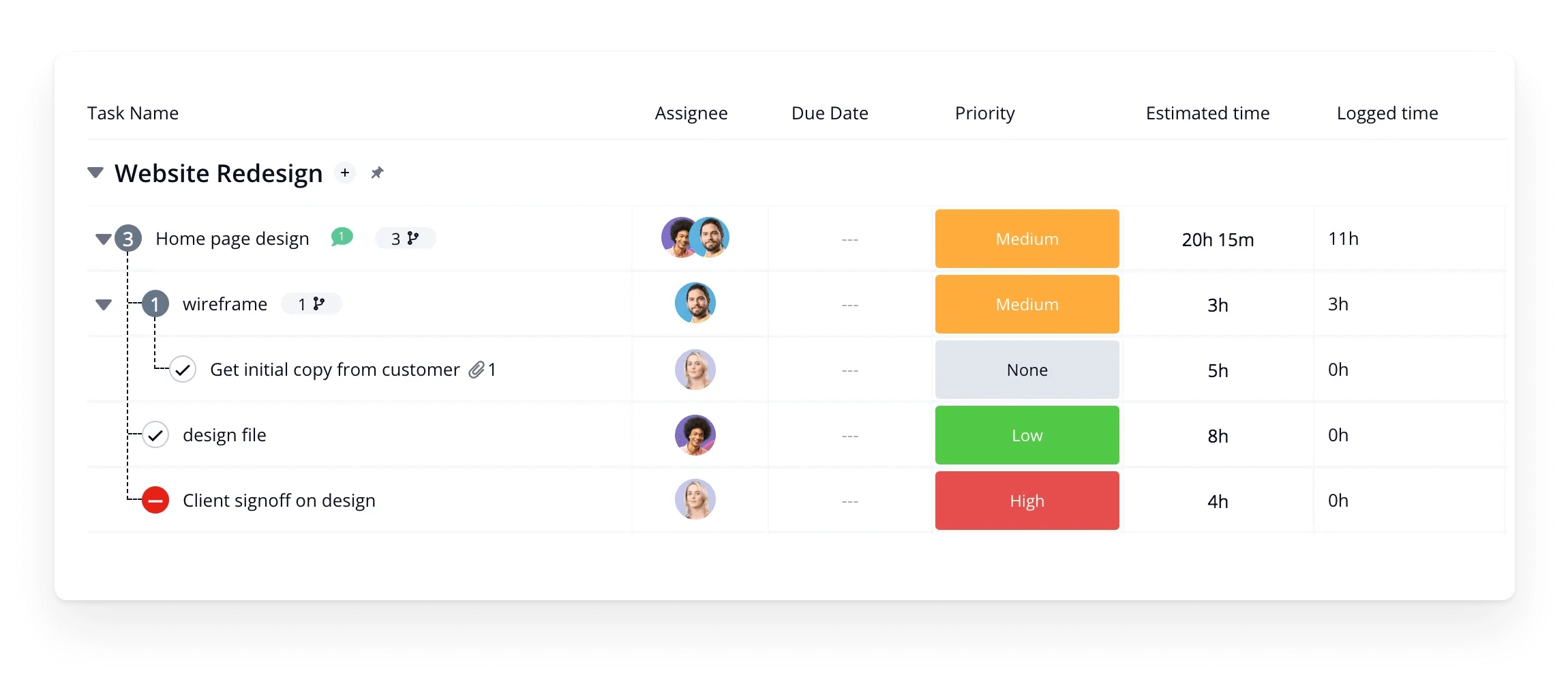 Table view in Teamwork projects. Source: Teamwork
What Is Trello?
Trello is a project management tool designed as an online whiteboard, including cards and lists. Trello task management is built on complete visibility across projects and tasks. So, with Trello, you get a straightforward Kanban board to monitor project progress, share documents, and assign tasks to users simultaneously.
Beyond that, you can choose from various Trello add-ons to tailor the tool to your requirements. And the project management solution has many customization options to meet your project or personal needs. Trello is an excellent and simple solution to get up and start managing your projects immediately.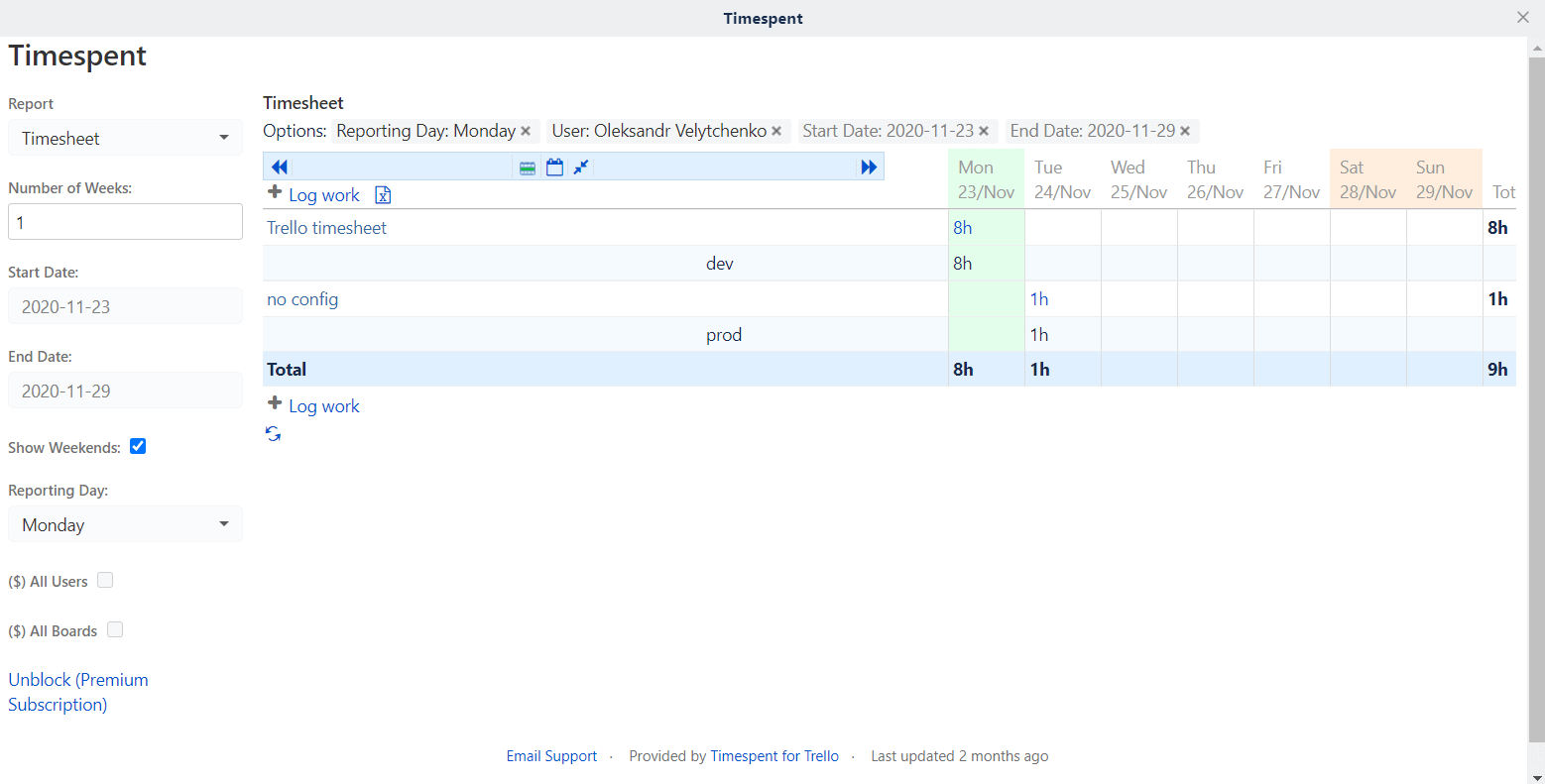 Time tracker for Trello. Source: Trello
Teamwork vs Trello Features Overview
Trello vs Teamwork seem similar at first glance: they have various views, time tracking, Gantt charts, and Kanban boards. But, as you look closer, you can see their peculiarities. So let's see what Teamwork vs Trello has to offer.
What Are Trello Features?
Gantt chart: View your project schedule in a bar-type graph against time to control due dates. A Gantt chart in Trello is available through a third-party app called Trello power-ups.

Gantt chart in Trello. Source: Trello

Kanban board: It's a visualization tool to maximize productivity and task organization.
Butler: Automate your boards with rules, custom buttons, and scheduled commands. Perform simple tasks on a single board or supercharge Trello project management by sharing automations. And unlike other Trello add-ons, Butler is available in all plans at no additional cost.

Butler in Trello. Source: Trello

Trello add-ons: Integrate your other tools like Slack, Google Drive, or Dropbox to streamline your teamwork plan.
Card management: Help team members share tasks/subtask updates or documents with anyone on the team.
Card cover photos: Break up tasks to make them look more identifiable.
Trello reporting: Generate reports to get a full overview of your project and keep everything under control.

Trello reporting. Source: Trello

Dependency management: Create task dependencies so your team members know which task they should complete first.
Trello list view: Organize tasks into lists to overview bigger projects with multiple tasks.

Trello list view. Source: Trello

Templates: Copy, tailor, and collaborate in no time with tried-and-true Trello templates. Available for various team types and at no cost.
User permissions: Decide which permissions and capabilities each team member would have.
Time tracker for Trello: Manage the time spent on each task or subtask. Time tracking with Trello also lets you add a description to your work log.

Time tracking with Trello. Source: Trello

Deployment: Trello is available as a cloud version or can run on Windows or macOS. You can also download mobile apps for both Android and iOS.
Security: Trello stores your data using Amazon Web Services. It gives you access to 256-bit AES encryption while at rest and 128-bit AES TLS protocol while in transit.
Teamwork Core Features
Table view: Prioritize tasks across multiple projects. Reallocate resources to prevent bottlenecks.
Workload: Take a closer look at your Teamwork projects to plan your team's workload. Manage individual and team tasks.
Reporting: Report how your tasks are progressing and get a better understanding of your workload.
Teamwork intake forms: Create intake forms on your projects to collect all the needed info from external and internal teams. All Teamwork intake forms are associated with a task list. When someone submits a response via form, a new task gets created.

Teamwork intake forms. Source: Teamwork

Kanban board view: Visualize Teamwork project tasks and automate workflows using Kanban boards.
Resource management: See each team member's capacity and reassign tasks if needed—shift deadlines just by using the drag-and-drop feature.
Milestones: Specify the project's goals and attach task lists to supervise progress.
Automation: Use existing automation templates or set up your customizable workflows.
Billing: Generate invoices with Teamwork's billable time logs.
Risk register: Control all risks associated with your Teamwork plan in one place.

Risk register in Teamwork. Source: Teamwork

Files and versioning: Add updated versions of files and keep all essential files in one place.
Budget expenses: Get a more comprehensive view of your budget.
Deployment: The Teamwork project management tool is available as a cloud and desktop version. You can also set up mobile apps for iOS and Android.
Security: Teamwork's approach to security is similar to Trello's. Teamwork project management data is hosted on Amazon Web Services AWS.
Teamwork vs Trello Pricing: How Much to Pay for Each Tool?
Trello and Teamwork offer various pricing plans depending on your project management needs. Note that Teamwork and Trello new features might appear when you read this review.
How Much Does Teamwork Software Cost?
Teamwork pricing goes from $9.99/user per month with three user minimum. Then again, you can also take advantage of a Free Forever plan or try out a 30-day free trial. Teamwork pricing is similar to Trello: the project management tool offers four plans, including a free option. What features can you receive with each plan?
Free Forever includes Teamwork time tracking, a workload dashboard, a task list, project templates, 100 action automations per month, various views, filters, milestones, dependencies, etc.
Deliver brings to the table such features as Teamwork intake forms, integrated team chat, project-level teams, unlimited clients and collaborators, and webhooks.
Grow offers Teamwork billing and invoicing, one-off-budget expenses, burndown reports, agile support, client-level teams, project-level tags, and FA2.
Scale provides capabilities to build and schedule custom reports, get a custom domain with SSL, and report on profitability.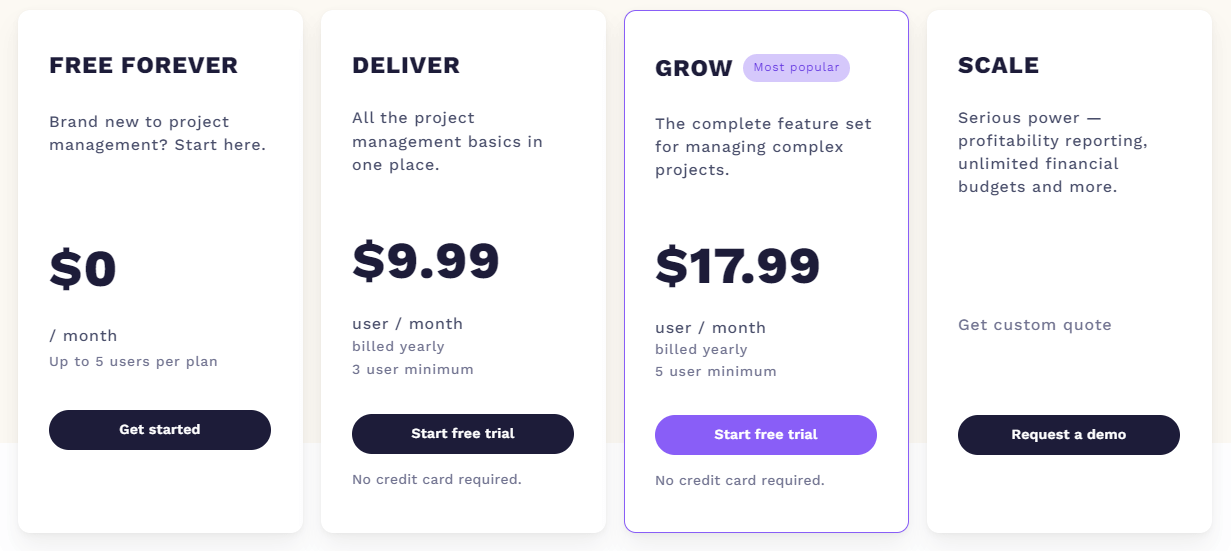 Teamwork pricing plans. Source: Teamwork
What Is Trello Pricing?
Trello offers a free plan with unlimited cards, users, and up to 10 boards. For larger teams, the Trello project management tool gives Premium at $10/per user per month, billed annually. Frankly, the paid plans provide tremendous value for businesses of all sizes. So which Trello pricing option is suitable for your team?
Free delivers unlimited cards, Power-Ups, storage, activity log, custom background and stickers, assignees, and due dates.
Standard offers an advanced checklist, saved searches, single board guests, custom fields, and 1,000 workspace command runs per month.
Premium provides views (map, table, dashboard, timeline, and calendar), collections, observers, simple data export, and workspace-level templates.
Enterprise includes multi-board guests, attachment permissions, Power-Up administration, and public board management.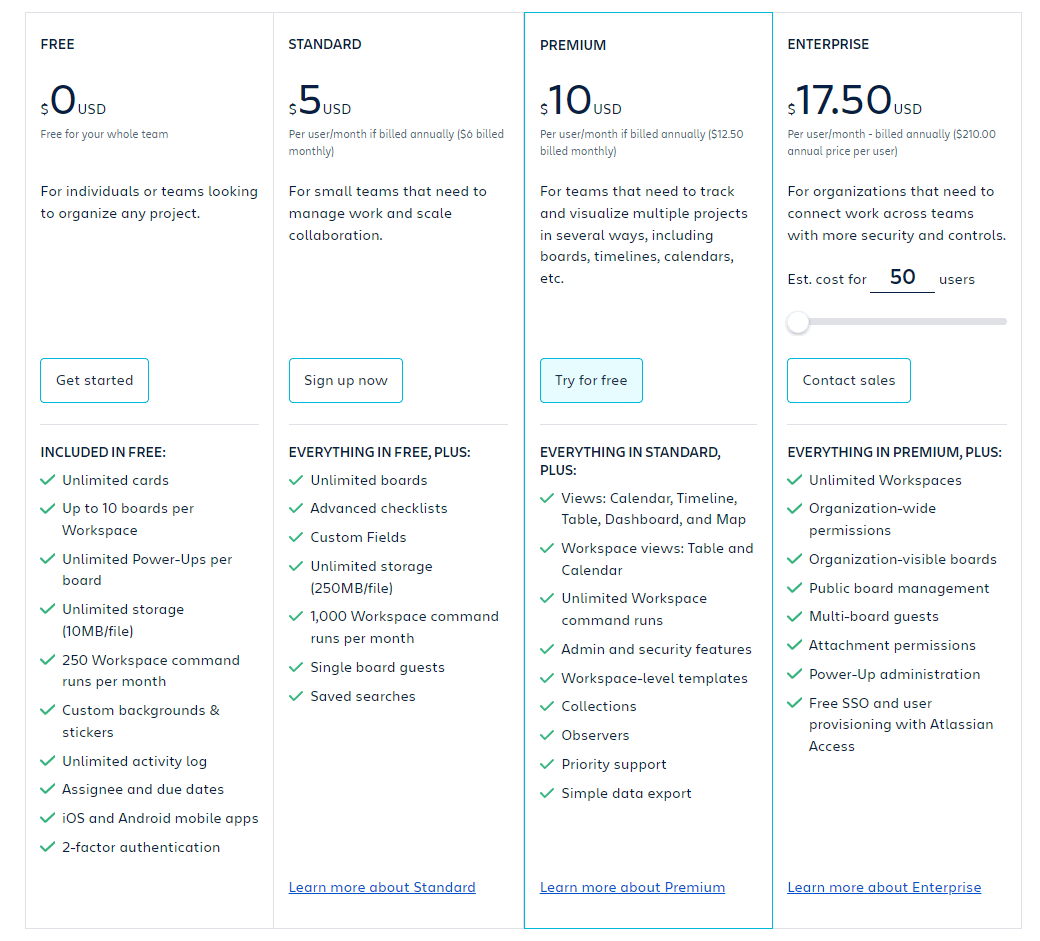 Trello pricing plans. Source: Trello
Recap: In case the pricing options don't meet your project requirements, consider an alternative to Trello or Teamwork. Project management tools like Asana, Airtable, Basecamp, Jira Software, KanbanFlow, Wrike, and Monday.com can be an alternative to Teamwork.
If you want more reporting capabilities, you can choose an alternative to Teamwork among solutions like ClickUp, Workzone, Clarrizen One, MeisterTask, Zoho Projects, and Smartsheet.
Trello vs Teamwork: How Do They Work for Project Management?
So, what do you choose for project management: Trello or Teamwork? While both options are similar in the core, they have a slightly different approaches to a project management tool model.
How Do You Use Trello for Project Management?
Since Trello is a collaboration tool rather than an all-in-one management solution like the Teamwork project management tool, it doesn't cover a few aspects of the project management basics. For instance, you can't manage any of your invoicing or budget. Still, Trello lets you attach these reports to the task. Then why bother to choose Trello project management software?
Trello has a fantastic onboarding and setup process. The setup process starts with filling fields to create the board lists. Then you can move on to the task cards.
If you are migrating to Trello midway through a project, you can just add any tasks at any point. Just ensure to fill in all the relevant project details like:
Description
Users
Due dates
Task comments
Labels
Attachments
Members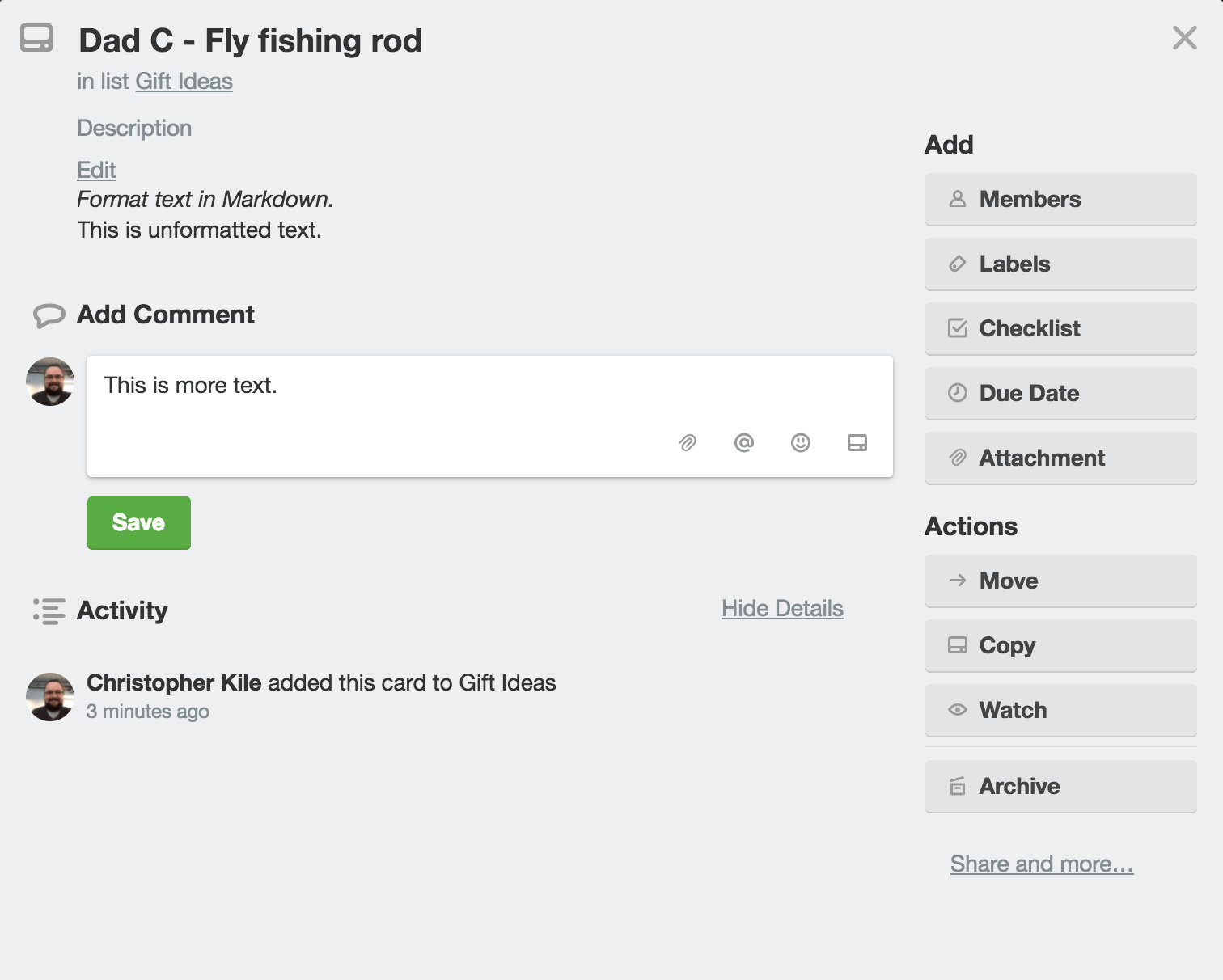 Task details in Trello. Source: Atlassian
Then just drag and drop task cards from one list to another as your work progresses. You can also sort active cards; create repetitive action cards. Once your team has completed all tasks, close the project and launch the post-project analysis. To make things easier, you can copy the project board to use it as a template for future projects.
How Does Teamwork Work as a Tool for Project Management?
Unlike Trello, Teamwork projects are designed around a hierarchy of information, including tasks & subtasks, task lists, milestones, projects, and portfolios. So first, you need to decide how to start mapping your workflow with the Teamwork board view or list view.
On the other hand, the Teamwork project management tool has task lists. They are perfect if you have lots of tasks to go through. Tasks lists help you group your work and manage related tasks, including actions like:
Create subtasks and dependencies
Set deadlines and priorities
Add tags
Assign tasks to users
A portfolio is a great way to monitor your overall progress at a panoramic level. You can view your projects as cards and go through multiple columns or stages. Or click on a specific card to overview the project summary.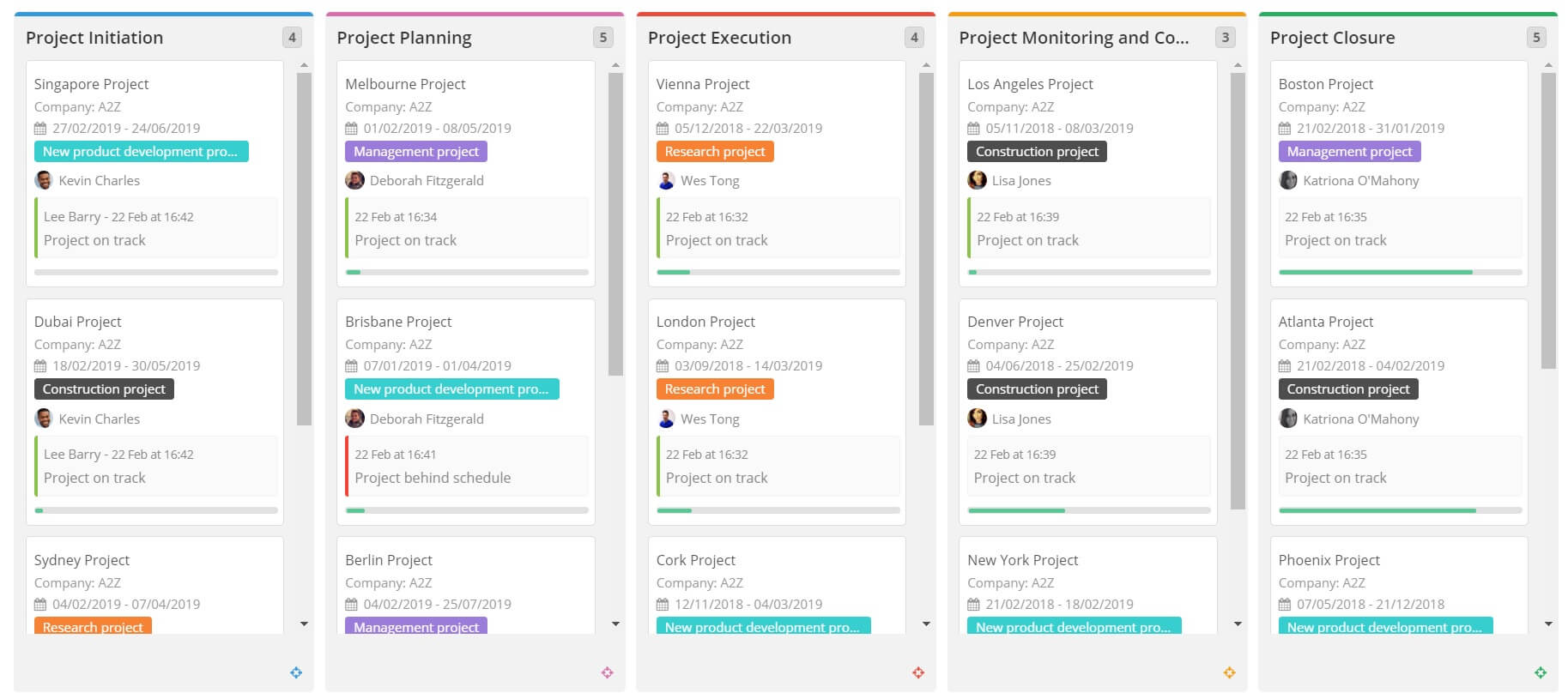 A Teamwork plan in Portfolio. Source: Teamwork
If you switch from the list view to the Teamwork board view, all existing tasks on the project won't automatically appear on your new board. Instead, you should find any pre-existing tasks in the Backlog and add them to the appropriate column.
Trello vs Teamwork Project Management Pros and Cons
Trello and Teamwork can be useful project management solutions for the right team, depending on the goals. But there's room for improvement. Here are a few pros and cons to consider.
What Are the Advantages and Disadvantages of Trello?
Advantages

Disadvantages

Mobile and desktop apps
Trello list view
Available automations with Trello's Butler, even on a free plan
Third-party customizations
Follows the Kanban System
Instant real-time updating

Only allows for comments and no editing
It's complicated to grant user permissions
Attachments are limited to 250MB per upload
Figure 1. Strong and weak sides of Trello project management software
What Are the Benefits and Drawbacks of Teamwork?
Benefits

Drawbacks

Jammed packed with multiple features
Discounts for non-profits and educational institutions
Free forever option
Mobile apps available on iOS and Android
Tons of project templates
Excellent Teamwork billing, budgeting, and expense tracking tools

Lacks CRM integration
Performance can sometimes be buggy
Difficult to view Gantt charts when using a mobile device
Figure 2. Teamwork project management pros and cons
Recap: Whatever solution you choose, Trello or Teamwork, you can set up a free account to test it out. And, when you decide, you can migrate all your project management data to a desirable platform. Just run a Free Demo Migration and see how your Teamwork import, Trello import, or Teamwork export would work.
Who Uses Teamwork vs Trello?
Even though Trello vs Teamwork share many similar features, they still attract different companies and customers. This is because their unique functions focus on the needs of specific team types. So, who should use Trello and Teamwork?
Who Works on Teamwork Project Management Software?
Teamwork is designed for teams and companies of all sizes in most industries requiring teamwork management and collaboration tools. Various team types, like marketing, product, support, or professional service, can use the Teamwork project management tool daily.
In fact, creative agencies prefer Teamwork over other collaborative tools due to its capability to onboard free client users. Likewise, enterprise companies can profit from Teamwork's resource and organizational management features.
But how else can SMBs and large enterprises benefit from Teamwork software? Marketing, product, architects, consultants, and SEO teams can get the following pros:
native integrations & third-party apps
keeps data secure
prioritize tasks and subtasks
facilitates agile project management
simplifies workflows
Notable Teamwork software customers include Disnalt, HP, Cisco, GE, Panasonic, Spotify, Netflix, Samsung, and PayPal.
Who Considers Trello Project Management Tool?
Like Teamwork, Trello isn't designed for a specific industry. So, whatever field your team is working in, you can quickly adapt it. Besides, it's accessible for SMBs with over 200 employees to small teams of 3-10.
Agile teams, like content managers, choose Trello because of its board view, list view, and easy-to-use features. This way, they can keep an eye on each other's task progress and the project's completion.
The best part? The Trello project management tool is a fan favorite from SMBs to large businesses because of the following reasons:
Create a public board to share widely
Connect your Kanban board to the email and calendar
Collaborate with someone or a team
Quickly add tasks to the board
Believe it or not, a project management tool isn't just suitable for managing projects/products in small or large companies. You can use Trello vs Teamwork for personal use. They both deliver free options so anyone can organize their goals and daily priorities.
Teamwork vs Trello for Personal Use or Private Use
It's hard to choose between Teamwork vs Trello for personal use. However, Trello is more suitable for personal use than the Teamwork project management tool. It provides a more straightforward UI and a free pricing plan, including unlimited boards, cards, and multiple customization options. But that's not all; you can also create:
Life board: Set up a backlog of goals you want to accomplish in a specific time.
Daily Trello task management: Use Trello's in-built automation tool, Butler, to keep you on track. Every day the automation tool renames the "Done Today" list and creates a new one.
CRM & Sales pipeline: Automate your list view and move leads within one board.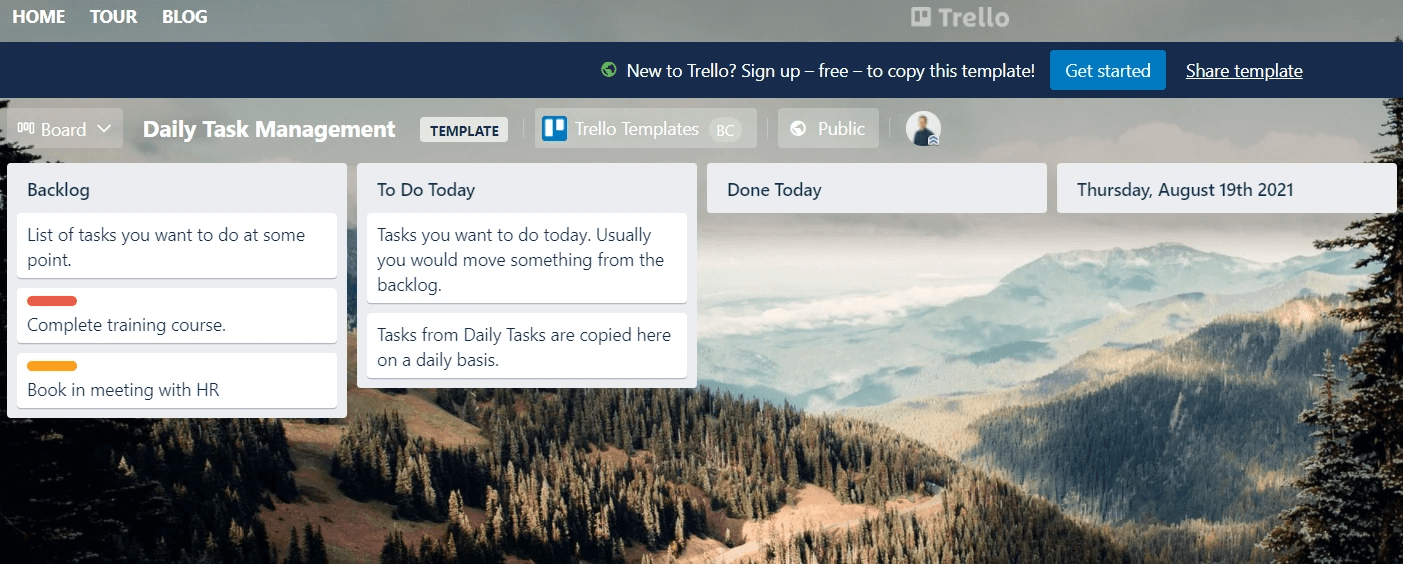 Daily task management in Trello. Source: Trello
On the other hand, Teamwork is a more valuable tool to cater to businesses of any size. This is because it delivers features to simplify managing multiple projects.
For instance, you can see a specific workload dashboard for each team member's availability. There you can also assign or reassign tasks/subtasks to them. Or manage objectives, deadlines, and dependencies between projects. Still, it's up to you whether you choose Trello vs Teamwork for personal use or private use.
Which Tool to Consider: Trello vs Teamwork?
Both Trello vs Teamwork are excellent project management tools. They offer a free pricing plan, so you can easily upgrade anytime. But who should use Trello and Teamwork?
If you need just a simple whiteboard to keep yourself or your small business organized, consider Trello. However, if you want to implement agile processes for larger companies, Teamwork is your option.
But Teamwork vs Trello aren't the only tools. You can find an alternative to Trello or an alternative to Teamwork too. And, when you make your ultimate choice, run a Teamwork import or Trello import to have all your project management data in one place.
Want to migrate to Trello or Teamwork?
Let's migrate PM data together!
Try for free