Project-based businesses often need help with nightmarish scenarios like schedule overruns, roadblocks delaying critical tasks, and undercharging due to inaccurate estimates. In fact, one out of six IT projects grapples with a staggering 70% schedule overrun! But fear not, for there's a silver bullet to tackle these challenges: a powerful combination of project management with time tracking.
By measuring the time taken for specific tasks, you can optimize your workflow, enhance productivity, and set more accurate project timelines, ultimately boosting your profits.
In this guide, we'll unveil how time tracking can unlock all these remarkable benefits and reveal the top-best apps that offer time tracking features. First, let's dive deeper in the notion of project time tracking.
What Is Project Time Tracking?
Time tracking in project management isn't just about meeting deadlines. It's like having a project's clockwork precision at your fingertips!
With time tracking, you can meticulously monitor the hours dedicated to each task and the overall project. This visibility empowers you to assess work estimates accurately and evaluate your employees' efficiency. Plus, you can also smartly allocate resources and monitor processes in real time.
Time tracking also unlocks a treasure trove of insights. Just like that, you can
master your finances
gain a deeper understanding of resource usage
pave the way for future projects
Benefits of Project Management with Time Tracking
So why is time tracking important? Well, it's the secret sauce to unlock profound insights into project costs, profitability, and potential success. Let's dive into why tracking task and project time is an absolute must:
Make your work transparent: Time tracking software gives instant insights into completed tasks and actual durations compared to estimates. Discover which activities need a boost or a pat on the back, and optimize your work schedule for peak productivity! Stay in the loop, see what others are up to, and collaborate seamlessly.
Monitor project progress: Prevent your team from missing deadlines and overlooking tasks. This way, you can avoid tarnishing your brand's image and maintain client trust.
Cost control: Every hour spent on project work affects your bottom line. Keep an eye on those time trackers to stay on top of project budgets. Real-time tracking lets you adjust budgets and spending, so you're always on target!
Billing brilliance: Capturing time entries ensures accurate invoicing and solid documentation to back up every charge.
Strong client communication: Create wow-worthy reports for clients and stakeholders, providing real-time insights and clarity on project progress and investments.
Master time management: Ever wonder how long tasks should take? With time tracking, you'll become a time wizard! You'll spot when someone needs a helping hand or extra focus, and our project leaders will swoop in to provide the perfect coaching!
Which Tools to Use for Project Time Tracking?
Time tracking comes in various flavors. The simplest form is time-tracking sheets. Additionally, it can be integrated into a project management solution alongside features like resource management and project scheduling. Alternatively, you can find specialized tools solely focused on time tracking. Let's delve deeper into each option!
Time-tracking sheets
Manual recording is an option for projects involving a small team or with straightforward time-tracking needs. You can use printed timesheets, where individuals log minutes or hours spent on tasks, or opt for spreadsheets for team members to enter the information.
Time tracking software
This solution automatically records the time spent on tasks, eliminating errors and optimizing billable time.
Switching from manual to automated time tracking enhances accuracy and efficiency. Toggl, for instance, offers the option to "toggle" on and off time tracking, attributing time to specific tasks or billable categories. Alternatively, integrated time tracking can monitor mouse movements, keyboard strokes, and other cues to track task-related time seamlessly.
Cloud-based project management tool with time tracking
A tool that combines project management with time tracking is a win-to-win solution for any team size. Teams seeking project management software for collaboration, document management, and other functions find solutions with integrated time-tracking most beneficial.
With time management available within the project management solution, teams avoid the hassle of switching screens or logging into multiple programs to track time. It's all conveniently streamlined in one place. And the best part? You can choose from a vast array of different project management tools based on your business needs.
How Does Time Tracking in Project Management Software Work?
Time tracking software may vary across many project management tools, but the core process remains consistent: adding time entries for tasks, monitoring hours spent, and generating quick reports. Let's delve into each essential time management process in detail.
Adding time entries
Ideally, your project management software should offer the flexibility to choose between manual time entries and an automatic tracker. Each option has its pros and cons, and the best fit depends on the task or project at hand.
check_circle
Your teammates can easily select tasks and enter the minutes or hours spent.
cancel
Guessing time spent after the fact can result in inaccurate data.
check_circle
You can get more accurate tracking and boost customer and stakeholder trust, especially if your project pricing is based on labor hours.
cancel
Your team members can forget to pause the timer during breaks or when switching to other tasks, as only one task can be tracked at a time.
Table 1. Manual time tracking vs automatic tracker
Even small mistakes can accumulate over time, significantly affecting the overall project. Choose the right tracking method for each situation to ensure precise data and project success.
Keeping track of hours
Usually, a project management tool with time tracking delivers multiple ways to view worked hours, including by task, project, and employee.
Tracking hours at the task level allows detailed work management without micromanaging. It helps identify tasks over budget or falling behind schedule, aiding future project estimates and budgets.
You get a broader perspective at the project level, enabling quick assessment of overall progress and performance. This is vital for employing earned value management (EVMS) on larger projects where task-level EVMS becomes impractical.
Tracking hours by employees help monitor productivity and workload. For hourly employees, it's crucial, but it's also useful for salaried employees. Comparing time taken by different employees for similar tasks reveals insights and enables workload adjustments when needed.
Creating reports
In the realm of project management software, there are two powerful reports you need:
Timesheets: A quick peek into employees' weekly tasks and the time invested in each one. From tracked tasks to assigned projects and flagged priorities, timesheets keep progress in check. It's a centralized hub to focus on what matters and blaze a trail of productivity!
Time Reports: The project manager's secret weapon! Customize and conquer these reports, running them for tasks, projects, employees, and periods. Download as CSV or PDF files for ultimate flexibility. Need to impress a customer? Present a detailed report of their project's time investment last month like a pro!
How to Choose A Project Management Tool with Time Tracking?
Before you choose a project management tool with time tracking, it's essential you understand the features you're looking for. Let's check a list of the key functions of project management time-tracking software:
| | |
| --- | --- |
| Feature | Description |
| Automatic time tracking | Simplify time monitoring by letting the software automatically record task hours, reducing manual input and potential errors. |
| Reporting and analytics | Gain valuable insights into team performance and project progress, allowing data-driven decision-making for better productivity. |
| Mobile app | Stay flexible with a mobile app that lets you track time and monitor progress on the move, whether in the office or out in the field. |
| Invoicing | Track billable hours accurately and streamline billing processes with invoicing tools, saving time and effort. |
| 24/7 support | Rely on consistent customer assistance whenever you encounter software issues, ensuring peace of mind throughout your project management journey. |
Table 2. Key features of project management software with time tracking
Considering these features, you can confidently select the project management tool with time tracking that best aligns with your team's needs and enhances your overall project management experience.
The 10 Best Project Management Software with Time Tracking
Amidst the sea of project management software options, finding the perfect one for your team can be overwhelming. We've taken the lead and gathered a handpicked selection of the 10 best project management tools with time tracking:
Wrike
Monday.com
Zoho Projects
Teamwork
Youtrack
ClickUp
Paymo
Avaza
Jira Software
Smartsheet
Wrike
Wrike, a robust project management software, boasts various features, including time tracking, enabling you to gather data on task-related time. The time trackers offer a comprehensive overview of resource utilization in your project.
Wrike's time management tools are seamlessly integrated into Business and Enterprise plans, delivering essential benefits like automated work-hour logging, online invoicing, and streamlined timesheet management for efficient project execution. Maximize your productivity and project success with Wrike's time-tracking capabilities!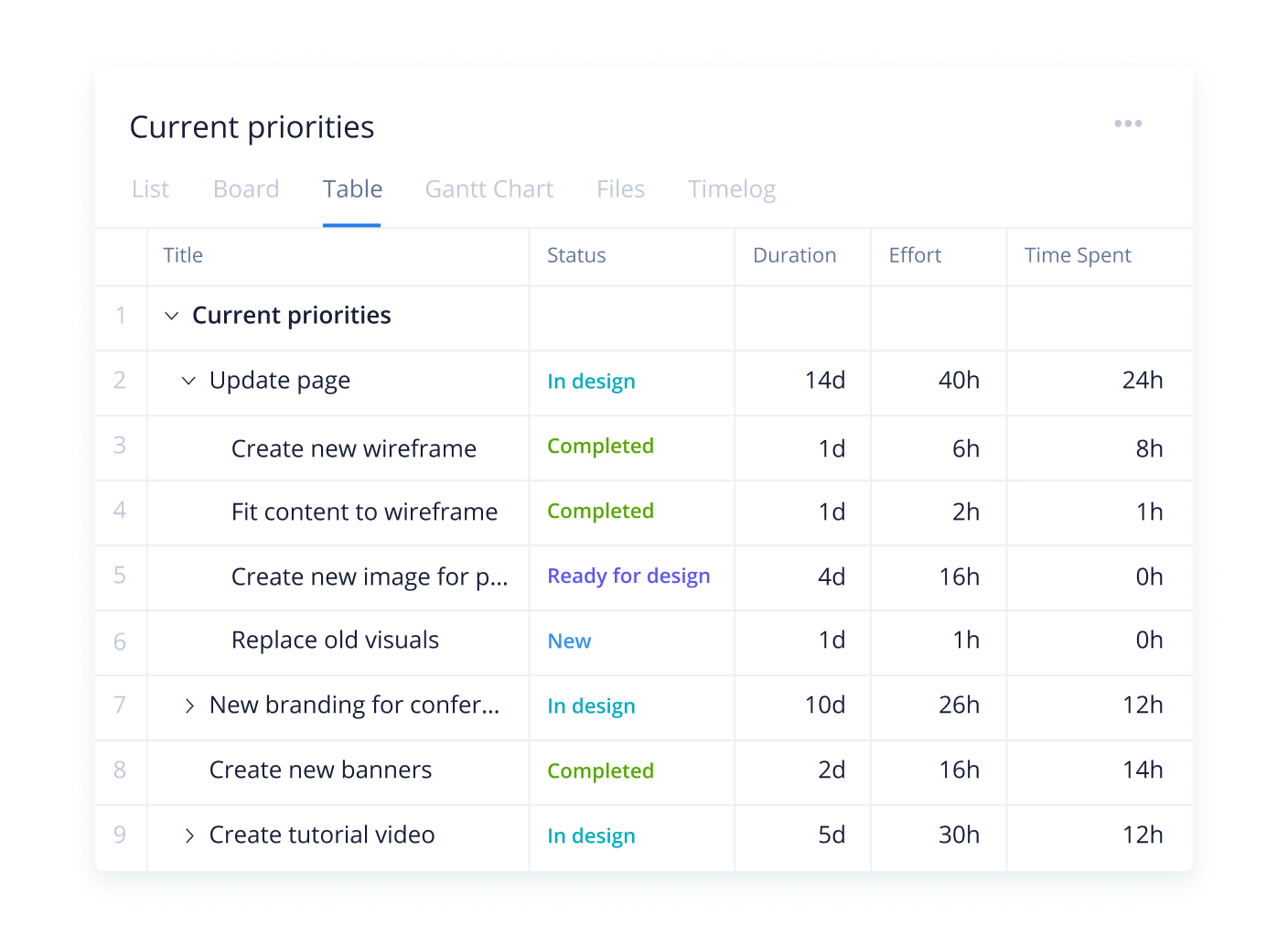 Time tracking software for Wrike. Source: Wrike
Wrike's outstanding functions
Custom dashboards: Gain a quick and personalized overview of project status with Wrike's flexible dashboard. Customize elements, add widgets, and effortlessly track essential project metrics for an enhanced project management experience.
Real-time newsfeed: Stay in the loop with real-time updates on your team's task progress, time management, and comments. Wrike's newsfeed keeps you informed, ensuring seamless collaboration and timely notifications.
Resource management: Handle resources to balance workloads and monitor team performance effectively with Wrike's resource management feature.
Project visualization: View project progress with flexible options such as Gantt Charts, Kanban boards, and pre-built templates using Wrike's project tracking tool.
🏷️ Pricing: Wrike offers a free plan for new teams, beginning at $9.80 per monthly user.
Monday.com
Introducing Monday.com as a project management tool with time-tracking features. You can enhance your boards by adding a time tracking column, enabling your team to record time data while working on tasks effortlessly.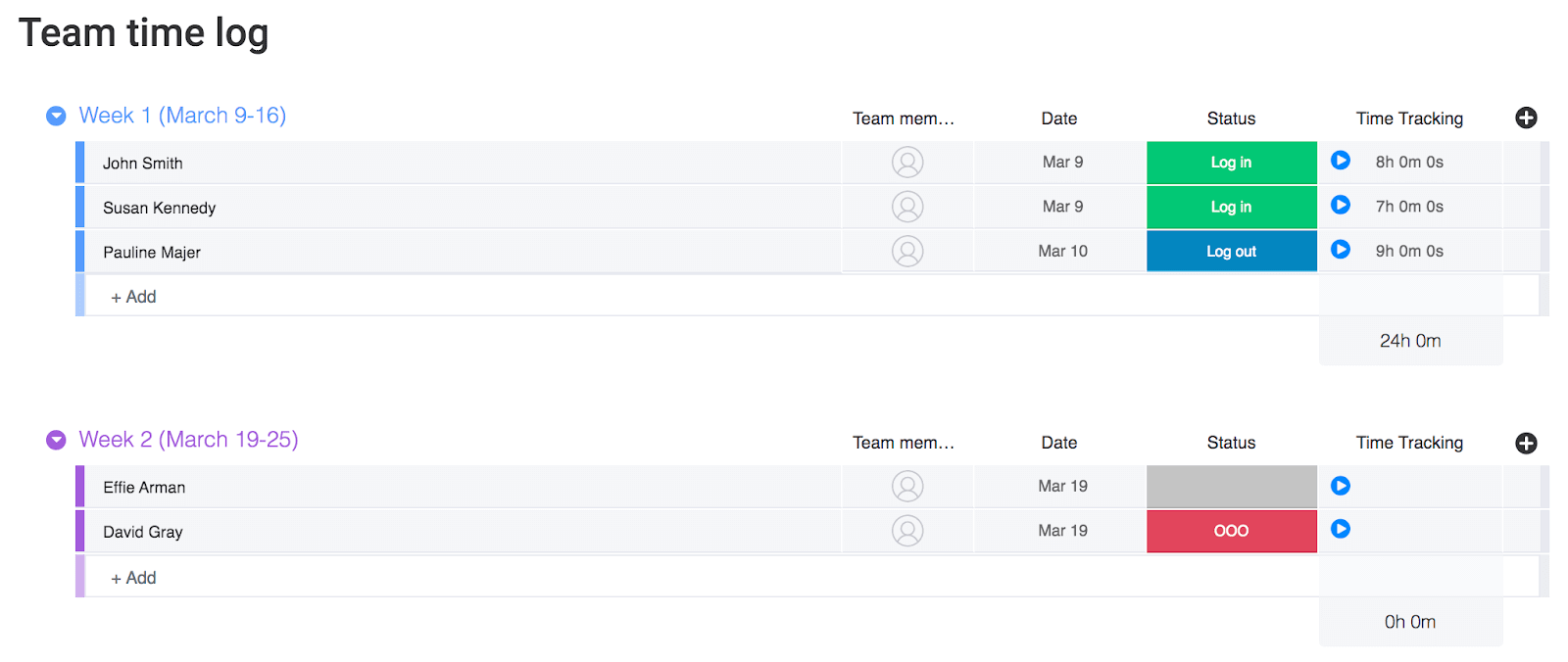 Time management on Monday.com. Source: Monday.com
With a simple click on "play," team members can start the timer, pause, and restart it as needed. This feature ensures accurate billable time tracking during work sessions spanning multiple days or weeks.
Monday's core features
Detailed time tracking: Toggle time tracker to the second, enabling precise tracking for tasks and subtasks. View comprehensive logs to analyze time spent on each task and export time logs to Excel for further reporting and management.
Time tracking widget: Enhance management visibility on any dashboard, displaying crucial information from the time tracking column for efficient project oversight.
Monday PMO work management: Unlock the full potential of Monday's complete product, designed to streamline planning, collaboration, and execution for every project and portfolio, accelerating goal achievement.
Workflow templates: Access templates within Monday projects to establish efficient workflows, saving time and creating repeatable project structures for increased productivity.
🏷️ Pricing: The free plan is restricted to two seats and provides limited features. Starting at $8 per month per user, Monday.com offers various pricing options.
Zoho Projects
Efficiently manage your work with Zoho Projects' comprehensive time-tracking feature. Log your hours using timesheets, distinguish billable and non-billable hours, and even create client invoices directly from your entries.
With built-in Gantt charts, you can stay on track with project progress, task dependencies, and deadlines. Ensure optimal resource utilization and task assignments to keep your team's workload well-balanced. Zoho Projects has you covered for effective project management.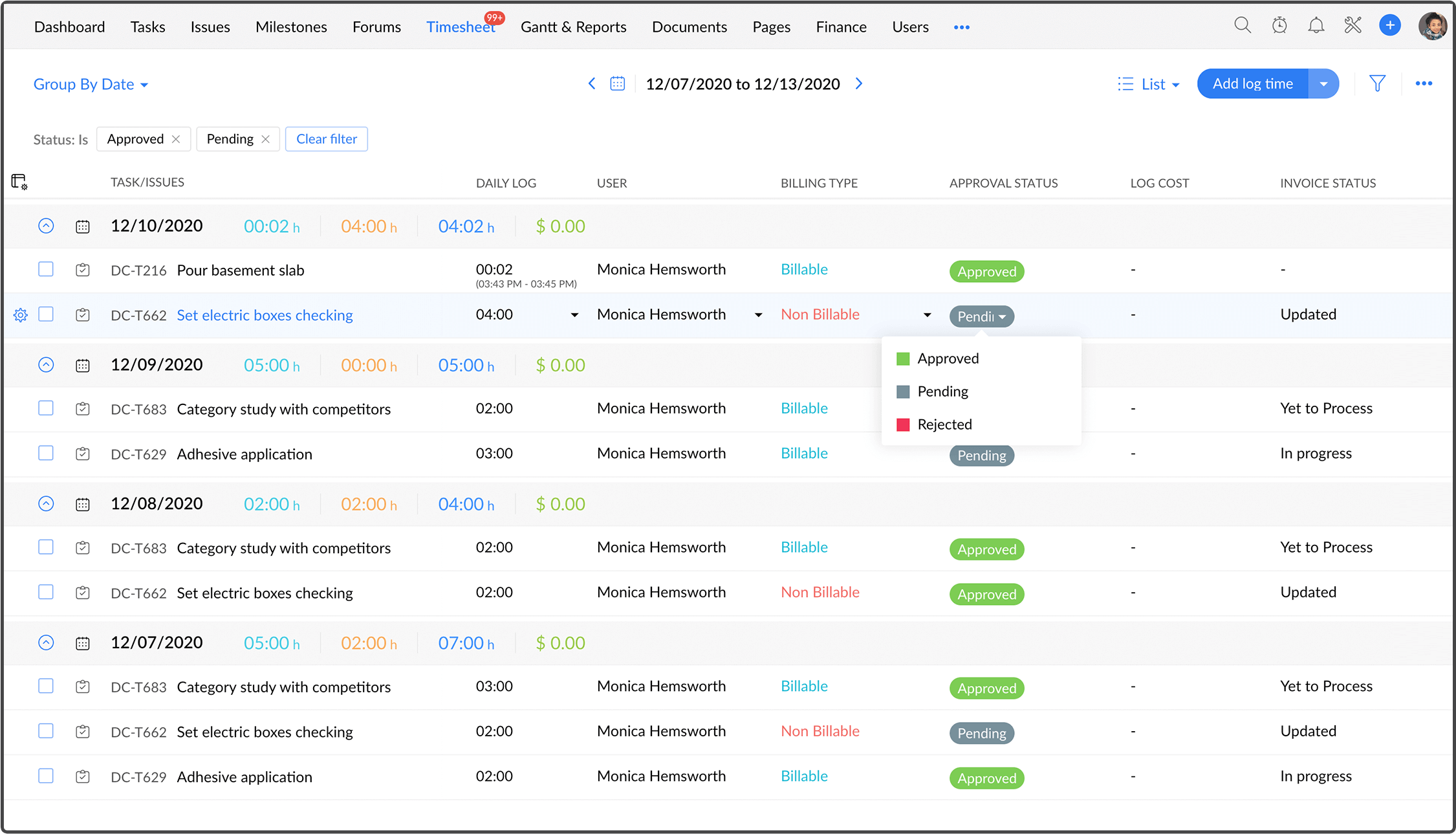 Track time with Zoho Projects. Source: Zoho Projects
Zoho Project's great functionality
Issue tracking: Address project challenges swiftly with Zoho Projects' issue tracking feature. Log and track issues, assign them to team members, and monitor their resolution. This enhances communication and ensures that no problem goes unnoticed.
Project templates: Jumpstart your projects using Zoho Projects' pre-built templates. These templates provide a foundation for various project types, helping you save time setting up projects and ensuring consistency across your organization.
Collaboration tools: Foster collaboration within your team through built-in chat, forums, and feeds. Discuss project details, share updates, and brainstorm ideas in real-time. These collaboration features ensure that all team members are on the same page.
Budget management: Keep your project finances in check with Zoho Projects' budget management capabilities. Monitor project expenses, set budget limits, and receive alerts if costs exceed expectations. This helps you maintain financial transparency and avoid overspending.
🏷️ Pricing: Zoho Projects offers different pricing plans to fit your requirements. You can try it for free with up to 3 users and 2 projects, or choose the Premium and Enterprise plans for advanced features and more storage. Get started with a 10-day free trial.
>Teamwork
Teamwork is a top-notch online project management software with excellent time-tracking tools. It helps users stay on track, manage invoicing and budgeting, and optimize resource usage for maximum productivity.
The My Timesheets feature offers a clean and user-friendly interface, making it easy to use and adapt quickly. You can also view project hours and delve into task specifics, comparing estimated, logged, and actual hours for precise project management.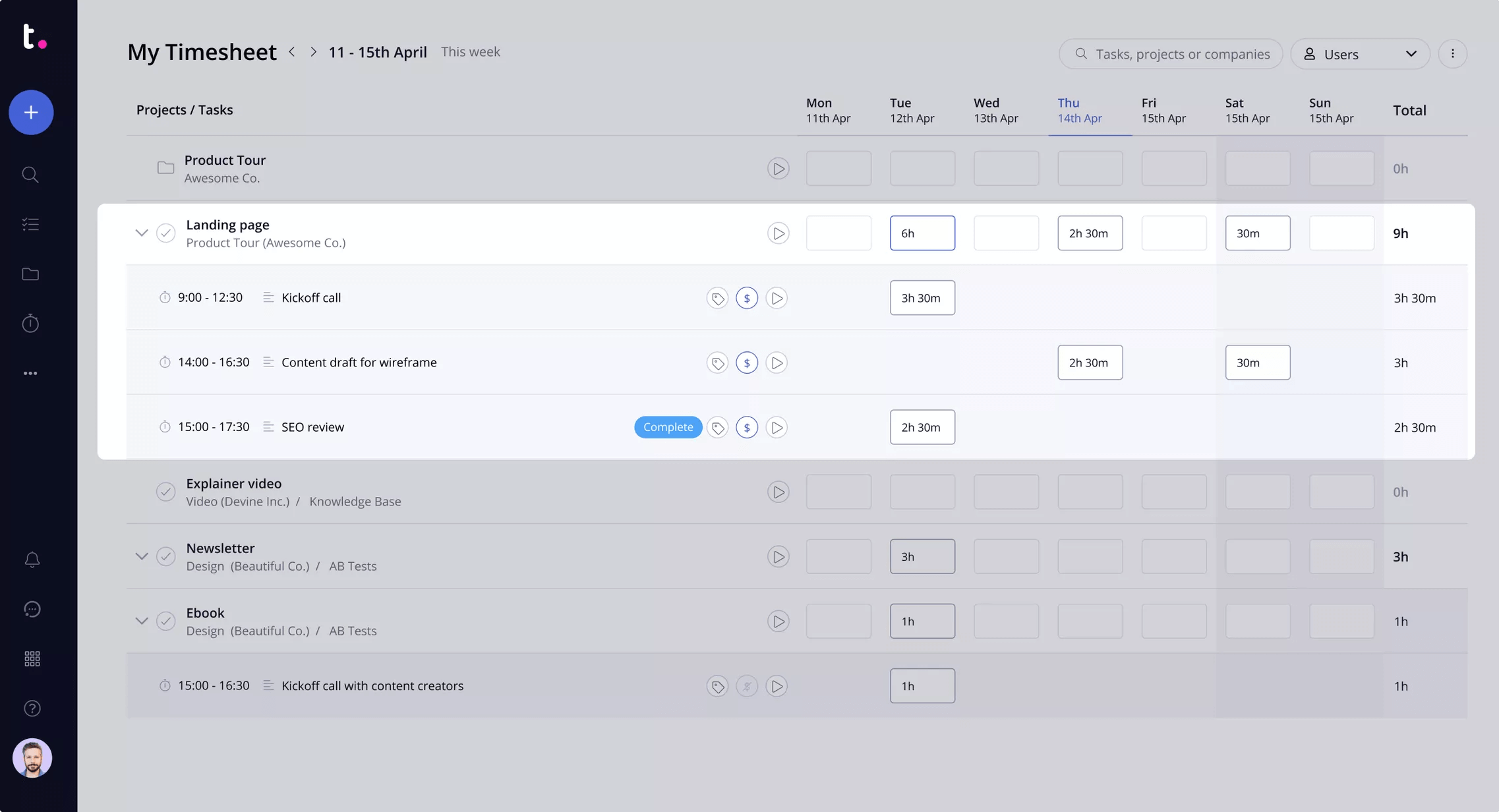 Time tracking in Teamwork. Source: Teamwork
Teamwork's key features
Project templates: Teamwork offers multiple templates for quick project setup, including onboarding checklists, product launch plans, and bug tracking.
Workload management: Easily assess your team's capacity and ensure balanced workloads, preventing overwork or underutilization. Be prepared for schedule changes and deadlines.
Company Timesheets: Make sure your team records their time accurately and gain a transparent view of how they allocate their hours.
Time report: Get a one-stop shop for effortless time tracking. Stay focused on your tasks and log time with detailed descriptions, tags, and billable/non-billable indicators for comprehensive and convenient time reports.
🏷️ Pricing: Teamwork provides free project management software with time tracking for up to five users. And its paid plans start at $5.99, varying based on your team's size.
Youtrack
YouTrack's Time Tracking feature lets you effortlessly log work time and calculate total durations for tasks. With automated options and integration capabilities, it streamlines project time management. It provides insights through reports and enhances communication among teams. You can track time in various units, manage work types, and generate detailed reports for better project understanding.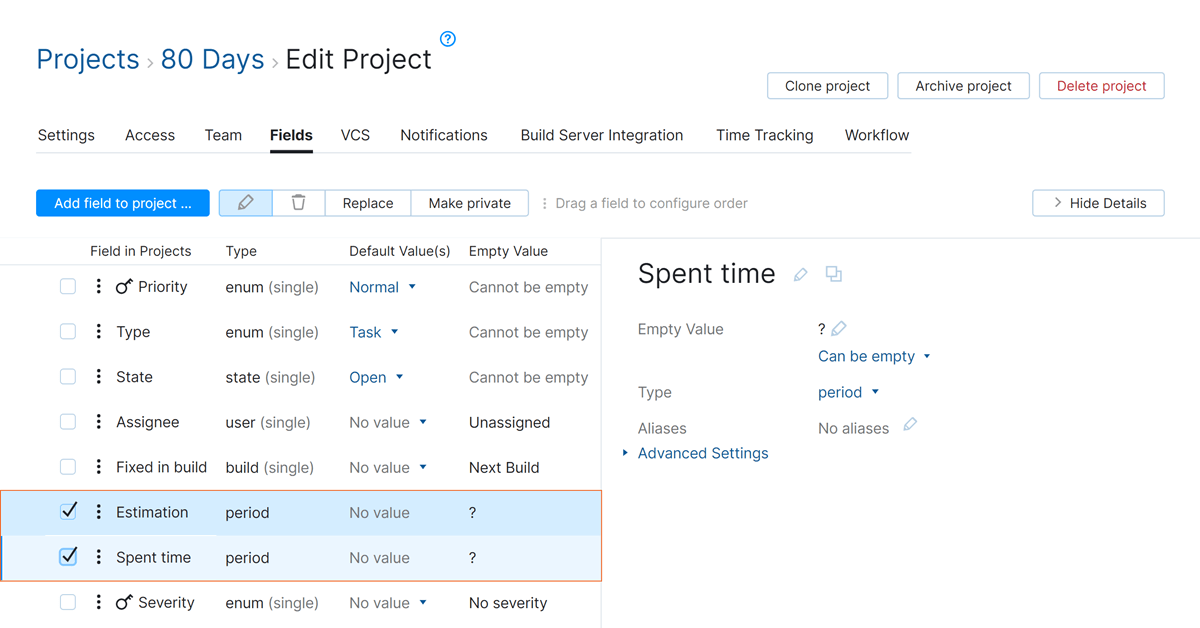 Estimation in Youtrack. Source: Youtrack
Youtrack's main features
Boosts workflow productivity: YouTrack enhances workflow efficiency, ensuring tasks are managed seamlessly.
Effortless team communication: Facilitates smooth communication through conversations, mentions, and reactions, keeping everyone informed.
Web and mobile accessibility: Accessible on both web and mobile platforms, including iOS and Android, ensuring flexibility and convenience.
Time tracking integration: Integrates with TimeCamp for streamlined time tracking, enhancing project management capabilities.
🏷️ Pricing: YouTrack's pricing is designed to suit different team sizes. It's free for up to 10 users, and for teams with 11 or more users, the pricing starts at $4.40 per user per month. Plus, a free 14-day trial is available to test its features.
ClickUp
With ClickUp, keeping track of task time, and allocation becomes a breeze! You can effortlessly monitor how much time you've spent on each task and set estimates for a smooth workflow. Plus, the power to distribute time among team members ensures everyone stays on track with their workload.
Time tracking in ClickUp. Source: ClickUp
ClickUp's awesome functionality
Task management: Leverage task templates and recurring tasks to save time and facilitate team communication within tasks.
Docs feature: Effortlessly collaborate in real-time on files like process documents and style guides while also creating tasks alongside their work.
ClickApps: Personalize your workspace by customizing the apps to streamline your workflow. Easily add or remove collaboration tools and dependency warnings for a tailored experience.
Workspace views: Choose from options like Table View, List View, Box View, and more to track time efficiently based on your project requirements. Stay flexible and organized with the perfect view for your tasks.
🏷️ Pricing: ClickUp offers a free plan with no cost and pricing options ranging from $5 to $29 per person per month, depending on the plan and billing frequency. Custom pricing is available for the Enterprise plan.
Paymo
Paymo is a web-based project management tool designed for small and medium-sized agencies and businesses, offering time logging, project management, and invoicing functionalities in one platform.
This comprehensive tool allows users to monitor every aspect of a project from start to finish, eliminating the need for multiple applications. Moreover, Paymo provides a cost-effective solution with numerous valuable features.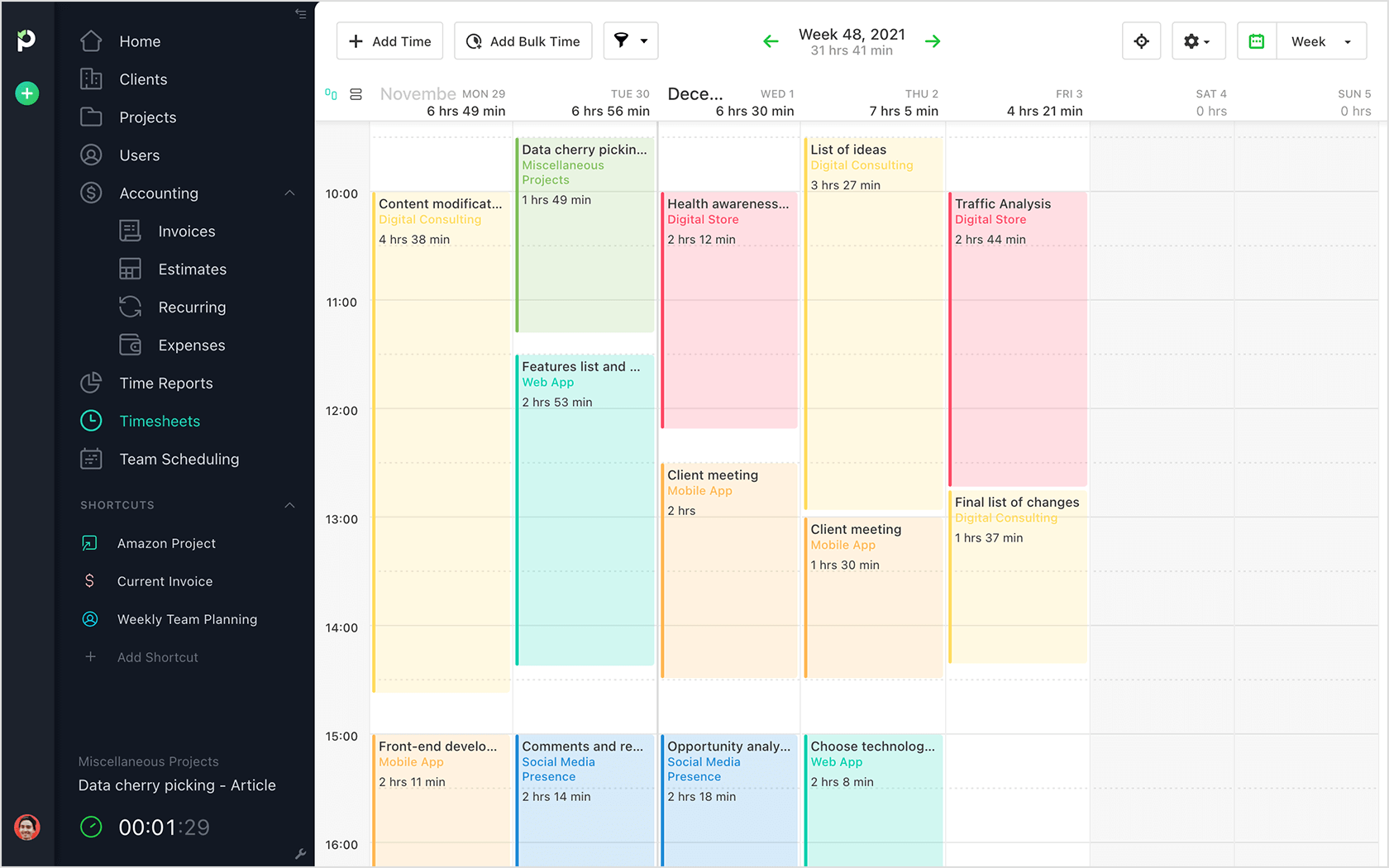 Paymo's time tracking. Source: Paymo
Paymo's core capabilities
Custom workflows: Organize your projects with solid structures so everyone stays on track without worry. With Paymo, keep an eye on who's handling each task at a glance and conveniently group tasks by the assignee.
File proofing: Save time with Paymo's proofing feature that allows you to review work where team members post it. Provide feedback, track revisions, and communicate changes all within one interface.
Leave planner: Simplify leave planning with Paymo. View each team member's days off and avoid roadblocks caused by unavailable teammates. Stay informed and keep your projects running smoothly.
Invoicing tools: Paymo provides all the necessary invoicing features for successful billing and financial management.
🏷️ Pricing: Paymo provides a free version for a maximum of ten users with restricted features. Paid options include the Small Office plan at $11.95 per user per month and the Business plan at $18.95 monthly.
Avaza
Avaza's time tracking makes it easy to record your work hours anywhere, whether on your phone or tablet. You can stop timers with one click, ensuring you don't miss any billable time. You can track time differently, compare task estimates, and approve timesheets. It's a simple and flexible tool to keep your work hours organized.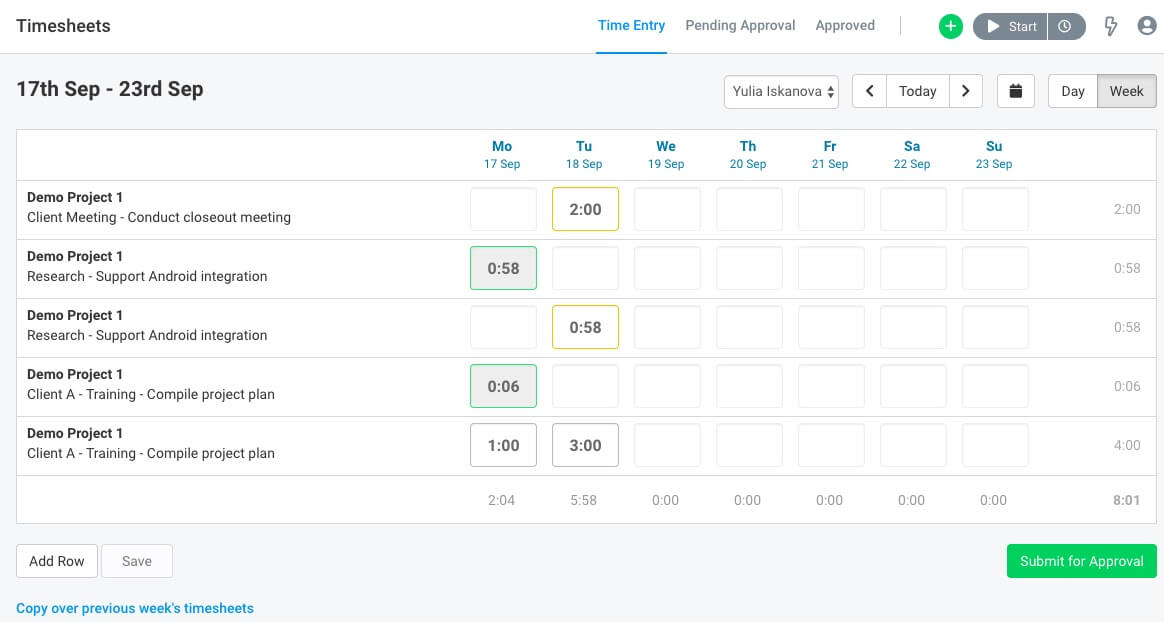 Timesheet in Avaza. Source: Avaza
Avaza's outstanding functions
Resource scheduling: Avaza provides a visual and team-centric approach to planning resources, allowing easy management of project assignments and schedules.
In-depth reports: Export tracked time for internal reviews or client considerations, with insights into project budgets and team's billable hours.
Expense management: Easily track and manage project-related expenses for accurate budgeting and invoicing.
Invoicing and billing: Generate invoices based on tracked time and expenses, and send them directly to clients.
🏷️ Pricing: Avaza's pricing plans vary based on the number of users and their access levels. The free plan includes limited users with different access privileges, while the Startup, Basic, and Business plans offer more users additional access features, each with a different monthly cost.
Jira Software
Jira Software is an excellent fit for software developers who need project time tracking. It's not just about time – Jira helps manage project steps, resources, and reports too.
A standout Jira Software feature is creating roadmaps. These show project progress to teams and stakeholders, helping everyone stay on track and informed.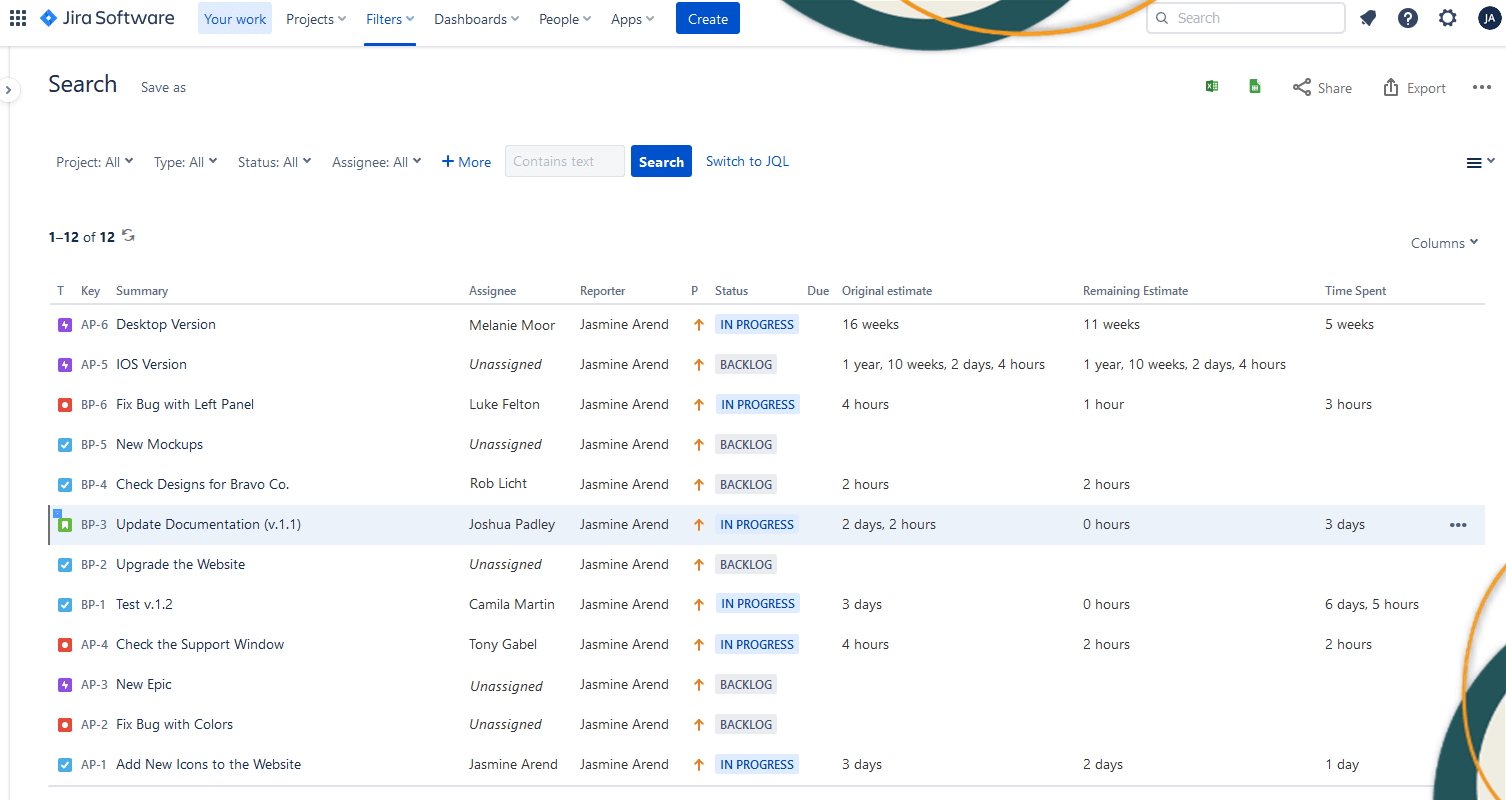 Time tracking in Jira Software. Source: Atlassian
Jira Software's key capabilities
Customizable workflows: Tailor workflows to match your team's unique processes and project stages.
Roadmaps: Create visual roadmaps to track project progress and share plans with stakeholders.
Issue tracking: Easily create, track, and prioritize issues, tasks, and bugs within your projects.
Real-time collaboration: Foster collaboration among team members through comments, mentions, and notifications.
🏷️ Pricing: Jira provides a no-cost project management solution for up to ten users, while its paid options begin at $7 and are determined by your team's user count.
Smartsheet
Smartsheet provides an array of time tracking features, encompassing predictive timesheets, real-time budget updates, actual versus planned hours, and mobile time tracking. Its spreadsheet-style project interface offers a clean and organized appearance.
Perfect for users familiar with spreadsheets, Smartsheet delivers exceptional time-tracking tools alongside essential project management features like analytics, reporting, data security, and team collaboration.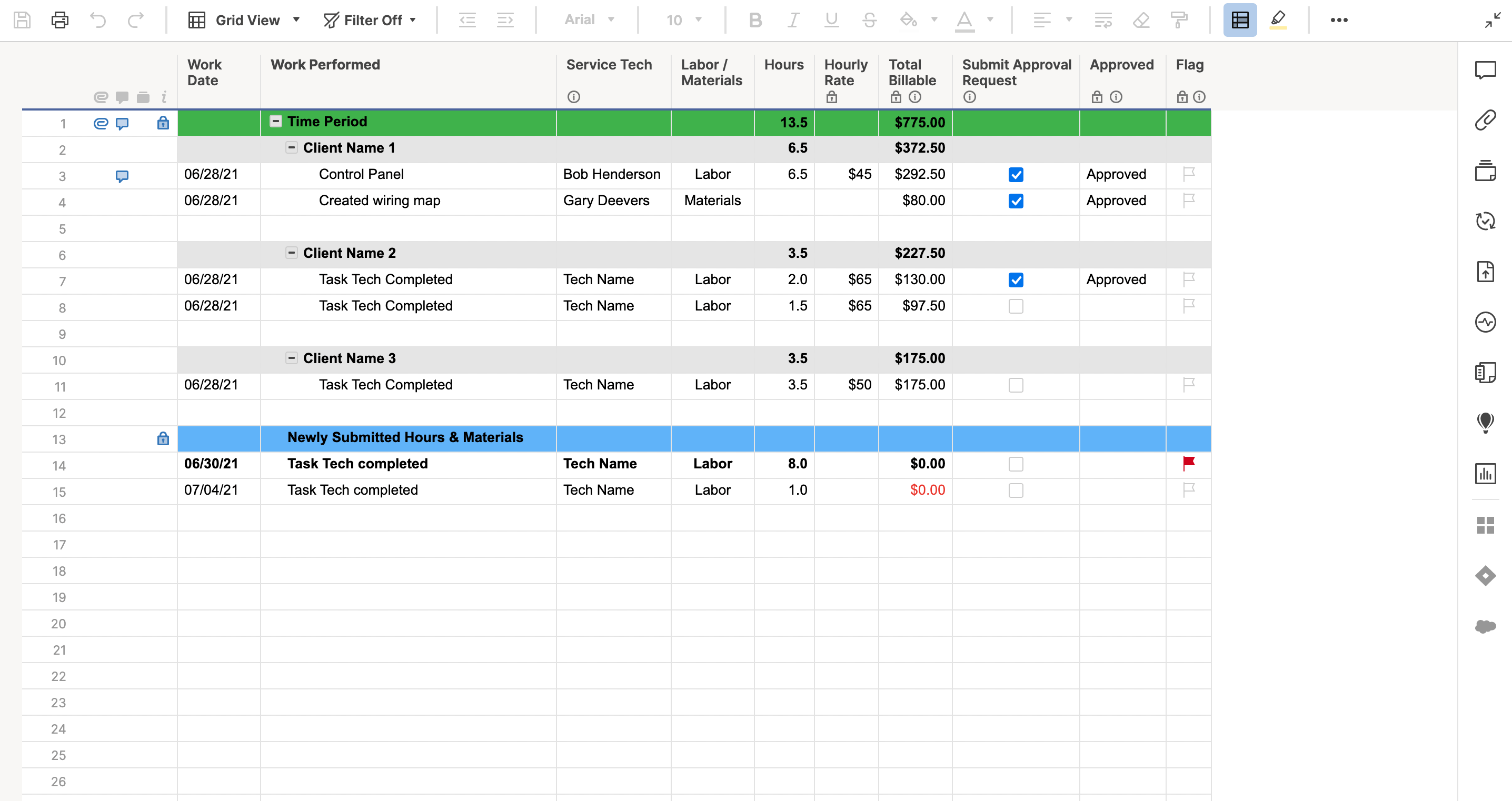 Time tracker in Smartsheet. Source: Smartsheet
Smartsheet's awesome features
Predictive timesheets: Pre-filled and one-click timesheets for easy tracking and hour adjustments.
Customizable settings: Tailor timesheets to match the organization's desired level of detail.
Mobile time tracking: Update timesheets on the go using Smartsheet's mobile feature, eliminating waiting for access to a computer or office.
Resource management: Make informed decisions on project planning, team capacity, budget forecasting, team utilization, and hiring needs in real time.
🏷️ Pricing: With Smartsheet's trial, you can enjoy free time tracking and test all features. After the trial, pricing starts at $7 per user per month, with a minimum of three users.
Why Do You Need Project Management with Time Tracking?
In the world of project management software, including Teamwork, Jira Software, ClickUp, Monday, Avaza, Youtrack, Zoho Projects, Wrike, Smartsheet, Paymo, and more, the power of time tracking emerges as a productivity booster and project guardian. By tapping into billable hours, you unveil the art of pricing while uncovering the secrets of non-billable hours, refine workflows, and kick manual tasks to the curb.
However, the quest for a perfect time tracker demands choosing one that harmonizes seamlessly with your tech arsenal. Look beyond tracking, aiming for tools that dazzle with client reporting, budget mastery, resource orchestration, and the elegance of invoice handling. In this symphony of project prowess, the right time tracker becomes your baton for harmony.
Frequently Asked Questions
Time tracking lets you monitor the time invested in specific tasks and the overall project. This visibility aids in evaluating the precision of task estimates and gauging employee efficiency.
Effective project time management significantly influences a project's quality, scope, and cost, establishing it as a crucial knowledge area in project management. Time management ensures timely and budget-conscious project completion while clarifying the required project duration.
An effective method for project oversight involves crafting a roadmap or document outlining tasks, dependencies, milestones, and objectives. Additionally, designating responsibilities to individual team members enhances collaboration and accountability, fostering a smoother project journey.
With Microsoft Project's time tracking feature, you can monitor and revise task progress, enhance employee responsibility, and accomplish various tasks seamlessly. However, relying solely on its integrated timesheets might prove difficult over time due to concerns regarding reliability and adaptability.
Time tracking within the Agile framework combines contemporary agile software development methods with conventional time tracking akin to manual time sheets. In the Agile approach, teams log their time in incremental sprints across the project's lifespan, ensuring continuous monitoring and refinement.
Paper timesheets: The traditional method involves manually recording time on paper.
Spreadsheets: Excel sheets can be used to organize and calculate time spent.
Time tracking software: Dedicated tools offer automated and accurate tracking.
Have a data migration in mind?
Let's migrate PM data together!
Try for free