It goes without saying that ever since the controversial Covid-19 times, team communication has entered remote mode and will hardly return to what it was before. How should teams deal with the remote work revolution? Adapt. Team collaboration software comes right into the picture for teams working remotely and having hard times with communication, file sharing, and task coordination and tracking.
The number of practical collaboration tools keeps growing and confusing those looking for one. Still, there are always several top options preferred by most users. Which are those?
Monday.com
Asana
Slack
Notion
Smartsheet
Hive
Trello
ClickUp
Miro
Wrike
Basecamp
Teamwork
Microsoft Teams
Airtable
Zoho Projects
MeisterTask
Freedcamp
Understanding Team Collaboration Software
Team collaboration software provides a set of tools for teams to collaborate on projects, assign tasks, share files, update on progress, and communicate. It centralizes work information in one place and allows both internal and external team members to access it and interact with it seamlessly. Thus, team collaboration software breaks the information silos and keeps everyone on the same page throughout the project lifecycle.
According to Statista, 79% of survey respondents started using collaboration tools in 2021, which is 44% more than in 2019. Let's figure out what benefits of team collaboration software make businesses adopt it.
Perks for Remote Teams
Regardless of its versatility, team collaboration software is handy for businesses working on collaborative projects. For example, software development, marketing, education, and construction companies need tools for shared work planning, seamless communication, and accessible reporting. Project management tools keep teams productive and united with features like
Task planning and scheduling
Team cooperation
Resource management
Time tracking
Project reporting
Instant Communication
Instant Communication
Team collaboration software eliminates the communication gap between team members with real-time group and private messaging, @mentions, commenting, and sharing attachments in various formats. Some project management tools provide activity feeds, letting everyone know what's new instantly. The communication barriers are broken, and team members are drawn into the illusion of in-person communication.
Centralized Documentation
Manual collection of ideas and feedback from emails is frustrating, isn't it? Team collaboration software can help here. Real-time editing in collaborative work docs is like brainstorming with your team at a conference table. But, well, you don't need to wait for your turn to make a suggestion or scribble notes on a paper slip.
Comprehensive Task Management
Planning work and assigning tasks often boils down to making schemes and mindmaps. Visualization makes things clear and quick, which is what product management software can boast: Kanban boards and Gantt charts, project views and templates, dashboards and graphs–choose whichever you want and whenever you need. Increased team accountability is another benefit of using collaboration tools for remote teams. With time tracking and real-time updates on progress, you can motivate and encourage team members.
Virtual Meetings
Product management software provides tools for video meetings and conferences, which are essential for remote teams. Seamless decision-making and regular meet-ups help team members support human connection and stay updated. Does your team prefer Zoom or Slack for video conferencing? No problem–integrate it with your project management tool and forget about switching between apps.
Calendar Integration & Scheduling Tools
Efficient project management involves planning far ahead. Still, unexpected changes might occur, and you must implement them flexibly. How does project management software face that? It offers agile planning and task scheduling to maintain well-balanced workloads and stay prepared for adjustments. If you work on complex and large projects, you can set task dependencies and create project roadmaps.
Customization Options and Ease of Use
How can totally different businesses use the same team collaboration software and stay happy with it? Customization options, pre-made project templates, and personalized workflows make collaboration platforms universal and unique. Plus, intuitive interfaces and straightforward setups help facilitate quick onboarding.
Security
Adopting a cloud-based project management tool means your data is stored in a safe place and is protected according to essential security standards like SOC, ISO/IEC, and GDPR. Most team collaboration software platforms offer two-factor authentication, data encryption, access controls, and audit logs to protect sensitive data from unauthorized access.
How to Choose the Right Team Collaboration Software?
What does your team lack for productive collaboration? Let the answer to this question be the determinant of your choice. You can break down the process of choosing your team collaboration software into several steps:
Assess your team's needs and requirements and compare them to what the tool offers.
Collect the list of suitable software.
Narrow that list to three top team collaboration software options according to cost, scalability, and integrations.
Compare it to your existing software and write down the changes in your processes or software setting you will need to make.
Around 59% of employees say that their collaboration tool is not well aligned with their collaboration preferences. That's why choosing the best collaboration software for your team is crucial.
Best Team Collaboration Software
Powerful team collaboration software drives team productivity and makes work processes transparent. If this is what you need, check out the following solutions.
Monday.com: An Intelligent Team Collaboration Tool
A spectacular combination of versatile visualization and cross-functional collaboration makes Monday a top option for remote and hybrid teams. It enables teams to brainstorm and document ideas together in real time. Team members can assign tasks and keep track of what's going on across the company. Plus, Monday is one of several project management tools with built-in time-tracking that increases the team's productivity and accountability.
What Are the Best Collaboration Features of Monday?
Monday.com provides 8+ project views, customizable templates and personalized workflows to manage your unique project management processes. It allows team members to use collaborative work docs for brainstorming, project planning, and summarizing. Custom Monday dashboards and charts help you monitor the processes that are the most important for your success. If your agenda is filled with too many repetitive tasks, you can automate them using the Monday automation builder.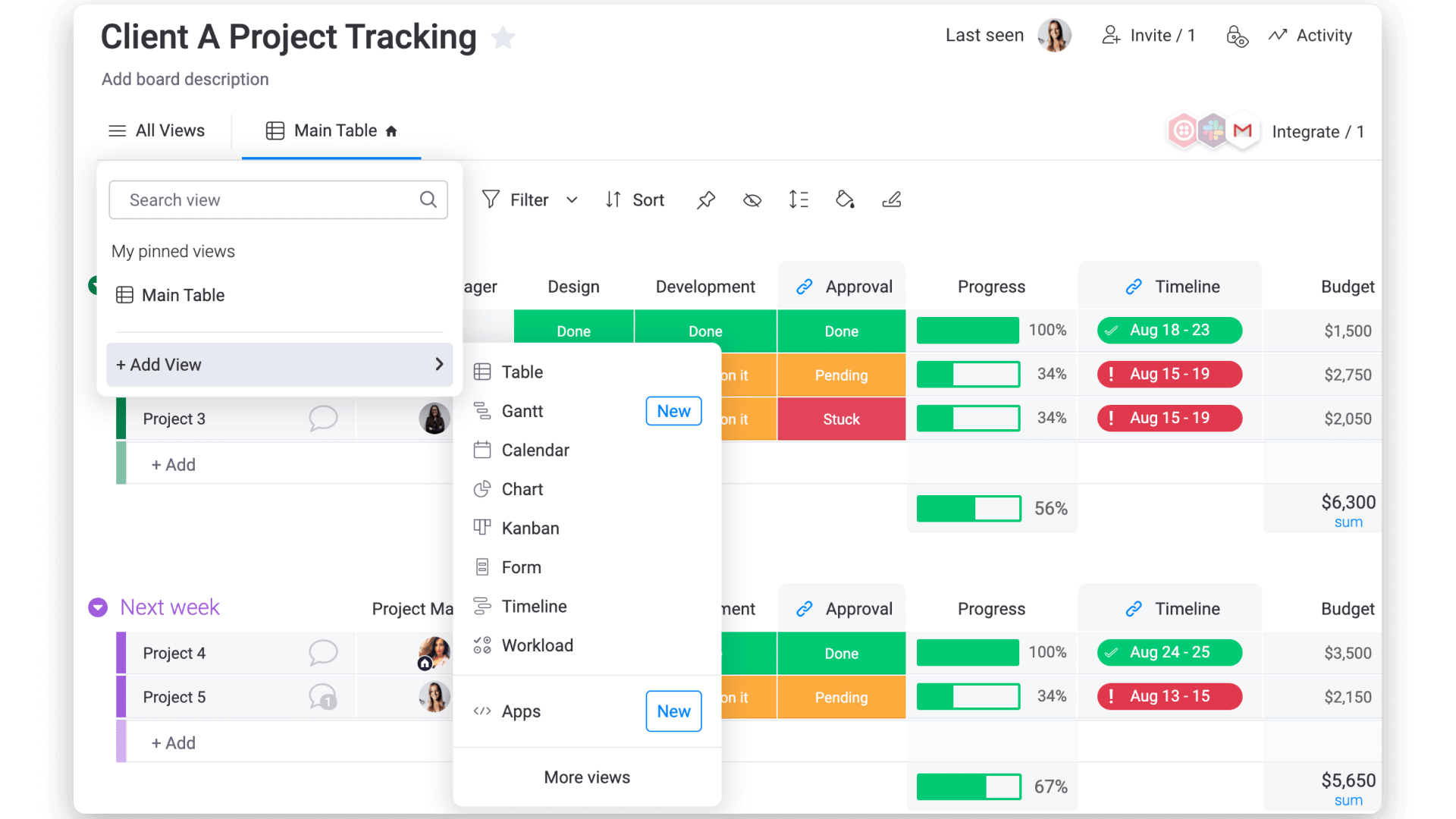 Source: Monday
How Expensive Is Monday?
Monday offers a free plan which includes 2 seats, 3 boards, and unlimited docs. Pricing packages start at €8 and reach €16 per user per month. You can try out Monday's Pro plan for 14 days for free.

Source: Monday
Why Is Asana a Game-Changing Collaboration Tool?
Asana connects teams across different departments and helps them achieve their shared goals. Its powerful visualization fosters transparency by allowing everyone to see others' updates. Team members stay in touch, ask questions, and provide feedback using real-time communication tools. The ability to share files and collaborate on tasks makes Asana an excellent choice for team collaboration.
How Can Asana Benefit Your Team?
Asana helps agile teams streamline task coordination across project portfolios and provides several project views to analyze your performance in detail. Rich customization options allow you to tailor the tool to your team's needs, while robust Asana automation takes the pain out of work management. You can set trackable goals and milestones and monitor progress on real-time dashboards and charts. Asana's comprehensive admin and privacy controls allow you to set permissions and manage teams, guests, and collaborators so that your sensitive information always stays safe.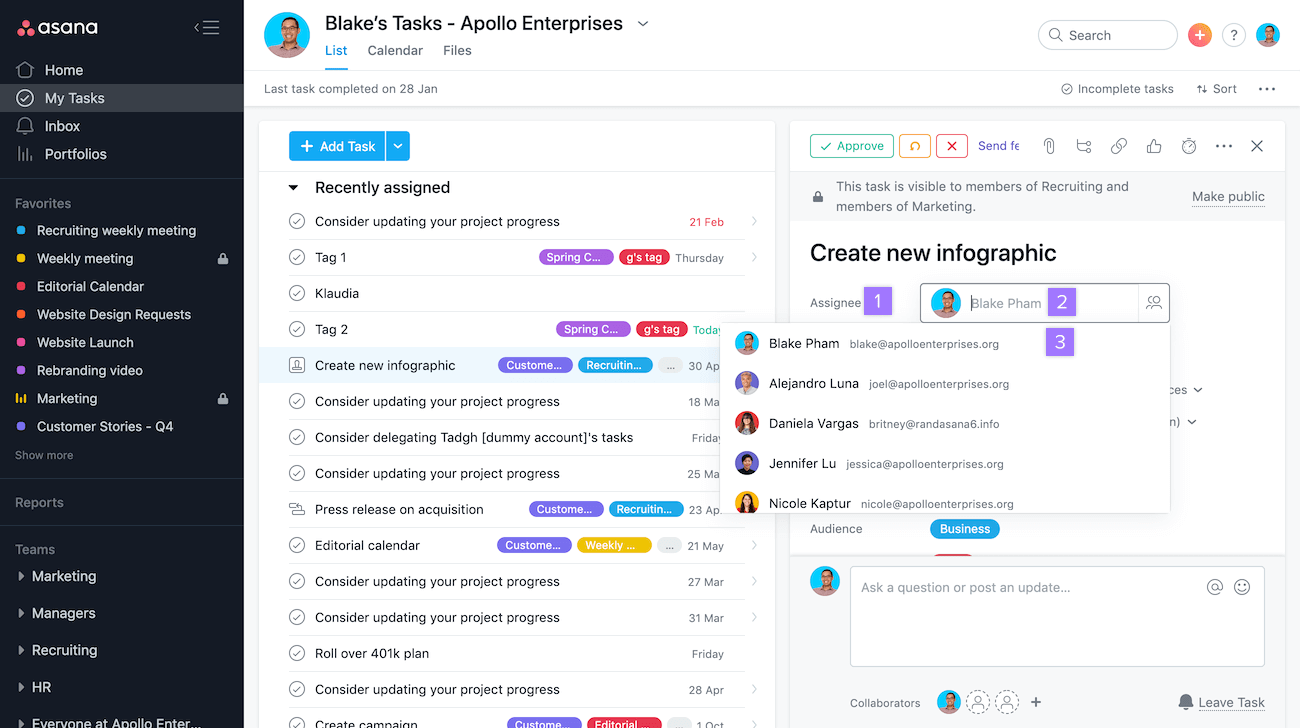 Source: Asana
Is Asana Worth Paying?
Small teams can use Asana as free team collaboration software. Its Basic plan includes 15 users, unlimited tasks and projects, and board views. The Premium and Business plans start at $10.99 and provide automated workflows, advanced reporting, and resource management. Also, Asana offers a 30-day free trial that allows you to make an informed decision about purchasing it.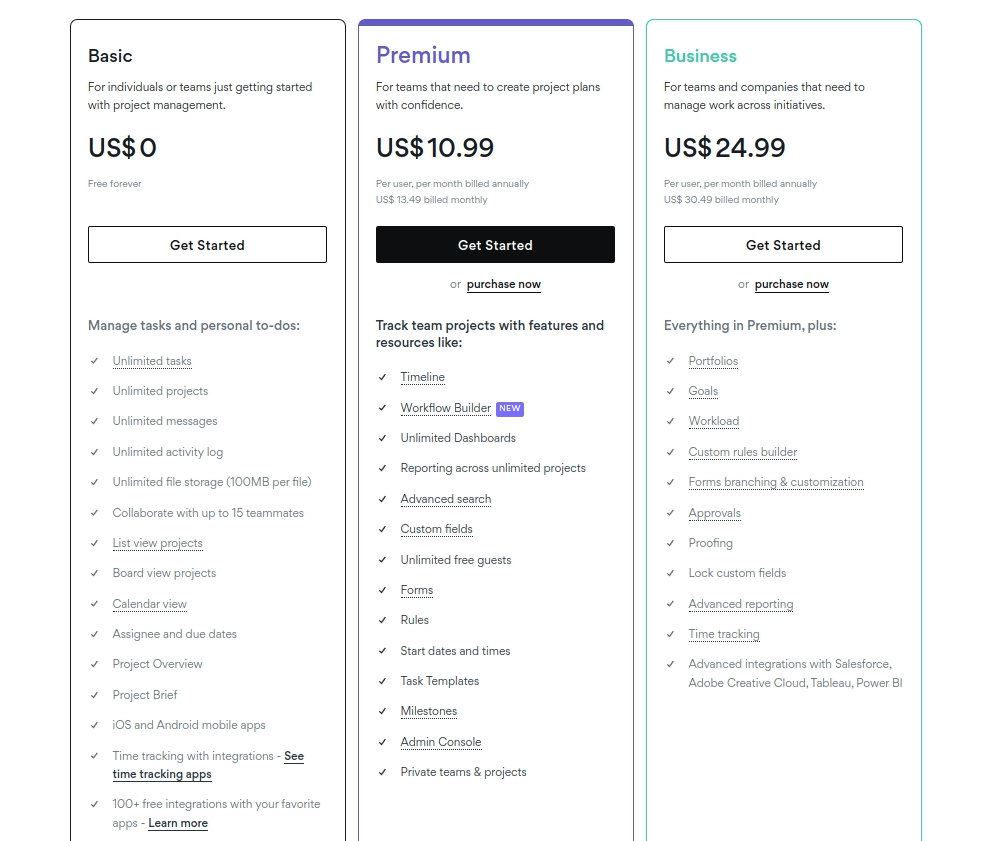 Source: Asana
Slack: The Ultimate Business Communication Tool
Slack is a cloud-based messaging app that helps teams collaborate through direct and group chats. It offers an intuitive interface and allows you to share files and clips and organize information in separate team channels. Slack's integrations with other tools also make it a versatile platform that can be used to centralize communication across different teams and tools.
What Cool Things Can You Do in Slack?
Slack is one of the most popular free team collaboration software, and not in vain. You can @mention colleagues, react to messages, create threads, record audio messages, and make video conference calls–Slack ensures you are on the same page with your team members. Using Slack channels, you can organize conversations by project and quickly reference previous discussions. Easily integrated with tools like Google Drive and Trello, Slack can be used as a central hub for communication. Finally, Slack's collaboration tools, such as polls, reminders, and shared to-do lists, facilitate cross-team collaboration.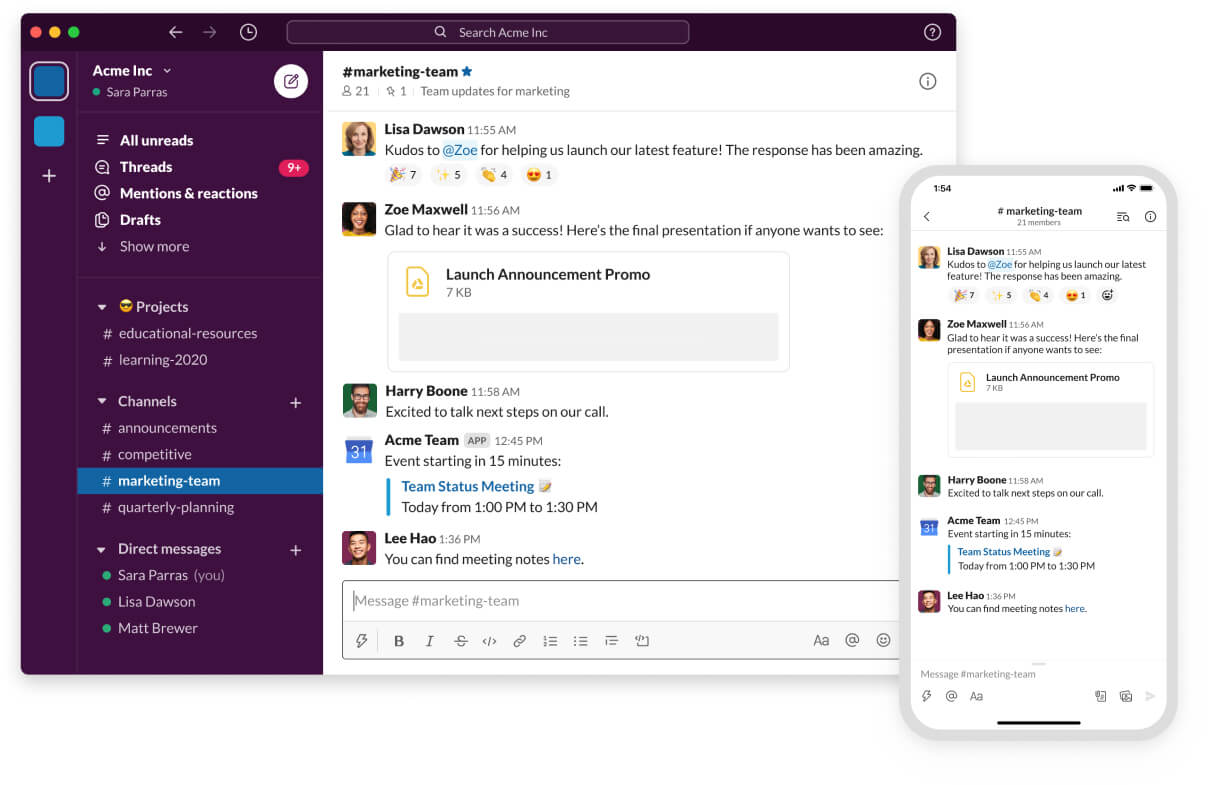 Source: Slack
Is Slack Paid or Free?
Slack's free plan provides a 90-day message history, 10 integrations with other apps, and 1:1 huddles. The Pro plan costs $7.25 and provides unlimited features. If you need advanced security and compliance, check the Business and Enterprise packages. Slack offers a generous free trial period which is 90 days long.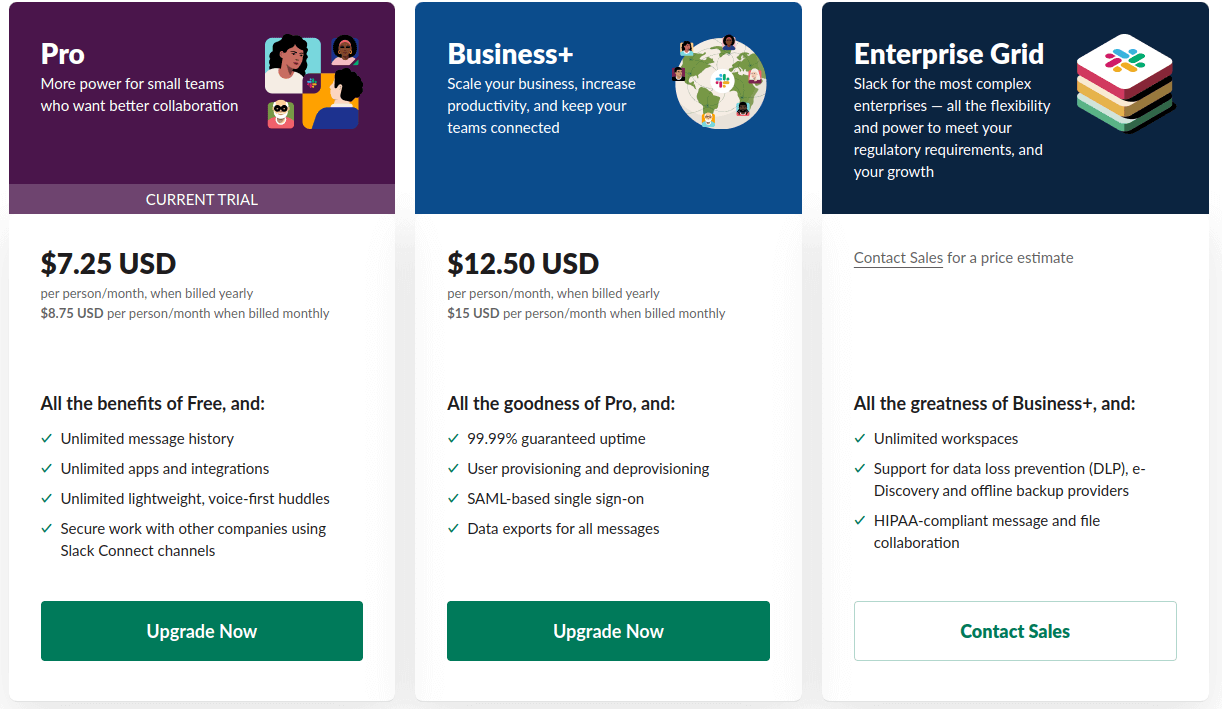 Source: Slack
Discover the Power of Notion Collaboration Features
If you're looking for a workspace that lets you collaborate in your personal way, check Notion. Its wiki-style pages make it easy to create and share content, while its databases and tables help organize information in a structured format. In Notion, your team can work together on tasks and projects, leave comments, assign tasks, and track progress.
What Is Notion Best for?
Notion provides tools for planning and delivering projects, storing documentation in wikis, and improving note-taking with AI. Here, you can create and collaborate in your team's preferred way by building custom docs with blocks like text, images, tables, toggle lists, videos, and boards. To get started with tasks and projects quickly, you can use customizable templates and automate your repetitive processes. Yet, if you need software to create and manage complex projects, you might consider other options.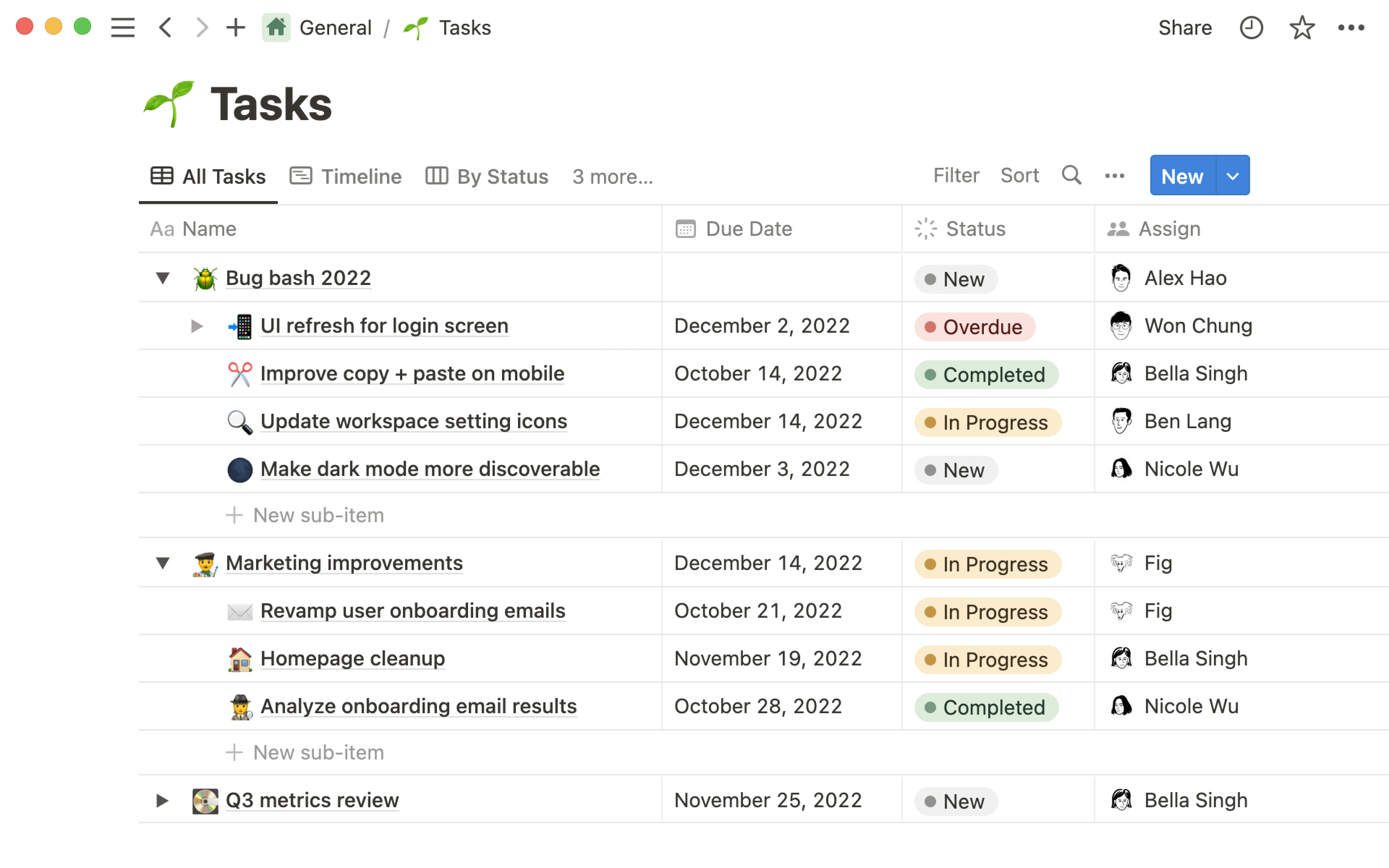 Source: Notion
A Look at Notion's Pricing
If you want to use most of Notion's features, look at the Plus package, which includes unlimited pages and blocks, unlimited file uploads, 30-day message history, and basic analytics. Notion offers a free plan with a limited block trial for 2+ users and up to 5MB file uploads. Also, Notion provides a free trial for each plan.

Source: Notion
Elevate Your Team Collaboration with Smartsheet
If you're friends with spreadsheets, Smartsheet might be precisely what you need. It's a powerful tool for team collaboration and enterprise work management that offers shared project planning and dynamic portfolio management. With Smartsheet, teams can easily share information, track progress, and provide feedback to one another, all in one centralized location. Its automated workflows and notifications ensure everyone follows their tasks and deadlines.
What Makes Smartsheet Different?
In Smartsheet, you can create team workspaces, arrange data in customizable and shareable sheets, and detect your pain points by pulling data from different sheets into row reports. You can share sheets, reports, and dashboards and track who made changes to those documents in the activity log. With Smartsheet's customizable sharing and permission settings, you can ensure your sensitive information stays secure. If your team works on several projects simultaneously, Smartsheet provides an advanced portfolio manager with a dashboard, budget tracking, and resource management. Besides, you can use baselines to compare your planned and actual progress and see how close you are to achieving your goals.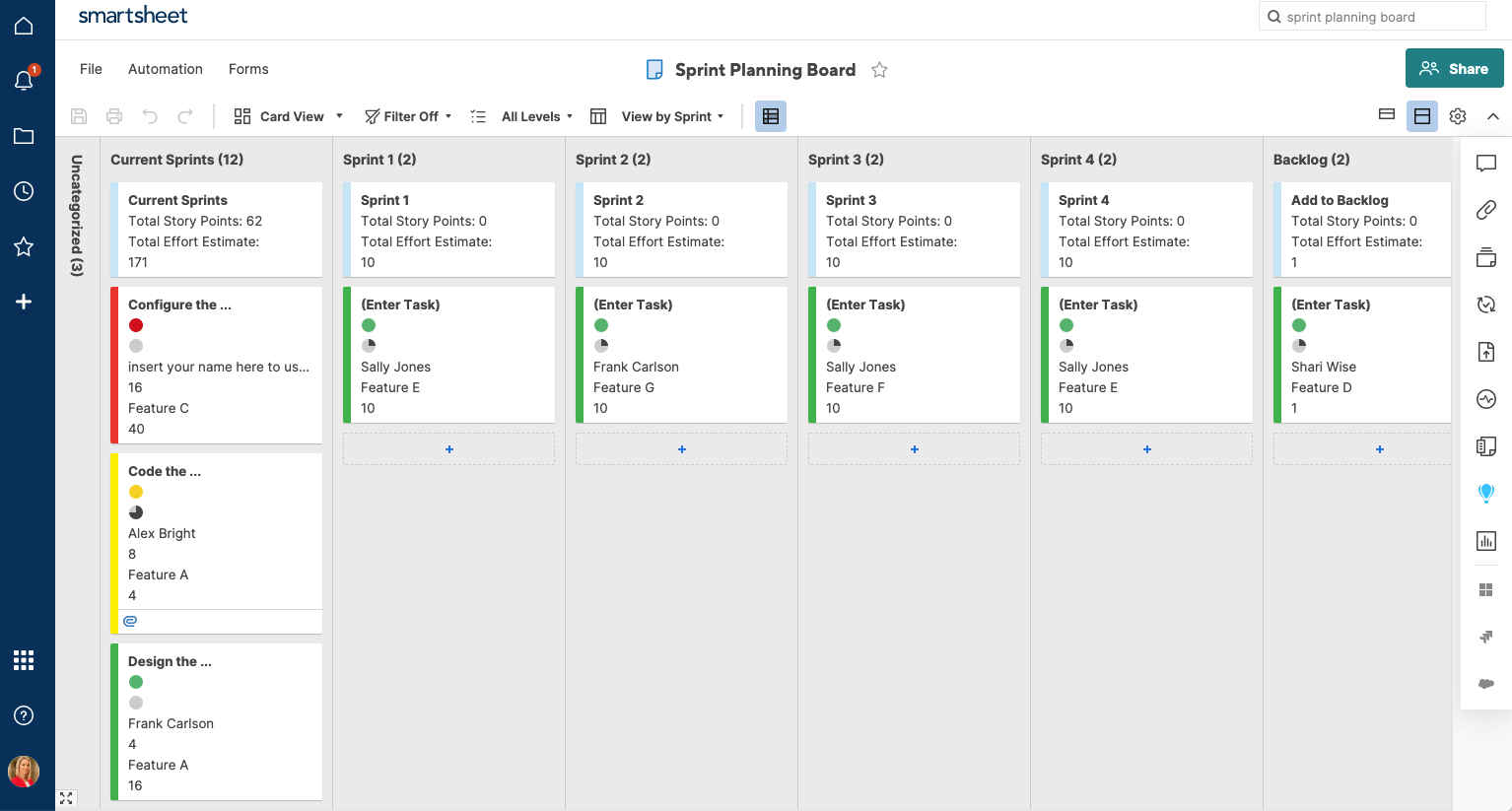 Source: Smartsheet
How Much Is Smartsheet a Month?
Smartsheet's pricing starts at $7 (Pro) and reaches $25 (Business) per user per month, and there's an Enterprise plan for a custom price, too. Also, Smartsheet offers a free plan, but it allows only 2 editors and 2 sheets. You can try this tool for free using the 30-day free trial to figure out if it fits you.

Source: Smartsheet
Take Advantage of Hive's Collaboration Functionalities
Hive improves team collaboration with built-in messaging and enhanced documentation management. You can have private and group conversations and communicate using the in-app email, so you don't need to integrate Hive with other messaging tools. Plus, you can attach emails to tasks and create tasks from emails to save time and ensure no information slips through the cracks. On top of that, Hive provides advanced tools for project planning and tracking, and thus, it makes a great option for managing both teams and projects.
Is Hive the Secret to Successful Team Collaboration?
Hive's intricate project hierarchy allows you to create parent and child projects, each with individual tasks and subsections. You can represent work with Gantt and Kanban, calendar, and table view. Task dependencies help you plan out each initiative, while analytics dashboards and project baselines show your progress. If your agenda is too full, Hive's innovative AI-powered tool can plan projects based on your suggestions, create content, generate images, and execute custom requests. To streamline team and client management and collect information efficiently, Hive delivers forms and collaborative notes.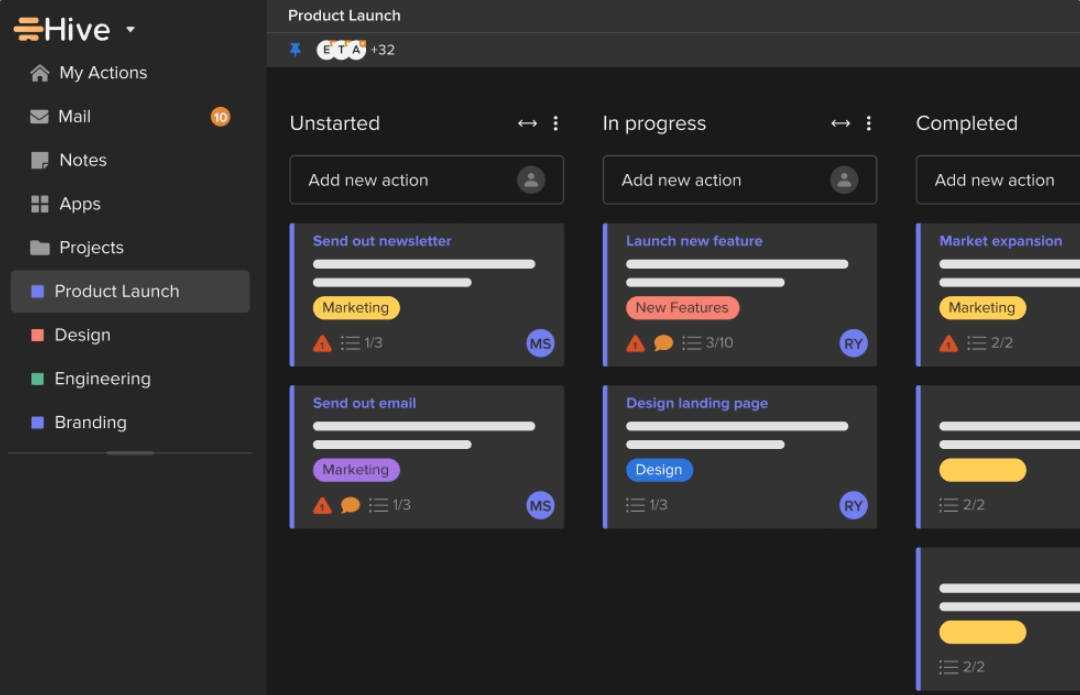 Source: Hive
What Is Hive's Pricing?
Hive offers a feature-rich free plan with 10 seats, unlimited tasks and notes, recurring tasks, and project views. The Teams plan for $12/user/month is the most popular and includes unlimited users, project archiving, collaborative and private notes, and creating tasks from emails. Hive gives you two weeks to try it out for free.

Source: Hive
Is Trello the Missing Piece in Your Team's Collaboration Puzzle?
Trello is a popular Kanban-based project management tool that enables teams to collaborate on projects in a visually organized and easy-to-use interface. You can create advanced checklists to manage things on the micro level and add custom fields to tailor the tool to your workflow. Trello's communication tools allow you to @mention team members, create task comments, attach files, and get notifications. If you need more collaboration features, use Trello's Power-Ups and get a ton of additional capabilities.
What Is the Most Effective Use of Trello?
Trello offers a system of digital boards, lists, and cards to represent and arrange tasks. Its powerful and intuitive automation tool helps you get rid of repetitive tasks and add custom buttons to your boards. Using multiple board views like Board, Timeline Table, Map, and Dashboard, you can dig into your team's workload and track whether you meet deadlines. In Trello, you don't need to create boards from scratch–use templates for team collaboration, project management, HR, marketing, etc. and customize them to gain more results in less time.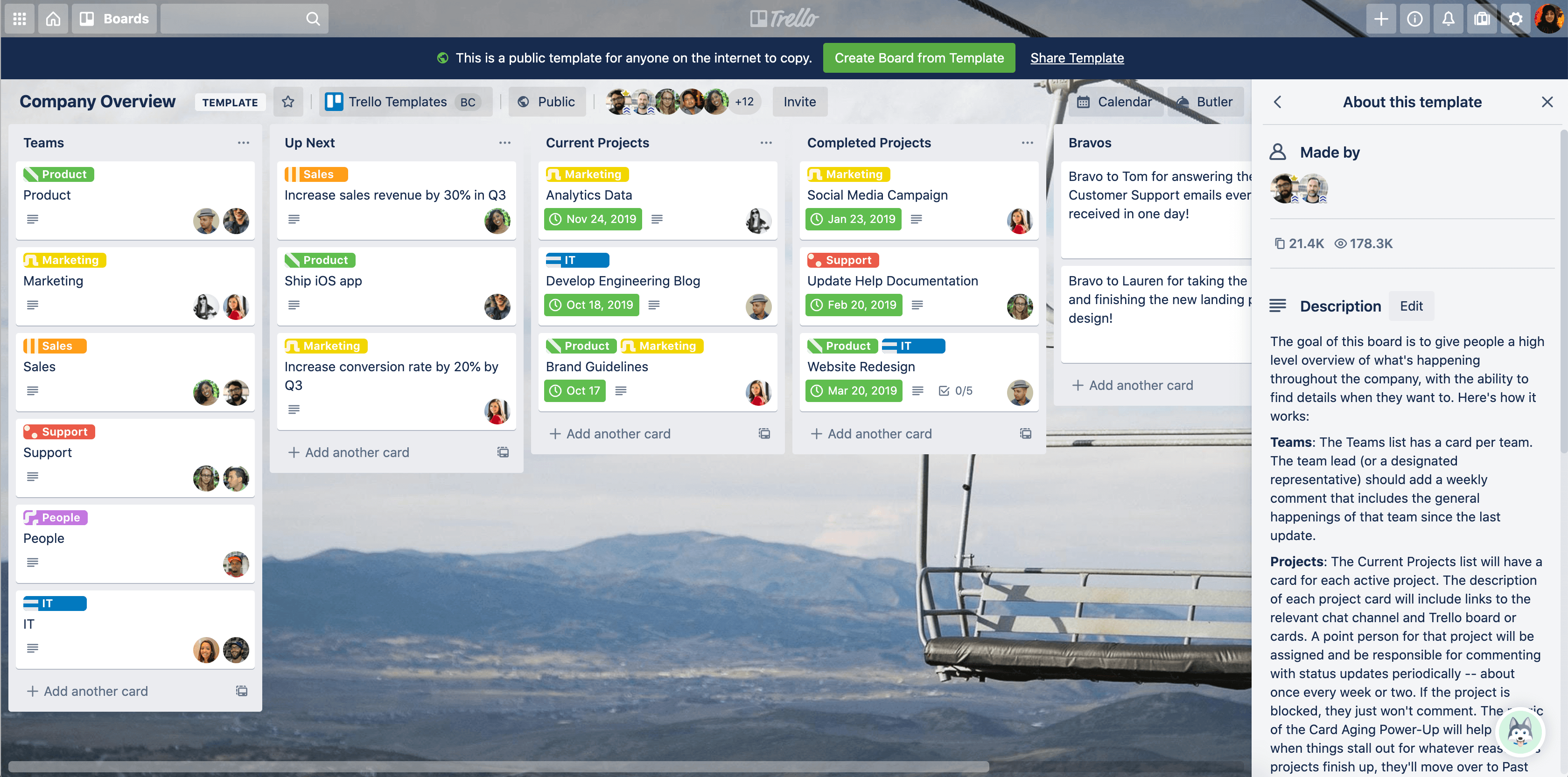 Source: Trello
How Much Is Trello Worth?
Trello provides free unlimited cards, activity logs, built-in automation, templates, and up to 10 boards per workspace for your team. The Standard plan for $5/user/month provides unlimited boards, board views, and advanced checklists. For more, consider Premium for $10 and Enterprise for $17.50/user/month. Trello lets you try the Premium plan for 14 days for free.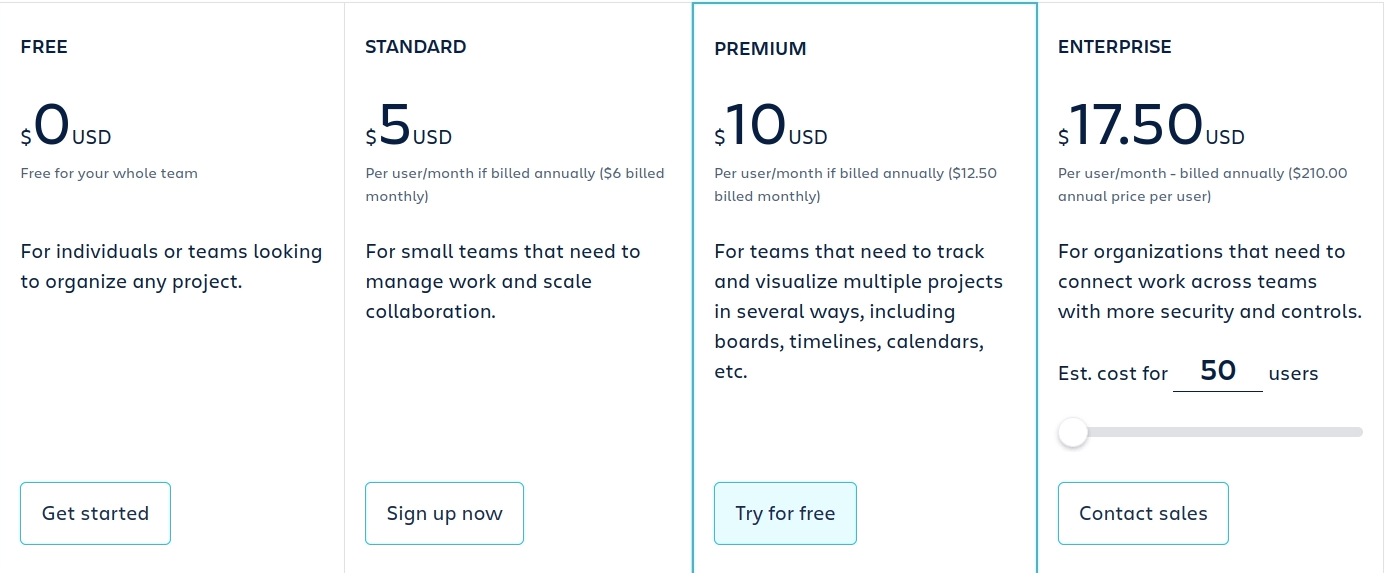 Source: Trello
Should Your Team Switch to ClickUp?
ClickUp is an all-in-one solution for seamless team collaboration and project management. From assigning tasks and setting deadlines to real-time communication and customizable workflows, ClickUp empowers your cross-team collaboration. You can manage each team as a separate Space with its individual task management so that tasks and departments don't mess up. With ClickUp's comprehensive features and intuitive interface, teams can easily work together, stay on track, and achieve their goals faster.
What Is Unique About ClickUp?
Regardless of your project number and size, ClickUp can handle your needs. It saves time with powerful automation and hundreds of templates for various use cases. ClickUp cares for your individual work style and allows you to customize task management with custom fields and 35+ ClickApps for collaboration, work management, and reporting. To help your team brainstorm and strategize productively, ClickUp provides whiteboards where team members can visualize their ideas and add context by linking to tasks, files, and Docs. ClickUp's time management allows you to track time, make estimates and generate reports for billable time. The versatility of CLickUp's toolset can still be supplemented by integrating over 1000 apps for various business functions.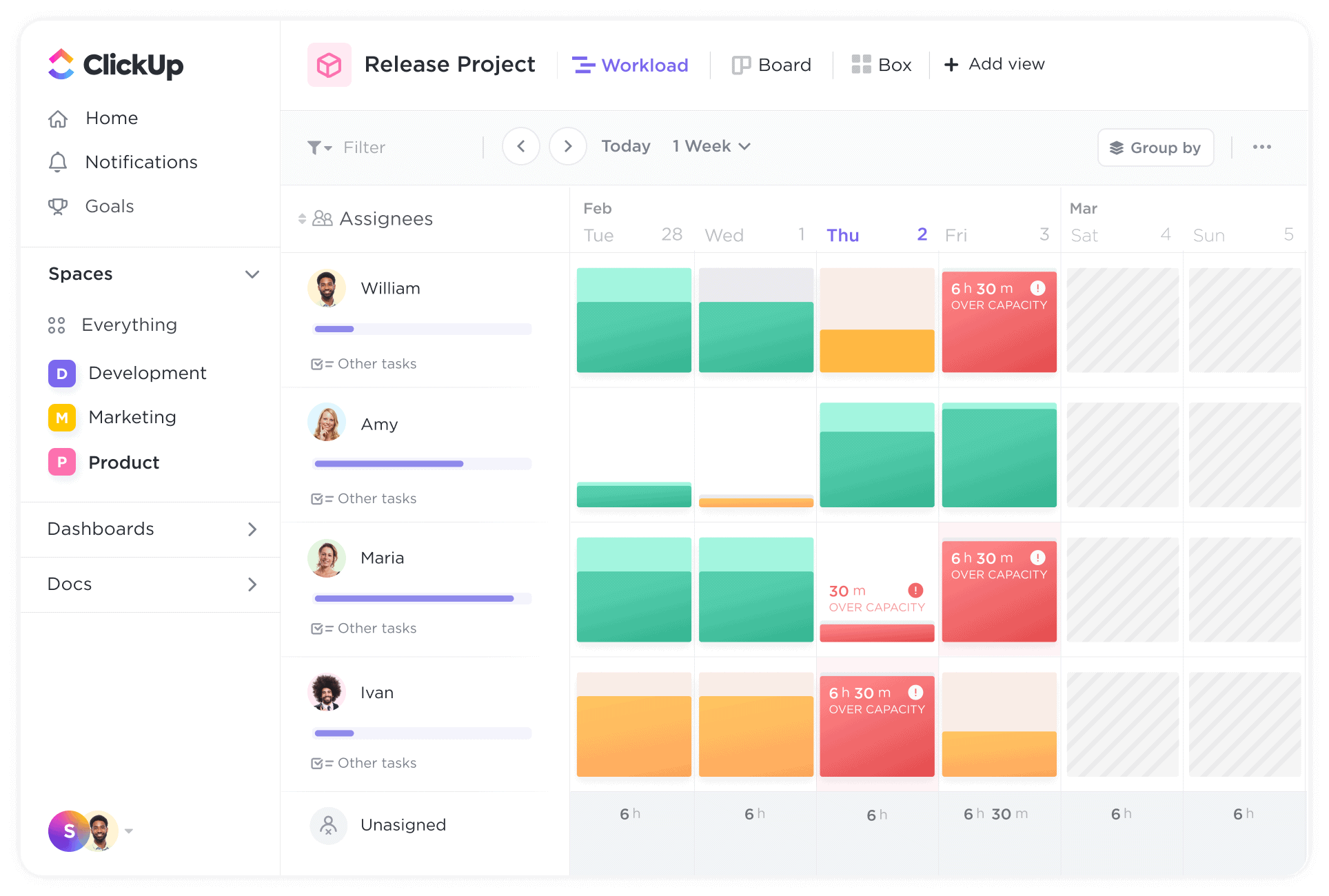 Source: ClickUp
Is ClickUp Worth Paying?
ClickUp comes as free team collaboration software. However, you can make the most of ClickUp's free plan until you need much storage. It includes unlimited members and tasks, Docs, whiteboards, real-time chat, and time tracking but allows only 100MB of storage. The lowest ClickUp plan costs $5/user/month and provides everything you might need for basic collaboration. There are also Business, Business Plus, and Enterprise plans for comprehensive work management. A 14-day free trial is available.

Source: ClickUp
Is Miro the Solution to Your Yeam Collaboration Needs?
Miro is an online workspace streamlining cross-team work with intuitive virtual whiteboards and templates for brainstorming and task management. Visual collaboration is what remote and hybrid teams need to align with their shared goals, and Miro enables that with tools for hybrid meetings, asynchronous collaboration, and content management. Agile teams can use Miro to run daily Scrums, sprint planning, and retrospectives and organize work on a Kanban board.
How Can Miro Empower Your Team?
Miro provides a set of templates that help you better scale your cross-team processes. You can use ready-made canvases for meetings and workshops, brainstorming, design, strategic planning, and agile workflows. Or use an infinite canvas to create your company's mood board where team members can add files, videos, and images to express their moods. Miro's wireframing, diagramming, flowcharts, and real-time chat allow your team to stick together and clearly understand their objectives. Integrating Miro with project management tools like Jira, Asana, Monday, or ClickUp can make your team collaboration a piece of cake.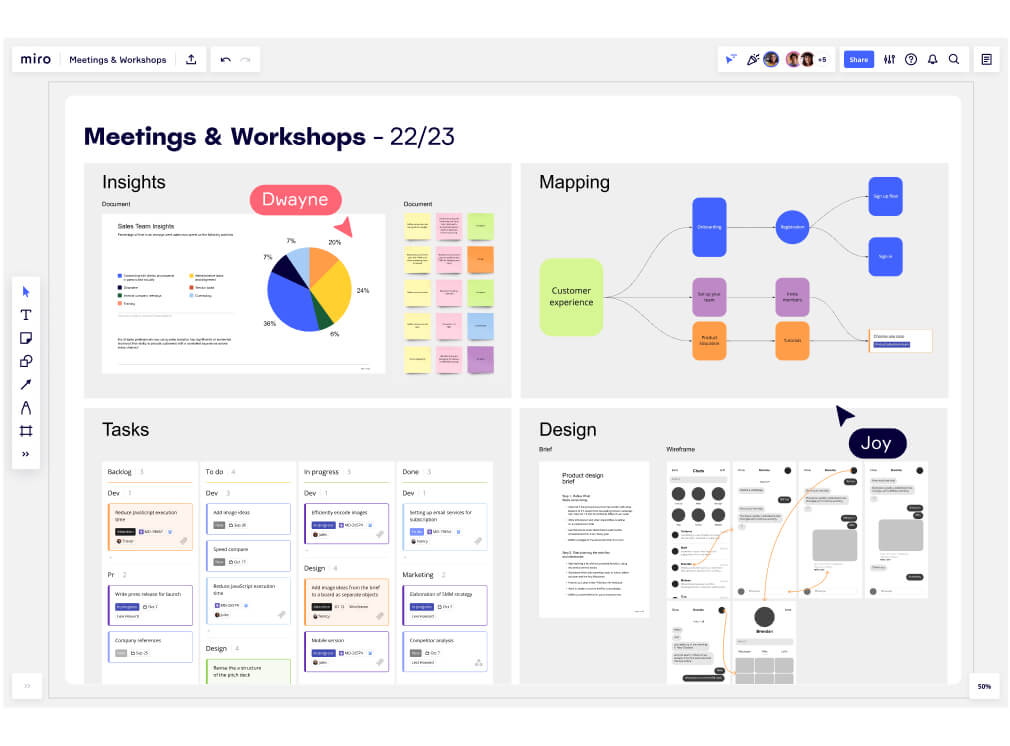 Source: Miro
What Miro Pricing Plan Is Right for You?
Miro offers a free plan for unlimited members which includes 1 workspace with 3 editable boards, and templates. The Starter plan costs $8/user/month, while the Business costs $16/user/month. The Enterprise plan provides enhanced visibility and security and comes with a custom price.

Source: Miro
Is Wrike Good For Teamwork?
Wrike is a virtual workspace where everyone is on the same page, making progress and achieving goals. With this product management software, you can plan, prioritize, and execute projects cross-functionally. Shared boards and cross-tagging keep everyone in tune while simplified proofing & approvals streamline collaboration with external and internal stakeholders. If you have many workflows going on, Wrike provides spaces to organize the workload of each team efficiently.
Can Wrike Enhance Your Team's Productivity?
Whether working on a complex project or a simple to-do list, Wrike has got you covered. Structured work hierarchy, board views, and detailed effort management help you distribute and track tasks in detail. To make you feel at home, Wrike lets you customize workflows, create custom items, and add custom widgets to project dashboards. Automating typical tasks and AI-powered content creation enables you to focus on meaningful work and load off your team's agenda. Besides, you can use Wrike's real-time reports and sharable dashboards for in-depth analytics of your progress.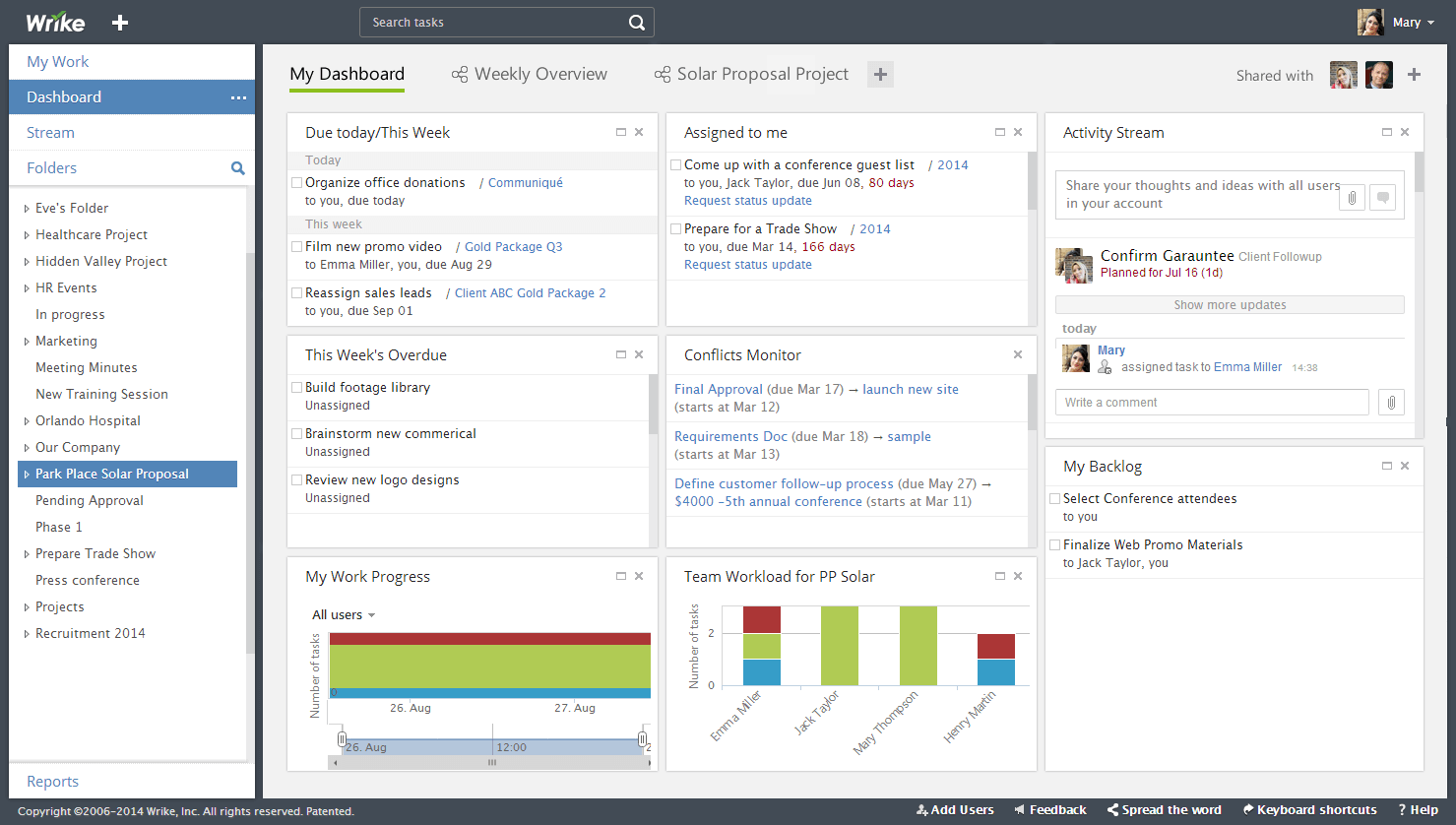 Source: Wrike
How Much Does Wrike Cost?
Wrike offers several pricing plans, including a free plan. The price starts at $9.80/user/month, while the most popular Business plan costs $24.80/user/month. There are also Enterprise and Pinnacle packages for large-scale needs. Wrike provides little details on plans, so you need to contact their sales for more information.

Source: Wrike
Is Basecamp the Smart Choice for Team Collaboration?
Basecamp is the ultimate product management tool that helps teams stay organized, communicate seamlessly, and get more done in less time. With its user-friendly interface and powerful features, Basecamp lets teams focus on delivering outstanding results. Whether you're working on a small project or a large-scale initiative, Basecamp is the go-to software for keeping everyone in tune, regardless of their location.
What Are Basecamp's Best Features?
Opening the Basecamp app is like entering a cozy office. The Home page leads you to any corner of your collaborative workspace, whether it's your schedule, message board, or notification hub — pin your favorite places on top. To structure your work, you can create lists with tasks and assign items to team members. The message board contains your team's announcements, ideas, and progress updates and keeps everyone up to date. Basecamp provides several workflow views like Card Table, Lineup, and Hill Charts to let you track each step of your project. Finally, integrating Basecamp with other work management tools will help you put team collaboration at the heart of your organization.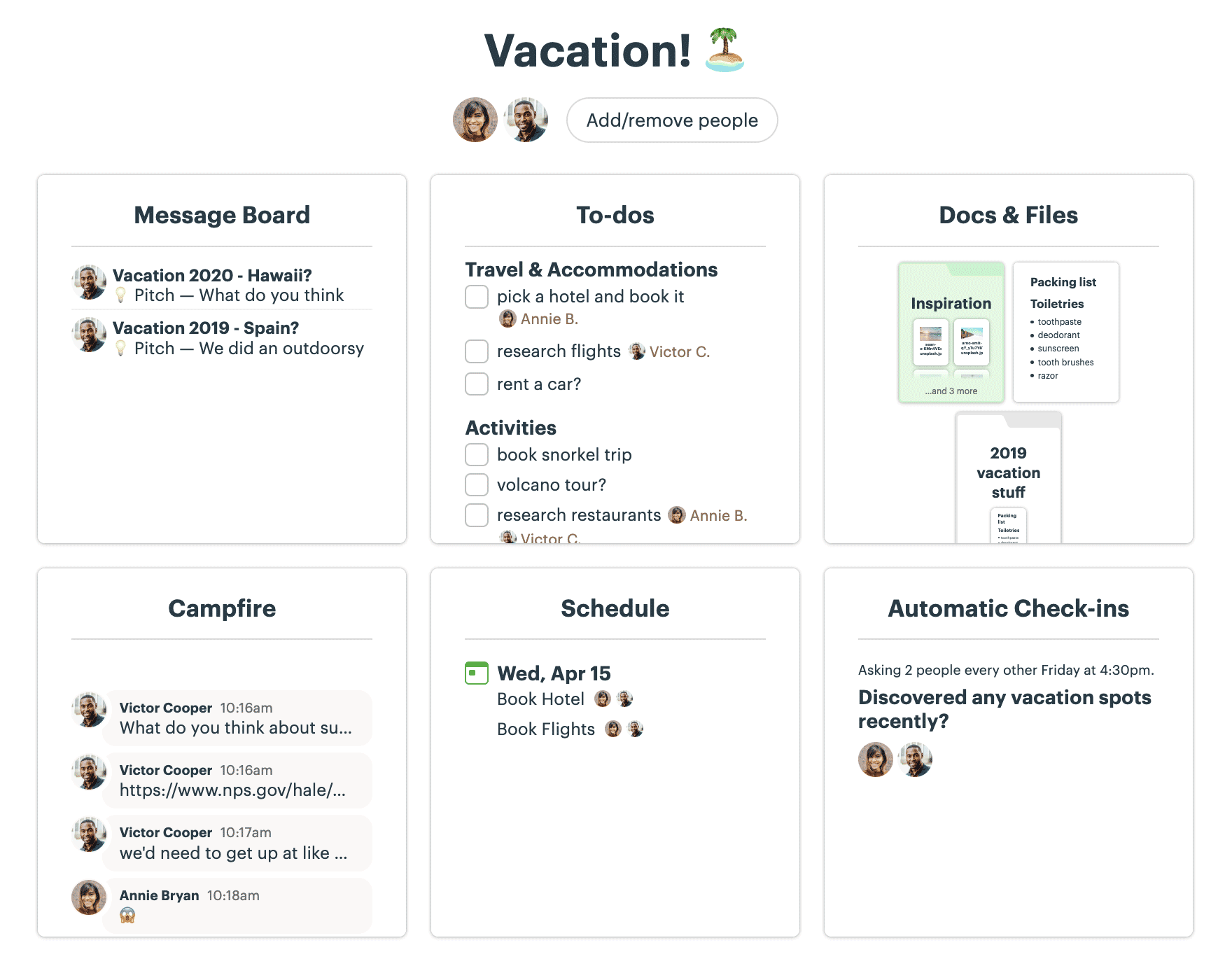 Source: Basecamp
Basecamp's Pricing Plans Explained
Basecamp doesn't provide a free plan, but there's a 30-day free trial to check how it works. Basecamp offers two plans that differ by storage size. The price starts at $15/user/month.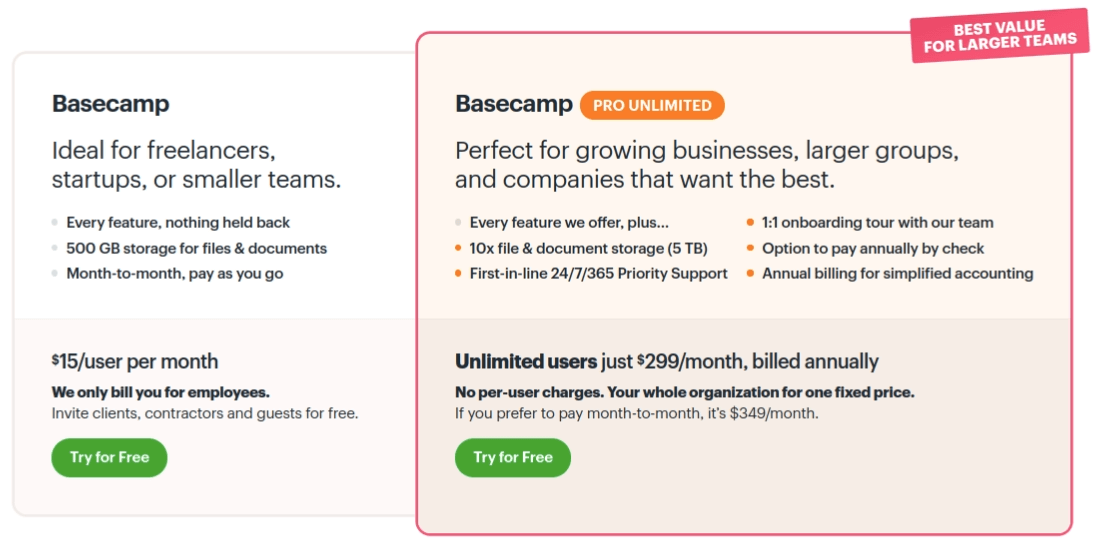 Source: Basecamp
Why is Teamwork the Go-To Collaboration Software for Businesses?
The name of this software speaks for itself–Teamwork is a cloud-based product management tool designed with team collaboration in mind. It breaks down work into manageable pieces and lets you track time spent on tasks enhancing your team's accountability. Proofing, comments, @mentions, messages, and collaborative docs keep your remote team close-knit wherever they are.
A Close Look at Teamwork's Collaboration Features
Teamwork provides features to take control of your projects from start to finish. Workload Planner and Resource Scheduler help you organize work and plan resources, while Kanban, Gantt, Table, and other views let you overview your performance from different perspectives. To ensure your workflow aligns with your project strategy, Teamwork delivers reports like Project Health, Planned vs. Actual, and Profitability. Plus, you can generate custom reports with custom columns, fields, and filters. Another huge benefit of Teamwork is that it cares for your project profitability and allows you to track time and manage your project budgets with built-in expense tracking and invoicing.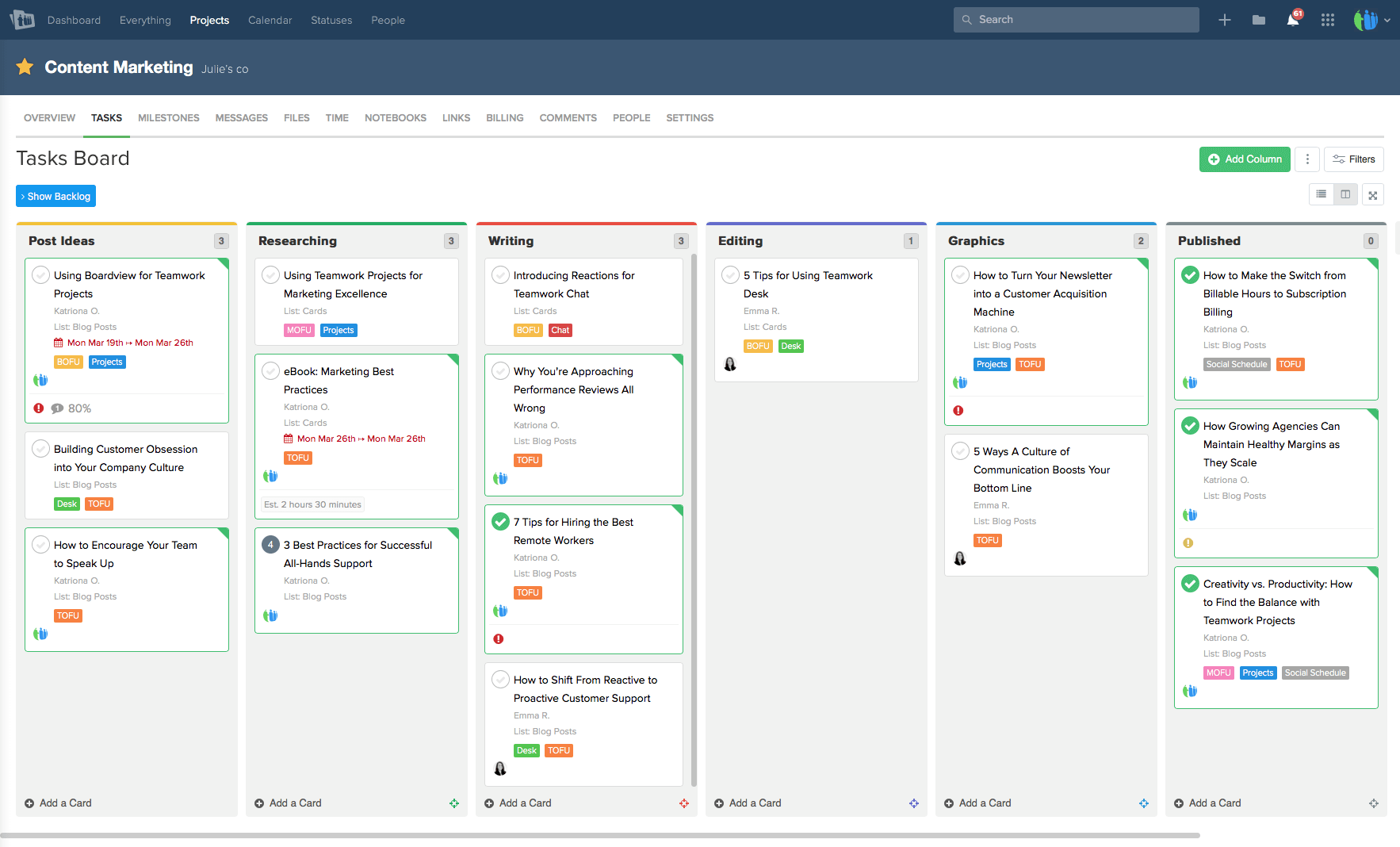 Source: Teamwork
Overview of the Teamwork's Pricing
Teamwork offers three paid plans starting at $5.99 and reaching $9.99 per user per month, each with a 30-day free trial. You can use Teamwork as free team collaboration software if you can compromise the limited members (5), basic task management and integrated team chat.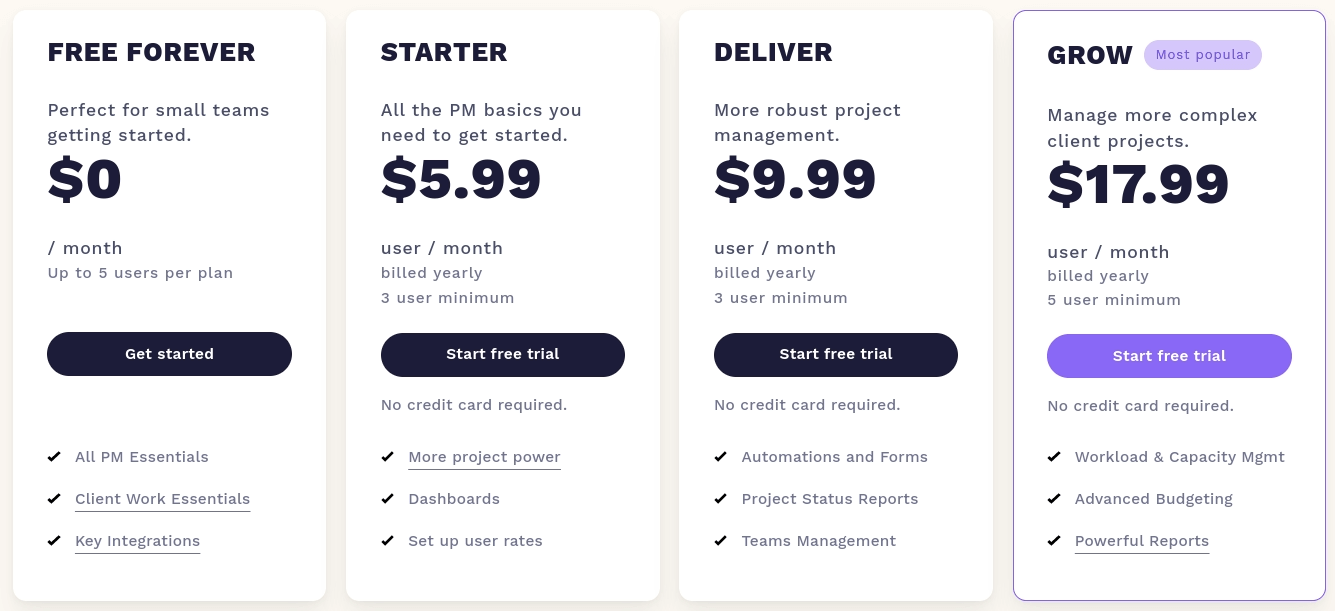 Source: Teamwork
Microsoft Teams: The Perfect Tool for Team Communication
As a part of the Microsoft 365 suite, Microsoft Teams includes team messaging, calling, file sharing, calendars, and video meetings. Integration with other Microsoft apps (Word, Excel, PowerPoint, etc.) makes Teams a comprehensive tool for communicating with colleagues and coordinating tasks across teams. Whether you collaborate within or outside your company, you can efficiently manage all your communications in Microsoft Teams.
How Can Microsoft Teams Optimize Your Workflows?
Microsoft Teams allows you to instantly connect with your colleagues with direct or group chats and organize conversations in channels. With direct access to Email, OneDrive, and Skype, you save time and get all tools in one place. In Teams, you can quickly find necessary people, files, and conversations using its robust search and filtering function. To work even faster, you can use slash shortcuts that trigger specific actions within the spp. On top of that, Microsoft Teams provides bots to automate tasks like polling team members or building meeting agendas.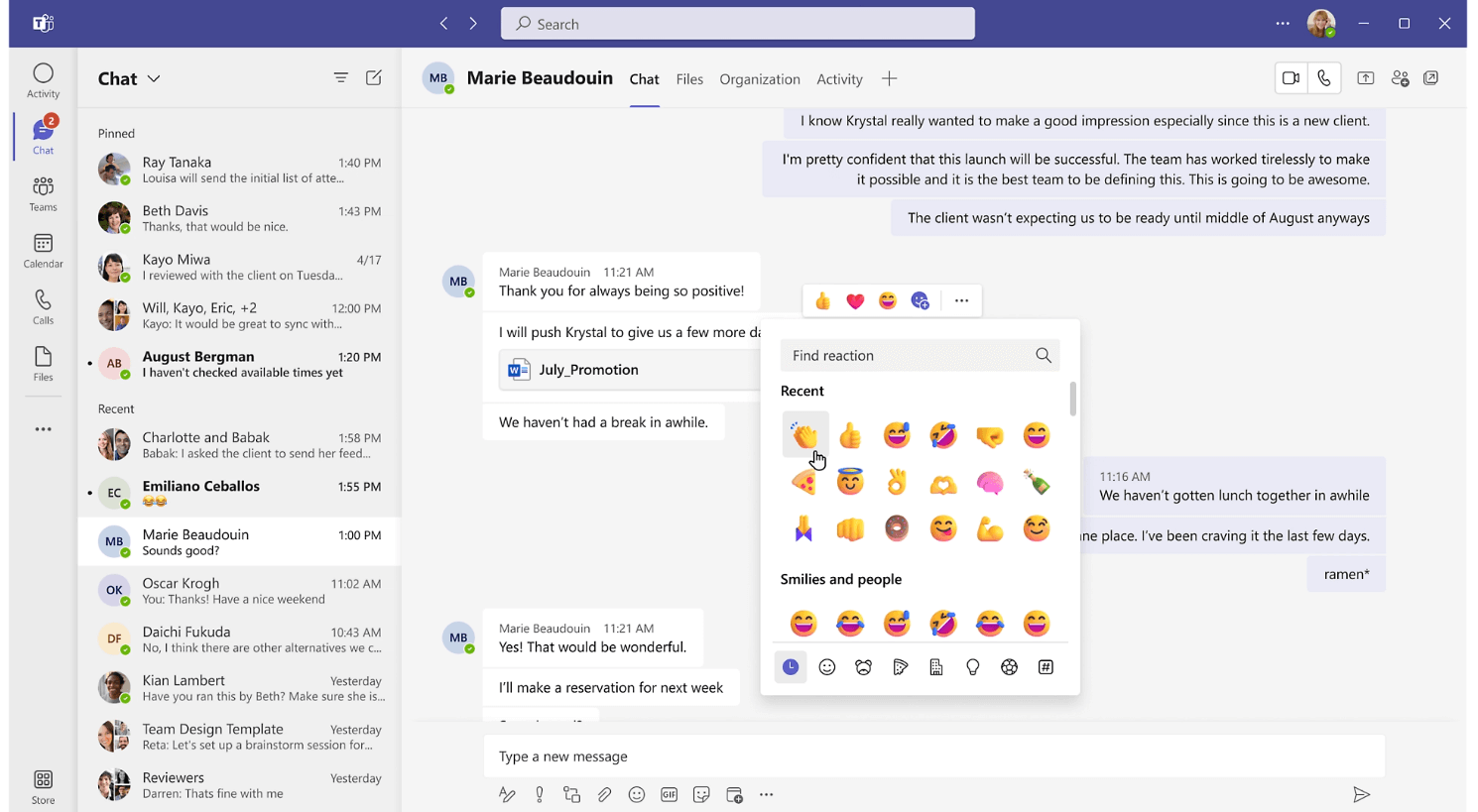 Source: Microsoft Teams
What Is the Cost of Microsoft Teams?
Microsoft Teams offers a free plan for 100 members, which includes chats and meetings, access to Word, Excel, and PowerPoint, and 5GB of storage. The lowest plan costs $4/user/month, while the most expensive plan costs $12.50/user/month.

Source: Microsoft Teams
Transform Your Team's Collaboration with Airtable
Does the word "database" frighten you? With Airtable, you'll forget this fear and have fun creating and managing databases with your team. This solution represents the features of databases and spreadsheets in the most intuitive way. Its sharing possibilities and collaboration features keep your team on the same page. For example, you can share sheet views with colleagues and sync data across apps like Salesforce and Google Calendar. Also, team members can comment on records (tasks) and track record-level activity feeds.
Dive into Airtable's Collaboration Features and Tools
The ability to create relationships between spreadsheets makes Airtable a unique work management tool. Whether you want to lay out data on a Kanban board or plan work in a Gantt chart, Aitrable provides these views and more. Besides, you can create custom interfaces with drag-and-drop elements and share them with your team members. Pre-made templates and multi-sequence workflows save time and streamline progress. To keep your collaboration transparent, Airtable provides an extensive tracking system, including custom reports and interactive interfaces.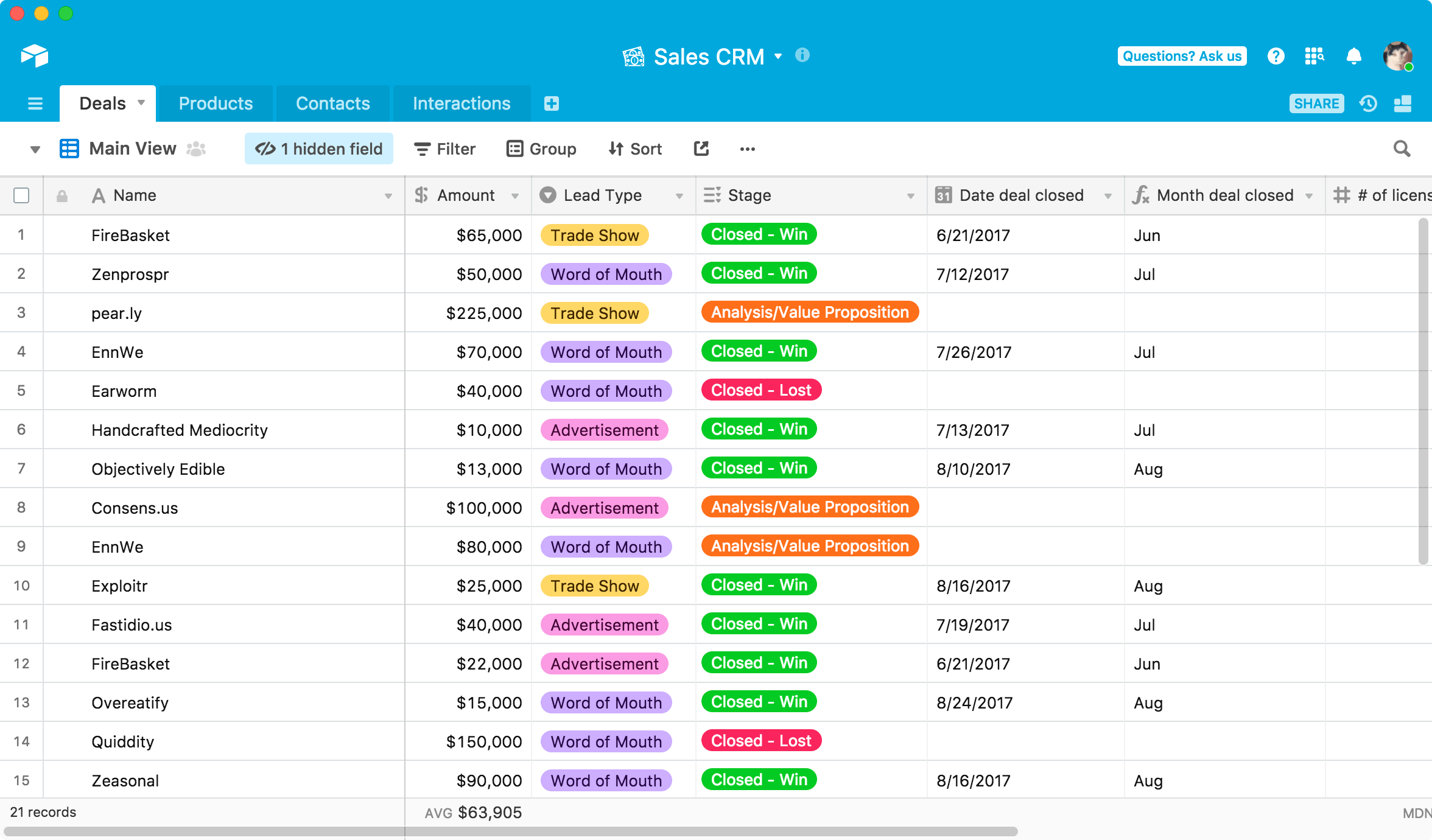 Source: Airtable
What You Need to Know About Airtable's Pricing
Airtable's pricing plans come in four options, starting with a free plan with 5 creators, unlimited bases, and an Interface Designer. The Pro plan costs $10 and includes custom forms, extensions, and 5GB storage. The Plus plan at $20 unlocks Gantt and Timeline views and extended editing permissions. There's also a package for enterprise needs that comes with a custom price.

Source: Airtable
Can You Reach a Seamless Collaboration with Zoho Projects?
Zoho Projects is a powerhouse tool for project management and effective teamwork. It fosters cross-functional collaboration with a notification system and shared interactive feeds, where you can write comments, add attachments, and tag colleagues. If you have several teams, create group chat rooms or write direct messages for personal conversations. Also, Zoho Projects provides a handy integration with email so that you can assign tasks, file issues, and post topics for discussion in forums.
Uncover Zoho Projects Top Collaboration Features
With a sleek and intuitive interface, Zoho Projects provides everything you need to manage tasks, track progress, and communicate effectively. It breaks down work into an organized hierarchy of project milestones, tasks, and subtasks. You can set task dependencies, reschedule repetitive tasks, and automate your workflow with custom rules, SLAs, and webhooks. From Gantt charts and portfolio dashboards to time tracking and sprint management, Zoho Projects has everything you need to stay organized and get things done.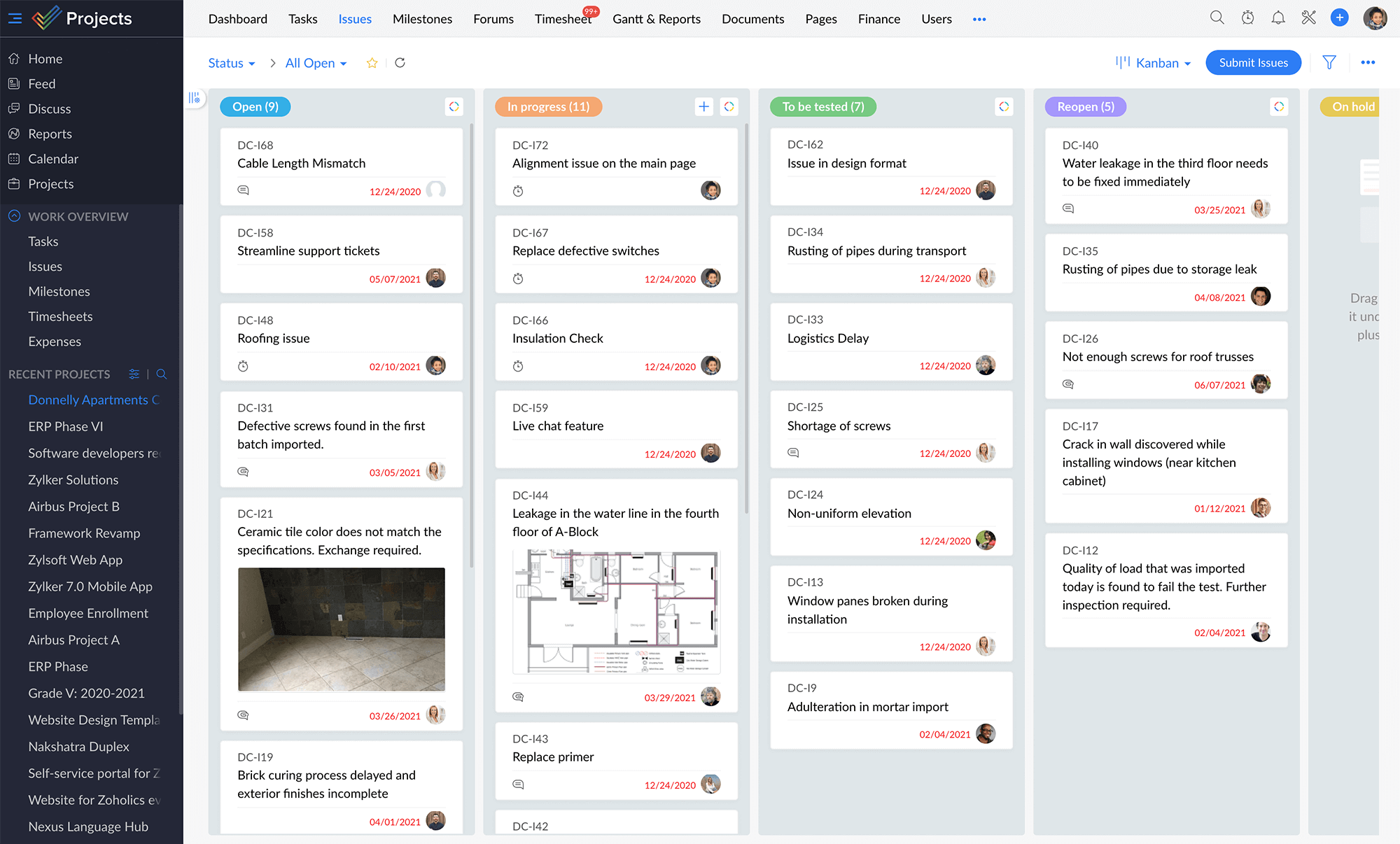 Source: Zoho Projects
Zoho Projects' Pricing & Plans
Zoho Projects offers three packages: Free, Premium, and Enterprise. While the free plan allows only 3 users and 2 projects, Premium for €5/user/month provides unlimited projects and advanced task management. Custom roles, portfolio dashboards, and workflow rules are available in the Enterprise plan for €10/user/month. You can test the paid features in action for 10 days for free.

Source: Zoho Projects
Why MeisterTask Might Be the Best Choice for You
If your team demands simplicity and power, MeisterTask might be what you're looking for. This project management software offers innovative features to help teams stay on their projects. As an admin, you can manage team groups, projects, and billing and distribute duties between team leaders. Team members can create personal agendas, assign and watch tasks, write feedback in comments, and @mention people to get their attention instantly. With real-time notifications and integrations to your favorite apps, MeisterTask keeps you connected and in control, no matter where you are.
Explore the Best Features of MeisterTask
From customizable dashboards and project boards to automation and built-in time tracking, MeisterTask equips you with tools for intelligent work management. To make processes clear and transparent, you can add custom fields to task descriptions, attach files, and set task relationships to structurize work. Kanban-style boards show what's in progress and what's done, while the Timeline view helps you identify your roadblocks. With MeisterTask, you can eliminate repetitiveness from your workload with automated workflows and recurring processes. This tool helps you make data-driven decisions and keep your team on the same page with shared reports.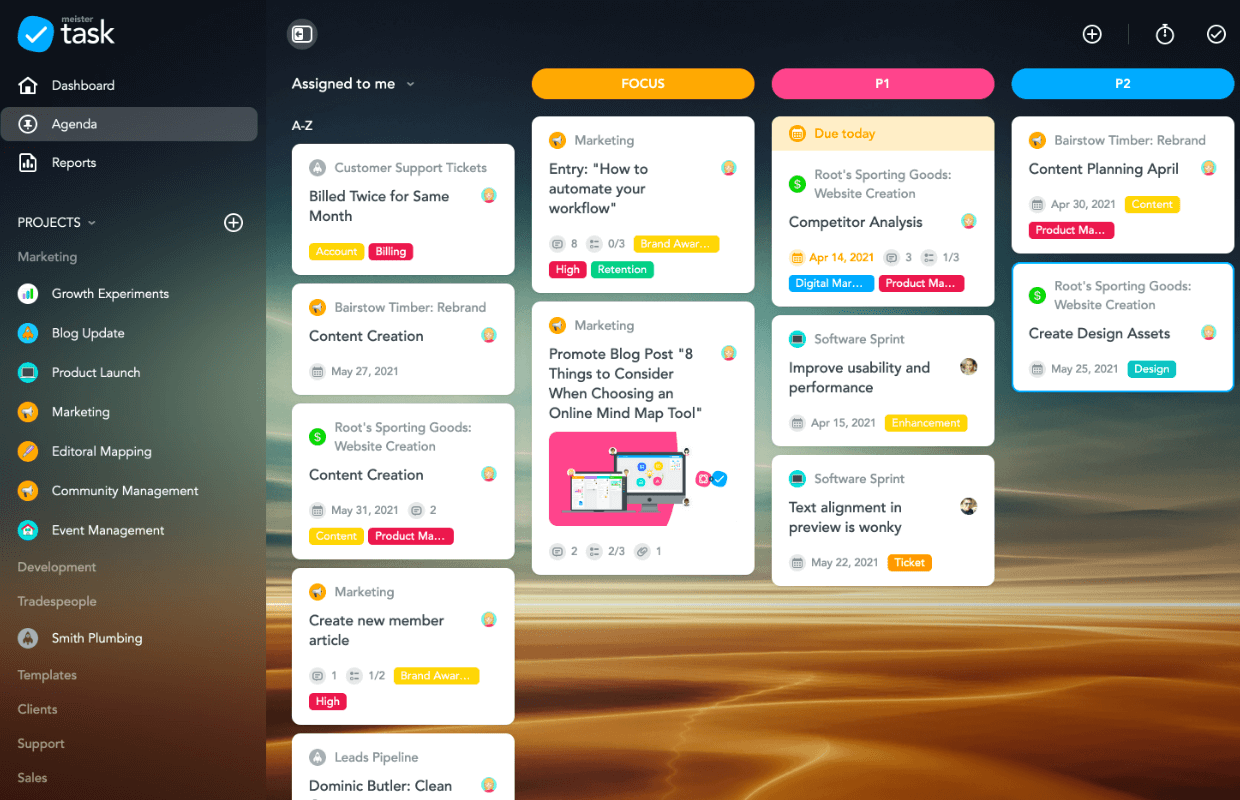 Source: MeisterTask
Unlocking the Cost of MeisterTask
MeisterTask assures that you get the most value with the Pro plan, which costs $6.49/user/month and includes unlimited projects, automation, and 200MB storage per file. The Business package gives access to roles & permissions, group sharing, and custom fields. For advanced security and support, check the Enterprise option.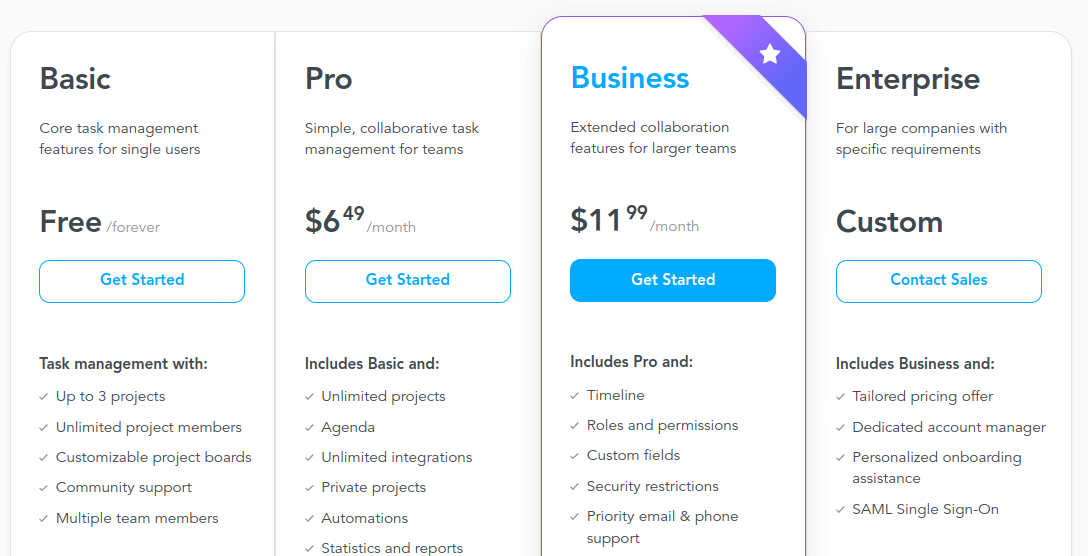 Source: MeisterTask
Is Freedcamp the Right Fit for Your Team Collaboration?
From startups to large enterprises, Freedcamp helps stay on top of deadlines and achieve success. It offers a robust permission system to decide who can monitor processes, access specific projects, or comment on something. Teams can communicate and stay aware of what's happening across the company. Ultimately, Freedcamp takes team collaboration to the next level with multiple tools for communication and cross-project collaboration.
How to Unleash Your Team's Potential with Freedcamp Features?
Freedcamp offers an intuitive interface and features for straightforward but comprehensive work management. It ensures your team collaborates productively with real-time chat, @mentions, task linking, and smart quotes–highlight a piece of text and reply directly to it. Team members get email notifications and can work directly from their inbox, whether they need to create tasks or attach files. To stay productive and tailor the tool to your workflow, you can set custom statuses, dependencies, and recurring tasks. You can share and customize calendars to check whether you meet deadlines and balance your workload.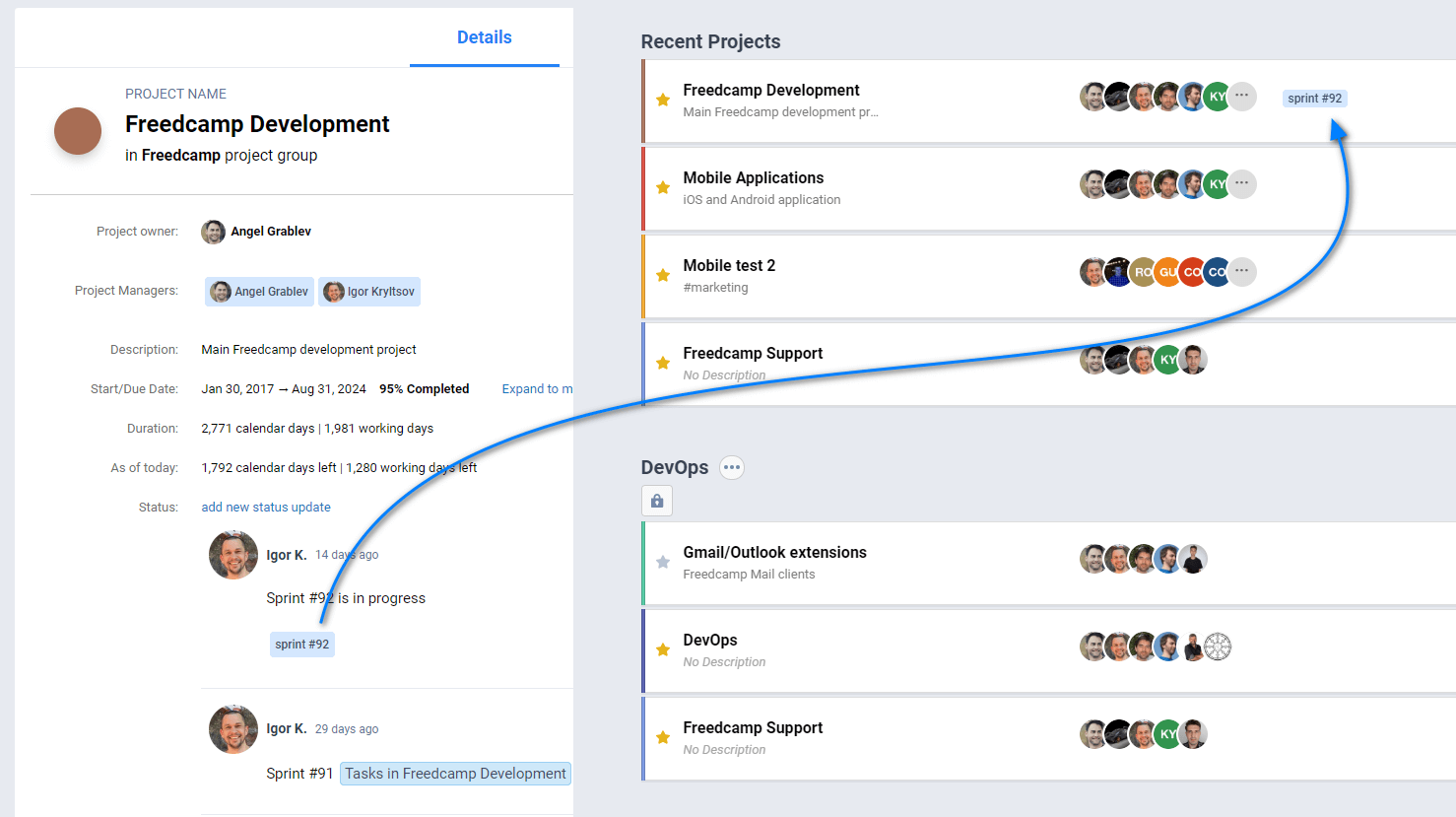 Source: Freedcamp
What Is Freedcamp's Price?
Freedcamp's free plan can benefit individuals or small teams with basic collaboration needs. Three are also paid plans starting from $1.49/user/month to $16.99/user/month, with more advanced features and additional storage capacity.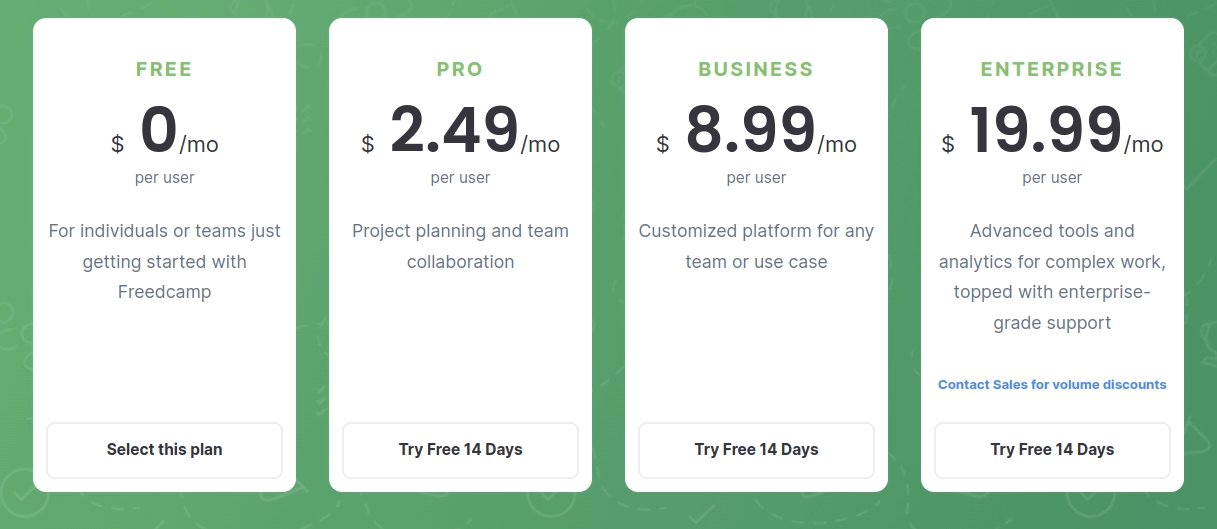 Source: Freedcamp
How to Implement Team Collaboration Software?
A smart implementation of team collaboration software will streamline your cross-team productivity and improve your bottom line. So create a detailed adoption plan and consider involving the following steps.
Set up Team Collaboration Software for Your Organization
Create an account on your team collaboration platform and configure the settings to suit your team's needs. Invite your team to join the platform, set up channels or workspaces, and configure notification and access permissions. Also, research the available customization options and integrations to enhance your teamwork.
Train and Onboard Team Members
Try to make the onboarding process as straightforward as possible:
Introduce the tool to your team, explain how it will improve their collaboration, and showcase the benefits of the tool through your own use.
Train your team members on how to use the tool: provide tutorials, training sessions, and training material.
Encourage team members to ask questions and make suggestions. Be sure to use this feedback when introducing changes or updates.
Move Data to Team Collaboration Software
Organize a secure and efficient import or migration of your business data to the chosen software. Consider Project Management Migration Wizard for automated data transfer of your projects, tasks, teams, and workspaces. The straightforward setup will save you time and energy:
Create an account and choose your source and destination.
Select items to move.
Map fields to ensure you import data correctly. In this step, you can create custom fields on your new software in the Migration Wizard.
Start the Free Demo to migrate a batch of data and see the results.
Launch the Full Migration.
Looks like a piece of cake? It really is. Plus, you can change the default migration process to make it more efficient.
Establish Best Practices for Effective Team Collaboration
Define the roles and responsibilities of each team member and establish communication protocols for messaging, video conferencing, file sharing, and other communication features. Be sure to set guidelines for data privacy and security, including password management, data access, etc.
Collaborate Like a Pro: Best Practices for Effective Team Collaboration
Clear Communication
Clear team communication is vital to boosting productivity and success. To achieve this, use visuals to simplify complex ideas and speak clearly and concisely. Actively listen to important information and provide feedback to improve communication skills. Encourage participation and choose the right communication tools to maximize effectiveness.
Defined Roles & Responsibilities
Each team member must have a clear understanding of their assigned tasks and responsibilities so that there is no confusion or duplication of effort. Ensure everyone knows what is expected of them and what they need to deliver. This practice also facilitates accountability since team members can take ownership of their work.
Shared Goals & Objectives
When team members move towards a common goal, they know what to focus on and become more motivated and accountable. This practice provides clarity and direction, which encourages everyone to contribute to the team's success.
Collaboration Tools
Team collaboration software promotes transparency and accountability with real-time updates, messaging tools, and notification systems. It allows teams to work together effectively regardless of location, facilitating knowledge sharing and innovation.
Continuous Improvement
Team collaboration is not a one-and-done task but rather a continuous process that requires consistent attention and improvement. By constantly fine-tuning communication, refining processes, and seeking out new ideas and perspectives, teams can maintain a high level of collaboration that increases efficiency and overall success.
Revolutionize Your Teamwork with Team Collaboration Software
Collaboration makes the dream work, but without the right tools, it can quickly turn into a mess. You know the solution already: team collaboration software is a game-changer for businesses that want to empower their teams to work together seamlessly. Plus, transitioning with the Project Management Migration Wizard helps your team experience better collaboration in no time.
Frequently Asked Questions
The four types of collaboration tools are communication tools, coordination tools, conferencing tools, and project management tools. Communication tools facilitate real-time messaging, email, and chat to enable efficient and organized communication. Coordination tools help teams stay organized by managing schedules, calendars, and to-do lists. Conferencing tools are used for virtual meetings and video conferencing. Finally, project management tools help teams manage tasks, assign responsibilities, and track progress on projects.
A collaboration system typically consists of five key components:
People: The individuals or groups involved in the collaboration, including team members, stakeholders, and customers.
Communication: The channels and methods used to share information and ideas, such as email, chat, video conferencing, and file sharing.
Process: The workflows and procedures to complete tasks, manage projects, and achieve objectives.
Technology: The hardware and software tools that facilitate collaboration, such as collaboration software, project management tools, and cloud storage.
Culture: The attitudes, behaviors, and values that support a collaborative environment, such as trust, openness, and respect for diversity.
Software team collaboration best practices include effective communication, clearly defined goals and roles, regular check-ins, using collaboration tools, and promoting a culture of collaboration and teamwork.
Improved productivity and efficiency through streamlined communication and collaboration.
Greater visibility and transparency into project progress and team performance.
Increased flexibility and remote work capabilities.
Enhanced security and data protection through centralized file storage and access controls.
Improved decision-making through real-time collaboration and feedback.
Yes, there are several free and open-source team collaboration software options available, such as Slack, Mattermost, and Rocket.Chat, Zulip, and Nextcloud. These tools provide many collaboration features and can be customized to meet your team's specific needs.
Team collaboration software integrates with other business applications through APIs and third-party integrations. Many team collaboration tools offer pre-built integrations with project management tools, CRM systems, etc. Integration with other business tools streamlines workflows and improves productivity since you don't switch between several apps.
Security and data privacy measures of team collaboration software include end-to-end encryption, access controls, multi-factor authentication, data ownership, compliance with relevant regulations, and user education on best practices.
Have a data migration in mind?
Let's migrate PM data together!
Try for free